Almond Rhubarb Cake
A light and fluffy cake filled and decorated with sliced rhubarb, this almond rhubarb cake is delicious for breakfast, or for dessert with a big scoop of ice cream.  Skip the strawberries and let the rhubarb flavor shine!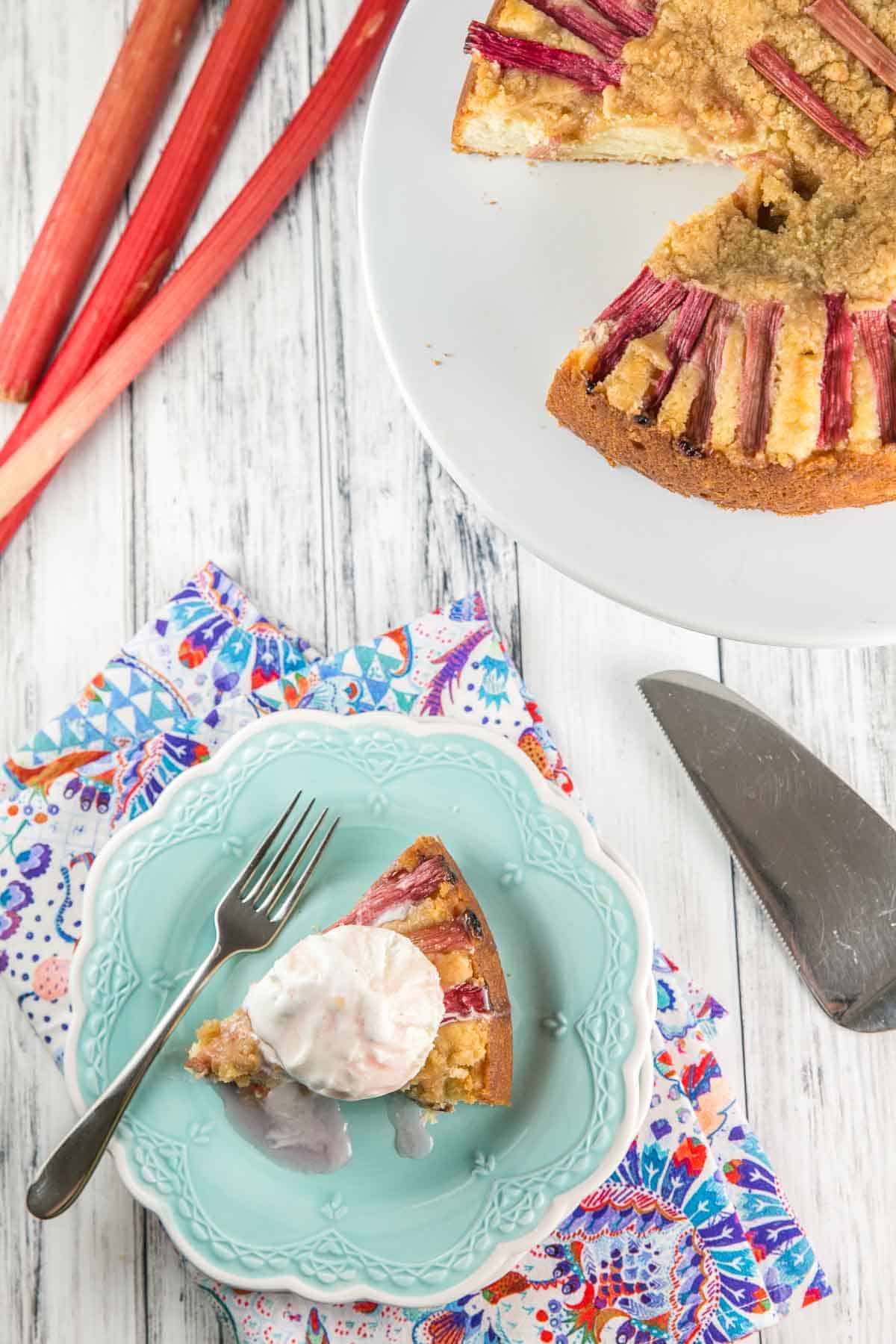 This post is sponsored by Nielsen-Massey.
Here's the thing about rhubarb: do you actually know what it tastes like on its own?  I mean, when's the last time you had something that was just plain rhubarb flavored?  Not rhubarb paired with another fruit?
I get it.  Rhubarb does pair perfectly with so many other fruits.  (Examples: strawberry rhubarb oatmeal bars, blueberry rhubarb pie). It helps balance out fruits that can otherwise be too overwhelmingly sweet.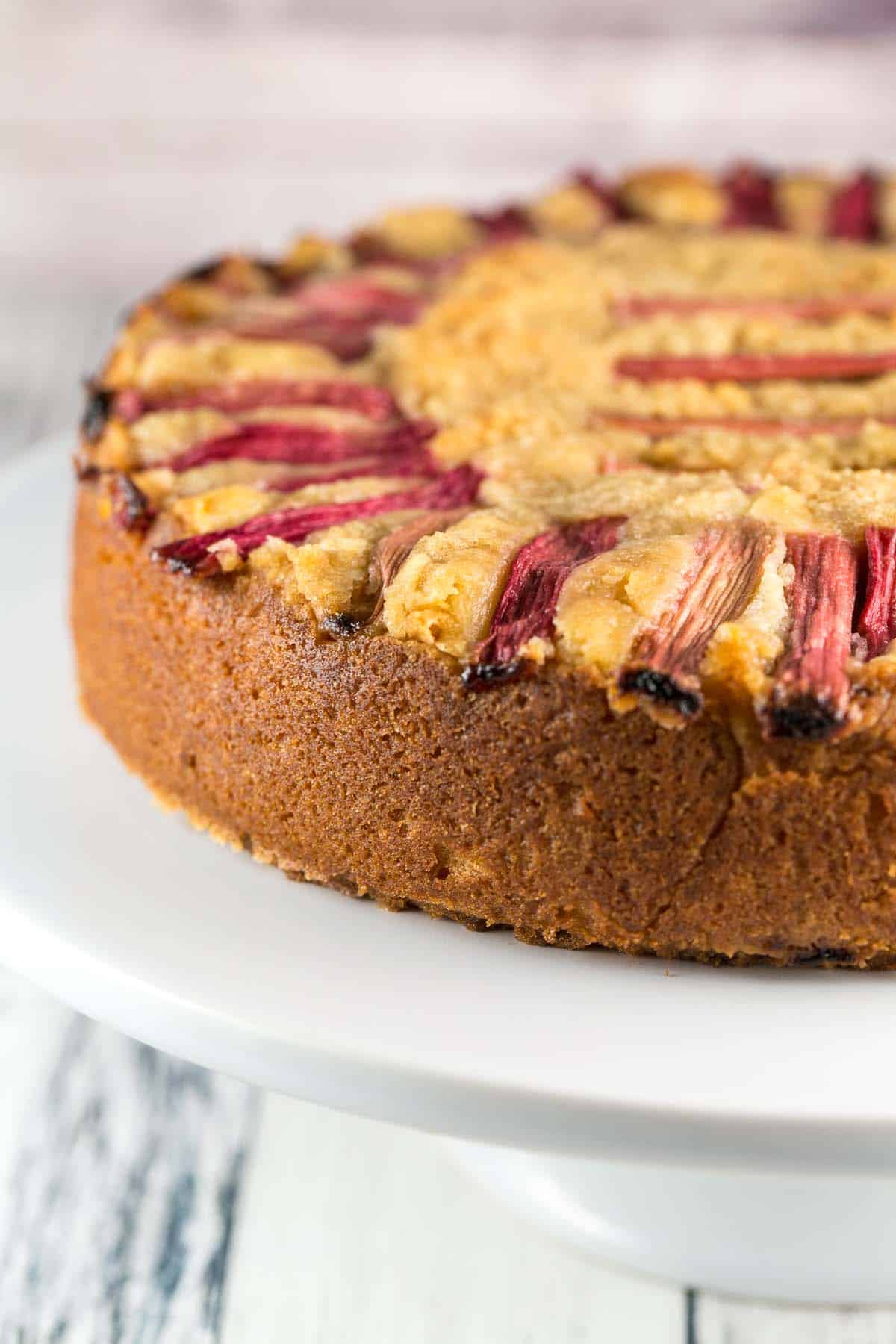 But sometimes, it's nice to just let rhubarb star on its own.  Or let it hang with a more mellow flavor.
Like oh, say, almond.  Like perhaps an almond rhubarb cake, maybe?
If you've been reading Bunsen Burner Bakery for any length of time, you know how much I love almond-flavored desserts.  I probably have more almond and lemon based recipes than anything else – I just can't get enough!
So it should come as no surprise that when Nielsen-Massey reached out to ask if I wanted to test out one of their new Organic Pure Flavor Extracts, I immediately reached for their Organic Pure Almond Extract.
Coincidentally, while I was contemplating what to make with it, a neighbor offered to drop her CSA rhubarb in my mailbox.  Rhubarb and almond?  Sounds delicious!  Let's go.
Rhubarb is such a beautiful color, and I really wanted to highlight this, rather than just dispersing it in the cake.  But it's also pretty stalky and crunchy, and kind of tart.
So to solve this problem, the first step is soaking some long strips of rhubarb in sugar.  The sugar dissolves into the rhubarb, softening and sweetening it, and leaves behind a sugary rhubarb syrup, which is delicious when you pour it over the cake at the end.
I love how much almond flavor the Nielsen-Massey Organic Pure Almond Extract imparted into the cake, without having to add the crunchy of actual almonds.
The cake stays nice and soft with a consistent texture, and the almond is a great way to change up a cake that could otherwise be a little boring with just vanilla.
Oh, and did I mention the streusel-like crumb topping? Because, of course.  What kind of coffee cake doesn't have a delicious topping?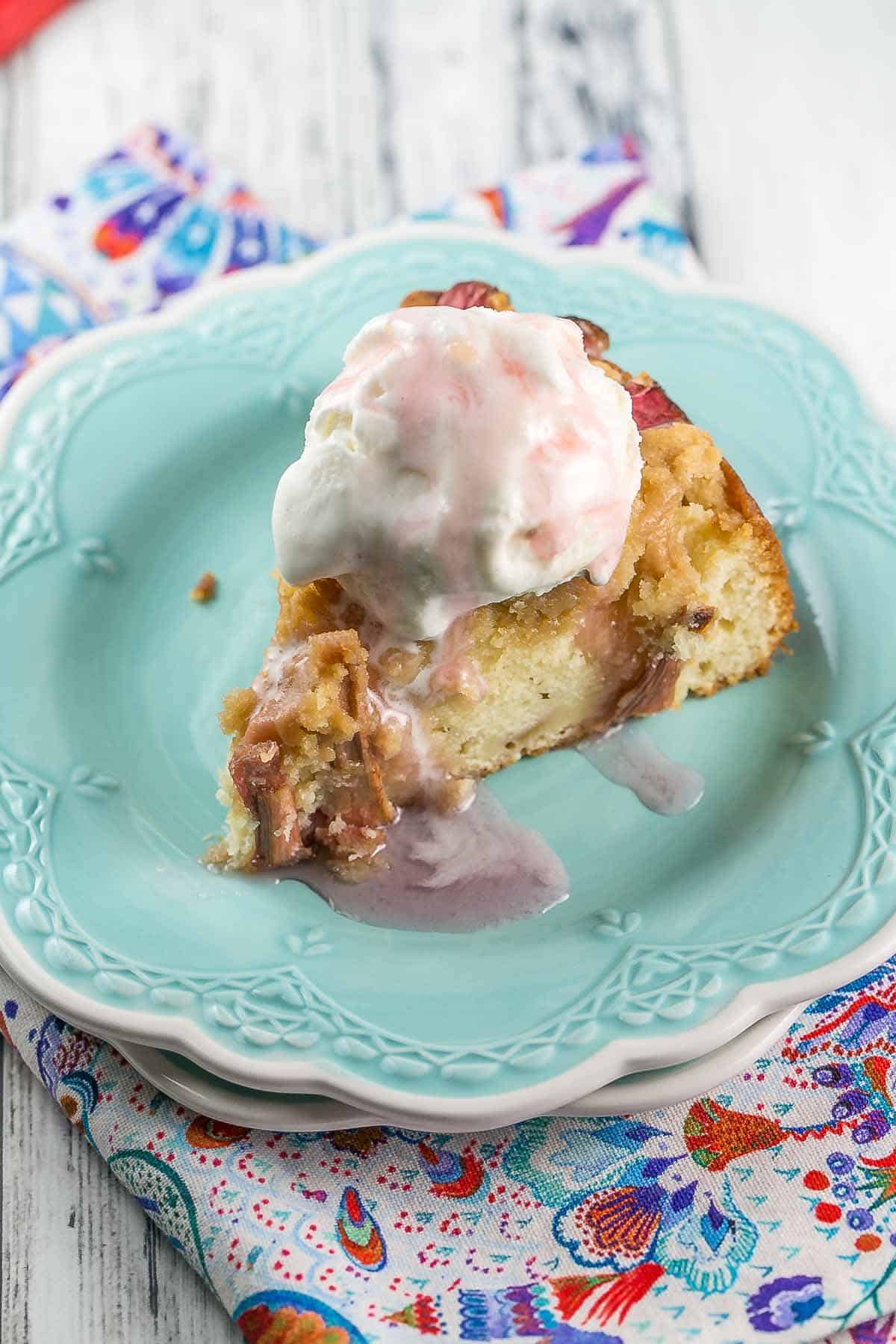 You could eat a slice of this almond rhubarb cake for breakfast with a cup of coffee and call it a coffee cake.  Oooooor…you can top it with a scoop of vanilla ice cream and pour the leftover rhubarb sugar syrup on top and call it dessert.
Or, you know, call it an even better breakfast.  I trust you know which way is the best way to serve this cake.
Rhubarb not your thing?  There are dozens of other great ways to use almond extract, such as…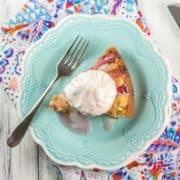 Almond Rhubarb Cake
A light and fluffy cake filled and decorated with sliced rhubarb, this almond rhubarb cake is delicious for breakfast, or for dessert with a big scoop of ice cream.
Ingredients:
4 stalks rhubarb
1 cup sugar, divided
1/4 cup brown sugar
3/4 cup butter (12 tablespoons), room temperature, divided
2 eggs, room temperature
1 teaspoon vanilla extract
2 teaspoons almond extract
2 1/2 cups all-purpose flour, divided
2 teaspoons baking powder
1/2 teaspoon salt
1/2 cup buttermilk
1/2 cup sour cream
Directions:
Cut 3 of the stalks of rhubarb in half lengthwise, then cut into 3 inch pieces.  Toss cut rhubarb with 1/4 cup sugar and let sit until sugar dissolves, about 30 minutes.
Preheat oven to 350 °F.  Butter and flour a 9-inch springform pan.
Chop remaining stalk of rhubarb into 1/4-inch pieces.
Using an electric mixer, beat 1/2 cup of butter at medium speed until light and fluffy.  Slowly add in the remaining sugar and brown sugar, beating well.  Add eggs, one at a time, and beat until combined.  Mix in the vanilla and almond extracts.
Mix together 2 cups of flour, baking powder, and salt.  Add half the dry ingredients, followed by the buttermilk, and then the remaining dry ingredients. Mix in the sour cream.  Beat at low speed after each addition until just combined.  Stir in chopped rhubarb.  Pour batter into the prepared pan.
To make the streusel topping, melt the remaining 4 tablespoons of butter.  Stir in 1/2 cup of sugar and 1/2 cup flour.  Drop tablespoons of the topping over the cake.  Drain the rhubarb, reserving the syrup, and arrange over top of the streusel topping.
Bake for 1 hour and 10 minutes, or until the center of the cake is set and a tester comes out with moist crumbs.  Cool for 30 minutes on a wire rack before unmolding cake.  Serve at room temperature with reserved rhubarb sugar syrup.
Cake can be stored at room temperature for up to 3 days, refrigerated for up to a week, or wrapped in aluminum foil and stored in an airtight freezer bag for up to 3 months.  Defrost overnight before serving.
A Bunsen Burner Bakery Original Protocol