Banana Bread Muffins
One bowl, mix by hand muffins reminiscent of your favorite banana bread. Extra moist, full of flavor, and don't forget the chocolate chips! These banana bread muffins are perfection.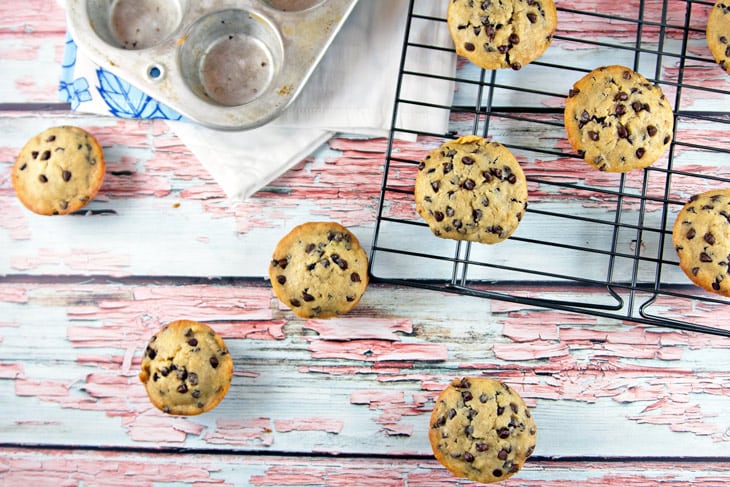 This post may include affiliate links. As an Amazon Associate I earn a fee from qualifying purchases.
Today we're digging deep into the archives and updating an old post. These banana bread muffins have long been one of the most popular recipes on Bunsen Burner Bakery. So popular, they were a top ten most popular recipe in 2017, 2018, and 2019!
It really took off on Pinterest – where I also received some great feedback from people who made it. I've tried some of the suggestions, and am here with some updates to the intial recipe.
Add cinnamon to the batter? Great idea! Healthy substitutions for those looking to reduce sugar or butter? I have those, too!
Don't take my word for how good these muffins are — just look at the 150+ comments and photos left from other people on this pin.
Is it the crowd-pleasing banana + chocolate combination? The texture – a little denser and heavier than a typical muffin, just like banana bread? (These are, after all, banana bread muffins, not banana muffins!). Maybe it's all the miniature chocolate chips scattered throughout the muffins.
Whatever people love most, there's no denying that these muffins are delicious, and they deserved a little update (and a video!).
The Easiest Banana Bread Muffins
One of the (many!) reasons these muffins are so great? They're so easy to make!
Only one bowl necessary. Mix by hand. Bake right in the muffin tin (no liners necessary).
Don't believe how easy they are? Watch this video! ↓↓↓
Easy enough that this a perfect "kids in the kitchen" recipe to bake with your littles. Help them measure ingredients, let them dump everything in the bowl, and whisk.
And the muffins only take 20 minutes to bake, so they don't need a lot of patience to wait for them to finish!
Baking with Bananas
I don't know about you, but with two little kids at home, we seem to buy a lot of bananas. By the end of the week, some of them are definitely browner than my 4 year old will eat.
So the solution? Let them sit for a few extra days until they're slightly overripe, then peel the bananas and store them in the freezer. Ready to bake? Defrost the bananas overnight, in the microwave, or place the bag in a bowl of warm water.
While you can absolutely use unfrozen ripe bananas, I find that freezing and defrosting the bananas results in an even better, sweeter, more moist muffin. Why is this? It's time for my favorite subject… kitchen chemistry!
Kitchen Chemistry

Amylase is an enzyme that is responsible for breaking down starch and glycogen into simple sugars. As a banana ripens, the amylase converts the starches into sugar, making the banana sweeter. When we freeze a banana, the water inside the banana crystallizes and expands, breaking open cell walls and releasing the amylase. As the banana thaws, the amylase and any remaining starches diffuse through the mushy banana pulp. The amylase from the riper parts of the banana, which have already been converted to sugar, mixes with the remaining starches from the less ripe parts of the banana, converting these remaining starches to extra sugar.
Healthier Banana Bread Muffins
In the grand scheme of muffins, these banana bread muffins are more breakfast-y than dessert-y.
They're not jumbo sized, covered in sugar, or topped with streusel. They're not supersized bakery style muffins for when you really want a splurge.
These are various substitutions to make the banana bread muffins a little healthier, if the original version doesn't cut it for you. Mix and match, or use all of them!
Replace half of the all-purpose flour with whole wheat flour (3/4 cup AP, 3/4 cup whole wheat)
Reduce the sugar by half (use 1/3 cup total sugar, half granulated and half brown)
Swap out half of the butter for applesauce (1/4 cup butter, 1/4 cup applesauce)
Halve the chocolate chips (…but really, why would anyone want to do this?)
You can also make a vegan version of these, replacing the butter with melted coconut oil, adding 1/4 cup unsweetened applesauce instead of the egg, using a dairy-free milk alternative, and vegan-friendly chocolate chips!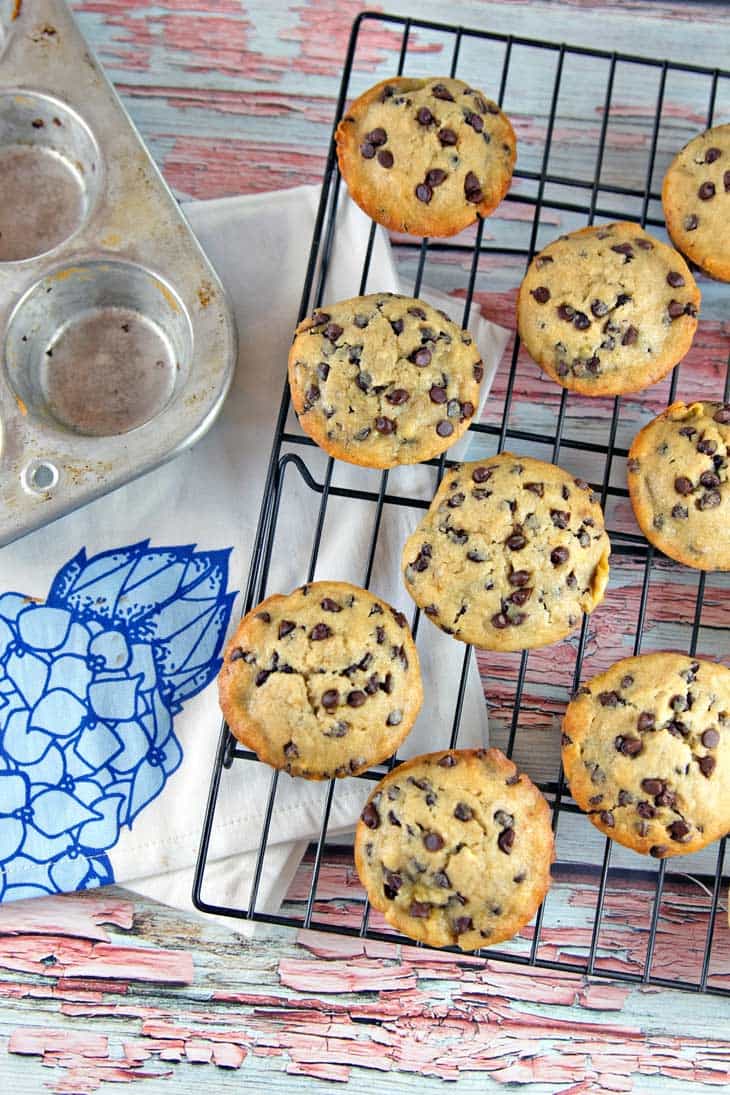 Tips and Tricks for the Best Banana Bread Muffins
While using regular ripe bananas is fine, freezing and thawing the bananas first will result in an extra moist, extra sweet muffin.
Need to ripen bananas quickly? Use this amazing trick from Serious Eats (putting our favorite enzyme, amylase, to work!) of mixing egg yolk with underripened bananas to quickly produce a sweet, ripened banana texture.
Skip the muffin liners (if desired) — the muffins work perfectly just a well greased muffin tin.
Use an ice cream scoop to transfer the batter into the muffin tin for equal sized muffins.
Want smaller muffins? Bake as 24 mini muffins using a mini muffin tin, baking for 13-15 minutes (Amazon link is affiliate).
Double or triple your batch of banana bread and freeze the leftovers! Banana bread muffins can be stored at room temperature for up to 4 days, or frozen for up to 3 months.
More Banana Baking Recipes:
Ingredients
1 1/2 cups (180 grams) all purpose flour
1/3 cup (66 grams) granulated sugar
1/3 cup (71 grams) brown sugar
1 1/2 teaspoons baking powder
1/2 teaspoon cinnamon
1/4 teaspoon salt
1 cup (227 grams) mashed bananas (2 large bananas)
1 large egg
1/2 tablespoon vanilla extract
1/2 cup butter (113 grams), melted
1/4 (57 grams) cup milk
1 cup (177 grams) miniature chocolate chips
Instructions
Preheat oven to 350 °F.  Grease 12 muffin tins with butter or cooking spray, or line with muffin liners.
In a large bowl, stir together the mashed bananas, egg, vanilla extract, melted butter, and milk.
Stir in the flour, granulated sugar, brown sugar, baking powder, cinnamon, and salt. Stir until just combined and no streaks of flour remain -- do not overmix. Stir in the chocolate chips.
Divide batter into the 12 muffin tins, filling each about 3/4 of the way full. Bake for 20-25 minutes, until tops are pale gold and a tester inserted into the center comes out clean.
Transfer to cooling rack immediately.
Notes
For an extra moist, sweet muffin, freeze and thaw the bananas before using.
Use an ice cream scoop to transfer the batter into the muffin tins for equal sized muffins.
Recipe can also be adapted to 24 mini-muffins in a mini muffin tin. Bake for 13-15 minutes.
To make healthier muffins, try substituting any of the following: use half whole wheat flour, reduce sugar quantity by half, replace half the melted butter with applesauce, or reduce the amount of chocolate chips.
To make vegan muffins, replace the butter with melted coconut oil, add 1/4 cup unsweetened applesauce instead of the egg, use a dairy-free milk alternative, and vegan chocolate chips.
Banana bread muffins can be stored in an airtight container at room temperature for up to 4 days, or frozen for up to 3 months.
Recipe adapted from Bon Appetit
Recommended Products
As an Amazon Associate and member of other affiliate programs, I earn from qualifying purchases.
Nutrition Information:
Yield:

12
Serving Size:

1 muffin
Amount Per Serving:
Calories:

267
Total Fat:

12.5g
Carbohydrates:

36.5g
Protein:

2.7g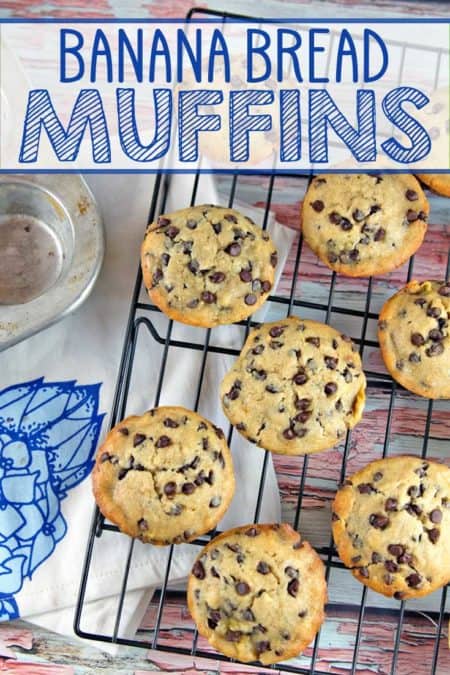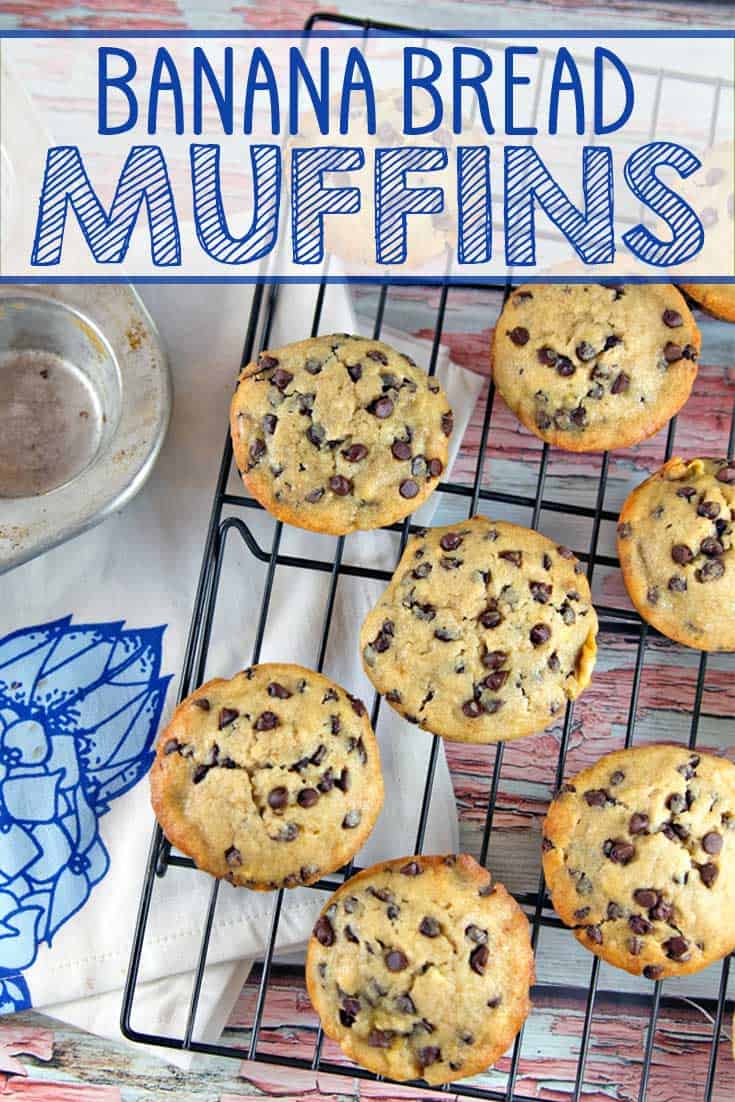 This Banana Bread Muffin recipe was originally published on 09/13/2016. It was republished on 02/218/2020 with new text and video.