Homemade Irish Cream
Perfectly customizable, this homemade Irish cream recipe is quick and tastes like the real deal! Perfect for sipping, adding to drinks, or boozy desserts.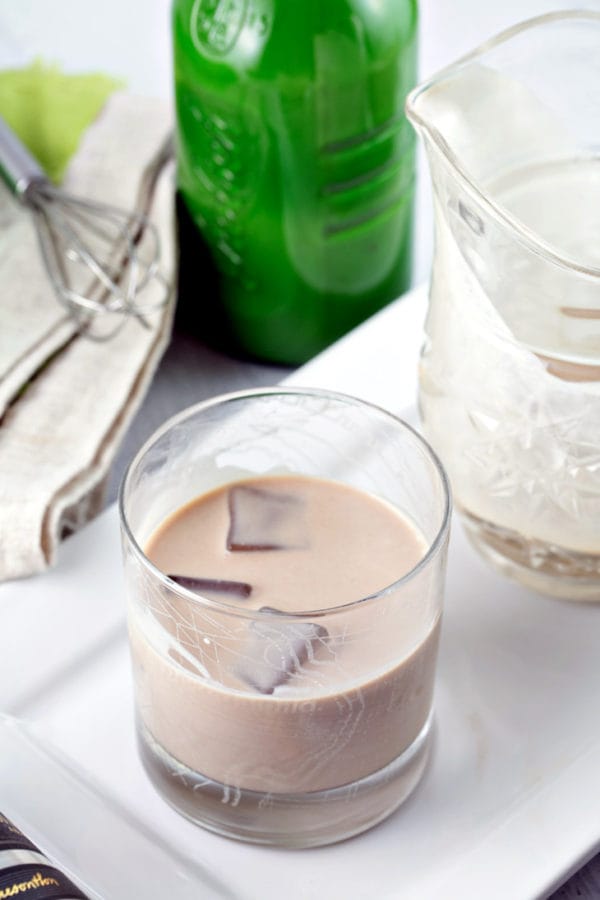 It's early March.
You know what that means — the St. Patrick's Day mania is building up here in the United States, where millions of people who have zero ties whatsoever to Ireland don ridiculous green attire and drink until they vomit in the streets, all in the name of St. Paddy.
(I'm not bitter or anything, I just have very low tolerance for people who think they can hang with a big drinking crowd, and can't. Go out and have your Guinness and wear your green and have fun – please, do! I have been you, taking shots and pounding beers! Just don't vomit on my sidewalk during your bar crawl, please and thank you.)
I live in a neighborhood with a little pocket with a traditionally very high Irish population, so the shamrocks and Ireland flag decorations are out in full force. I love this about my neighborhood – I love the pride and the decorations and all of it.
So this year I thought I'd jump on board the St. Patrick's Day celebration and share a homemade Irish cream recipe, starring, of course, Jameson Irish Whiskey.
I'm normally more of a bourbon girl than a whiskey girl, despite my heritage. I have zero Kentucky bourbon roots, but do get to claim that I am a wee bit O'Irish (1/8th, to be precise).
But I will never turn down a good glass of Jameson, and turning whiskey into Irish cream is a-okay with me!
So why make homemade Irish cream instead of buying a bottle of Baileys? There are lots of reasons – it makes a perfect gift, it's made with actual real ingredients and isn't some strange "shelf stable for 24 months" cream containing magic, it's ridiculously easy to make, and my personal favorite reason: it's completely customizable.
Do you find store-bought Baileys Irish Cream too sweet? Add more cream. Not sweet enough? Add more sweetened condensed milk.
Too boozy? Use less whiskey (and no, I won't shame you for this – not everyone likes strong drinks). Not boozy enough? I trust you can figure out how to remedy that one on your own. Plus: flavorings!
There are lots of homemade Irish cream recipes out there, and almost all of them contain instant coffee granules. I'm intrigued by this, since Baileys doesn't actually contain any coffee flavoring.
But if you like it? Add it! (I suggest starting with 1 teaspoon.) Like almond? Add some almond extract. Mint? More chocolate? Customize to your heart's content!
Did I mention how easy it is to make? You can literally pour everything in a blender, puree for 30 seconds, and call it a day.
I chose to make mine by hand, however, and it still takes under 5 minutes. The important key here is starting with a slurry – add just a little heavy cream to the cocoa powder. If you add all the cream at once, the cocoa powder doesn't mix at all. It clumps up on top.
Why is this? Time for some…
Kitchen Chemistry: Each little speck of cocoa powder contains some fat, which is very hydrophobic – meaning it repels water. These hydrophobic molecules clump together on the surface of liquid, forming little bubbles of dry powder. If we add just a little liquid, however, we can make a thick paste. When you have a lot of powder and little liquid, it's much harder for the cocoa powder molecules to float on the surface and avoid the whisking process. The bubbles are broken up much faster, forcing all the molecules into solution, and once in solution your cocoa powder will easily dissolve into the rest of the cream. (This all has to do with the amount of force applied to the bubbles of cocoa powder, so a blender takes care of the force for us – which is why you can just combine all ingredients together in a blender.)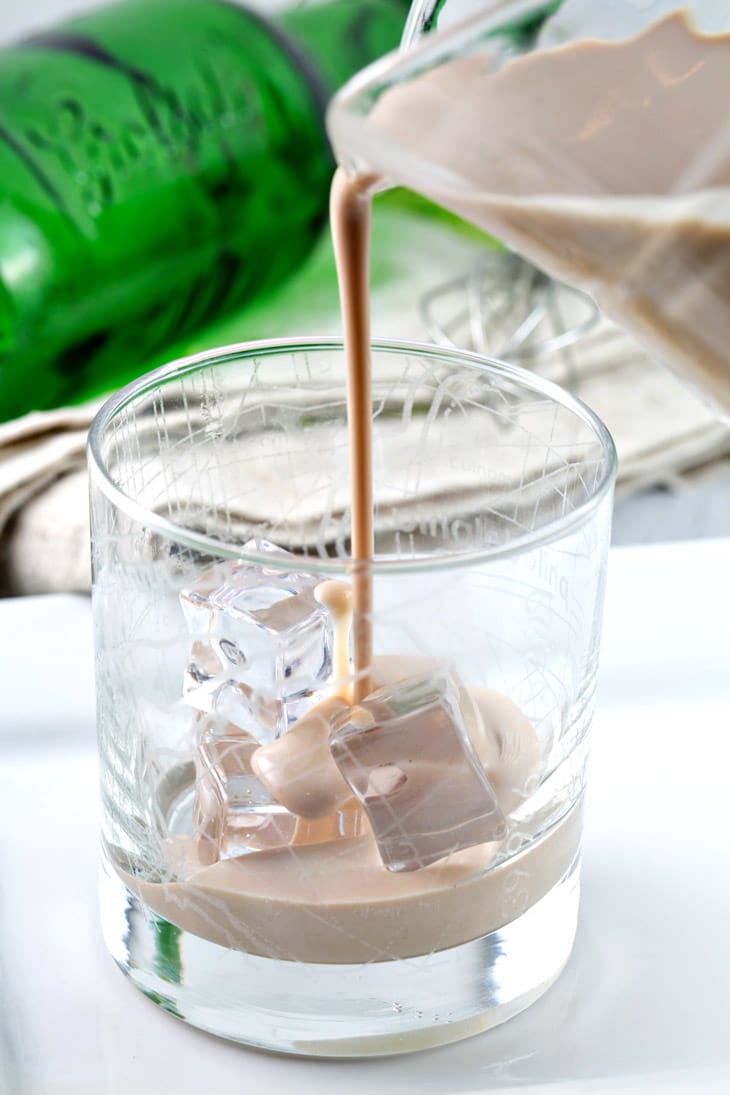 Once you have your slurry, it's literally as easy as adding the rest of the heavy cream, the sweetened condensed milk, the vanilla, and of course, don't forget the whiskey! Give it a quick whisk and – that's it.
Done. I even like to make mine right in a 4 cup measuring cup – no need to dirty any other glassware!
Homemade Irish cream, in under 5 minutes. Boom.
Make some this weekend, so you're all ready for my next bundt cake, coming early next week. It might include some homemade Irish cream. Maybe. Possibly. Most definitely.
Love Irish Cream? Don't miss these desserts!
Homemade Irish Cream
Perfectly customizable, this homemade Irish cream recipe is quick and tastes like the real deal!  Perfect for sipping, adding to drinks, or boozy desserts.
Ingredients:
2 teaspoons unsweetened cocoa powder
1 cup heavy cream
1 14-ounce can sweetened condensed milk
1 teaspoon vanilla extract
1 1/2 cups Irish whiskey
optional: 1 teaspoon instant coffee, almond extract, or mint extract
Directions:
Whisk together the cocoa powder and two tablespoons of heavy cream in a 4-cup mixing bowl.  Add cream, one tablespoon at a time, until the paste is smooth and no dry clumps remain.  Whisk in the rest of the heavy cream, followed by the condensed milk, vanilla, whiskey, and any additional flavorings.
Alternatively, combine all ingredients in a blender and process for 30 seconds.
Homemade Irish cream will keep in the refrigerator for up to 2 months.