Mediterranean Fish Stew
Warm up from the cold winter temperatures with a quick, hearty yet healthy, gluten free Mediterranean fish stew.  Fish and vegetables simmered in a tomato broth.
Winter is in full force around here.  It's currently snowing in my neck of the woods and the wind chill is frigid.  I've always loved snow and winter – the city is magical with a dusting of snow.
(I'm well aware that my love of snow is because I walk to work rather than drive.  This is also exactly why I loathe summer with every ounce of my being, while those of you who go from your air conditioned house straight into your air conditioned car and then walk a few yards into your air conditioned office don't mind summer.)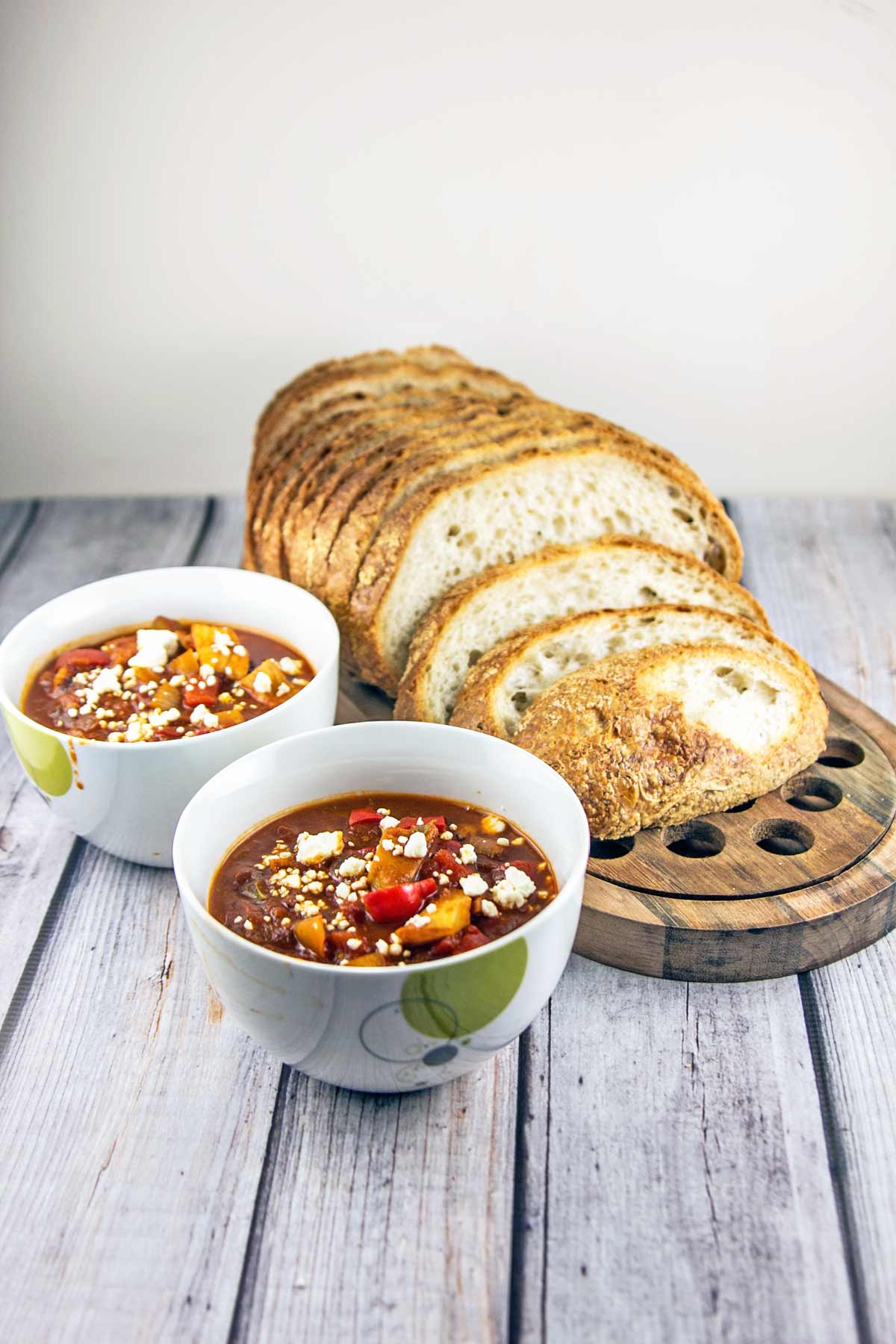 This kind of weather is perfect for hearty soups and stews – something warm and filling after walking home from work in the cold.
Even if you don't have any food-related New Years resolutions, January is always the perfect time to reset and fall back into healthy habits after the gluttony of the holidays.
Simple white fish in a tomato broth with onions, fennel, and red bell pepper.  A handful of fresh herbs and a little crumbled feta on top.  Serve with a green salad and a loaf of crusty bread.  This Mediterranean fish stew is simple, and yet so delicious.
Unlike many simmer-all-day style soups, this is ready in about half an hour, making it a perfect weeknight option.  I also usually have most of the ingredients for this on hand.  It's easy to substitute vegetables if you happen to have a handful of spinach but no fennel in your fridge.
This has been one of our go-to dinner staples for years, and I hope it becomes one of yours as well.  Stay warm, friends – start from the inside out with this Mediterranean fish stew.
Mediterranean Fish Stew
Warm up from the cold with a quick, hearty yet healthy, gluten-free stew of fish and vegetables simmered in a tomato broth.
Ingredients:
1 tablespoon olive oil
1 onion, diced
4 cloves of garlic, minced
1 bulb of fennel, diced
1 red pepper, chopped
1 cup dry white wine
4-5 tomatoes, diced (or a 28 ounce can of diced tomatoes)
1 teaspoon red pepper flakes
1 teaspoon dried oregano
1 pound halibut or other white fish
1/2 cup fresh herbs (I like a combination of additional oregano, rosemary, basil, and chives)
1/2 cup crumbled feta
Directions:
Heat the olive oil in a large heavy-bottomed pot or dutch oven.  Sauté the onion until soft, about 10 minutes.  Add the garlic and sauté an additional minute.  Add in the fennel and red peppers, and continue to cook until just soft.
Pour in the white wine and simmer for several minutes, until reduced by about half.
Stir in the tomatoes, oregano, and red pepper flakes.  Cover and simmer for 20 minutes.
Cut the fish into bite-sized pieces and add the fish.  Continue to simmer until fish is cooked through, about 5 minutes.
Remove from the heat and stir in the fresh herbs.  Ladle the soup into bowls and top with fresh feta.
A Bunsen Burner Bakery Original Protocol