Mint Chocolate Chip Ice Cream
The mintiest mint chocolate chip ice cream out there! A perfectly smooth and creamy base infused with extra mint flavor and just the right amount of chocolate chips.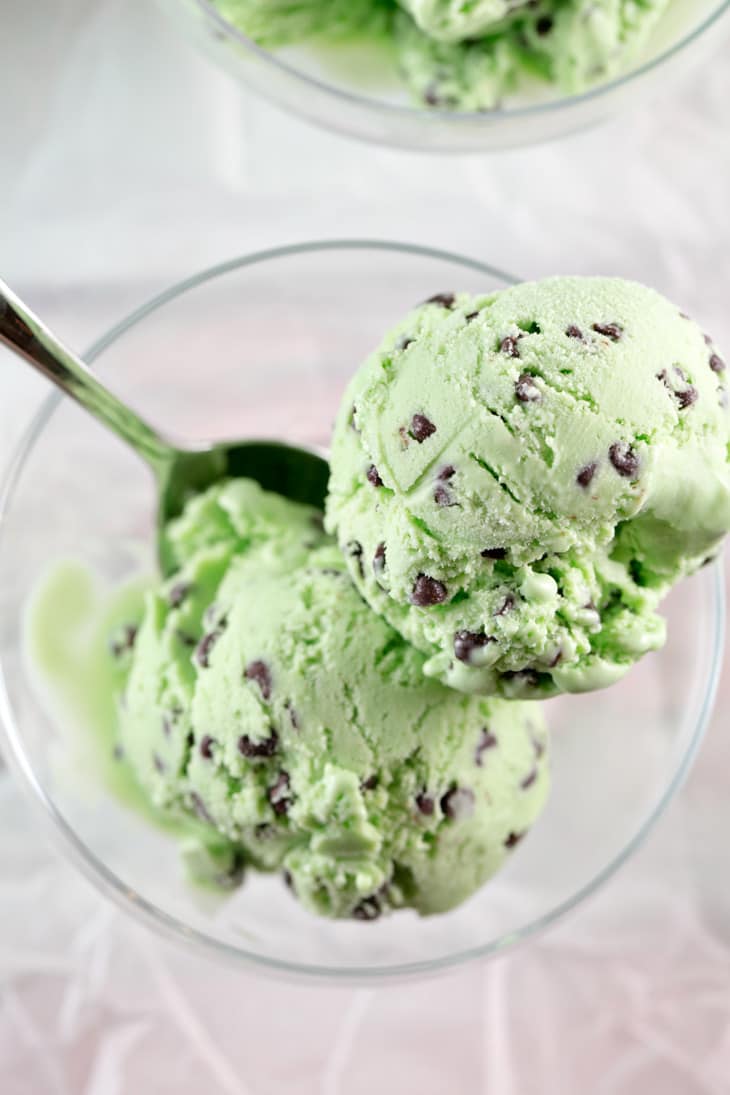 We recently received a huge bunch of mint in our CSA share. Three things come to mind when you think of mint: mint juleps, mojitos, and mint chocolate chip ice cream.
Since my husband is in the middle of studying for his boards, I knew he wouldn't be interested in drinking. Also, mint chocolate chip ice cream is one of my favorite things ever. So really, the choice was pretty obvious: mint chocolate chip ice cream.
As someone who LOVES mint, this is the be-all-end-all recipes for mint chocolate chip ice cream. Seriously. I'm kiiiiind of an ice cream connoisseur (or at least someone who really, really loves ice cream and tries a lot of it) and this recipe is the tops.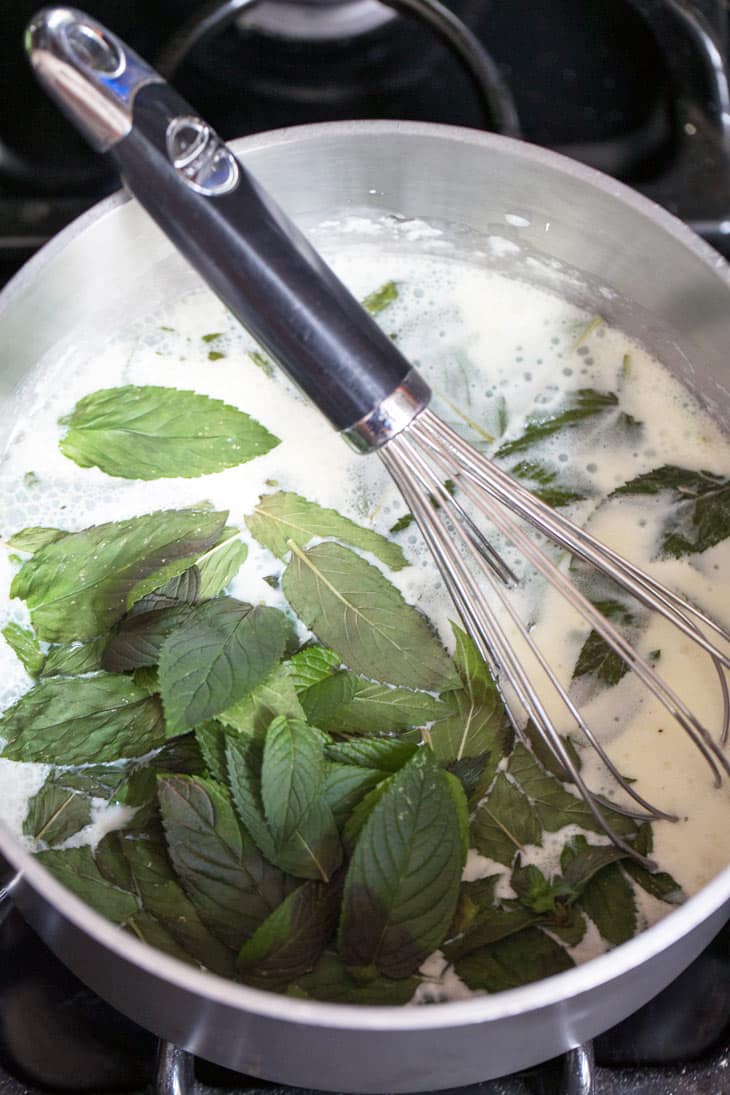 Fresh Mint For the Best Flavor
In a sea of zucchini and kale, "having" to make ice cream to use up a CSA share? Yes, please!
I used apple mint for this recipe, since it's what we received in our CSA share. You can also use chocolate mint (my favorite!) or peppermint – but avoid spearmint if you want a classic mint chocolate chip flavor.
Let's talk about what makes this so good: real mint, seeped in cream and sugar. Step away from the bottle of mint extract. Back away slowly, and pick up some mint leaves. I promise, you will be blown away.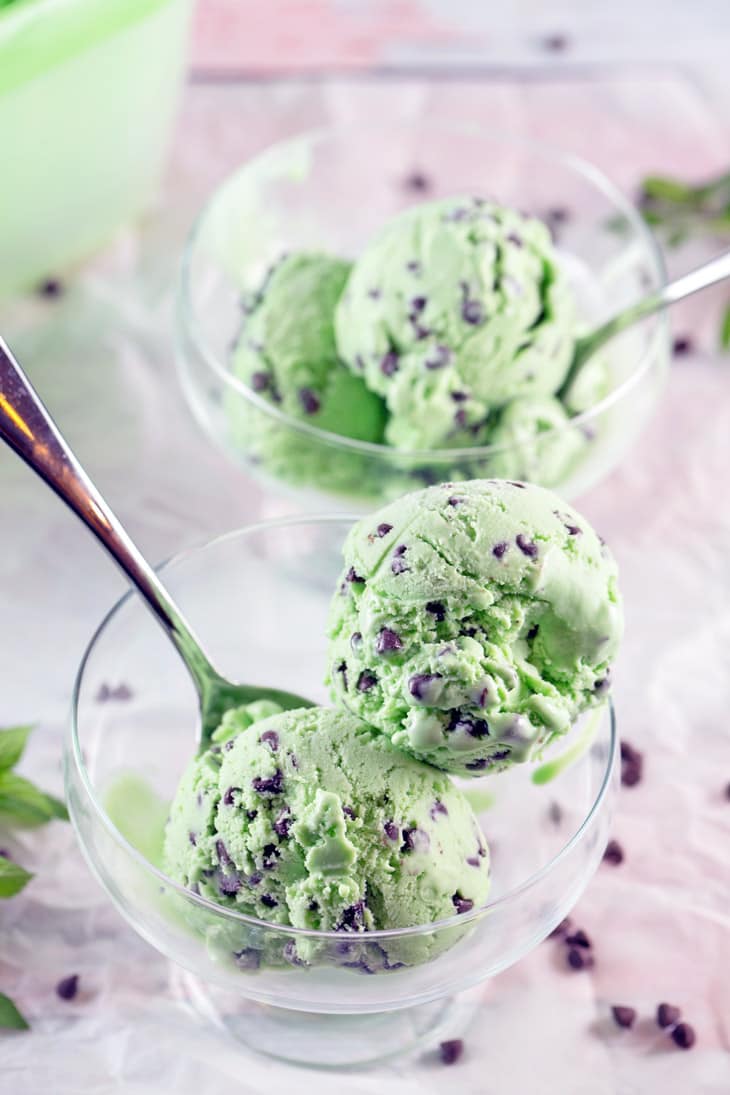 Creamiest Ice Cream Base
We've talked about needing fresh mint for the best flavor. Now let's talk about how to get the best texture.
This ice cream base is amazingly smooth and creamy, thanks to a high percentage of heavy cream. Butterfat, which comes from the milk and cream, is responsible for the thick, smooth texture of ice cream.
So why don't we want to load up our ice cream with as much fat as possible? It's time for my favorite subject… kitchen chemistry!
Kitchen Chemistry

While responsible for the rich, creamy texture, too much butterfat makes ice cream too hard, making it too challenging to scoop. Too much butterfat also masks the flavor of the ice cream, as it absorbs other flavors and slowly releases them as they melt. A high butterfat mint chocolate chip ice cream won't taste minty until the ice cream starts to melt.
We want the mintiest chocolate chip ice cream, which means we want to know we're eating mint chocolate chip from the first bite!
For this ice cream, we're using 2 cups of whole milk to 1 cup heavy cream, which results in roughly 12% butterfat – the perfect amount, in my opinion! The ice cream has a rich, thick mouthfeel, but it's still scoop-able, and doesn't mask the delicious natural mint flavor.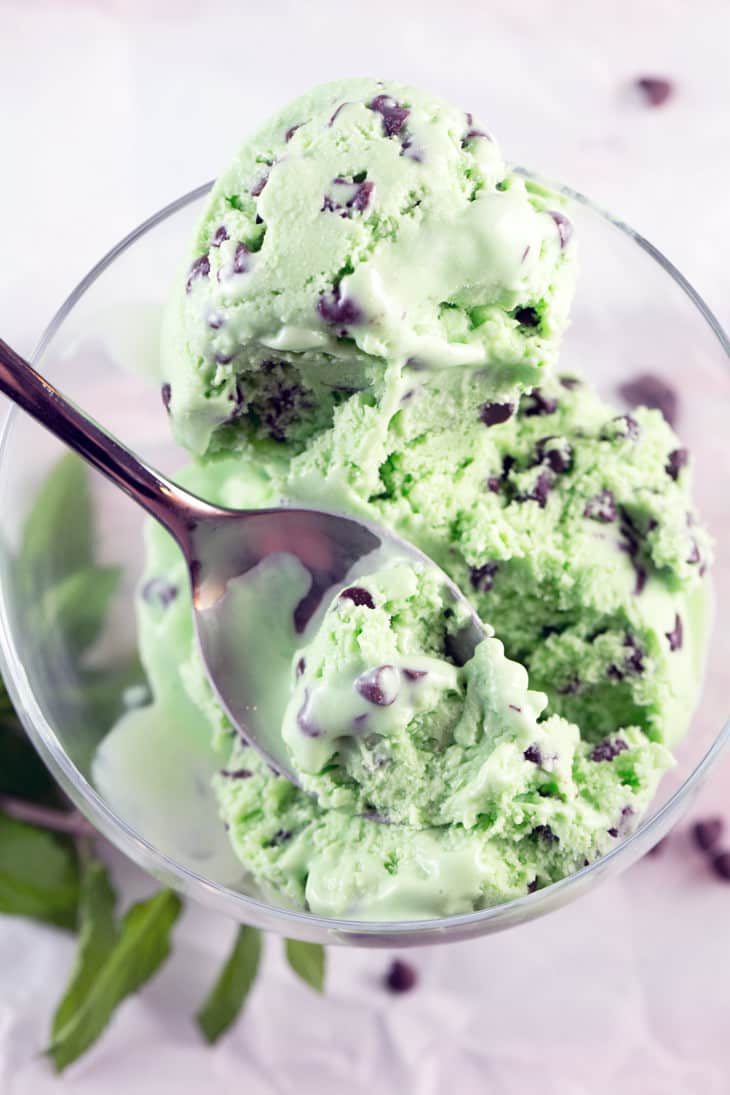 Tips and Tricks for the Best Mint Chocolate Chip Ice Cream
Use chocolate mint, peppermint, or apple mint for the best flavor (not spearmint!).
Slowly temper the hot milk into the egg yolks, starting with just half a cup of the mixture. Tempering will prevent the hot milk from cooking the eggs, resulting in scrambled chunks of egg in the base.
Strain the base through a fine mesh sieve before chilling to remove any solids.
Chop the chocolate into small bits or use miniature chocolate chips. Large chunks of chocolate are hard to bite into once frozen!
More Ice Cream Recipes:
Ingredients
6 large egg yolks
3/4 cup (149 grams) sugar
2 cups (454 grams) whole milk
1 cup (227 grams) heavy cream
3 cups (90 grams) fresh mint leaves
5 drops green food coloring
8 ounces (227 grams) dark chocolate, chopped
Instructions
In a medium bowl, whisk together egg yolks and sugar.
In a heavy saucepan over medium low heat, stir together milk and cream. Add in mint leaves, slightly bruising leaves by crunching in a fist. Heat until steaming (not boiling!).
Ladle 1/2 cup of the hot milk mixture and whisk into the egg yolk mixture to temper the eggs. Pour the egg mixture back into the rest of the milk mixture, stirring constantly. Keep over low heat and cook until thickened, 5 to 6 minutes, or until thick enough to coat the back of a spoon. Stir in food coloring and strain through a sieve into a large bowl.
Cover tightly with plastic wrap and chill for at least 3 hours, up to overnight.
Process the custard in an ice cream machine, adding the chopped chocolate during the last minute or two of churning. Freeze overnight until hard.
Notes
Use chocolate mint, apple mint, or peppermint for the best flavor (not spearmint).
Chop the chocolate into small chunks or use miniature chocolate chips.

Ice cream can be stored in the freezer for up to 6 months.
A Bunsen Burner Bakery Original Protocol
Recommended Products
As an Amazon Associate and member of other affiliate programs, I earn from qualifying purchases.
Nutrition Information:
Yield:

12
Serving Size:

1/2 cup
Amount Per Serving:
Calories:

282
Total Fat:

18.9g
Carbohydrates:

24.0g
Protein:

4.7g