Sheet Pan Steak Fajitas
Get dinner on the table in 20 minutes with these easy, make ahead sheet pan steak fajitas. Don't forget all your favorite fajita toppings!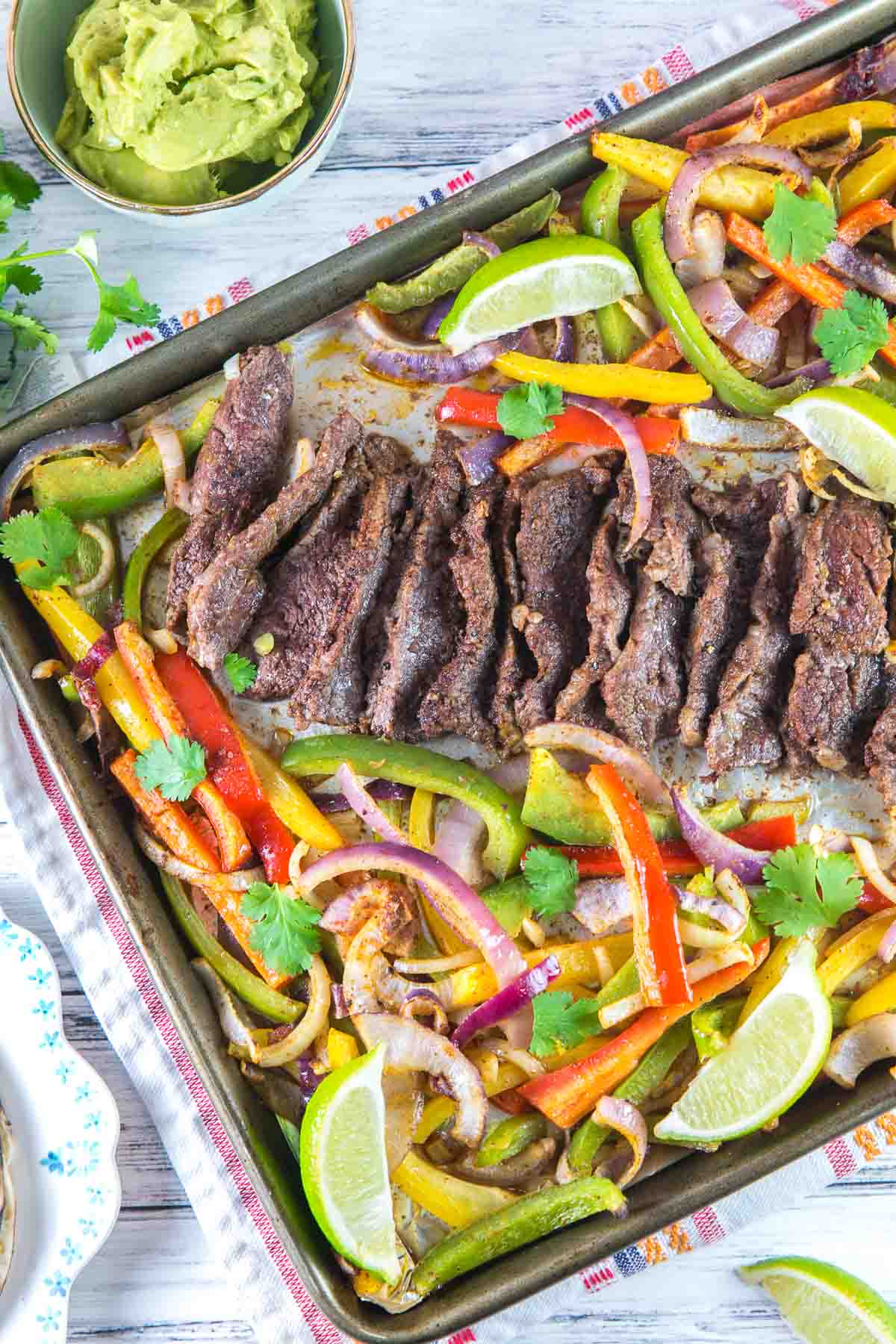 My just-turned-3 year old is in a full blown Mexican food obsession stage.
And really, who can blame him? Mexican food is delicious!
It's pretty much a guarantee that every week, we will have either fajitas or tacos… and the days we don't, he still wants to talk about them.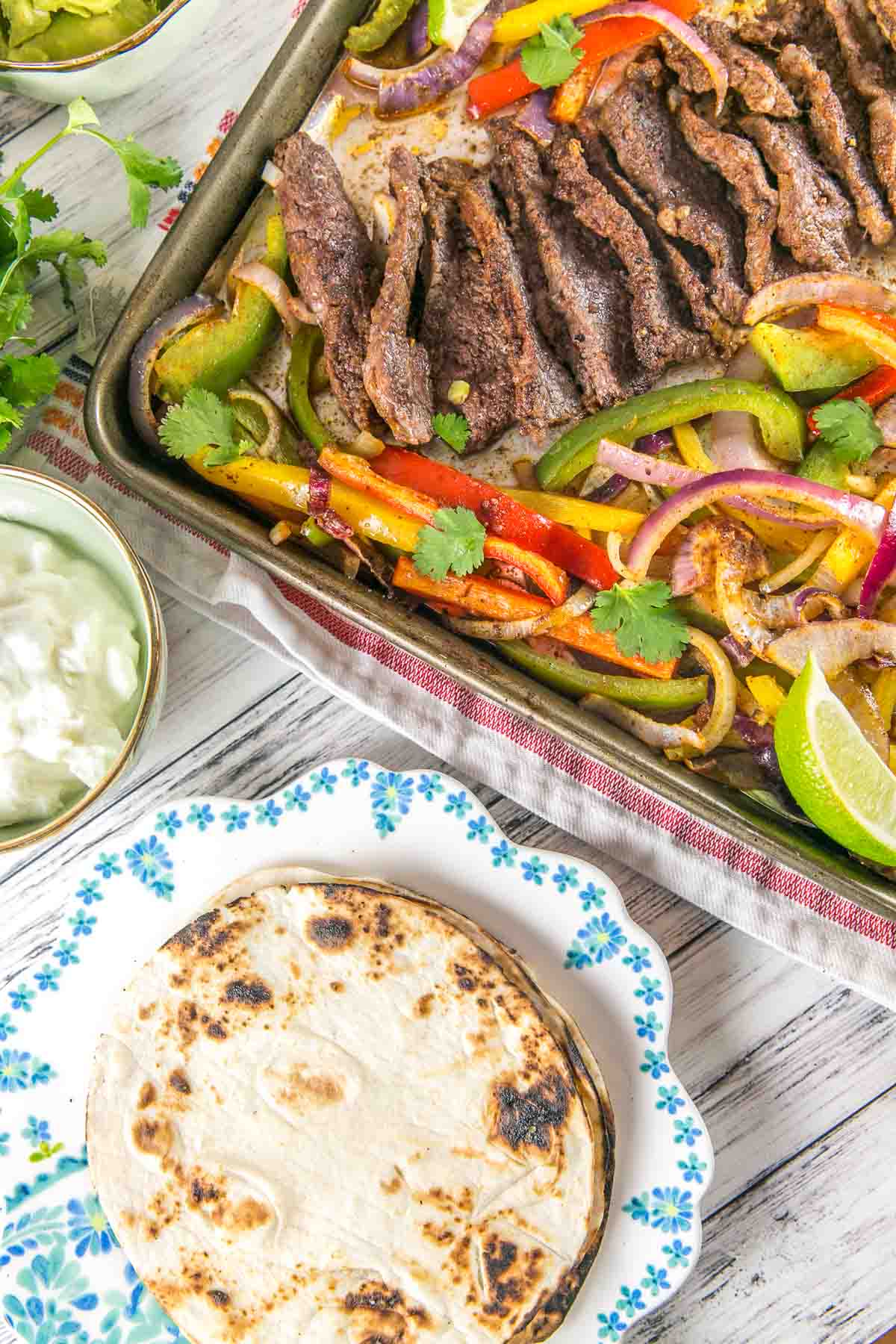 Whenever we go outside to grill, he sits on the steps and says "Mommy, let's talk about tacos." As a lover of terrible food puns, I'm working hard to get him to say "let's TACO 'bout it" — no such luck yet.
And then when we're done talking about tacos, he asks to talk about fajitas.  We talk about our favorite kinds of tacos and fajitas and our favorite toppings and our favorite way to make them.
Is this my kid or what?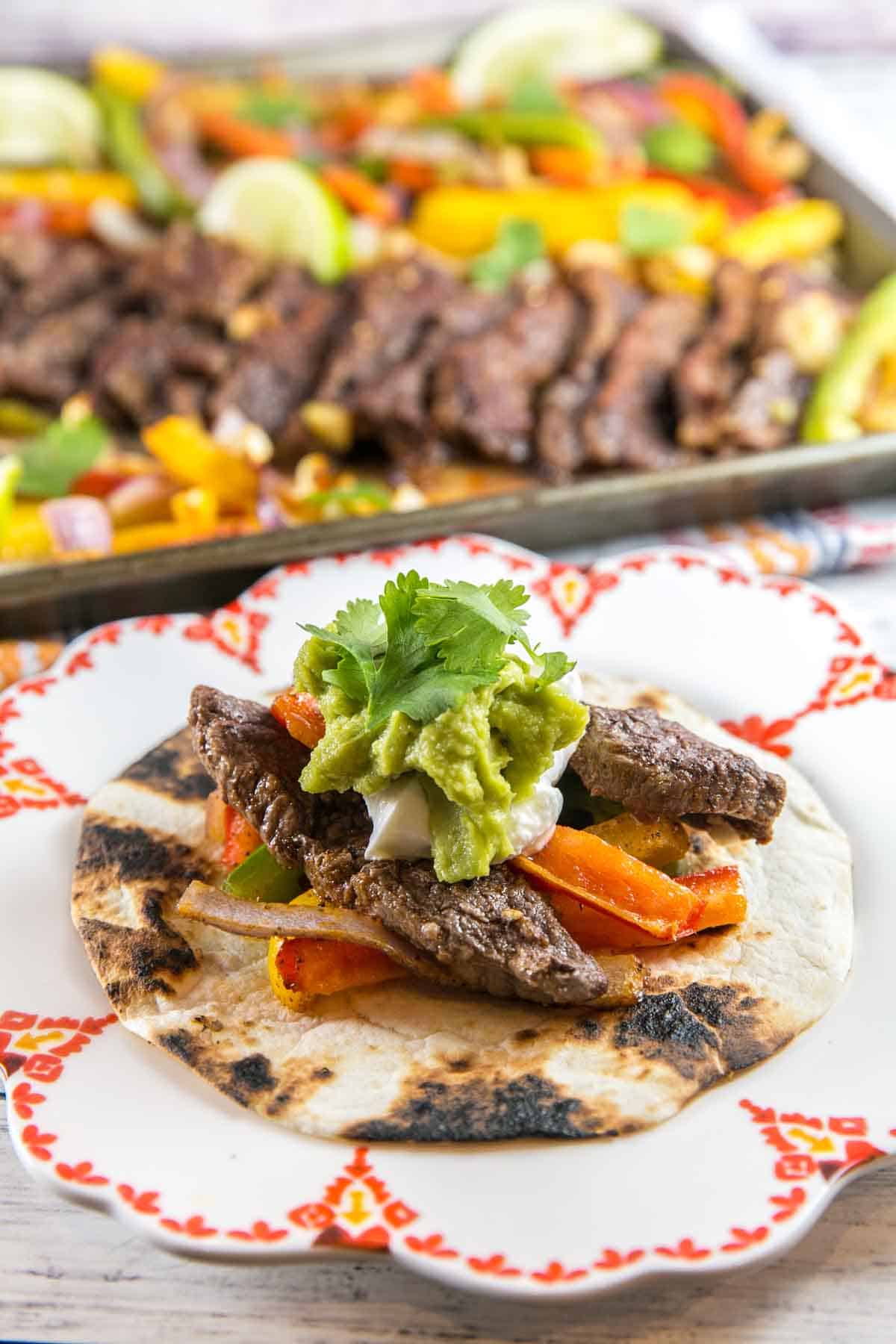 So because fajitas have been on my brain a lot lately, it's time to share a staple dinner recipe in the Bunsen Burner Bakery household: sheet pan steak fajitas.
I've waxed poetic about my love of sheet pan dinners before (sheet pan Asian salmon, sheet pan eggplant parmesan), and these sheet pan steak fajitas fit the bill.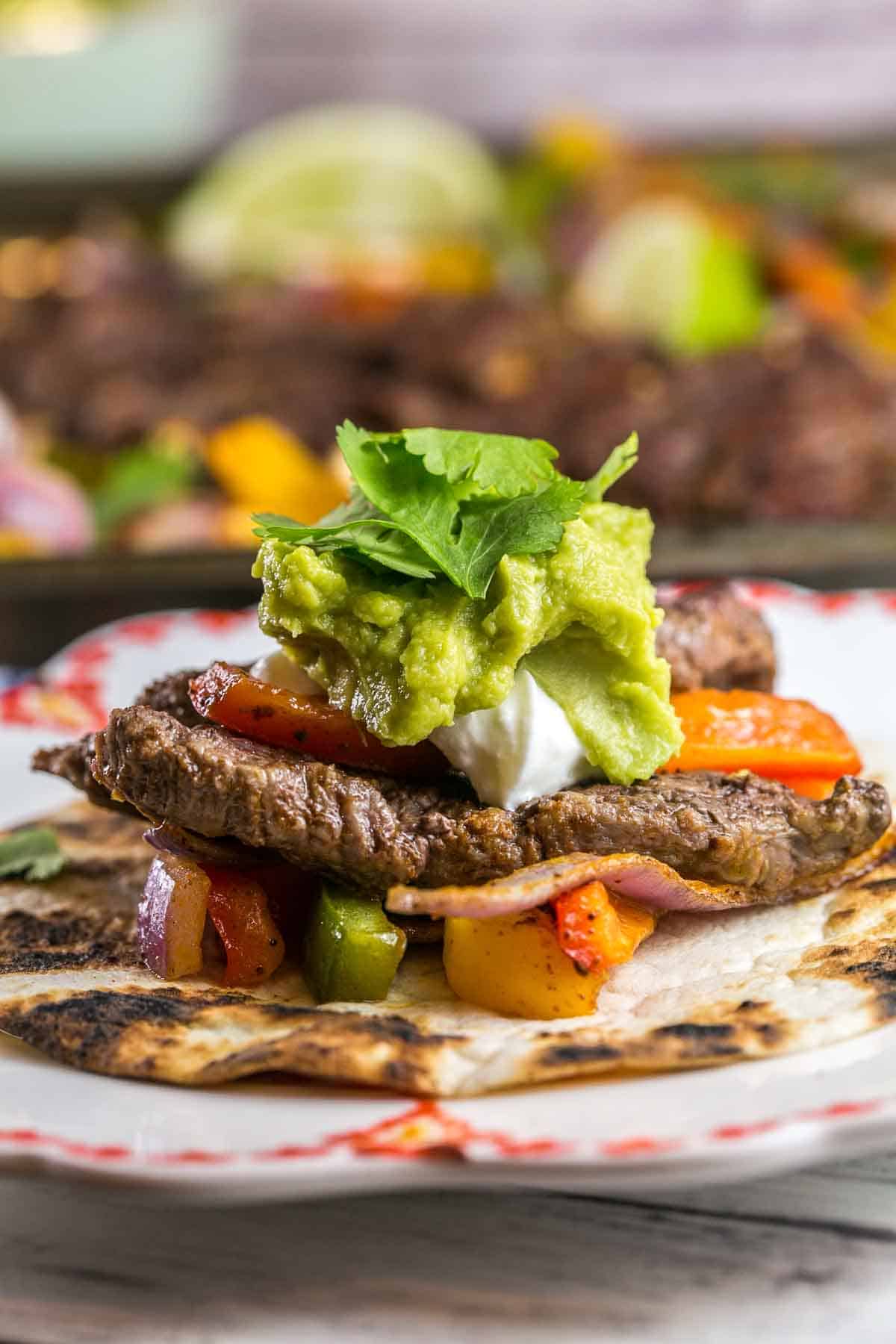 Able to prep everything ahead of time? Yes.
Everything cooks the same amount of time in the oven? You betchya.
Totally hands off while it's cooking? Absolutely.
In other words, perfect for busy weeknights. Sheet pan dinners are truly my answer for getting a quality, home cooked meal on the table as fast as possible.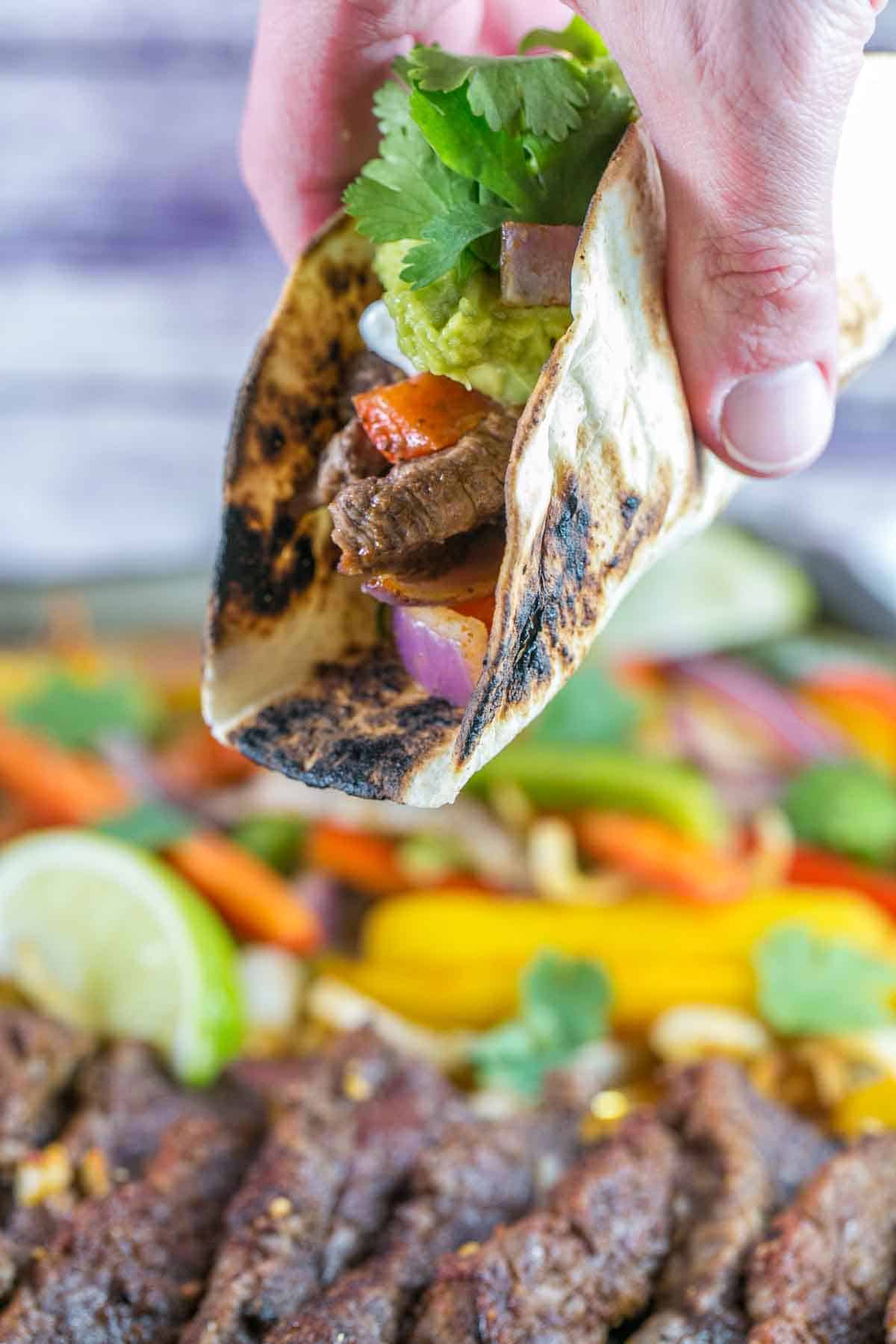 For these sheet pan steak fajitas, the most time consuming part is cutting the peppers and onions. And guess what? You can do all that ahead of time!
You can prep everything for this the night before and leave the sheet pan in the fridge. Come home from work and pop it into the oven: boom.  Dinner in 20 minutes and all you have to do is put a sheet pan into the oven and pull it back out.
TACO 'bout winning at life!
Sheet Pan Steak Fajitas
Get dinner on the table in 20 minutes with these easy, make ahead sheet pan steak fajitas.
Ingredients:
1 pound flank steak, sliced 1/2-inch thick against the grain
1 red onion, thinly sliced into strips
1 red bell pepper, sliced into strips
1 yellow bell pepper, sliced into strips
1 green bell pepper, sliced into strips
1/4 cup olive oil
2 teaspoons chili powder
2 teaspoons paprika (preferably smoked paprika)
1 teaspoon cumin
1 teaspoon garlic powder
1/2 teaspoon onion powder
1/2 teaspoon cayenne pepper
1/2 teaspoon salt
8 corn tortillas
additional toppings: lime wedges, cilantro, guacamole, sour cream, shredded cheese, etc.
Directions:
Preheat oven to 400 °F.  Line a large sheet pan with foil.
Combine sliced steak, onion, and peppers in a large bowl.  Drizzle with olive oil and stir until everything is evenly coated.  Stir together chili powder, paprika, cumin, garlic powder, onion powder, cayenne pepper, an salt in a small bowl; sprinkle seasoning mixture over the steak and peppers.  Stir well to combine.
Arrange steak, onions, and peppers in a single layer on the sheet pan.  Bake for 15-20 minutes, until steak reaches desired doneness and onions and peppers are cooked. If desired, warm tortillas in a pan or toast over the flame of a gas burner.
Serve with desired toppings.