Southwestern Egg Muffins
Full of black beans, peppers, and southwestern spices, these make-ahead egg muffins are the perfect low carb, high protein breakfast!
There are an awful lot of lifestyle changes that happen when you have a baby.  It's easy to think about the big ones – the ones you spend 9 months contemplating.
Travel just became a whole lot more complicated.  No more spontaneous late nights out without a sitter.  No more sleeping in after a late night out.  (Or more likely, no more sleep – period.)  You trade in the New York Times bestseller list for Llama Llama and the Pout Pout Fish and a tiny clutch for a giant diaper bag.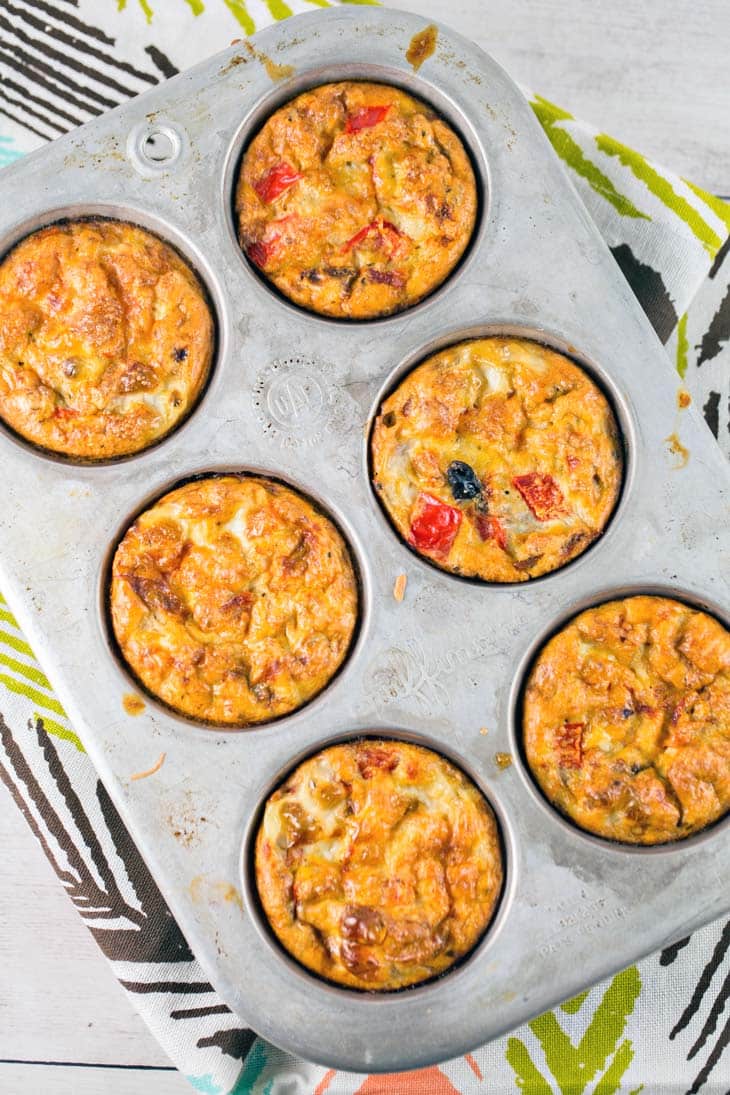 One of the changes that I didn't really think about ahead of time relates to food.  (Which is funny, because I obviously think about food a lot.)
As childfree adults, we were able to eat whatever we wanted for dinner.  You know – the nights you just can't be bothered to cook.  Everyone has their go-to non-dinner dinner, right?  For my husband, it's a bowl of cereal.  For me, it's a bowl of air popped popcorn covered in chili powder.
These were the standard "stuck at work until 9pm" or "just got home from vacation and haven't been to the grocery store yet" dinners.  And then one day, you have a baby who suddenly eats real food and needs an actual dinner and *poof* without thinking about it, the hodgepodge snack dinners are a thing of the past.
And don't get me started on breakfast!  I'm not much of a breakfast person –  I don't really like most breakfast foods.  I'd much rather bring a hardboiled egg or yogurt to eat at work than sit down and eat first thing in the morning.
But again – toddlers expect breakfast as soon as they wake up.  (Truth: Ryan's first word of the day is often "pancake?!" when I go to greet him in the morning.)
So how does a non-breakfast eater manage a breakfast-loving toddler on hectic weekday mornings before heading to work?  By keeping a freezer stash of egg muffins — specifically, these southwestern egg muffins.
I double the recipe and make 24 at a time, store them in gallon-sized freezer bags, and pull one out each morning.  Easy-peasy!
Plus, southwestern egg muffins are a breakfast that I feel good about feeding my toddler.  Eggs are rich in protein and a great source of healthy fats and cholesterol, vital to that little growing toddler brain.
I pack these full of red peppers (one of his favorites), black beans (another favorite!), and some garlic.  Like me, Ryan loves bold flavors, so I always add in some cumin, chili powder, and smoked paprika.
Toddler food is notoriously boring when it comes to flavor, but it doesn't have to be; this is the perfect time to introduce a variety of spices!  And then, since Ryan likes a little heat, I always stir in some of my favorite chipotle salsa.
Of course, don't think that these are only good for toddlers – they make the perfect adult grab-and-go breakfast, too!  I love our southwestern egg muffins for my mid-morning breakfast.  And so perfect for a brunch gathering – a plate full of egg muffins, surrounded by fluffy waffles and fruit salad.  Heaven!
Eat them hot right out of the oven or freeze them for later.  To freeze, I set them side-by-side on a cookie sheet and place them in the freezer for a few hours, until frozen solid.  Transfer the frozen egg muffins to a freezer bag and tuck away for up to 3 months.
For best results, thaw overnight in the refrigerator and bake at 350 °F for 8 minutes, or until heated throughly.  You can also microwave straight from frozen, although the texture turns a little rubbery.  My toddler never minds, though, so for him – I go straight from the freezer into the microwave for 45 seconds, onto his plate.
Breakfast literally takes under a minute.  Working mom win!
Southwestern Egg Muffins
Full of black beans, peppers, and southwestern spices, these make-ahead muffins are the perfect low carb, high protein breakfast!
Ingredients:
12 eggs
1/2 cup salsa
1 teaspoon chili powder
1 teaspoon cumin
1 teaspoon smoked paprika
1/2 teaspoon garlic powder
1 red bell pepper, diced
1 cup black beans
3 green onions, diced
1 cup cheddar or Mexican blend cheese, shredded
Directions:
Preheat the oven to 375 °F.  Spray a 12-well muffin tin well with cooking spray.
In a large bowl, whisk the eggs and salsa together until yolks are broken and well combined.  Stir in the spices.
Divide the chopped vegetables, beans, and cheese among the 12 wells of the muffin tray.  Pour in the egg into each muffin cup, filling almost to the top.  Stir each well with a fork to coat vegetables and beans with the eggs.
Bake for 25 minutes, or until egg muffins rise and set.  Allow eggs to cool for 5 minutes in the pan, then run a knife around the edge of the wells and remove with a spoon.
To freeze muffins, place in a single layer on a cookie sheet and place in the freezer for 2-3 hours, until frozen solid.  Transfer to a gallon-sized freezer bag and store for up to 3 months.  To reheat, thaw overnight in the refrigerator and bake at 350 °F for 6-8 minutes until heated through (recommended) or heat in microwave for 1 minute.