Spiral Vegetable Tart
Thinly sliced summer vegetables are the visual star of this spiral vegetable tart. With a layer of homemade sundried tomato pesto and a flaky pie crust, this tart is as delicious as it is beautiful.
Sometimes a picture really is worth a thousand words. I could tell you about this tart — the flaky crust, the crisp-tender layers of thinly sliced vegetables covering a thin layer of savory sundried tomato pesto, the fresh rosemary and oregano right from my garden.
But really, the best part about this tart: it's beautiful.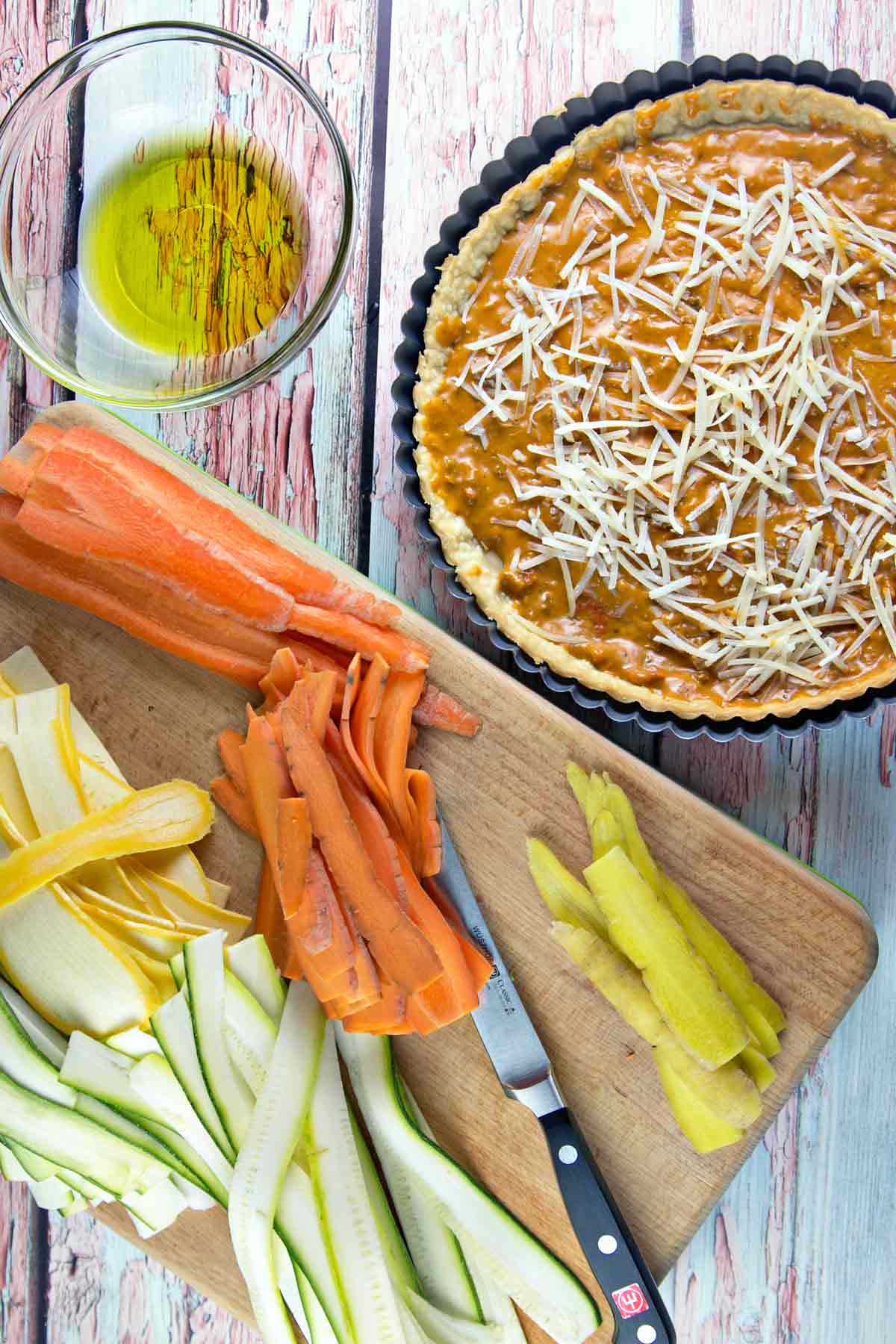 Don't get me wrong — it's also delicious. But you could thinly slice some vegetables, drizzle them with olive oil and herbs, and roast them and they would also be delicious.
This tart, however? It's a visual showstopper. Concentric circles of brightly colored vegetables, almost mesmerizing in appearance. Did I also mention that it's easily adaptable for gluten free or vegan diets?
In our pre-parenthood days, we used to entertain quite a lot. Large dinner parties. Appetizers and fancy drinks on the roof deck. My personal favorite: inviting people over late in the evening just for big, decadent desserts.
We haven't done as much entertaining lately, though it's more because so many of our friends have moved away (sob!).
Two years ago, we would have had shared this tart with friends, clinking glasses of wine, laughing and catching up. Now, I shared this tart with my 16 month old, who dug right in with his fingers while wearing pajamas.
But hey, he's cuter than most of my friends and he loves veggies, so really – I can't ask for anything more.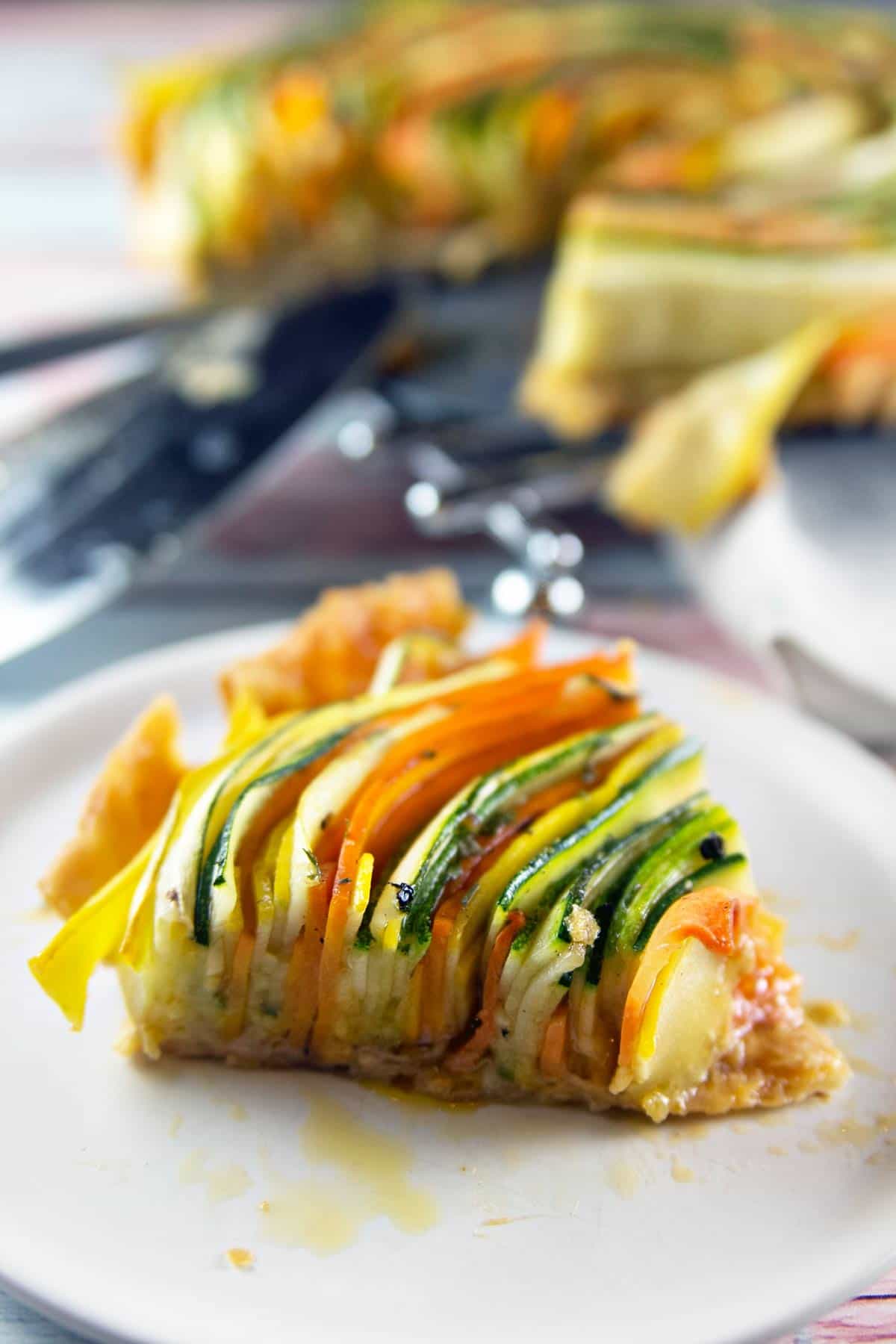 I won't lie; this spiral vegetable tart does take some time to assemble. There's rolling out the pie dough. There's slicing the vegetables (I recommend a mandoline, though a Y-peeler or a steady hand and a sharp knife will also get the job done).
Of course, there's wrapping all those vegetables around each other, trying to hold the end of a zucchini down while starting the next squash.
And yet despite the time requirement and mundane tasks, or perhaps because of them, I found this so incredibly soothing to make.
Rather than spiral vegetable tart, I could have alternatively titled this "Summer CSA Overload Tart" because that's how this came to be. A drawer full of zucchini, squash, and rainbow carrots, thanks to our Philly Foodworks share.
Any long, sliceable vegetable will work — if it's too wide, just cut it in half or thirds. For a summery tart, toss in an eggplant.
I'm already daydreaming about a winter version with circles of butternut squash, leeks, and parsnips.
Whatever vegetables you use, the key to this spiral vegetable tart is olive oil. It's the glue that holds each strip of vegetables together. You'll get a little messy. It certainly takes some time.
But in the end, you'll have a beautiful, delicious tart, perfect for extra special company or your finger-feeding toddler.
Delicious, beautiful, and full of fresh summer vegetables. What more do you need in life?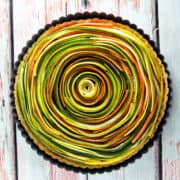 Spiral Vegetable Tart
Thinly sliced summer vegetables are the visual star of this spiral vegetable tart.  With a layer of homemade sundried tomato pesto and a flaky pie crust, this tart is as delicious as it is beautiful.
Ingredients:
1 no-fail pie crust (alternatives: gluten free vegan)
1 cup sundried tomatoes, packed in oil and drained
1/4 cup basil leaves
2 cloves garlic
1/2 cup olive oil, divided
1/4 cup shredded parmesan (optional)
1 large zucchini
1 large yellow squash
2-3 medium carrots
2 tablespoons chopped fresh herbs (suggested: rosemary, thyme, oregano)
salt and pepper, to taste
Directions:
Prepare a batch of No-Fail Pie Crust (or gluten free or vegan alternatives, depending on dietary preferences).  Chill dough in the refrigerator for 30 minutes.
While the dough is chilling, trim the edges of the zucchini, squash, and carrots.  Slice the vegetables into long, thin slices, using a mandolin, vegetable peeler, or a sharp knife.
Preheat the oven to 350 °F.  Grease a 9″ tart tan.  Roll the dough on a lightly floured surface until just a bit bigger than the tart tin.  Place the dough into the tin and press into the bottom and sides.  Trim any excess overhang.  Refrigerate the dough in the tart pan for 15 minutes.
Line the dough with parchment paper and fill with dry beans or a pie weight.  Bake for 15 minutes, until edges are slightly golden.  Remove from the oven and set aside to cool.
While the crust cools, make the pesto.  Combine the sundried tomatoes, basil, and garlic in a food processor or blender.  Pulse several times, then slowly add in 1/4 cup of olive oil and continue to pulse until the pesto reaches the consistency of spreadable paste.  Add salt and pepper to taste.
Spread the pesto along the bottom of the tart.  Sprinkle with the cheese (if using).
Quickly dip one piece of sliced vegetable in the remaining olive oil, or bush with oil using a pastry brush.  Roll the strip into a tight circle and place in the center of the tart.  Dip the next vegetable slice in olive oil and roll around the first slice.  Continue wrapping the vegetable slices in concentric circles until the tart is full.
Brush the top of the vegetable tart with any remaining olive oil, then sprinkle with salt, pepper, and chopped fresh herbs.
Bake at 350 °F for 45 to 50 minutes, until vegetables are crisp-tender and cooked through.  Cool in tart pan for 10 minutes, then slice and serve.
A Bunsen Burner Bakery Original Protocol