Tequila Lime Margarita Pie
Enjoy your margarita in dessert form, with this tequila lime margarita pie with a salted graham crust.  A silky smooth lime custard, made with tequila and triple sec, bakes in only 25 minutes and can be made ahead of time for easy entertaining.  Don't forget a side of salted lime wedges!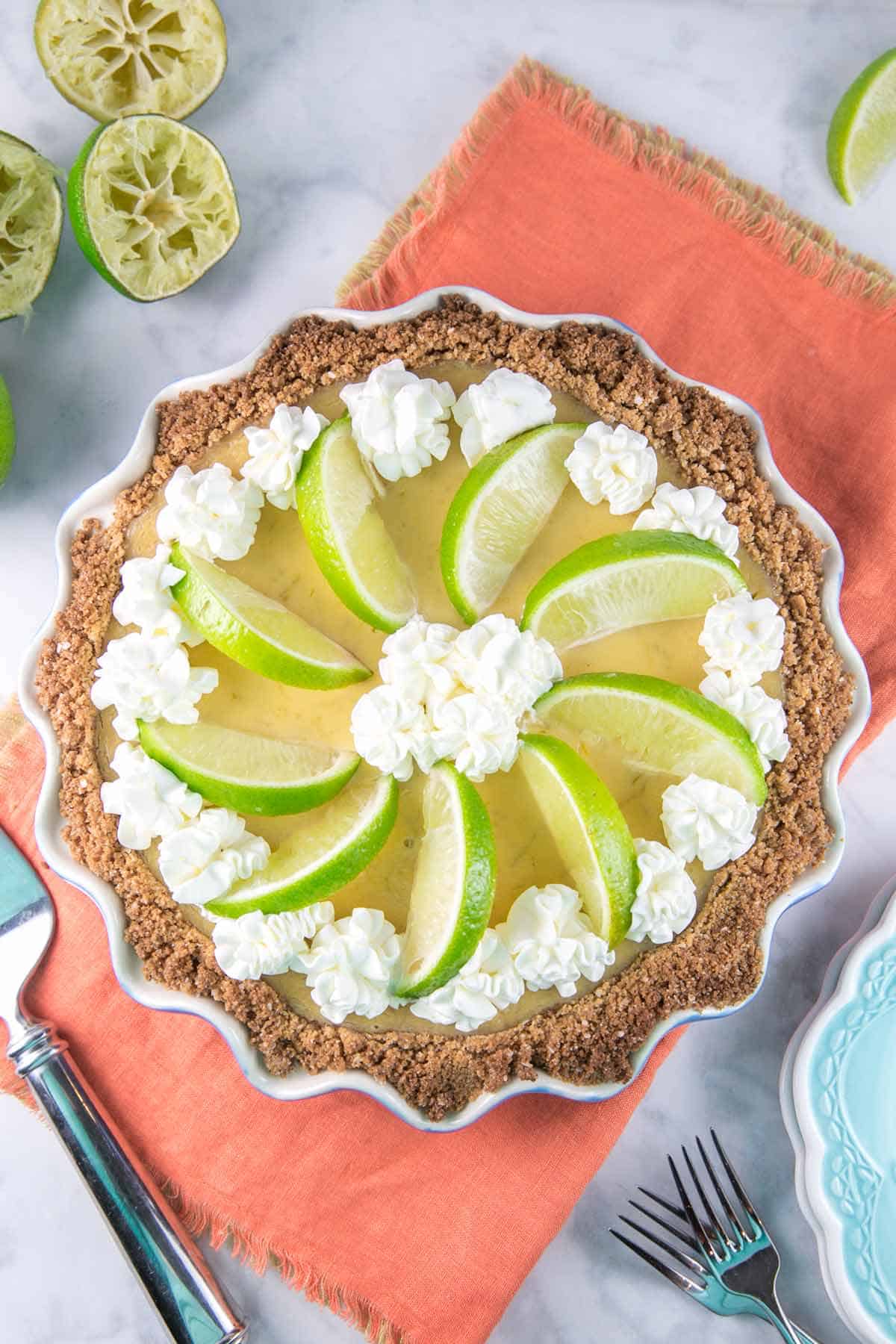 Pie of the Month.  Cinco de Mayo.  You know what's coming.  As a big tequila lover, how could I not?
The obvious choice for May's Pie of the Month was clearly something margarita themed, and full of tequila!
(Sadly, I made this while I was still pregnant, so I limited myself to a few bites of a slice.  Believe me, if I was making this today… ALL FOR ME, NONE FOR YOU.  Hands off my margarita pie, thankyouverymuch.)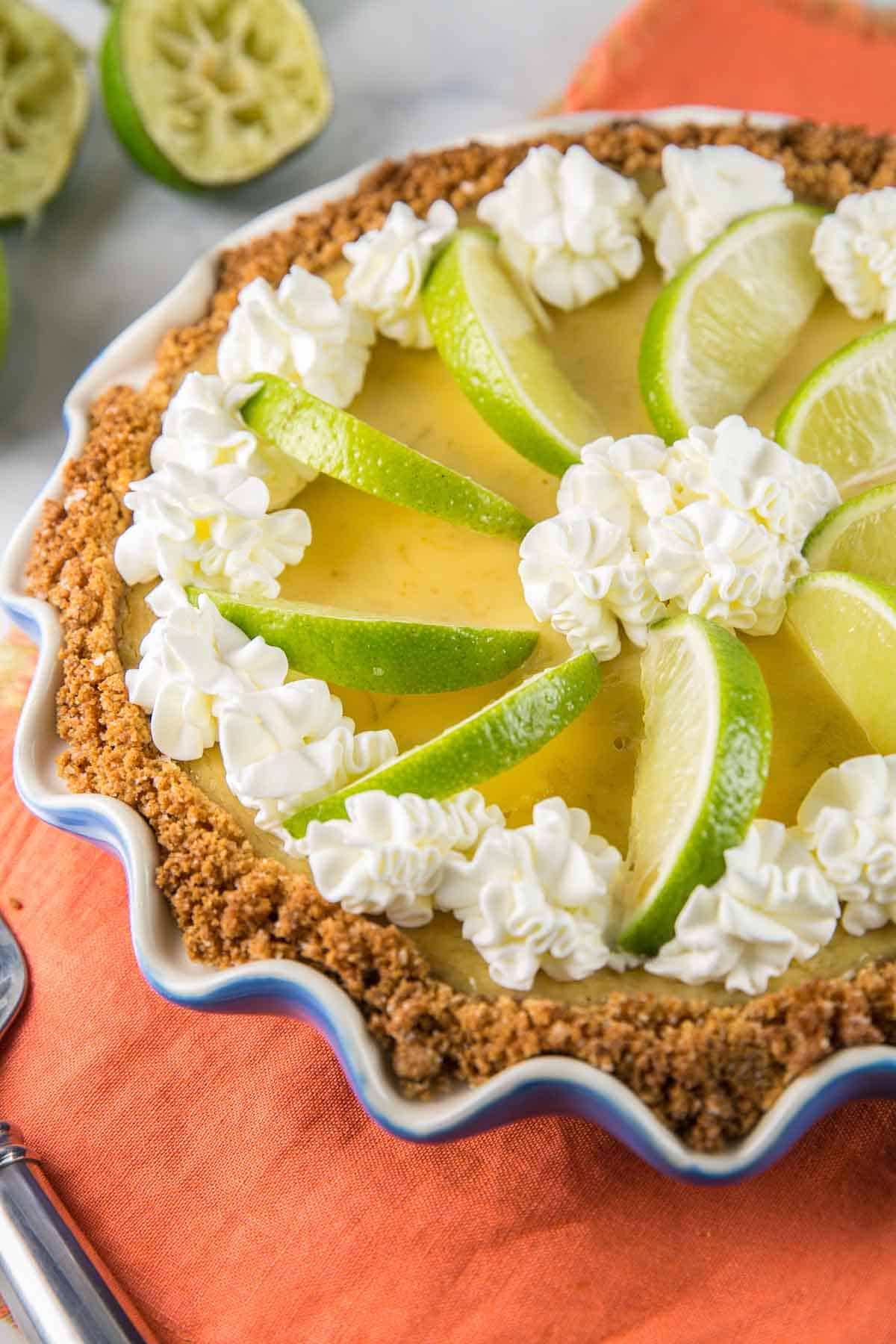 Similar to the lemon pie I shared earlier this year, this tequila lime margarita pie contains a graham cracker crust and a citrus-infused custardy layer.
But instead of a regular graham cracker crust, this one gets a salted graham crust.  (Because if you don't order your margaritas on the rocks with a salted rim, I just don't get you.)
Obviously, we'll use lime juice instead of lemon juice.  And because it's a margarita pie, we'll include both a healthy glug of tequila and a splash of triple sec.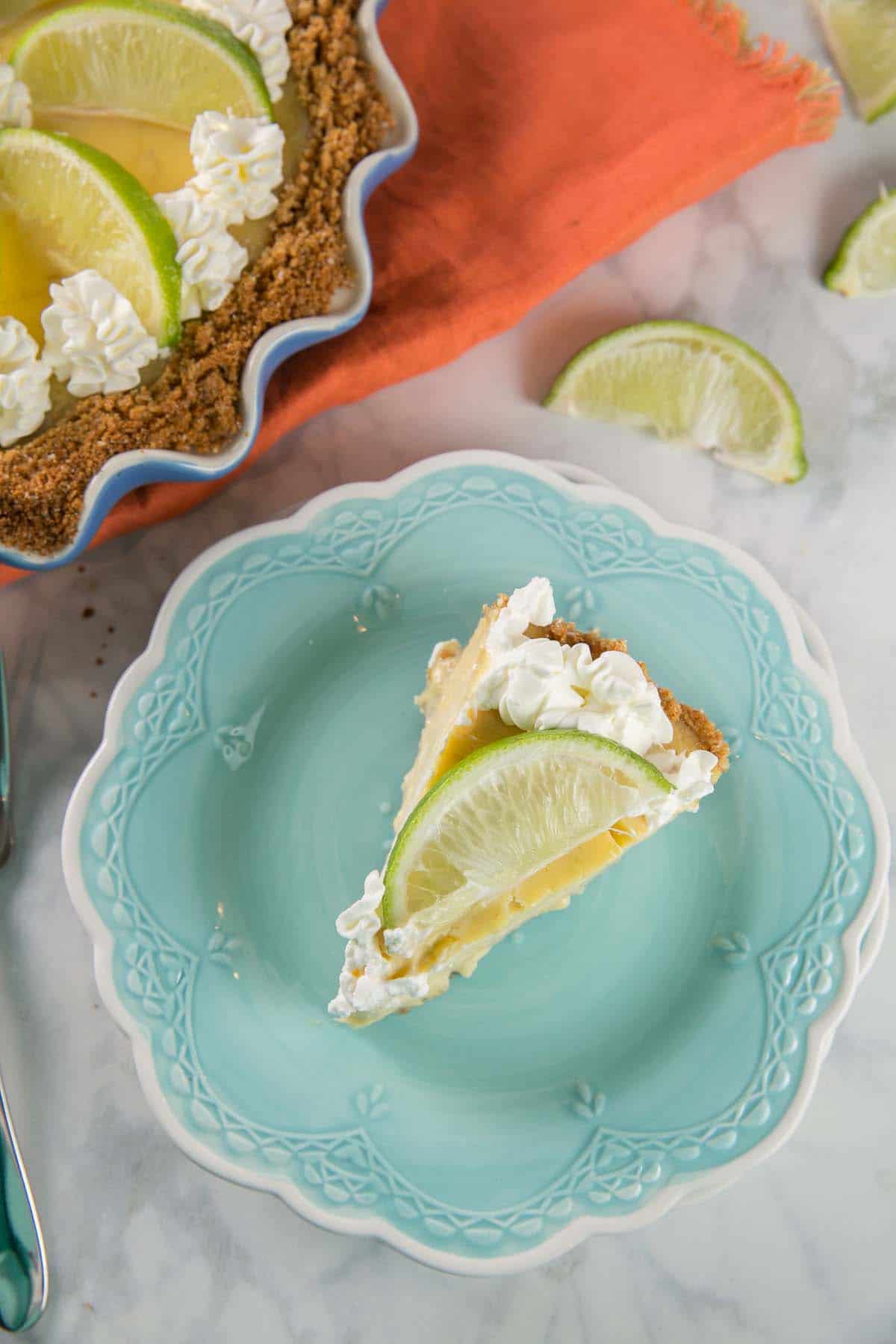 This is one of those recipes, like my coconut bundt cake, that required quite a bit of tweaking.
I love big, bold flavors, and I really wanted this pie to taste distinctly of lime and tequila.
Not so tequila-y that it brings back bad college memories, of course.  But tequila-y enough that it doesn't taste like a plain old key lime pie.  (No disrespect to key lime pies – I love them! But this is a margarita pie.)
As you can probably imagine, the first few attempts were either not tequila or lime-y enough, or involved so much liquid that the custard never set.  Trial and error is the name of the game!
But I eventually found the perfect ratio of condensed milk, egg yolk, lime juice, and tequila for a creamy, dreamy, margarita pie.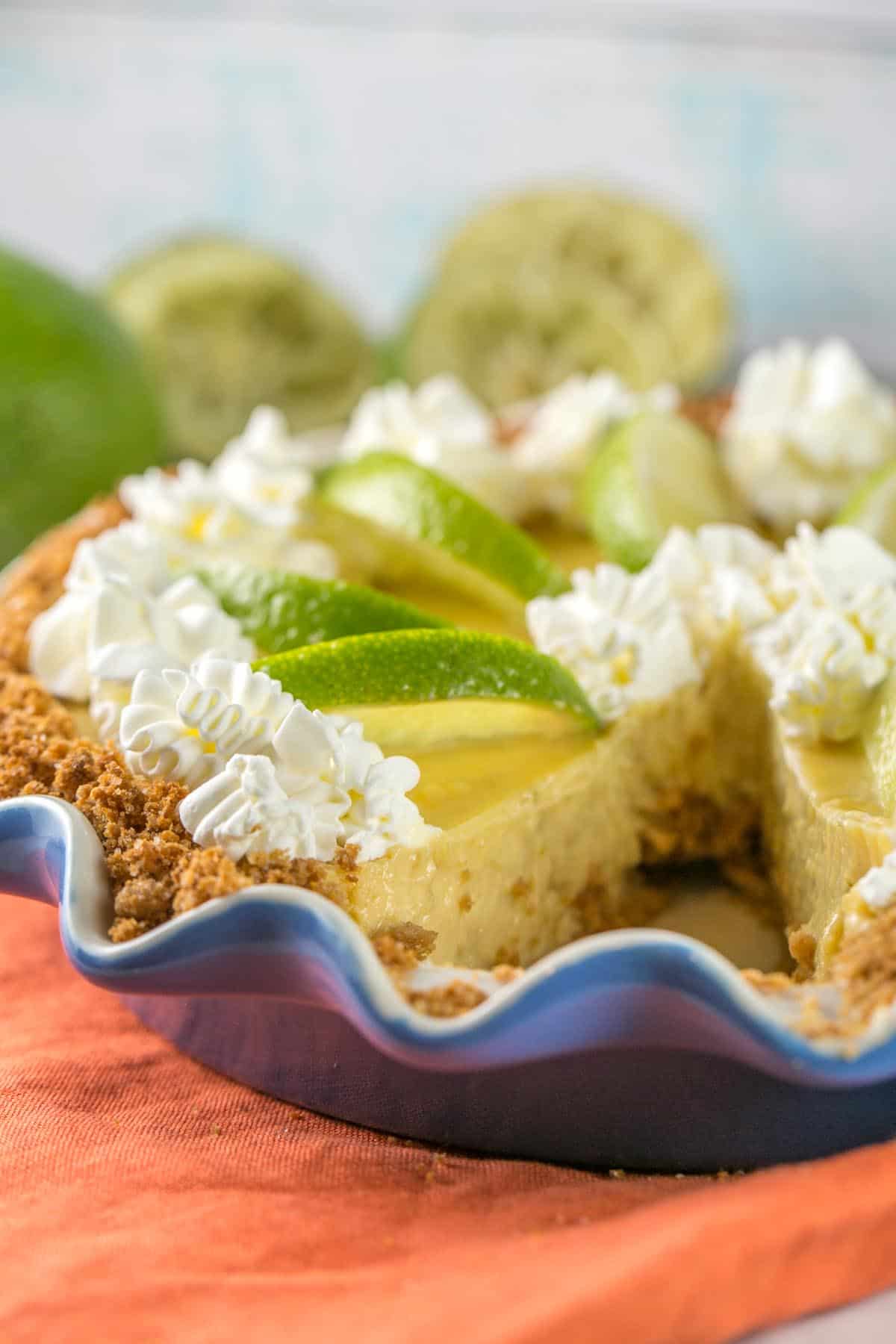 This is also a perfect make-ahead pie.
The pie can be fully baked and assembled and chill in your fridge for days before you serve it.
Or you can freeze it for months.  (Although… if you can make for months knowing this pie is waiting in your freezer, you deserve a medal for your willpower.)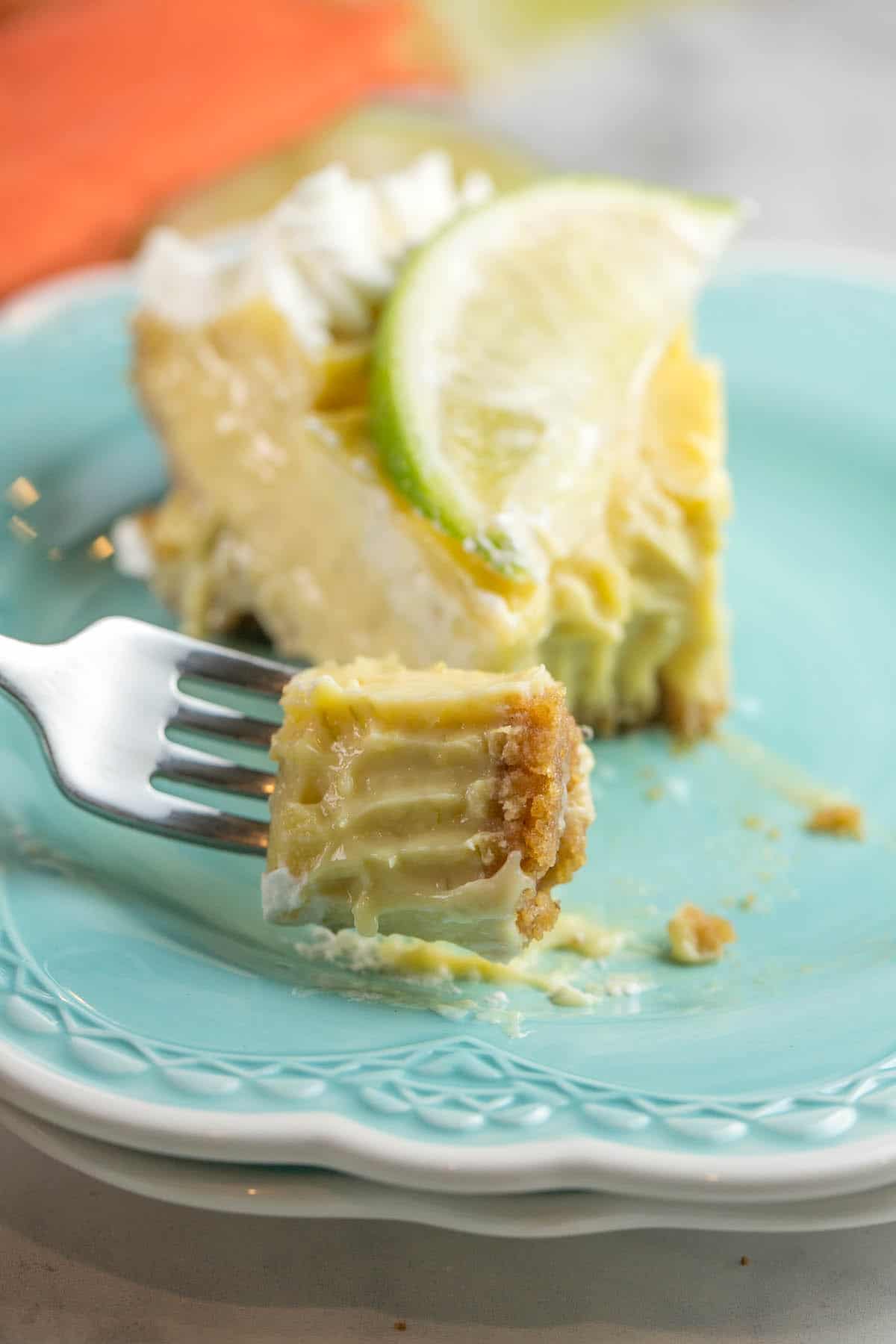 Thanks to the lime juice and tequila, this pie is not super sweet.
It's like a perfectly refreshing margarita (on the rocks with a salted rim, of course) on a hot summer day.  The perfect end to a spicy Mexican dinner.  Or enjoying on the back patio after grilling.
Or eating straight out of the pie dish with a fork at 2am, because that is totally what I would have been doing if I wasn't pregnant.  No shame around here.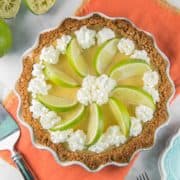 Tequila Lime Margarita Pie
Enjoy your margarita in dessert form, with this tequila lime margarita pie with a salted graham crust.
Ingredients:
For the graham cracker crust:
1 1/2 cups graham cracker crumbs (approximately 12 full size sheets, finely crushed)
1/3 cup granulated sugar
1 1/2 teaspoons kosher salt
6 tablespoons melted butter
For the filling:
2 (14 ounce) cans full-fat sweetened condensed milk
1 cup freshly squeezed lime juice (5-6 medium sized limes)
zest of 3 limes
5 large egg yolks
1/2 cup tequila
2 tablespoons triple sec
optional garnish: freshly whipped cream, salted limes
Directions:
Preheat oven to 350 °F.
Prepare graham cracker crust according to instructions, adding in the salt with the sugar.  Remove from oven and let cool briefly while making lemon pie filling.
In a large bowl, whisk together the sweetened condensed milk, lime juice, lime zest, egg yolks, tequila, and triple sec until well combined.  Pour into graham cracker crust.
Bake the pie for 20-25 minutes, until pie is set along the edges but still jiggly in the center.  Remove from oven and cool to room temperature, then transfer to refrigerator and chill for 1 hour, up to a week.
Top with desired garnish: freshly whipped cream and/or salted limes.
Pie can be made ahead of time.  After baking, cool at room temperature, then loosely wrap with plastic wrap and store in the refrigerator for up to 1 week, or cover tightly with a layer of plastic wrap and aluminum foil and freeze for up to 3 months.  Thaw overnight in the refrigerator.
A Bunsen Burner Bakery Original Protocol