Cinnamon Swirl Bundt Cake
An easy one bowl, whisk by hand cinnamon swirl bundt cake, covered with cinnamon cream cheese frosting.  It's perfect fall baking!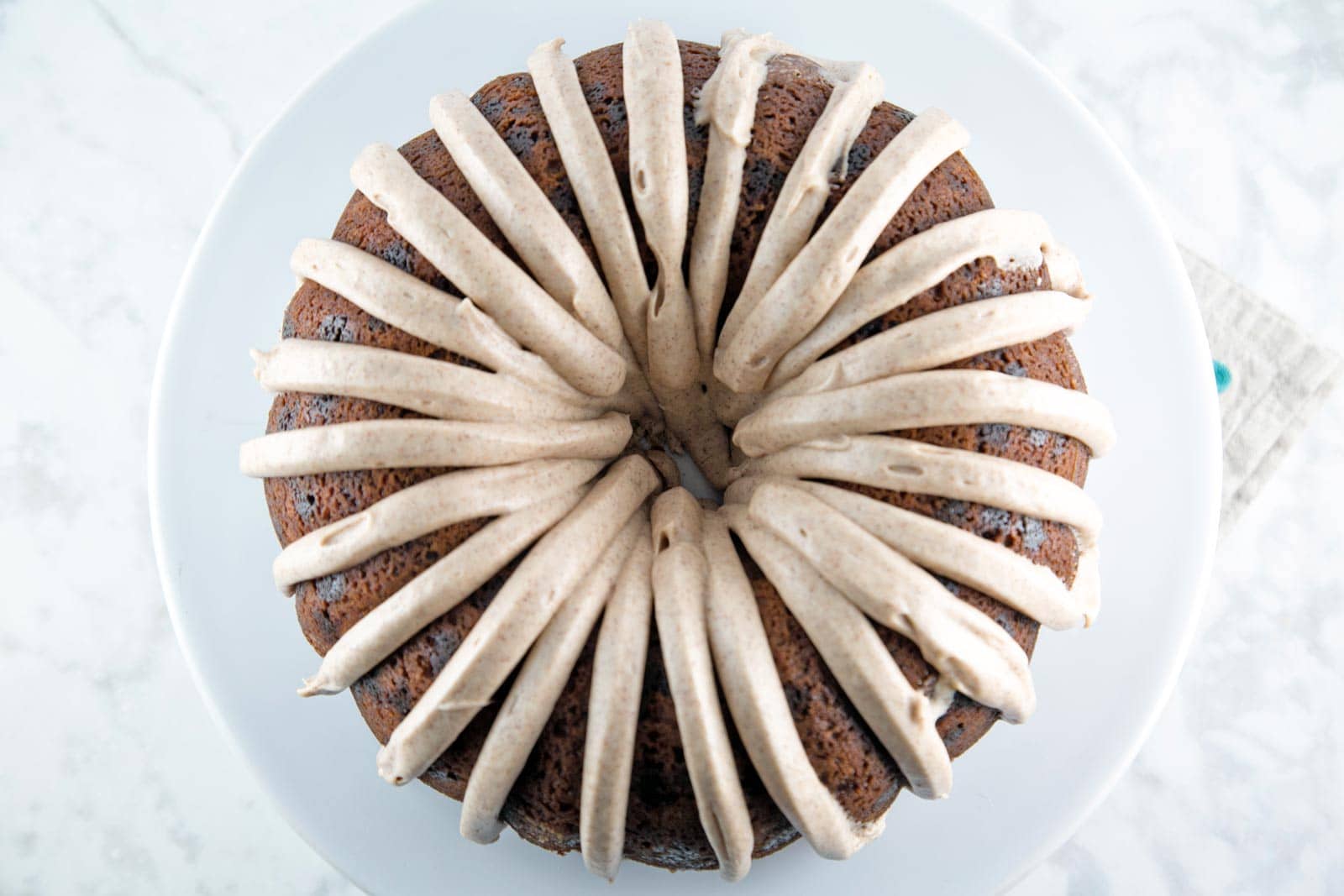 Probably the single most common question I get from friends, family, and readers is asking for advice to make boxed cake mix taste better.
I get it – I really do.  I may love to make complicated cakes from scratch, but that doesn't mean that you do.
Just because I can paint the walls in my house doesn't mean I want to do it.  I'd rather hire a painter.  Just because you can make a cake from scratch doesn't mean you want to.
The measuring, the need to make sure you have enough ingredients, checking to see if your baking powder is still active – I get it.
Plus, a cake from a mix gives you more time to do the things you really love – whether that's spend time with your kids or roast that Thanksgiving turkey!
There are lots of food bloggers who gasp and clutch their pearls at the thought of boxed cake mix.  Scratch is always better! Don't bother with boxed mix!  I'd be so embarassed to be caught buying a box of cake mix!
Friends – ignore them.  I'm here to help you out with your from-a-box baking – and give you a recipe for a totally delicious Thanksgiving-worthy cinnamon swirl bundt cake, to boot!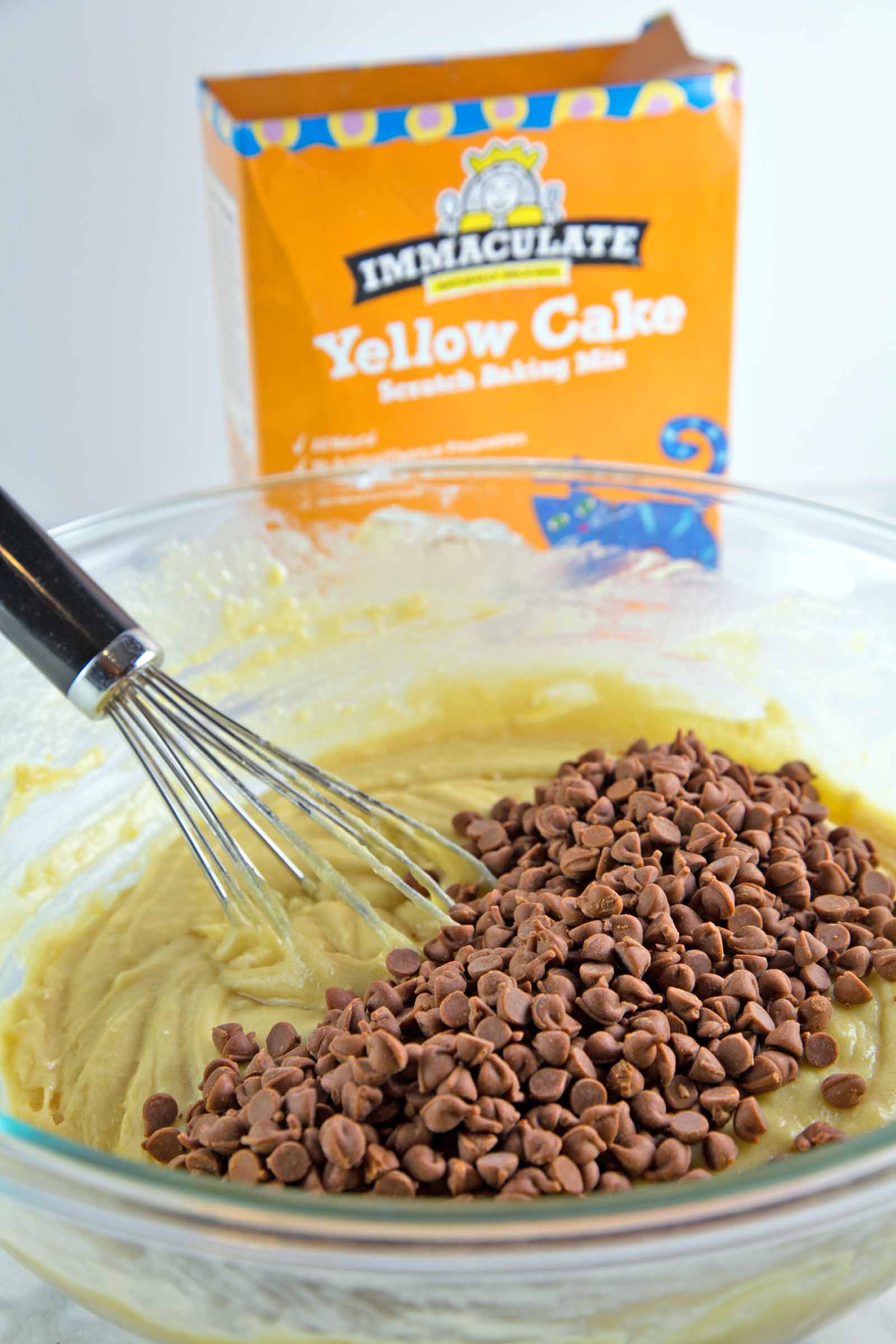 Kitchen Tip: Make the Best Boxed Cake Mix
Use the best quality boxed cake mix.  My favorite, by far, is from the fine folks at Immaculate Baking Company.  Their "scratch cake mix" (in chocolate and yellow flavors) are seriously the bomb.  And, they contain real ingredients.  The ingredient list is literally "Sugar, Wheat Flour, Corn Starch, Baking Powder, Salt, Natural Vanilla Flavor."  It's EXACTLY what you would put into a cake, but you don't have to do the measuring yourself.  Plus, the mix is 21 ounces, unlike those other brands who keep decreasing the amount of mix in the box.  This is enough for a 3 layer cake!
Use buttermilk.  Most cake mixes call for water.  Immaculate knows that milk is where it's at, and tells you to use it.  But up this even further and use buttermilk – your cake will be out of this world.
Swap oil or melted butter for your desired texture.  Want a really light, fluffy, extra moist cake?  Use oil.  Want a slightly denser cake with a super-fine crumb? Use melted butter.  In most baking, you have to adjust for the water difference between oil and butter.  Boxed cake mixes are VERY forgiving.  You can do a direct swap.  If you replace all the melted butter for oil, your cake will have a higher fat content, meaning it will be extra rich.  No one complains about a too-decadent cake. 😉
Add in a packet of pudding mix.  I know, this sounds weird.  But adding in instant pudding mix makes cakes super-duper moist and irresistible.  Sometimes, I even do it to my from-scratch cakes!
Don't overmix!  So many cake mixes tell you to use a stand mixer or hand mixer.  If you're starting a cake with creaming butter and sugar together, yes.  But since cake mixes combine the sugar and flour, you use oil or melted butter.  Mix by hand!  You can easily overmix with a mixer, but it takes a LOT of effort to overmix by hand.  To keep your cake nice and tender, use use your arm!
Use homemade frosting.  I know, this does require some work.  And I get it – if you just don't have the time, go for the can.  But if you have a few extra minutes and really want to bump up your cake, I find that the difference between store bought and homemade frosting is WAY bigger than the difference between boxed mix and from scratch cake.
Love bundt cakes? Check these out, too!
Okay friends, are you ready?  Let's put these tips to use and make the best boxed cake mix you've ever made!
This is going to be a cinnamon swirl bundt cake, because bundt cakes are my favorite.  Much more attractive than a sheet cake (but no more work), so much less pretentious than a layer cake.
And cinnamon is such a good fall flavor – a perfect Thanksgiving dessert!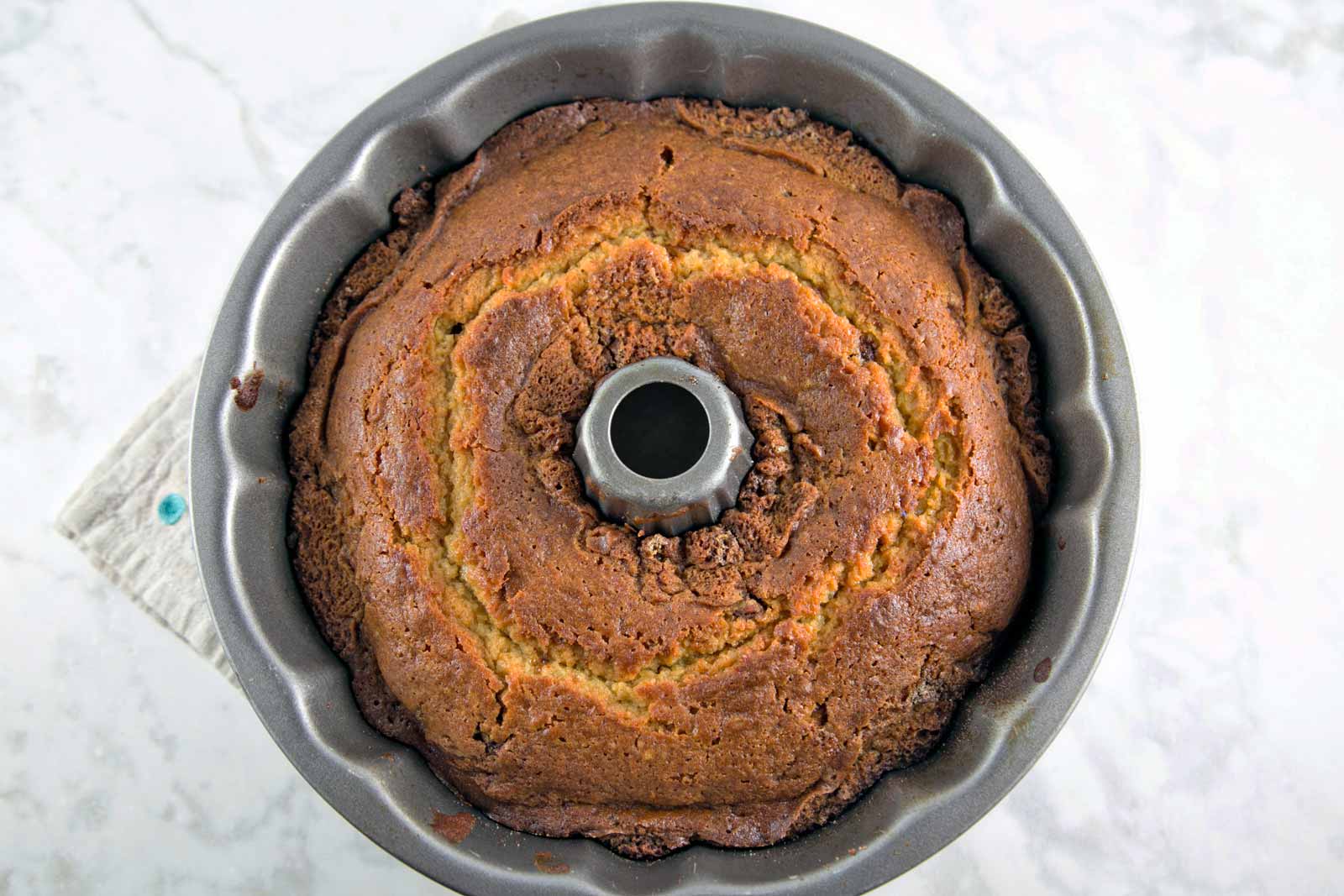 We'll start with a box of Immaculate Yellow Cake Scratch Mix.  Because bundt cakes should be a little more dense, we'll use melted butter.  We also need some eggs, buttermilk, a box of vanilla instant pudding mix, and some cinnamon.
Dump everything into a big bowl and whisk away.  That's right – one bowl, whisk by hand.  This is about as easy as it gets when it comes to baking!
Once your batter is mixed together and all the ingredients are fully incorporated, add in the cinnamon chips.  Give it a few stirs to combine, and you're done.  Easy-peasy!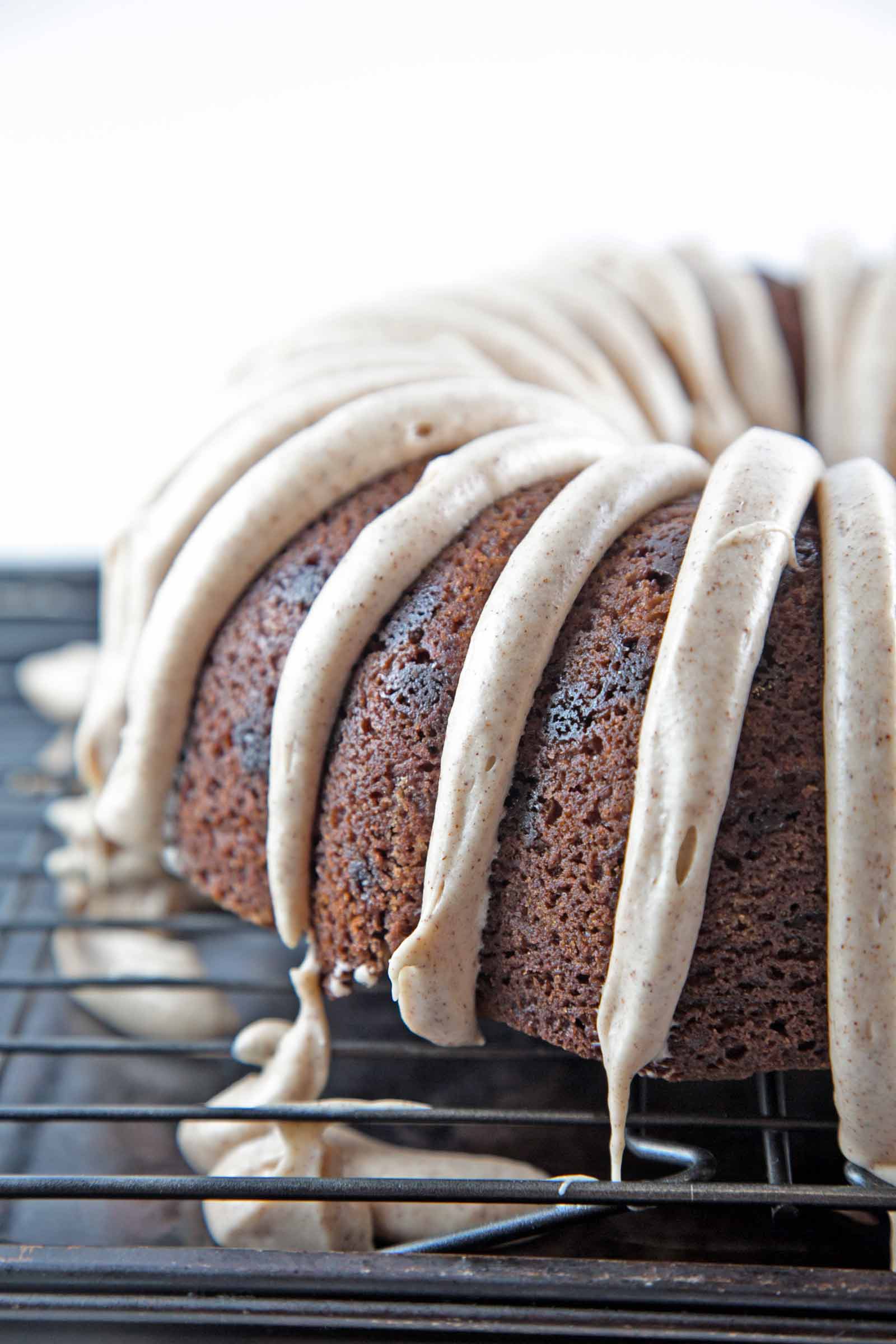 Spray a bundt pan well with some non-stick cooking spray, then scoop half the batter into the pan.  Cover the batter with the cinnamon-sugar mixture, then top with the rest of the batter.  Pop it into the oven, and 50 minutes later – voila!  Cinnamon swirl bundt cake.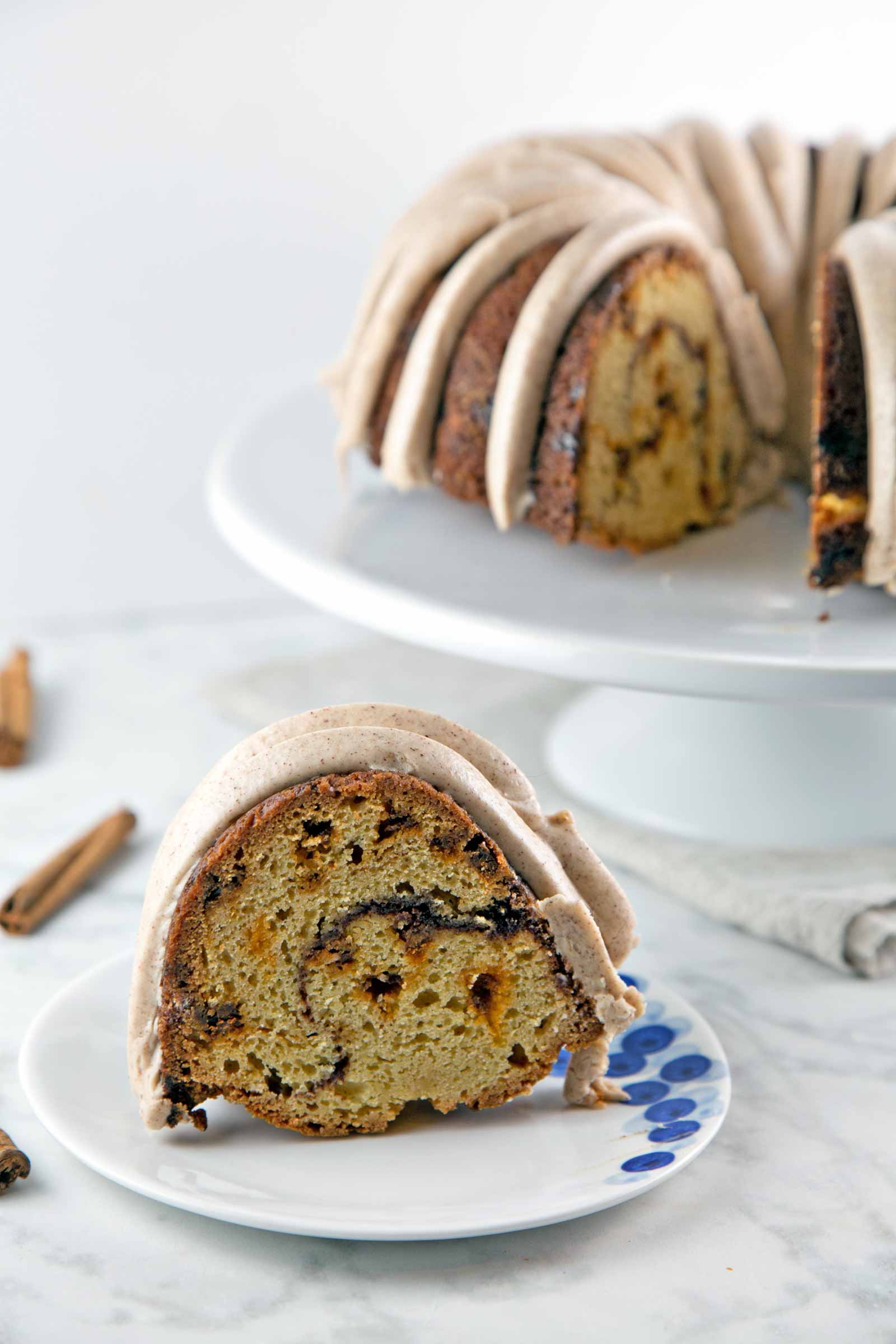 You could stop here and have a delicious cake, but who can resist some cinnamon cream cheese frosting?
Mix together some cream cheese, butter, powdered sugar, cinnamon, and a little pinch of salt, and you're done!
You can spread this on top of the cake with a knife, or pipe it onto the cake.  I opted for the latter.  Transfer the frosting into a quart-sized ziploc bag, snip off the end, and pipe down the side of the cake.  It's so easy, and looks so nice.  See?  SO much easier than a layer cake!
Now that you see how easy it is to make this cinnamon swirl bundt cake, let's talk about Immaculate Baking Company for a minute.  They have all sorts of products – scratch cookie dough mixes, brownie mix, crescent rolls, cinnamon rolls, even baking flour.  Many of their mixes are organic and gluten free.
Be sure to use the store finder to locate products near you, and check out their recipe page for more delicious ideas!  And definitely be sure to print out this $1 off coupon when you purchase your Immaculate products!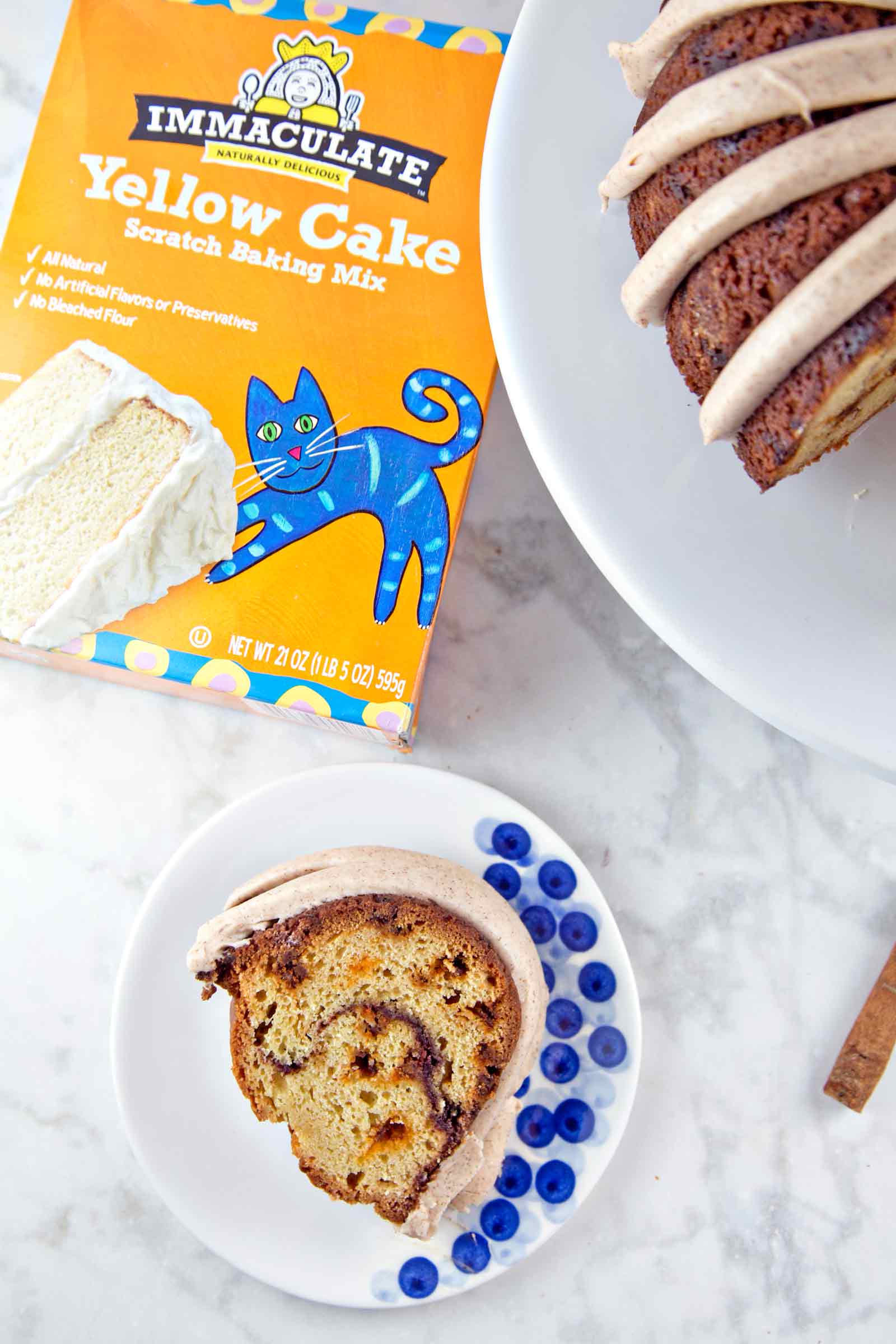 So tell me, are you pro or con cake mix?  Have you tried Immaculate Baking Company products before? Most importantly – will this cinnamon swirl bundt cake be on your Thanksgiving table this year?  Because if so, invite me over!
So good, it's going… going… going… gone!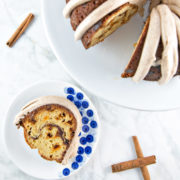 Cinnamon Swirl Bundt Cake
An easy one bowl, whisk by hand cinnamon swirl bundt cake, covered with cinnamon cream cheese frosting.  It's perfect fall baking!
Ingredients:
For the cake:
1 box instant vanilla pudding mix
1 1/2 sticks (3/4 cup) butter, melted
3/4 cup buttermilk
4 eggs, room temperature
2 tablespoons cinnamon, divided
1 cup cinnamon chips
1/4 cup sugar
For the icing:
8 ounces cream cheese, room temperature
1/2 cup butter, room temperature
1 pound powdered sugar
1 tablespoon cinnamon
1/2 teaspoon salt
Directions:
Grease and flour a 12-cup capacity bundt pan.  Preheat the oven to 350 °F.
Combine the cake mix, pudding mix, melted butter, buttermilk, eggs, and 1 tablespoon of the cinnamon in a large bowl.  Whisk by hand until well combined.  Add in the cinnamon chips and stir until distributed throughout the batter.
Pour half of the prepared batter into the bundt pan.  Sprinkle the remaining 1 tablespoon cinnamon and 1/4 cup sugar on top of the batter.  Top with the remaining cake batter.
Bake 45-50 minutes, until a tester inserted into the middle of the cake comes out clean.  Cool in the pan for 10 minutes, then invert onto a cooling rack.
To make the frosting, beat the cream cheese and butter together using a mixer, until smooth and fluffy.  Slowly add the powdered sugar, cinnamon, and salt.  Once all ingredients have been added, increase the mixer speed to medium high and beat for an additional 2-3 minutes, until thick and fluffy.
Once cake has fully cooled, pipe the frosting on the cake.  Refrigerate cake after frosting.
A Bunsen Burner Bakery Original Protocol