Gluten Free Chocolate Bundt Cake
What happens when you combine a flourless chocolate cake and a bundt cake?  A decadently rich, not-so-dense, delicious gluten free chocolate bundt cake!  Perfect for Passover, Easter, brunch, dessert, or any time!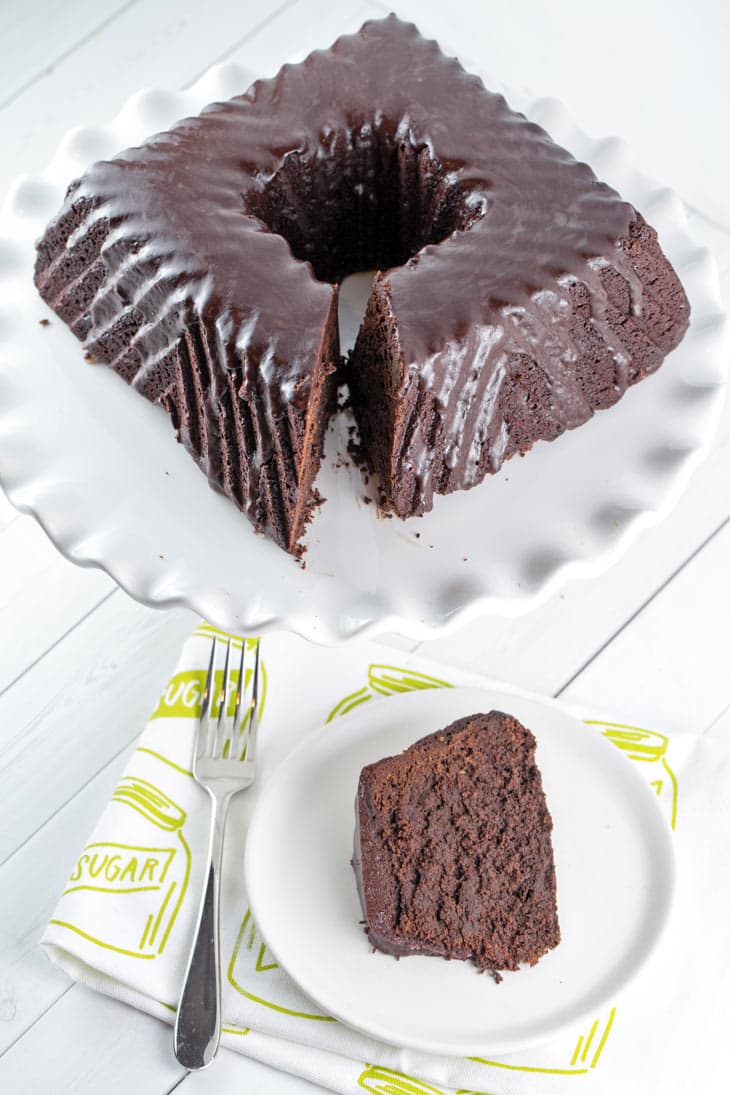 It's time for the next in my annual series of Bundt Cake of the Month!  April always makes me think of light, fresh flavors – like meyer lemons and carrot cake.
But April also means Passover — a holiday generally not associated with bundt cakes.  It's time to change that with this Passover-friendly, gluten free chocolate bundt cake!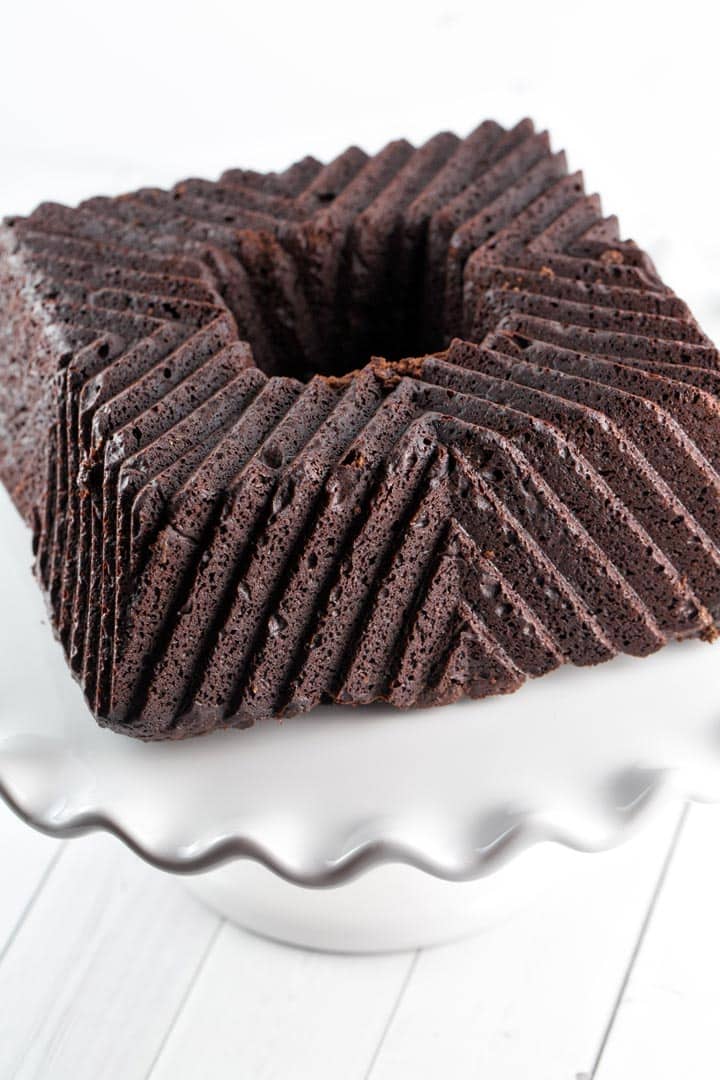 (Don't think this is only for Passover, either.  It's a perfect year round gluten free cake, whether you're specifically looking for gluten free or not.  Serve it for Easter, serve it after Thanksgiving, serve it for a decadent weekend brunch.  It's so easy, there's no reason not to make this!)
Now look, there are plenty of delicious Passover-friendly chocolate cakes out there — like my Flourless Chocolate Ganache Cake.  Flourless cakes, however, are really, really rich and really dense.
That's not everyone's cup of tea – it's basically like eating a slice of fudge.  So how about we keep that deep, dark chocolate flavor, but lighten it up a little into a chocolate bundt cake?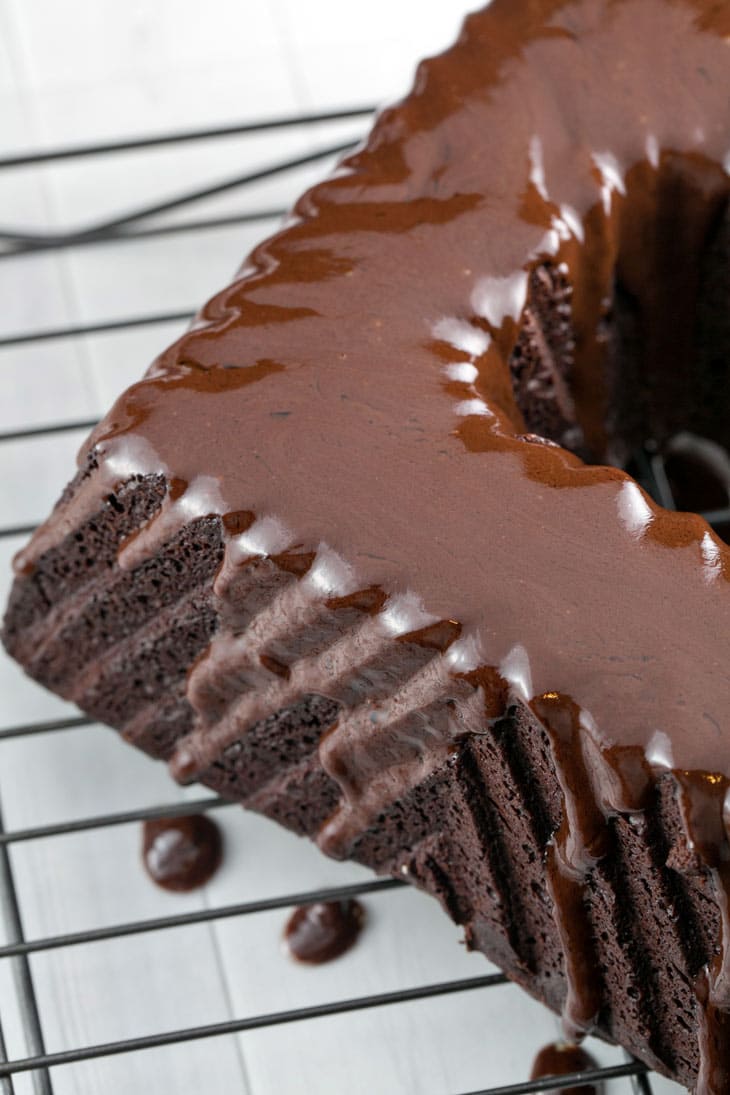 There's no shortage of gluten free bundt cakes out there, but many of them require a lot of additional ingredients, like tapioca starch and xanthan gum.
While these are all stables in the kitchen for those who do a lot of gluten free baking, there's a good chance anyone who doesn't live a gluten-free lifestyle doesn't keep these on hand.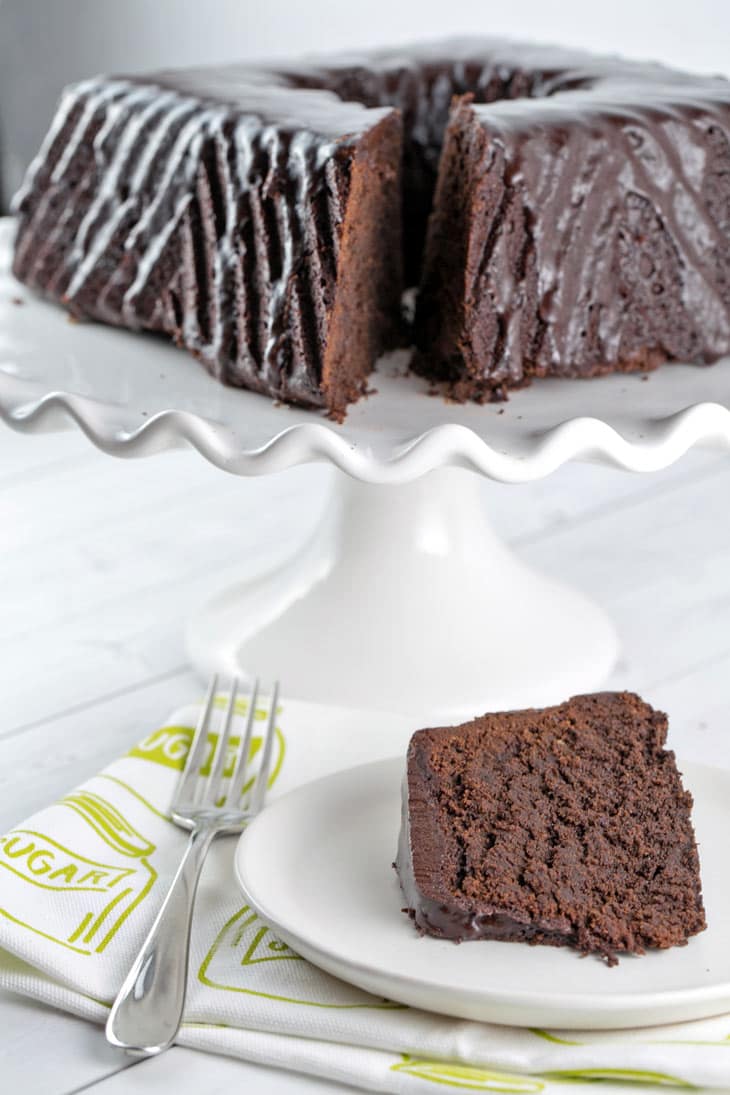 This, however, is an easy-peasy gluten free chocolate bundt cake.  No uncommon ingredients: just chocolate, sugar, butter, eggs, and ground almonds.  Plus a little baking powder (or baking soda + lemon juice, if you can't find Kosher for Passover baking powder).
Sidenote: If Kosher for Passover baking powder makes your brain spin, it is not leavening itself that is avoided during Pesach; rather, it is leavened goods that are the result of fermentation (such as yeast) that are forbidden.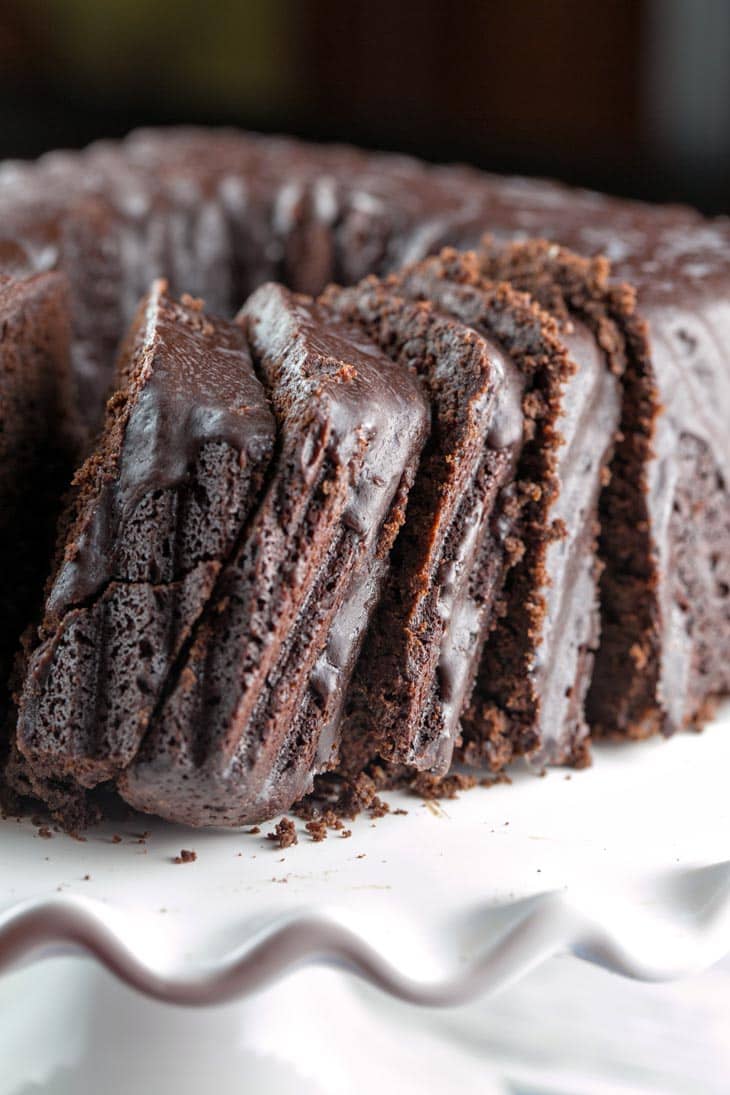 This gluten free chocolate bundt cake is not your kid's chocolate birthday cake.  It's made with bittersweet chocolate, so it's a deep, rich, chocolately chocolate.  This is a true chocolate lover's chocolate cake.  And if that's not enough chocolate for you, we'll cover it in a chocolate glaze, too.
One bowl, whisk by hand, super decadently rich gluten free chocolate bundt cake.  Dessert is calling your name.
(Bundt pan available HERE – Amazon link is affiliate.  A larger bundt pan can be substituted; the final cake will just be thinner.)
Check out these other gluten free Passover desserts!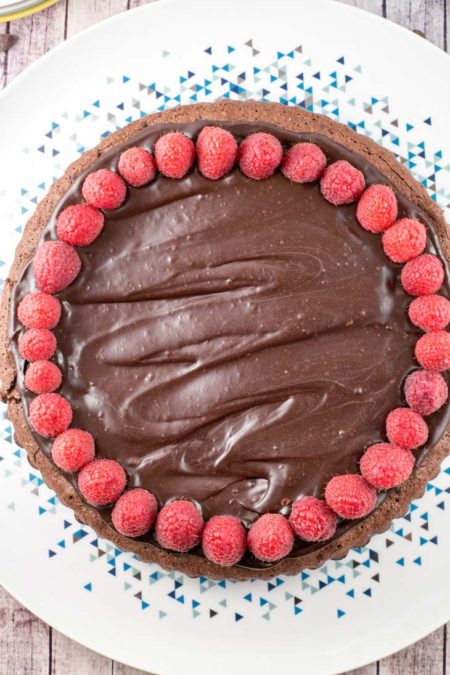 Flourless Chocolate Cake

Gluten Free Linzer Tart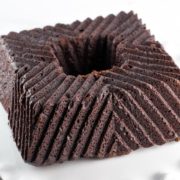 Gluten Free Chocolate Bundt Cake
A rich, bittersweet gluten free chocolate bundt cake with a dark chocolate glaze.
Ingredients:
For the cake:
1 cup butter
8 ounces bittersweet chocolate
1 cup sugar
6 eggs, room temperature
2 teaspoons vanilla extract
1 cup finely-ground almonds (or store bought almond flour)
1 cup cocoa powder
1 1/2 teaspoons baking powder (or 1/2 teaspoons baking soda plus 1 teaspoon lemon juice)
For the glaze:
3 tablespoons sugar
2 tablespoons cocoa powder
1/4 cup water
2 ounces bittersweet chocolate
6 tablespoons butter
Directions:
Preheat the oven to 350 °F.  Grease a 10 cup bundt pan.
In a large, microwave safe bowl, add the butter and bittersweet chocolate.  Microwave for 1 minute at 50% power, stirring well.  Repeat for 30 second increments at 50% power, stirring after each session, until butter and chocolate are fully melted.
Whisk in the granulated sugar, followed by the eggs, one at a time, and the vanilla.
Make a well in the center of the liquid ingredients and add the almond flour, cocoa powder, and baking powder.  Stir mixture until no streaks of almond flour or cocoa powder remain.  The batter will be quite thick.
Scoop the batter into the prepared pan.  Bake for 50 minutes, or until a tester inserted into the center comes out with a moist crumb.  Cool in the pan for 15 minutes, then turn out onto a cooling rack.
While the cake is cooling, prepare the glaze.  Whisk together the sugar, cocoa powder, and water in a small saucepan.  Bring to a boil, then turn the heat down to medium and simmer, whisking frequently.  Add the chocolate and continue to whisk until melted.  Remove the glaze from heat and add in the butter, continuing to whisk until smooth.
Let the glaze cool to room temperature (about 20 minutes), then pour over the cake.
Glazed bundt cake will keep at room temperature for several days.  To freeze, wrap cake in a layer of aluminum foil, followed by a layer of plastic wrap.  Thaw on counter and glaze once cake reaches room temperature.
A Bunsen Burner Bakery Original Protocol