Irish Cream Bundt Cake
Love the flavor of Baileys Irish cream? Bake it into an easy Irish cream bundt cake – a delicious way to celebrate any occasion, especially St. Patrick's Day!
Let me share a little tidbit I didn't realize until I made this cake: not everyone likes boozy cakes. I mean, obviously, people who don't drink don't like boozy cakes. But it was completely beyond my realization that people who do like alcohol and drink alcohol don't like alcohol in cakes.
People like, for example, my husband. Whose response to this cake was "the chocolate cake was good, but I don't like alcohol in frosting." ?! Fourteen years together, and still learning something new every day.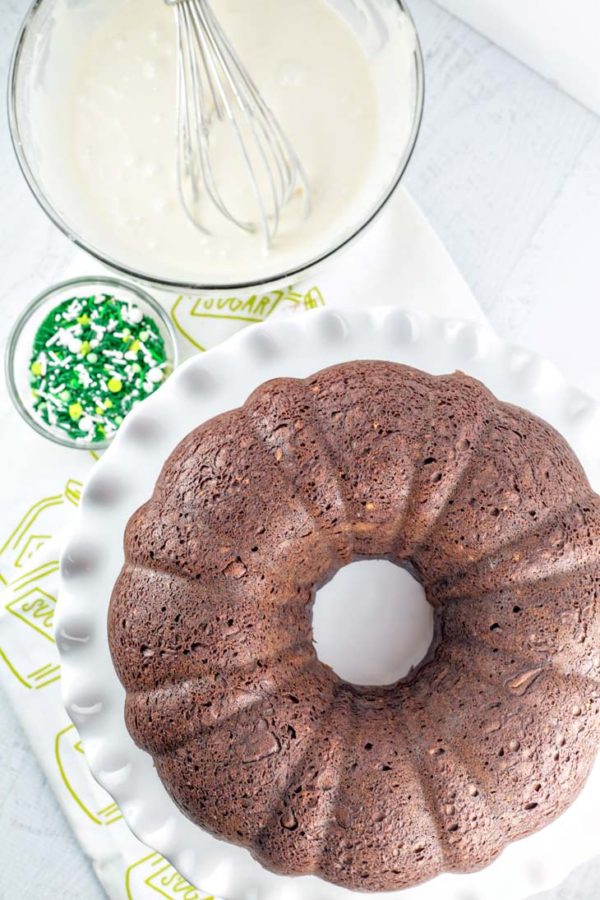 I took the leftovers of this Irish cream bundt cake into work the next day. Consensus was split between "heck yes boozy cake!" and "Whiskey in the cake? No thanks."
So yes, there are people out there who don't like alcohol in their baked goods. Huh. Weird. Totally foreign concept.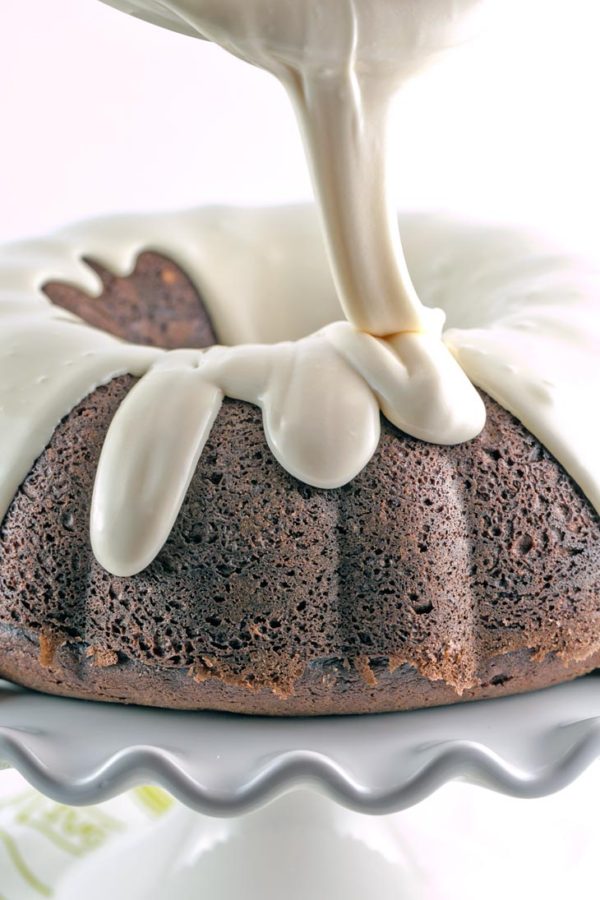 I, clearly, am not one of those people. Step right up and sample my traditional tiramisu or my chocolate bourbon soft pretzel bread pudding. Booze-a-plenty in my desserts, folks!
If, like me, the addition of alcohol (specifically Irish cream) into a deep, rich chocolate cake and a sweet slightly whiskey based glaze sounds delicious – read on!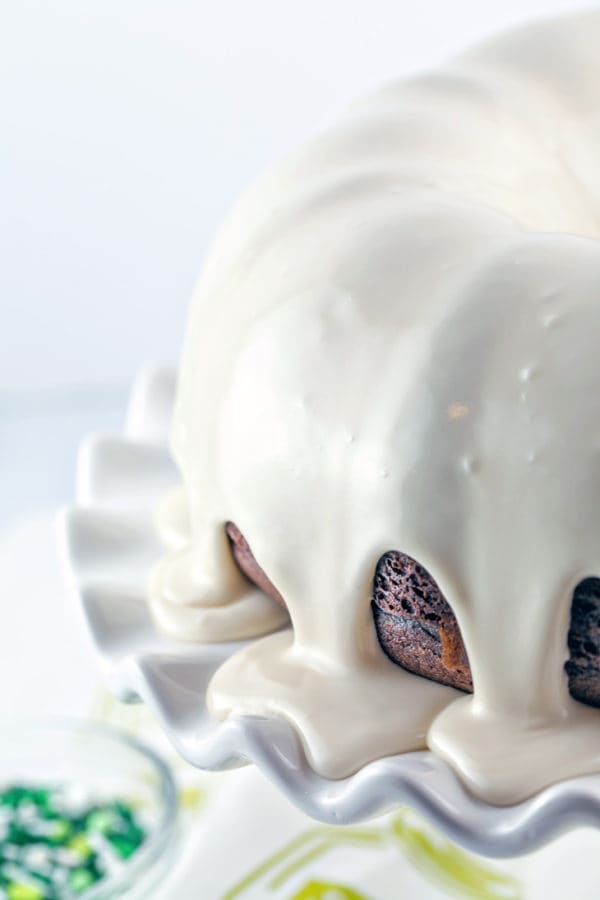 A St. Patrick's Day-themed cake seemed the obvious choice for March's Bundt Cake of the Month, and the obvious choices here are Guinness or Irish cream. I made a Guinness Irish Soda Bread last year, so I went for the Baileys Irish cream theme this year.
In fact, if you stopped by last week, you saw that I even made homemade Irish cream, perfect for this recipe!
Don't let the green sprinkle overload make you think this cake is only good for St. Patrick's Day, though! Baileys Irish cream is such a popular winter drink, and this cake would be equally appropriate for any winter-themed dessert.
Just choose a more appropriate sprinkle color combination, maybe?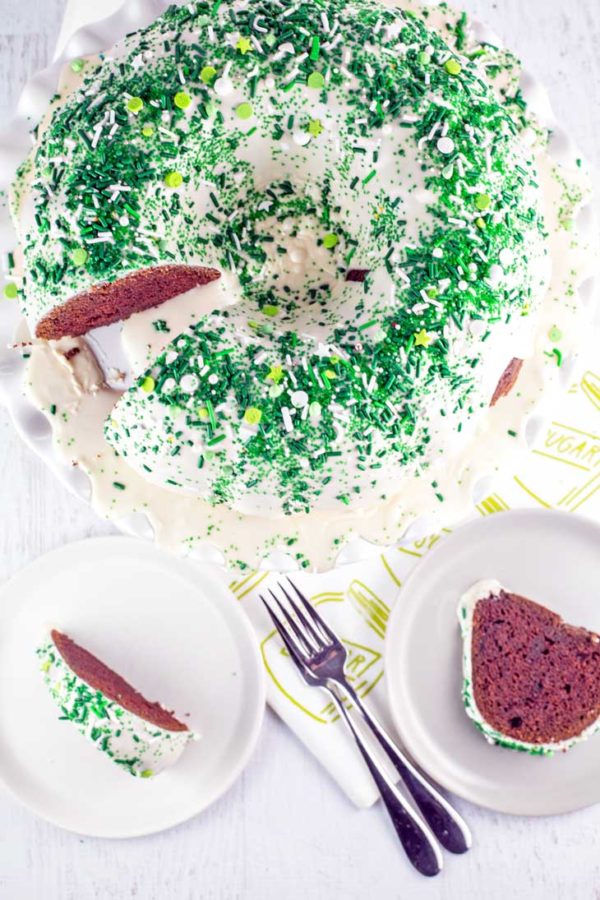 Speaking of sprinkles, let me tell you the definition of true love. The idea for this cake was floating around in my head for a while, but I decided to make it on a bit of a whim. Friends invited us over for dinner a few weeks ago and I said I'd bring dessert. Perfect, I thought! I'll make the bundt cake!
Except then we couldn't find any green sprinkles. Normally I order my sprinkles online anyway, but even with Amazon Prime shipping, the sprinkles wouldn't arrive in time. So my husband bought some rainbow sprinkles and rainbow nonpareilles, and sat there painstakingly sorting out all the green colored sprinkles from all my different sprinkle sets while I baked the cake.
Sure, there are plenty of benefits to marrying a food blogger. Decadent desserts! Dinner on the table almost every night! Homemade dishes! Buuuut… sorting through piles of sprinkles is definitely the price you have to pay sometimes. True love.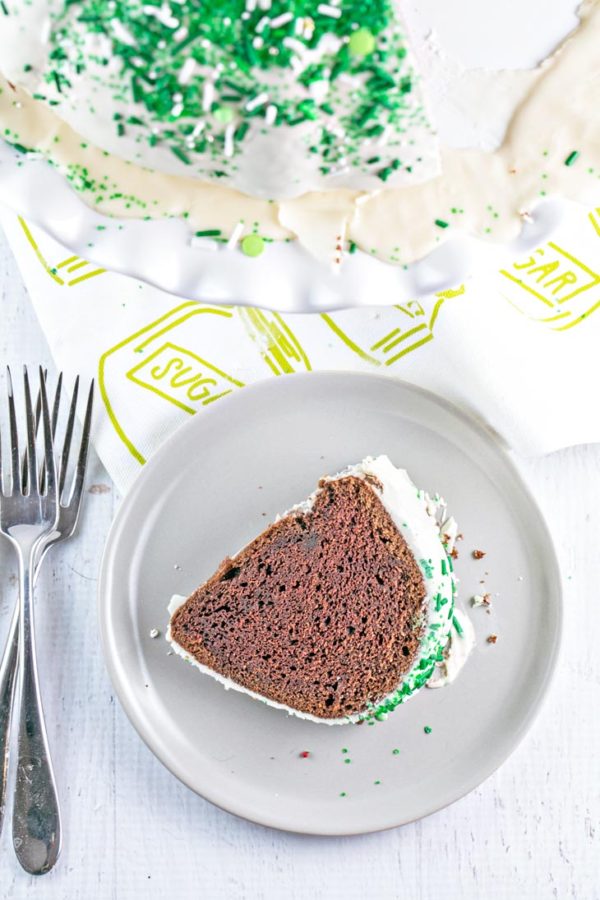 Now, onto the Irish cream bundt cake! An easy, moist chocolate cake, baked with some homemade Irish cream right in the cake for a subtle Irish cream flavor. Once the cake cools, we'll cover it with an Irish cream glaze. So easy – just Irish cream and confectioners sugar!
Then, of course, all those sprinkles, because… obviously.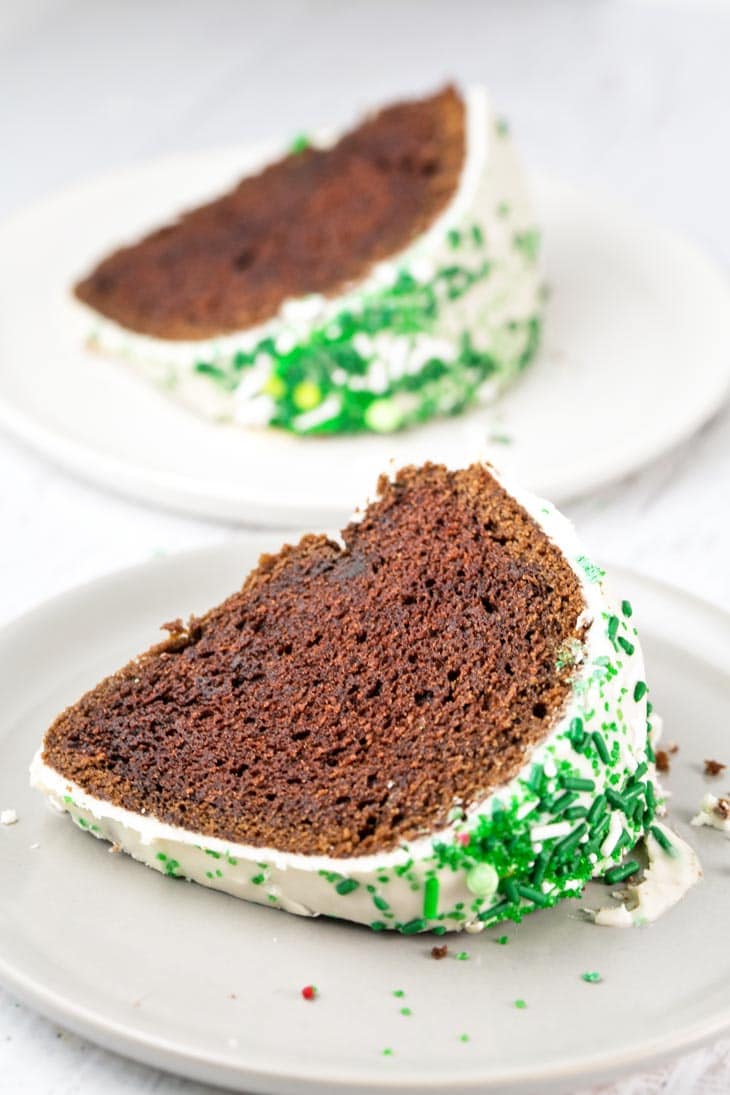 If you're concerned about the amount of alcohol in the cake, rest assured that it is very little. After 50 minutes in the oven, what is in the cake should evaporate out.
There are 4 tablespoons of Irish cream in the glaze, but there's just a small amount of whiskey in the Irish cream. Some of the glaze runs right off the cake when you drizzle, and then you're dividing up the cake amongst 16(ish) people.
(No judgement if you only cut this into 12 slices. Or 10. Or two.)
So really, it's a very, very small amount of alcohol (and hence why I brought it to share with coworkers – I assure you, even those who went back for a third slice were 100% sober).
If you like boozy desserts, this Irish cream bundt cake is a must-try. It's perfect on its own, and downright delicious with a steaming mug of cocoa or coffee… with a generous splash of Irish cream, of course.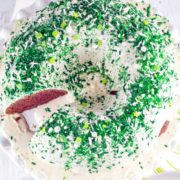 Irish Cream Bundt Cake
Love the flavor of Baileys Irish cream?  Bake it into an easy one bowl Irish cream bundt cake – a delicious way to celebrate any occasion, especially St. Patrick's Day!
Ingredients:
1 cup butter, room temperature
1 cup sugar
3 eggs, room temperature
1/2 cup sour cream, room temperature
2 teaspoons vanilla extract
2 1/3 cup flour
1/2 cup unsweetened cocoa powder
1 teaspoon baking powder
2 teaspoons baking soda
1 teaspoon salt
1 cup homemade Irish cream (or sub Baileys, Ryan's, etc)
sprinkles
For the Irish cream glaze:
Directions:
Preheat the oven to 350 °F.  Grease and flour a 12-cup bundt pan.
Beat the butter in the bowl of an electric mixer until soft and fluffy.  Add in the sugar, continuing to beat until well incorporated.  Add in the eggs, one at a time, mixing completely after each addition.  Spoon in the sour cream and vanilla extract, stirring until smooth.
Whisk together the flour, cocoa powder, baking powder, baking soda, and salt.  Add half of the dry ingredients to the bowl and mix, followed by the Irish cream, mixing again, and the remaining dry ingredients.  Mix just until smooth and no streaks of flour remain.
Pour the batter into the prepared pan and bake until a tester inserted into the center of the cake comes out with a moist crumb; about 50 minutes.  Allow the cake to cool in the pan for 15 minutes before inverting onto a cake rack and cooling completely.
While the cake cools, prepare the glaze.  Combine the confectioners sugar and Irish cream in a small bowl, whisking together with a fork.  Add more sugar or more Irish cream to achieve the desired consistency – a thicker glaze will adhere better to the sides of the cake.
 Spread the frosting over the top and partially down the sides of the bundt cake.  Top with sprinkles.  Refrigerate for 30 minutes to set the glaze.  Cake does not need to be stored in the refrigerator after glaze sets.
To freeze, wrap unglazed cake tightly in plastic wrap and a layer of aluminum foil and store in the freezer for up to 3 months.  Thaw at room temperature overnight, then glaze.  To freeze leftover slices of glazed cake, wrap similarly, but glaze may separate from cake as cake thaws.
A Bunsen Burner Bakery Original Protocol