September 10, 2014
Gnocchi Skillet with Tomatoes and Sausage
Easily adaptable for vegetarian, vegan, and gluten free diets, this gnocchi skillet with tomatoes and sausage is ready in under 20 minutes.
It's Day 3 of Tomato Week, and I'm presenting you with this super fast, yet still flavorful, gnocchi skillet with tomatoes and sausage.
It's easy to keep the base ingredients necessary for this on hand. Although we're back to living together now, my husband and I have spent the vast majority of our 6 years of married life residing in different states. This left me without regular access to a car, making grocery shopping challenging.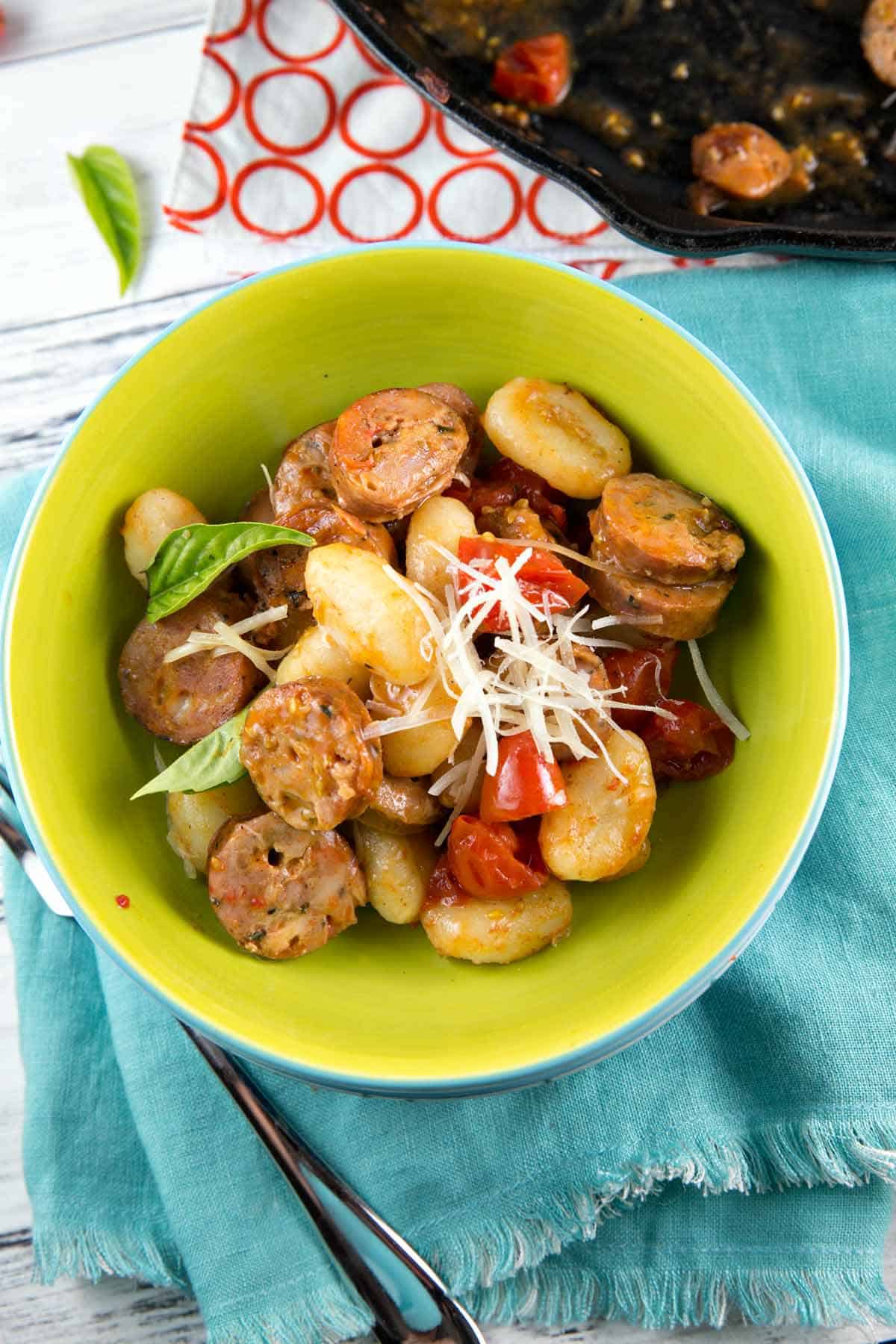 Last year, I never had to worry about fresh produce throughout the spring, summer, and fall, thanks to our CSA, so I'd stock up on a lot of pantry basics during our monthly grocery trips. I generally felt prepared to handle whatever our CSA would throw my way.
Sure, homemade gnocchi is best, but you can usually find a package of the Wegmans shelf-stable gnocchi in my cabinet. Mix together some gnocchi with sausage (spicy chicken or vegetarian, depending on who's eating) and the fresh tomatoes from my CSA, along with a few basil leaves from my garden, and dinner is served.
This gnocchi skillet is also a great option if you're cooking for individuals with specific diets. Leave out the cheese and use vegan sausage and gnocchi (Wegmans gnocchi is vegan!), and you have a dish free of animal products.
Use gluten free gnocchi (made with rice flour!) and sausage, and have your Celiac friends over for dinner.
Seriously, the most time consuming part of this is waiting for the water to boil. Dinner in less than 20 minutes that can be adapted to serve almost anyone? It doesn't get much better than that!
Gnocchi Skillet with Tomatoes and Sausage
Easily adaptable for vegetarian, vegan, and gluten free diets and on the table in less than 20 minutes.
Ingredients:
1 pound gnocchi
12 ounces chicken or soy sausage, sliced into 1/4-inch rounds
2-3 large tomatoes, chopped, or 1 pint grape tomatoes, halved
1/2 cup fresh basil
olive oil, salt, and pepper – to taste
2 tablespoons freshly grated parmesan cheese
Directions:
Heat a large pot of water to boiling and cook the gnocchi according to package directions.  Drain, and toss with a splash of olive oil.
While the water is boiling, heat a large (I use 12") cast iron skillet over medium heat with a spray of olive oil.  Add the sausage and cook for 3 to 4 minutes, until it starts to brown.  Push the sausage over to one corner of the skillet.
Turn the heat up to high, and add the tomatoes to the unoccupied space in the skillet.  Cook briefly, 1 to 2 minutes, until the skin is blistered, and then stir the tomatoes in with the sausage.  Cook for a few additional minutes, until the tomatoes and sausage are browned.
Stir in the gnocchi and heat through.
Remove from heat and stir in the basil.  Season to taste with salt and pepper. Sprinkle the parmesan cheese on top.