September 12, 2014
Tomato and Zucchini Galette
A rustic Tomato and Zucchini Galette with homemade sun-dried tomato pesto highlights the freshest seasonal summer produce. Intimidated by pie crusts? Don't be – a galette is the perfect way to start!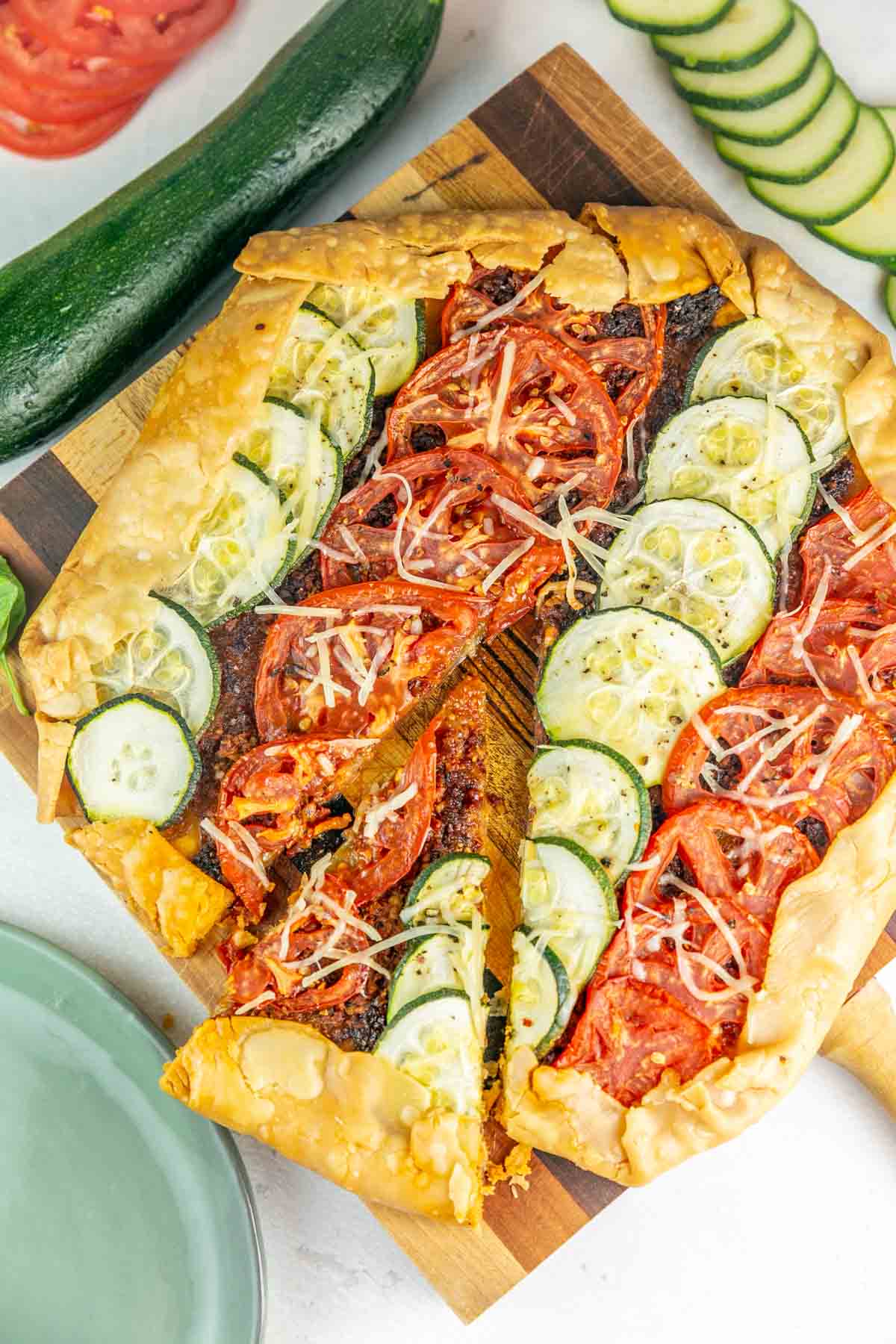 We've reached the end of Tomato Week here on Bunsen Burner Bakery. I'm ending with another one of my favorite things I've ever made – a pesto tomato and zucchini galette.  It combines so many wonderful summer flavors, and despite being pretty simple, it's fancy enough to serve to guests.  
Zucchinis and tomatoes pair beautifully. And even better, they both tend to hit peak season towards the end of summer at similar times. How better to use up both than with this beautiful tomato and zucchini galette?
While this version uses homemade pesto and a homemade galette crust, you can certainly simplify the process by using storebought tomato pesto and using a frozen crust.
After all, it's the fresh zucchini and tomatoes that are the true stars of this galette!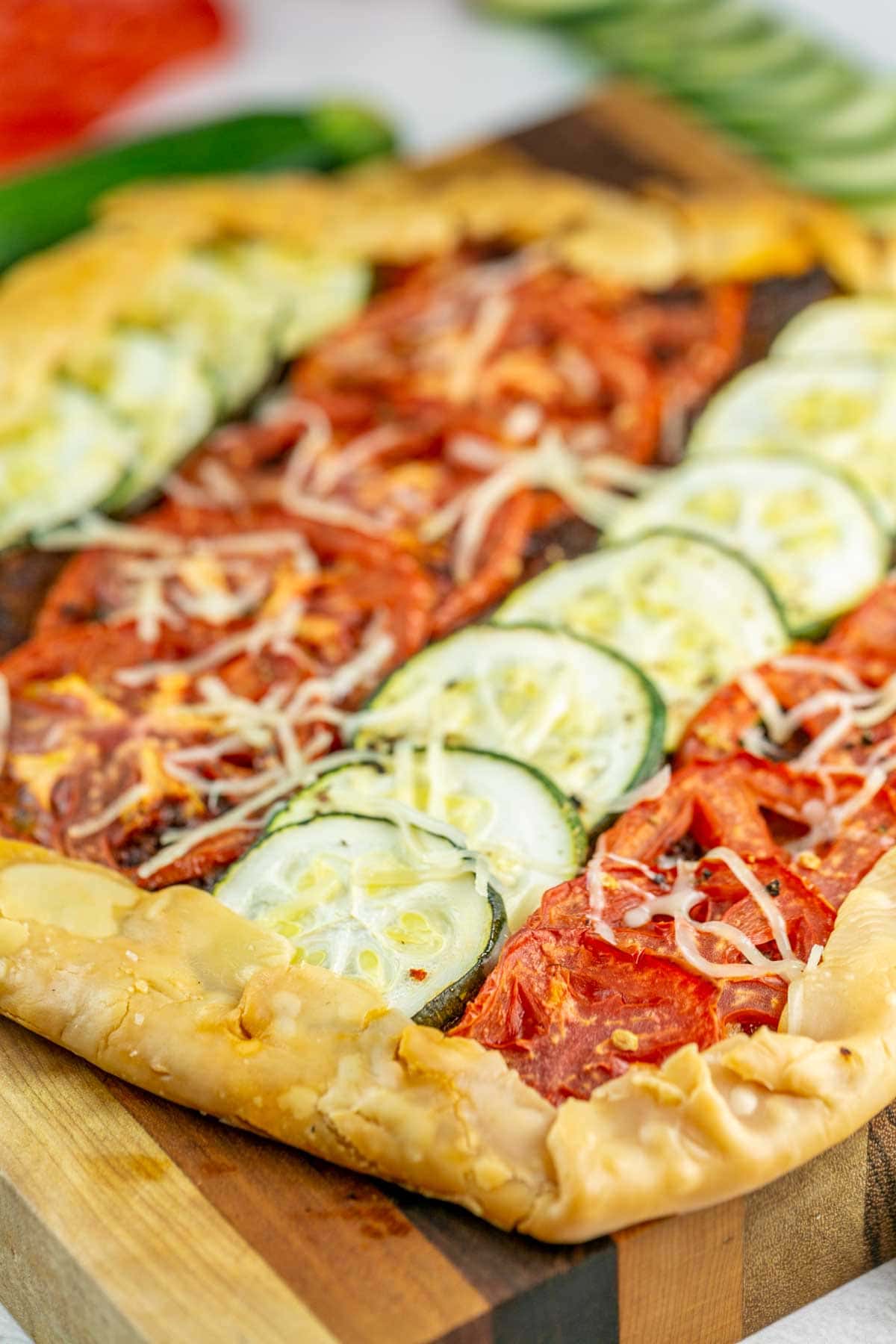 Savory Galettes
I think sweet, dessert-style galettes, filled with fresh fruit (like this blackberry peach galette!) are probably more common. But since galette dough itself is not sweet, galettes are also perfect to highlight vegetables and savory fillings, too!
A galette consists of an unsweetened pie crust topped with fillings with the edges folded to form a thick crust. Because there are no deep sides, like a pie, a savory galette is better for sliced vegetables, as opposed to a thicker, slightly juicy tomato pie.
Easy Galette Dough
I especially love galettes because they're supposed to look imperfect and rustic!
Whenever someone comments that they struggle with rolling out pies, I suggest that they start with some galettes. You get to practice making and rolling out dough, but without worrying about getting it into a perfect circle. If you roll it out right on the parchment paper, you also don't have to worry about the dough ripping while you try to transport it into the pie pan.
For this easy galette dough, all we need is all-purpose flour, salt, very cold butter, and ice-cold water.
We'll start by cutting the (very cold!) butter into the flour using either a pastry blender or a food processor. Either way, we don't want to overmix the dough, so just a few pulses in a food processor will do!
Sprinkle the ice-cold water over the top of the dough, pulse a few more times just to combine, and then refrigerate the dough.
Why are we using cold butter and ice-cold water? The answer, of course, can all be explained by my favorite subject… kitchen chemistry!
Kitchen Chemistry

Flaky pie crusts are the result of steam.  To create steam, we need solid butter to melt into a liquid state, and then the water evaporates, resulting in air pockets. These air pockets create a flaky crust. If the butter in the pie crust isn't cold, air pockets will not form and the crust will be flat and chewy.
Homemade Sun-Dried Tomato Pesto
If you want to make your own sundried tomato pesto, it's super easy and can be done while the galette dough is chilling!
Wipe out the food processor after making the dough and add in the sundried tomatoes, parmesan cheese, fresh basil leaves, and garlic. Pulse a few times to chop up the tomatoes and garlic, and then slowly pour in olive oil.
Flavor-boosting tip: I like to use sundried tomatoes packed in oil, and then use the oil for the pesto. It adds so much extra delicious flavor!
Once your pesto is done you can store it in the refrigerator for up to a week – and any leftovers are delicious on pasta or spread on sandwiches!
Sliced Tomatoes and Zucchini
Once the galette dough is rolled off and a thin layer of pesto sauce is spread on the dough, it's time for the star of our galette: the tomatoes and zucchini!
I prefer to slice them by hand, rather than using a mandolin – I like the vegetables to be on the thicker side of thin slices. Both the tomato and zucchin will shrink a litlte as they bake. Starting with a slightly thicker slice means we'll still get lots of fresh tomato and zucchini flavor in every bite!
Ingredient Substitutions
Not a fan of sundried tomatoes? Use regular basil pesto instead!
Not a fan of tomatoes or zucchini? Any slice-able vegetable works well in this. Think summer squash, eggplant, beets, carrots, or even sweet potatoes!
I love the fresh flavors that tomatoes bring, so if you're skipping the tomatoes, brush the vegetables with a little oilve oil and sprinkle on your favorite herbs to add a little extra flavor.
The only gluten in this recipe comes from the pie crust, so substituting in a gluten-free pie crust makes this recipe entirely gluten-free!
Tips and Tricks for the Best Tomato Zucchini Galette
Don't overwork the galette dough – mixing too much will result in tough, chewy dough.
To make the galette easier, substitute in store-bought rolled pie crust and/or sundried tomato pesto.
Substitute in any other sliceable vegetables, like squash, eggplant, or beets, for the tomatoes or zucchini.
The galette is best served fresh out of the oven, but leftovers can be stored in the refrigerator for up to 3 days. Reheat in the oven on a hot sheet pan to crisp up the crust.
More Tomato Recipes: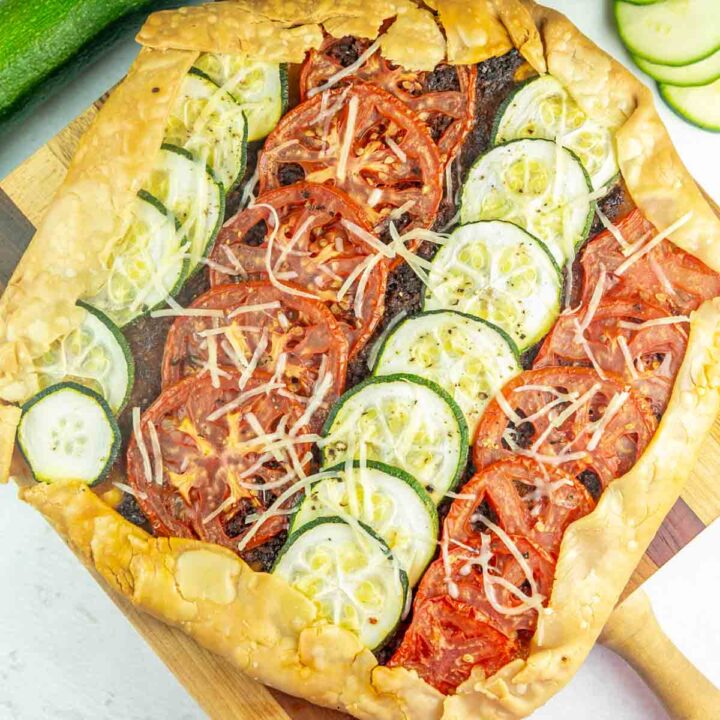 Tomato and Zucchini Galette
Total Time:
1 hour
30 minutes
A rustic Tomato and Zucchini Galette with homemade sun-dried tomato pesto highlights the freshest seasonal summer produce.
Ingredients
For the crust:
1 1/4 cups (150 grams) all-purpose flour
3/4 teaspoon kosher salt
1/2 cup (113 grams) butter, very cold, cut into 1/2-inch cubes
1/4 cup (57 grams) ice cold water
For the pesto:
1 cup (170 grams) sundried tomatoes, packed in oil and drained
1/4 cup (25 grams) grated parmesan cheese
1/4 cup basil leaves, packed
1 clove garlic
1/4 cup (50 grams) olive oil (recommended: use the olive oil from the sundried tomato jar)
salt and pepper to taste
For the filling:
1 teaspoon olive oil
1 large zucchini
2 large heirloom tomatoes
freshly grated pecorino or parmesan cheese
Instructions
Make the crust. Combine the flour, salt, and butter in the bowl of a food processor and process for a few seconds (alternatively, cut butter into the flour with a pastry blender). Sprinkle the ice water over the flour mixture and pulse (or mix) just until the pastry begins to come together, another 5 to 10 seconds. Gather the dough together and shape it into a disk, wrap tightly with plastic wrap, and refrigerate for at least 30 minutes. This can be made several days ahead of time and kept refrigerated until you are ready to use it.
Make the pesto. Combine the sundried tomatoes, parmesan cheese, basil, and garlic in a food processor or blender. Pulse a few times. Slowly add the olive oil and continue to pulse until the pesto reaches a consistency somewhere between a paste and liquid. Add salt and pepper to taste.
Thinly slice the tomatoes and zucchini into 1/4-inch slices.
Roll out the dough. Preheat the oven to 375 °F and line a baking sheet with parchment paper. Remove the dough from the refrigerator and place it on the lightly-floured parchment paper. Roll the dough into a large circle using a floured rolling pin, to a size around 12 inches in diameter.
Assemble the galette. Spread about 1/3 of a cup of the tomato pesto in the center of the dough and spread it out to within an inch and a half of the edge of the dough. Lightly drizzle olive oil on top of the pesto. Arrange the sliced zucchini and tomatoes in a single layer over the top. Fold the ends of the dough up over the vegetables, overlapping the edges and creating pleats around the galette.
Bake the galette. Bake for 35 to 40 minutes, until the crust is golden. Allow the galette to cool for 5 minutes before serving, and garnish with freshly grated cheese.
Notes
Keep the butter and the dough cold and don't overmix to ensure a flaky crust.
Store-bought refrigerated pie crust or sundried tomato pesto can be substituted for homemade.
Other sliced vegetables, such as squash, eggplant, beets, or carrots, can be substituted for tomatoes or zucchini.
The galette is best served fresh out of the oven but leftovers can be refrigerated for up to 3 days.
Recommended Products
As an Amazon Associate and member of other affiliate programs, I earn from qualifying purchases.