September 12, 2014
Tomato and Zucchini Galette
A rustic tomato and zucchini galette with sun-dried tomato pesto highlights the freshest seasonal summer produce.
We've reached the end of Tomato Week here on Bunsen Burner Bakery. I'm ending with another one of my favorite things I've ever made – a pesto tomato and zucchini galette.  It combines so many wonderful flavors of summer, and despite being pretty simple, it's fancy enough to serve to a crowd.  Zucchinis and tomatoes pair beautifully and they tend to hit peak season at similar times.  How better to use up both than with this beautiful tomato and zucchini galette?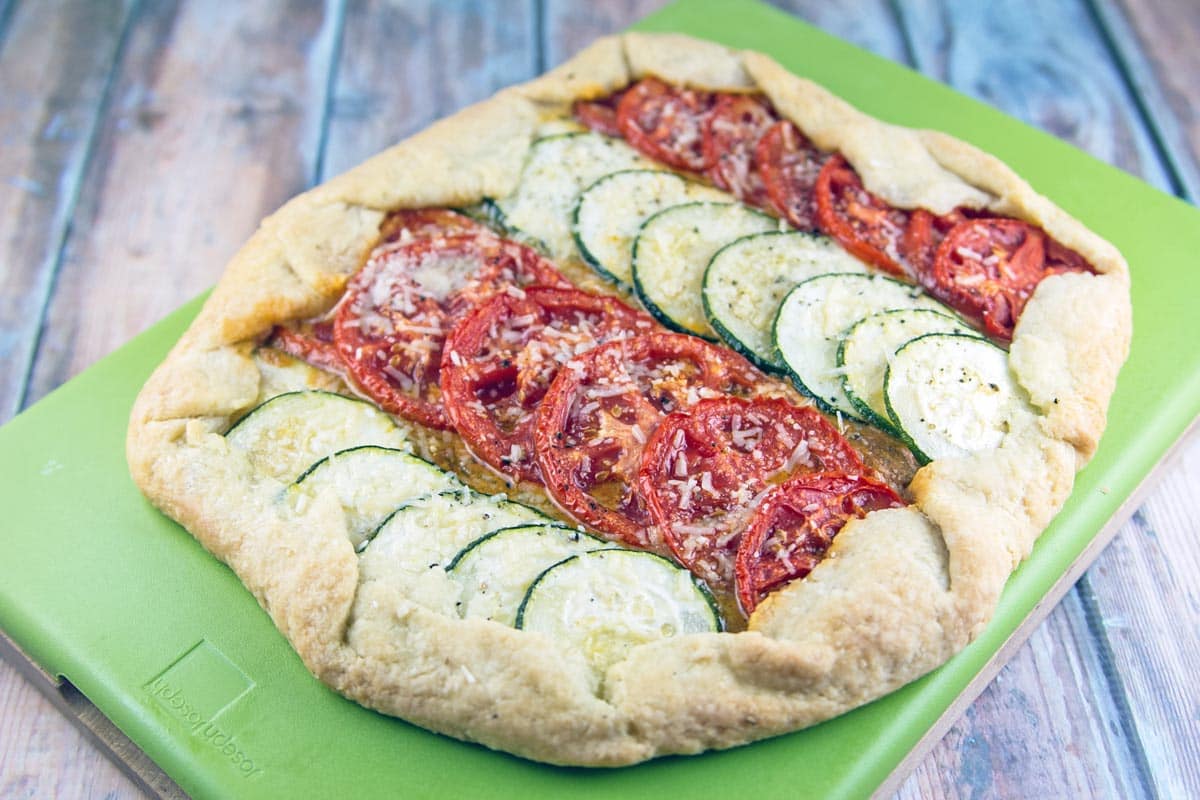 I'm a big fan of galettes, the rustic cousin of pies, because they're supposed to be imperfect.  Whenever someone comments that they really struggle with rolling out pies, I suggest that they start with some galettes.  You get to practice making and rolling out dough, but without worrying about getting it into a perfect circle.  If you roll it out right on the parchment paper, you also don't have to worry about the dough ripping while you try to transport it into the pie pan.  Go ahead, give it a try – it's supposed to look a little ragged and misshapen!
I've made this before with regular basil pesto, but this time I used some of my oven-dried tomatoes to make tomato pesto for a little extra tomato flavor.  This also lends well to other summer vegetables, but I always have tomatoes and zucchini overflowing from my produce bins.  Such a great way to use up both!  I can't think of a better way to highlight summer produce than with a tomato and zucchini galette.
Yield:
Serves 4-6 as a side
Tomato and Zucchini Galette
A rustic tomato and zucchini galette with sun-dried tomato pesto highlights the freshest seasonal summer produce.
Ingredients:
For the crust
1 1/4 cups all-purpose flour
3/4 teaspoon sea salt
1/2 cup butter, very cold, cubed
1/4 cup ice cold water
For the pesto
1 cup sundried tomatoes, packed in oil and drained
1/4 cup grated parmesan cheese
1/4 cup basil leaves
1 clove garlic
1/4 cup olive oil (recommended: use the olive oil from the sundried tomato jar)
salt and pepper to taste
For the filling
1 teaspoon olive oil
1 large zucchini
2 large heirloom tomatoes
freshly grated pecorino or parmesan cheese
Directions:
To make the crust, combine the flour, salt, and butter in the bowl of a food processor and process for a few seconds (alternatively, cut butter into the flour with a pastry blender).  Sprinkle the ice water over the flour mixture and pulse (or mix) just until the pastry begins to come together, another 5 to 10 seconds.  Gather the dough together and shape into a disk, wrap tightly with plastic wrap, and refrigerate for at least 30 minutes.  This can be made several days ahead of time and kept refrigerated until you are ready to use it.
To make the pesto, combine the sundried tomatoes, parmesan cheese, basil, and garlic in a food processor or blender.  Pulse a few times.  Slowly add the olive oil and continue to pulse until the pesto reaches a consistency somewhere between a paste and liquid.  Add salt and pepper to taste.
Thinly slice the tomatos and zucchini using a mandolin or carefully by hand.
Preheat the oven to 375F and line a baking sheet with parchment paper.  Remove the dough from the refrigerator and place it on the lightly-floured parchment paper.  Roll the dough into a large circle using a floured rolling pin, to a size around 12 inches in diameter.  If you only refrigerated the dough for 30 minutes, it will be quite soft, but don't worry, it will bake up just fine.
Spread about 1/3 of a cup of the tomato pesto in the center of the dough and spread it out to within an inch and a half of the edge of the dough.  Lightly drizzle olive oil on top of the pesto.  Arrange the sliced zucchini and tomatoes in a single layer over the top.
Fold the ends of the dough up over the vegetables, overlapping the edges and creating pleats around the galette.
Bake for 35 to 40 minutes, until the crust is golden.  Allow the galette to cool for 5 minutes before serving, and garnish with freshly grated cheese.