November 25, 2016
One Skillet Crispy Mediterranean Chicken
Break out your cast iron pan for this gluten free, paleo, and Whole 30 compliant one skillet crispy Mediterranean chicken thighs, roasted with beets and artichokes.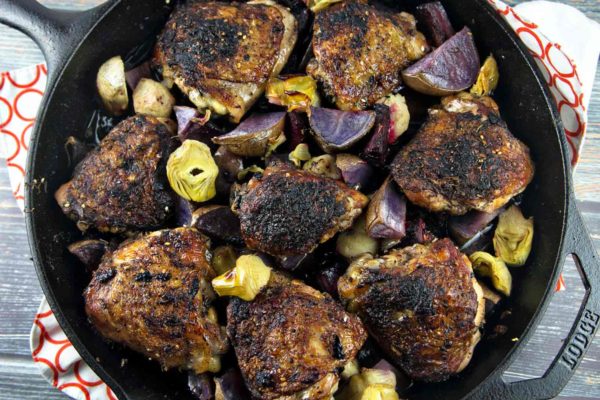 Oh, hey guys.  If you're reading this, congratulations: you survived Thanksgiving yesterday!  You weren't taken out by either food related panic or food related gluttony.
I hope everyone had a wonderful holiday, full of family (that you actually like), time honored traditions, and pie.  Lots of pie.
We spent the evening with my husband's family, where we had – dare I say – too much pie.  Chocolate cream pie.  Lemon meringue pie.  Coconut cream pie.  Pecan pie.  Pumpkin pie.
I'm on a little bit of a dessert overload, so I thought I'd share something savory today with this one skillet crispy Mediterranean chicken.  Don't worry – we'll be back to sweet soon.  In fact, I have three awesome holiday entertaining desserts planned for next week!  But today, we take a break from the sugar.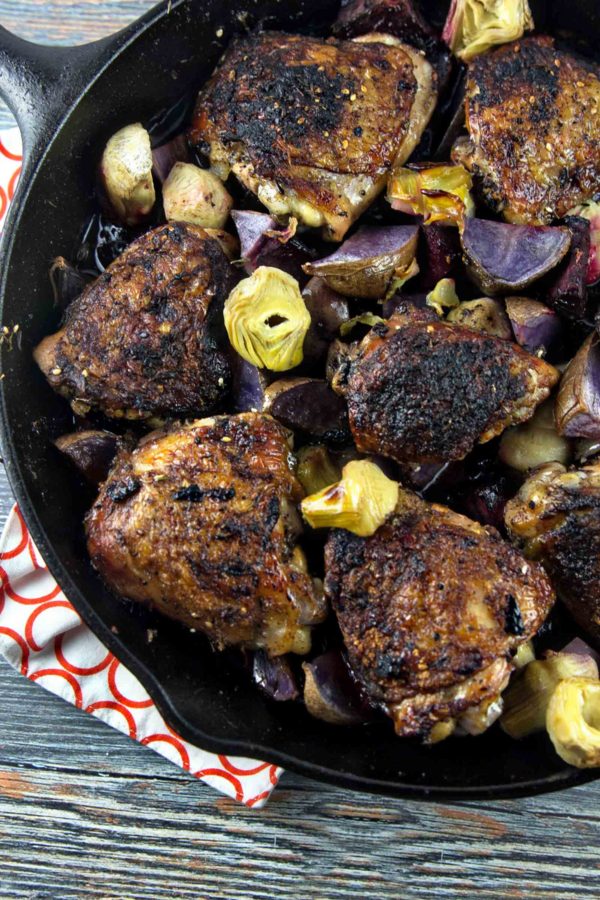 First, though, I wanted to give my thanks to you, my readers.  I am beyond thankful that you continue to return, week after week, to see what is coming out of my kitchen.  I'm honored and thrilled that my recipes graced so many of your Thanksgiving tables, and that you trust me enough to make a new-to-you recipe for the first time at a major holiday.
Bunsen Burner Bakery has been in existence for over 5 years now, but I only started sharing on social media and building up traffic this spring.  Over the past seven months, my pageviews have increased 25-fold, meaning there are a whole lot more of you this year than there were last Thanksgiving.
This was especially apparent in the number of emails, comments, Facebook messages, and Instagram messages that came pouring in with questions while you were preparing recipes for your Thanksgiving feasts.
More than 70 of you reached out during the day, and it truly made my day.  I loved interacting with so many readers, and at the end of the day, the "this is the best pie I've ever made!" emails left me grinning from ear to ear.
I just now noticed some comments that went into my spam filter, so my sincere apologies if you tried to ask me a question and it went unanswered.
You guys are awesome, and I am thankful for you.  It's not easy working full time as a scientist, raising a toddler, and running this food blog on the side – but you make it worthwhile.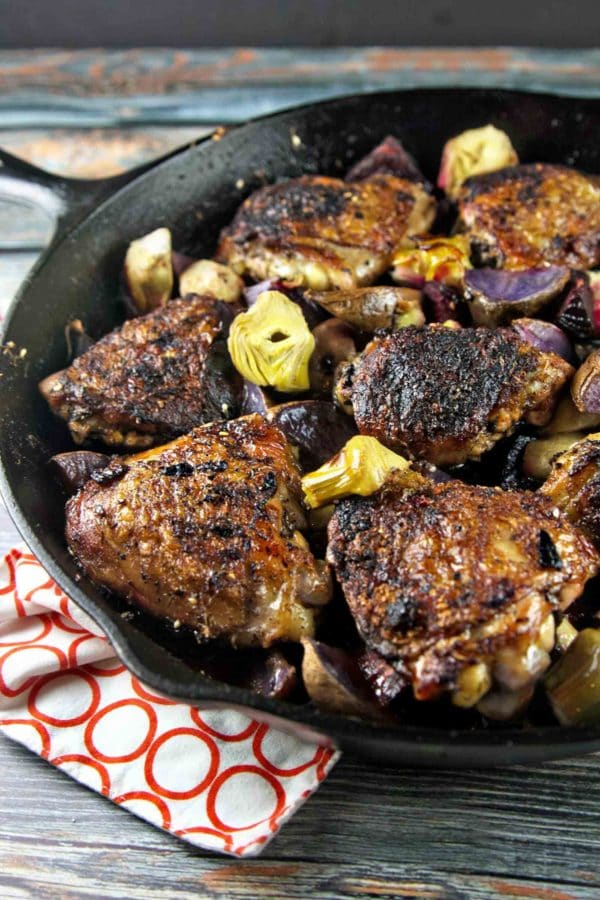 Okay.  Enough uncharacteristic sappiness – on to the crispy Mediterranean chicken!  This utilizes my most favoritest technique for cooking chicken thighs: in a cast iron skillet.  It gets so, so crispy – without frying in a lot of oil.
If you don't regularly cook meat in your cast iron, let me tell you – you are really missing out.  Even if you don't like chicken skin, I'll still encourage you to buy bone-in, skin-on chicken.  Peel the skin off before you eat it if you must, but it really seals in so much extra flavor.
If you really, truly can't stand it, just reduce the cooking time by 10 minutes for boneless, skinless thighs.
We'll season the chicken thighs with some classic Mediterranean spices: thyme, sumac, oregano, cumin, garlic.  Sear them well in the cast iron skillet, then nestle in some beets and artichokes.
(Can we stop for a minute and talk about how our CSA sent us the most purple beets ever for this recipe?  I'm so used to dark red beets, but these are most definitely purple – but tasted exactly like a standard beet.)
Add a little chicken stock and a squirt of lemon juice; then pop the whole thing into the oven.
I love that this is a one skillet dinner – less to pull out, and only one skillet to wash.
Yes, this is a bit more time consuming than many of my weeknight dinners, but the last 30 minutes are in the oven.  It's the perfect amount of time to set the table and pack lunches, or help kids with some homework.
This crispy Mediterranean chicken paired with the beets and artichokes is hearty and filling.  Serve with some sautéed greens or roasted broccoli for a low(ish) carb dinner.  It's delicious, it's easy, and it's a great gluten free, paleo, and Whole 30 compliant way to detox with some real food after all those Thanksgiving pies.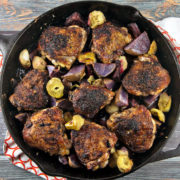 One Skillet Crispy Mediterranean Chicken
Break out your cast iron pan for this gluten free, paleo, and Whole 30 complaint one skillet crispy Mediterranean chicken thighs, roasted with beets and artichokes.
Ingredients:
1 tablespoon olive oil
6 cloves of garlic, minced
1/2 teaspoon dried thyme
1/2 teaspoon sumac
1/2 teaspoon dried oregano
1/2 teaspoon ground cumin
8 small bone-in, skin-on chicken thighs
1/2 cup chicken stock
3-4 beets, quartered (eighthed if large)
1 (14.5-ounce) jar artichoke hearts, quartered
juice of 1 lemon
Directions:
Preheat the oven to 425 °F.
Heat a large cast iron skillet over medium-high heat.  Add the olive oil.  Once hot, add the garlic to the skillet and stir.
While the garlic is browning, rub the chicken thighs with the thyme, sumac, oregano, and cumin.  Salt and pepper to taste.
Place the thighs, skin side down, in the hot skillet.  Check after 5 minutes to see if the skin is thoroughly browned; it will likely take 10 minutes total.  Once browned, flip the chicken.
Add the chicken stock, beets, artichokes, and lemon juice to the skillet and bring the mixture to a simmer.
Transfer the skillet into the oven and bake for 30 minutes, or until thighs reach an internal temperature of 165 °F.
A Bunsen Burner Bakery Original Protocol