November 24, 2017
Cookies and Cream Oreo Bundt Cake
The ultimate deep, dark, rich chocolate cake, this Cookies and Cream Oreo Bundt Cake is stuffed full of chopped Oreos and covered in marshmallow buttercream frosting. If you love Oreos, you'll love this bundt cake take on a classic favorite cookie!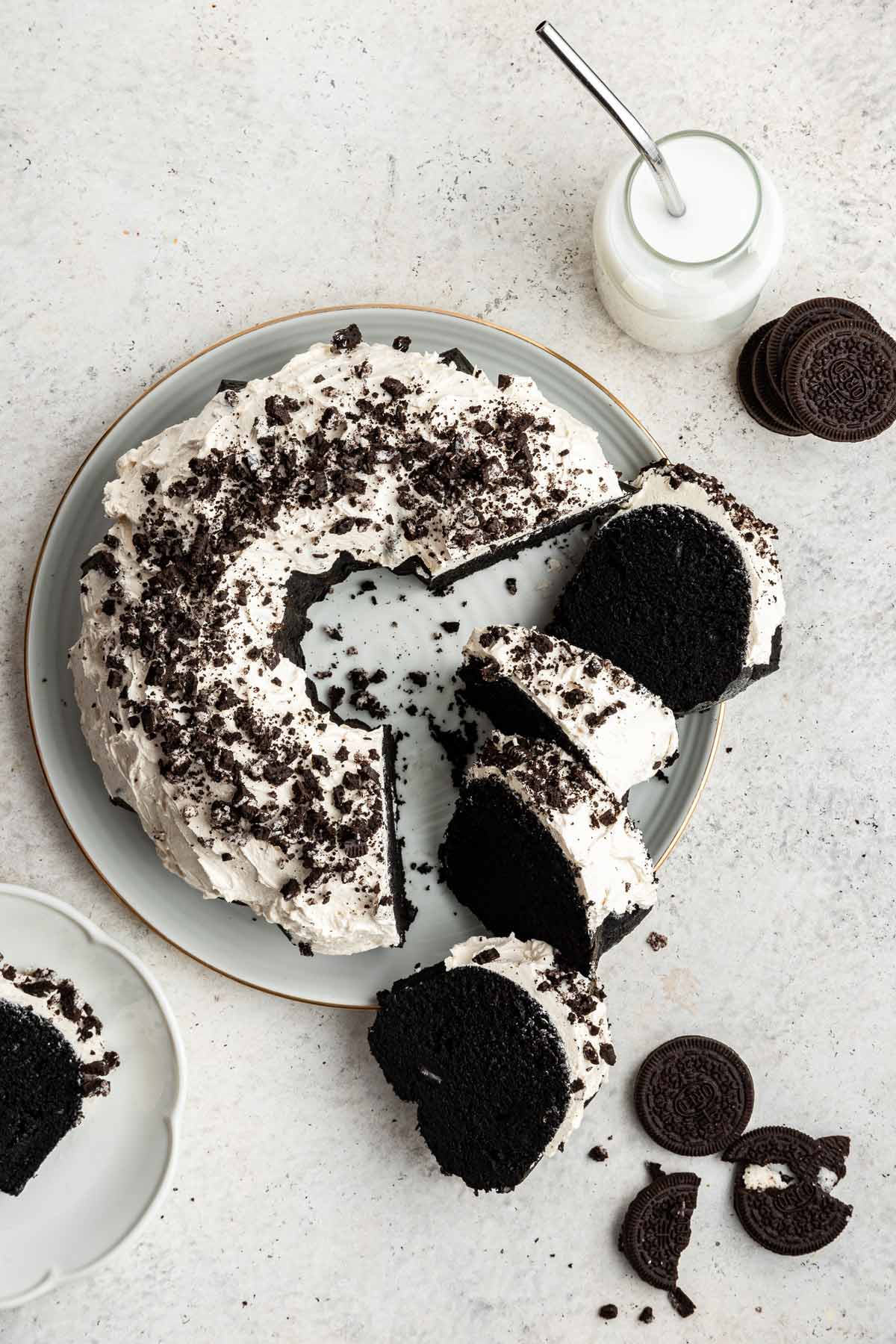 This is definitely the richest, most chocolate-iest bundt cake I've shared in my Bundt Cake of the Year series. I'm not a big chocolate person, so my tendency towards vanilla and fruit-flavored cakes comes as no surprise.
But my husband's family? Big chocolate fans. Huge! So I knew my mother-in-law's birthday was the perfect opportunity to perfect a deep, dark, rich, ultra chocolatey bundt cake.
And let me tell you – this cookies and cream Oreo bundt cake does not disappoint! It was, dare I say, too chocolatey for me, which means my husband, mother-in-law, and toddler raved about it!
And how do we make a rich, chocolatey cake even better? Fill it with Oreos, of course – and don't forget the big pile of frosting, just like the creamy filling of an Oreo cookie!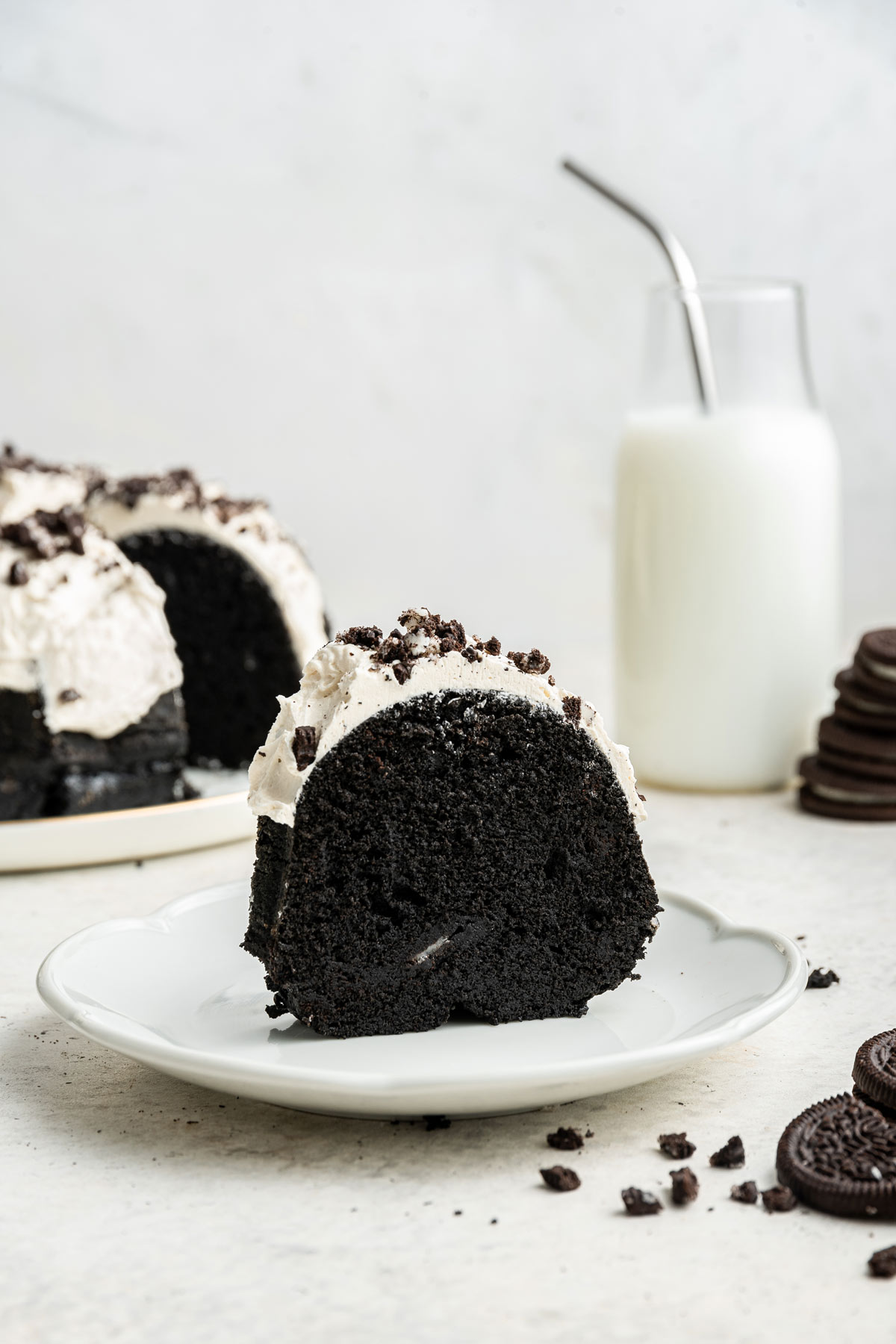 Ingredients and Substitutions
First up, let's go over some of the key ingredients you need – and any substitutions for dietary restrictions!
To make the cake, we'll need:
Butter: Use unsalted butter. Since this will be melted, there's no need to set the butter out ahead of time to bring it up to room temperature.
Milk: Whole milk will provide the best flavor and texture. A non-dairy milk can be substituted if necessary.
Cocoa Powder: We'll use both black cocoa powder and natural unsweetened cocoa powder in the cake. I highly recommend picking up some black cocoa powder, but if you don't have any, use your favorite Dutch-processed cocoa powder to replace the black cocoa.
Sugar: Granulated sugar, and use the full amount: ths isn't a cake which takes well to decreasing the amount of sugar.
Baking Soda and Baking Powder: Because this cake batter leans to the acidic side from the natural unsweetened cocoa nad the sour cream, we also need to add baking soda to neutralize the acidity.
Flour: Properly measure your flour (fluff the flour, scoop it into a measuring cup, and smooth the top) or even better: weigh it! To keep the cake gluten-free, use a 1:1 gluten-free all purpose baking blend.
Eggs: The eggs will incorporate into the batter better if they are at room temperature. You can also use a homemade flax egg as an egg substitute.
Sour Cream: Sour cream adds extra fat and helps prevent gluten development while the ingredients are mixed. Full-fat sour cream is the best option; you can also substitute in full-fat Greek yogurt.
Oreo Cookies: Of course, a crucial part of any Oreo cake!
You can stop here with a plain cake, or you can also cover the cake in fluffy white frosting. (I trust you know the correct answer here.) Gather the following for the frosting:
Butter: The butter in the frosting should be at cool room temperature – approximately 65°F.
Marshmallow Fluff: Can't find marshmallow fluff? Try using marshmallow creme, room temperature cream cheese, or even peanut butter instead (because who doesn't love a peanut butter Oreo?!)
Sugar: We'll want confectioners – also know as powdered – sugar for the frosting.
Heavy Cream: I always like to end by whipping a little heavy cream into the frosting. You can substitute in whole milk instead, but start with less so it doesn't thin down the frosting too much.
Baking with Black Cocoa Powder
Because I was trying to evoke an Oreo look, I wanted the stark contrast between a dark black cake and bright white frosting. Anyone who has worked with cocoa powder knows that chocolate cakes are definitely brown.
So how do we achieve that intense dark color we know and love? By using black cocoa powder (Amazon links are affiliate)!
What exactly is black cocoa powder? It's a super duper dark, intensely concentrated Dutch-process cocoa. It not only provides the deep black color, but also exceptionally rich chocolate flavor.
Hold up. Dutch-process cocoa powder? What's that? Time for my favorite subject… kitchen chemistry!
Kitchen Chemistry

Cocoa beans are naturally fairy acidic, with a pH of 5.5 This is why super dark chocolate is actually quite bitter. When cocoa beans are dutched, however, they are washed with potassium which neutralizes the acidity. (Inversely, natural cocoa powder is made from roasted and ground beans, and thus remains acidic.)
There are a few things to keep in mind when baking with black cocoa powder. Because all the acid has been neutralized, it will not react with baking soda (while natural cocoa will). As a result, use baking powder in recipes calling for black (or regular Dutch processed) cocoa powder.
The neutralization process also leaves black cocoa powder with almost no fat. This can lead to dry, crumbly baked goods. An easy way to avoid this is to use a mix of both black cocoa powder and regular cocoa powder, which both provides a more balanced chocolate flavor and adds a bit more fat back into the recipe.
For this Oreo bundt cake, I used half a cup of black cocoa and a quarter cup of regular unsweetened natural cocoa. You can absolutely use the same ratio of regular Dutch-process cocoa and natural cocoa powder, or all natural unsweetened cocoa powder. Your cake will still be delicious – just a little less chocolatey and a typical chocolate cake color!
Easy Mix by Hand Cake
One of the things I love so much about this cake is how easy it is to make! No creaming together butter and sugar — because this cake uses melted butter, we can just whisk the cake together by hand!
Start by whisking together the butter, milk, and cocoa powders – and whisk this well to make sure the cocoa powder isn't clumpy. You can even heat the milk first to help the cocoa powder dissolve better!
Next, whisk in the rest of the dry ingredients, just until no visible streaks of flour remain. Then use a rubber spatula to mix in the eggs, sour cream, and vanilla extract. And then, my favorite part: chopped Oreos! I love adding Oreos into the cake batter for a little unexpected crunch.
Bake the cake in a 12-cup metal bundt pan and let it cool completely before frosting.
Marshmallow Buttercream Frosting
Now, let's talk about the frosting. If you want to get technical, bundt cakes don't usually have a frosting. A glaze, sure. But not a full on frosting coating. We need a creamy frosting here, though — like an open-faced oreo cookie!
I wanted the frosting to be as white as possible, but anyone who works with butter and vanilla knows that standard American buttercream has that yellowish tint to it.
In an attempt to make the frosting white and match that extra sweetness from the center of an oreo, marshmallow fluff came to the rescue! I had a jar left over from this S'mores Bundt Cake marshmallow fluff disaster.
The end result? Fluffy, sweet, and decidedly white frosting, just like the center creme of an oreo cookie. Simply beat the fluff with softened butter, powdered sugar, and dash of vanilla extract and salt until you achieve a smooth and creamy consistency, and then whip in a little heavy cream.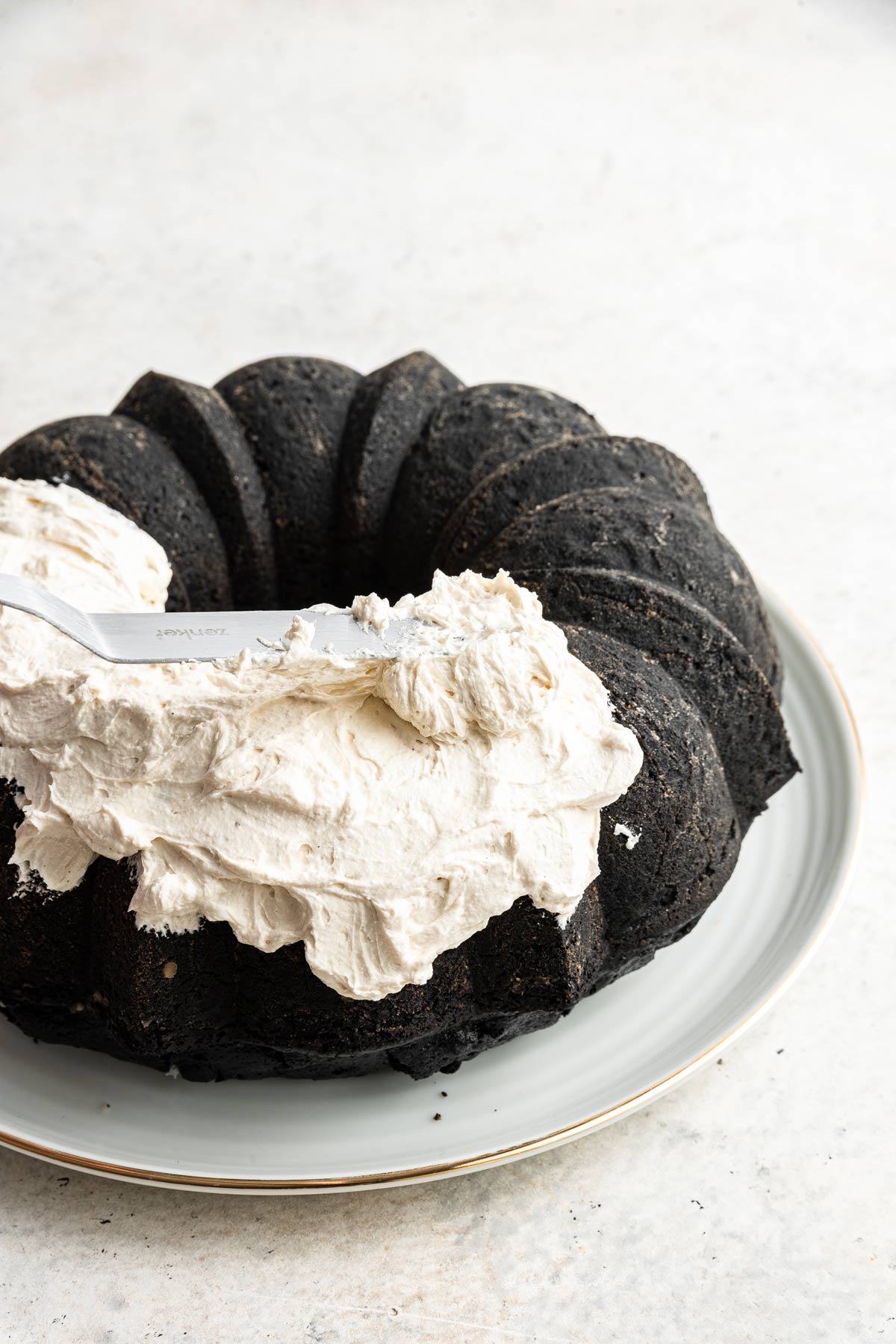 Recommended Tools to Make Oreo Bundt Cake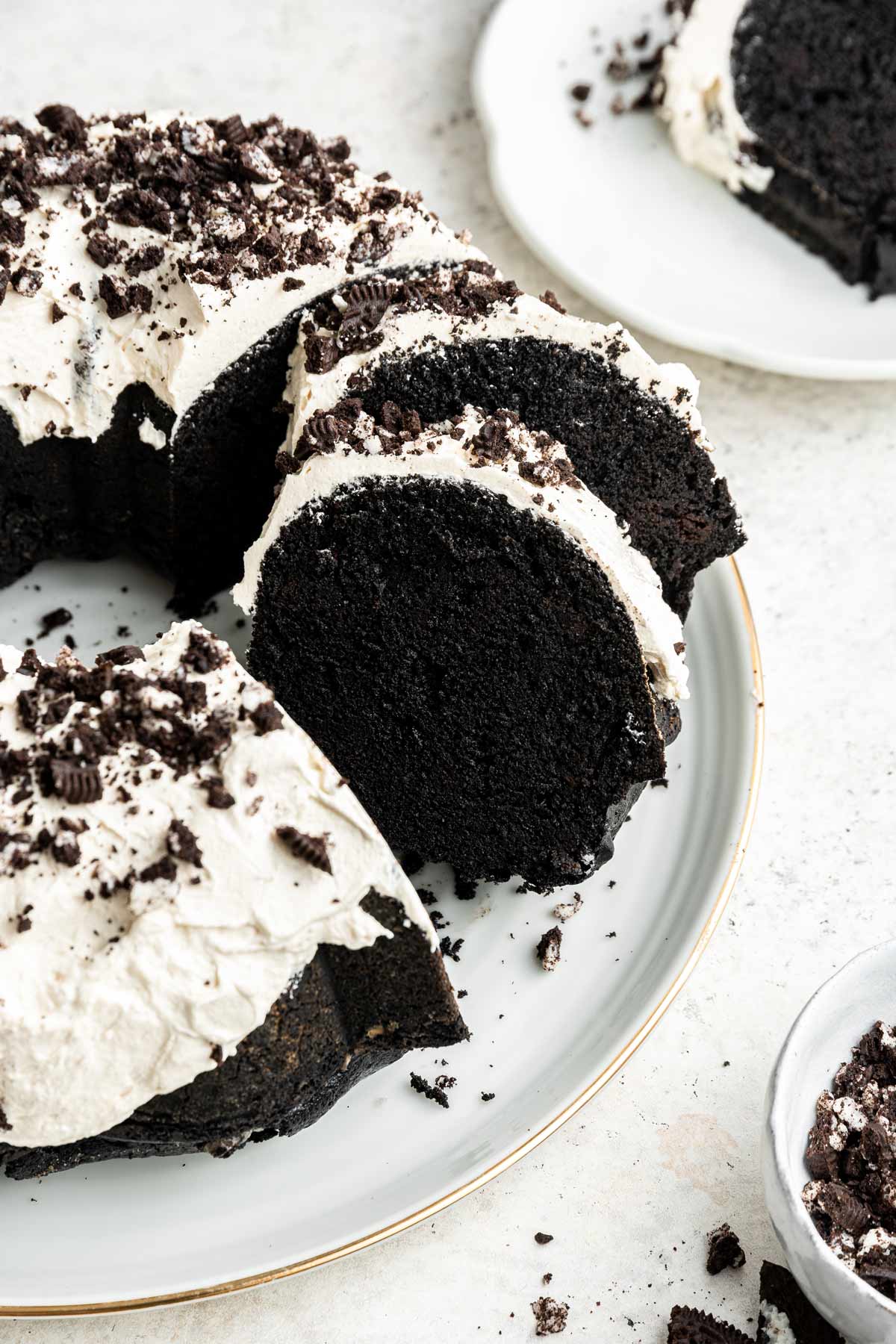 Tips and Tricks for the Best Oreo Bundt Cake
If you don't have black cocoa powder, use all Dutch processed cocoa powder. The color won't be the same and the flavor will be a little different, but the cake will still be delicious!
Prefer cream cheese frosting? Just swap the marshmallow fluff for cream cheese – but don't forget to refrigerate the cake if you do this!
No bundt pan? No problem! Bake this Oreo cake recipe in two 8.5 x 4.5-inch loaf pans. Bake for 40-50 minutes, or until a tester inserted into the center comes out with a moist crumb.
Make sure the cake is fully cooled before topping with the marshmallow frosting! If the cake is still warm, the frosting will melt and slide right off the cake. Patience is key here!
Looking to perfect your bundt cake baking skills?  Definitely give this post on ESSENTIAL BUNDT CAKE TIPS a quick read — it covers everything from how to make sure your bundt cake doesn't stick to how to prevent the bottom of the cake from doming! 
This Oreo bundt cake can be stored at room temperature in an airtight container for up to 5 days or frozen for up to 3 months.
More Oreo Desserts:
2017 Bundt Cake of the Month Series
Cookies and Cream Oreo Bundt Cake
The ultimate deep, dark, rich chocolate cake, this Cookies and Cream Oreo Bundt Cake is stuffed full of chopped oreos and covered in marshmallow buttercream frosting.
Ingredients
For the cake:
1 cup (227 grams) unsalted butter, melted
1 cup (227 grams) whole milk, room temperature
1/4 cup (21 grams) unsweetened cocoa powder
1 3/4 cup (347 grams) granulated sugar
3/4 teaspoon baking powder
1/2 teaspoon baking soda
1 teaspoon salt
2 cups (240 grams) all-purpose flour
1 tablespoon vanilla extract
2 large eggs, room temperature
1/2 cup (113 grams) sour cream, room temperature
18 Oreo cookies, roughly chopped
For the frosting:
1 cup (227 grams) butter, room temperature
1 7 ounce jar (198 grams) marshmallow fluff
3 cups (341 grams) confectioners' sugar
1 teaspoon salt
1 tablespoon vanilla extract
2 tablespoons heavy cream
12 Oreo cookies, chopped
Instructions
Preheat the oven to 350 °F.
Add the melted butter, milk, and cocoa powders into a large bowl and whisk until smooth. Add in the sugar, baking powder, baking soda, salt, and flour, continuing to whisk until fully incorporated with the chocolate mixture and no streaks of flour remain, scraping down the sides of the bowl.
Make a well in the center of the batter and add the vanilla, eggs, and sour cream. Stir together until thoroughly combined. Gently stir in the chopped Oreo cookies.
Grease a 12-cup bundt metal pan. Pour the batter into the prepared pan and bake for 45 to 50 minutes, or until a tester inserted into the center of the cake comes out clean. Remove the cake from the oven and allow the cake to cool in the pan for 15 minutes. Invert the pan over a cooling rack and allow the cake to cool completely before icing.
To make the frosting, beat the butter on low speed using a mixer until smooth. Add in the marshmallow fluff, continuing to beat until well combined. Slowly mix in the confectioners' sugar, half a cup at a time, followed by the salt and vanilla. Turn the speed up to medium-high, then add in the heavy cream and beat until light and fluffy.
Cover the top of the bundt cake with the frosting. Sprinkle the chopped Oreos on top. Refrigerate for 30 minutes before serving to set the frosting. The cake will keep at room temperature for up to 3 days.
Notes
Black cocoa powder gives this cake the characteristic black color and the rich chocolate flavor, but if you can't find black cocoa, use all Dutch-processed cocoa powder.
For a cream cheese-based frosting, substitute cream cheese for the marshmallow fluff. The cake should be stored in the refrigerator if cream cheese frosting is used.
Instead of a bundt pan, the cake can be baked in two 8.5 x 4.5-inch loaf pans for 40-50 minutes.
Store the cake tightly wrapped or in an airtight container at room temperature for up to 5 days. The cake can also be frozen for up to 3 months.
Recommended Products
As an Amazon Associate and member of other affiliate programs, I earn from qualifying purchases.