November 24, 2017
Cookies and Cream Oreo Bundt Cake
The ultimate deep, dark, rich chocolate cake, this Cookies and Cream Oreo Bundt Cake is stuffed full of chopped oreos and covered in marshmallow buttercream frosting. Dig in!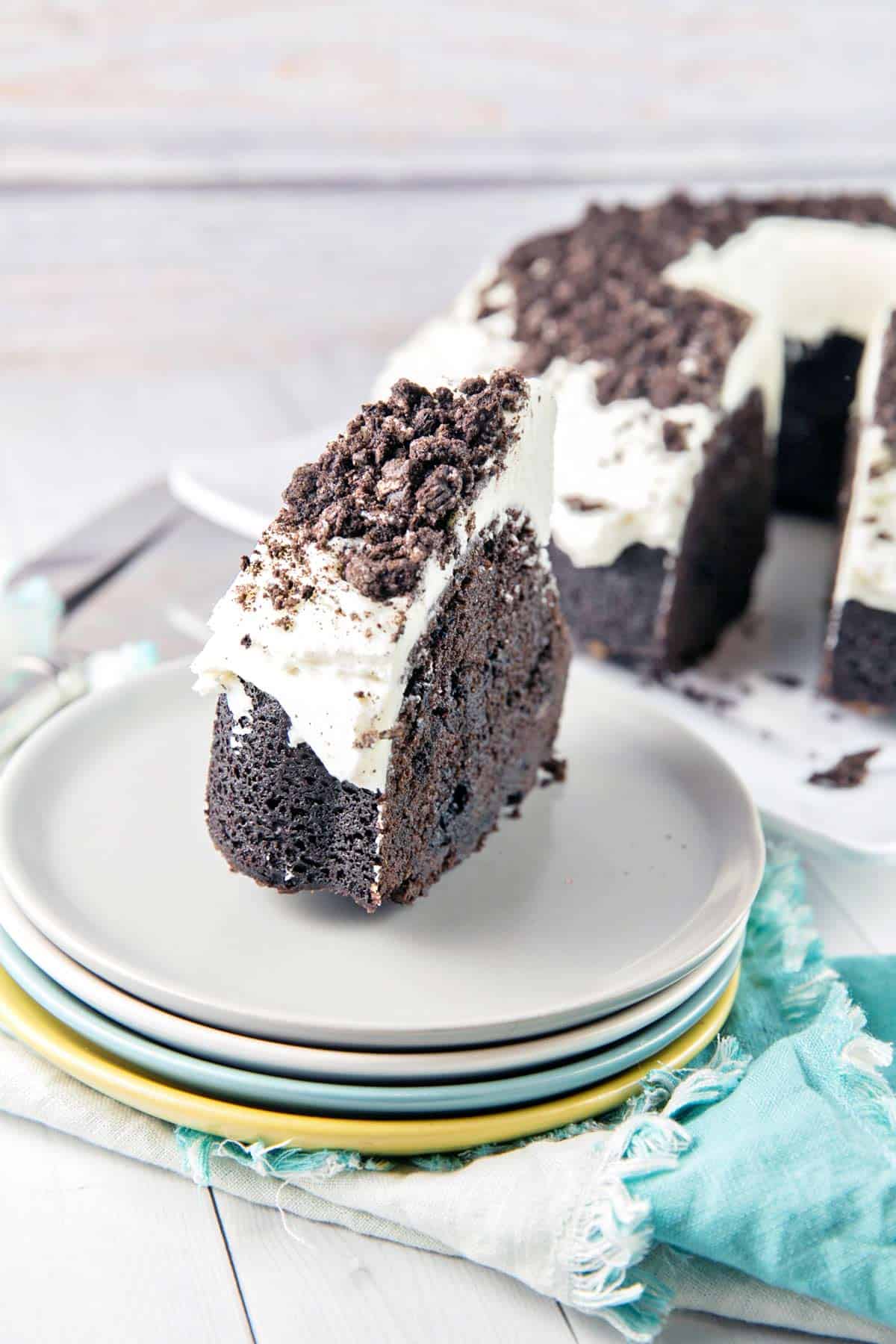 Happy Day after Thanksgiving, everyone! I hope you all had a wonderful, food-filled celebration with family and friends. Did you eat so much that you swore off of food and said you were never going to eat again?
Well, it's been nearly a full day since your Thanksgiving feast, so… you're probably eating again. And probably thinking about dessert again. So why not think about this Cookies and Cream Oreo Bundt Cake?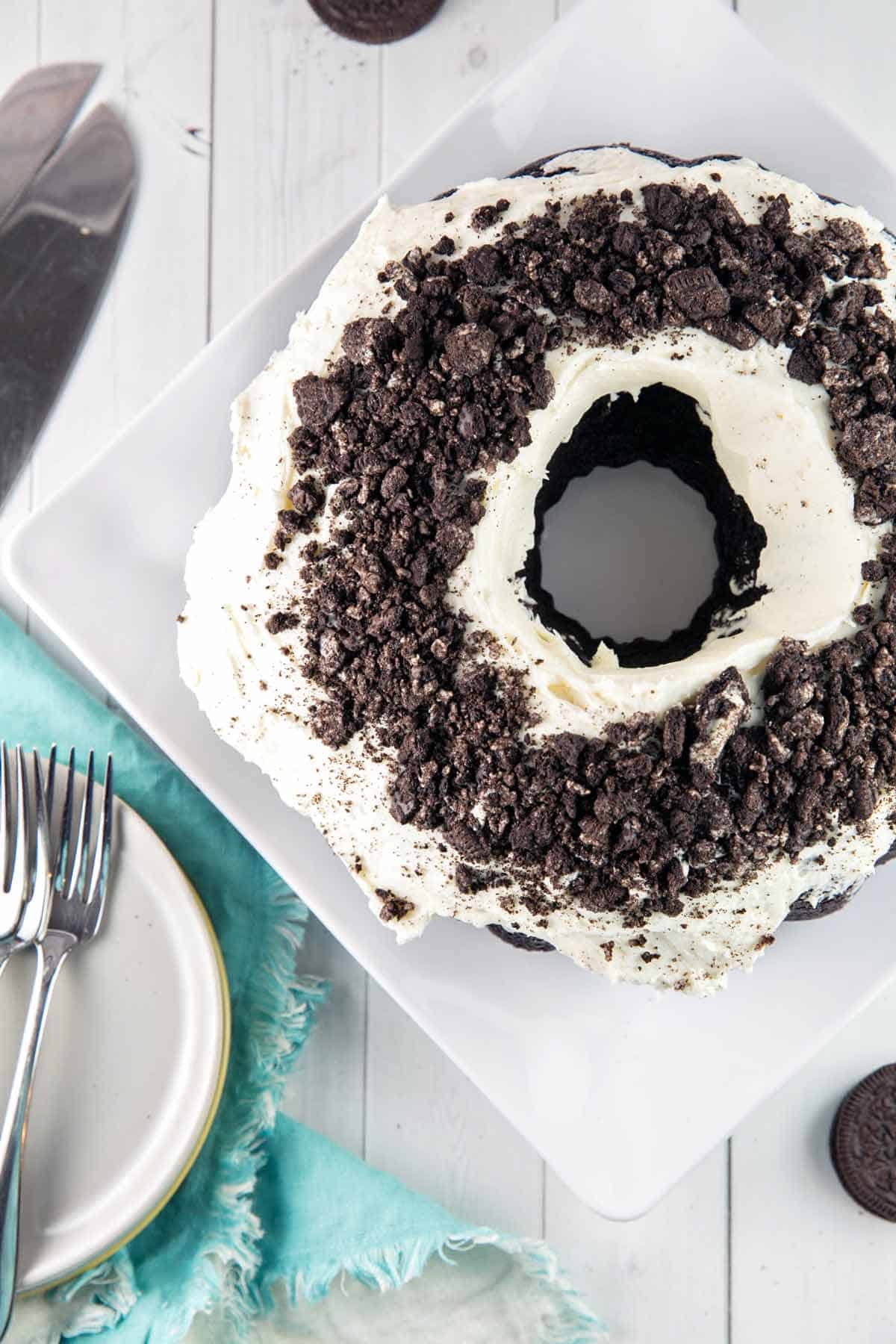 This is definitely the richest, most chocolate-iest bundt cake I've shared in my Bundt Cake of the Year series. I'm not a big chocolate person, so my tendency towards vanilla and fruit flavored cakes comes as no surprise.
But my husband's family? Big chocolate fans. Huge! So I knew my mother-in-law's birthday was the perfect opportunity to perfect a deep, dark, rich, ultra chocolately bundt cake.
And let me tell you – this cookies and cream oreo bundt cake does not disappoint! It was, dare I say, too chocolatey for me, which means my husband, mother-in-law, and toddler raved about it!
And how do we make a rich, chocolatey cake even better? Fill it with oreos, of course!
Because I was trying to evoke an oreo look, I wanted the stark contrast between a dark black cake and bright white frosting. Anyone who has worked with cocoa powder knows that chocolate cakes are definitely brown.
So how did we get the dark black color? By using black cocoa powder (Amazon links are affiliate)!
What is Black Cocoa Powder?
So what exactly is black cocoa powder? It's a super duper dark, intensely concentrated Dutch-process cocoa. It not only provides the deep black color, but also exceptionally rich chocolate flavor.
Hold up. Dutch-process cocoa powder? What's that? Time for a little… kitchen chemistry!
Cocoa beans are naturally fairly acidic, with a pH of 5.5. This is why super dark chocolate is actually quite bitter. When cocoa beans are dutched, however, they are washed with potassium which neutralizes the acidity. (Inversely, natural cocoa powder is made from roasted and ground beans, and thus remains acidic.)
There are a few things to keep in mind when baking with black cocoa powder. Because all the acid has been neutralized, it will not react with baking soda (while natural cocoa will). As a result, use baking powder in recipes calling for black (or regular Dutch processed) cocoa powder.
The neutralization process also leaves black cocoa powder with almost no fat. This can lead to dry, crumbly baked goods. An easy way to avoid this is to use a mix of both black cocoa powder and regular cocoa powder, which both provides a more balanced chocolate flavor and adds a bit more fat back into the recipe.
For this oreo bundt cake, I used half a cup of black cocoa and a quarter cup of regular unsweetened natural cocoa. You can absolutely use the same ratio of regular Dutch-process cocoa and natural cocoa powder, or all natural unsweetened cocoa powder. Your cake will still be delicious – just a little less chocolatey and a typical chocolate cake color!
How to Make Oreo Bundt Cake Frosting
Now, let's talk about the frosting. If you want to get technical, bundt cakes don't usually have a frosting. A glaze, sure. But not a full on frosting coating. We need a creamy frosting here, though — like an open-faced oreo cookie!
I wanted the frosting to be as white as possible, but anyone who works with butter and vanilla knows that standard American buttercream has that yellowish tint to it.
In an attempt to make the frosting white and match that extra sweetness from the center of an oreo, I added some marshmallow fluff! I had a jar left over from this S'mores Bundt Cake marshmallow fluff disaster.
The end result? Fluffy, sweet, and decidedly white frosting, just like the center creme of an oreo cookie.
Tips for Baking the Best Bundt Cake
Worried that your bundt cake will fall apart when you try to take it out of the pan? Or even worse, not come out at all? Do you sometimes have issues with doming, where the batter puffs up too far in the middle of the pan instead of having a flat, level bottom? Fret not, and click here for all my essential bundt baking tips. You'll be a bundt cake master in no time at all.
Do you love chocolate? Do you love oreos? Then you are going to LOVE this cookies and cream oreo bundt cake.
Make it for a birthday, a dinner party, a holiday, or just because – there's no bad time for a slice of decadent chocolate, cookie filled cake!
More Oreo Desserts:
Cookies and Cream Oreo Bundt Cake
The ultimate deep, dark, rich chocolate cake, this Cookies and Cream Oreo Bundt Cake is stuffed full of chopped oreos and covered in marshmallow buttercream frosting.
Ingredients
For the cake:
1 cup butter, melted
1 cup whole milk, room temperature
1/4 cup unsweetened cocoa powder
1 3/4 cup sugar
3/4 teaspoon baking powder
1/2 teaspoon baking soda
1 teaspoon salt
2 cups all purpose flour
1 tablespoon vanilla extract
2 eggs, room temperature
1/2 cup sour cream, room temperature
18 Oreo cookies, roughly chopped
For the frosting:
1 cup butter, room temperature
1 jar (7 ounces) marshmallow fluff
3 cups confectioners sugar
1 teaspoon salt
1 tablespoon vanilla extract
2 tablespoons heavy cream
12 oreos, chopped
Instructions
Preheat the oven to 350 °F.
Add the melted butter, milk, and cocoa powders into a large bowl and whisk until smooth. Add in the sugar, baking powder, baking soda, salt, and flour, continuing to whisk until fully incorporated with the chocolate mixture and no streaks of flour remain, scraping down the sides of the bowl.
Make a well in the center of the batter and add the vanilla, eggs, and sour cream. Stir together until thoroughly combined. Gently stir in the chopped oreo cookies.
Grease a 12 cup bundt metal pan well. Pour the batter into the prepared pan and bake for 45 to 50 minutes, or until a tester inserted into the center of the cake comes out clean. Remove the cake from the oven and allow the cake to cool in the pan for 15 minutes. Invert the pan over a cooling rack and allow the cake to cool completely before icing.
To make the frosting, beat the butter on low speed using a mixer until smooth. Add in the marshmallow fluff, continuing to beat until well combined. Slowly mix in the confectioners sugar, half a cup at a time, followed by the salt and vanilla. Turn the speed up to medium-high, then add in the heavy cream and beat until light and fluffy.
Cover the top of the bundt cake with the frosting. Sprinkle the chopped oreos on top. Refrigerate for 30 minutes before serving to set the frosting. Cake will keep at room temperature for up to 3 days.
Notes
To freeze, wrap unfrosted cake tightly in aluminum foil, followed by a layer of plastic wrap. Defrost fully and bring to room temperature before frosting. Frosted slices can be frozen, wrapped as above, but frosting may separate from the cake while thawing.
A Bunsen Burner Bakery Original Protocol
Recommended Products
As an Amazon Associate and member of other affiliate programs, I earn from qualifying purchases.
(This post contains Amazon affiliate links. If you make a purchase through one, I receive a small commission. For more information, please refer to my privacy policy.)