November 22, 2016
Bacon Cheddar Chive Bread
Think quick breads are always sweet?  Think again with this easy savory bacon cheddar chive bread, the perfect addition to your dinner table.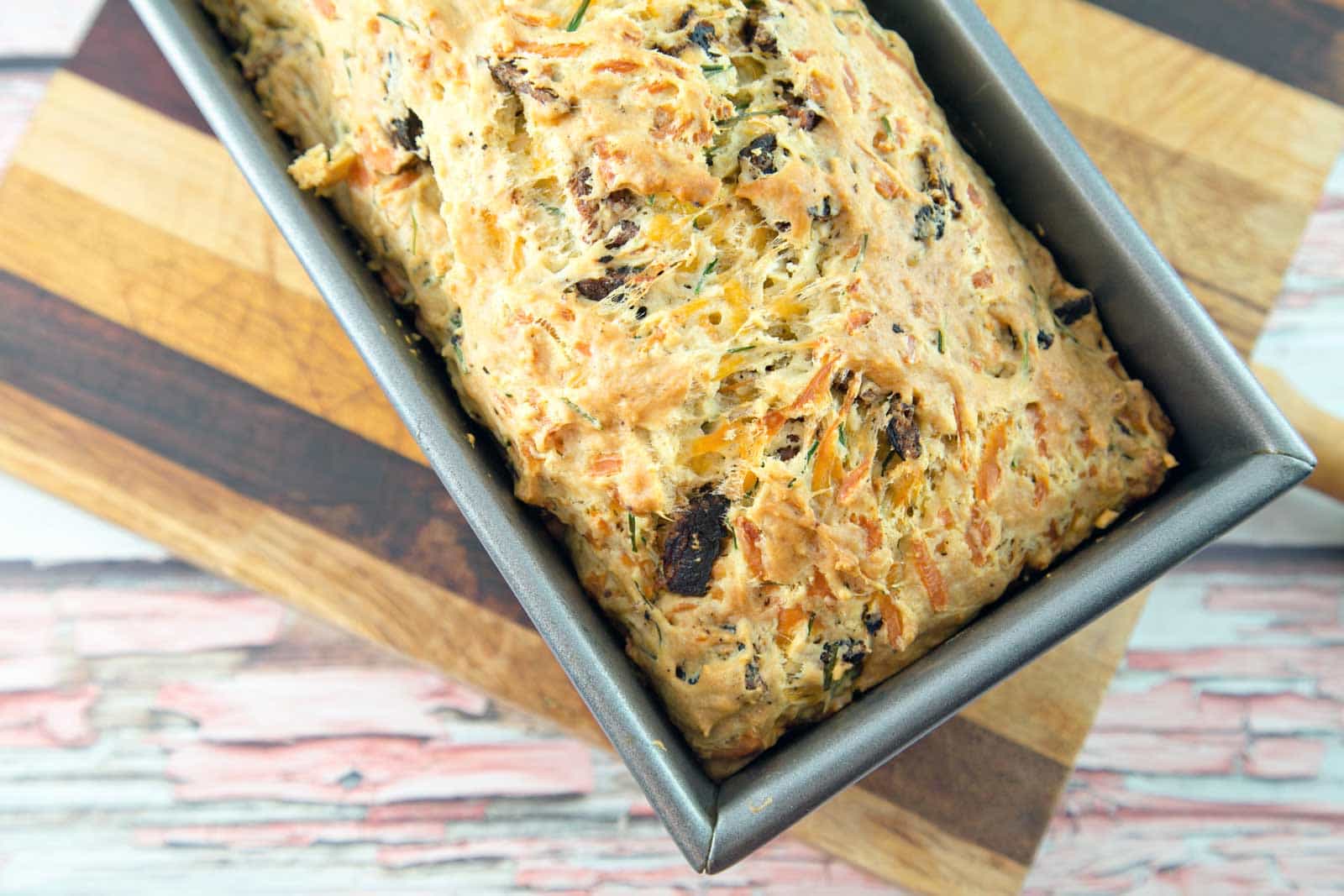 I almost can't believe we've hit the second to last recipe for my Quick Bread of the Month series.  Obviously, my quick bread baking is far from over in the long run, but I almost certainly won't be trying out 12 new recipes next year.  Fret not, though – we still have two more to go, and I'm pretty sure I saved the best for (almost) last.  This bacon cheddar chive bread is, so far, my personal favorite bread from the year!
(Speaking of my Quick Bread of the Month plan – I'm definitely going to continue this next year, but with something else.  Any requests or suggestions?  Layer cake of the month?  Bundt cake of the month? Pie of the month?  Yeast bread of the month?  I'm up to trying anything, short of like – rutabaga recipe of the month, because… where does one even find rutabagas in May?)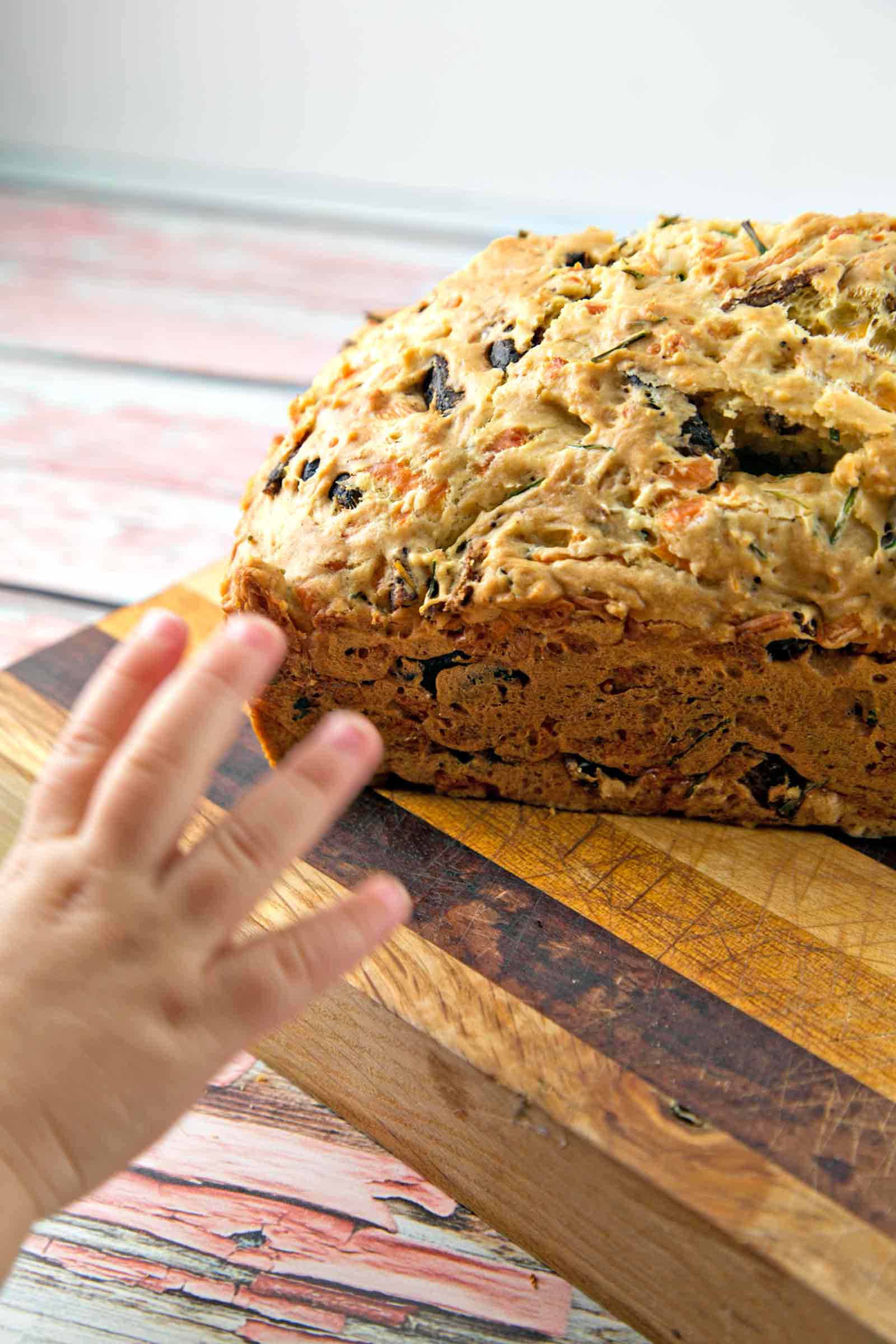 (Fresh baked bread – irresistible to pint-sized grabby hands!  This bread is 100% toddler approved.)
Now, back to this bread.  Anyone who knows me knows that despite my love of baking, I will always take savory and salty over sweet.  November and December are basically the ultimate dessert overload months, so let's step away from the typically sweet quick breads and try something decidedly not dessert-like.  So instead, how about a quick bread that includes bacon and cheddar?  Yes, yes, and yes.  It's cheesy, smokey, and perfectly savory.
This isn't my first savory quick bread in the series.  Back in March, I made a Guinness Irish Soda Bread, and in July, an Italian Herb Tomato Bread.  I started with the recipe for the tomato bread as the base, but adapted as necessary.  A little less flour (the tomato bread is almost biscuit-like), a little more liquid to account for the lack of tomatoes.  Plus, since we don't have the acidic tomatoes, we'll swap from a baking soda/baking powder combination to just baking powder.  Add in a handful of chopped crispy bacon, some shredded cheddar, a bunch of chives snipped from my garden.  If you think savory herb breads are just for yeast-based recipes, think again.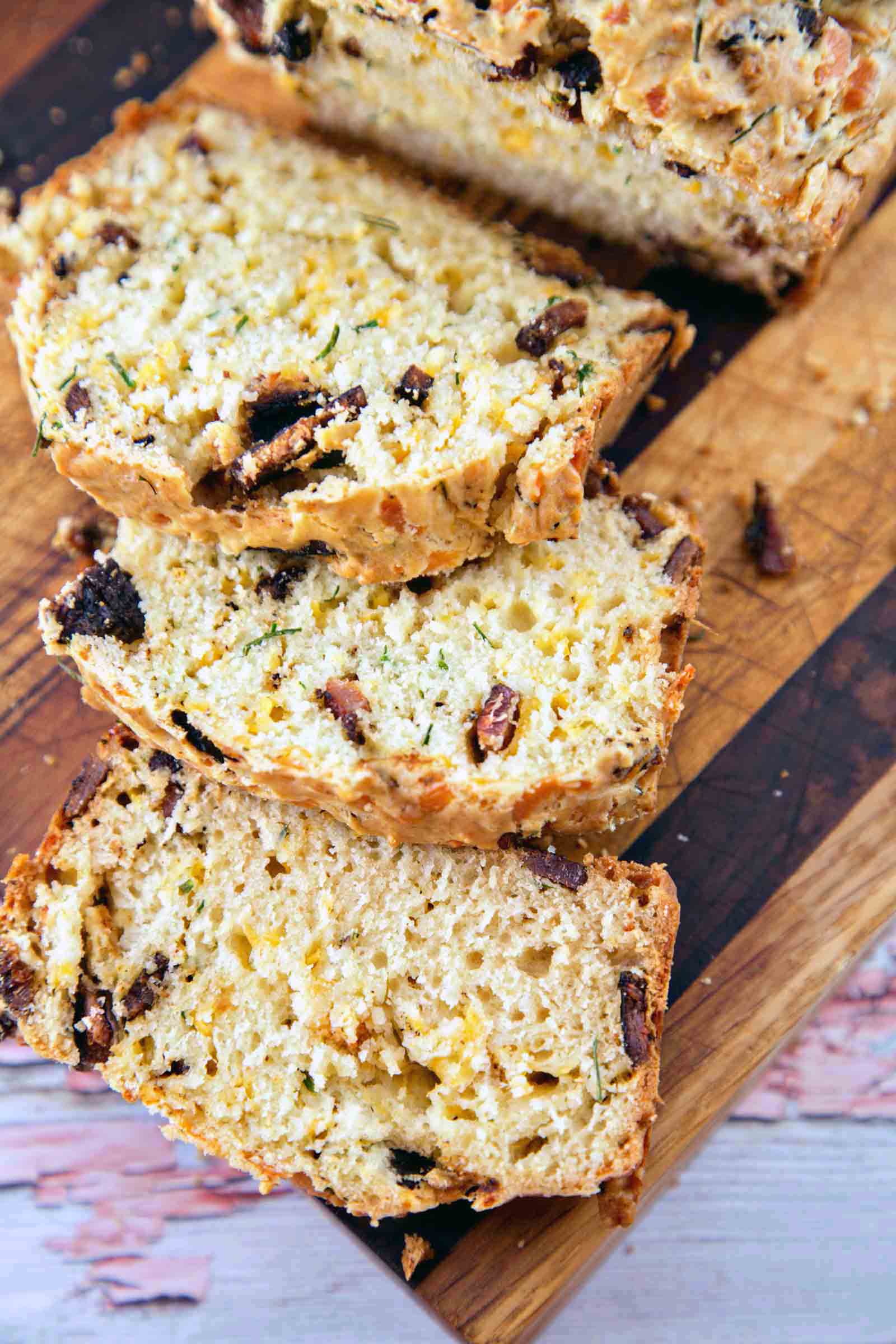 Let's talk about all the things you can do with this bacon cheddar chive bread.  Like eat the whole thing plain (I fully support this).  Eat it paired with cheese spread or a savory jam, like a cracker.  I imagine it would also be delicious as an open-faced turkey sandwich with your Thanksgiving leftovers.  You can even go all out – toast a slice of bread, top it with a scoop of mashed potatoes, some turkey and gravy, and a little cranberry sauce.  But I can absolutely assure you that it makes outstanding savory french toast.  (Spoiler alert: recipe coming next month!)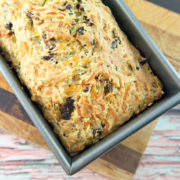 Yield:
1 loaf (12 slices)
Bacon Cheddar Chive Bread
Think quick breads are always sweet?  Think again with this easy savory bacon cheddar chive bread, the perfect addition to your dinner table.
Ingredients:
2 cups flour
1 tablespoon baking powder
1 teaspoon salt
2 eggs
1/3 cup vegetable oil
1/3 cup whole milk
1 cup grated cheddar
6 pieces of bacon, crumbled
1/3 cup chopped chives
Directions:
Preheat oven to 350°F.  Grease an 8.5-inch loaf pan.
In a large mixing bowl, whisk together flour, baking powder, and salt.  Whisk in the eggs, vegetable oil, and milk.
Using a rubber spatula, fold in the grated cheddar, crumbled bacon, and chives. The resulting batter will be thick.
Scoop the batter into the prepared loaf pan.  Bake 40-45 minutes, until a tester inserted into the center of the bread comes out clean.
Cool in pan for 10 minutes, then run a knife around the edges of the pan and turn out onto a wire rack to continue cooling.
A Bunsen Burner Bakery Original Protocol