September 2, 2013
Inside-Out Carrot Cake Cupcakes
Take your carrot cake on the go with these inside-out carrot cake cupcakes — the frosting is on the inside.  Surprise!
When life gives you lemons, you make lemonade.  When your CSA gives you too many carrots, you make carrot cake cupcakes and make your coworkers very happy.
Confession: as much as I love vegetables, carrots are not my favorite.  I don't love them cooked, I don't love them raw… I just don't love them. If they're on my plate, I'll eat them — but when I say we had too many carrots, I mean too many.
As in, once I started shredded them, I wound up with four quart-sized containers.  Even if I put them on every salad and in every soup and served them as a side for every lunch and dinner for a week, I'd never get through them all!
So… carrot cake cupcakes to the rescue!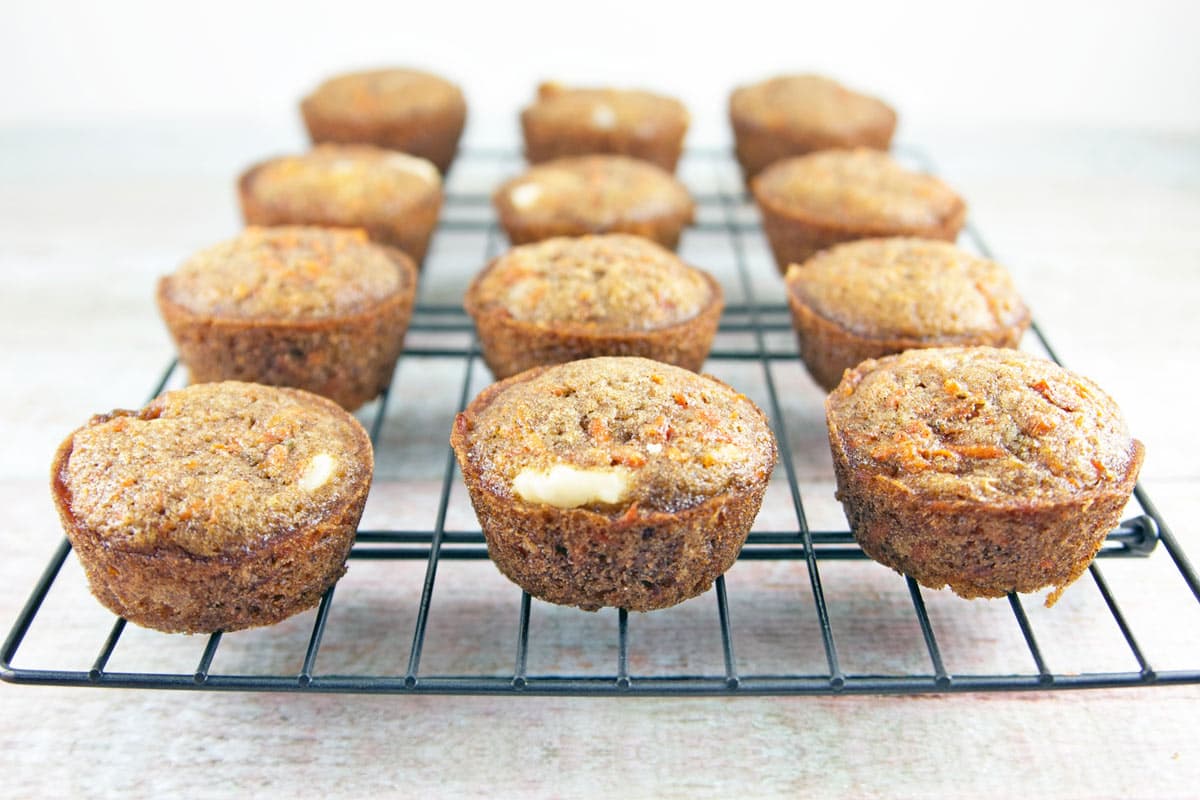 This was a very last-minute, late night decision, so I took the easy route — boxed cake mix!
I know lots of food bloggers will go on and on about the perils of boxed cake mix and how you should always (always! the world depends on it!) make a cake from scratch.  To them I say: meh.
Yes, cake from scratch is generally better, but there are plenty of ways to fancy up boxed cake mix and improve upon it, and carrot cake is one of my favorite ways.
Kitchen Tip:  Want to fancy up your boxed cake mix?
Cakes with lots of "mix ins" — like the carrots and nuts — work wonderfully.  Cakes from boxed mixes often tend to be a little bland – they just lack the super rich chocolate or vanilla flavor.  Stir in something with extra texture and flavor and problem solved!
Use buttermilk.  The single easiest way to improve on boxed cake mix is to use buttermilk instead of water.
Add in a packet of pudding mix.  I know — we're taking something full of artificial things and adding more artificial things, but it's soooo good!  The pudding mix makes cakes super-duper moist and irresistible.
I call these "inside-out" cupcakes because the frosting is on the inside.  And you bake it like this!
You don't have to do anything labor intensive like core the cupcake and pipe it in, or cut the cupcake in half and sandwich it in there.  You literally bake the cream cheese frosting into the middle of the cupcake, and that's it.  You're done!
You could certainly make these extra decadent by piping frosting on top of these as well, but I love the easy portability when left "naked."  I literally tossed these into two gallon-sized ziplock bags and dropped them into my bag on the way to work.  Easy-peasy!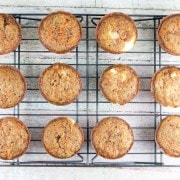 Inside-Out Carrot Cake Cupcakes
Take your carrot cake on the go with these inside-out carrot cake cupcakes — the frosting is on the inside.  Surprise!
Ingredients:
1 box yellow cake mix
1 box instant vanilla pudding
1/2 teaspoon salt
2 tablespoons cinnamon
4 eggs
1/3 cup buttermilk
1/4 cup vegetable oil
4 cups shredded carrots
12 ounces cream cheese, room temperature
1/2 cup powdered sugar
2 teaspoons vanilla extract
Directions:
Preheat oven to 350F.  Prepare 24 muffin liners in muffin pans.
In a large bowl, stir together the cake mix, pudding mix, salt, cinnamon, eggs, milk, and vegetable oil.  Beat on medium speed or whisk by hand until batter is smooth, about 2 minutes when using a mixer.  Stir in the shredded carrots.
Microwave cream cheese in a microwave-safe bowl for 30 seconds.  Stir well, then microwave an additional 30 seconds.  Stir in the powdered sugar and vanilla.
Drop 2 tablespoons of batter in the bottom of each muffin liner.  Add a scant tablespoon of the cream cheese filling to the top of the cake batter.  Top each muffin tin with an additional 2 tablespoons of cake batter.
Bake 20 – 25 minutes, until firm to the touch and the cake is cooked through.  Cool cupcakes thoroughly on a wire rack.
A Bunsen Burner Bakery Original Protocol