June 16, 2015
Chocolate Oreo Peanut Butter Torte
Oreos! Peanut butter! Cream cheese! Chocolate ganache!  What's not to love?  It's well worth the effort for this deliciously impressive chocolate oreo peanut butter torte.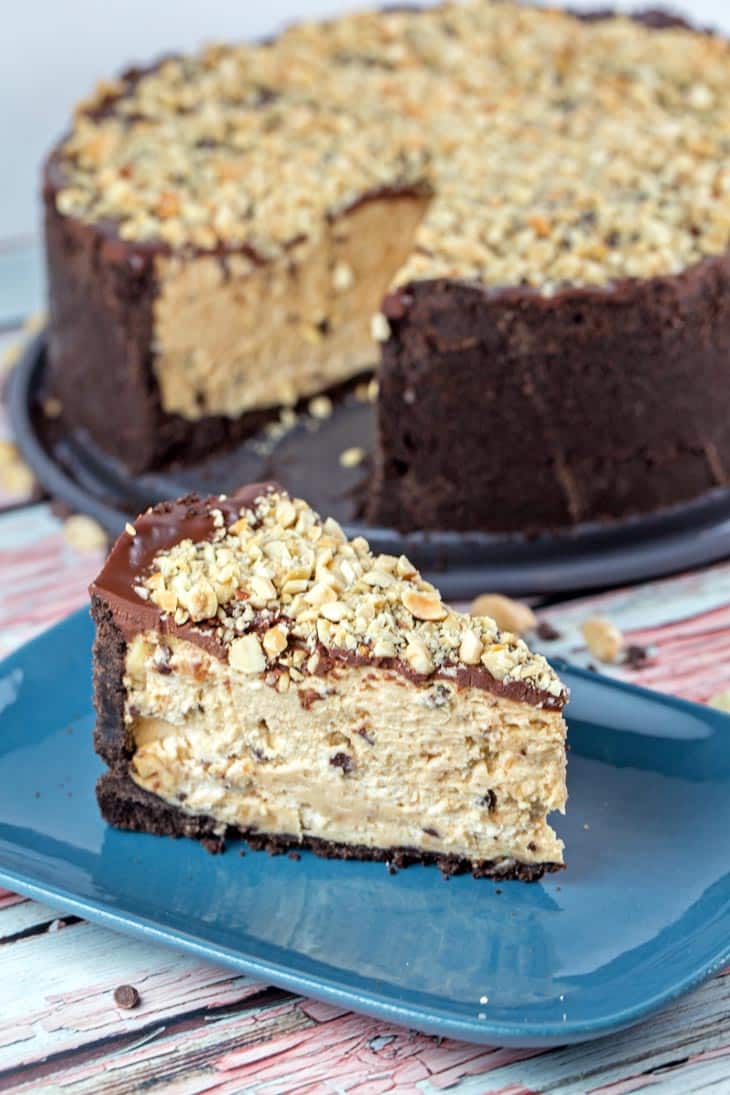 (This post contains affiliate links.  If you make a purchase through one, I receive a small commission.  For more information, please refer to my privacy policy.)
Today is my husband's 33rd birthday. It's hard to believe we're this old – I met him when he was just 19.  We've celebrated quite a lot of birthdays together, and he requests the same thing every year: this dark chocolate cheesecake.
And every year, I question how I could marry someone with such terrible taste in dessert.  Ugh.  Cheesecake.  And not just any cheesecake: chocolate cheesecake.  No thank you.
His family tradition growing up was an ice cream cake – maybe I need to steer him back in that direction for next year, although he'd probably want chocolate ice cream, so that really doesn't help my quest in a desert for his birthday that I'd want to eat.
Fortunately, my birthday is right around the corner, which means I can make something I like to celebrate.  Hopefully my mint plant will kick it up a notch this week, since mint chocolate chip ice cream is generally my birthday dessert du jour.
Since I've already shared the recipe for his birthday dessert of choice, I'll share something else right up his alley in honor of his big day: a chocolate oreo peanut butter torte. Oreos! Peanut butter! Cream cheese! Chocolate ganache!
What's not to love?  (Well, for him – nothing. For me, the cream cheese and chocolate ganache.).
How to Make a Chocolate Oreo Peanut Butter Torte
Despite the multiple steps and layers – oreo crust, peanut butter mousse, chocolate ganache – this practically no-bake treat comes together fairly easily, just leave time for lots of chilling.
We'll start with an oreo cookie crust, pressed the whole way up the side of the pan.  Next, we'll add what is best described as a peanut butter mousse: a dreamy, creamy peanut butter cream cheese filling, lightened and fluffed with whipped cream.  There's some crushed peanuts in there, too – I love the smooth/crunchy texture combination.
Top it all off with some decadent chocolate ganache and another layer of crumbled peanuts.
(Also, while we're at it, I'll take this opportunity to share the best springform pan I've ever owned: Kaiser Bakeware.  This isn't sponsored – I bought both the 9-inch round and the 13×9-inch rectangular pans with my own money, but they are basically leak-proof and so much better than the previous brands I have used.)
I made this peanut butter torte last fall when friends invited us over for dinner and was then stuck with that awkward food blogger dilemma: do I bring this to their house with a piece already cut out so I could photograph it, or do I ask to bring a piece back home instead of leaving all the leftovers with them?  I opted for the later, figuring I could bring home a slice, and then my husband could enjoy it later.
Except.. there were no leftovers.  Because everyone devoured every last oreo crumb.  And thus, I had to make it all over again just to take pictures.  And my husband had to eat some all over again.  Food blogging: the struggle is real.
More Chocolate Peanut Butter Desserts:
Chocolate Oreo Peanut Butter Torte
Oreos! Peanut butter! Cream cheese! Chocolate ganache!  What's not to love?
Ingredients:
For the crust:
32 oreo cookies, ground into crumbs
5 tablespoons butter, melted
For the crunch:
1/2 cup salted peanuts, chopped
1/2 cup mini chocolate chips
2 teaspoons sugar
1/4 teaspoon cinnamon
1/4 teaspoon nutmeg
For the filling:
2 cups heavy cream
1 1/4 cups confectioners sugar
12 ounces cream cheese, room temperature
1 1/2 cups creamy peanut butter
2 tablespoons milk
1/4 cup salted peanuts, chopped
For the ganache:
1/2 cup heavy cream
4 ounces bittersweet chocolate, chopped
1/2 cup salted peanuts, chopped
Directions:
Preheat the oven to 350F.  Butter a 9-inch springform pan.  Combine the oreo crumbs and melted butter in a small bowl and stir to form small clumps.  Press the oreo mixture into a thin layer, covering both the bottom and the sides of the springform pan.  Freeze the crust for 10 minutes and then bake for another 10 minutes.  Transfer the crust to a wire rack and cool completely before filling.
In another small bowl, combine the chopped peanuts, miniature chocolate chips, sugar, cinnamon, and nutmeg.  Toss with a fork and set aside.
Using a stand mixer fitted with the whisk attachment, whip 2 cups of the heavy cream until it holds medium peaks.  Whisk in 1/4 cup of the confectioners sugar, beating an additional few minutes until the peaks become firmer.  Scrape the whipped cream into a separate bowl.
Replace the whisk with a paddle attachment and beat the cream cheese with the remaining 1 cup confectioners sugar, mixing on medium speed until the cream cheese is smooth.  Beat in the peanut butter, milk, and 1/4 cup of the chopped peanuts until well combined.  Gently fold in 1/4 of the whipped cream using a rubber spatula.  Next, stir in the crunchy peanut mixture, followed by folding in the rest of the whipped cream.
Scrape the peanut butter mousse into the crust, smoothing the top.  Refrigerate for at least 4 hours or up to overnight; cover with plastic wrap once the mousse layer firms.
Once fully chilled and firm, start the ganache layer.  Add the chopped chocolate to a heatproof bowl.  Bring the 1/2 cup of cream to a full boil in a small saucepan, then pour the boiling cream over the chopped chocolate.  Let the chocolate and cream sit for 5 minutes; then stir with a rubber spatula until the ganache is completely smooth.
Pour the ganache over the torte, smoothing with a spatula.  Scatter the remaining chopped peanuts over the top and chill the entire torte in the refrigerator until the ganache sets, about 30 minutes.  Once the ganache is firm, remove the sides of the springform pan and refrigerate until ready to serve.