August 3, 2017
Lactation Cookies (Allergy Friendly, Vegan, GF)
Allergy friendly lactation cookies — all the galactagogues you need for milk production, without dairy, eggs, soy, nuts, or gluten.  Perfect for gluten free and vegan breastfeeding mamas in need of a boost!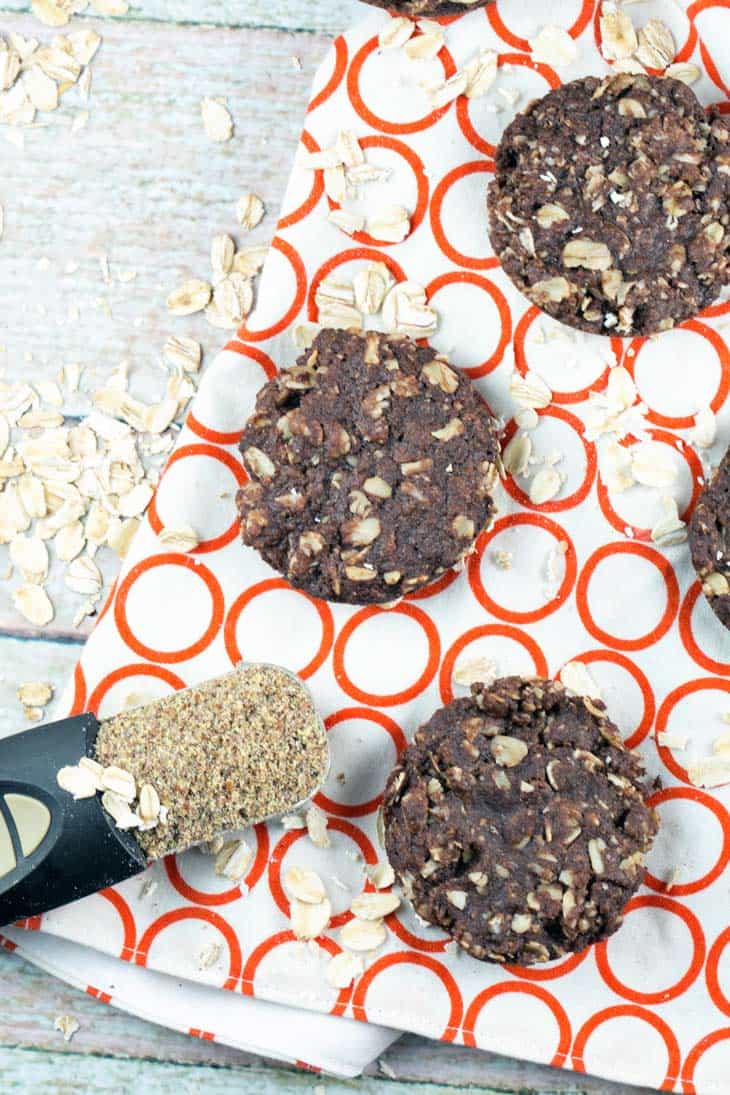 This week is World Breastfeeding Week.  Last year, in honor of WBW, I shared my Oatmeal Chocolate Chip Lactation Cookie recipe, along with a little about my personal breastfeeding journey.
Over the past year, I've made this recipe dozens of times.  Several thousand of these cookies have come out of my oven.  I've mailed batches to friends across the country and walked miles around my neighborhood, delivering to new moms.
Thousands of you guys have also made my original lactation cookie recipe.  Surprisingly, it is my most-Googled recipe here on Bunsen Burner Bakery!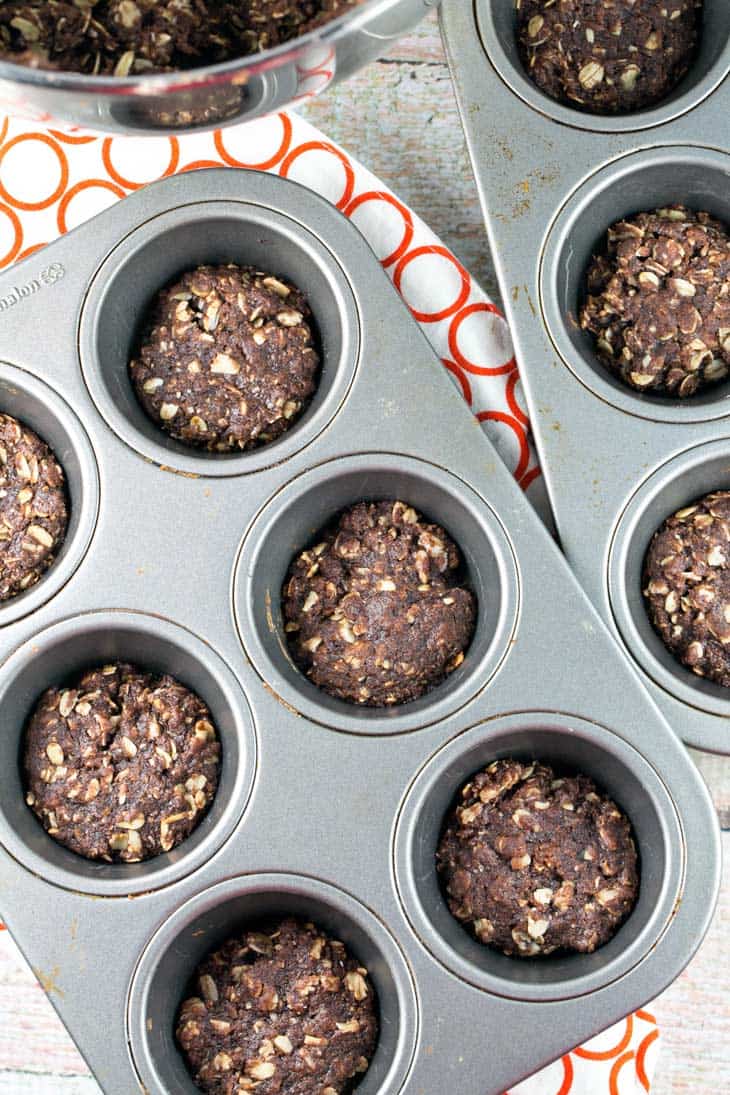 When I shared the recipe last year, my friend Ellen asked if I thought subbing coconut flour would work to make a gluten free version.  I reached out to Ellen, surprised she had started a gluten-free diet.  She explained it wasn't for her… it was for her adorable daughter, Naomi.
Naomi had a lot of food sensitivities early on, so Ellen had to cut wheat, dairy, eggs, and soy out of her own diet to continue to breastfeed Naomi.
Did I also mention that Ellen was a medical student at the same time, altering her diet and pumping despite working some crazy hours?  Yeah, she's a total badass.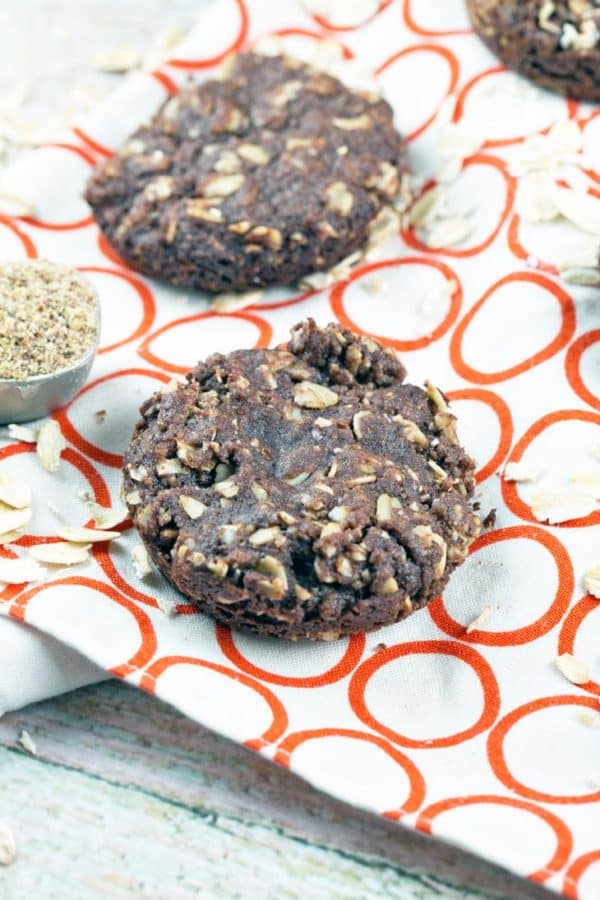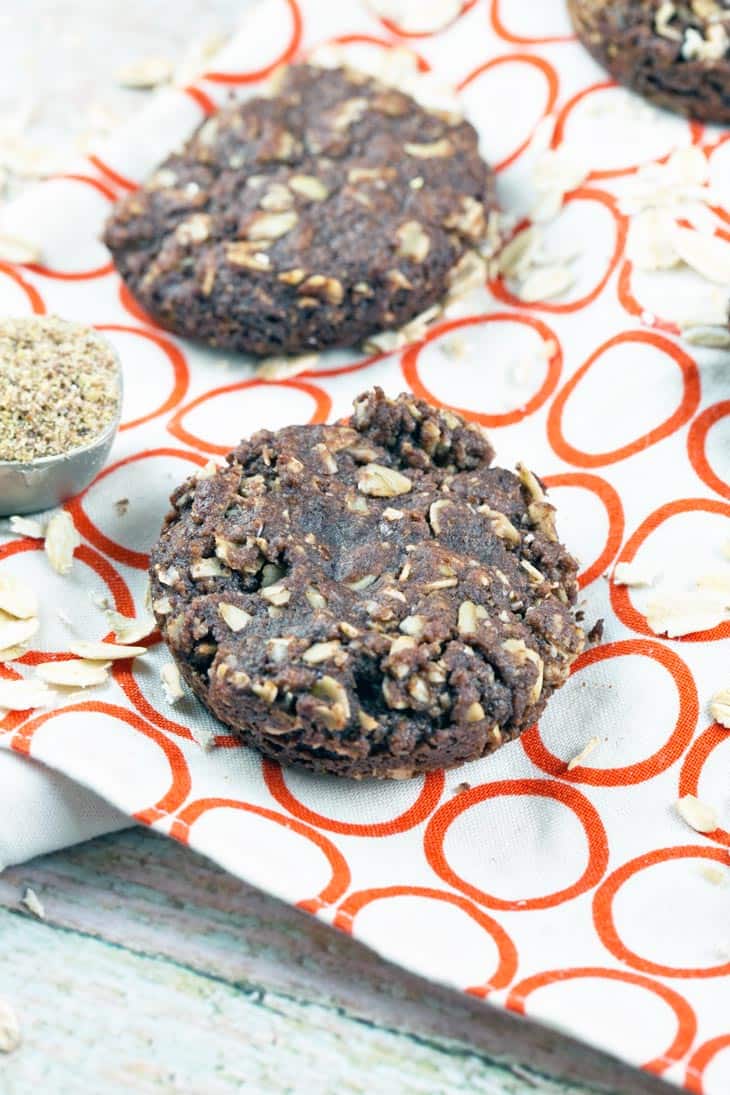 A few weeks later, Ellen came up to Philly for a visit.  I made my first batch of allergy friendly lactation cookies for her.  The first attempt was kind of hilarious — the cookies spread like crazy in the oven thanks to the coconut oil.
But they still tasted delicious and had all the important galactagogues for breastfeeding, so I gave them to her anyway, despite their ugly appearance.
And I was thrilled when she said they totally worked!  She texted me later that evening to say she ate the entire bag on the drive home from DC (breastfeeding hanger is real, people) and proceeded to pump more than she ever had afterward.  Score!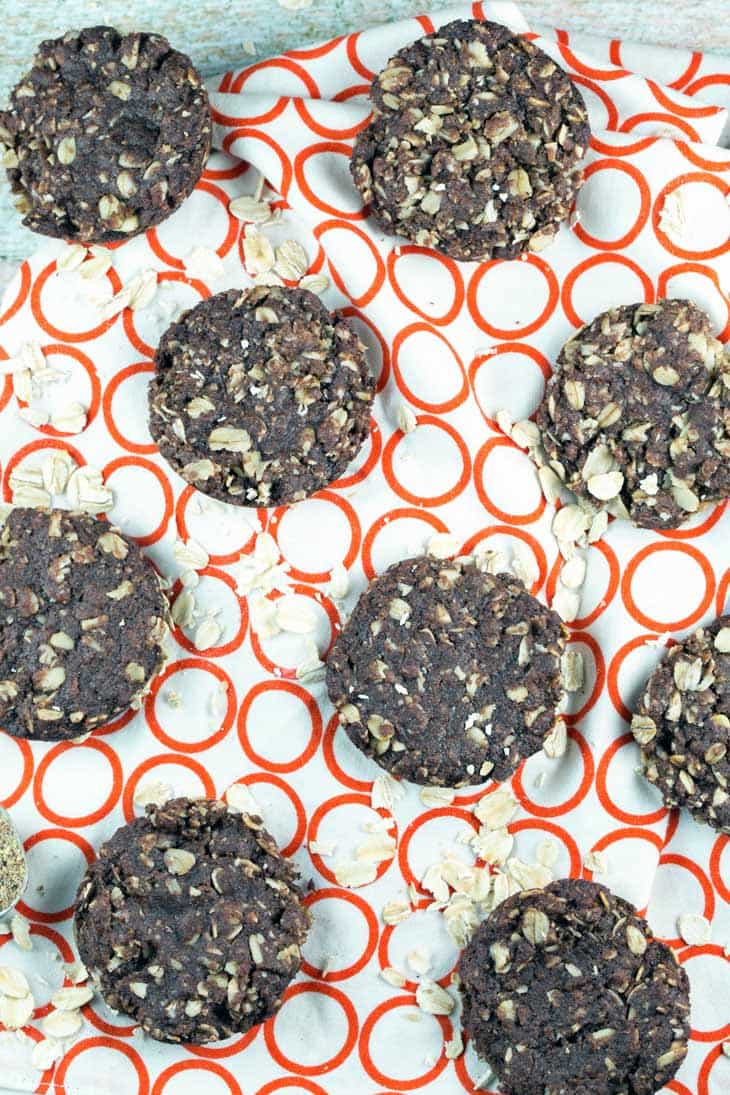 Much like my original recipe, these are packed with oatmeal, flaxseed, and brewer's yeast.  But we've swapped out the flour, butter, eggs, almond butter, and chocolate chips.  So long, dairy, eggs, soy, nuts, and gluten!
And you know what?  You're not going to miss any of them.  These are 100% delicious.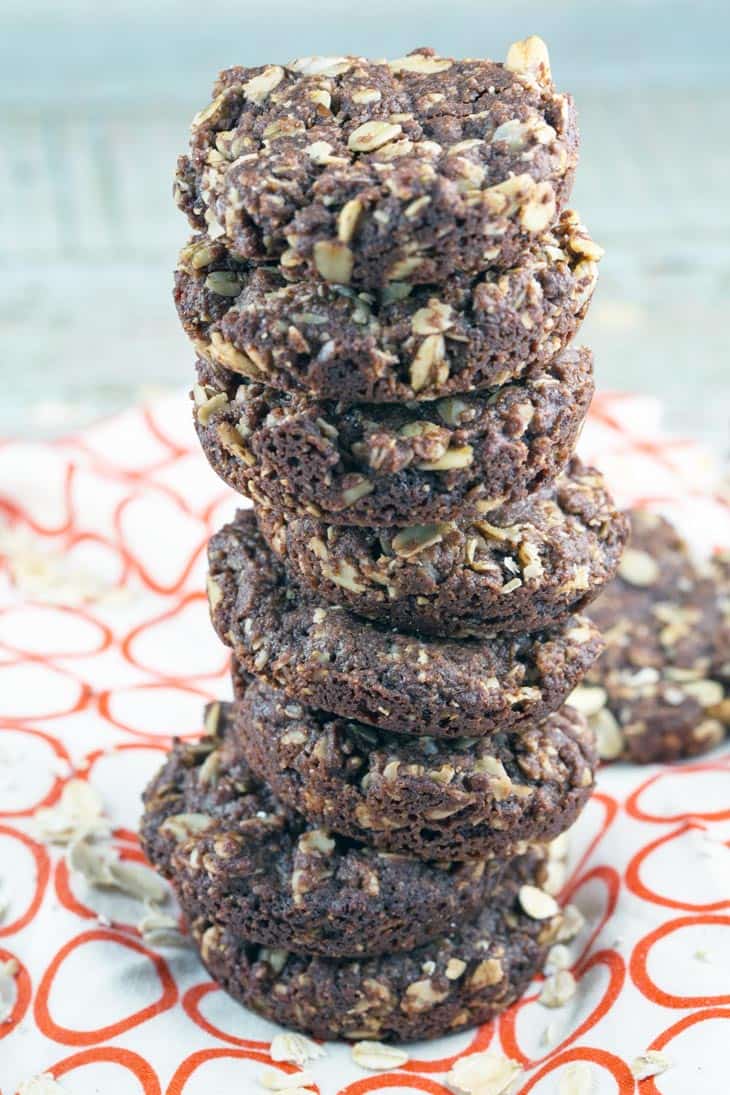 I've continued to tweak the recipe for these allergy friendly, vegan, and gluten free lactation cookies over the past year.  (Thank you, new moms of the Southwest Center City Buy Nothing group for being willing taste-testers!)
Now, back to that initial recipe that spread all over.  There's a couple ways to get around it.
The easy way?  Bake your cookies in a muffin tin.  They'll be a little thicker and chewier, but they'll come out perfectly round with no spread.
The slightly more complicated?  Add xanthan gum (or a gluten free flour blend containing xanthan gum), scoop the dough into balls, and freeze until solid.  Bake from frozen.
Or go for the downright easiest, and embrace the cookies, spread and all.  I actually like them best this way – I love the crispy edges!  (Full disclosure: they are totally misshapen and ugly.  But delicious.  Time to decide between taste and appearance.)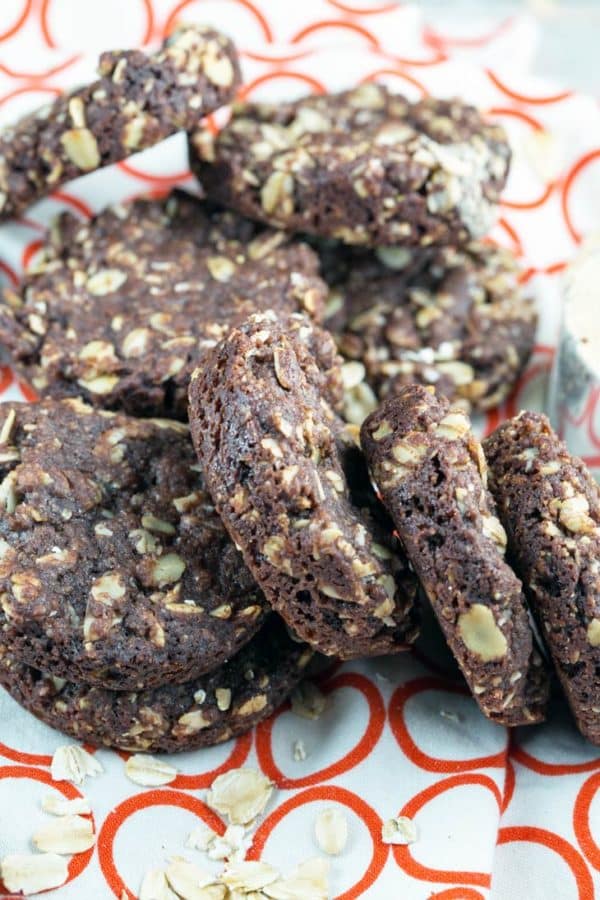 There is no xanthan gum to my original recipe because I wanted to keep this simple.  I don't stock a gluten free baking kitchen, and I'm sure some of you don't, also.
I used King Arthur Gluten Free All Purpose Flour, because I found it easily at my grocery store. (Amazon links are affiliate.)  Your grocery store may carry a complete brand (like the King Arthur Measure for Measure Gluten Free Flour), which will help fight the cookie spread.  Also make sure you're using gluten free brewer's yeast — Lewis Lab is my my favorite.
Of course, if you're avoiding other allergens but not gluten, you can absolutely use regular all-purpose flour instead of gluten free flour.  I'd still recommend freezing the rolled scoops of dough before baking or baking in a muffin tin if you want to avoid cookie spread.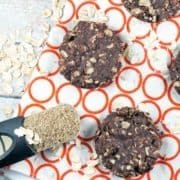 Yield:
2-2.5 dozen cookies
Lactation Cookies (Vegan, Gluten Free, Allergy Friendly)
Allergy friendly lactation cookies — all the galactagogues you need for milk production, without dairy, eggs, soy, nuts, or gluten.
Ingredients:
1 cup coconut oil, measured as a solid
1 cup brown sugar
1/2 cup granulated sugar
1 ripe banana
2 teaspoons vanilla extract
1 cup gluten free flour
1/2 cup cocoa powder
3/4 teaspoon salt
1/2 teaspoon baking powder
3 tablespoons ground flaxseed
1/3 cup brewer's yeast
3 cups old fashioned oats
Directions:
Preheat oven to 350°F.  Lightly spray muffin tins with nonstick spray.
Using a mixer, beat together the coconut oil, brown sugar, and granulated sugar until light and fluffy, about 5 minutes.  Beat in the ripe banana, followed by the vanilla.
Whisk together the gluten free flour, cocoa powder, salt, baking powder, flaxseed, and brewer's yeast.  Add this to the mixing bowl and beat until just combined.
Add the oatmeal, mixing again until just combined.
Drop 1.5 tablespoons of dough into the greased wells of the muffin tins.  Bake 10-12 minutes, or until the cookies are slightly puffed and browned on top.  Cool in the muffin tin for 10 minutes, then transfer to a wire rack to cool completely.
Store cookies in an air-tight container for up to a week; cookies will keep frozen for up to 3 months.
For gluten free cookies, ensure all ingredients are guaranteed gluten free.
A Bunsen Burner Bakery Original Protocol