August 7, 2017
Spicy Whiskey Peach BBQ Sauce
Sweet and spicy, easy homemade Whiskey Peach BBQ Sauce (made with fresh peaches!) is the perfect condiment for your summer grilling.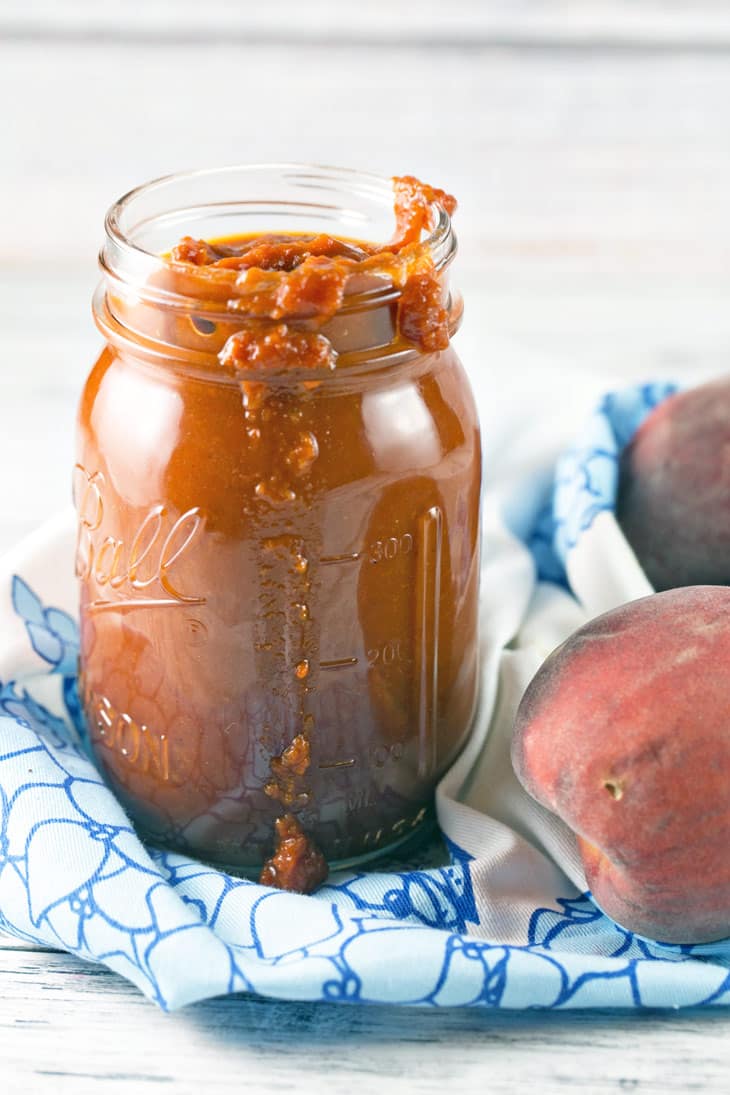 We grill in the summer. A lot. So over the past few years, I've started making my own homemade barbecue sauces to slather on whatever we're grilling. I shared one recipe earlier this year — this chipotle rhubarb RhuBarBBQ sauce. And now it's time for another version!
This whiskey peach BBQ sauce initially came about because I had a batch of slightly too ripe peaches from our CSA last year.
And yes, this means that this sauce uses real peaches. There are some peach barbecue sauces out there that use peach preserves. If you can't find fresh, use frozen peaches, but don't use preserves or jam!
It's so good, I now buy peaches and leave them out to purposely let them get a little soft just to make this. It's the perfect combination of sweet and spicy, and delicious on everything. We've had it on pork, chicken, steak, and salmon, and even as a dipping sauce for sweet potato fries. I can't get enough!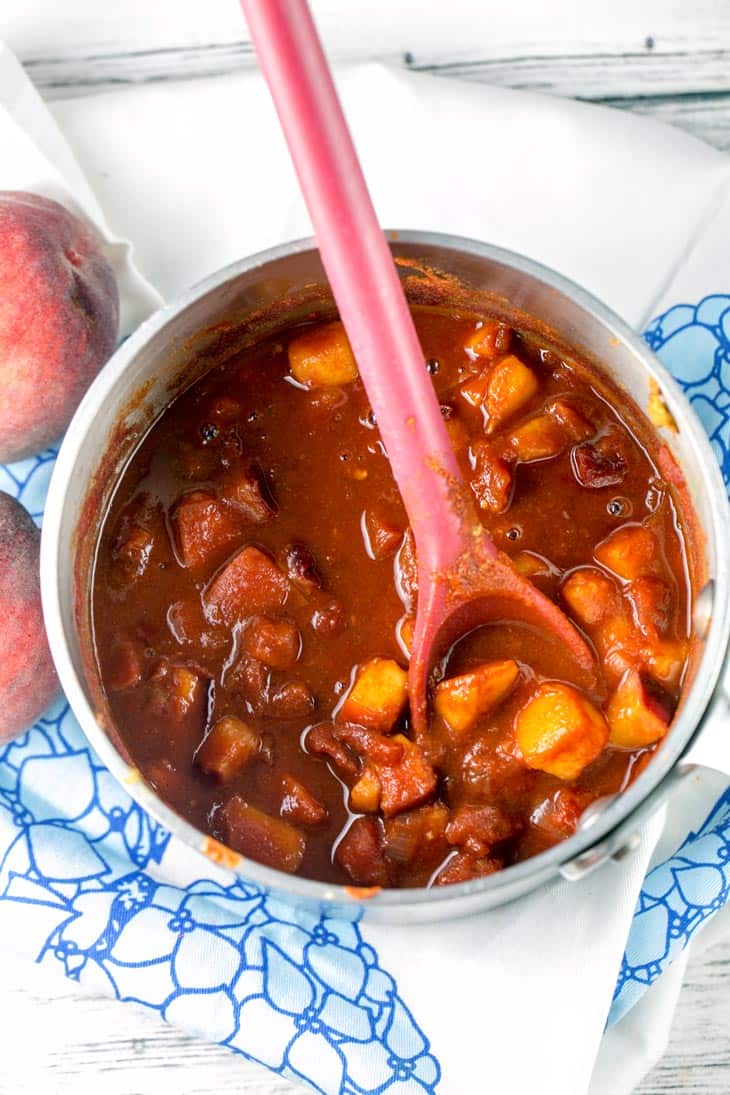 Easy Homemade BBQ Sauce
Think homemade barbecue sauce is hard? Think again. It's really just cooking down a bunch of ingredients in a pot and blending away. That's it.
Cooked it too long? Add water to thin. Too chunky? Blend a little longer. Too spicy? Dilute with a little water or another peach. You can't screw this up; I promise.
Fresh, extra ripe, juicy peaches simmered with brown sugar and whiskey until they practically melt.  The rest of the typical barbecue sauce ingredient gang is there, too — tomatoes, vinegar, mustard.  Plus a big splash of whiskey.  Actually, better make it a double splash, please and thank you.
You can peel the peaches if you so desire, but that's an extra time-consuming step, so I never do.  Plus, you're going to give everything a whirl in the blender, so really… save yourself the time.
Because I (and my toddler!) like things spicy, I added some sriracha to tone down the sweet peaches.  ("More chacha, Mommy! More chacha please?" – my 2-year-old).  If you're not into spicy, leave it out, but it adds such a perfect little zing.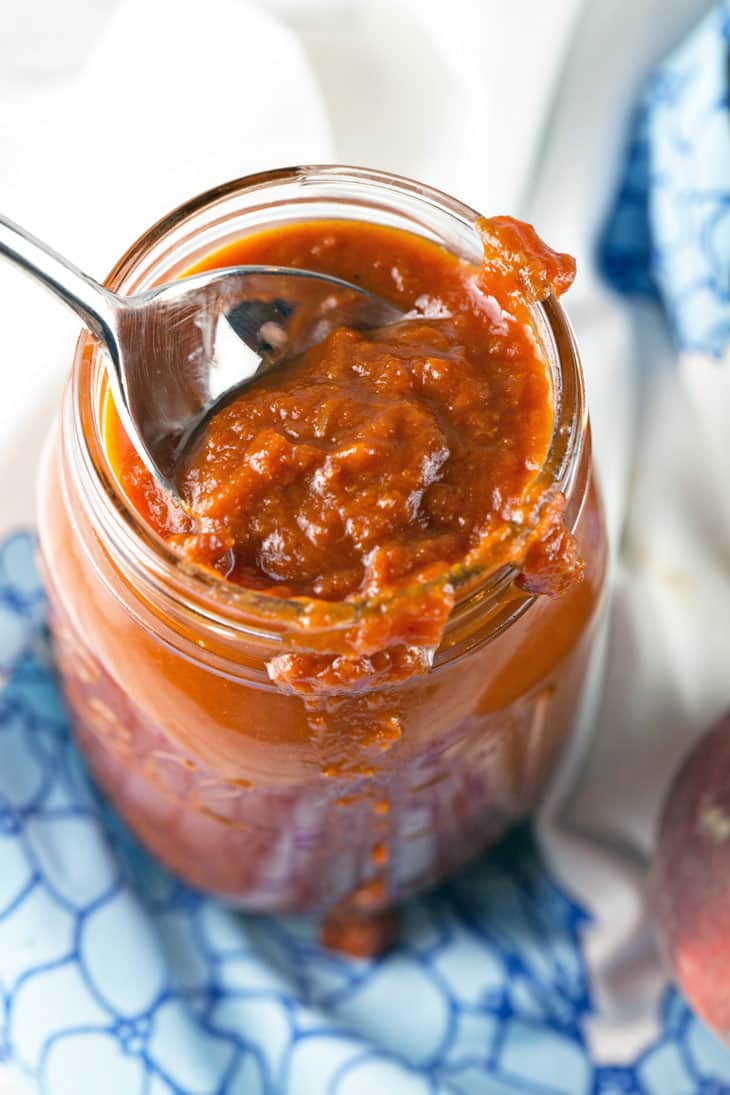 Adding Whiskey to BBQ Sauce
This is, after all, whiskey peach BBQ sauce. But why are we adding it? Just because adding bourbon or whiskey to everything is trendy? Of course not – there's an actual benefit! It's time for my favorite subject – kitchen chemistry – to learn why!
(But first, I'll make the important note that if you do not consume alcohol, this BBQ sauce is still delicious! Thin the sauce with chicken broth or even a little water at the end to reach the desired thickness.)
Kitchen Chemistry

Whiskey plays two major roles (in addition to adding new flavors directly from the whiskey): first, because alcohol is a solvent, it acts as a flavor carrier – meaning it can dissolve and extract flavors from other ingredients. The whiskey helps to enhance the aromatic compounds present in the peaches and spices. Second, alcohol is a cosolvent, which helps to increase the solubility of a poorly-soluble compound. In the case of our BBQ sauce, this means alcohol helps the fat disperse more evenly throughout the sauce, resulting in a smoother sauce texture.
After adding the whiskey to the sauce, continue to cook and stir the sauce for an additional 5 minutes. Alcohol has a lower boiling point than water, so even without bringing the sauce to a boil, some of the alcohol will start to cook off to provide an overpowering taste. However, remember that a small amount of residual alcohol will remain in the sauce!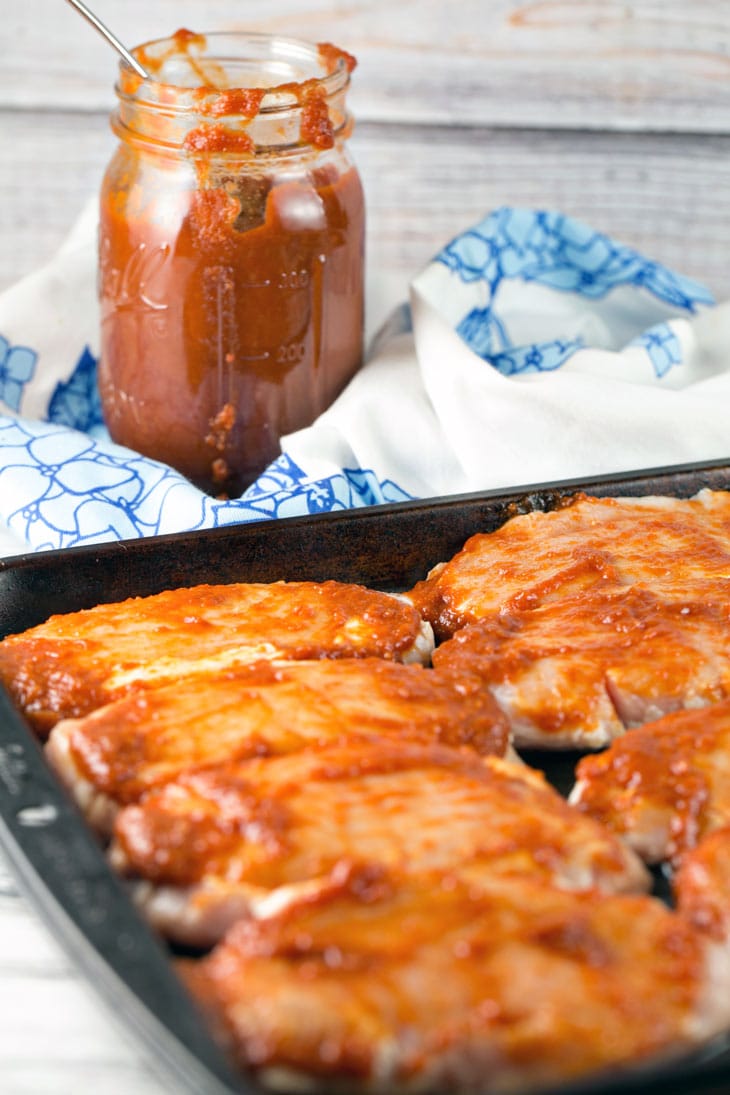 Freezing Homemade BBQ Sauce
Want to make a huge batch of this while peaches are ripe? Go ahead and freeze the rest and enjoy it all winter long! You can freeze it in glass mason jars, plastic storage containers, or my personal favorite: a plastic freezer bag so it lays flat and takes up minimal space.
Only want to thaw just a little bit at a time?  Freeze in ice cube trays, pop the frozen cubes out and store them in a freezer bag, and then pull out exactly how many you want each time!
When you're ready to thaw, move the container to the refrigerator a day or two ahead of time and thaw in the fridge.  Set out at room temperature a few hours beforehand to bring it up to room temperature.
Because this sauce uses fresh peaches and isn't properly canned, you don't want to let it sit overnight at room temperature.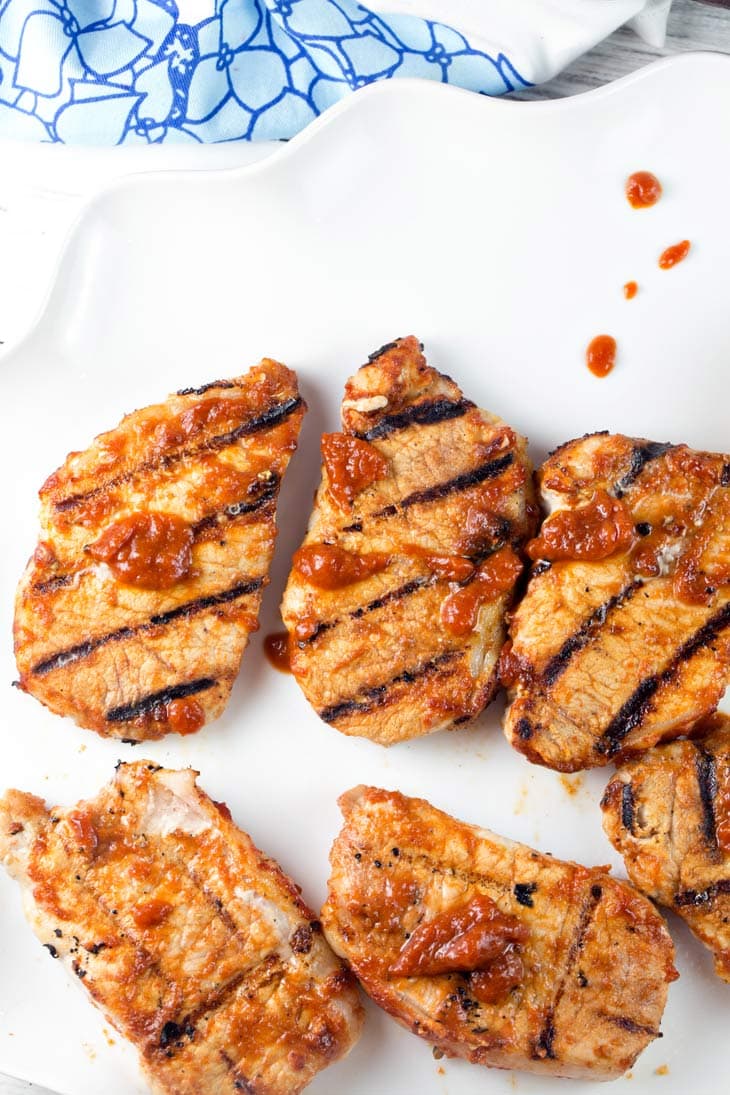 Tips and Tricks for the Best Spicy Whiskey Peach BBQ Sauce
Use very ripe peaches to make the sauce.  We want the extra sweetness and soft texture!
If it's not peach season, use frozen peaches to make the BBQ sauce.  Do not use canned peaches or peach preserves.
The sauce can be blended using a regular blender or a food processor, but an immersion blender is the easiest method and does not require pouring hot liquid into a new container.
Peach BBQ sauce can be stored in the refrigerator for up to 1 month or frozen for up to 6 months.
More Fresh Peach Recipes: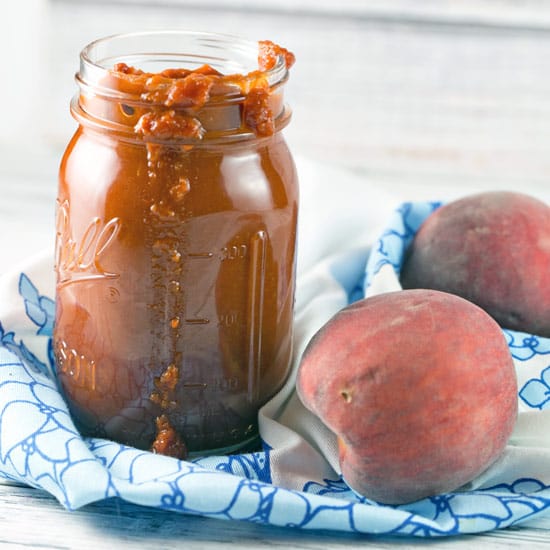 Spicy Whiskey Peach BBQ Sauce
Sweet and spicy, easy homemade Whiskey Peach BBQ Sauce (made with fresh peaches!) is the perfect condiment for your summer grilling.  
Ingredients
1 tablespoon olive oil
1 shallot, diced
2 cloves garlic
3 very ripe peaches, chopped
4 tablespoons brown sugar
2 cups fresh tomatoes, chopped (or 1 14.5-ounce can diced tomatoes)
1 tablespoon smoked paprika
1 tablespoon Worcestershire sauce
1 tablespoon brown mustard
2 tablespoons tomato paste
3-4 tablespoons sriracha
1/2 teaspoon salt
1/2 cup whiskey (or bourbon)
Instructions
Add olive oil to a small, heavy bottom saucepan over medium heat. Saute the shallots and garlic until soft and fragrant. Add in the peaches and brown sugar, stirring and cooking until brown sugar has dissolved and peaches release juices. Add in the tomatoes, smoked paprika, worcestershire sauce, brown mustard, tomato paste, sriracha, and salt and simmer over low heat for 15 minutes, until peaches are soft and cooked through. Pour in the whiskey, stirring and continuing to cook an additional 5 minutes.
Pour mixture into a blender or use an immersion blender to thoroughly blend ingredients. Add water a quarter cup at a time, continuing to blend, until reaching desired consistency for barbecue sauce. Blend until completely smooth.
Notes
Barbecue sauce should be stored in a sealed container in the refrigerator for up to 1 month or frozen up to 6 months.
Recommended Products
As an Amazon Associate and member of other affiliate programs, I earn from qualifying purchases.