July 31, 2017
Lemon Blueberry Bundt Cake
Bursting with fresh blueberries and lemon zest, this lemon blueberry bundt cake with a sweet lemon glaze is the perfect year-round treat.
We're sneaking in right under the wire with July's Bundt Cake of the Month.  But it's okay – I'm sharing what is arguably the perfect summer cake.  Totally worth the wait.  Fresh blueberries are all over this time of year.
We live about an hour north of Hammonton, NJ, the "Blueberry Capital of the World," and our weekly farmer's markets are filled with blueberries.  No complaints here – blueberries are one of my favorite fruits!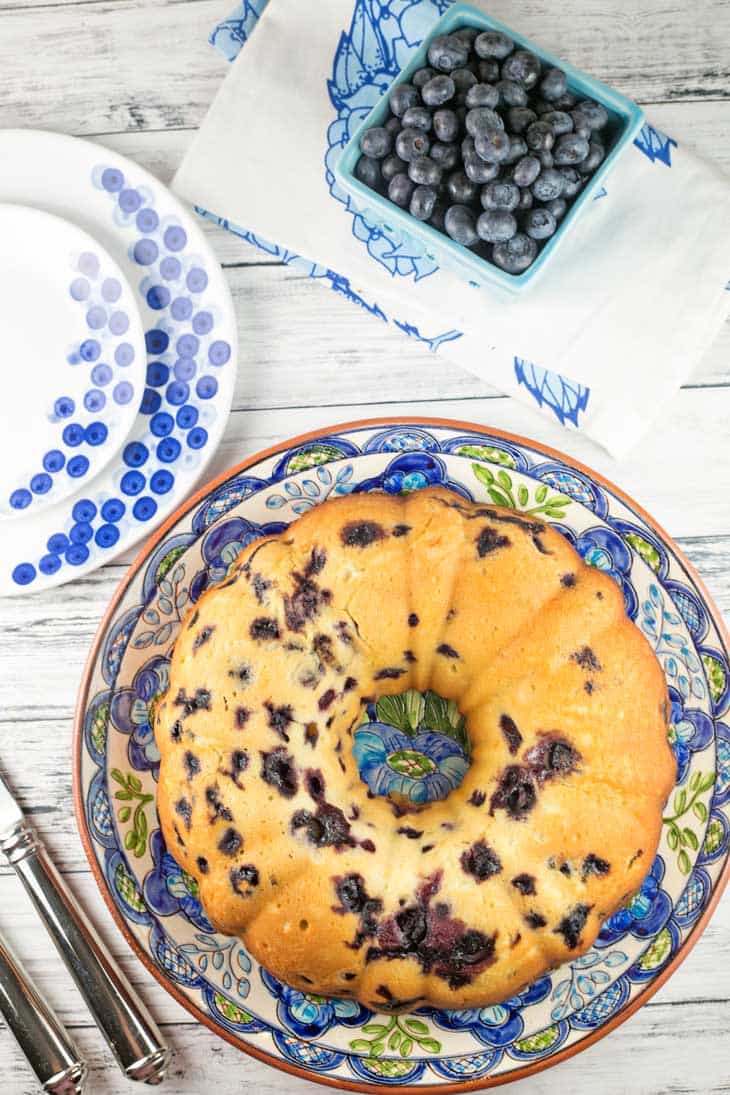 And blueberries definitely shine in this lemon blueberry bundt cake – there are a lot of them packed in here.  I used my favorite vanilla bunt cake base — from last month's funfetti bundt cake — and added two layers of blueberries.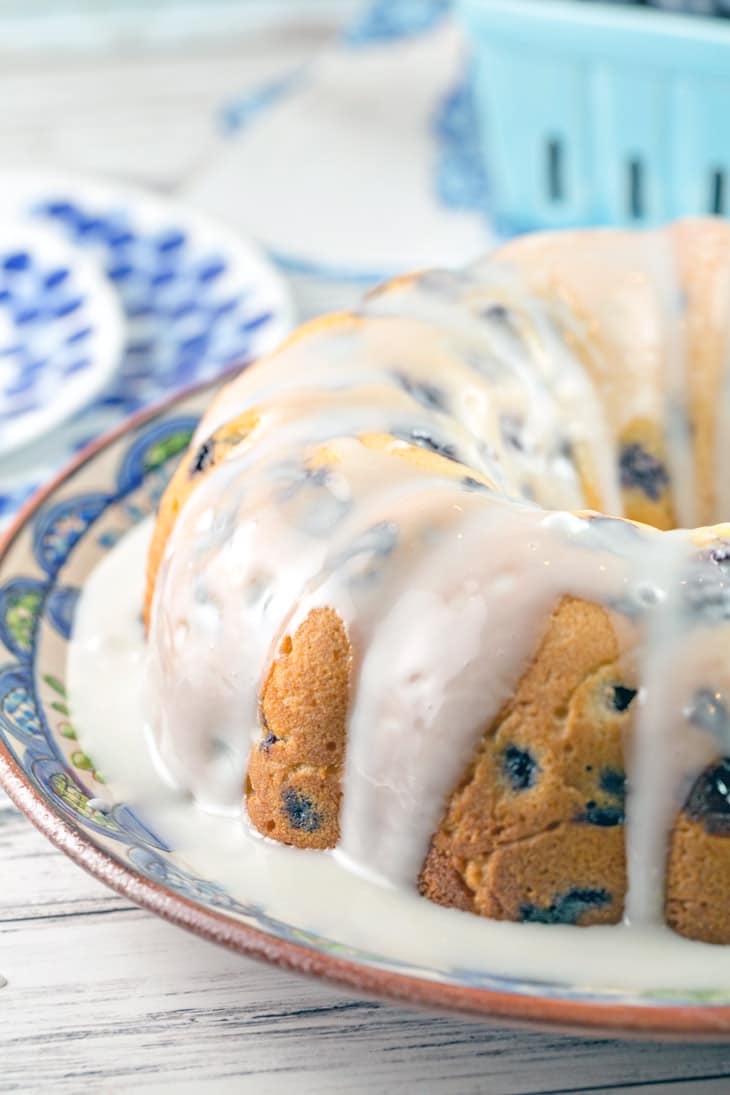 Because a bundt cake takes so long to bake, fruit is even more prone to falling to the bottom of the cake (which is the top of the cake, in the case of a bundt cake).
To try to prevent this, add layers of blueberries, rather than mixing them all in.  Pour in half the cake batter, top with half the blueberries.  Add the rest of the cake batter, top with the rest of the blueberries.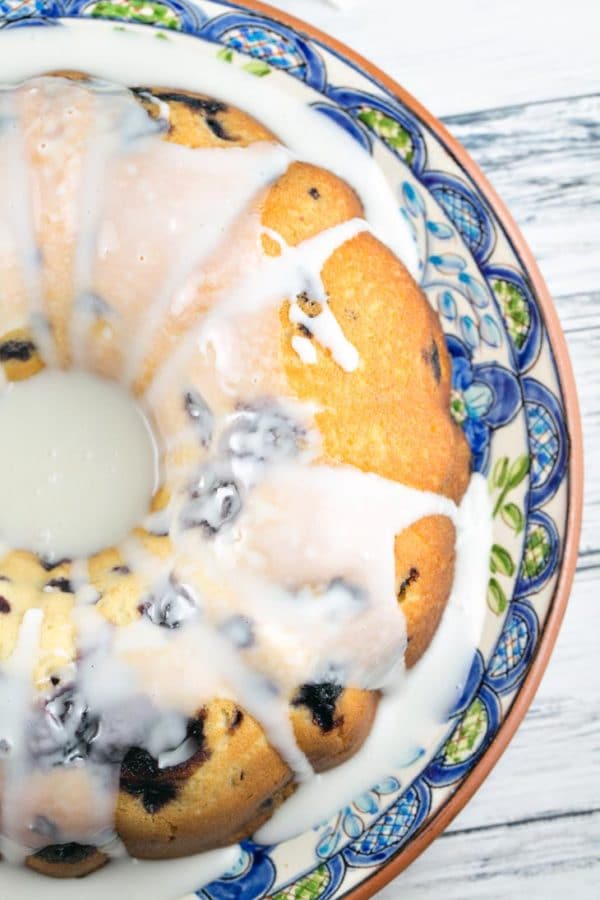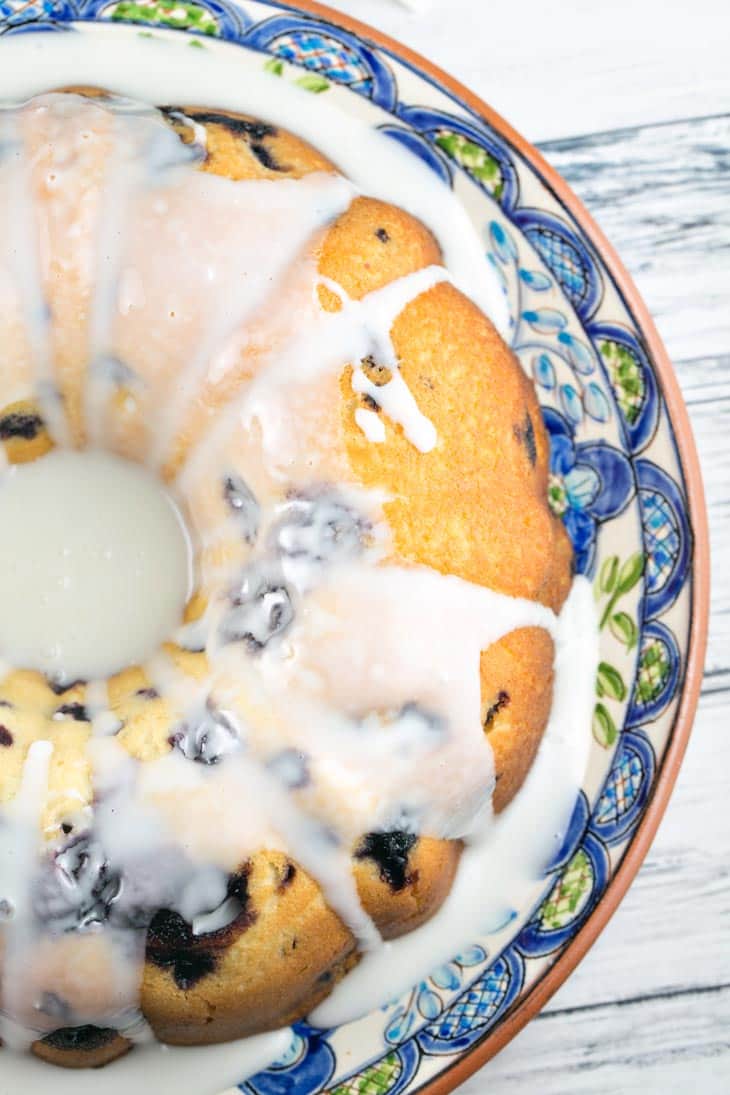 As you can see from the photos, the blueberries are pretty well dispersed in a slice, meaning you get some blueberry in every bite.  #winning
(I mean, really, is there anything worse than taking a bite of a chocolate chip cookie with no chocolate chips?  That's how I feel about blueberry cake.  Gimme blueberries in every bite.)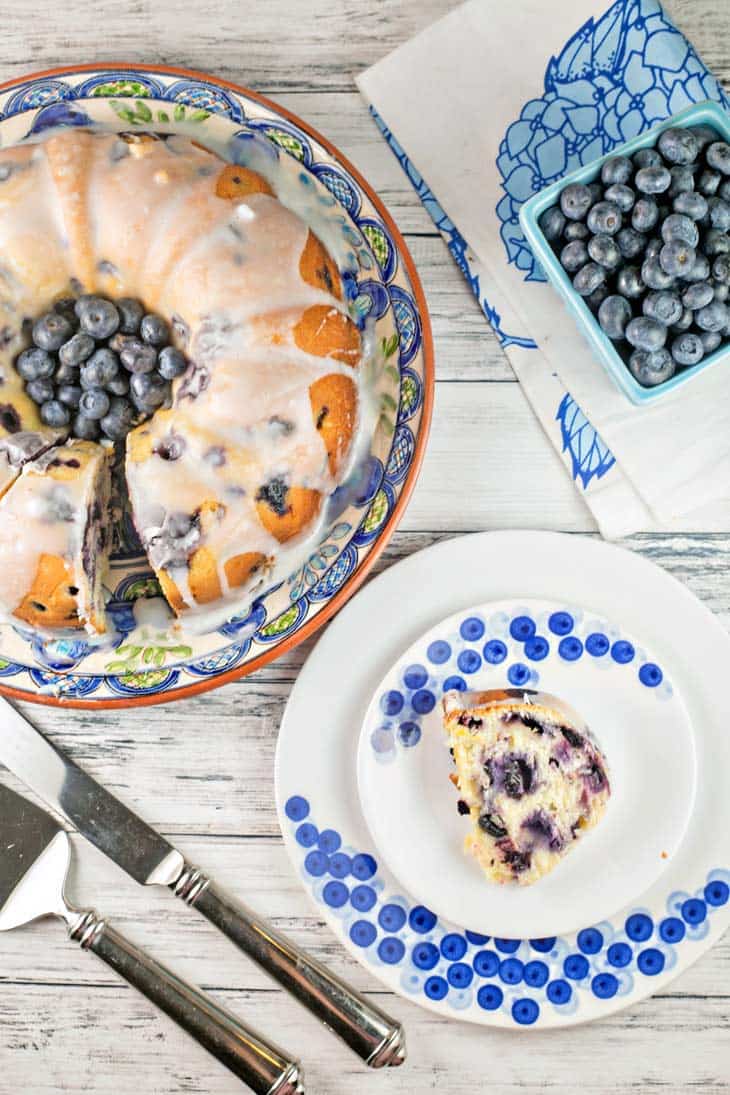 Of course, just because blueberries are a summer fruit doesn't mean you can't make lemon blueberry bundt cake year round.  Talk about a bright ray of sunshine in the middle of a dreary winter!
Also, because this contains at least a serving of fruit, it totally counts as a breakfast cake, right?  Good.  I'm glad we're on the same page.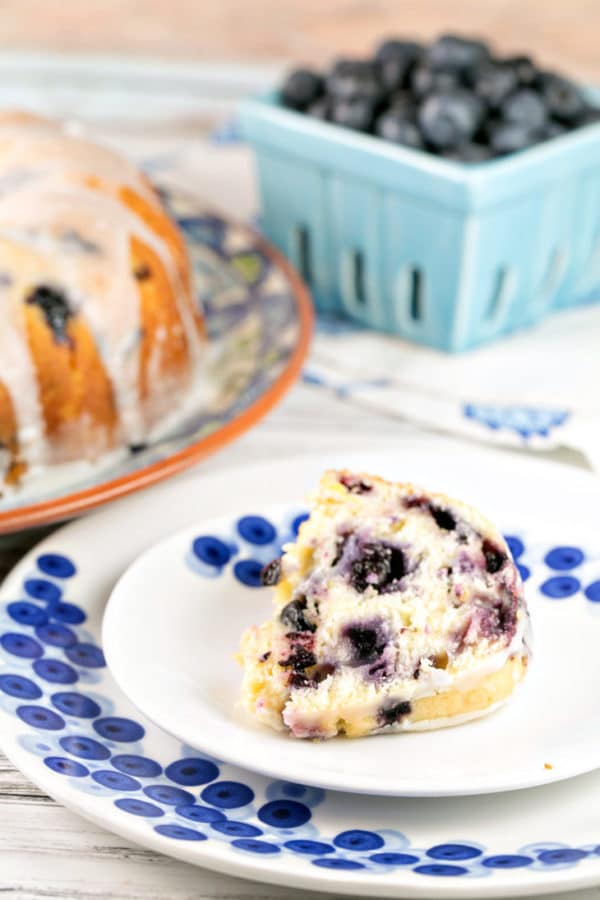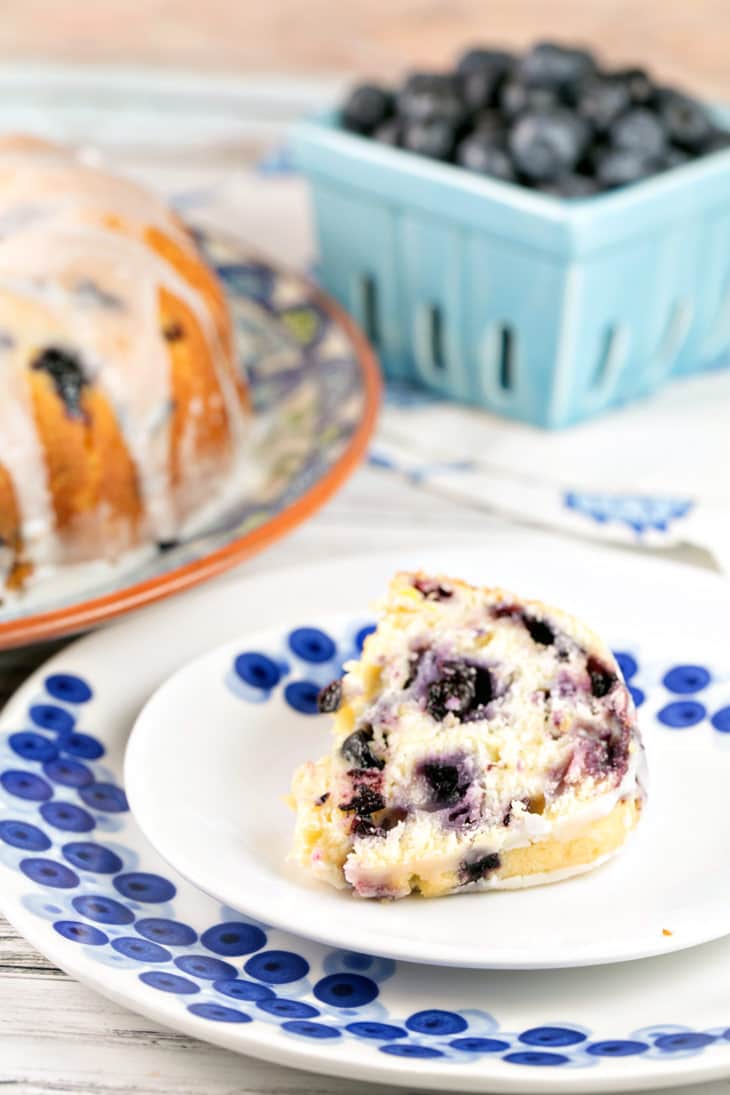 Step aside, Wheaties.  (Do Wheaties even exist anymore?!) Lemon blueberry bundt cake is the total breakfast of champions.  Snack of champions.  Dessert of champions.
And you know I'm not going to to fault you if you turn it into a complete dinner of champions, either.
Lemon Blueberry Bundt Cake
Bursting with fresh blueberries and lemon zest, this lemon blueberry bundt cake with a sweet lemon glaze is the perfect year-round treat.
Ingredients:
For the cake:
4 eggs, room temperature
3/4 cup vegetable oil
1 cup buttermilk, room temperature
1 tablespoon vanilla extract
2 teaspoons lemon zest
3 cups all-purpose flour
1 3/4 cups sugar
2 teaspoons baking powder
3/4 teaspoon salt
2 1/2 cups blueberries
For the glaze:
2  cups confectioners sugar
1/4 cup lemon juice
Directions:
Preheat the oven to 350 °F.  Grease and flour bundt pan.
Using an electric mixer, beat together the eggs, oil, milk, vanilla, and lemon zest.  Slowly add in the flour, sugar, baking powder, and salt.  Continue to beat until ingredients are fully incorporated and smooth.
Pour half of the batter into the prepared bundt pan.  Top with half of the blueberries.  Add the rest of the batter, followed by the rest of the blueberries.  Use a spatula to gently push the blueberries down just a little into the batter.
Bake 45 to 50 minutes, until a tester inserted into the cake comes out clean and the cake springs back gently when pressed with a finger.  Cool cake in pan for 10 minutes, then invert onto a wire rack and cool completely before glazing.
To make the glaze, whisk together the confectioners sugar and lemon juice until smooth.  Pour over the cooled cake, letting the glaze drip down the sides of the cake.
To freeze, wrap unglazed cake tightly in aluminum foil, followed by a layer of plastic wrap.  Defrost fully and bring to room temperature before glazing.  Glazed slices can be frozen, wrapped as above, but glaze may separate from the cake while thawing.
A Bunsen Burner Bakery Original Protocol