July 31, 2017
Lemon Blueberry Bundt Cake
Bursting with fresh blueberries and lemon zest, this Lemon Blueberry Bundt Cake with a sweet lemon glaze is the perfect year-round treat.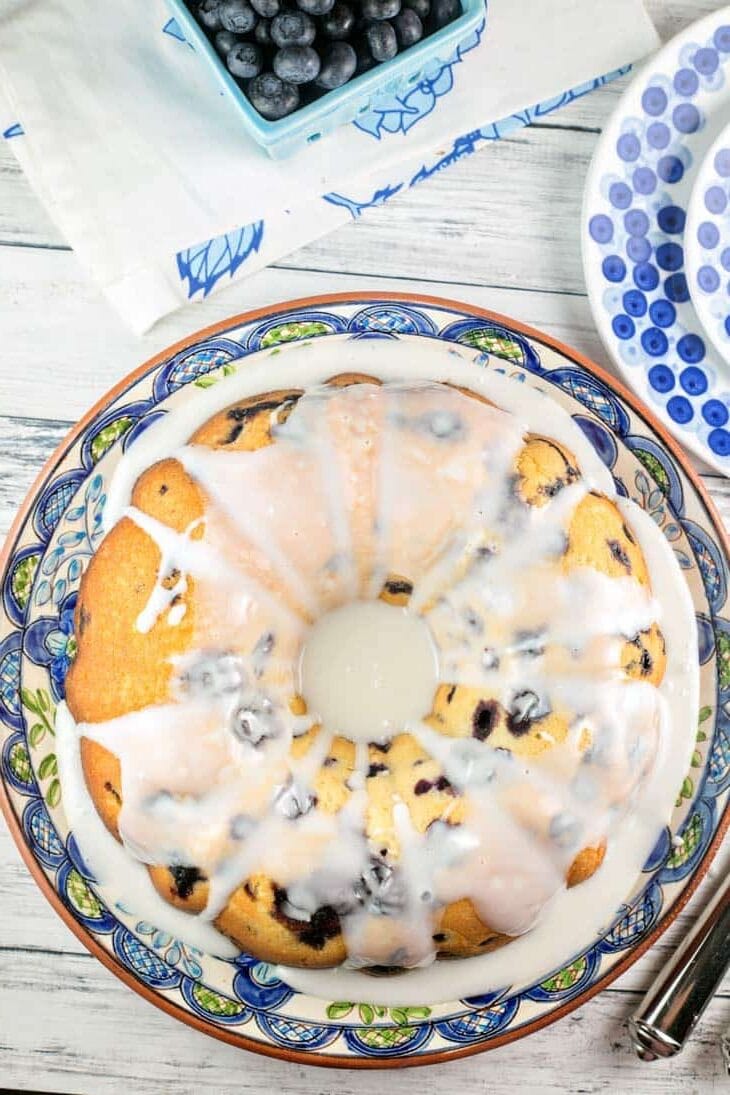 We're sneaking in right under the wire with July's Bundt Cake of the Month. But it's okay – I'm sharing what is arguably the perfect summer cake. Totally worth the wait. Fresh blueberries are all over this time of year.
We live about an hour north of Hammonton, NJ, the "Blueberry Capital of the World," and our weekly farmer's markets are filled with blueberries. No complaints here – blueberries are one of my favorite fruits!
And blueberries definitely shine in this lemon blueberry bundt cake – there are a lot of them packed in here.  I used my favorite vanilla bunt cake base — from last month's funfetti bundt cake — and added two layers of blueberries.
The end result is a perfectly textured lemon and vanilla cake absolutely filled with sweet, delicious blueberries in every bite. And to top it all off, we'll cover it with a simple lemon glaze.
This cake is easy to make, beautiful, and absolutely delicious: the ultimate dessert trifecta!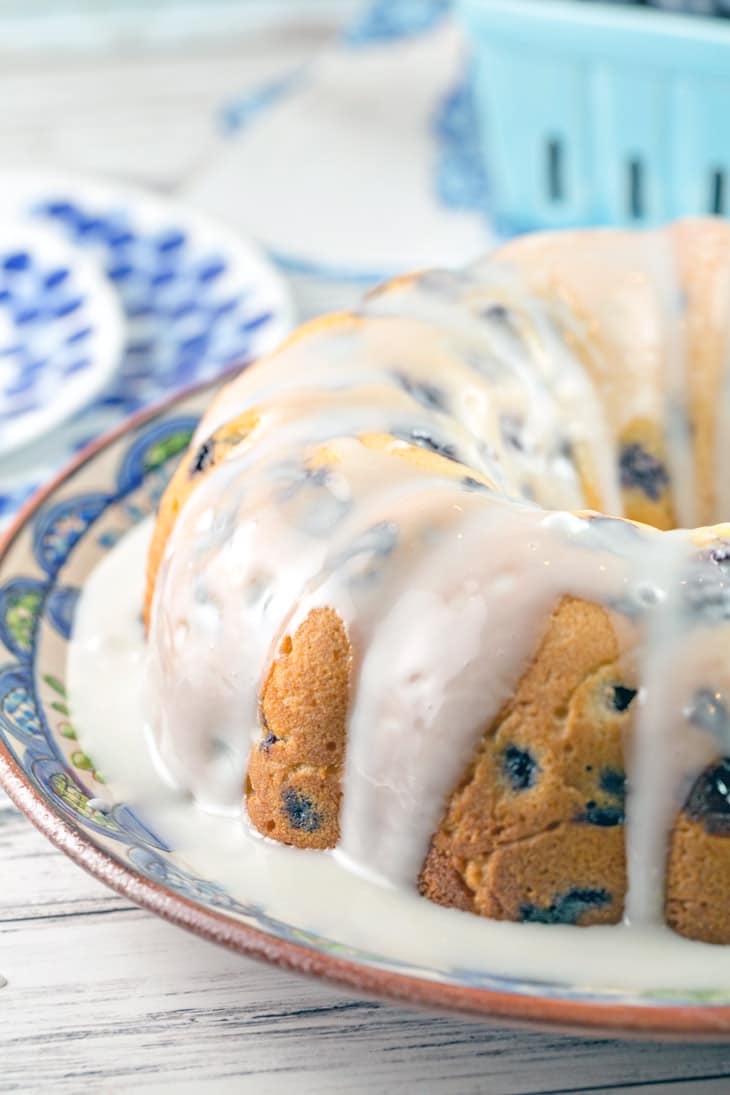 Ingredients and Substitutions
Eggs: Use large eggs at room temperature – room temperature ingredients incorporate together better.
Vegetable Oil: This bundt cake is extra moist thanks to oil, instead of butter. Use any neutral-flavored oil, like vegetable oil, canola oil, or grapeseed oil.
Buttermilk: Buttermilk helps prevent gluten development, making the cake tender. If you don't have buttermilk, use whole milk + 1 tablespoon lemon juice instead.
Vanilla Extract
Lemon Zest: Make sure to only zest the yellow part of the lemon rind and not the white pith below!
Flour: To keep this cake gluten-free, use a 1:1 gluten-free baking mix instead of all-purpose flour.
Sugar
Baking Powder
Salt
Blueberries: I love to bake with fresh blueberries, but you can use frozen blueberries, too. Don't thaw the blueberries first; just layer them into the cake batter still frozen. You may need to add an extra 5 – 10 minutes to the total baking time.
Confectioners' Sugar: Powdered sugar is the base of the glaze for the bundt cake.
Lemon Juice: Fresh lemon juice provides the best flavor (and you need fresh lemons for the zest, anyway!).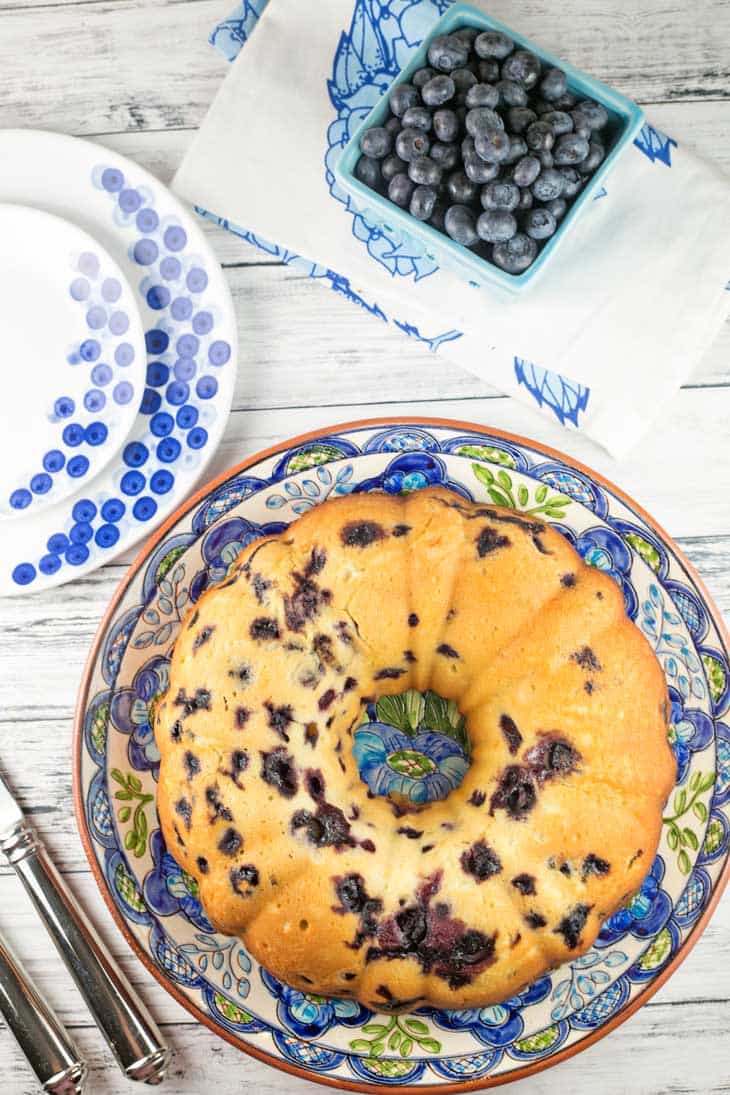 Lemon Vanilla Bundt Cake
The base of this cake is one of my favorites – even without butter! I know we always think of butter cakes as having better flavor, but oil cakes definitely have superior texture. Usually vanilla cakes are made with butter because they need the delicious buttery flavor, but in this instance, we're getting so much flavor from the lemon zest and blueberries that we can use oil instead.
What makes the texture of oil cakes superior to that of butter? It's time for my favorite subject… kitchen chemistry!
Kitchen Chemistry

Oil is a liquid fat, and unlike butter, it contains no water. This means that oil-based cakes retain more moisture during baking, which results in a tender, soft, melt-in-your-mouth texture. As the cake bakes, the liquid fat helps trap the extra moisture within the cake's structure, preventing it from evaporating. Furthermore, oil is lipophilic (attracts fats), which makes it easier to create a stable emulsion when mixed with eggs and buttermilk. This distributes fat evenly throughout the batter, resulting in a smooth, consistent texture in the finished cake.
Another big perk to oil-based cakes? They have a longer shelf life! The retained moisture helps prevent the cake from drying out too quickly, allowing it to stay fresh and enjoyable for a bit longer. They also hold up better to refrigeration: butter, which is sold at colder temperatures, can cause cakes to feel more dense following refrigeration.
Vegetable oil, however, will remain liquid at refrigerator temperature, keeping the cake softer and more tender.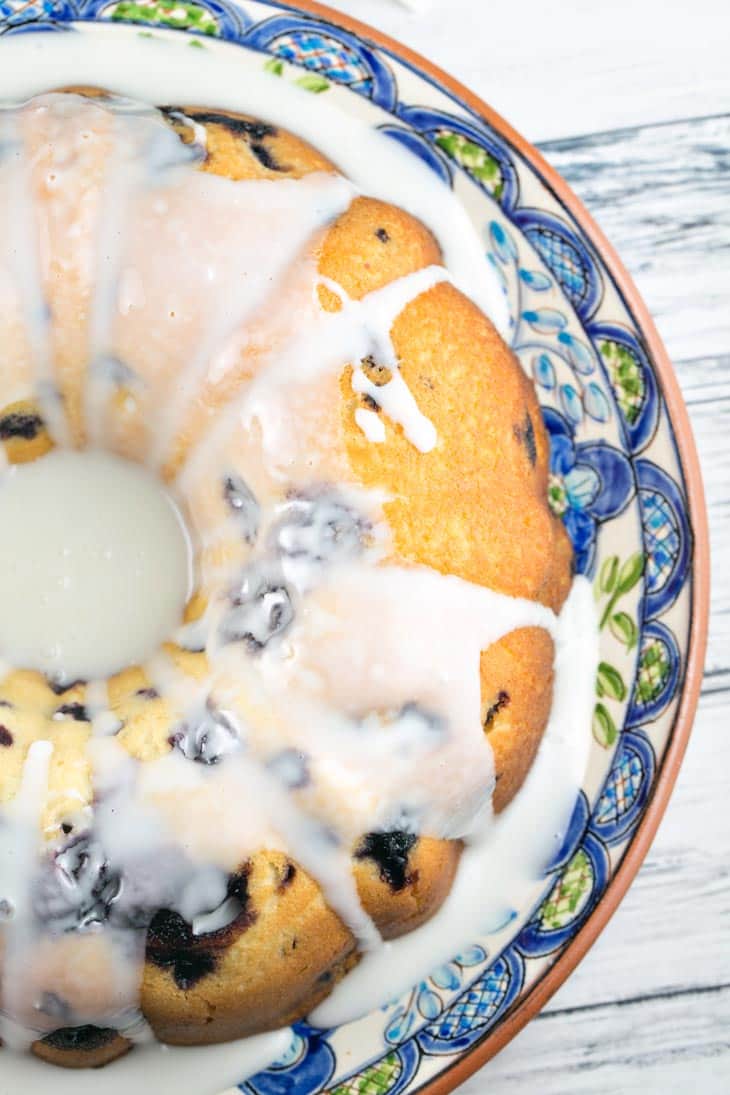 Adding Blueberries to Cake
Bundt cakes are really deep, which means they take a long time to bake – much longer than round layers for a layer cake.
This means fruit is even more prone to falling to the bottom of the cake while it bakes (which is the top of the cake, in the case of a bundt cake).
To prevent, this, we're going to add layers of blueberries to the cake batter in the pan, rather than mixing the blueberries into the batter. Pour in half the cake batter, top with half the blueberries. Add the rest of the cake batter, then top with the rest of the blueberries.
As you can see from the photos, the blueberries are pretty well dispersed in a slice, meaning you get some blueberry in every single bite, which is exactly what you want from a blueberry cake!
(I mean, really, is there anything worse than taking a bite of a chocolate chip cookie with no chocolate chips? That's how I feel about blueberry cake. Gimme blueberries in every bite.)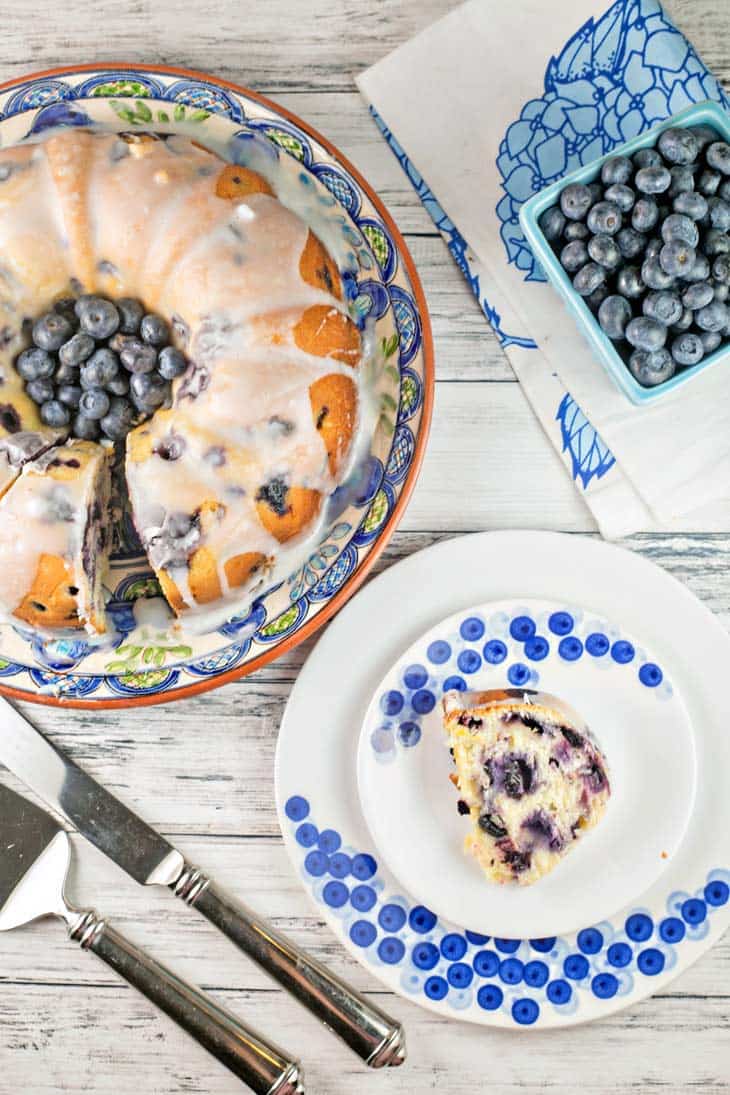 Recommended Tools to Make Blueberry Bundt Cake
12 Cup Metal Bundt Pan: This recipe is written for a 12-cup bundt pan and metal conducts heat much better than silicone.
Stand Mixer: Either a stand mixer or hand mixer will work, but this stand mixer is the ultimate workhorse of my kitchen!
Beater Blade: Whenever I use the paddle for my stand mixer, I use a Beater Blade to mix down the sides of the bowl for me.
Microplane Grater: A microplane grater is a great way to zest lemons.
Citrus Juicer: A manual hand juicer helps squeeze as much juice as possible out of your lemons.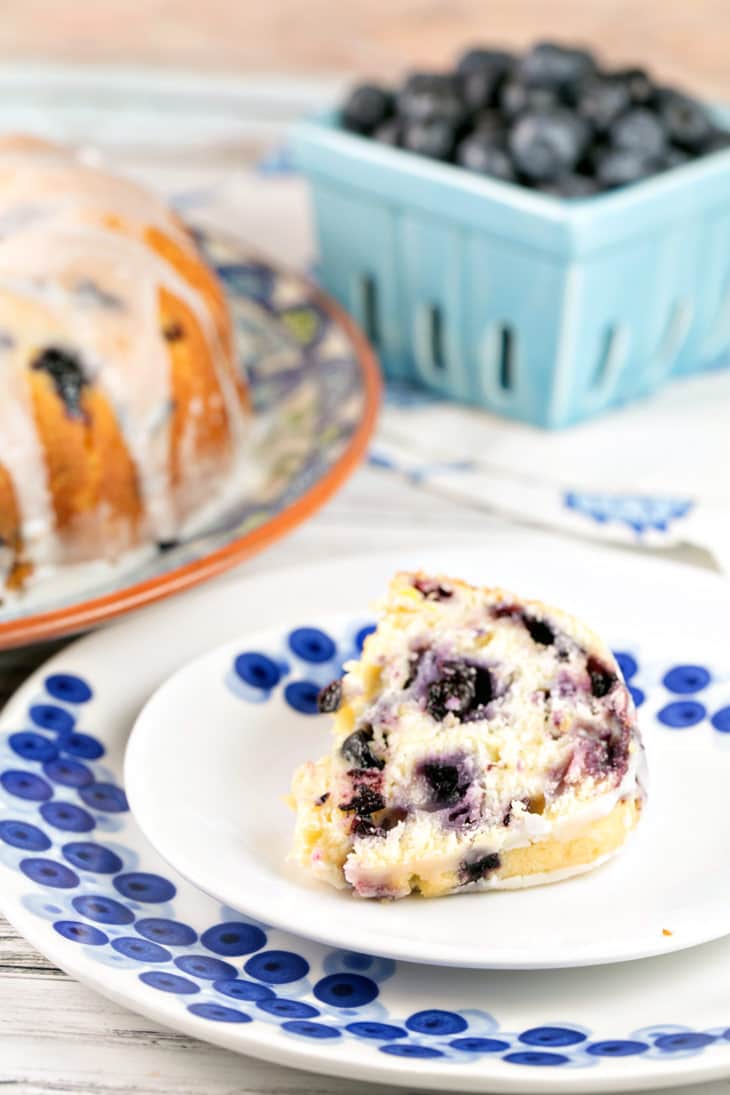 Tips and Tricks for the Best Lemon Blueberry Bundt Cake
Zest only the outer layer of the lemon peel, not the white pith beneath, as this is bitter.
If you don't have a bundt pan, bake this recipe in two 8.5 x 4.5-inch loaf pans. Bake for 40-50 minutes, or until a tester inserted into the center comes out with a moist crumb.
After removing your cake from the oven, let it cool in the pan for 10 minutes. This gives the cake time to settle and helps prevent it from breaking apart when you eventually remove it from the pan.
Looking to perfect your bundt cake baking skills?  Definitely give this post on ESSENTIAL BUNDT CAKE TIPS a quick read — it covers everything from how to make sure your bundt cake doesn't stick to how to prevent the bottom of the cake from doming! 
Lemon blueberry bundt cake can be stored in an air tight container at room temperature for 3 days, refrigerated for up to 5 days, or frozen for up to 3 months.
More Blueberry Desserts:
2017 Bundt Cake of the Month Series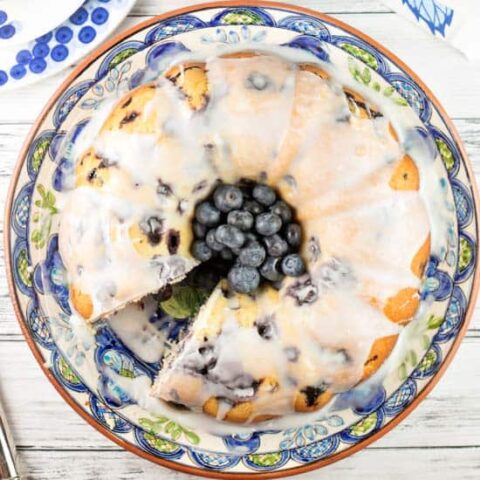 Lemon Blueberry Bundt Cake
Bursting with fresh blueberries and lemon zest, this lemon blueberry bundt cake with a sweet lemon glaze is the perfect year-round treat.
Ingredients
For the Cake:
4 large eggs, room temperature
3/4 cup (149 grams) vegetable oil
1 cup (227 grams) buttermilk, room temperature
1 tablespoon vanilla extract
2 teaspoons lemon zest
3 cups (360 grams) all-purpose flour
1 3/4 cups (347 grams) granulated sugar
2 teaspoons baking powder
3/4 teaspoon salt
2 1/2 cups (390 grams) blueberries
For the Glaze:
2 cups (227 grams) confectioners' sugar
1/4 cup lemon juice
Instructions
Preheat the oven to 350 °F. Grease and flour a 12-cup metal bundt pan.
Using an electric mixer, beat together the eggs, oil, milk, vanilla, and lemon zest. Slowly add in the flour, sugar, baking powder, and salt. Continue to beat until the ingredients are fully incorporated and smooth.
Pour half of the batter into the prepared bundt pan. Top with half of the blueberries. Add the rest of the batter, followed by the rest of the blueberries. Use a spatula to gently push the blueberries down just a little into the batter.
Bake 45 to 50 minutes, until a tester inserted into the cake comes out clean and the cake springs back gently when pressed with a finger. Cool cake in the pan for 10 minutes, then invert onto a wire rack and cool completely before glazing.
To make the glaze, whisk the confectioners' sugar and lemon juice until smooth. Pour over the cooled cake, letting the glaze drip down the sides of the cake.
Notes
To freeze, wrap the unglazed cake tightly in aluminum foil, followed by a layer of plastic wrap.  Defrost fully and bring to room temperature before glazing.  Glazed slices can be frozen, wrapped as above, but the glaze may separate from the cake while thawing.
Recommended Products
As an Amazon Associate and member of other affiliate programs, I earn from qualifying purchases.