July 5, 2016
TriBerryTriscuit (Triple Berry Herb Cracker Bites)
Quick and easy triple berry herb cracker bites with homemade berry herb compote and a dollop of honey goat cheese make the perfect bite-size summer appetizer.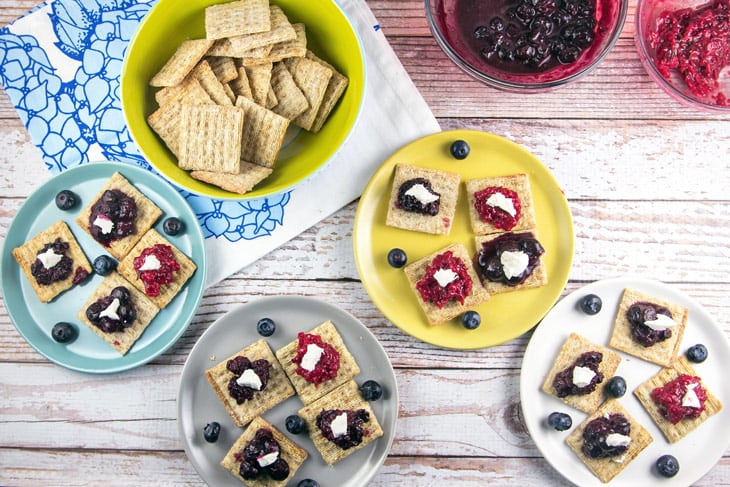 While this is a sponsored post, all opinions are mine. Thank you for supporting the brands that support me. This shop has been compensated by Collective Bias, Inc. and its advertiser. All opinions are mine alone. #MadeForMore #CollectiveBias
It's summer — the season of entertaining.  Casual happy hours on back patios.  Fancy drinks on roof decks.  Family friendly BBQs on lazy weekends.  Five course adult-only dinner parties.  Heavy appetizers and a bottle of bubbly for two.
Regardless of your entertaining plans, these TriBerryTriscuits will be a hit with everyone.  Starring fresh summer produce and herbs, rich goat cheese, and the new TRISCUIT Smoked Gouda Crackers, these fancy little bites are as easy as they come.  Dare I call them the perfect summer appetizer?
If you think homemade berry compote sounds complicated, think again.  These are so, so easy.  Melt some butter and sugar in a saucepan, add some fresh berries and herbs, and simmer for 5 minutes.  Pop the compote in the fridge to chill and solidify.
Spoon a dollop onto a cracker, top with a little slice of goat cheese, and enjoy.  That's it.  (Yes, butter is a little unusual in fruit compote, but once cool, it keeps everything solid enough to sit on a cracker.)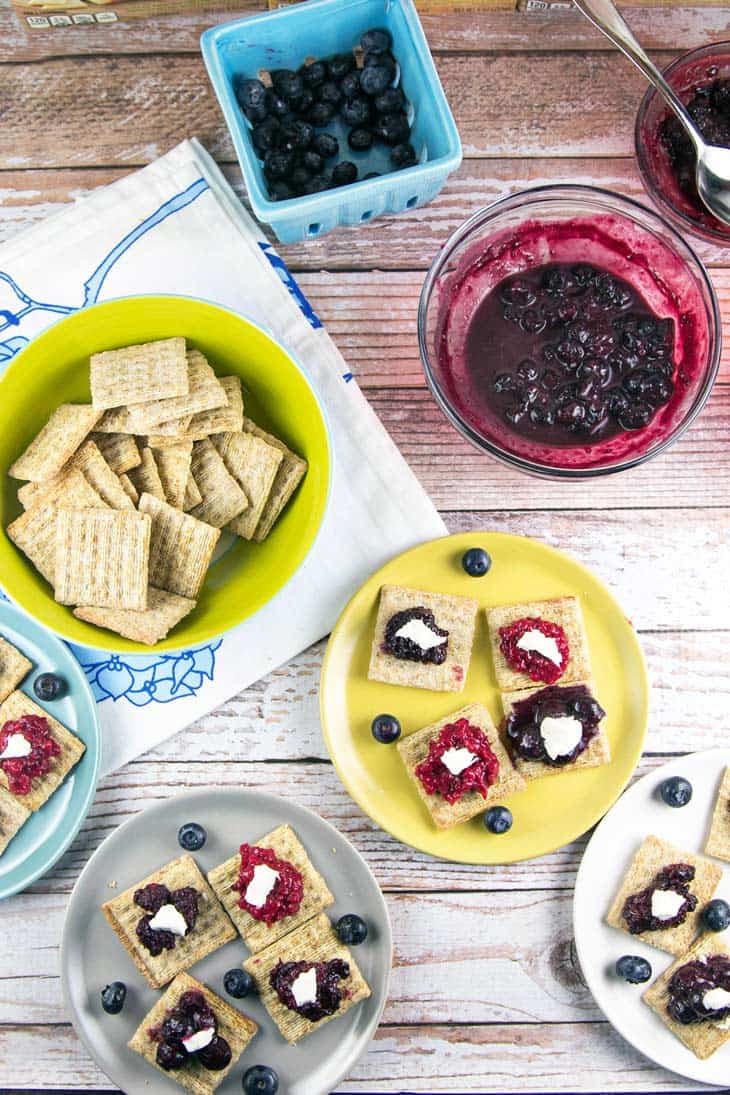 I love pairing fresh summer produce with herbs.  For these TriBerryTriscuit bites, I went with blueberry basil, raspberry rosemary, and blackberry mint.  Mix and match as you prefer, or leave the herbs out altogether if you're not a fan.
Since we're just going to simmer the berries with the herbs for a few minutes, the flavor of the herbs isn't strong — but it does add an interesting, unexpected twist.  I planned on topping these with plain goat cheese but happened to find a honey-flavored goat cheese and used that.  Highly recommended it if you can find it – the little extra touch of sweetness is delicious!
I used the new Smoked Gouda Crackers as the base for my TriBerryTriscuits.  The gouda taste pairs so nicely with the berry compote and who doesn't like a cheese flavored cracker topped with more cheese?  Monsters, that's who.  (And lactose intolerant humans.)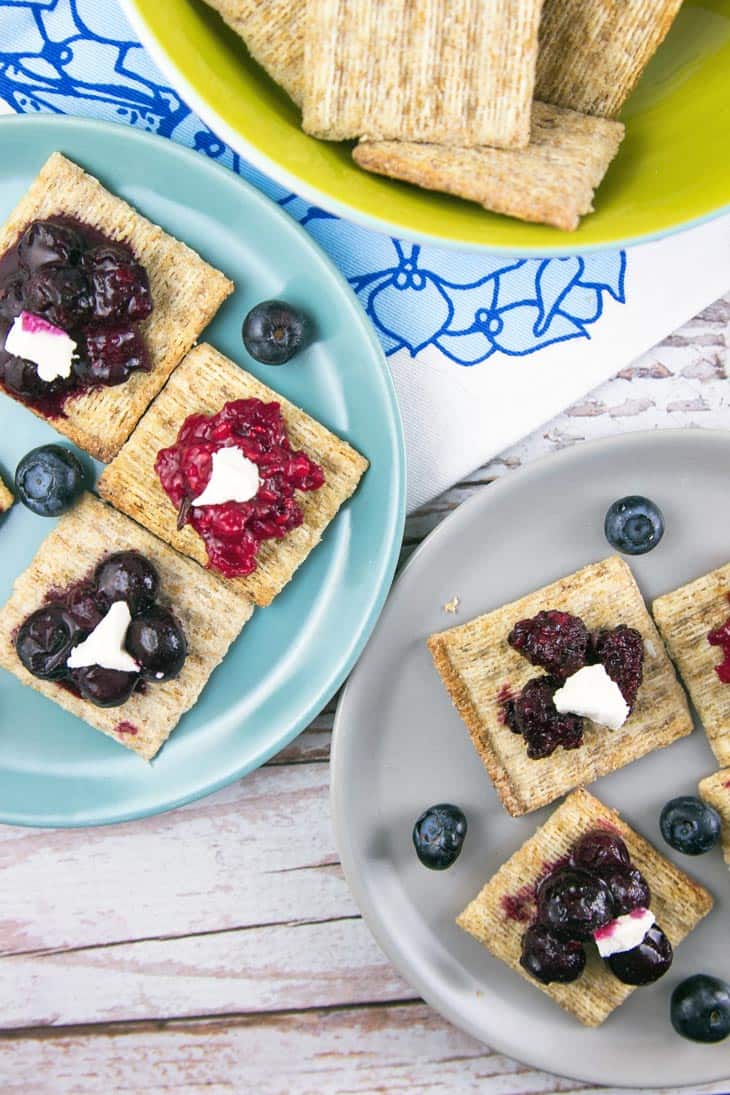 Whatever your summer entertaining occasion, TriBerryTriscuits are crowd-pleasing.  Plate them ahead of time and pass perfect little cracker bites around, or create a toppings station.  Set out a basket of TRISCUIT crackers, bowls of your easy homemade berry compote, and little pre-crumbled bits of goat cheese.  Enjoy!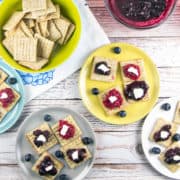 TriBerryTriscuits
The perfect summer appetizer — easy homemade berry compote paired with fresh herbs, TRISCUIT crackers, and a dollop of honey goat cheese.
Ingredients:
30 TRISCUIT Smoked Gouda Crackers
3 tablespoons butter, divided
3 tablespoons packed brown sugar, divided
3 tablespoons lime juice, divided
1 cup fresh blueberries
1 cup fresh raspberries
1 cup fresh blackberries
5 basil leaves
3″ stem of fresh rosemary
5 mint leaves
2 ounces fresh goat cheese, sliced into quarter-inch cubes
Directions:
Combine 1 tablespoon butter, 1 tablespoon sugar, and 1 tablespoon lime juice in a small saucepan.  Melt over medium heat.  Add blueberries and whole basil leaves.  Allow mixture to simmer for 5 minutes, stirring occasionally.  Pour blueberry compote into a bowl and chill, 1 hour up to overnight.
Repeat this process with the raspberries and rosemary, and blackberries and mint.
Once chilled, remove the herbs from the compote and discard.
Top each TRISCUIT cracker with 1 heaping teaspoon of berry compote and one slice of goat cheese.
A Bunsen Burner Bakery original protocol.