June 30, 2016
Candied Grapefruit Quick Bread
Yogurt quick bread loaded with grapefruit juice and zest, then topped with sugary grapefruit glaze and candied grapefruit.  The ultimate grapefruit bread!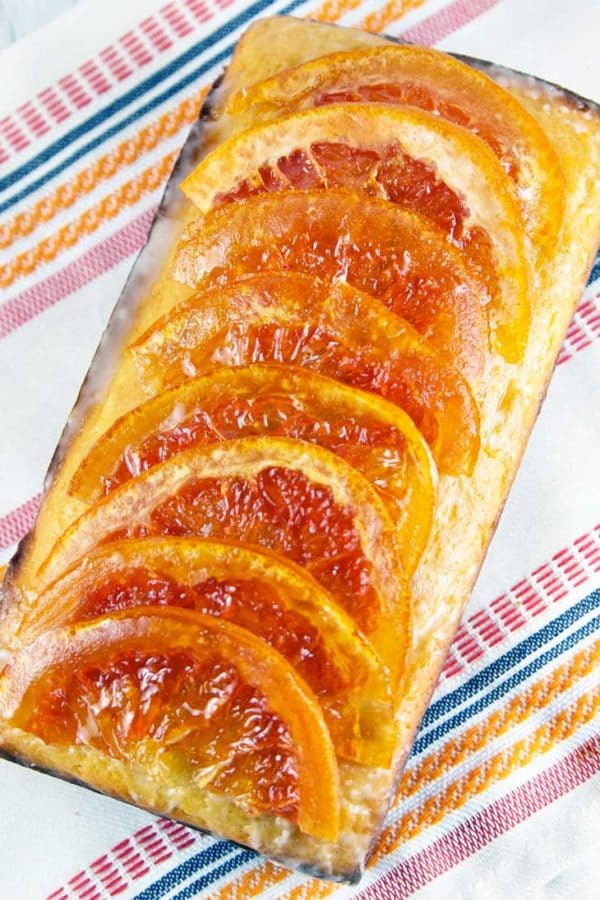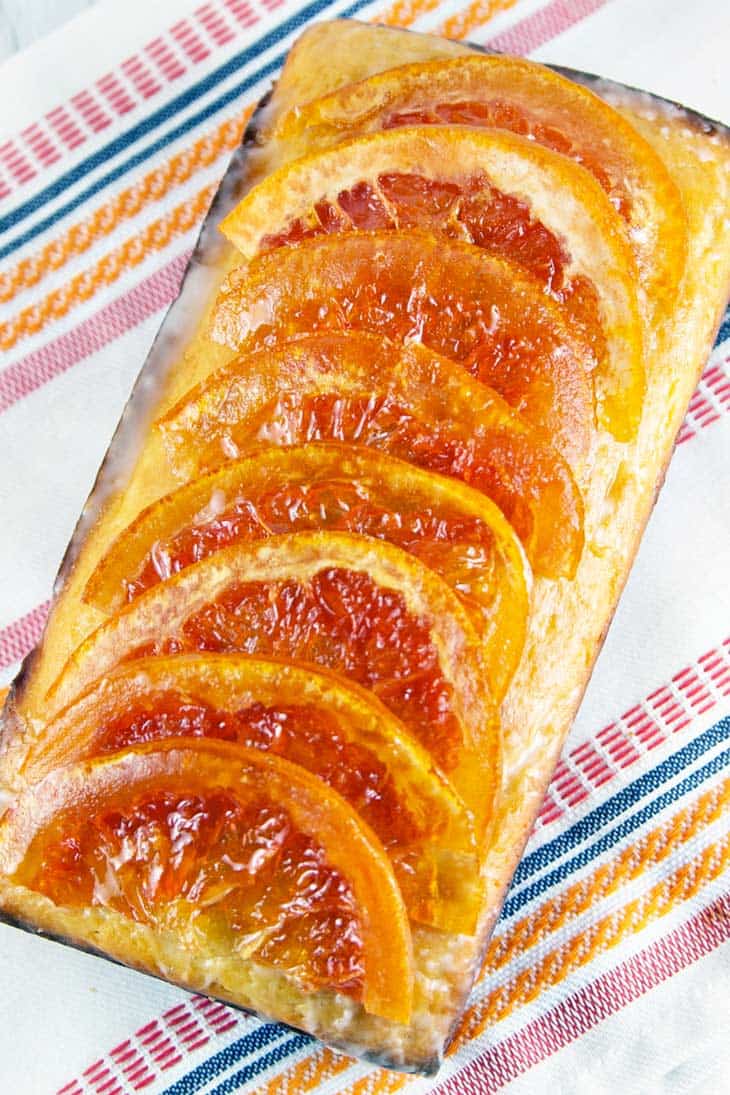 Another month, another quick bread: we're now halfway through my Quick Bread of the Month year!  (And boy are we cutting it down to the wire this month!)
I was discussing this project with a friend recently, who asked if I have my months planned out well in advance.  The answer to this is a resounding no: I don't even have my posts for next week planned out, let alone a quick bread recipe for December.  
If I did have a planned list of quick breads, I absolutely guarantee that a candied grapefruit bread would absolutely not have made the list.  But then two weeks ago, we received a grapefruit in our CSA share.  And I needed a quick bread recipe for June.  Ta-da!  Candied grapefruit bread it is.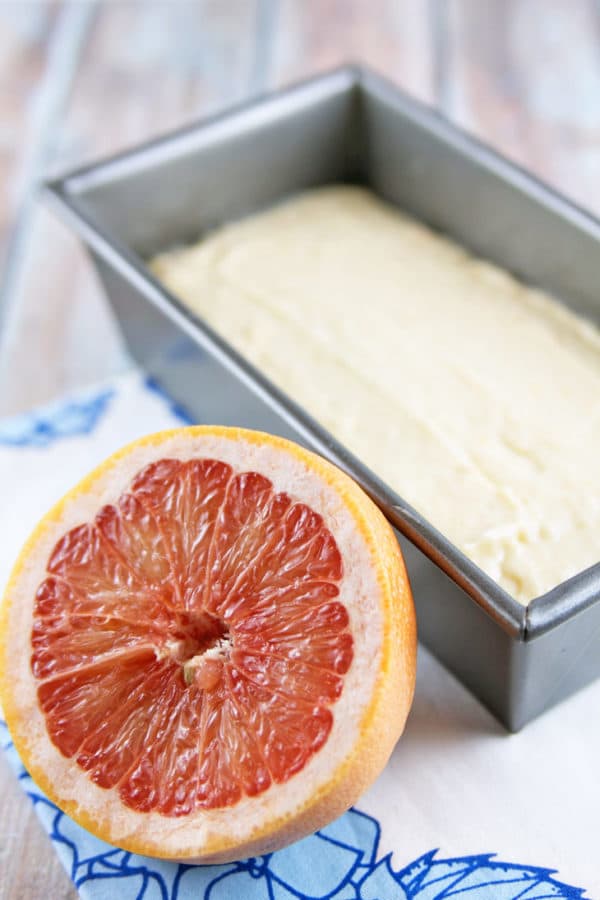 The base of this grapefruit bread is similar to my buttermilk lime quick bread, except we've swapped out buttermilk for yogurt.  My friend Liz recently asked why I bake so frequently with yogurt.
To begin with, I like the taste — similar to buttermilk, yogurt gives baked goods a delicious tang.  Secondly, it's also a healthier substitute.  One cup of vegetable oil has 1,980 calories.  One cup of full fat Greek yogurt has roughly 240 calories.  That's a pretty big difference — enough to justify one extra little sliver of cake.  Plus, Greek yogurt adds both calcium and protein compared to oil, so… why not?
But the biggest reason I bake with yogurt: I always have it at home.  Sometimes I run out of oil or butter.  I often don't have buttermilk on hand.  But I always, always have a container of plain yogurt, ready for eating or baking.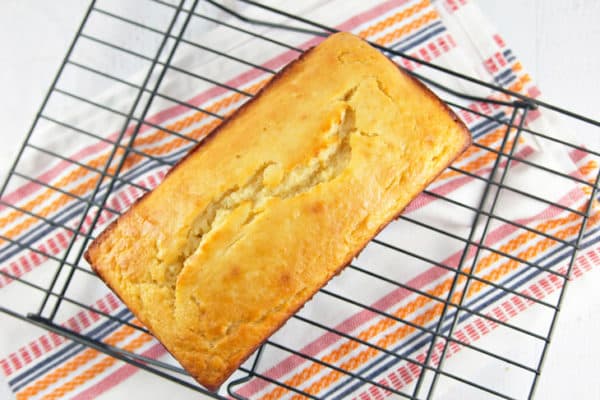 So! Back to this bread.  A yogurt-based sweet yet tangy quick bread batter?  Done.  Grapefruit juice and zest added to the batter?  Check and check.  Grapefruit juice glaze added to the top?  You betchya.
What else can we do to take this grapefruit bread up a notch?  Let's add some candied grapefruit to the top.  If you've never candied citrus slices before, it is so easy.
Slice the citrus into even, thin pieces and simmer away in a water/sugar mixture for 30 minutes or so.  That's it.  And when you're done, you have a delicious citrus-infused simple syrup ready for your next cocktail.  Now that's what I call a win!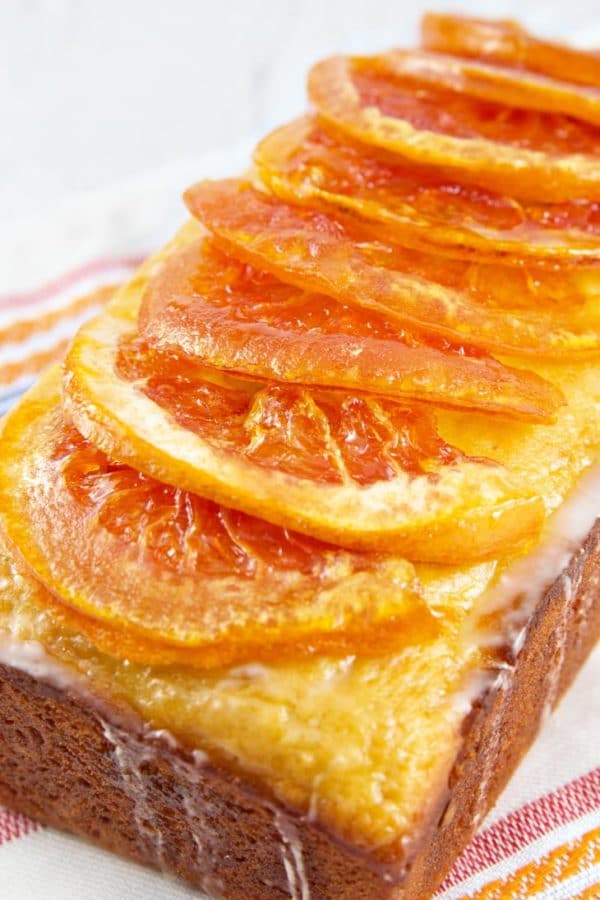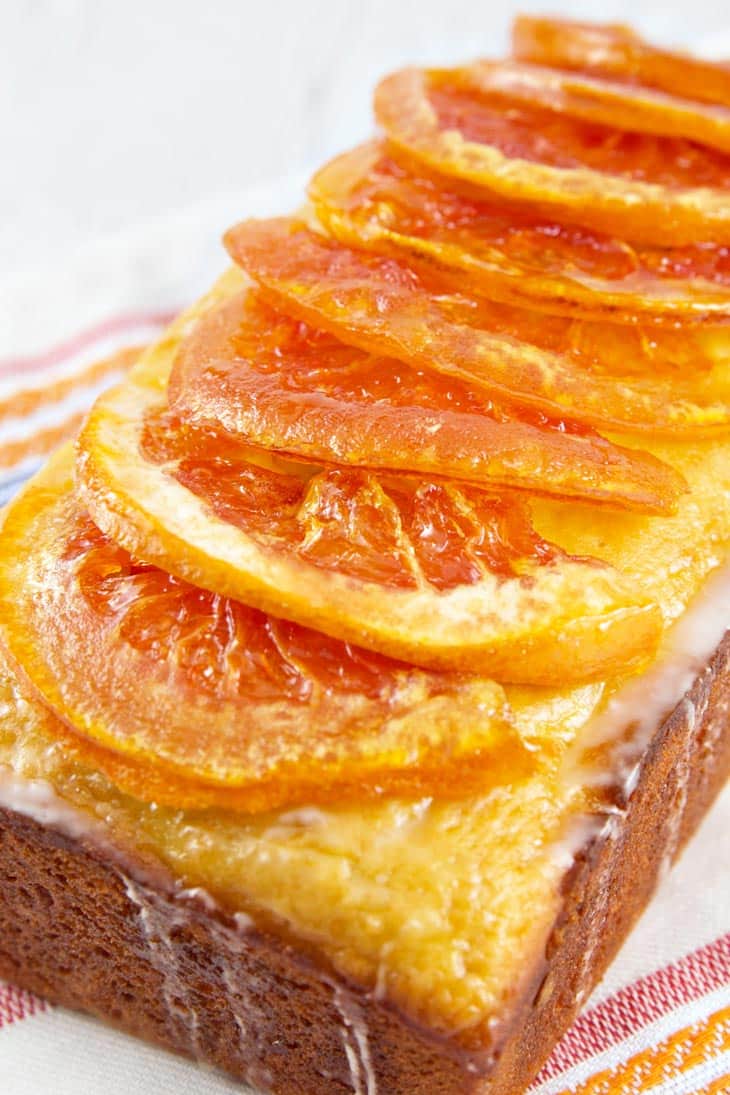 The best part about this candied grapefruit bread is how easy it is to adapt to any other citrus.  Prefer lemon?  Go to town.  Have a supply of blood oranges?  First, you're extremely lucky, and second – do it!  Overabundance of tangerines?  Yes, please!
Any and all citrus welcome – just please invite me over for a slice.  🙂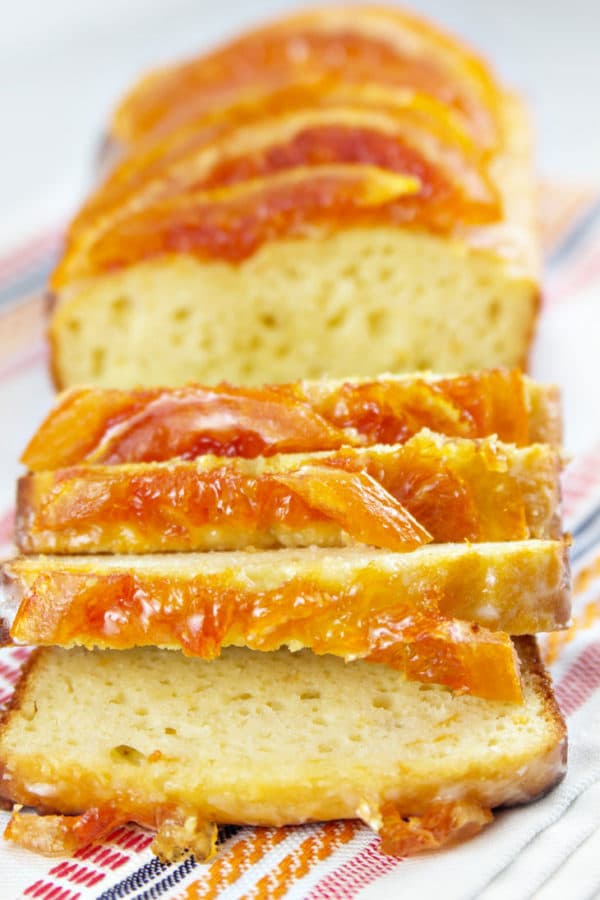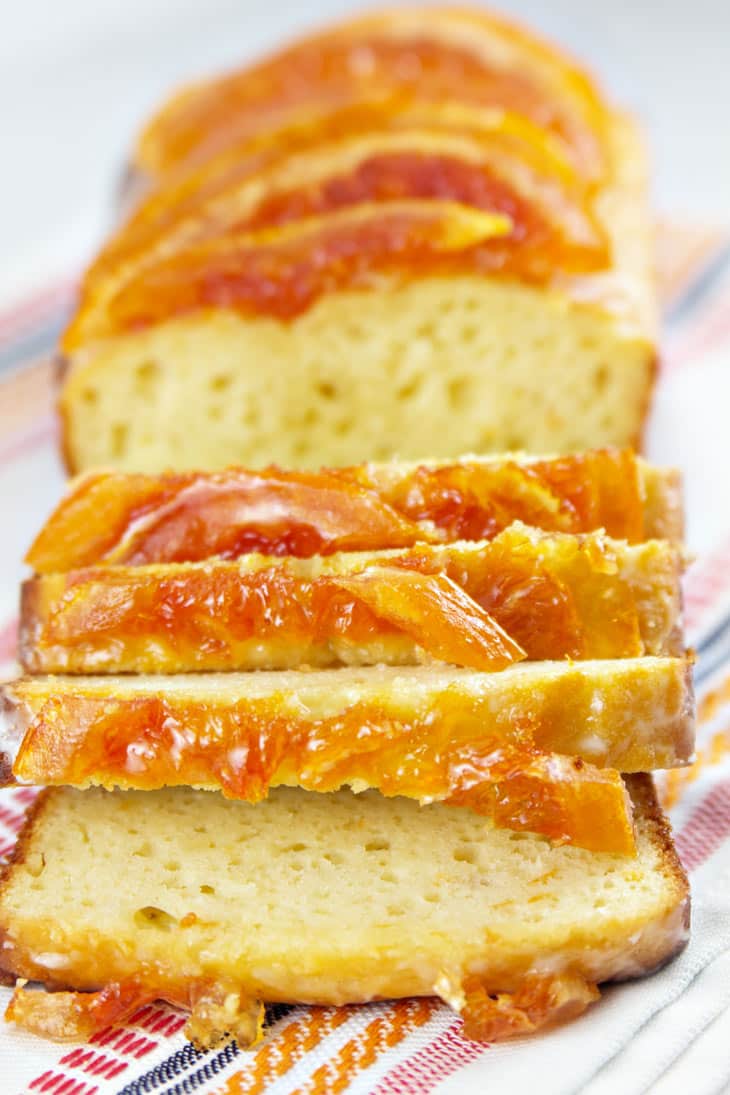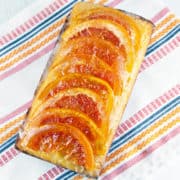 Yield:
1 loaf (12 slices)
Candied Grapefruit Bread
Yogurt quick bread loaded with grapefruit juice and zest, then topped with sugary grapefruit glaze and candied grapefruit.
Ingredients:
For the bread:
1 egg
1 cup plain whole milk yogurt
1/2 cup vegetable oil
zest of 1/2 large grapefruit
3 tablespoons grapefruit juice
1 3/4 cup all-purpose flour
3/4 cup sugar
2 teaspoons baking powder
1/4 teaspoon salt
For the glaze:
3 tablespoons grapefruit juice
1 cup confectioners sugar
For the candied grapefruit:
1/2 large grapefruit, sliced thinly
1 cup water
1 cup sugar
Directions:
Heat oven to 350F.  Grease and flour the bottom and sides of an 8×4 or 9×5 inch loaf pan.
In a medium bowl, whisk together the egg, yogurt, oil, grapefruit zest, and grapefruit juice until well blended.  Add in the flour, sugar, baking powder, and salt and stir until just moistened.
Pour the batter into the prepared pan and bake for 50 to 60 minutes until golden brown and a toothpick inserted into the center comes out clean.
Cool in the pan for 10 minutes, then remove the bread to a cooling rack and cool completely, about 1 hour.
To prepare the grapefruit glaze, mix together the confectioners sugar and 3 tablespoons of grapefruit juice in a small bowl.  Drizzle the glaze over the bread and allow it to solidify, about 30 minutes.
Meanwhile, prepare the candied grapefruit.  Slice the grapefruit thinly into rounds.  Combine water and sugar in a large, low sauté pan and simmer over medium heat until sugar is fully dissolved.  Place grapefruit rounds into the sugar water in a single layer and simmer for 1 hour, until rinds are translucent.  Remove from water and cool on a sheet of wax paper.  Once cool, cut rounds in half and place on top of grapefruit bread.
Love winter citrus? Don't miss these recipes, too!