January 27, 2016
Chocolate Bourbon Soft Pretzel Bread Pudding
Tired of boring bread pudding? Try making it with soft pretzels, instead!  Sweet and salty, crunchy and soft – soft pretzel bread pudding is an unexpected twist on a crowd-pleasing dessert.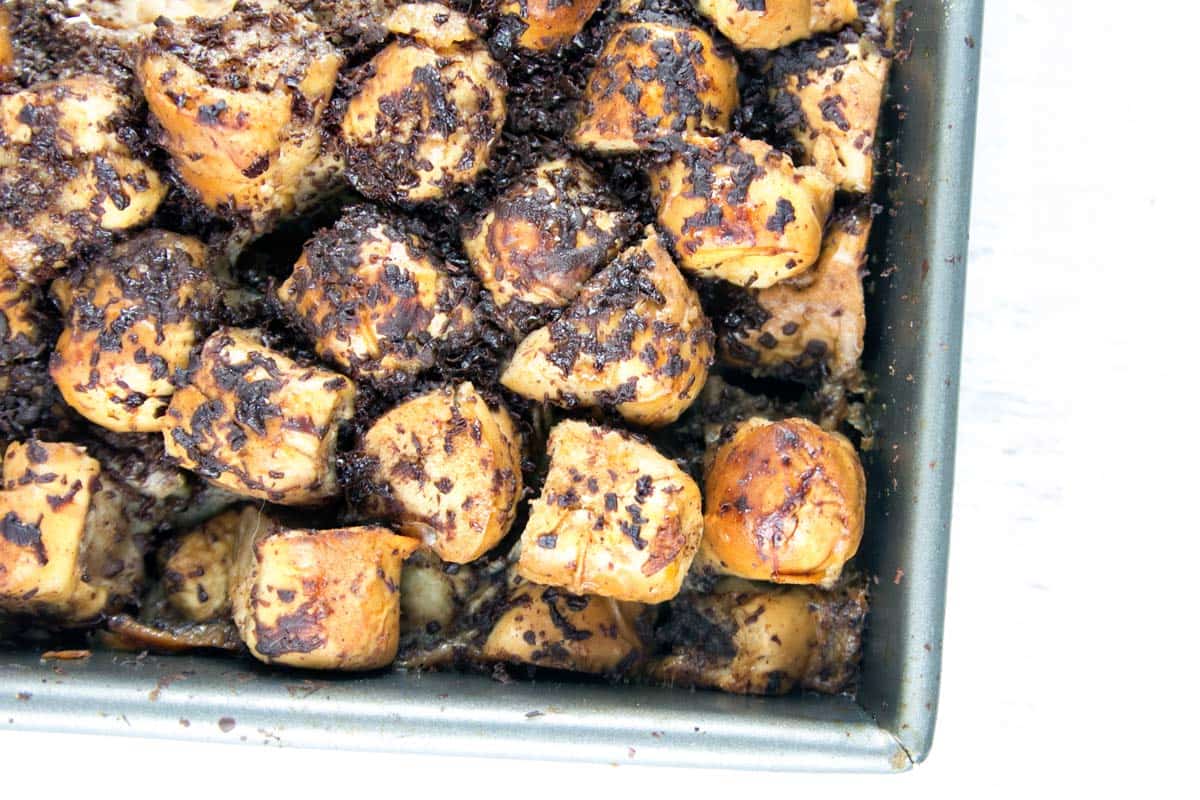 When life hands you lemons, you make lemonade (specifically, this blueberry basil bourbon lemonade). When life hands you too many soft pretzels you make… um… what, exactly?
I feel like an overabundance of soft pretzels doesn't happen too much, so maybe we should start with the backstory.
Every December, for the past 11 years, I've hosted our annual Chrismukkah party.
It's certainly morphed over time – the early years featured a beer pong table and "shot of the hour"; these days you'll find our drink offerings have matured to rare craft beers, Four Roses, and small-batch gin – but the premise is always the same: come for good food, lots of alcohol, and all our favorite people gathered together under one roof.
The past few years, one of my husband's best friends has brought a party-sized tray of pretzel bites to the party (because when in Philadelphia…), which is always a big hit. But it's a huge tray, and despite the number of people in attendance, there are always tons of pretzel bites remaining.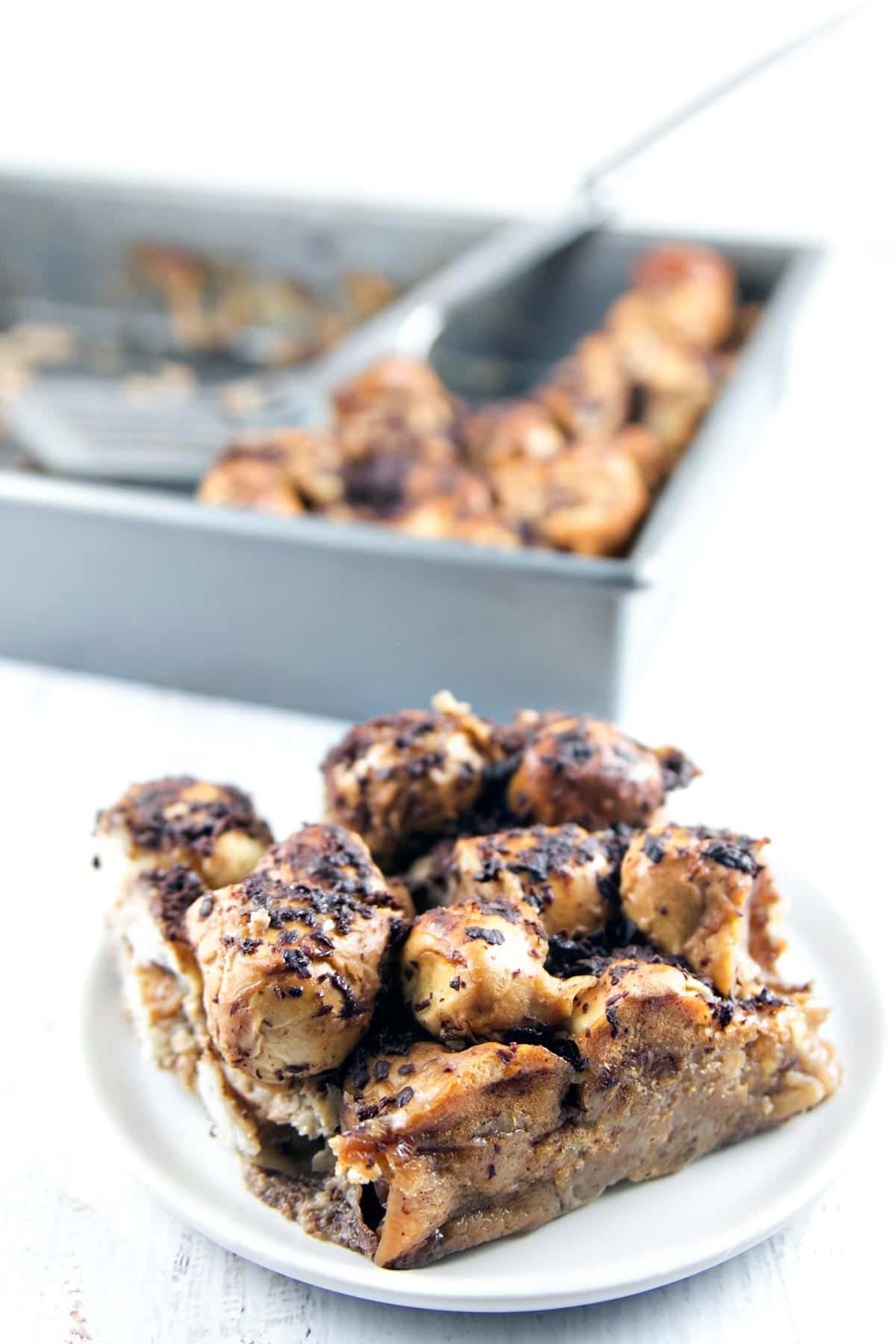 Soft pretzels have a very limited shelf life, so every year there's a rush to try to finish them off before they go stale, and we're never successful. So this year, faced with a giant mount of soft pretzel bites, I decided to actually do something with them.
But what, exactly? Croutons? Pretzel strata? Pretzel stuffing? All sound interesting, but I didn't really need that many pretzel croutons in my life.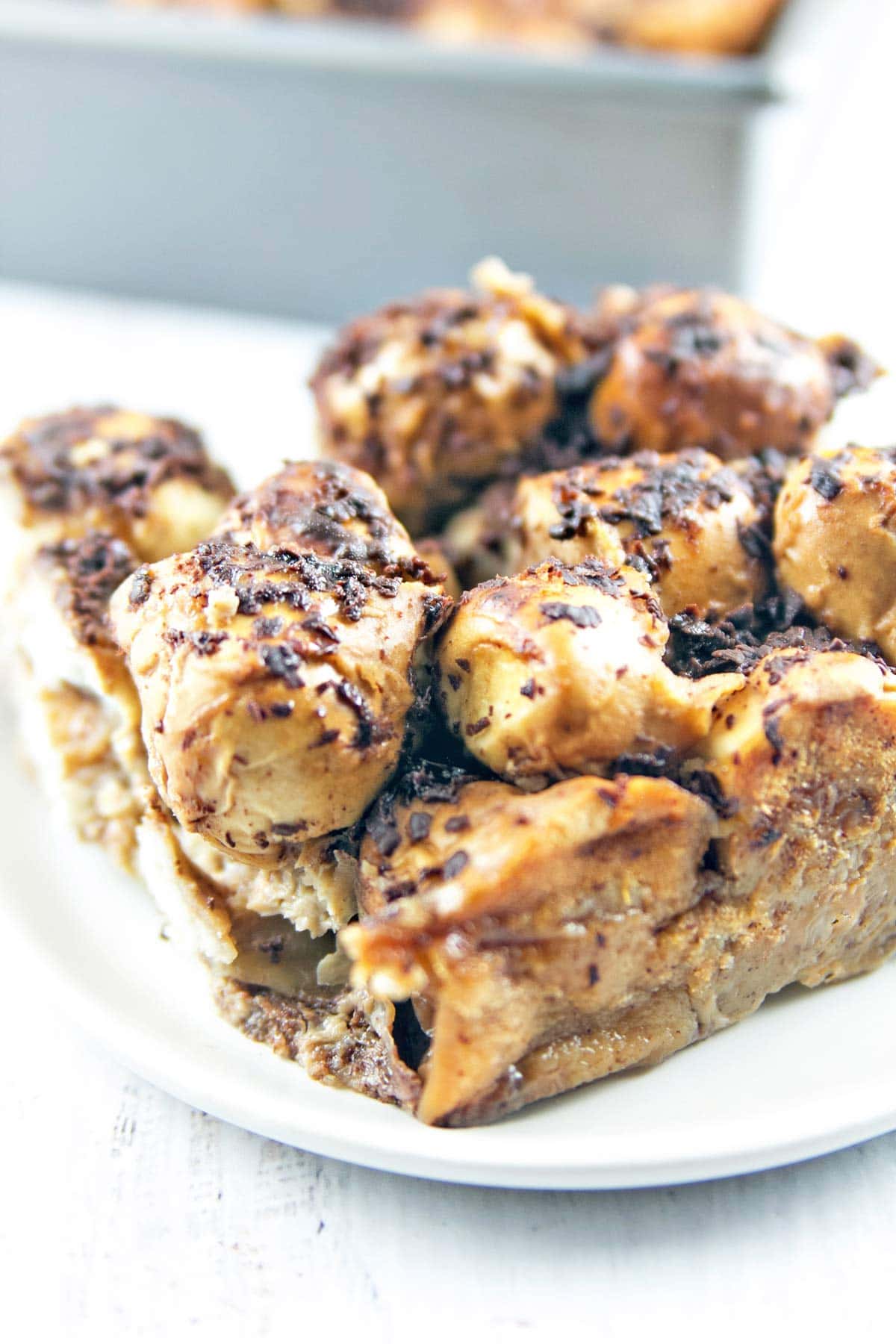 Enter: the annual lab holiday party. Every December, we spend an evening at our PI's house — he orders in food, we bring dessert. And hence, chocolate bourbon soft pretzel bread pudding was born.
I'm not normally a huge bread pudding fan, but I loved this (probably thanks to the bourbon). The pretzels on the top stayed a little bit crunchy, the pretzels on the bottom were nice and soft, and the slight hint of chocolate paired so nicely.
This definitely fed a crowd, but you could just as easily halve the ingredients and bake it in an 8×8 inch pan instead.
While I made this specifically to use up soft pretzels, it's absolutely worthy of acquiring fresh soft pretzels just to make this… just let them sit out for a day or two so they start to get a little stale.
Everyone loves the salty-sweet pairing of pretzels and chocolate, so take an unexpected twist on your bread pudding with some soft pretzels!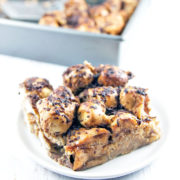 Chocolate Bourbon Soft Pretzel Bread Pudding
Sweet and salty, crunchy and soft – an unexpected twist on a crowd-pleasing dessert.
Ingredients:
8 cups cubed stale soft pretzels, packed
1 1/4 cup sugar
6 eggs
3 cups milk
1/2 – 3/4 cup bourbon
2 tablespoons vanilla
5 ounces dark chocolate, finely chopped or grated
Directions:
Preheat oven to 350F. Lightly grease a 9×13-inch baking dish.
Whisk together the milk, eggs, bourbon, and vanilla in a large bowl. Add in the sugar, mixing to combine, followed by the soft pretzel cubes. Toss to coat the pretzels well and set aide for an hour or two. Periodically stir the pretzels while soaking, pushing them under the liquid.
Pour the mixture into the prepared baking dish. Bake for 45 minutes, until the custard is fully set and the top of the bread pudding is crispy.
Sprinkle the grated or chopped chocolate over top while the pudding is still warm. Serve warm or at room temperature.
A Bunsen Burner Bakery Original Protocol