January 29, 2016
Coconut Braised Chickpeas and Spinach
Coconut braised chickpeas and spinach, simmered with cumin, paprika, ginger, sun-dried tomato pesto, all served on a roasted sweet potato.  The perfect warm, filling, winter dinner (vegan and gluten free, too!).
It's winter. It's cold out, and there's snow on the ground (an awful lot of it, if you live in my neck of the woods — or urban jungle, as the case may be here). The days are short (but getting longer!).  You're in full on hibernation mode. Now think about dinner.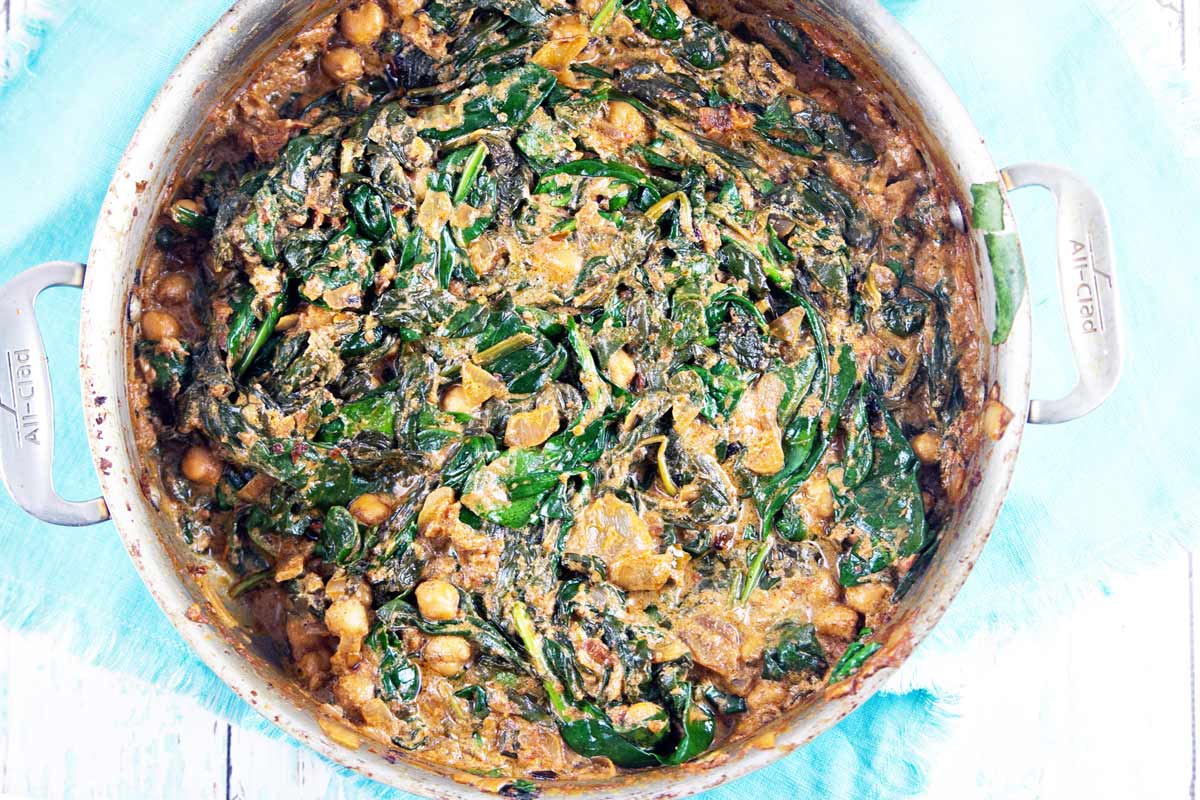 What comes to mind as a perfect winter meal? Some sort of slow-roasted chicken or beef? A heavy pasta dish?
Many people must think that way, since Food and Wine has an entire section on "Winter Comfort Food" which is full of dishes like chili, beef stew, veal goulash, beef pot pie, and something called macaroni and "many" cheeses (which sounds amazing, obviously).
I'd like to offer up an alternate option as the ultimate winter comfort food.  In fact, it's probably my favorite thing I've made so far this winter.
It also happens to be meat, dairy, and gluten free, but I promise, you won't miss any of those.
Hearty chickpeas and fresh spinach, simmered with warm cumin, smoked paprika, and spicy ginger. Stir in a little sun-dried tomato pesto for that bright, intense tomato flavor, followed by rich and creamy coconut milk.
Serve these coconut braised chickpeas and spinach over a baked sweet potato (or not – it makes a great lunch on its own), pair with some spicy roasted cauliflower, and you have my definition of a perfect winter dinner. No meat, dairy, or gluten necessary.
Oh, and did I mention that this is easy? Aside from pulling a potato in and out of the oven, a little chopping and some stirring is all that's required.
In fact, I made absolutely everything for this, from the initial prep work right through photographing it, with a sleeping baby wrapped to my chest. He knows what's good, though.  Those little eyeballs opened up the second I sat down to eat, and his little mouth popped open, waiting for a chickpea.
I haven't discussed it on the blog yet, but we're doing baby-led weaning with Ryan, and it is truly the best. He's 9 months old and he eats absolutely everything we eat, in its original form (no pureeing things), and he loved this. Spicy cauliflower, sweet potato, and all – I'm pretty sure he ate close to his own weight.
So I'm going to go ahead and call these coconut braised chickpeas and spinach an ultimate crowd-pleasing dinner, popular with babies and carnivorous husbands alike!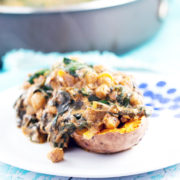 Coconut Braised Chickpeas and Spinach
Chickpeas and spinach, simmered with cumin, paprika, ginger, sun-dried tomato pesto, and coconut milk, all served on a roasted sweet potato.  The perfect warm, filling, winter dinner (vegan and gluten free, too!).
Ingredients:
1 tablespoon olive oil
1 onion, diced
4 cloves garlic, minced
2 tablespoons grated ginger
1 tablespoon cumin
1 tablespoon smoked paprika
1/2 cup sun-dried tomato pesto
1 large lemon, zest and juice
1 (15-ounce) can chickpeas, drained and rinsed
1.5 pounds baby spinach
1 (14-ounce) can coconut milk
whole roasted sweet potatoes, for topping
Directions:
Heat the oil in a large, heavy pot over medium heat.  Add the onion and cook for about 5 minutes, until the onion starts to brown.  Add the garlic, ginger, cumin, smoked paprika, pesto, and lemon zest.  Cook for an additional 5 minutes, stirring frequently.
Add the chickpeas and cook over high heat for several minutes, until the chickpeas start brown and are thoroughly coated with the onion and pesto mixture.
Add in the spinach in several batches, waiting until the current batch has wilted before adding in more.  This will take 5-10 minutes.  Once all the spinach has been added, pour in the coconut milk and season to taste with additional spices and the lemon juice.  Bring to a simmer and cook for 10 minutes, until chickpeas are warmed and the liquid has mostly evaporated.
Serve hot over roasted sweet potatoes.