January 15, 2016
Cranberry Bread with Apple Cider Glaze
Packed full of cranberries and fresh apple cider, this Cranberry Bread with Apple Cider Glaze is moist, delicious, and bursting with fall flavors!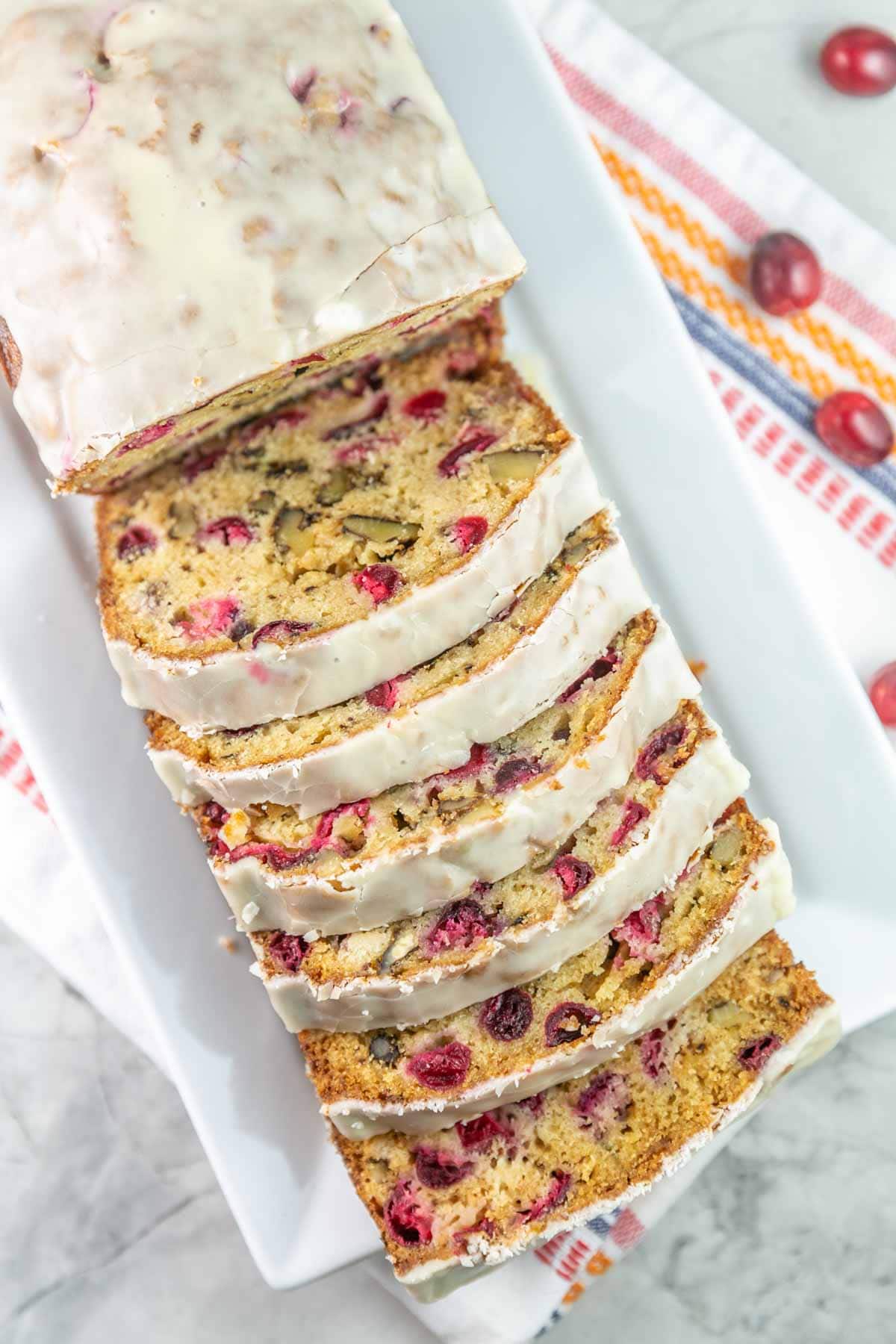 A few years ago when I first started making my own ice cream, my husband suggested that I should feature an "ice cream of the month" on my food blog. As much as I loved the idea and as much as I love ice cream, the challenges of making and sharing that much ice cream (so many containers! so much freezer space!) seemed a little overwhelming.
So I decided to take the "of the month" idea this year, but try something a little more shareable. But where to start? There are so many options! Cookies? Brownies? Layer cakes? Fruit pies? Savory options too – yeast breads?
But in the end, I decided 2016 will be the year of Quick Bread of the Month, mostly because I've wanted to share this cranberry bread recipe since October.
When a friend told me he was always disappointed by cranberry breads and muffins for being too dry and bland, I immediately knew I could fix this. And several testing rounds later, I'm confident that I have – this cranberry bread is moist, packed full of flavor, and waiting for all your fall and winter baking weekends.
Ingredients and Substitutions
Flour: To keep this bread gluten-free, use a 1:1 all-purpose gluten-free baking mix instead of all-purpose flour.
Baking Soda
Salt
Cranberries: Either fresh or frozen cranberries work for this recipe.
Walnuts: Optional, but if you like nuts, they add a delicious crunch. Pecans are a great option, too.
Egg
Sugar: We're using both granulated sugar and brown sugar for extra moisture and flavor.
Buttermilk: If you don't have buttermilk on hand, a good substitute in this bread is 3/4 cup of whole milk plus 1 tablespoon of vinegar or lemon juice.
Apple Cider: Use apple cider, not apple juice!
Vegetable Oil
Vanilla Extract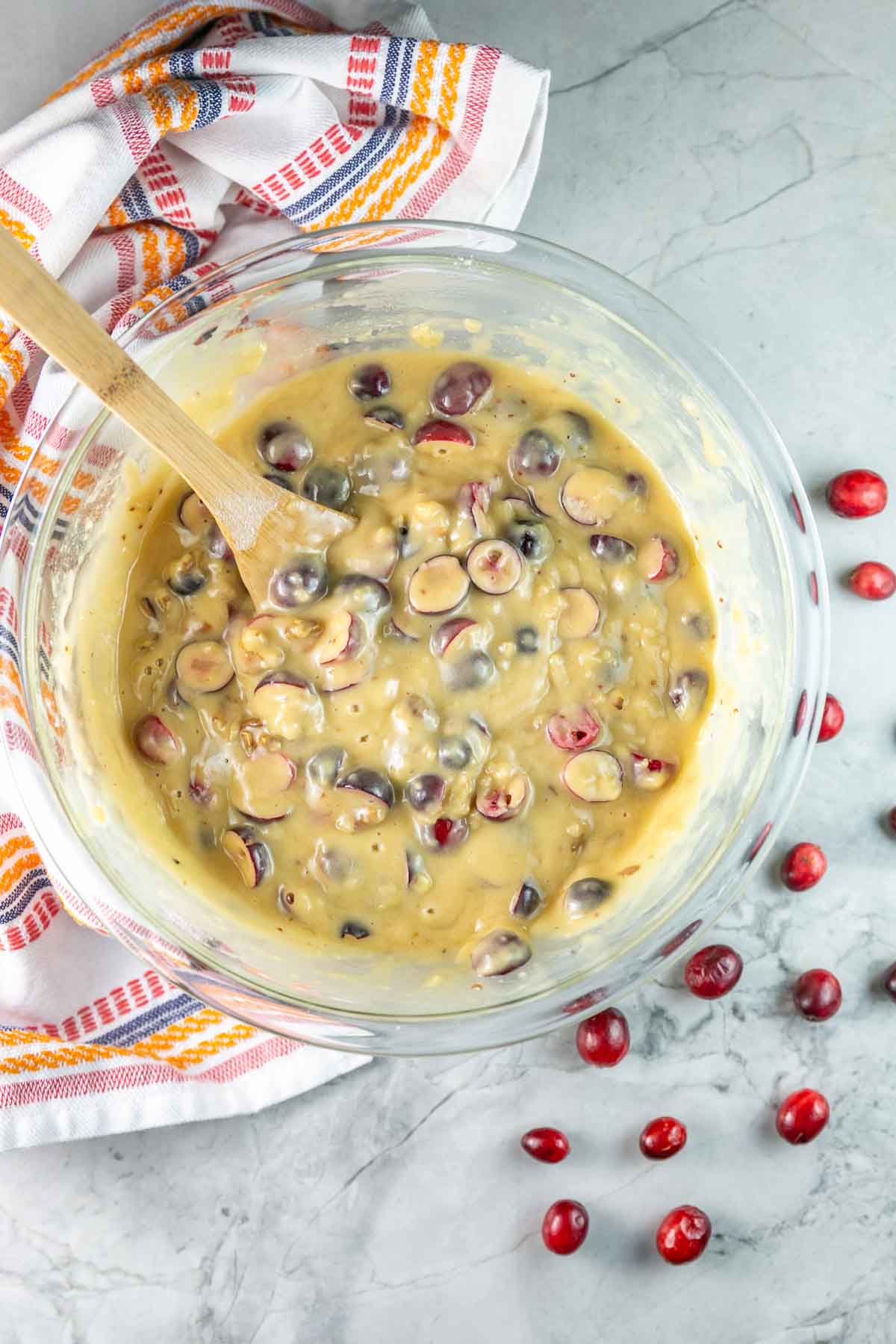 Baking with Fresh Cranberries
First up, let's talk a little about baking with cranberries. Yes, you can bake with fresh (or frozen) cranberries, not just dried! So many baking recipes (looking at you, scones) call for dried cranberries, and while I have no hate for craisins, why use dried when you have access to plump, fresh cranberries?
You can substitute cranberries for just about any other berry in recipes for muffins, cakes, or cupcakes. Blueberry muffins become perfectly fall-appropriate when you substitute cranberries for blueberries, instead! If your cranberries are particularly large, halve or quarter before mixing into the batter.
There's no need to cook your cranberries ahead of time. While fresh, raw cranberries are on the crunchy side, baking in the batter will soften them up to the perfect texture.
Best Cranberry Bread
Cranberry breads are dry and bland, you say? This one is anything but!
To keep the bread extra moist, we'll use oil instead of butter, which has more moisture. In this case, we want the cranberry and apple cider flavors to be most prominent, so we don't need a strong buttery taste anyway. Adding brown sugar along with the granulated sugar and using buttermilk also ensures that the bread stays nice and moist.
It's definitely not bland either – the addition of apple cider, both in the bread and as a sugar glaze on top – adds a great flavor and just slightly offsets the tartness of the cranberries.
It's also packed full of cranberries, unlike so many commercial cranberry baked goods which are barely dotted with red specks. This bread has cranberry in every bite.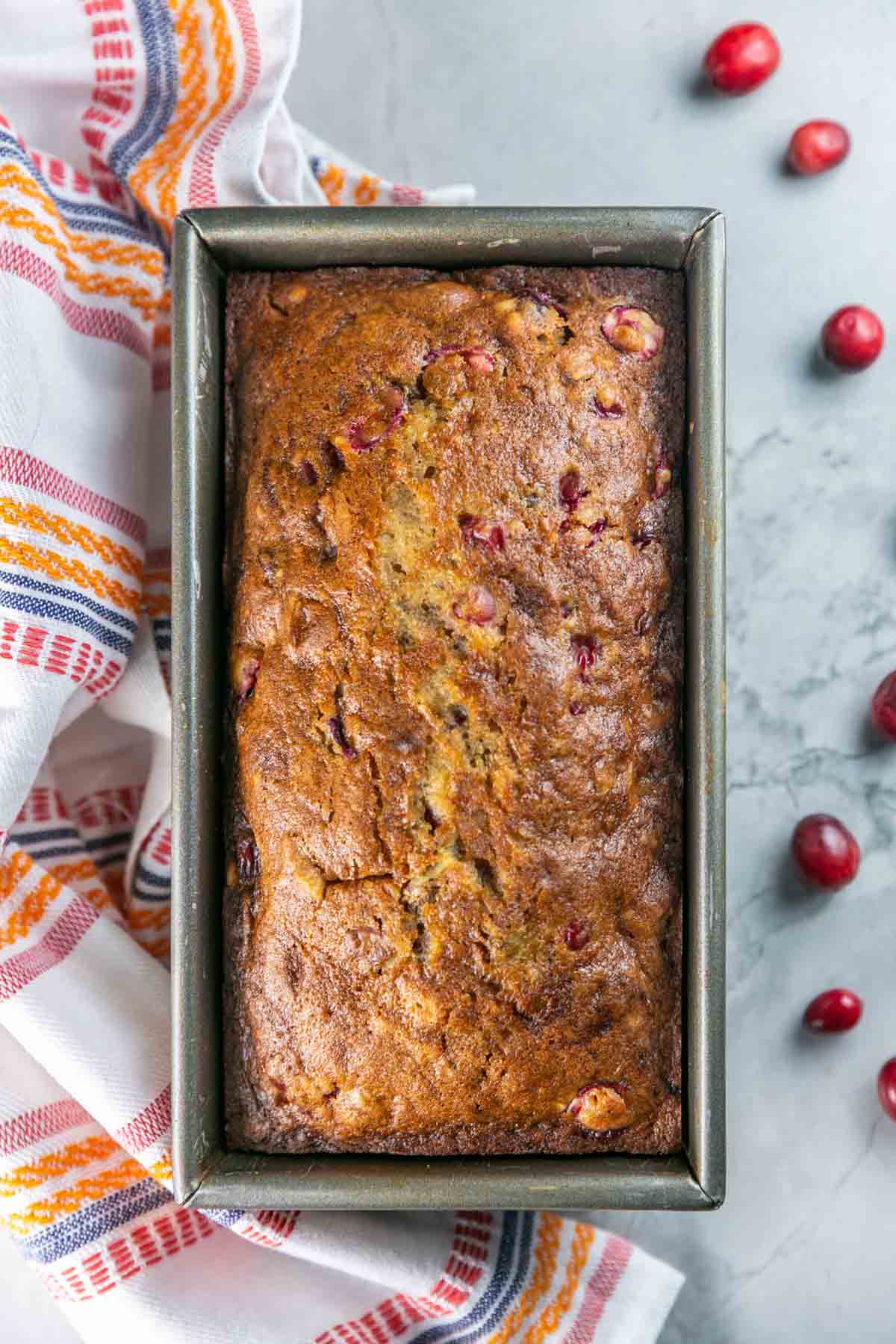 Lower pH for Tender Breads
Knowing that cranberry breads tend to be dry and crumbly, I pulled out all my favorite tricks to achieve a tender and moist texture in this one.
In a quick bread, the interaction between low pH ingredients and proteins is a game-changer. Proteins, like gluten in flour, have a tendency to form a strong network when mixed with liquid. This network can result in a dense and tough texture in the bread. However, the introduction of acidic ingredients with a low pH disrupts this network formation.
Kitchen Chemistry

Acidic ingredients weaken gluten structures by interfering with protein bonds, preventing them from forming a tight network. This interference results in a more tender and delicate crumb in the final product.
To achieve this lower pH, we're adding two acidic liquids to our bread: buttermilk and apple cider. Make sure to use apple cider in the bread, and not apple juice – apple juice has a higher pH than apple cider!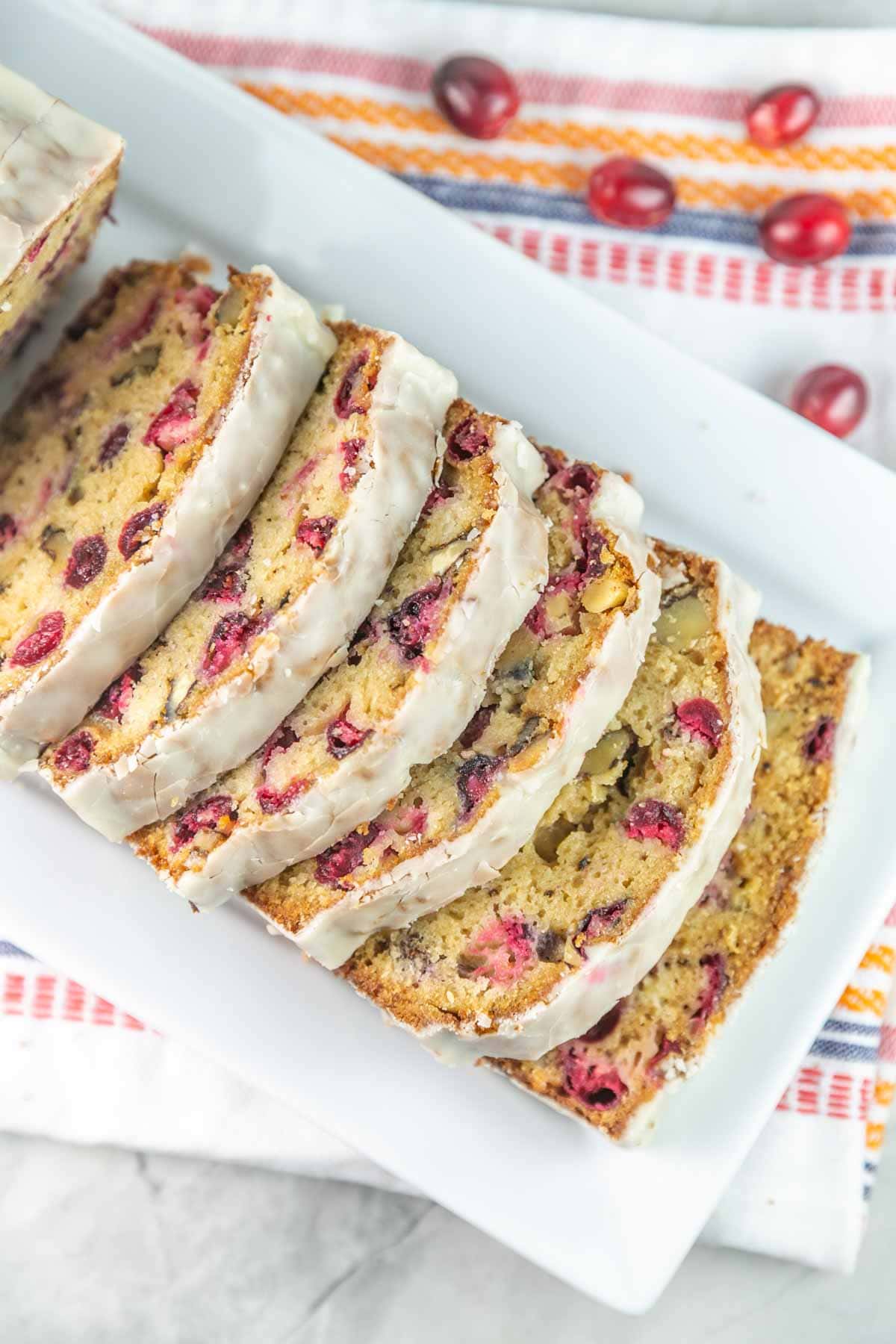 Tips and Tricks for the Best Cranberry Bread with Apple Cider Glaze
Cut the Cranberries in Half: Whether you're using fresh or frozen cranberries, cut them in half before mixing into the batter – this helps prevent them from sinking to the bottom of the bread.
Don't Overmix the Batter: Gently fold the wet ingredients into the dry mixture until just combined. Overmixing can lead to a dense texture.
Tent the Bread: After 30 minutes of baking time, tent the top of the bread with aluminum foil to prevent the top from over-browning.
Cool Before Glazing: Allow the bread to cool completely before glazing. This prevents the glaze from being absorbed too quickly, ensuring it stays on the surface.
Storing Cranberry Bread: To keep the bread fresh, store it in an airtight container at room temperature for up to 4 days or freeze it for up to 3 months.
More Cranberry Recipes:
2016 Quick Bread of the Month Series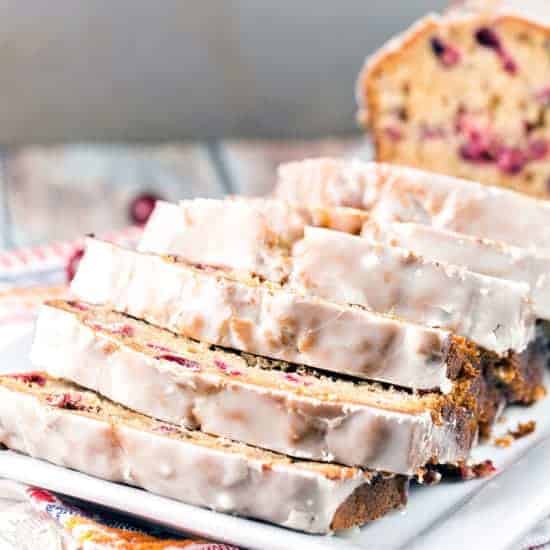 Cranberry Bread with Apple Cider Glaze
Total Time:
1 hour
10 minutes
Packed full of cranberries and covered in an apple cider glaze, this bread is anything but your typical dry and bland cranberry bread.
Ingredients
For the Bread:
2 cups (240 grams) all-purpose flour
1 teaspoon baking soda
1/2 teaspoon salt
2 cups (200 grams) halved cranberries, fresh or frozen
1/2 cup (57 grams) chopped walnuts
1 large egg
1/2 cup (197 grams) brown sugar, packed
1/2 cup (99 grams) granulated sugar
3/4 cup (170 grams) buttermilk
1/4 cup (60 grams) apple cider
1/3 cup (66 grams) vegetable oil
2 teaspoons vanilla extract
For the Glaze:
1 cup (113 grams) confectioners' sugar
2 tablespoons (30 grams) apple cider
Instructions
Preheat oven to 350 °F. Coat an 8.5 x 4.5-inch loaf pan with nonstick cooking spray or line with parchment paper.
Whisk together the flour, baking soda, salt, cranberries, and walnuts in a large bowl until combined. Set aside.
In a medium bowl, whisk together the egg, brown sugar, and granulated sugar until no lumps remain. Slowly whisk in buttermilk and apple cider, followed by the oil and vanilla. Pour the wet ingredients into the dry ingredients, stirring constantly, and gently whisk until all ingredients are combined and no lumps of dry flour remain.
Pour the batter into the prepared pan. Bake for 55 minutes, or until a tester comes out clean. Loosely tent the pan with foil after the first 30 minutes of baking; this will prevent the top of the bread from over-browning while the center bakes. After removing it from the oven, allow the bread to cool in the pan for 15 minutes before turning out to a wire rack to cool completely.
In a small bowl, whisk together the confectioners' sugar and apple cider. Drizzle the glaze over the cooled bread and allow the glaze to harden before slicing.
Notes
Don't overmix the batter - gently fold the wet and dry ingredients together.
After 30 minutes of baking, loosely cover the loaf pan with foil to prevent the top of the bread from getting too dark.
Make sure the bread is completely cool before glazing.
To keep the cranberry bread fresh, store it in an airtight container at room temperature for up to 4 days or freeze it for up to 3 months.
Recommended Products
As an Amazon Associate and member of other affiliate programs, I earn from qualifying purchases.
Nutrition Information:
Yield:

12
Serving Size:

1 slice
Amount Per Serving:
Calories:

286
Total Fat:

9g
Carbohydrates:

46g
Sugar:

27g
Protein:

4g