October 7, 2016
One Pot Pork Chile Verde
Pork tenderloin, simmered in delicious homemade roasted tomatillo salsa verde. Make your new favorite Mexican dish right in your own kitchen.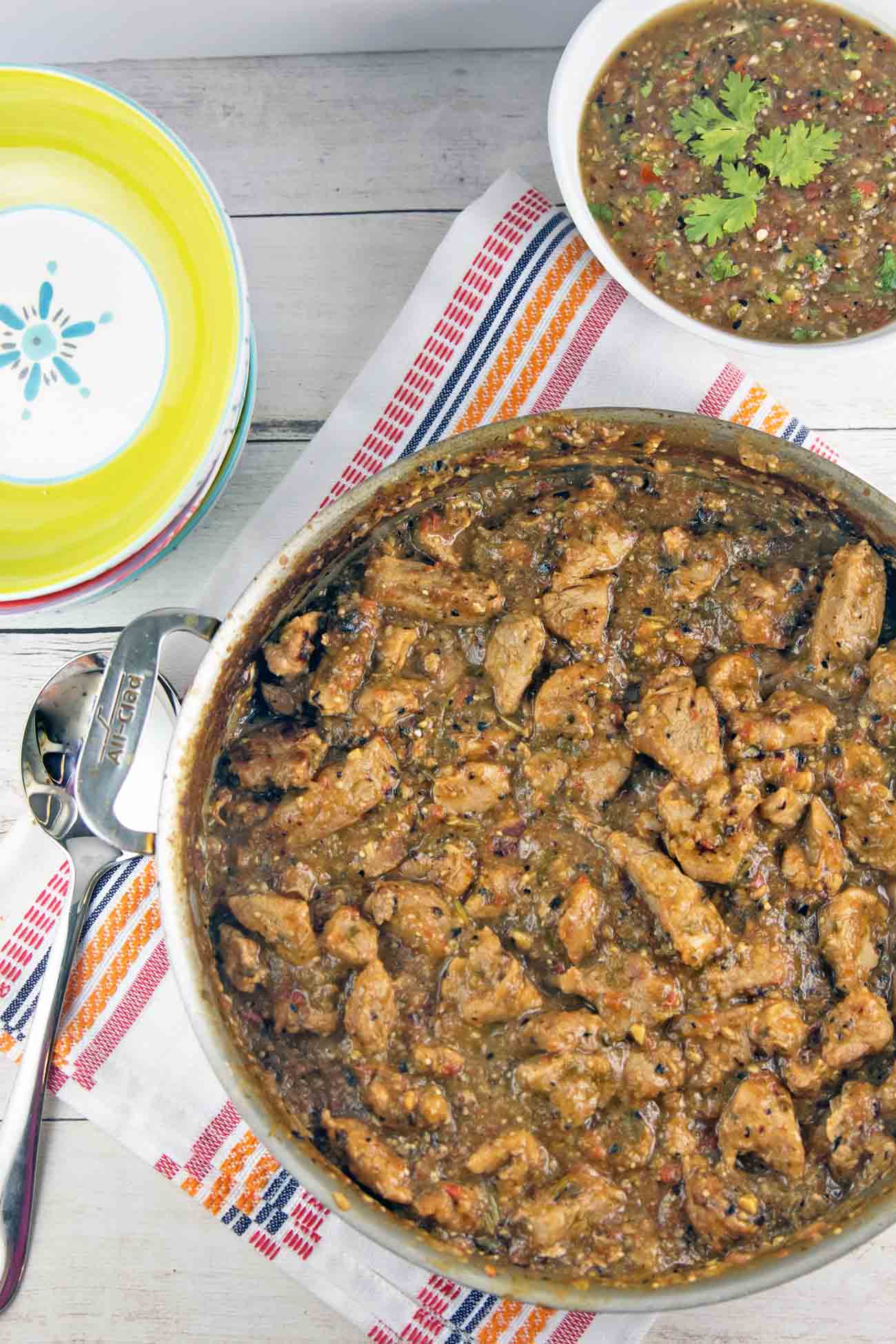 Do you remember the salsa verde-ish recipe I shared last month? Roasted tomatillos and cherry tomatoes, along with some garlic, onions, and jalapenos?
Well, in one short month, it's already one of the most popular posts from this year on Bunsen Burner Bakery. It's certainly for good reason – it's the perfect combination of sweet, spicy, and tangy and has become my new favorite salsa.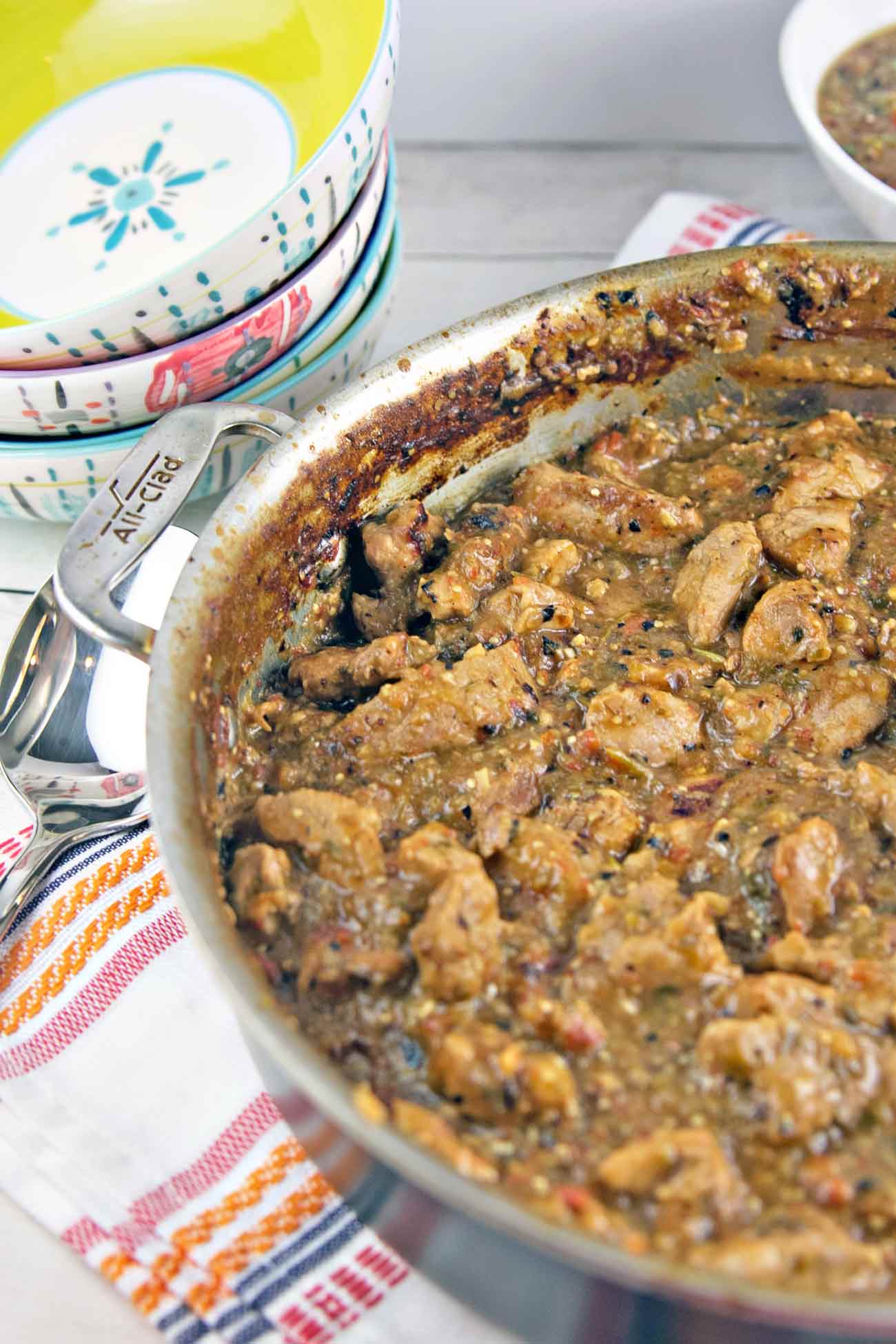 The first time I made it, I ate the entire batch with a spoon. That's right – with a spoon. I couldn't even wait long enough to go to the store for some tortilla chips. Must. Eat. Now.
Fortunately, I was able to show some self restraint for future batches, and today I'm going to share my favorite way to use the salsa verde. Just in case you made a big batch and are looking for something to do with it, other than eating with a spoon. Just in case.
I still recommend the spoon, though.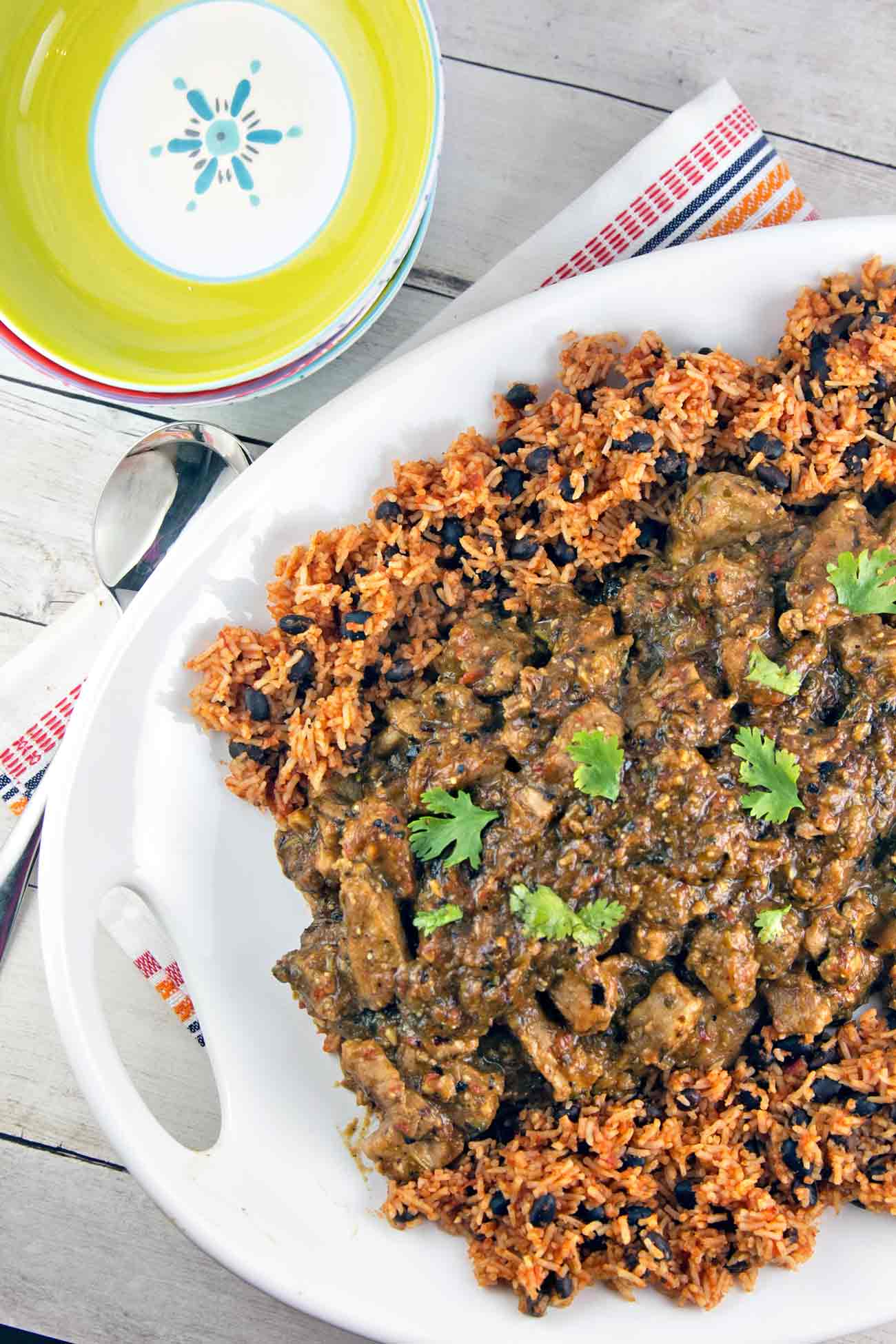 Pork Chile Verde. Or pork chile verde rojizo, as this salsa is really more of a reddish-green color, thanks to the tomatoes.
It's really as simple as it sounds — pork tenderloin seared with a little cornstarch and cumin, smothered in roasted tomatillo salsa verde. Seeing as how I ate the first batch of salsa verde with a spoon, you can see why pork chile verde — literally smothered in salsa verde – is basically the most delicious thing I've had in a while.
It's a slightly more socially acceptable way to consume salsa than basically drinking it. "Come on over, we're having a glass of salsa verde for dinner!" is a weird invitation, right? But "Want to come over for pork chile verde?" So much better!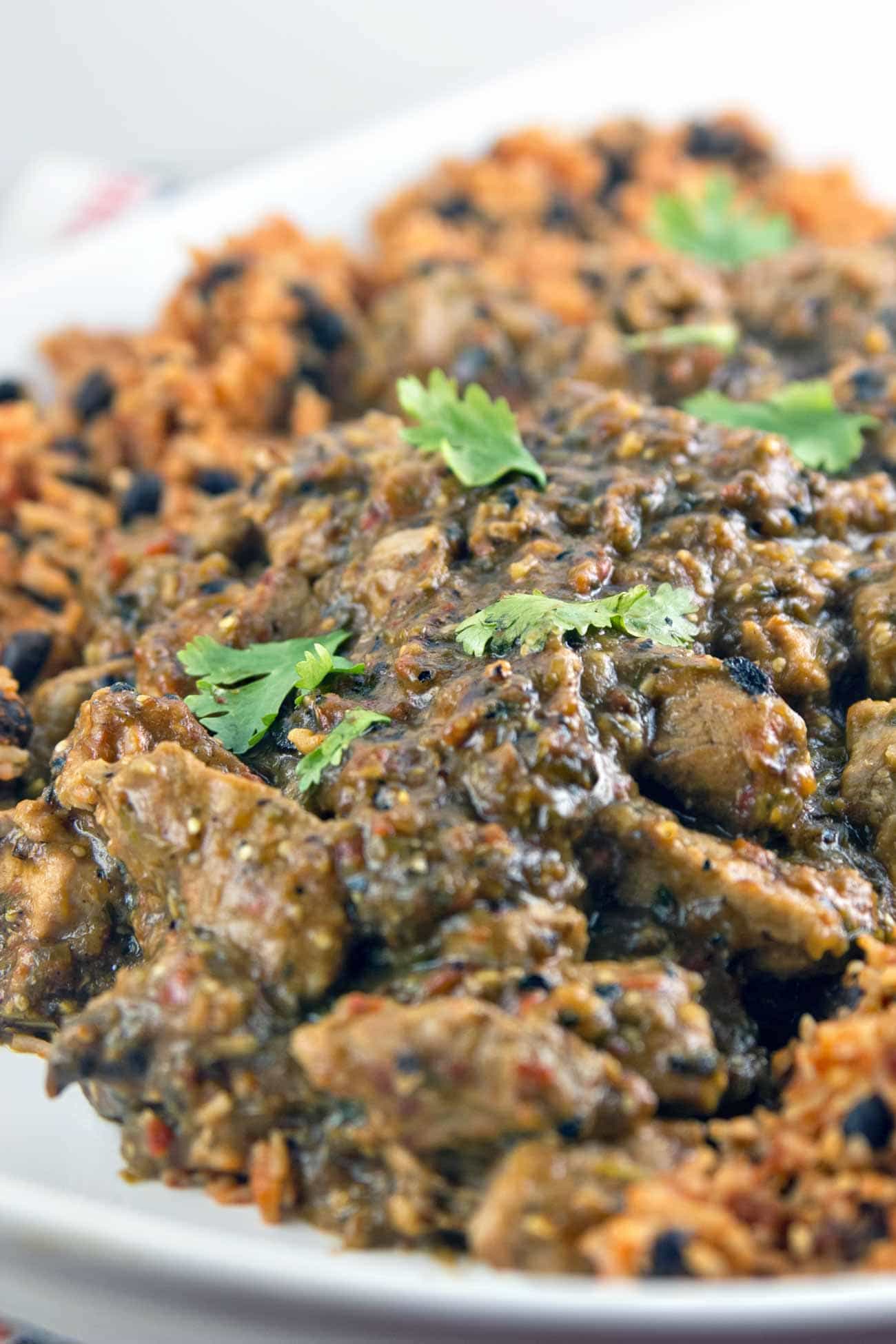 Speaking of inviting friends over, this is a great dinner party dish. Although we are not a gluten free household (hi, have you seen my baking recipes?), this is perfect to serve to gluten-intolerant friends.
I used to toss meat in flour before searing until I once ran out of flour. I grabbed cornstarch instead, and it worked so well I do it by default now. It's such an easy way to eliminate gluten from otherwise gluten-free meat dishes.
This pork chile verde is dairy free – sometimes a challenge when it comes to cheese-heavy Mexican food. It's also one of those amazing dishes that somehow tastes even better after it sits.
Don't get me wrong, it's still delicious fresh. But you can also make this ahead of time and eliminate the pre-dinner party rush. (Also perfect for busy weeknights, even if your 'dinner party' only consists of you, your husband, and small toddler who gleefully shoves fistfuls of pork chile verde into his mouth with his fingers.)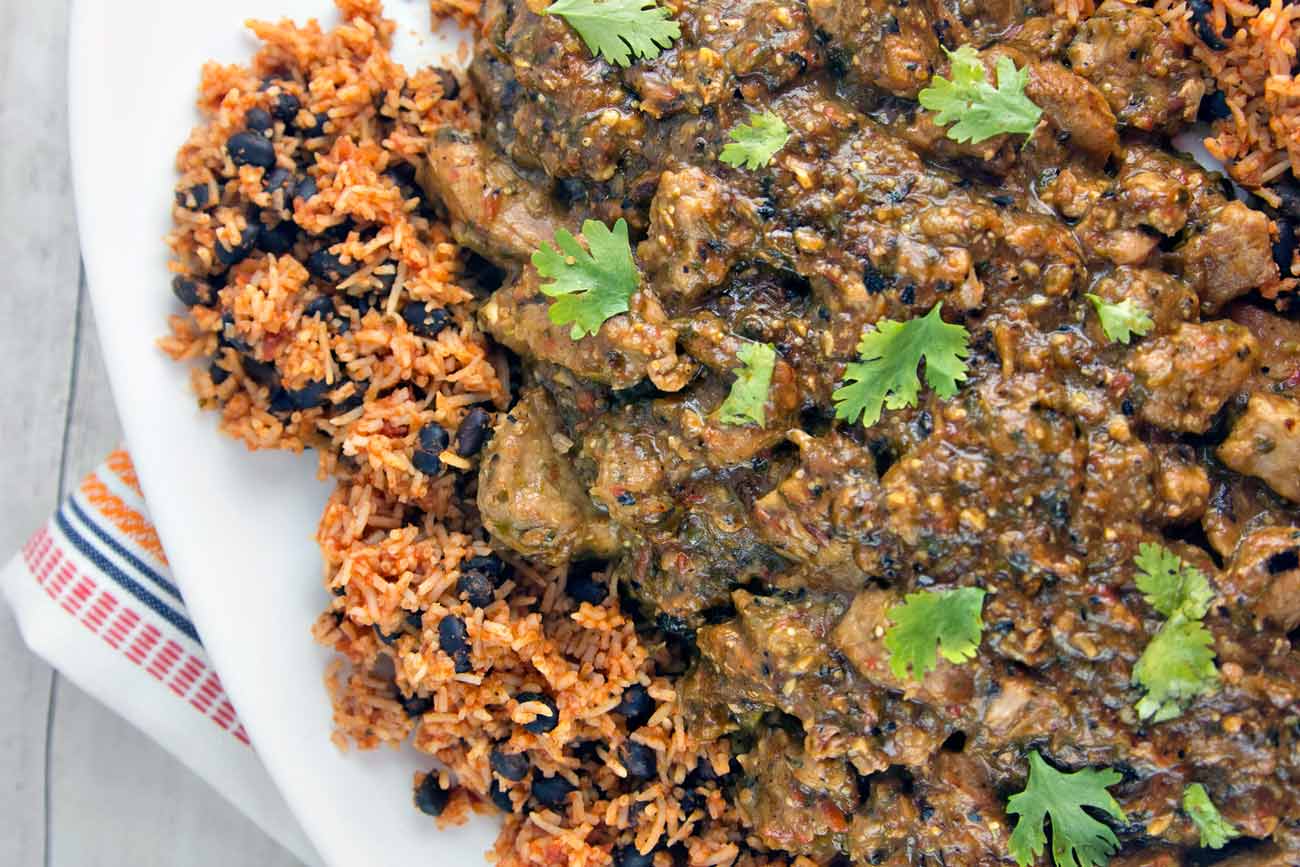 Serve it with some Mexican-style rice and beans and some cumin-dusted roasted broccoli. Or maybe some sautéed corn and poblano. A side of homemade refried beans would be delicious. A big bowl of guacamole and chips? Definitely guacamole and chips.
Whatever sides you choose, you can't go wrong with this simple homemade pork chile verde. So long, neighborhood Mexican restaurant. Make your new favorite Mexican dish right in your own kitchen.
More Pork Recipes:
Pork Chile Verde
Pork tenderloin, simmered in delicious homemade roasted tomatillo salsa verde.  Make your new favorite Mexican dish right in your own kitchen.
Ingredients:
2 – 2.5 pounds pork tenderloin, cubed
3 tablespoons cornstarch
1 tablespoon kosher salt
1 teaspoon cumin
1 tablespoon vegetable oil
1/4 cup chicken stock
1 lime, cut into wedges
serving suggestions: rice, black beans, guacamole, fresh cilantro
Directions:
Toss the pork cubes with the cornstarch (or flour) and salt until thoroughly covered.
Heat oil in a large saute pan or Dutch oven over medium-high heat until sizzling.  Working in batches, add the pork to the pan and cook until browned, 1-2 minutes per side.  Remove once browned and set aside.
Add the chicken stock to the pan to de-glaze any browned bits.  Pour the salsa verde into the pan and return the cubes of pork tenderloin.  Stir to combine.  Bring the salsa verde to a slow boil, then reduce heat and simmer for an additional 15-20 minutes, until thick and heated through.  Squeeze lime wedges over chile verde before serving.