March 24, 2015
Chocolate Chip Cinnamon Scones
These chocolate chip cinnamon scones are soft and light inside, perfectly crunchy outside.  Round scones dotted with chocolate chips and a light cinnamon flavor.
My weekday morning routine is pretty standard and boring: wake up, walk dog, go to the gym, head to work.  In between the gym and work, I stop by Au Bon Pain and get a medium oatmeal for breakfast.  I could bring in my own oatmeal, but stopping at ABP means I also get a giant cup of ice. (Fact: I hate drinking room temperature water, but we have no potable ice available in the labs).  Of course, the oatmeal at ABP is right next to the bakery display cases, which means every morning I do a little mental debate between oatmeal and oh, say, a bagel with cream cheese, a croissant, AND a scone (because why just have one?).  Fortunately, I always make the better decision, but after eyeing the scones up for the past 8 months, I really wanted to bake some of my own.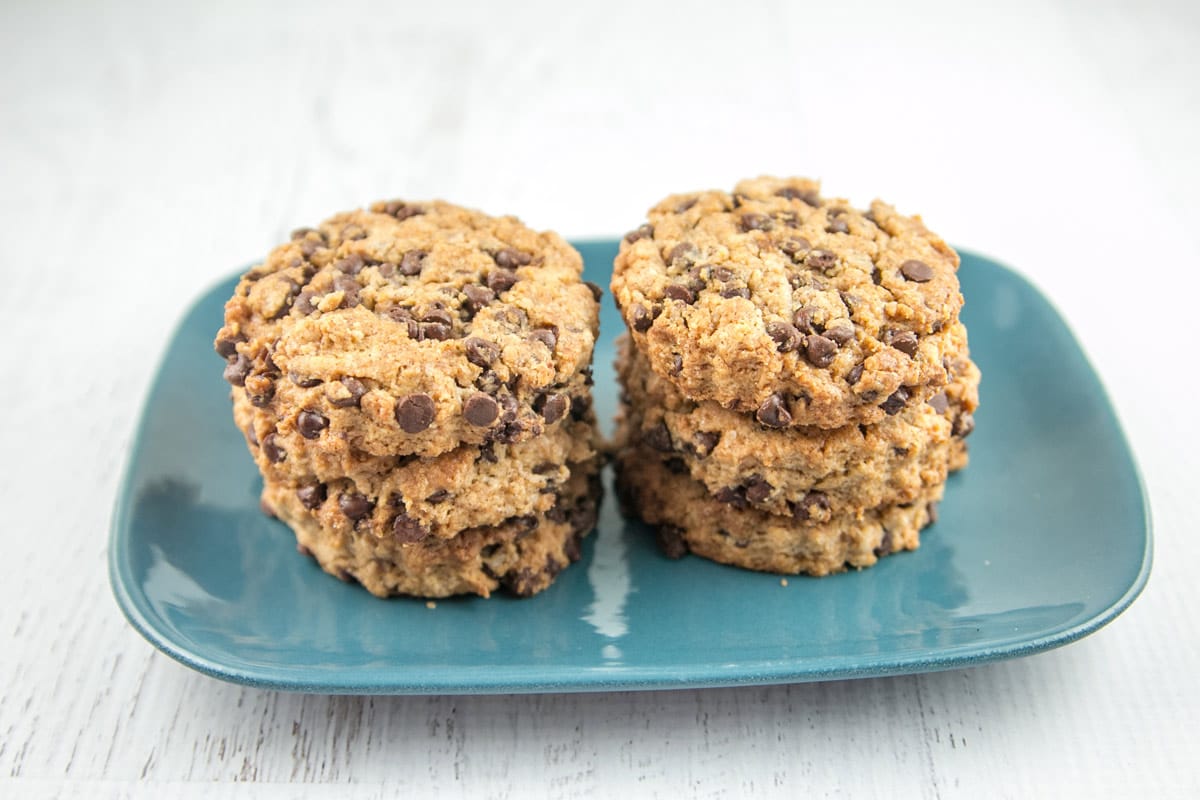 Unfortunately, I didn't want to be left with an entire batch of scones to eat by myself.  (I have zero willpower when it comes to baked goods.  And the last thing I want to do is spend MORE time at the gym, which I already hate.)   But then my fellow neighborhood resident @Dr24hours went to Spain and asked if I'd bring in his mail.  The weekend before his return, we had a particularly snowy day and I spent the afternoon baking a batch of chocolate chip cinnamon scones to leave in his kitchen to welcome him home.  Yeah, I'm a pretty awesome neighbor – what can I say?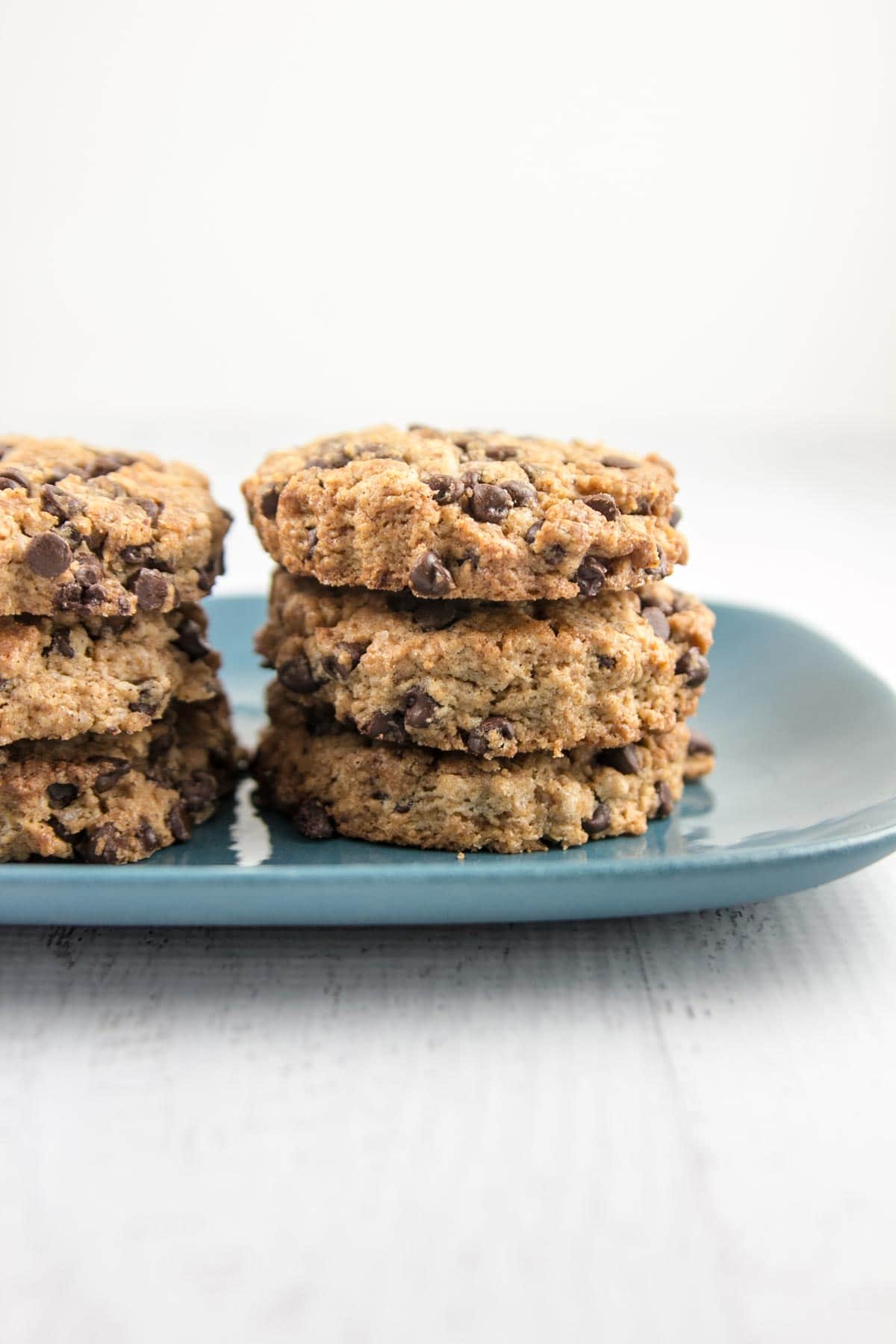 Most scone recipes call for forming a flat-ish disc of dough and slicing into 8 wedges, like a pie.  I prefer to very gently roll my dough out and cut with a biscuit cutter or use an ice cream scoop.  Why?  It's easier to portion out the dough – instead of 8 wedges, I was able to get 20 round scones.  This makes it easy to share while still having a taste (or two) yourself.  I'd feel awkward dropping off six wedges that fit perfectly into a circle with two pieces missing, but never think twice about leaving someone a dozen circular scones!  These scones are still light but have just the right amount of crunch on the outside.  Definitely don't overbake them – my dog distracted me for one of the batches and they came out a little too crispy for my liking.  We kept a few at home and found that they were still soft three to four days later.  Go ahead and bake a batch of chocolate chip cinnamon scones at night and enjoy them for breakfast the next morning!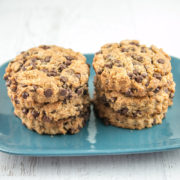 Chocolate Chip Cinnamon Scones
Soft and light inside, perfectly crunchy outside.
Ingredients:
2 cups all-purpose flour
1/2 cup dark brown sugar, packed
2 1/2 teaspoons baking powder
1 1/2 tablespoons ground cinnamon
1/2 teaspoon salt
8 tablespoons unsalted butter, frozen
1/2 cup heavy cream
1 large egg
1 tablespoon vanilla extract
1 cup miniature chocolate chips
Directions:
Preheat oven to 400F.  Line a baking sheet with parchment paper or a silicone baking mat.
Whisk together the flour, brown sugar, baking powder, cinnamon, and salt in a large bowl.  Use a box grater or microplane to grate the frozen butter into the bowl and toss to combine.  Using your fingers or a pastry cutter, work the butter into the flour mixture until it resembles coarse sand.
Whisk together the cream, egg, and vanilla in a small bowl.  Add the liquid ingredients to the flour mixture and stir together with a rubber spatula just until everything appears moistened – do not overmix.  Gently fold in the chocolate chips.
Work the dough into a ball with floured hands and place between two pieces of wax paper.  Very, very gently, roll the dough out with a rolling pin, to a thickness of about an inch and cut with a 2 to 2.5-inch biscuit cutter.  Alternatively, scoop the dough with an ice cream scoop.  Place the cut or scooped dough onto the baking sheet.
Bake for 20 minutes, or until lightly golden but cooked through (don't overbake!).  Remove from the oven and cool on the sheet for 5 minutes before transferring to a wire rack to cool thoroughly.  Leftover scones will keep for 3 to 4 days at room temperature, or frozen for several months.