April 16, 2021
Carrot Cake Cheesecake Cake
What's better than a perfectly moist carrot cake? A carrot cake – with an entire layer of cheesecake in the middle! This Carrot Cake Cheesecake Cake combines two desserts into a show-stopping birthday, holiday, or any-day cake!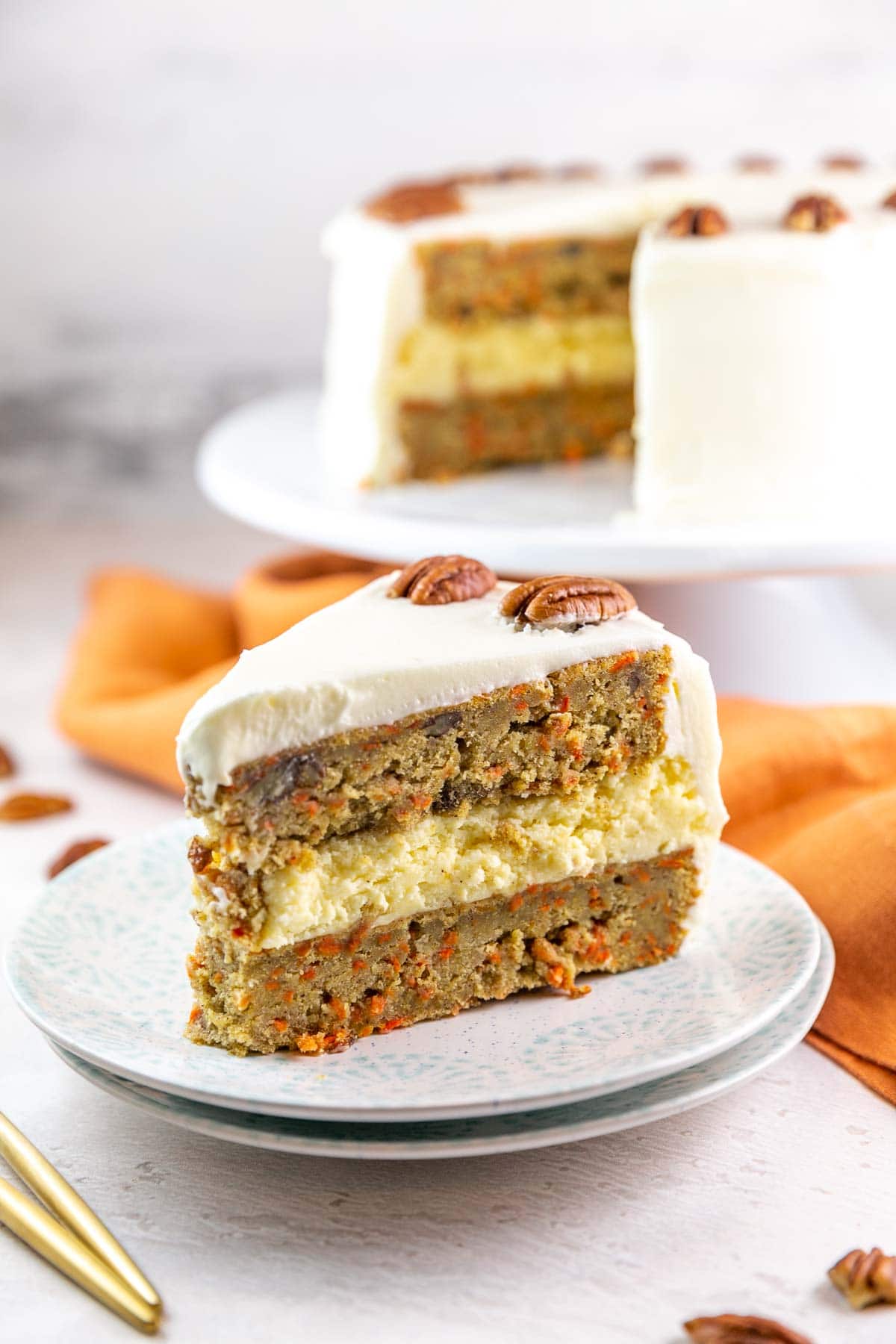 It's time for another 2021 Layer Cake of the Month recipe… and this time, we're taking some old favorites and combining them in a whole new way.
Do you love cheesecake? Do you love carrot cake? If you answered yes, then you are going to love this carrot cake cheesecake cake: two layers of deliciously moist carrot cake with an entire layer of cheesecake in the middle!
This is the perfect birthday cake for the carrot cake lovers in your life, especially if you're looking to switch things up. (My mother-in-law requests a carrot cake for her birthday every year, so we've rotated between the carrot cake layer cake, carrot cake bundt cake, and now this carrot cake cheesecake cake!)
You've seen both these recipes before: the carrot cake layer comes from my carrot cake with lemon cinnamon cream cheese frosting recipe (but baked in a 9-inch pan instead of 8-inches, so the layers are a little thinner) and the cheesecake recipe is the same as the base layer of the caramel apple cheesecake.
Stack them together, cover them with cream cheese frosting, and you have the perfect hybrid cake: a cheesecake layer cake!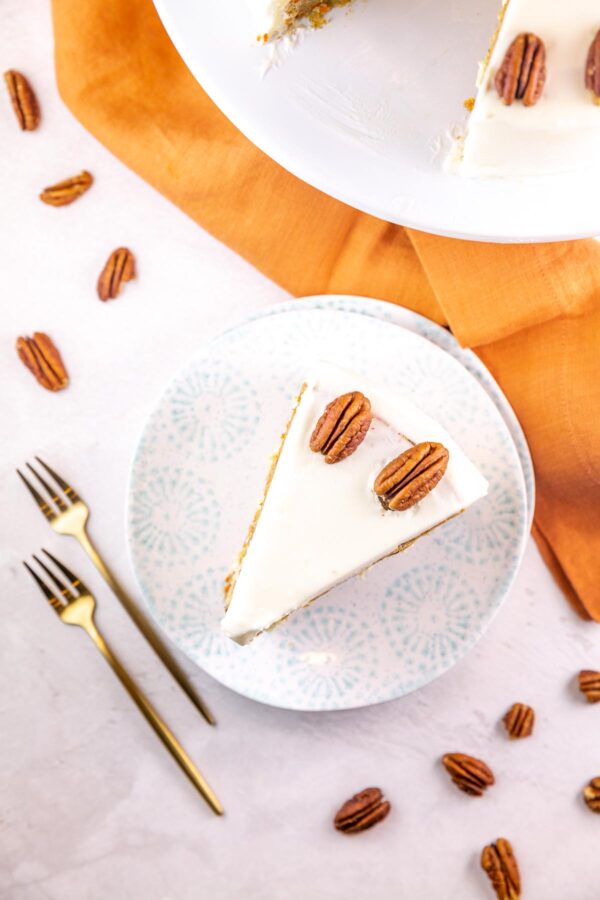 The Best Carrot Cake
This is my most favorite carrot cake recipe, which means it includes cinnamon, LOTS of freshly grated carrots, light on the nuts, and absolutely no pineapple whatsoever.
But the most important part of this cake is the texture. While I often love light, fluffy, sky-high cakes… I prefer carrot cakes to be denser.
Cakes that require refrigeration, like this carrot cake cheesecake cake, hold up better and don't dehydrate (i.e., get stale) as quickly if they are dense.
Plus! We need this cake to support an entire layer of cheesecake in the middle, without sinking. This carrot cake is definitely up to the task.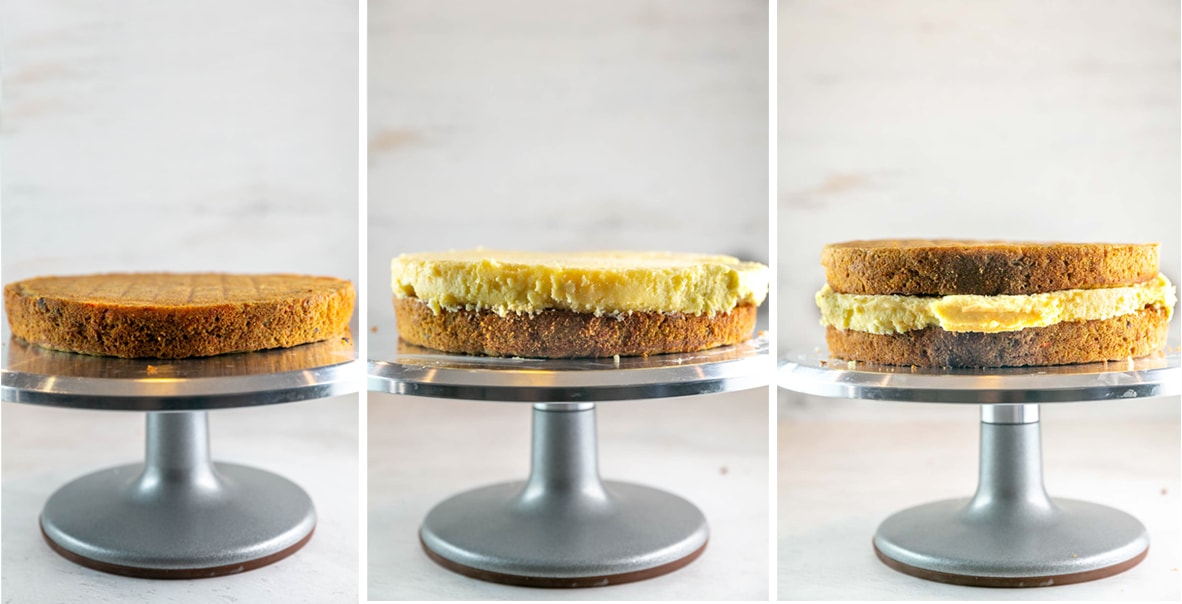 Silky Smooth Cheesecake
Cheesecakes are actually quite simple to make, as long as you follow two easy rules: make sure your ingredients are at room temperature so they mix thoroughly, and don't overbake the cheesecake!
For an extra silky smooth texture, this cheesecake includes sour cream. Why is this important? It's time for my favorite subject.. kitchen chemistry!
Kitchen Chemistry

A cheesecake made with just cream cheese, egg, and sugar tends to be dry. Adding sour cream contributes moisture, which is essential for the perfectly smooth texture.
Because this cheesecake is going on top of a layer of carrot cake, we don't need a crust. Instead, line the bottom of your springform pan with parchment paper before baking.
When the cheesecake is done, remove the sides of the pan and flip the cheesecake upside-down on top of a layer of carrot cake.
Easy Cream Cheese Frosting
What kind of carrot cake-based cake would this be without cream cheese frosting?
This comes together quickly with a mixer, but once again, the key here is using room-temperature ingredients to ensure everything combines and whips well!
Since we're already including a layer of cheesecake in the middle, I only used the cream cheese frosting on the sides and top of the cake.
But if you really love cream cheese frosting, you can absolutely spread some in between the cake and cheesecake layers!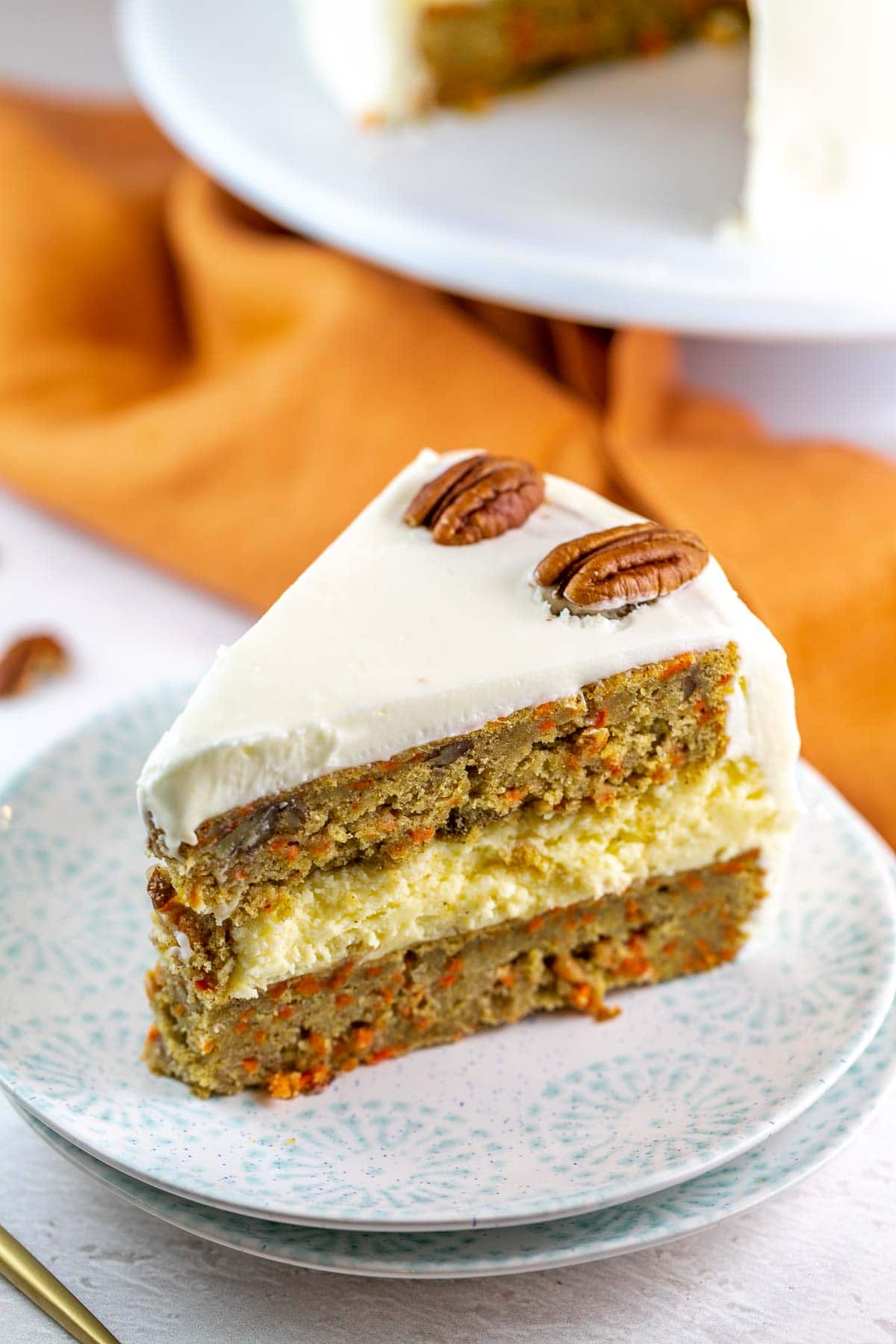 Frequently Asked Questions about Carrot Cake Cheesecake Cake
How do you make a carrot cake extra moist?
Use freshly grated carrots, not the pre-shredded carrots in a bag. Carrots start to dehydrate after shredding, so shredded immediately before use packs in the most moisture.
Can I use boxed mix instead of homemade carrot cake?
Absolutely – bake according to the box directions in a 9-inch pan.
How do you keep the carrot cake layers flat while baking?
Use Bake Even strips around your cake pans – it keeps the cakes perfectly flat so you don't have to level them!
How should this carrot cake cheesecake cake be stored?
Between the cheesecake layer and cream cheese frosting, this cake requires refrigeration for storage.
Can this cake be made ahead of time?
Yes! All components can be made ahead of time and combined or left separate. The carrot cake and cheesecake layers can be baked a day ahead of time, or frozen for up to 3 months. The fully assembled cake can also be frozen for up to 3 months.
More Cheesecake Recipes: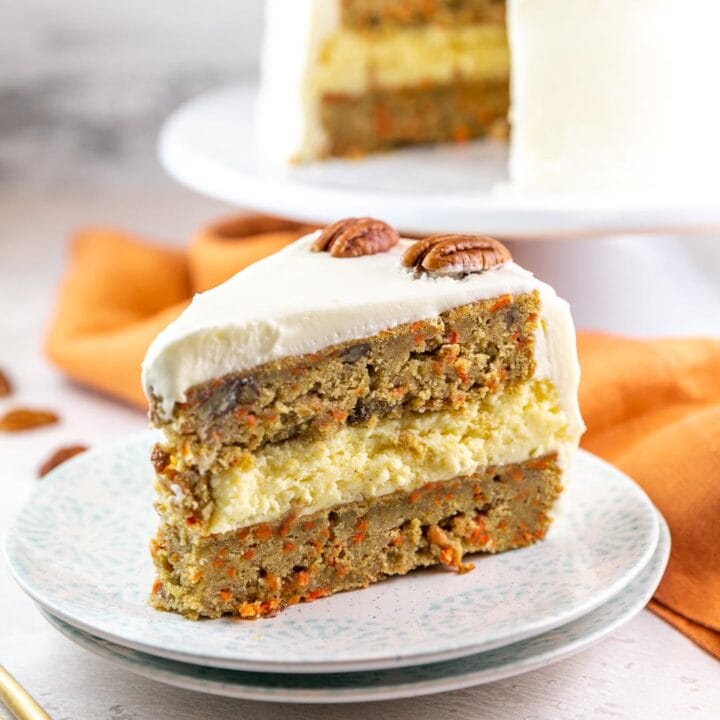 Carrot Cake Cheesecake Cake
Total Time:
4 hours
20 minutes
What's better than a perfectly moist carrot cake? A carrot cake - with an entire layer of cheesecake in the middle!
Ingredients
For the Cheesecake:
20 ounces (567.5 grams) cream cheese, room temperature
3/4 cup (148.5 grams) granulated sugar
1/4 teaspoon kosher salt
2 teaspoons vanilla extract
2/3 cup (151.3 grams) sour cream, room temperature
2 large eggs, room temperature
For the Carrot Cake:
3 cups (360 grams) all purpose flour
1 tablespoon baking powder
1/2 teaspoon salt
2 tablespoons cinnamon
1 cup (226 grams) butter, room temperature
1 1/2 cup (297 grams) granulated sugar
4 large eggs, room temperature
2 teaspoons vanilla extract
1 1/4 cup (283.8 grams) milk
3 cups (340 grams) packed freshly-grated carrots
1/2 cup (57 grams) chopped pecans
For the Frosting:
1/2 cup (113 grams) butter
16 ounces (454 grams) cream cheese
5 cups (567.5 grams) confectioner sugar
2 teaspoons vanilla extract
pinch of salt
extra pecans, for decorating
Instructions
Make the cheesecake. Preheat the oven 325 °F. Line a 9-inch springform pan with parchment paper and spray lightly with nonstick cooking spray. Using an electric mixer, combine the cream cheese, sugar, and salt, beating just until smooth. Add in the vanilla extract and sour cream, continuing to mix just until smooth. Add in both eggs, mix to combine. Scrape the filling into the prepared pan and bake cheesecake until edges are set but center is still wobbly, 28-30 minutes, or until cheesecake reaches an internal temperature of 150 °F. Turn off the oven and open the oven door; cool in oven for 30 minutes, then transfer to a wire rack and cool completely. Once cool, refrigerate. Cheesecake can be made up to 2 days in advance and stored in the refrigerator.
Make the carrot cake. Preheat the oven to 350° F. Line the bottoms of two 9-inch round cake pans with parchment paper, then butter and flour the pans (alternatively: use the same springform pan for the cheesecake, baking the layers separately). In a medium bowl, combine the flour, baking powder, salt, and cinnamon. Whisk together to blend. In the bowl of an electric mixer, combine the butter and sugar. Beat until light and fluffy, 3 to 4 minutes. Mix in the eggs one at a time, followed by the vanilla. With the mixer on low speed, add half the dry ingredients, all the milk, and the rest of the dry ingredients. Beat after each addition until just incorporated. Mix in carrots and pecans by hand. Divide the batter evenly between the two pans. Bake until a toothpick inserted in the center of the cake comes out clean, 23-25 minutes. Transfer the pans to a wire rack and cool for 10 minutes. Invert cakes onto the rack, peel off the parchment, and cool completely.
Make the frosting. Beat together the butter and cream cheese in the bowl of an electric mixer until smooth. Add in the vanilla extract, followed by the confectioners sugar, half a cup at a time. Once all sugar has been incorporated, turn the mixer to high and beat at full speed for 30 seconds. If the frosting is too stiff, add one to two tablespoons of milk and beat again.
Assemble the cake. Level the carrot cakes if necessary. Place one of the carrot cake layers on a plate. Top with the refrigerated cheesecake, then place the final layer of carrot cake on top. Frost the sides and top of the cake and decorate with additional pecans. Refrigerate the cake.
Notes
The carrot cake is best when made with freshly shredded carrots.
For an extra creamy cake, make an additional half batch of the cream cheese frosting and frost between the layers of carrot cake and cheesecake.
The cheesecake and carrot cake layers can be made ahead of time and frozen, or the entire cake can be assembled and frozen.

Carrot cake cheesecake can be stored in the refrigerator for up to 4 days. To freeze leftover slices, place slices on a cookie sheet in the freezer. Once frozen, wrap in two layers of plastic wrap and a layer of aluminum foil and store in the freezer. To thaw, remove the aluminum foil and thaw in the refrigerator before removing plastic wrap.
A Bunsen Burner Bakery Original Protocol
Recommended Products
As an Amazon Associate and member of other affiliate programs, I earn from qualifying purchases.