April 2, 2015
Flourless Chocolate Cake with Chocolate Ganache
A rich, mix-by-hand, one-bowl Flourless Chocolate Cake topped with silky smooth ganache — perfect for Passover, Valentine's Day, a gluten-free birthday cake, or just because it's a Tuesday.  Who knew something so easy and simple could be so delicious?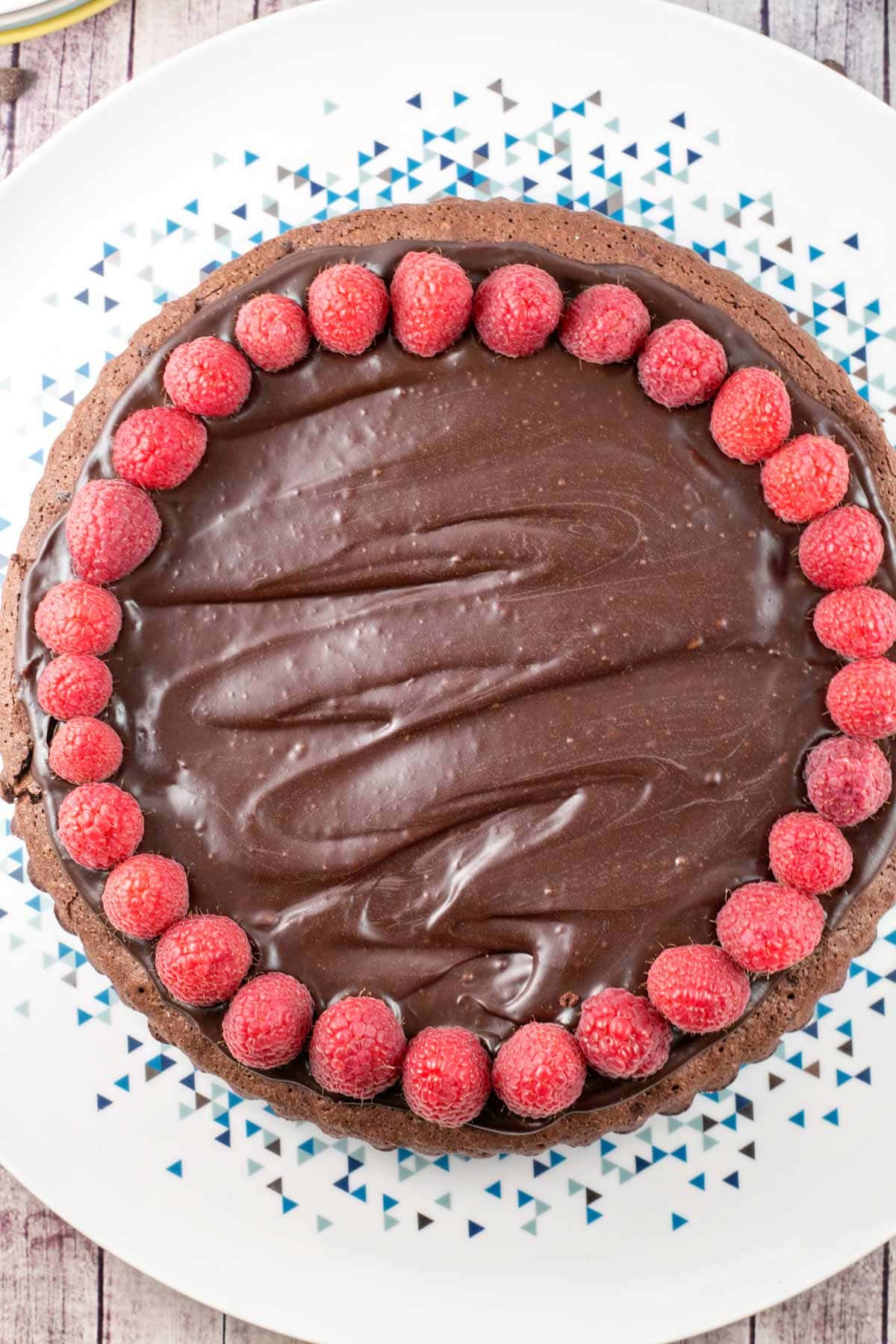 (This post may contain affiliate links.  If you make a purchase through one, I receive a small commission.  For more information, please refer to my privacy policy.)
Passover is coming up, which means it's time to get out all our favorite grain-free desserts.  This flourless chocolate cake should top your list!  It's This oh-so-rich, decadently fudgy, and topped with a layer of bittersweet chocolate ganache.
But! Even though I'll always associate flourless cakes with Passover, this is TRULY a year-round cake. If you love chocolate, you will love this anytime and every time!
It comes together so quickly, is made with all pantry staple ingredients, and despite how simple it is to make, it's elegant and delicious. You'll keep this on rotation for all the chocolate lovers in your life.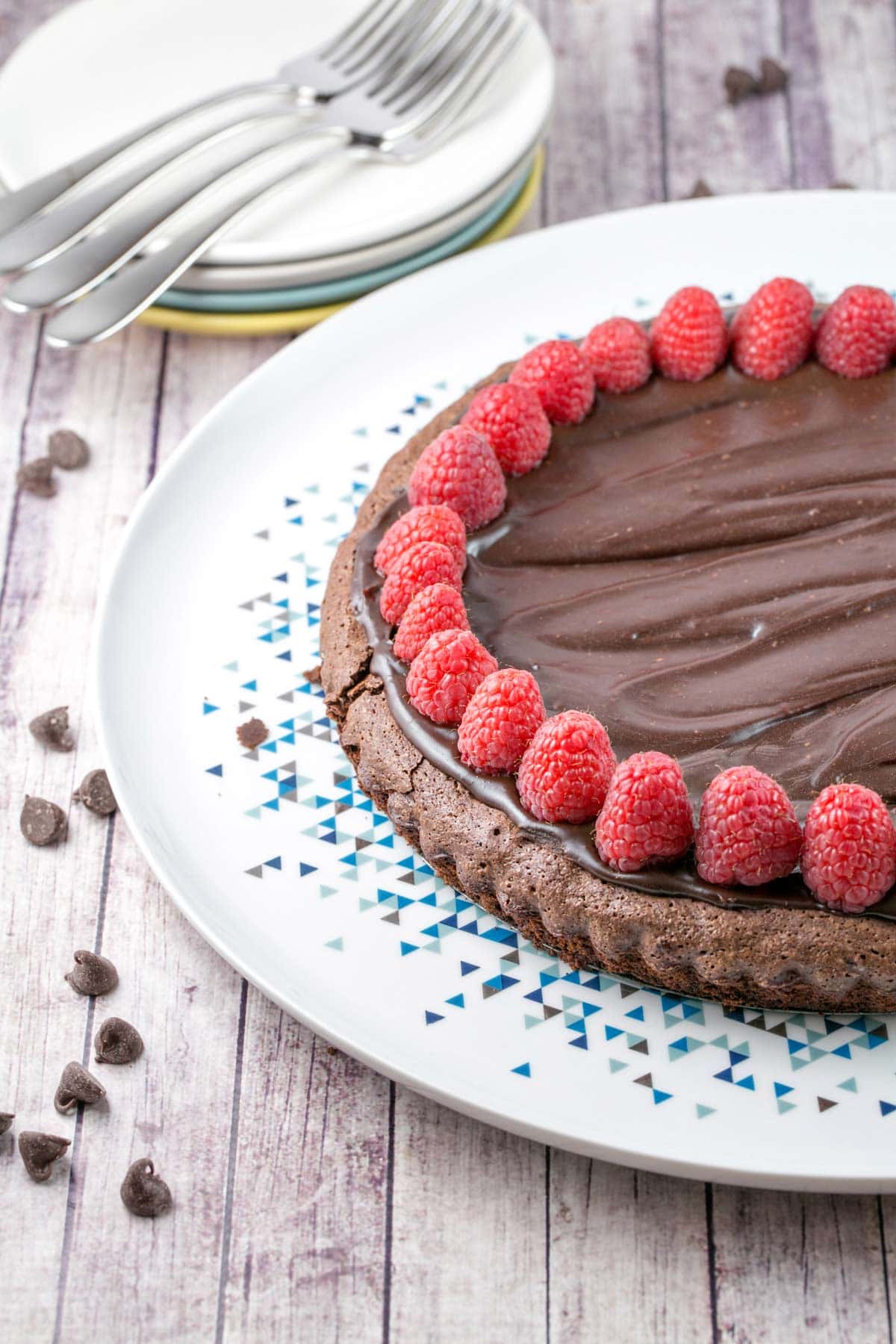 What is a Flourless Chocolate Cake?
The ingredient list might sound funny if you've never made a flourless cake.  Chocolate, butter, sugar, eggs, and cocoa powder.  That's it.  The cocoa powder provides just enough structure to form a sliceable cake.
But without flour, the eggs, butter, and chocolate combine into this amazingly dense, smooth cake – with a texture almost like a cheesecake.
How does a flourless chocolate cake work, anyway? It's time for my favorite subject… kitchen chemistry!
Kitchen Chemistry

The key ingredient responsible for the structure of a flourless chocolate cake is cocoa powder. While it doesn't include gluten, cocoa powder contains both starch and fiber, which are able to absorb moisture and hold the structure of the cake. Without the gluten or any leavening agents, however, the cake does not rise and the resulting dense texture remains smooth and rich.
Is Flourless Chocolate Cake Gluten Free?
Yes! Because this cake is flourless, it's also naturally gluten-free — no alternative flour swaps necessary.  Of course, you'll want to make sure your ingredients are gluten-free.
Everything in this is naturally gluten-free, but the cocoa powder may be processed in the presence of gluten-containing foods.  If you're making this cake for someone with gluten sensitivities, look for ingredients that are also certified gluten-free.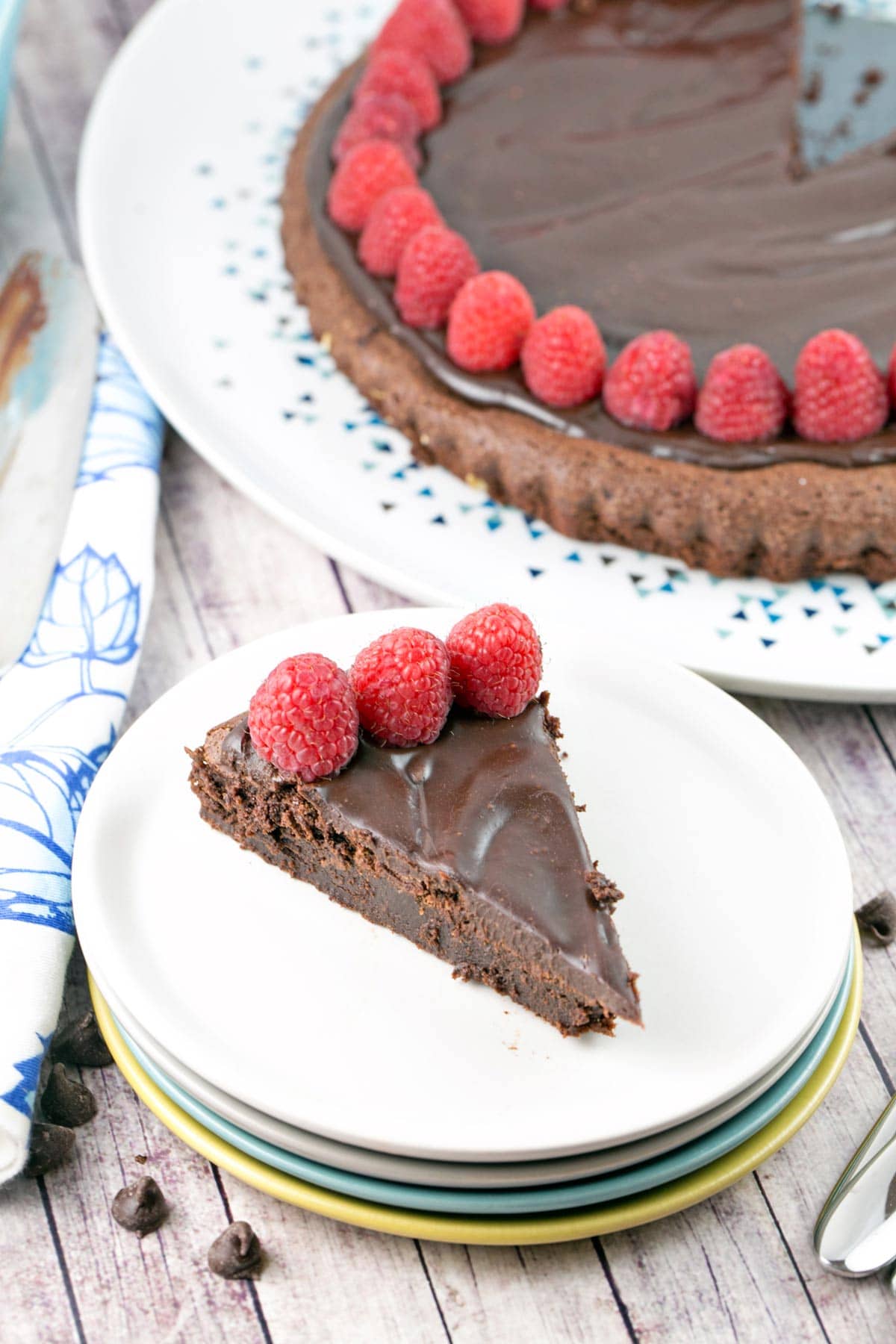 Better Ingredients = Better Cake
Have you ever had a flourless chocolate cake and thought it was a little… bland? Dry and boring? Because there are so few ingredients, quality is key here.
Use high-quality chocolate and butter – it's worth splurging for this!
Because I'm often asked about what specific brands to use — I like Giuttard, Scharffen Berger, and Ghirardelli for baking chocolate.  For butter, I always bake with unsalted and generally prefer baking with American-style (80% fat) butter over European (85% fat).  I generally navigate to Land-o-Lakes because I find it very consistent and baked goods turn out the same every time.
As far as cocoa powder, you can technically use either naturally unsweetened or dutched cocoa powder.  Either will work since we are not adding any leavening agents.  Buuuut… for the best, fudgiest flourless chocolate cake, use dutched cocoa powder with a higher fat content.  Dutched cocoa powder will produce a richer, more chocolatey flavor, and the higher fat content will yield a perfectly smooth texture.  My personal favorite for this is Droste cocoa powder.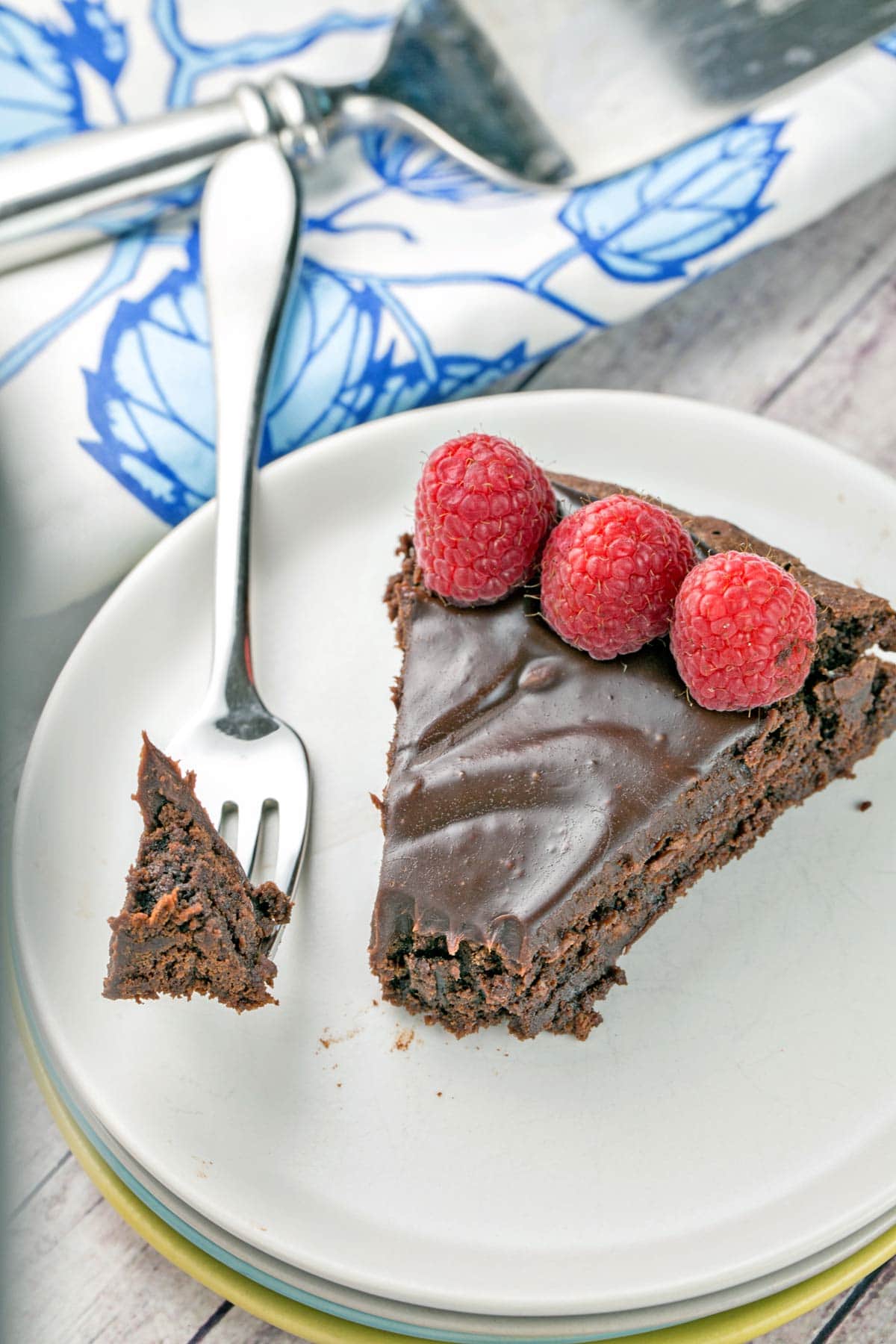 Tips and Tricks for the Best Flourless Chocolate Cake
Use a pan with removable sides for perfect presentation — I like to use a 9-inch springform pan or removable bottom tart pan.
Use high-quality Dutch-processed cocoa powder (like Droste) and baking chocolate (like Guittard, Scharffen Berger, or Ghirardelli)
Use an instant-read thermometer to determine when the cake is done.  Take out the guesswork and remove the cake from the oven when the center hits 200 °F.
Let the cake fully cool before adding the ganache, and let the ganache solidify for a few hours before serving.
Looking for an easy make-ahead dessert?  This cake can be made ahead and stored in the freezer for up to 3 months!
If you are storing the cake in the refrigerator to help the ganache set, bring the cake to room temperature for 30 minutes before serving.
This flourless chocolate cake is too good, and too easy, to save for special occasions. Mix it by hand in one bowl, bake it in a tart plate, springform pan, or cake pan, smooth on a layer of ganache, and you have yourself one decadent treat.
Top with berries or toasted almonds, or serve with whipped cream or ice cream. You really can't go wrong!
More Rich Chocolate Desserts:
Flourless Chocolate Cake with Chocolate Ganache
Total Time:
3 hours
40 minutes
A rich, flourless cake, perfect for Passover, a gluten-free birthday cake, or just because it's a Tuesday.
Ingredients
For the cake:
1 cup (175 g) chopped high quality bittersweet or semi-sweet baking chocolate
1/2 cup (113 g) unsalted butter
3/4 cup (150 g) granulated sugar
1/4 teaspoon salt
1 tablespoon vanilla extract
3 large eggs
1/2 cup (43 g) Dutch processed cocoa powder
For the ganache:
1 cup (175 g) high quality bittersweet chocolate chips
1/2 cup heavy cream
optional: whipped cream, berries, or sliced almonds sprinkled on top
Instructions
Preheat oven to 375 °F. Lightly grease a 9" removable bottom tart pan, springform pan, or cake pan. If using a cake pan, cut a piece of parchment paper to fit, place it in the bottom of the pan, and grease the parchment paper.
Combine the semisweet chocolate and butter in a large microwave-safe bowl. Heat at 50% power in 1-minute increments until the butter is melted and the chocolate is soft, whisking between each microwave session. Whisk until the chocolate completely melts. Whisk in the sugar, salt, and vanilla. Add in the eggs, whisking until smooth, followed by the cocoa powder. Mix just to combine.
Pour the batter into the prepared pan and bake for 20 minutes. The top should be just set, and an instant-read thermometer should register at least 200 °F when inserted into the center of the cake.
Remove the cake from the oven and cool in the pan for 5 minutes. Loosen the edges with a knife and remove the sides (tart or springform pan) or invert onto a wire rack (cake pan) to fully cool.
Combine the bittersweet chocolate and cream in a microwave-safe bowl and heat until the cream is hot, but not yet simmering. Remove from the microwave and stir with a spoon until the chocolate melts and the mixture is completely smooth. Spoon the ganache over the cake, spreading it to almost the edges with an offset spatula. Add berries or sprinkle almonds on the ganache before it sets. Allow the ganache to fully cool before serving.
Notes
For easier removal, use a 9-inch springform pan or removable bottom tart pan.
High-quality cocoa powder (like Droste) and baking chocolate (like Guittard, Scharffen Berger, or Ghirardelli) make a huge difference in the final taste.
To ensure the cake is properly baked, remove the cake from the oven when the center hits 200 °F.

The cake can be kept at room temperature for two days, in the refrigerator for up to 7 days, or in the freezer for up to three months. To freeze, wrap the cake tightly in plastic wrap and aluminum foil. Bring up to room temperature before slicing.
Recommended Products
As an Amazon Associate and member of other affiliate programs, I earn from qualifying purchases.
Nutrition Information:
Yield:

12
Serving Size:

1 slice
Amount Per Serving:
Calories:

310
Total Fat:

19.8g
Carbohydrates:

30.2g
Protein:

4.4g