April 2, 2015
Flourless Chocolate Ganache Cake
A rich, one bowl flourless chocolate cake topped with silky ganache — perfect for Passover, Valentine's Day, a gluten-free birthday cake, or just because it's a Tuesday.
In a recent post, I mentioned that we were hosting Seder this year and asked if anyone had suggestions for new and exciting desserts.
Lynn offered up this amazing-sounding almond pear blueberry cake, while Mae suggested a fruit crumble as something "a little different from the usual Passover dessert."
These are both things that I would absolutely love… and fairly similar to things that I make every year.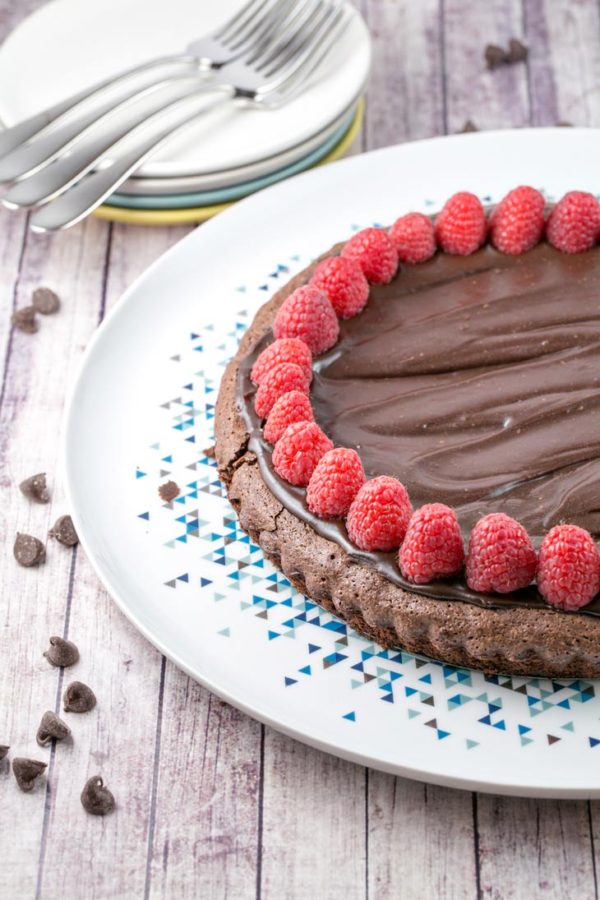 I'll always take a fruit-based dessert over chocolate (always always always), so fruit cakes and crumbles make annual appearances at my Passover table.
This year, I'm doing things a little backwards – what is new and different for me is probably what everyone else makes for dessert: a flourless chocolate cake.
We're doing a small Seder with our next-door neighbors tomorrow night (family Seder Saturday night – I'll share the desserts for that next week), and they asked us to bring dessert.
Knowing that I'm not a chocolate person, they thoughtfully told me that I didn't have to to make something chocolate, but I know that they (and my husband) are chocolate people, so when 75% of the attendees like chocolate, I bring chocolate.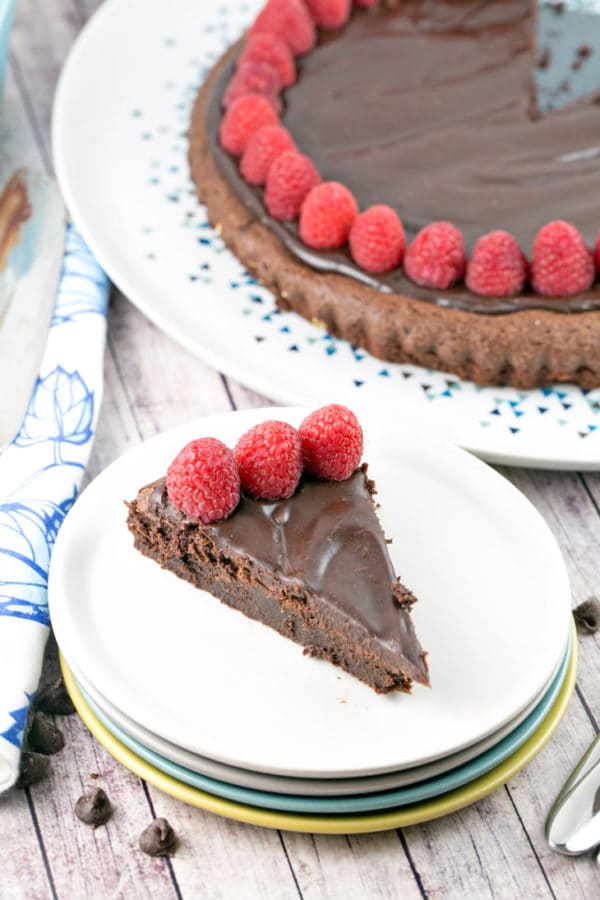 This flourless chocolate cake is oh-so-rich, decadently fudgy, and topped with a layer of bittersweet chocolate ganache.
If you've never made a flourless cake before, the ingredient list might sound funny.  Chocolate, butter, sugar, eggs, cocoa powder.  That's it.  The cocoa powder provides just enough structure to form a sliceable cake.
But without flour, the eggs, butter, and chocolate combine into this amazing dense, smooth cake – with a texture almost like a cheesecake.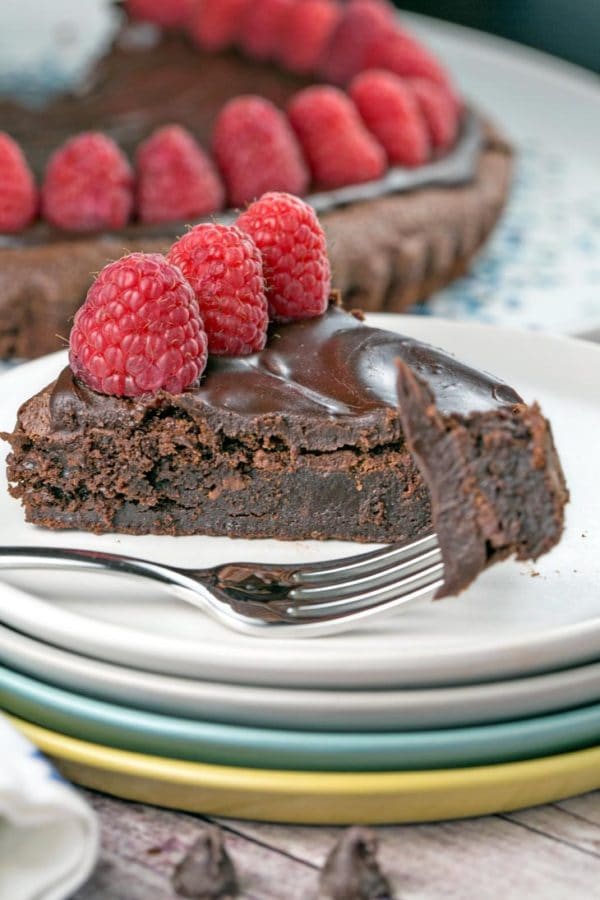 Have you ever had a flourless chocolate cake and thought it was a little… bland?  Dry and boring?  Because there are so few ingredients, quality is key here.
Use high quality chocolate and butter – it's worth splurging for this!
The lack of flour makes it perfect for Passover, but there's no reason to only bring this out once a year: serve it to your gluten-free friends, bring it to a birthday party, or make it because it's a Tuesday.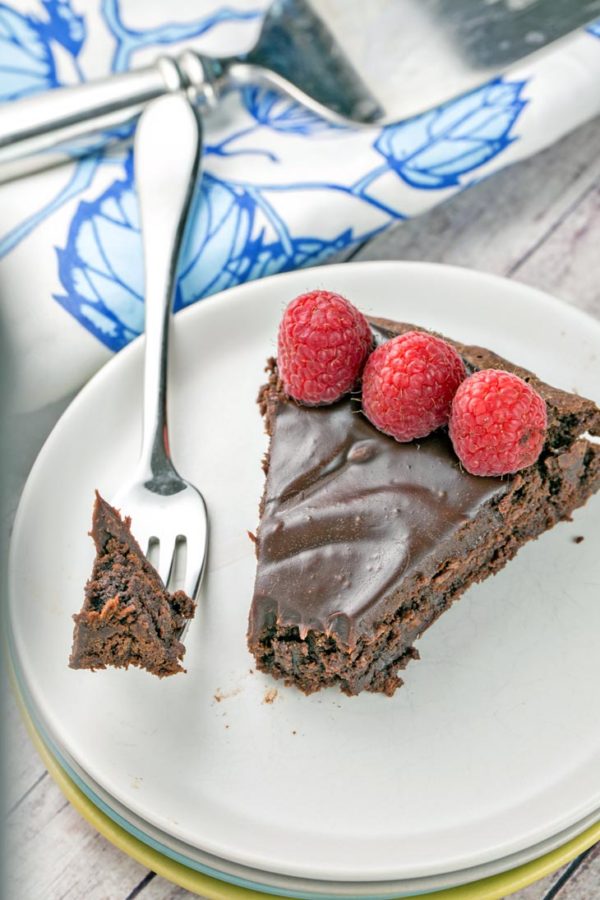 This flourless chocolate cake is too good, and too easy, to save for special occasions.  Mix it by hand in one bowl, bake it in a tart plate, springform pan, or cake pan, smooth on a layer of ganache, and you have yourself one decadent treat.
Top with berries or toasted almonds, or serve with whipped cream or ice cream.  You really can't go wrong!
Flourless Chocolate Ganache Cake
A rich, flourless cake, perfect for Passover, a gluten-free birthday cake, or just because it's a Tuesday.
Ingredients:
For the cake:
1 cup high quality semi-sweet baking chocolate
1/2 cup high quality unsalted butter
3/4 cup granulated sugar
1/4 teaspoon salt
1 tablespoon vanilla extract
3 large eggs
1/2 cup unsweetened cocoa powder
For the ganache:
1 cup high quality bittersweet chocolate chips
1/2 cup heavy cream
optional: berries or sliced almonds for toasting
Directions:
Preheat oven to 375F.  Lightly grease a 9" removable bottom tart pan (my preference), springform pan, or cake pan.  If using a cake pan, cut a piece of parchment paper to fit, place it in the bottom of the pan, and grease the parchment paper.
Combine the semisweet chocolate and butter in a large microwave-safe bowl.  Heat at 50% power in 1 minute increments until the butter is melted and the chocolate is soft, whisking between each microwave session.  Whisk until the chocolate completely melts.
Whisk in the sugar, salt, and vanilla.  Add in the eggs, whisking until smooth, followed by the cocoa powder.  Mix just to combine.
Pour the batter into the prepared pan and bake for 20 minutes. The top should be just set, and an instant-read thermometer should register at least 200F when inserted into the center of the cake.
Remove the cake from the oven and cool in the pan for 5 minutes.  Loosen the edges with a knife and remove the sides (tart or springform pan) or invert onto a wire rack (cake pan) to fully cool.
Combine the bittersweet chocolate and cream in a microwave-safe bowl and heat until the cream is hot, but not yet simmering.  Remove from the microwave and stir with a spoon until the chocolate melts and the mixture is completely smooth.  Spoon the ganache over the cake, spreading to almost the edges with an offset spatula.  Add berries or sprinkle almonds on the ganache before it sets.  Allow the ganache to fully cool before serving.
The cake can be kept at room temperature for a few hours, in the refrigerator for up to 5 days, or in the freezer for up to a month.