February 4, 2016
Chocolate Pancakes with Peanut Butter Ganache
Show someone you love them with these decadent whole wheat chocolate chocolate chip pancakes, covered in peanut butter ganache.  Heart shape optional, but breakfast in bed highly suggested!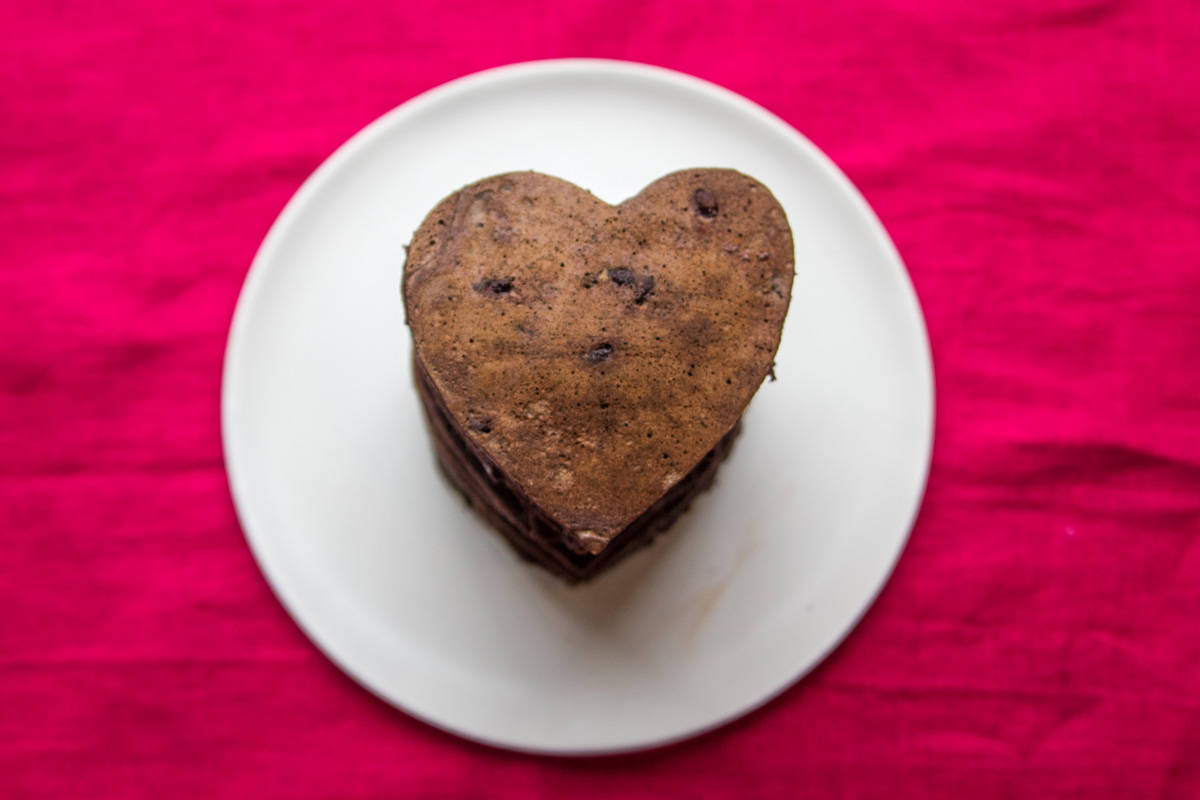 So.  Valentine's Day.  It's all fun and games and cute little cards with candy when you're a kid, but as an adult, it's a pretty polarizing holiday.
Is it a day to celebrate romantically with your loved one… or a stupid made-up holiday commercialized to sell cards, chocolates, jewelry, and expensive price fixe restaurant menus?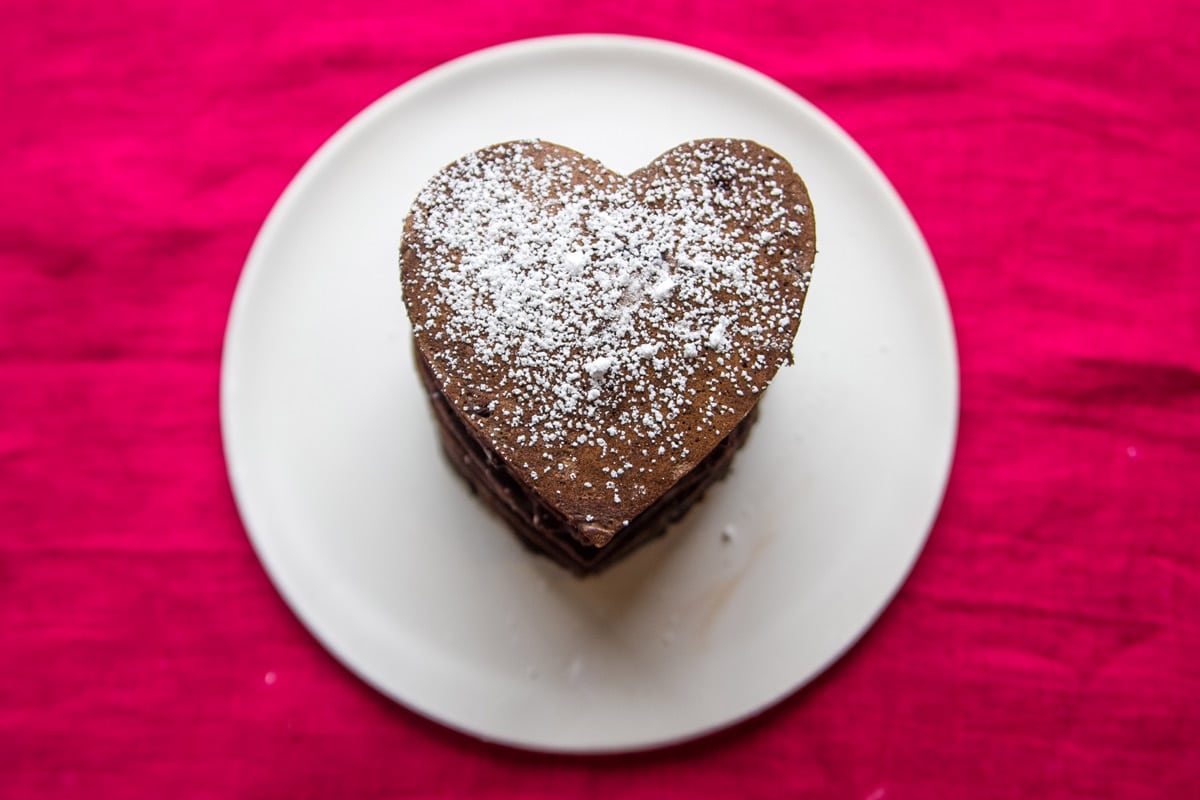 I tend to fall somewhere in the middle and enjoy celebrating with friends — kind of like the adult version of the elementary school class party.
A few years ago, I made hippo-themed cards and sent them to my friends.  Last year, I was in DC right around Valentine's Day for my spa-day-instead-of-a-baby-shower celebration and brought white boxes tied up with red twine, containing pink m&m cookies and red vanilla sugar cookies for all my friends who celebrated with me.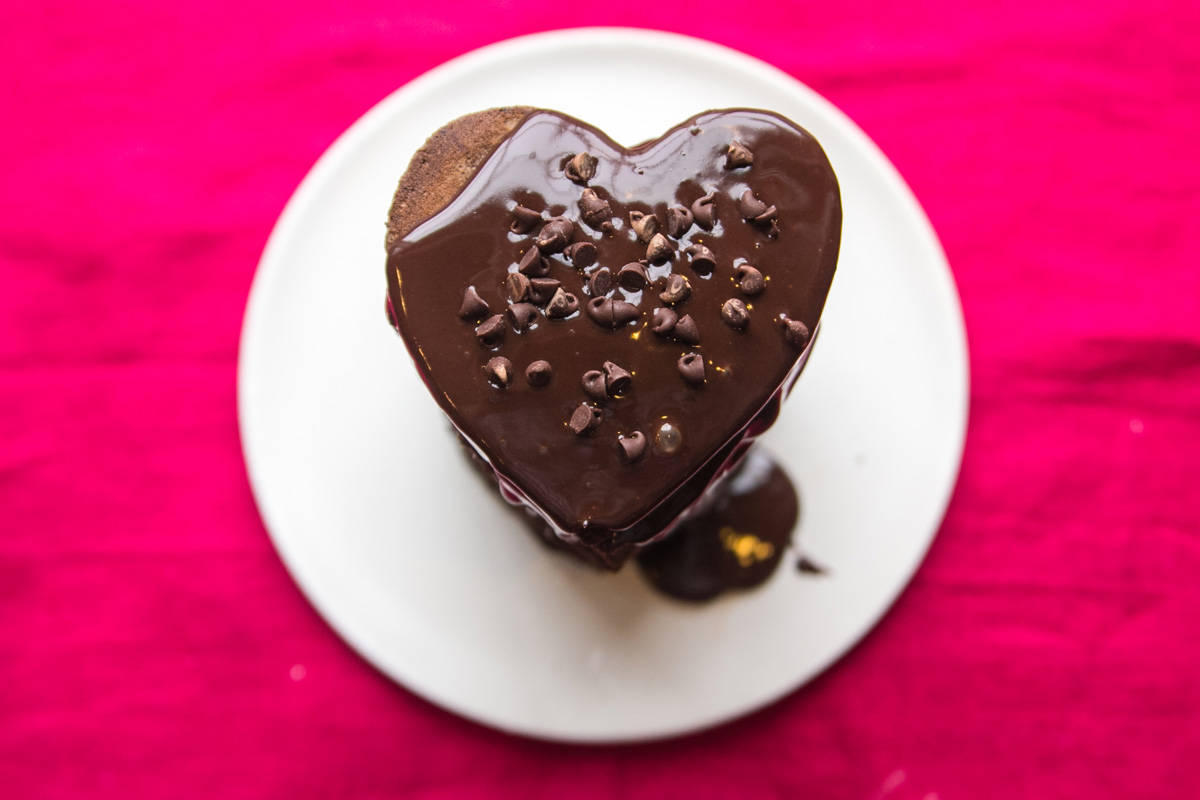 This is all a way to say that I may celebrate in fun ways with my friends, but my husband and I definitely don't celebrate the romantic side of Valentine's Day.  No gifts, no dinners out, at most perhaps a card, given to each other and signed from the dog, generally with some kind of pun about puppy love.
This year, he's on call over Valentine's Day weekend, so there won't even be any fun pancakes… like, perhaps, these chocolate pancakes with peanut butter ganache – the true way to my husband's heart.
But since Valentine's Day is on a weekend this year, YOU should make these chocolate pancakes.  Yes, they're sinfully rich and decadent… but they're also pancakes!  And there's some whole wheat flour in there!  So it's a totally reasonable choice for breakfast!
Show someone in your life (your spouse, your parent, your child, your roommate) how much you love them and bring them some chocolate pancakes for breakfast.  Sprinkle them with powdered sugar, pour on the ganache, top with a few miniature chocolate chips… or just go totally nuts and pile on a scoop of ice cream.  Mmm… ice cream.  (Heart shape optional.)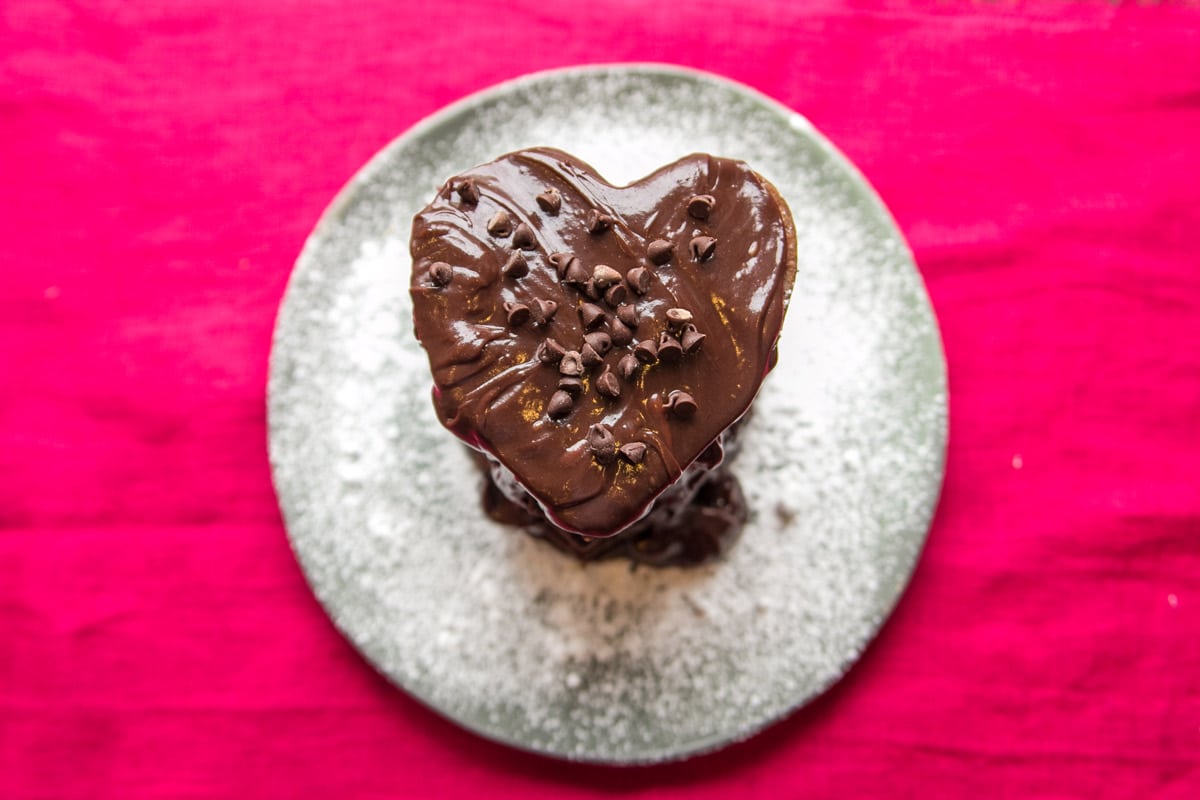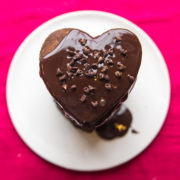 Chocolate Pancakes with Peanut Butter Ganache
Show someone you love them with these decadent whole wheat chocolate chocolate chip pancakes, covered in peanut butter ganache.
Ingredients:
3/4 cup all-purpose flour
1/2 cup whole wheat flour
3 tablespoons cocoa powder
1/4 cup sugar
1/4 teaspoon salt
3 tablespoons unsalted butter, melted
 1 tablespoon vanilla
1 1/4 cup milk
1 egg
1/2 cup miniature chocolate chips
3/4 cup heavy cream
3/4 cup chopped dark chocolate
1/4 cup peanut butter
Directions:
In a large bowl, whisk together both flours, cocoa powder, sugar, and salt.  Stir in the melted butter, vanilla, milk, and egg until just combined.  The batter will be lumpy.  Gently stir in the miniature chocolate chips.
Heat griddle or skillet over medium heat.  Lightly butter the surface.
Scoop out the batter in 1/4-cup increments and evenly space on the griddle.  Cook until pancakes start to bubble on top; then flip and cook for an additional minute.  Repeat with all batter.
To make the peanut butter ganache, combine the chopped chocolate and peanut butter in a small heatproof bowl.  Heat the heavy cream in a small saucepan until simmering, about 3 minutes.  Pour the heated cream over the chocolate and peanut butter, and let this sit for 2-3 minutes.  Once the chocolate is mostly melted, stir until the ganache is smooth.  Pour over the pancakes.
A Bunsen Burner Bakery Original Protocol