January 9, 2017
Sprinkle Sugar Cookies
With slightly crispy edges and chewy middles, these sprinkle-covered sugar cookies are a delight to both bake and eat.  Celebrate any occasion with sprinkle sugar cookies!
Oh, January.  The month of new starts, new beginnings, and for a lot of people – new diets.
This is completely reflected in the food blogging world.  Blogs that normally focus on decadent desserts shift to no refined sugar desserts.  Home-style cooking blogs toss around Whole 30, paleo, and gluten free recipes for a few weeks, before sliding back into pasta bakes.
I thought about it.  I have a few healthy dinner options in the queue.
But…
but.
Sprinkles.  That's what we really need in our lives right now.  More sprinkles.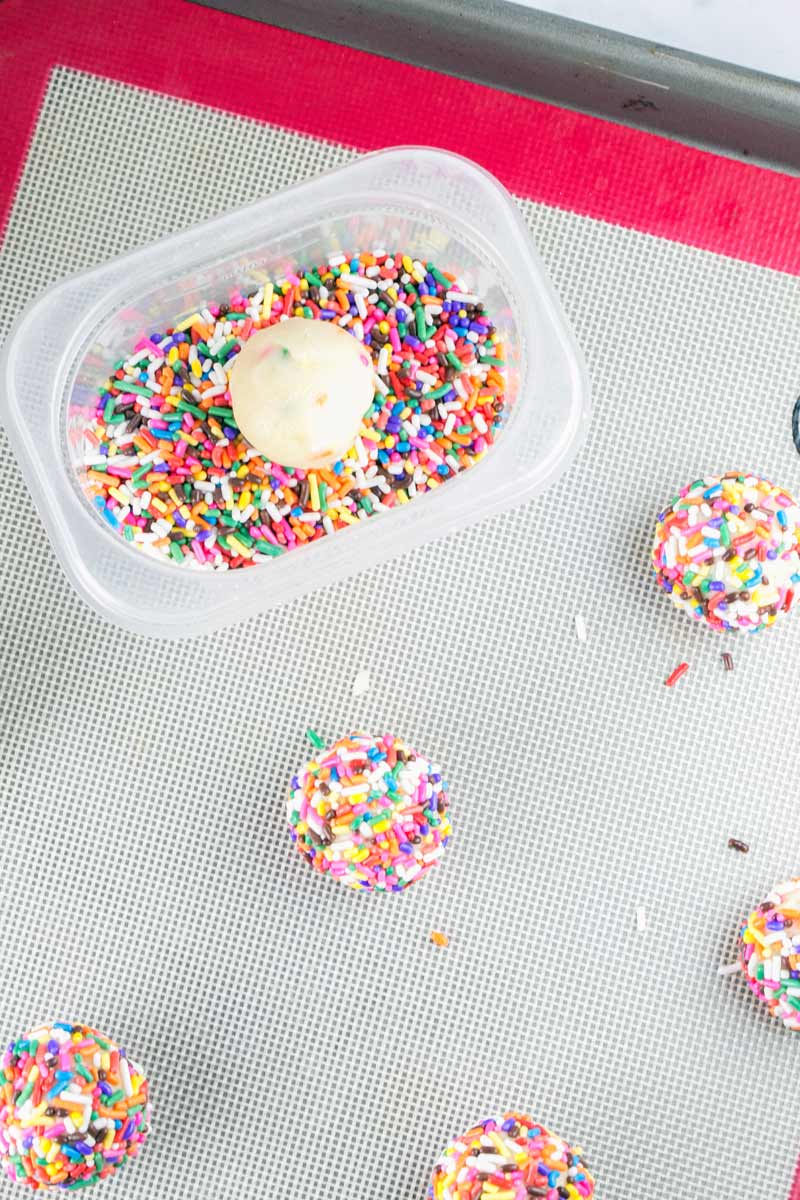 I can't possible think of a better way to kick off a new year of food blogging than with the sprinkle-iest of sprinkle desserts: sprinkle sugar cookies.
(Have you ever used sprinkle three times in a sentence before?  I am pretty sure I have not.)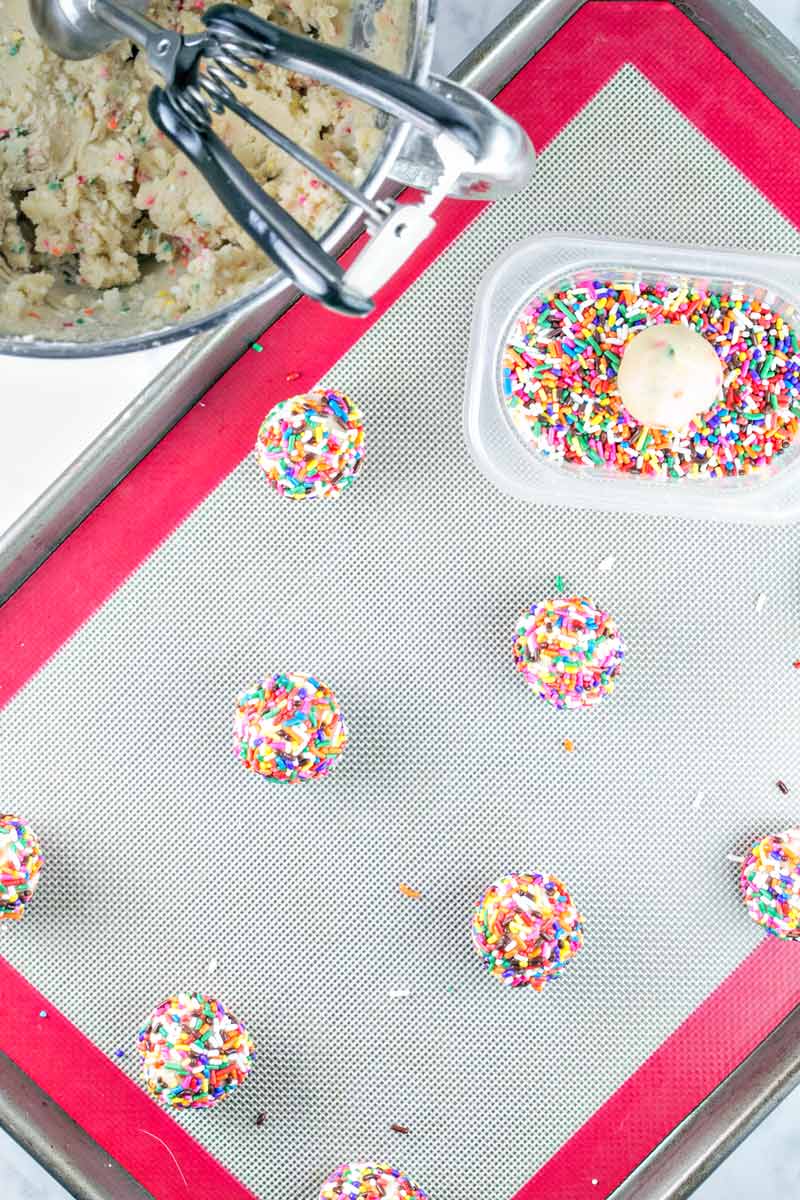 These are my absolutely most favorite cookies.  I have tried to blog about these sprinkle sugar cookies many times before, but all the cookies somehow disappeared before I could photograph them.
(Not because I ate them all.  Because other people ate them all.  Because they are just that good.)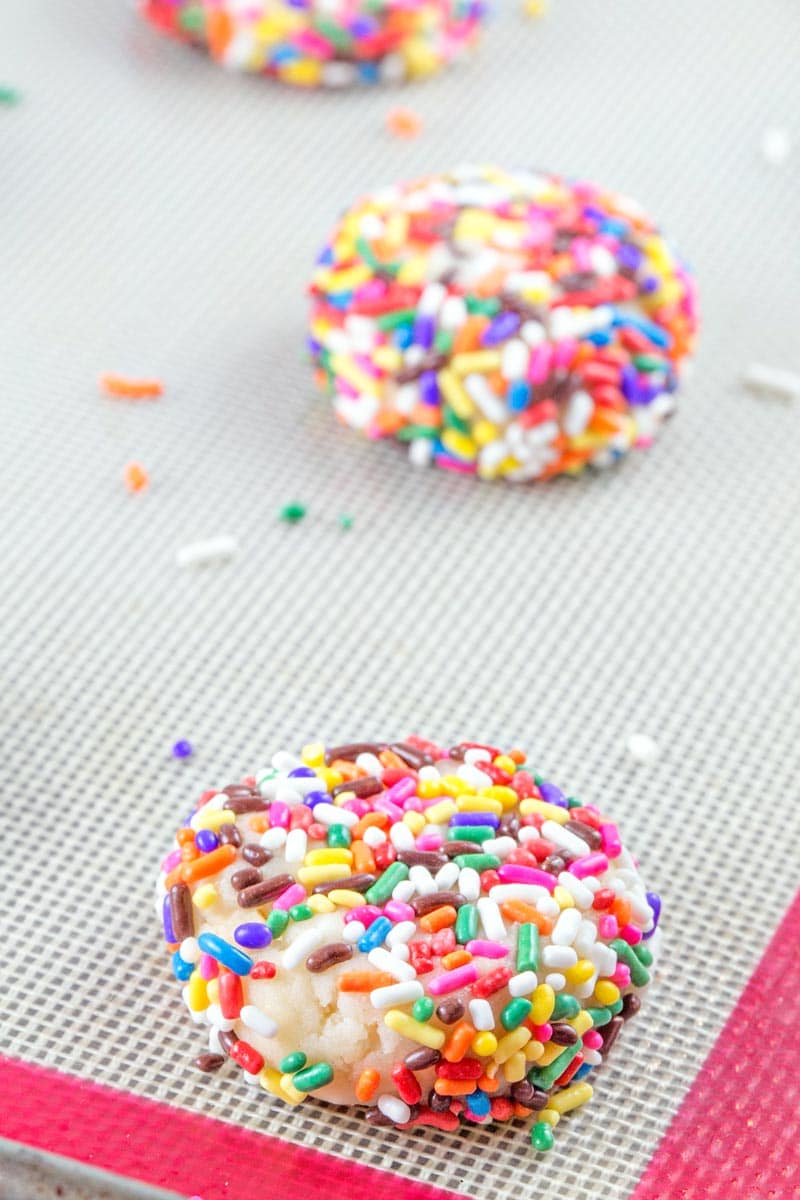 I make these every year for our New Year's Eve party, because, hello – nothing says festive like sprinkle sugar cookies.
This year, I went right on ahead and photographed them while my friends watched.  I was determined that this was the year I would finally get these on the blog, even if it meant photographing them in front of an audience.
(And it's really nice to have supportive friends, who are fascinated by the food blogging and ask interesting questions while you work and impatiently wait for cookies.  As opposed to say, make fun of you for being a total nerd with a food blog.  My friends are the best.)
Except the cookies almost didn't happen.  At 2am, the night before (morning of?) New Year's Eve, this happened: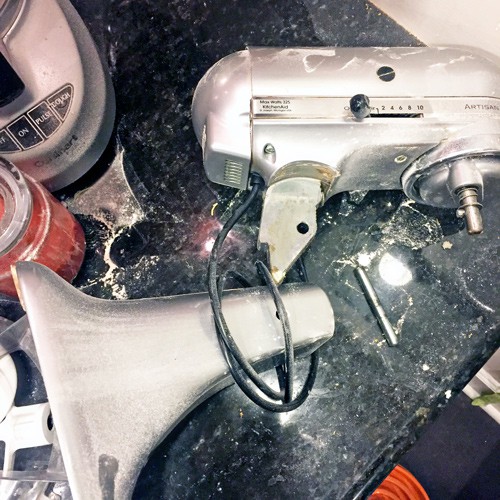 Yes, that is my KitchenAid stand mixer.  In two parts.  The whole thing fell apart right smack dab in the middle of mixing these cookies.
Let this serve as a Public Service Announcement for my fellow KitchenAid mixer owners.  Go ahead and turn your tilt head stand mixer on its side.  See that screw up inside the base?  Tighten it.  If you don't tighten it periodically, the pin holding the two parts together looses and… well… see the above photo.  (Watch this video for more info.)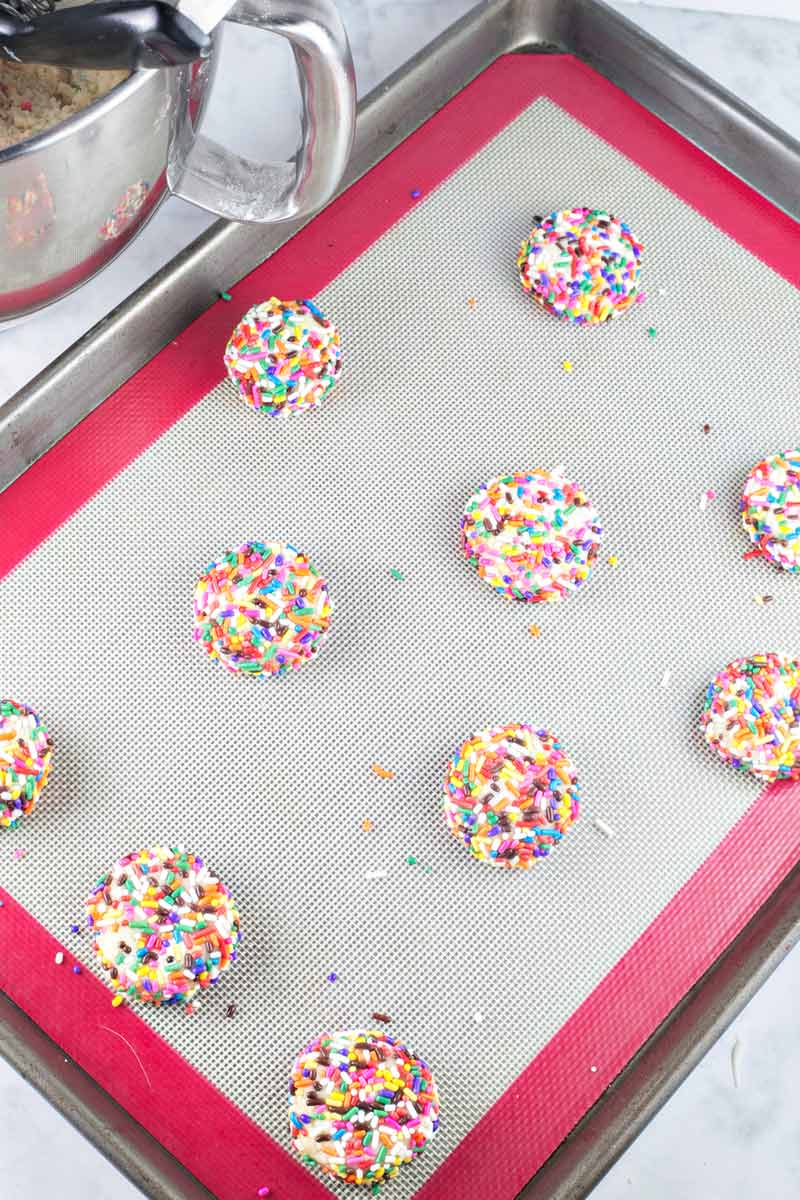 Phew. Now that that your mixer is good as new, let's make some cookies, shall we?
These are simple vanilla sugar cookies.  Crisp edges, soft middles.  Sugar cookie perfection.
Much like my beloved rolled sugar cookie recipe, these also include cream cheese.  Cream cheese = cookie magic.  Easy to handle and keeps your cookies perfectly soft.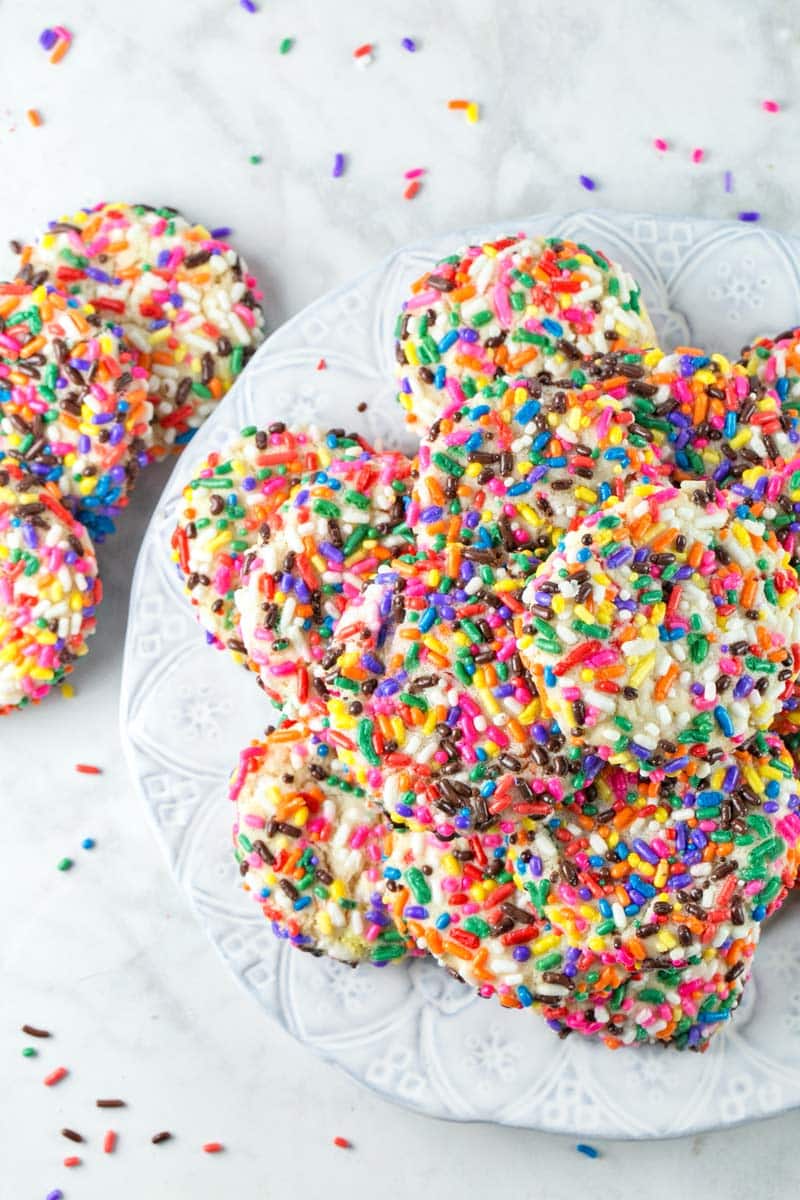 The sugar cookie base is pretty standard – plus the addition of cream cheese.  Instead of just vanilla extract, we'll add some almond extract as well, which really bumps up the funfetti flavor you expect from cookies covered in sprinkles.  (Allergic to nuts? No sweat – still delicious with just vanilla extract!)
Of course, there are sprinkles stirred right into the batter, because more sprinkles is the name of the game.  (And my 2017 resolution, I've decided.  SPRINKLE ALL THE THINGS!)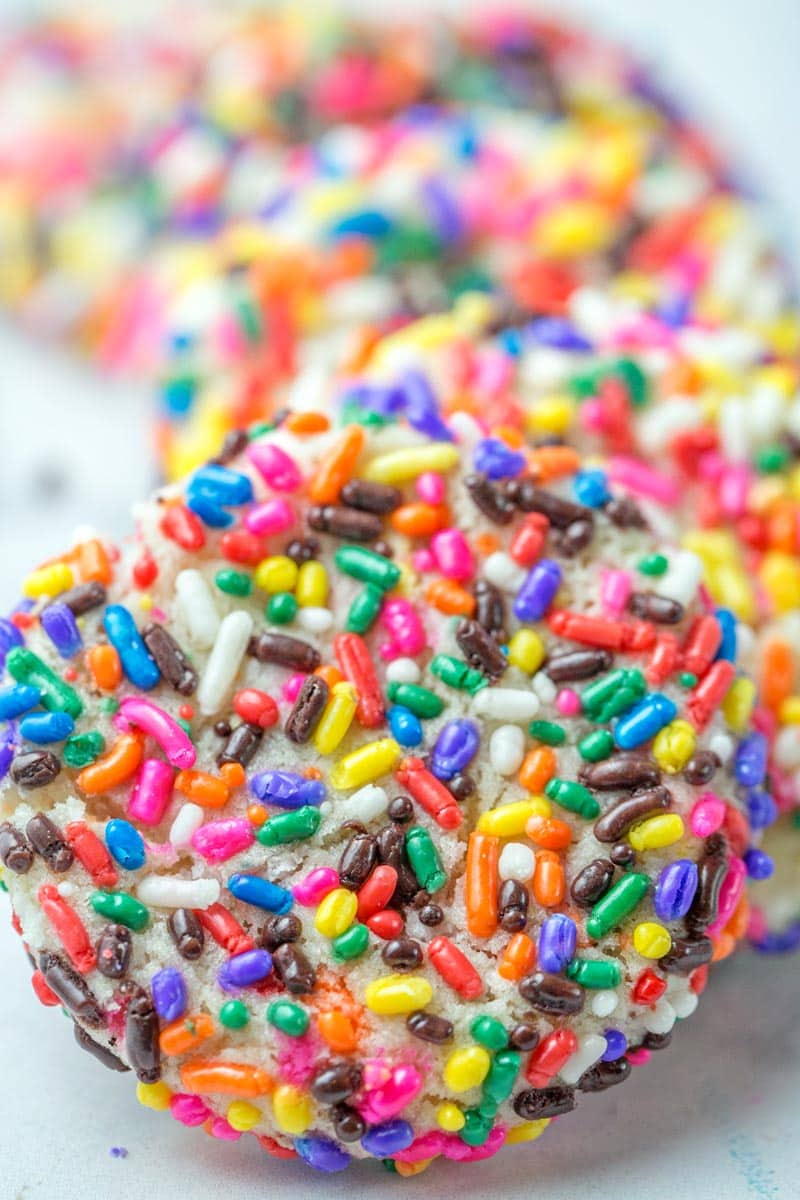 I like to let the batter chill out in the fridge for several hours, preferably overnight.  It really helps develop the flavor into this amazing sugary-vanillay-almondy-sprinkly amazingness.
The cookies will still bake just fine without the extra chilling, though, so if you're pressed for time, move right along.  I get it; it's really hard for me to wait to bake these cookies, too.
Scoop the dough into tablespoon-size balls, give the dough a quick roll in your hands, and then cover it with sprinkles.  Once you've stuck every possible sprinkle on there, flatten it slightly with the bottom of a glass before baking.
These sprinkle sugar cookies are the perfect combination of so-slightly crunchy on the edge and chewy in the middle.  They're bright, colorful, and festive for any occasion.  Give them a try; I bet they'll become your new favorite cookie, too!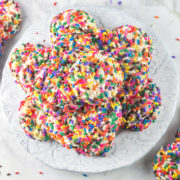 Sprinkle Sugar Cookies
With slightly crispy edges and chewy middles, these sprinkle-covered sugar cookies are a delight to both bake and eat.
Ingredients:
3 cups flour
1 teaspoon baking powder
1/4 teaspoon baking soda
1 teaspoon salt
1 cup (2 sticks) butter, room temperature
1 1/4 cups sugar
2 ounces cream cheese
1 teaspoon vanilla extract
1/2 teaspoon almond extract
1 large egg, room temperature
2.5 cups sprinkles, divided
Directions:
In a medium bowl, whisk together the flour, baking powder, baking soda, and salt.
Using a mixer, beat together the butter, sugar, and cream cheese, until fluffy, 3-4 minutes.  Add in the vanilla and almond extracts, followed by the egg.
Slowly add the flour mixture, beating at low speed until no streaks of flour remain. Mix in 1/2 cup of the sprinkles.
Cover the mixing bowl with plastic wrap and refrigerate for a few hours up to two days.  (This resting step is optional but highly recommended.)
When ready to bake, preheat the oven to 375 °F and line a baking sheet with parchment paper.
Place the remaining sprinkles in a shallow dish.  Scoop one tablespoon of the dough and roll into a ball.  Roll this ball in the sprinkles, covering all sides.
Place the cookies on the parchment-lined baking sheet, approximately 2.5″ apart.  Use the bottom of a glass to slightly flatten the cookies.
Bake for 10 minutes, until the cookies are puffy and just starting to set.
Remove from the oven and cool on the cookie sheet for 5 minutes, then transfer to a wire rack to cool completely.