February 9, 2016
Butterscotch Blondies
Butterscotch Blondies: time to shake up your brownie routine with these one bowl, mix by hand, rich and buttery treats.
When I first stumbled across this recipe, it immediately went into the "must make" pile.  I can generally take or leave chocolate, meaning if it's the only dessert option, I'll take it (because… dessert), but if there's something else, I'll leave it.
Butterscotch definitely trumps chocolate in my book.
I was so excited to bring these blondies into my life that I was even willing to overlook the "butter flavoring."  Um, what IS artificial butter flavoring, exactly?
Don't dwell on that too long, because if you really stop to ponder that question, you probably won't make these, and that would be such a shame.
These butterscotch blondies have become one of my favorite bring-to-a-friend treats, because they're a little different and unexpected.
Everyone loves brownies and cookies and you can never ever go wrong showing up with a batch of your favorite homemade brownies, but butterscotch is a little off the beaten path these days.
And yet, these are still so delicious that even my most chocolate-loving of friends has raved about them.
I've brought them down as hostess gifts when we stay with friends in DC, left them in the mailbox of friends who recently had a baby, brought them to various potlucks with nary a spare crumb left at the end.
These things are popular, folks.  Much more popular that you'd probably expect when it comes to butterscotch.
Just learn from my mistakes and don't overbake them, or a hard bottom layer of butterscotch will form.  Then you'll have to break out your sharpest knife and all your upper body strength to cut through the bottom layer… and then still probably bend your metal spatula trying to remove the blondies from the pan.
And yet even if you screw up and do wind up with a burnt layer of butterscotch, they are still delicious, which says a lot — these are practically foolproof!
Or make it even easier on yourself and line your pan with foil, so you can pull the entire sheet out of the pan after you bake them, or bake them right in a 9×13-inch springform pan (Amazon links are affiliate).
Or, you know, go ahead and slightly over bake them and consider removal from the pan part of your upper body workout for the day so you can justify eating a second one.  (Let's be honest – a third.)
Yeah, you should probably just go ahead and do that.
Prefer brownies? Don't miss these great brownie recipes!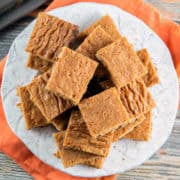 Butterscotch Blondies
Time to shake up your brownie routine with these rich, buttery treats.
Ingredients:
1/2 cup unsalted butter
2 cups dark brown sugar, lightly packed
1/2 teaspoon kosher salt
1 teaspoon baking powder
1 teaspoon vanilla
1 teaspoon butter flavoring
1 1/2 cups all purpose flour
3 eggs
11 ounces butterscotch chips
1/4 teaspoon sea salt
Directions:
Preheat the oven to 350°F.  Grease a 9×13" pan well, or line pan with aluminum foil, leaving excess foil hanging over the short edges of the pan, and spray with nonstick cooking spray.
Melt the butter in a medium sized glass bowl in the microwave a 30 second intervals, or in a saucepan over low heat.  Once melted, which in the sugar, salt, baking powder, vanilla, and butter flavoring.
Whisk in the flour and eggs until thoroughly combined.  The mixture will be quite thick – you may have to switch to stirring with a rubber spatula.  Stir in the butterscotch chips.
Spread the batter into the prepared pan and smooth with a spatula.  Sprinkle the sea salt evenly over the blondies.
Bake for 30-35 minutes.  Blondies will be very soft when done — do not over bake, as the butterscotch will start to burn to the bottom of the pan.  Cool completely on a wire rack before cutting into 24 squares.