February 9, 2016
Butterscotch Blondies
Shake up your brownie routine with these Butterscotch Blondies! Sure, everyone likes chocolate, but try these easy one bowl, mix by hand, rich and buttery treats for something a little more unique!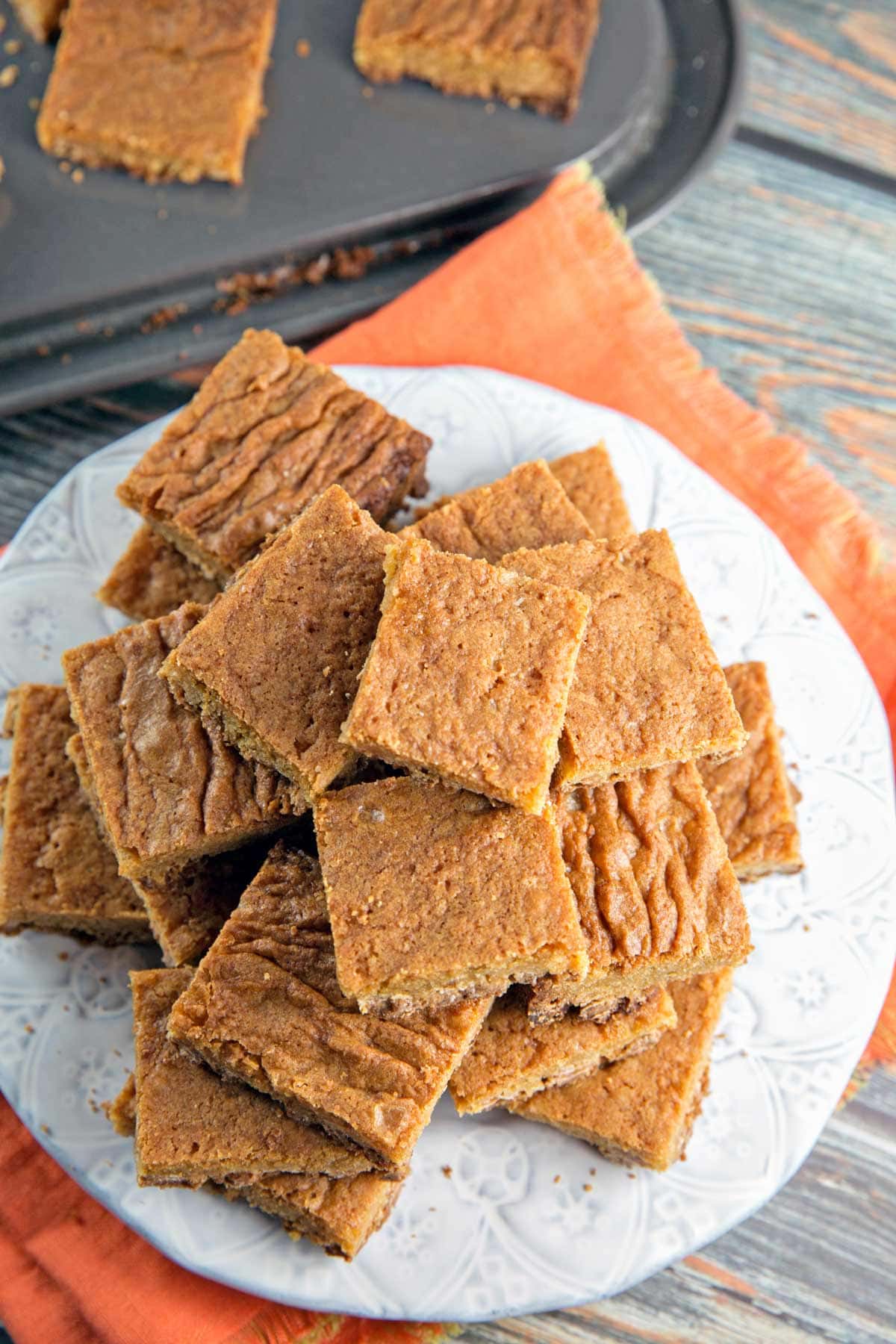 Let's talk about butterscotch. Do you love it? I love it!
I feel like it's such an underrated flavor. It's warm and buttery and delicious, yet outside of candy, we rarely see it.
I'm vowing to change this, and we're starting with these amazing butterscotch blondies!
This recipe is based on one I stumbled across in a cookbook. As soon as I spotted it, it immediately went into the "must make" pile.
I can generally take or leave chocolate. If it's the only dessert option, I'll take it (because… dessert). But if there's a non-chocolate option, it's all mine (unless it's cheesecake).
Butterscotch definitely trumps chocolate in my book.
But even if you're a chocolate lover? Give these blondies a chance! I've served them to many a chocolate lover, and they have been met with rave reviews by all.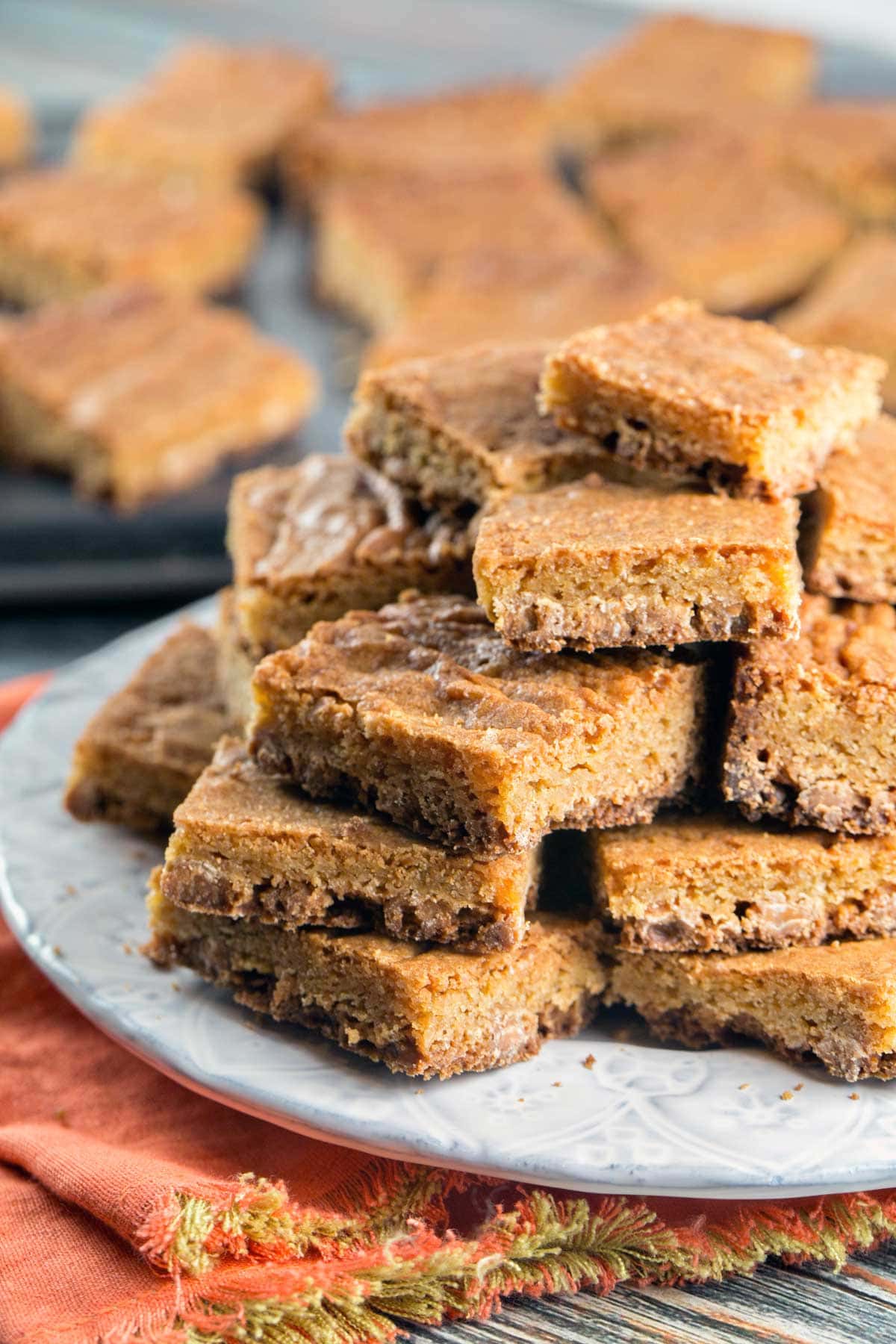 Secret to Butterscotch Flavor
What is butterscotch, anyway? The flavor we associate with butterscotch combines the flavor and aroma of butter, brown sugar, and vanilla.
While we can taste the butter in treats, it's generally pretty subtle. In fact, the biggest difference between butter and vegetable oil is often the texture.
Think about it: if I gave you a slice of cake, would you be able to say for sure whether it was made with butter or oil? For most people… probably not, and especially if there's another flavor, like chocolate or fruit.
So how are we going to play up the butter flavor even more than just using melted butter in the recipe?
The secret here is adding one little teaspoon of something called "butter flavoring."
What is butter flavoring, exactly? I have no idea, and I don't even care.
Don't dwell on it, just go out and buy a bottle and make these butterscotch blondies, okay? Trust me, whatever the butter flavoring is, it's magical and you want to include it.
Brown Sugar = Perfect Blondies
No denying it – there's a lot of brown sugar in this blondie recipe.
Like I said above, butterscotch gets its classic flavor profile from butter and brown sugar.
The brown sugar also helps keep these soft, even though they're full of butterscotch chips, which start to melt and re-solidify.
This is one recipe where you don't even want to think about swapping out brown sugar for granulated sugar!
What makes brown sugar so special? We can of course answer it with my favorite subject… kitchen chemistry!
Kitchen Chemistry

Brown sugar contains molasses, which provides a distinct flavor from the addition of additional fructose, amino acids, and minerals. These additional compounds undergo the Maillard reaction during baking, which develops complex and rich flavors. Furthermore, since molasses is hygroscopic (able to absorb water), baked goods made with brown sugar stay more moist than those made with white sugar.
I like to use dark brown sugar for blondies because it provides a little more flavor and moisture. But if you only have light brown sugar on hand, it will work fine, too.
Perfect for Sharing
Butterscotch blondies have become one of my favorite treats to bring to friends. They're a little different and unexpected. Comforting and sophisticated, all rolled up in one.
I've brought them as hostess gifts when visiting friends, left them in mailboxes after neighbors had babies, and brought them to various potlucks, with nary a spare crumb at the end.
Plus, like brownies, you can make butterscotch blondies ahead of time. They're still delicious several days later, and they freeze beautifully.
Keep a batch in your freezer at all times and you'll always have something delicious to share when unexpected guests stop by!
Don't Overbake for Perfect Blondies
The number one tip for these butterscotch blondies? Don't overbake them! Learn from my initial mistakes.
If you bake these blondies for too long, a hard layer of melted butterscotch chips forms on the bottom.
You'll have to break out your sharpest knife and all your upper body strength to cut through the bottom layer, and you'll still bend your metal spatula trying to remove them from the pan.
And yet, even if you DO overbake them and wind up with a burnt-ish layer of butterscotch… they're still delicious. We ate every last one and wished there were more.
In other words, butterscotch blondies are basically kind of foolproof, which is the very best sort of recipe of all.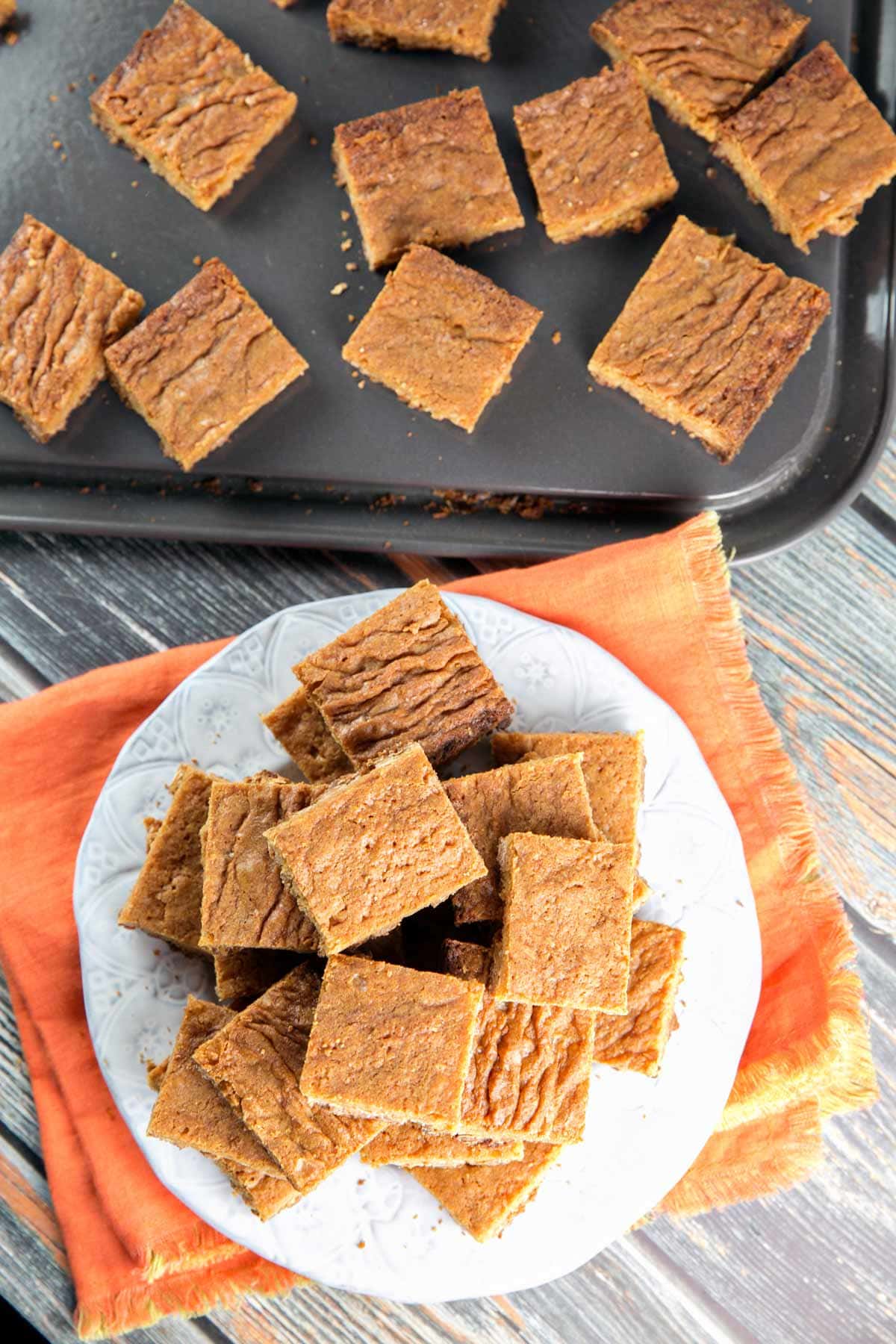 Tips and Tricks for The Best Butterscotch Blondies
Use room-temperature eggs for the batter. Cold eggs will chill and solidify the melted butter, making the batter more difficult to mix.
Line your pan with aluminum foil or parchment paper to help with blondie removal. These are easier to cut outside of the pan than inside the pan.
While butterscotch chips give these a great butterscotch flavor, the blondie base is perfect for other mix-ins. Try swapping the butterscotch chips for chocolate chips, white chocolate chips, peanut butter chips, or chopped nuts!
Don't overbake the blondies! These should be very soft when done; the blondies will continue to harden as they cool. The top should be shiny, but the center of the blondies will still be gooey.
Butterscotch blondies are perfect to make ahead! Store blondies in an airtight container at room temperature for up to a week or freeze for up to 3 months.
More Delicious Dessert Bars:
Butterscotch Blondies
A classic recipe for the best chewy blondies, packed full of delicious butterscotch flavor!
Ingredients
1/2 cup (113 grams) unsalted butter
2 cups (426 grams) dark brown sugar, lightly packed
1/2 teaspoon kosher salt
1 teaspoon baking powder
1 teaspoon vanilla extract
1 teaspoon butter flavoring
1 1/2 cups (180 grams) all purpose flour
3 eggs, room temperature
11 ounces (311 grams) butterscotch chips
1/4 teaspoon flaky sea salt
Instructions
Preheat the oven to 350°F. Grease a 9×13" pan well, or line pan with aluminum foil, leaving excess foil hanging over the short edges of the pan, and spray with nonstick cooking spray.
Make the batter. Melt the butter in a medium sized glass bowl in the microwave a 30 second intervals, or in a saucepan over low heat. Once melted, whisk in the sugar, salt, baking powder, vanilla extract, and butter flavoring.
Switch to a rubber spatula and stir in the flour and eggs until thoroughly combined. The mixture
will be quite thick. Stir in the butterscotch chips.
Spread the batter into the prepared pan and smooth the top. Sprinkle the sea salt evenly over the
blondies.
Bake the blondies. Bake for 30-35 minutes. Blondies will be very soft when done — do not
over bake, as the butterscotch will start to burn to the bottom of the pan.
Cool the blondies. Cool completely on a wire rack before cutting into 24 squares using a serrated knife.
Notes
While butterscotch chips give these a great butterscotch flavor, the blondie base is perfect for other mix-ins.  Try swapping the butterscotch chips for chocolate chips, white chocolate chips, peanut butter chips, or chopped nuts!
These should be very soft when done baking; the blondies will continue to harden as they cool.  The top should be shiny, but the center of the blondies will still be gooey.

Leftover blondies can be stored at room temperature for up to a week or in the freezer for up to 3 months.
Recipe adapted from The King Arthur Flour Baker's Companion 
Recommended Products
As an Amazon Associate and member of other affiliate programs, I earn from qualifying purchases.
Nutrition Information:
Yield:

24
Serving Size:

1 blondie
Amount Per Serving:
Calories:

208
Total Fat:

8g
Carbohydrates:

32.2g
Protein:

2g