January 2, 2018
Sprinkle Sugar Cookie Bars
Colorful, fun, and festive, these super-soft frosted sprinkle sugar cookie bars are perfect for any celebration!  Just like your favorite sugar cookie, but baked in easy bar form, with a thick layer of buttercream frosting.
Happy 2018!  A brand new start to a brand new year.  I hope everyone had a wonderful New Year's Eve/Day and is ready to kick things off with a bang!
Now, look.  I know most people jump in with New Year's resolutions to eat better.  Food blogs switch from decadent sweets to paleo dinners, encourage a month of sugar free eating, and a general shift to healthy eating before a slow decline back into desserts and all those other crave-worthy things.
Buuuut… we do things a little differently around here.  We kick off a new year with SPRINKLES – and lots of them.
Every year, I make the most sprinkly sprinkled dessert possible for our New Year's Eve party.  There's just something about welcoming a new year with bright and festive sprinkles.
And then that sprinkly recipe is the first recipe I share on Bunsen Burner Bakery in the new year.
It's like the greens and black eyed peas tradition for wealth in the new year… except I guess it's all the sprinkles for a colorful and fun adventure.  Because wealth is great, but money can't always buy fun and adventure, and that is my new year wish for all of you.
This year, I decided to convert my favorite rolled sugar cookie recipe into cookie bars.  I love the rolled version so much because of the addition of cream cheese, which keeps them nice and soft.  These sprinkle sugar cookie bars are nice and soft, too (in fact, I add a little more cream cheese!).
But unlike the rolled sugar cookies, we'll add some baking powder.  I don't use it in rolled cookies because I don't want the cutouts to puff up and lose their shape.  For cookie bars, however, a little lift is great!
I also swapped out some of the vanilla extract for almond extract – it helps bring that classic funfetti flavor you expect with a sprinkle dessert.  Don't like almond extract (or have a nut allergy)?  No problem! Just double the vanilla extract — they'll still be delicious, I promise.
Because I am allll about the sprinkles for the new year, I filled mine with sprinkles.  If you're not into sprinkles, however, feel free to omit.  Mini chocolate chips would be a great substitution!  Or leave them out altogether for a classic sugar cookie bar.
We'll top them with a quick and easy crusting buttercream frosting.  The top layer of frosting gets juuuuust crusted enough that you can stack these on top of each other, which makes them really easy to transport.  Perfect for sharing with friends at a party!
And of course, we'll top the frosting with MOAR SPRINKLES.
One of my friends at our holiday party declared these sprinkle sugar cookie bars his favorite thing I've ever baked, and that's pretty high praise from someone who constantly talks about how much he loves my chocolate chip pumpkin bread.
And I just might agree with him… these were really, really good.  All our company just cleared out of our house this morning.  I'm not sure if I'm more sad that our friends left… or that there are only two cookie bars left to get me through the rest of the week.
I debated if I put too many sprinkles on these sprinkle sugar cookie bars.  And then I said "no such thing" and added even more.  Because when it comes to life, the more colorful and sprinkled.. the better.
Sprinkle Sugar Cookie Bars
Colorful, fun, and festive, these super-soft frosted sprinkle sugar cookie bars are perfect for any celebration!
Ingredients:
For the cookie bars:
1 cup (2 sticks) butter, room temperature
4 ounce cream cheese, room temperature
1 cup sugar
1 egg, room tempreature
1 teaspoon vanilla extract
1 teaspoon almond extract
2 1/2 cups all purpose flour
1 1/2 teaspoons baking powder
1 teaspoon salt
1 cup sprinkles
For the frosting:
1 cup (2 sticks) butter, room temperature
2 1/2 cups confectioners sugar
2 tablespoons heavy cream
1 teaspoon vanilla extract
1 teaspoon almond extract
1/4 teaspoon salt
additional sprinkles, for decorating
Directions:
Preheat oven to 350 °F.  Grease a 9×13-inch baking pan or line with parchment paper.
Using an electric mixer, beat together the butter and cream cheese on medium speed until smooth.  Add in the sugar and continue to beat until light and fluffy, another 3 to 5 minutes.  Add the egg, vanilla extract, and almond extract, mixing until combined.
Reduce the mixer speed to low and slowly add in the flour, baking powder, and salt, beating until just combined and no dry streaks of flour remains.  Add in the sprinkles and beat just a few additional seconds to disperse throughout the batter.
Spread the dough into the prepared pan.  The dough will be quite thick.  Bake 20 to 23 minutes, until the top is puffy and starting to brown and a tester inserted into the center comes out clean.  Cool completely before frosting.
To make the frosting, use an electric mixer on medium speed to beat together the butter and sugar until smooth.  Add in the heavy cream, vanilla extract, almond extract, and salt, continuing to beat for an additional 5 minutes, until light and fluffy.
Cookie bars will keep at room temperature in an air tight container for up to 5 days.
A Bunsen Burner Bakery Original Protocol
Love sprinkles? Don't miss these sprinkle filled desserts!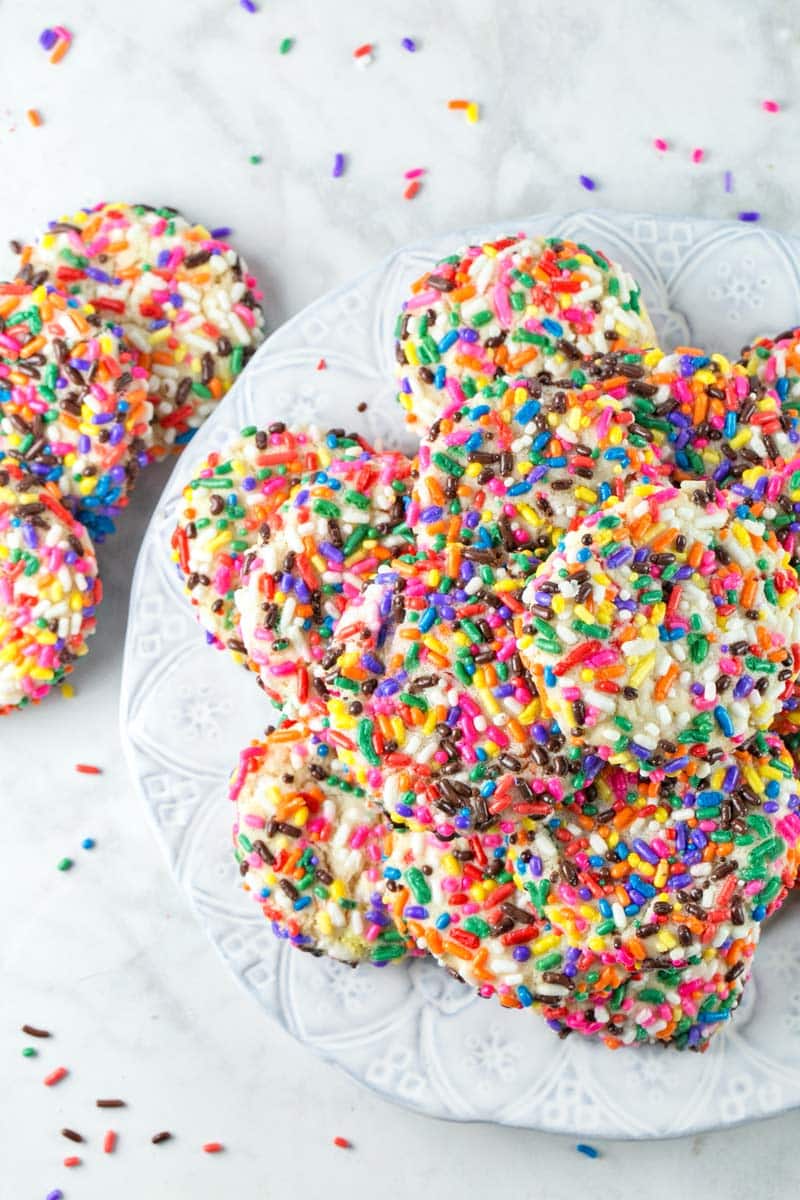 Sprinkle Sugar Cookies
Funfetti Bundt Cake