January 22, 2021
Homemade Funfetti Cake
The BEST Homemade Funfetti Cake recipe! Light and fluffy cake filled with rainbow sprinkles and covered in vanilla buttercream. Three layers for the ultimate celebration!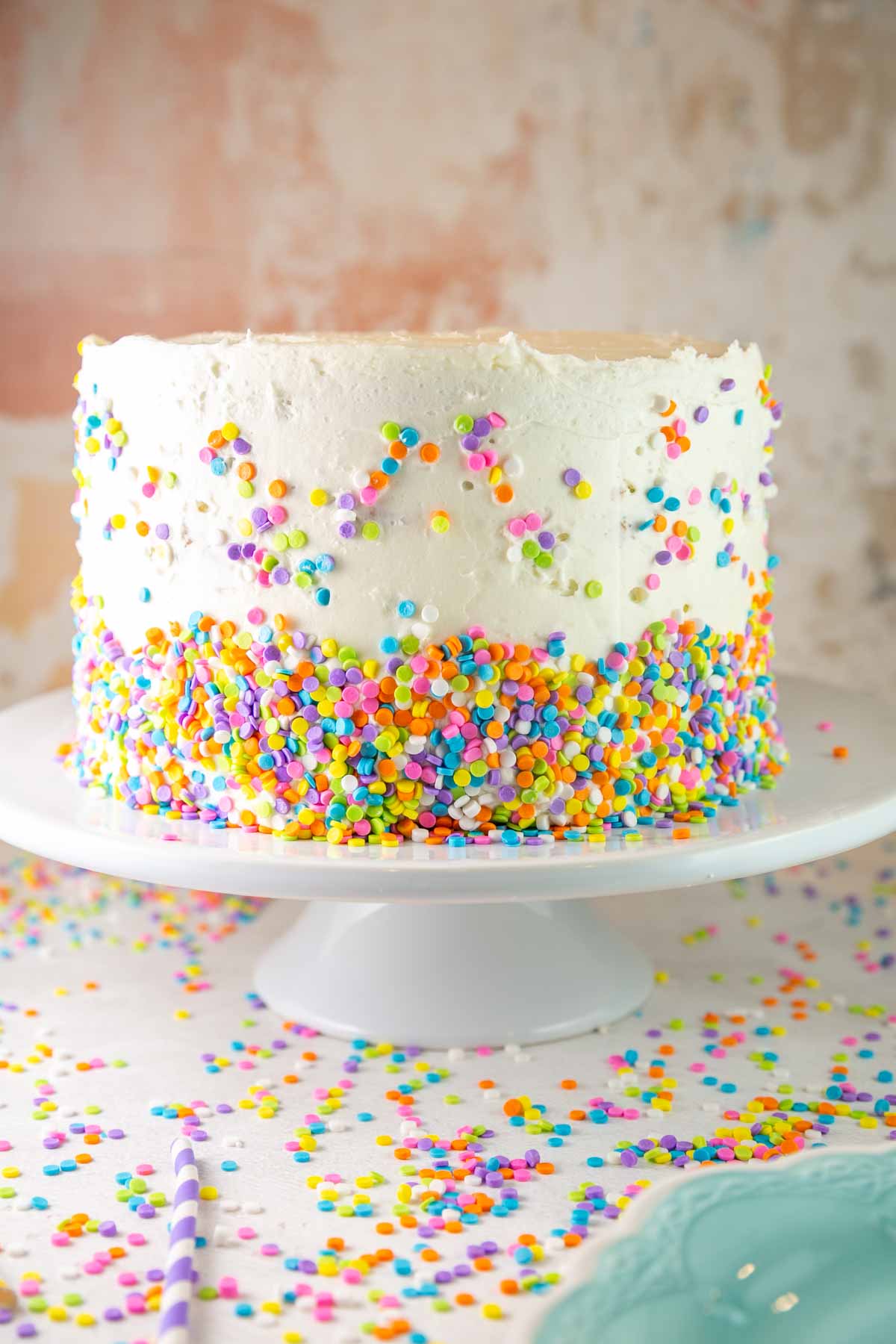 This post may include affiliate links. As an Amazon Associate I earn a fee from qualifying purchases.
If you're a regular reader of this food blog, you might remember these two January traditions here at Bunsen Burner Bakery.
(1) Every year, my first post of the year is filled with sprinkles. I can't think of a better way to ring in a brand new year (…especially after the past year we've all had…) than fun, colorful, and festive sprinkles. I make these desserts for New Year's Eve, and it's always the first post I share in the new year. Past years include:
(2) Every year, I choose a baked goods "theme" and share one recipe a month within that theme. Past years include:
Judging by the pictures above and the title of this post, you may have guessed that this year we are doing…
A Year of Layer Cakes
Big, beautiful, celebratory layer cakes!
It is my deepest hope that we have much to celebrate this year. The hopeful return of (small, careful) gatherings.
Making up for lost time on birthday celebrations and anniversaries and "just because we haven't seen you in a year" dessert-worthy celebrations.
And nothing says celebration like a layer cake.
Especially a sprinkle-filled homemade funfetti layer cake! (Professional opinion: homemade funfetti cakes make the BEST birthday cakes!)
So gather up your baking pans and get ready for a frosting-filled year of learning how to master layer cakes!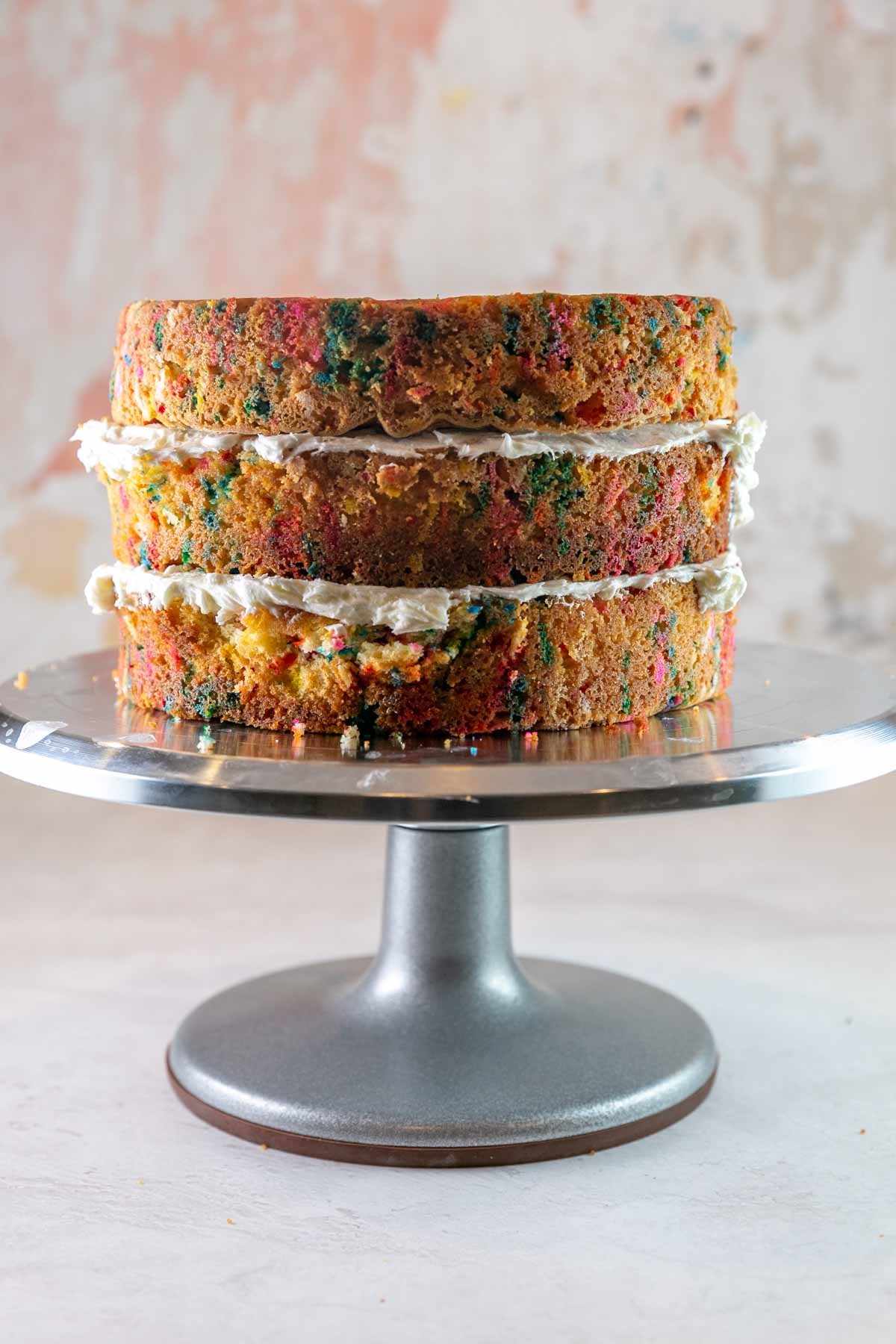 Funfetti Layer Cake Recipe
The base of this homemade funfetti cake is my favorite vanilla cake. It does include egg yolks, meaning the color is a little more yellow than an all egg white cake.
(I definitely think the trade-off is worth it, though – eggs add extra fat which adds extra richness and moisture – and I value the flavor of a cake more than a pure white appearance!)
You'll also notice that this cake contains both butter and vegetable oil. Why add both? It's time for my favorite subject… kitchen chemistry!
Kitchen Chemistry

Butter consists of 80% fat and 20% water and is solid at room temperature. Meanwhile, vegetable oil is 100% fat and liquid at room temperature. The additional fat in vegetable oil contributes more moistness and tenderness to the cake compared to butter. Butter, however, provides additional lift and fluffiness to the cake, as the sugar is whipped into the butter and creates air pockets (and of course, imparts the rich butter flavor!). Using both butter and vegetable oil allows us to capture the best of both — more lift and flavor, but also more moistness and tenderness.
I always add almond extract to my funfetti cakes — I love the little extra "cake batter" flavor it adds. But if you're not an almond person (or allergic), skip it and just stick with vanilla extract – this cake is delicious on its own.
Best Sprinkles for Baking
Obviously, we can't have a funfetti cake without SPRINKLES – and lots of them!
But not all sprinkles are created equal, especially when it comes to putting them inside a cake.
Use any standard rainbow sprinkle blend for baking the cake. My favorites I buy in bulk are Cake Mate and CK Products (affiliate links).
You can also use candy quins, which are the little circle sprinkles I used to decorate the outside of the cake. These also don't bleed, but they are crunchy, so they'll change the texture of the cake a little.
Just don't use nonpareils (the tiny little colorful balls) — the coloring bleeds inside the cake as it bakes! (They are fine for decorating the outside of the cake, however.)
Recommended Tools to Make Funfetti Cake
Frequently Asked Questions about Homemade Funfetti Cake
Can I use regular milk instead of buttermilk?
The cake relies on the acidity of buttermilk. If you don't have buttermilk, combine 1 cup of whole or 2% milk with 1 teaspoon of lemon juice and vinegar and allow this mixture to sit for 5 minutes before mixing it into the cake.
How do I keep the layers of my cake flat?
I will always, always recommend using Bake Even strips around your cake pans – it keeps the cakes perfectly flat so you don't have to level them!
Can I bake this cake in 9-inch cake pans?
Yes. This cake makes three thick 8-inch layers, or it can make three thin 9-inch layers. The cake will bake quicker; start checking for doneness around 30 minutes. For three thick 9-inch layers, multiply each ingredient by 1.5.
Does homemade funfetti cake need to be refrigerated?
This particular cake recipe can be stored at room temperature for up to 4 days after baking. For longer-term storage, freeze leftover slices for up to 3 months.
How do I frost a layer cake?
For the best step-by-step tips on assembling and frosting a layer cake, check out this post for the Best Chocolate Layer Cake with detailed assembly instructions in the post!
More Funfetti Recipes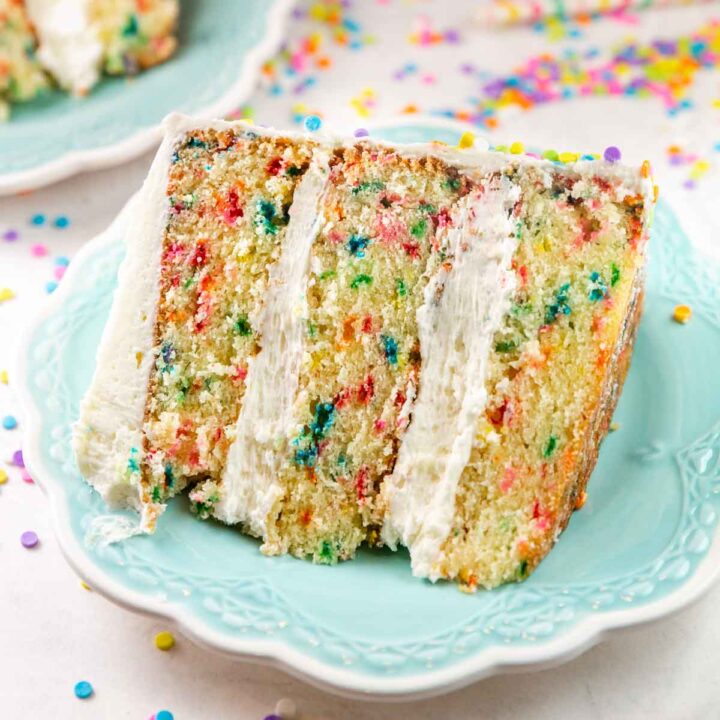 Homemade Funfetti Cake
Total Time:
1 hour
30 minutes
Light and fluffy cake filled with rainbow sprinkles and covered in vanilla buttercream. Three layers for the ultimate celebration!
Ingredients
For the Cake:
1 cup (226 grams) butter, softened
3 cups (594 grams) granulated sugar
5 large eggs, room temperature
1/2 cup (99 grams) vegetable oil
3 cups (360 grams) all-purpose flour
3/4 teaspoon baking powder
1/2 teaspoon baking soda
1/2 teaspoon salt
1 cup (227 grams) buttermilk room temperature
2 teaspoons vanilla extract
3/4 teaspoon almond extract
1 cup (160 grams) rainbow sprinkles
For the Frosting:
1 1/2 cups (339 grams) butter, softened
6 cups (681 grams) confectioners sugar
1/4-1/2 cup heavy cream
1/2 teaspoon salt
2 teaspoons vanilla extract
1 cup (160 grams) rainbow sprinkles, for decorating
Instructions
Preheat oven to 350 °F. Line three 8-inch round cake pans with parchment paper, then spray parchment paper with nonstick baking spray.
Make the cake batter. In the bowl of an electric mixer, beat together the butter and sugar until light and fluffy, 3 to 4 minutes. Beat in the eggs, one at a time, followed by the vegetable oil. In a small bowl, stir together the flour, baking powder, and salt. Add half of this mixture to the butter and eggs and beat until just combined. Pour in the buttermilk, vanilla extract, and almond extract, mix to combine, and follow with the remaining flour. Beat until just combined and no lumps remain. Stir in the sprinkles.
Bake the cake layers. Divide the cake batter between the three prepared pans (the batter will be thick). Bake for 40-45 minutes, until a tester inserted into the center comes out with a moist crumb. Remove from the oven, allow to cool in the cake pans for 5 minutes, then turn out onto a wire rack to cool completely.
Make the frosting. To make the frosting, cream together the butter and 3 cups of the confectioners' sugar using a mixer on medium-high speed until well combined, 2 to 3 minutes. Add one cup of the confectioners' sugar and one tablespoon of the heavy cream. Turn the mixer to high and mix for one minute. Add another cup of the confectioners' sugar and a tablespoon of the heavy cream, turn the mixer back to high and mix for one minute. Repeat one additional time, also adding the salt, one additional tablespoon of heavy cream, and vanilla extract. If the frosting is too dry or thick, add an additional tablespoon or two of heavy cream.
Assemble the cake. Level the cakes if necessary. Cover the bottom layer of the cake with 1 cup of the frosting. Top with a second cake layer and cover with another cup of frosting. Place the final layer on top of the cake, face down, and frost the sides of the cake with a thin layer of the cake. Refrigerate for 30 minutes to set the frosting crumb coat, then use the remaining frosting to spread on the sides and top of the cake. Decorate liberally with additional sprinkles.
Notes
Buttermilk can be substituted for 1 cup of whole or 2% milk + 1 teaspoon of lemon or vinegar.Mix together and set aside for 5 minutes before adding to the batter.
For perfectly flat, even cakes, weigh the batter to ensure the same amount is in each pan and use Bake Even strips while baking.
This recipe makes 3 thick 8-inch layers. To use 9-inch pans, keep the ingredients the same but start checking for doneness at 30 minutes -- cake layers will be thinner. For thick 9-inch layers, multiply each ingredient by 1.25.
Homemade funfetti cake can be stored at room temperature for up to 4 days, or frozen for up to 3 months. Unfrosted layers can be wrapped in plastic wrap and aluminum foil and frosted after thawing. Individual slices of cake can be frozen on a sheet pan, then wrapped in plastic wrap and foil once frozen, and stored for up to 3 months. Thaw at room temperature.
Recommended Products
As an Amazon Associate and member of other affiliate programs, I earn from qualifying purchases.