September 5, 2014
No Bake Peanut Butter Oatmeal Bars
Easy to make and no bake, these chocolatey Peanut Butter Oatmeal Bars are also naturally gluten free. Perfect for gluten lovers and avoiders alike! The perfect make-ahead party dessert.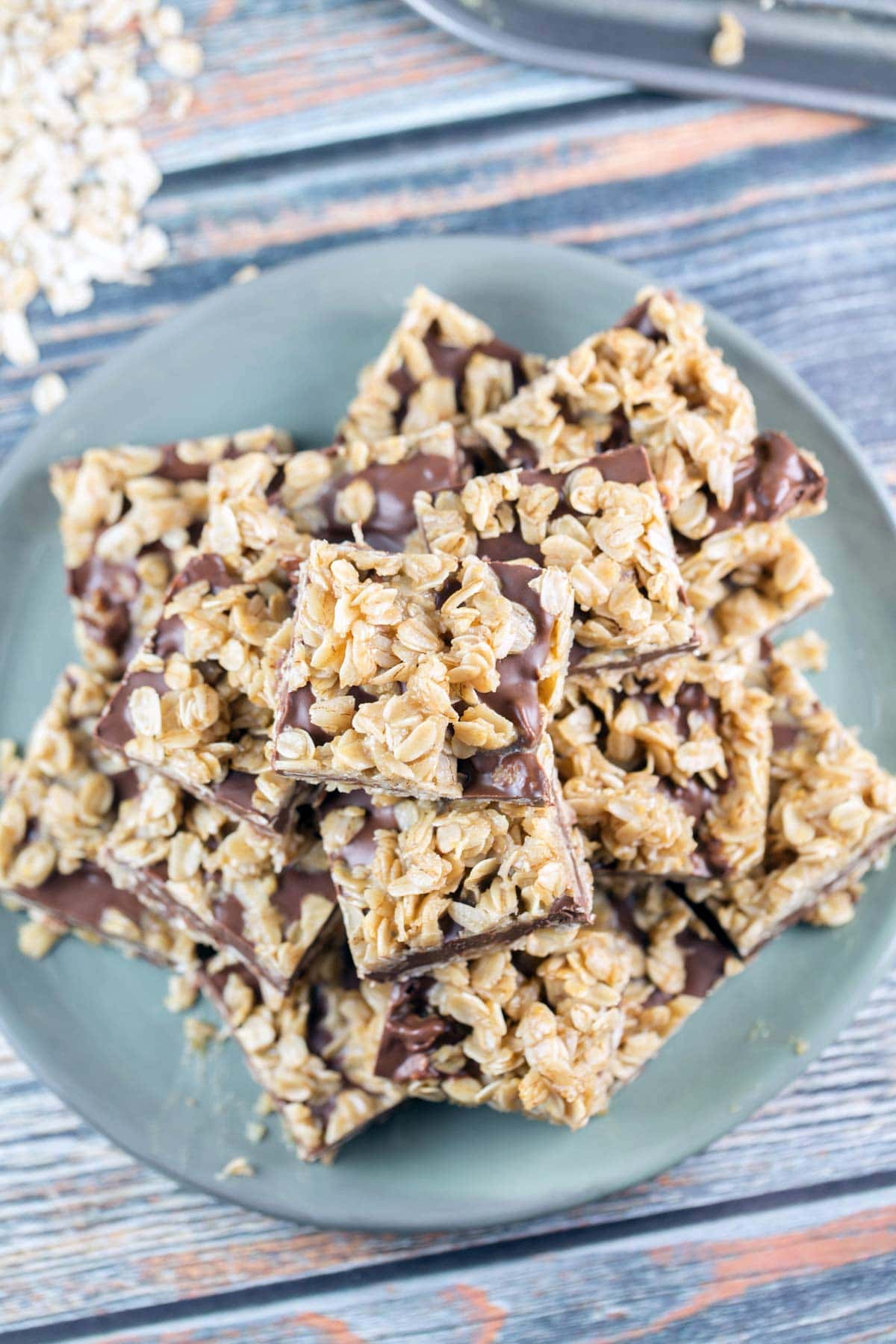 A few weeks ago, I happened to have two events on the same day with individuals who are gluten-free.  I figured it would be easy to make a double batch of some sort of dessert and bring half to each.
I spent a little while perusing some gluten-free recipe sites.  Xanthan gum? Coconut flour? Arrowroot starch? Yikes!  In the end, I decided it just wasn't the right time for me to dive headfirst into gluten-free baking.
Instead, I decided to resurrect an old college favorite: no bake peanut butter oatmeal bars. These are easy, delicious, and total crowd pleasers.
An oatmeal-based "crust" with a middle layer of melted chocolate and peanut butter.  A subtle peanut butter flavor, not a BAM in-your-face flavor – it's juuuuuust right.
And no gluten in sight – without any hard-to-find ingredients I don't already have in my kitchen.
Every time I make these peanut butter oatmeal bars, they disappear so quickly! And since they can be made ahead of time and are easy to wrap individually, they're perfect for class parties, bake sales, or birthday party favors.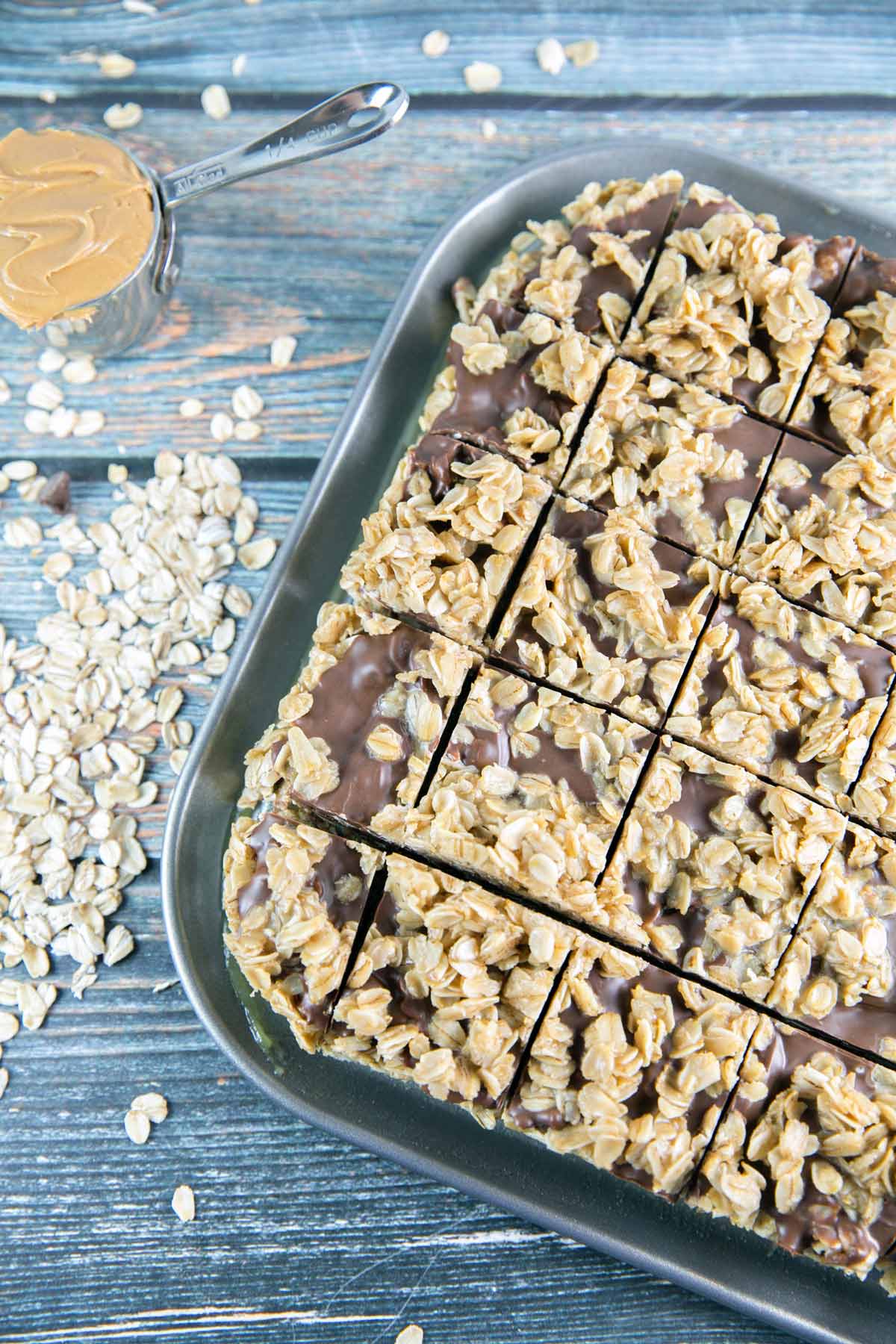 Six Simple Ingredients
The best part about these No Bake Peanut Butter Oatmeal Bars is that they're made with things you probably already have in your kitchen.
All we need to make this is butter, brown sugar, vanilla extract, oats, chocolate, and peanut butter.
Since the chocolate is melted, you can use any type of chocolate you have on hand — chopped chocolate bars or chocolate chips.
As for the peanut butter, you can easily substitute your favorite kind of nut butter… as long as it contains hydrogenated oils.
What are hydrogenated oils and why does this matter? It's time for my favorite subject… kitchen chemistry!
Kitchen Chemistry

Hydrogenation is a chemical process which adds hydrogen molecules to unsaturated fats. This raises the melting point, which allows it to become semi-solid at room temperature instead of a liquid. Many peanut butter and almond butter manufacturers add hydrogenated oils to their nut butters to prevent the oil from separating out of the nuts.
Why do we want to use hydrogenated nut butter? So-called "natural" peanut butters without hydrogenated oils will separate out with temperature changes, resulting in patches of oil and a grittier texture.
Save your natural peanut butter for sandwiches, and use homogenized peanut butter for these peanut butter oatmeal bars!
Storing Peanut Butter Oatmeal Bars
Once the peanut butter oatmeal bars are made, they'll be stored in the refrigerator for several hours to allow the chocolate to set.
After the bars have firmed up and the chocolate is set, remove the bars from the refrigerator for 30 minutes, allowing them to soften slightly. This makes it easier to cut the bars with straight lines.
Once cut, the bars can be stored at cool room temperature for up to 5 days, in the refrigerator for up to a week, or frozen for 3 months.
To freeze, wrap each bar in a layer of aluminum foil and store it in a freezer-safe bag. Thaw at room temperature, unwrapped, before enjoying.
Frequent Questions about Peanut Butter Oatmeal Bars
Can this recipe be doubled?
Yes – double the ingredients and make it in a 9×13-inch pan. The resulting bars will be a little thicker.
Can peanut butter oatmeal bars be frozen?
After cutting the bars into slices, wrap tightly in plastic wrap or aluminum foil and store in a freezer safe bag in the freezer for up to 3 months. Thaw unwrapped at room temperature.
Are peanut butter oatmeal bars gluten free?
Yes! There are no gluten-containing ingredients in these bars. Just make sure to use certified gluten free ingredients – some oatmeal and peanut butter packaging plants contain contaminants.
Can other nut butters be used instead of peanut butter?
Substitute in any nut or seed butter, as long as it it contains hydrogenated oils — i.e., does not have an oil layer that separates out.
What kind of oats should I use?
Use old-fashioned oats, also called rolled oats. Do not use instant oats or oatmeal packets.
More Peanut Butter Desserts: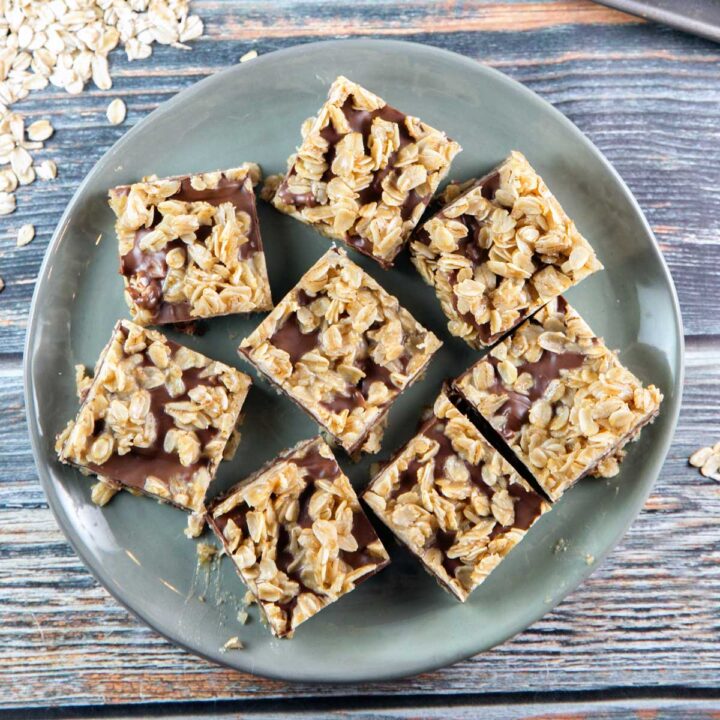 No Bake Peanut Butter Oatmeal Bars
Total Time:
2 hours
15 minutes
Easy to make and no bake, chocolatey peanut butter oatmeal bars are the perfect party dessert!
Ingredients
1 cup (226 grams) unsalted butter
1/2 cup (107 grams) brown sugar, packed
2 teaspoons vanilla extract
3 cups (267 grams) old-fashioned oats
1 cup (170 grams) semisweet chocolate, chopped
1/2 cup (135 grams) smooth peanut butter
Instructions
Line a 9x9-inch square pan with foil and spray lightly with nonstick spray. Leave foil hanging over the edge of the pan to allow for easy removal.
Melt the butter in a large saucepan over medium heat. Stir in the brown sugar and vanilla extract. Once combined, turn the heat down to low and stir in the oats. Continue to cook over low heat for several more minutes, stirring continuously, until all the ingredients are well mixed.
Spread half the oat mixture into the 9×9 inch pan, and press the oats down well using the back of a spoon.
Combine the chopped chocolate and peanut butter in a microwave-safe bowl. Microwave in 30-second intervals, stirring well, until the chocolate has melted and the mixture is smooth. Pour this over the oats in the pan, spreading evenly with the back of a spoon.
Crumble the remaining oat mixture over the chocolate, pressing gently to form a solid layer.
Cover and refrigerate for several hours before cutting into 16 bars.
Recommended Products
As an Amazon Associate and member of other affiliate programs, I earn from qualifying purchases.
Nutrition Information:
Yield:

16
Serving Size:

1 bar
Amount Per Serving:
Calories:

236
Total Fat:

14.5g
Carbohydrates:

29.2g
Protein:

4.2g