October 29, 2019
Chocolate Peanut Butter Cup Bundt Cake
Light and fluffy chocolate cake covered in peanut butter and chocolate ganache, topped with chopped Reese's peanut butter cups. Mix up this Chocolate Peanut Butter Cup Bundt Cake by hand in two bowls for an easy, impressive dessert.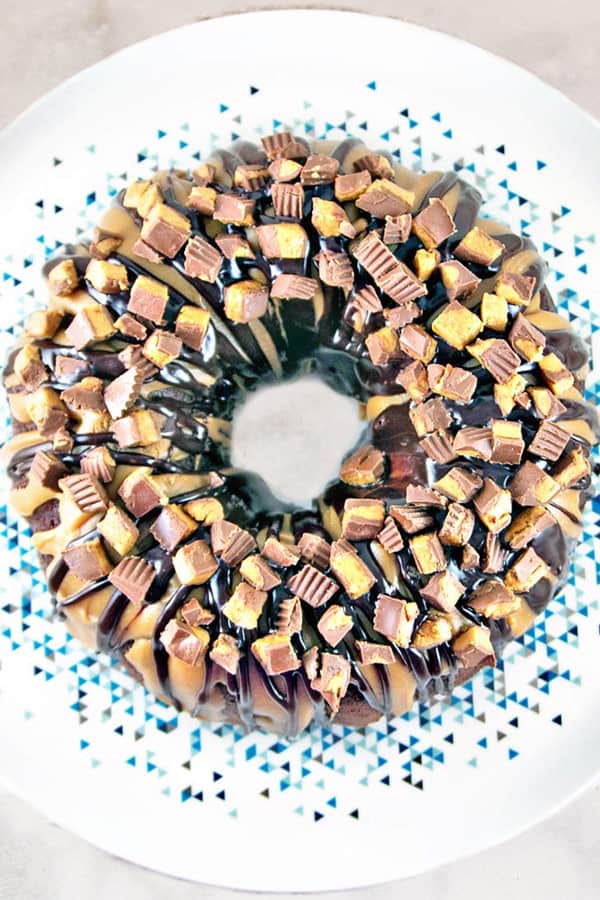 This post may include affiliate links. As an Amazon Associate I earn a fee from qualifying purchases.
This chocolate peanut butter bundt cake was the first bundt cake recipe to be published on Bunsen Burner Bakery, all the way back in 2016. It kicked off an entire obsession — 2017 was my "Year of Bundt Cakes" with a new bundt cake recipe each month.
(And there's no end in sight – I have four more bundt cake recipes waiting to share.)
But after 3.5 years, this post deserved a bit of a rewrite, new photos, and a new video to show you how gosh darn EASY it is to make. So easy, it doesn't even require a mixer!
That's right — this cake is entirely made by hand!
And it's coming just in time for Halloween when you just might find yourself with a lot of peanut butter cups.
You know, maybe you have little Trick or Treaters at home and you can raid their candy stash and convince them to trade you their peanut butter cups in exchange for this cake.
Or maybe you're buying lots of Halloween candy and whoops an extra bag of peanut butter cups wound up in your cart.
Or you know, maybe you should just go plan on buying some extra peanut butter cups at an after-Halloween sale — is that a thing?! — specifically to make this cake because really, you just need this cake in your life.
This chocolate peanut butter cup bundt cake has the flavor and decadence of my chocolate peanut butter cup layer cake, but it's a mere quarter of the work.
No layers, no frosting, and no mixer necessary. Just a saucepan, a bowl, and a whisk, and the cake of your chocolate-and-peanut butter-loving dreams can be all yours.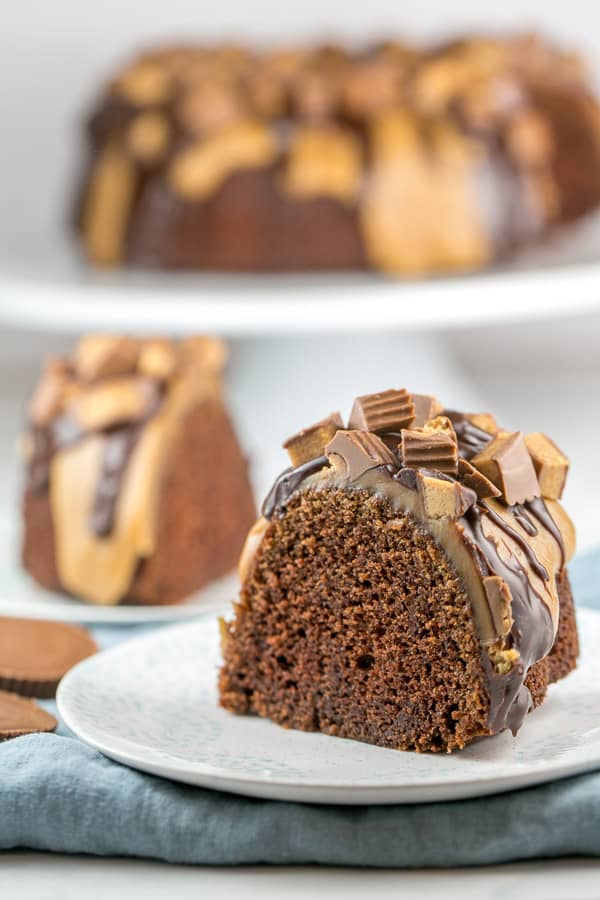 Mix-by-Hand Chocolate Cake Batter
Making this cake seriously could not be any easier. Because the cake uses melted butter, the entire thing can be whisked by hand. No stand mixer is necessary!
Look, there's even a video to show you how easy the process is. Watch and see for yourself. ↓↓↓
Bundt cakes can often taste dry and crumbly since they're big, dense, and heavy. This cake manages to stay moist, however, thanks to the addition of both buttermilk AND one of my favorite secret ingredients when it comes to baking cakes: Greek yogurt!
Why Greek yogurt? It's time for my favorite subject.. kitchen chemistry!
Kitchen Chemistry

Adding plain, full-fat Greek yogurt to cakes keeps them moist and fluffy. Much like buttermilk or sour cream, Greek yogurt lowers the pH of the batter, which helps break down the tough strands of gluten from the flour. But Greek yogurt also contains more casein, a protein that both increases the volume and moisture content of cakes.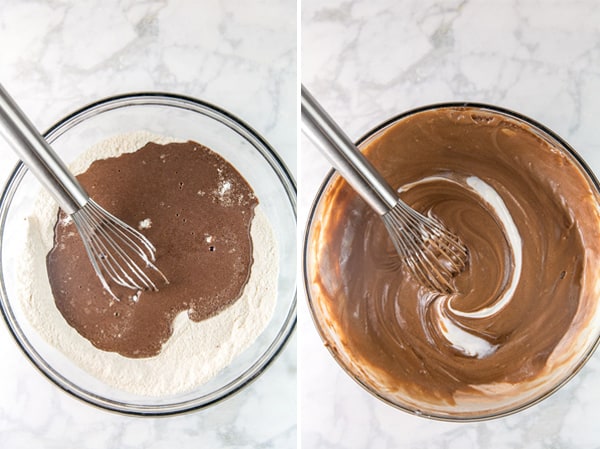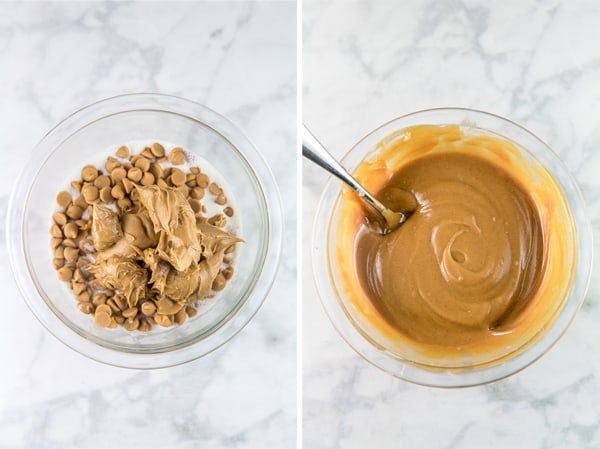 Easy Chocolate Ganache
Chocolate ganache is a mixture of equal(…ish) parts of chocolate and heated heavy cream. Stir together until perfectly smooth and shiny, then pour on top.
As the ganache cools, it will solidify, but stay soft. No longer runny, but it never truly hardens.
On a cake, it serves as both a decoration and an added flavor; like a richer, even chocolatier frosting.
It also helps to hold in moisture and prevent the cake from drying out. In this case, we'll also use the ganache to serve as the glue to hold on to our chopped peanut butter cups, too!
I prefer to make mine on the stovetop, using a double boiler method. I find this gives me more control, allows me to whisk while heating simultaneously, and has less risk of the chocolate seizing.
If you prefer, you can heat the milk first and pour it on top of the chocolate, let it sit for a few minutes, and then whisk until smooth.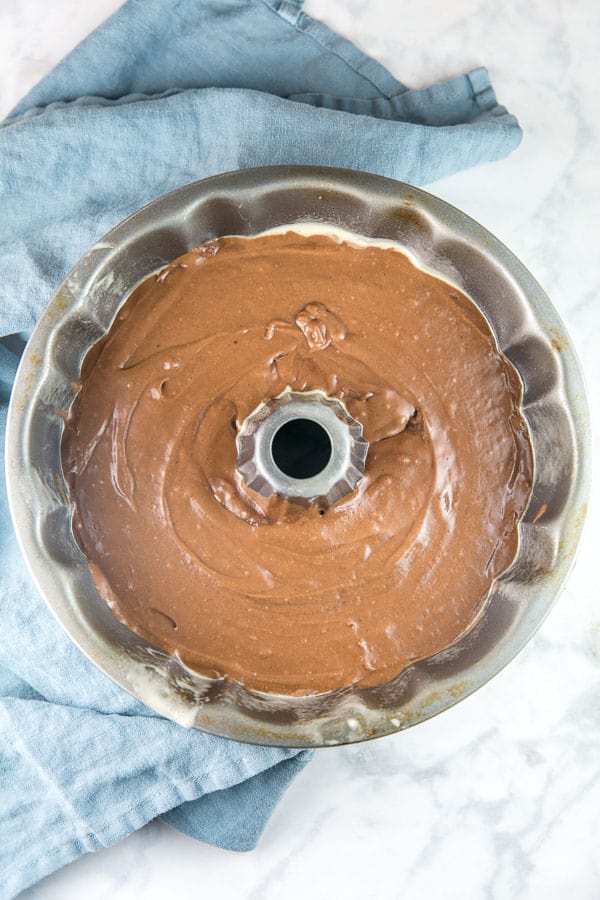 Outrageously Delicious Peanut Butter Ganache
Everyone knows about chocolate ganache. But did you know that PEANUT BUTTER GANACHE is a thing, too?
I first discovered peanut butter ganache with this Chocolate Peanut Butter Banana Pretzel Pie, and have since made it my life mission to add it to as many things as possible.
Much like chocolate ganache, we make peanut butter ganache by adding together warm heavy cream and… peanut butter chips. And peanut butter (smooth, not chunky!).
Stir together until perfectly smooth, then pour over the cake. It's thick. It piles on and slowly slides down the sides of the cake. I… could kind of watch it all day.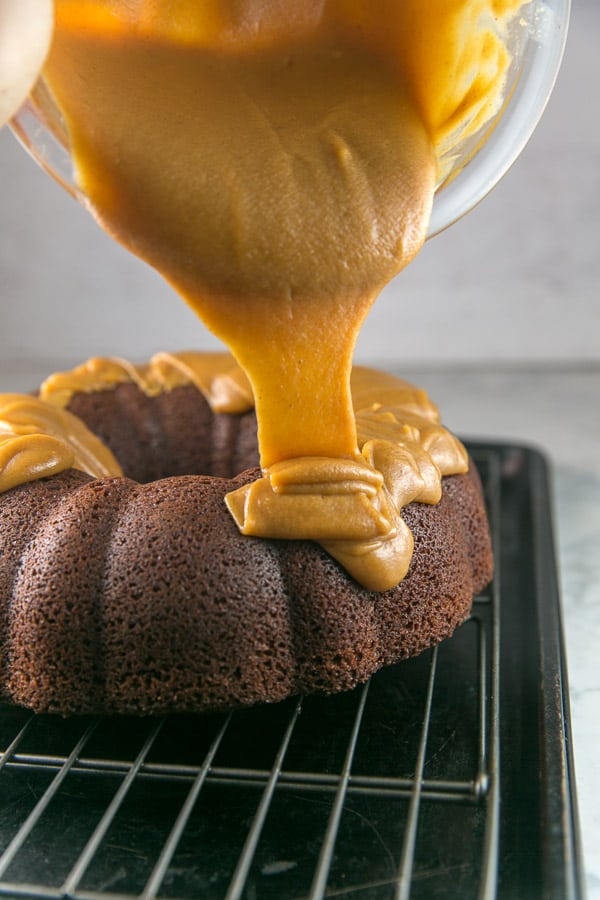 Storing Peanut Butter Cup Bundt Cake
Chocolate (and peanut butter!) ganache is perfectly stable at room temperature, so this cake is safe to store on the counter. Keep the cake in an airtight container for up to 5 days (if it lasts that long!).
Once cut, the edges of bundt cakes are exposed to air dry out first, so covering these exposed sides with plastic wrap will help keep the cake fresher.
This cake can also be made ahead of time and frozen. Store the cake — either fully made and decorated or as leftover slices — in the freezer for up to 3 months. Wrap in aluminum foil and store in a plastic freezer bag (slices) or a large airtight plastic storage container (whole cake). Bring to room temperature before serving.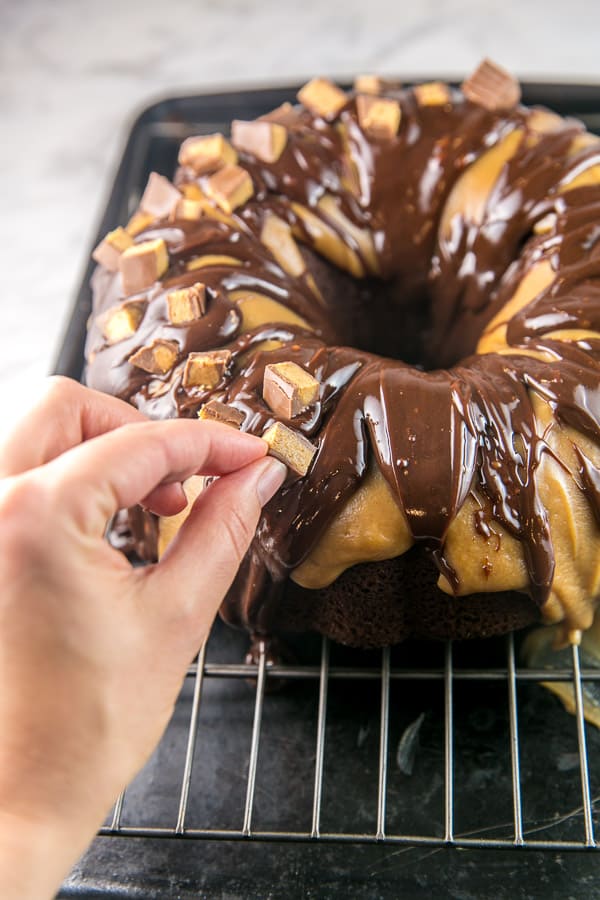 Recommended Tools to Make Peanut Butter Cup Bundt Cake
Mixing Bowls: This set contains multiple mixing bowls, perfect for mixing the cake batter and the ganaches.
Whisk: Use a whisk for the batter, the chocolate ganache, and the peanut butter ganache.
Small Saucepan: A 2 quart saucepan works well to make the cake batter.
Bundt Pan: This recipe calls for a 12-cup metal bundt pan.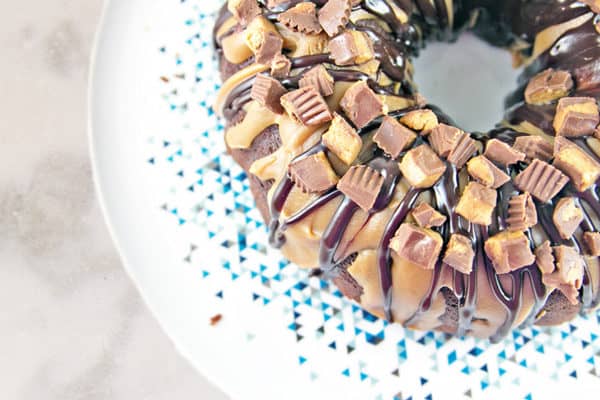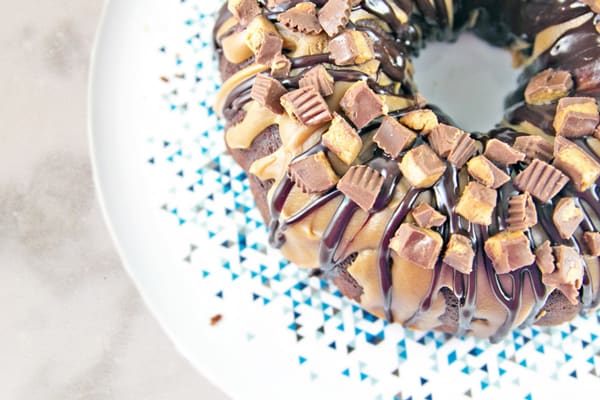 Tips and Tricks for The Best Chocolate Peanut Butter Cup Bundt Cake
Looking to perfect your bundt cake baking skills? Definitely give this post on ESSENTIAL BUNDT CAKE TIPS a quick read — it covers everything from how to make sure your bundt cake doesn't stick to how to prevent the bottom of the cake from doming!
After removing the pan from the oven, run a knife along the edges of the pan to loosen the cake slightly, then set aside to cool for 10 minutes before inverting it on a wire rack.
For the smoothest peanut butter ganache, use regular, creamy peanut butter. (Not chunky, and not natural peanut butter.)
Use any size peanut butter cups for the top! The number listed in the recipe (8) is for regular-sized peanut butter cups, but the miniatures work fine, just use more.
Bought buttermilk to make this cake and have extra? Freeze your leftover buttermilk and use it for future baking!
More Chocolate Peanut Butter Desserts: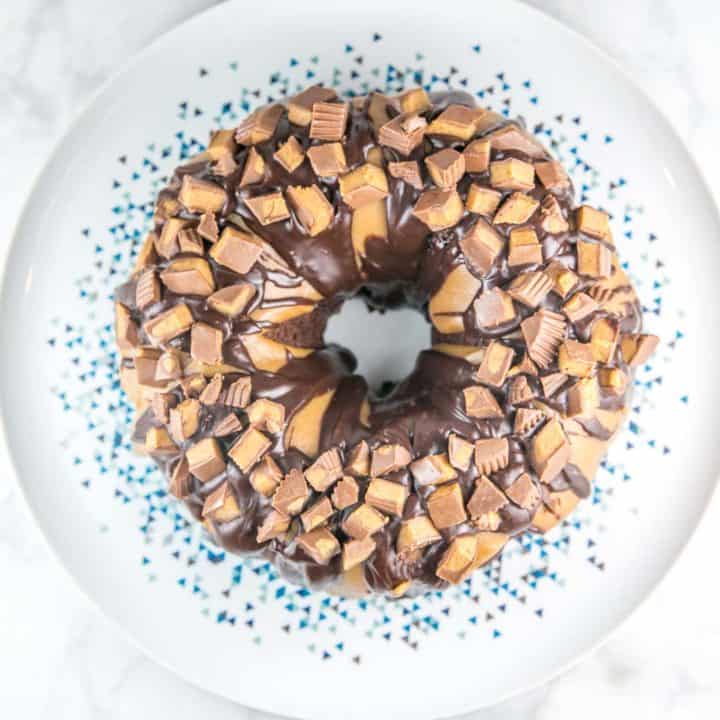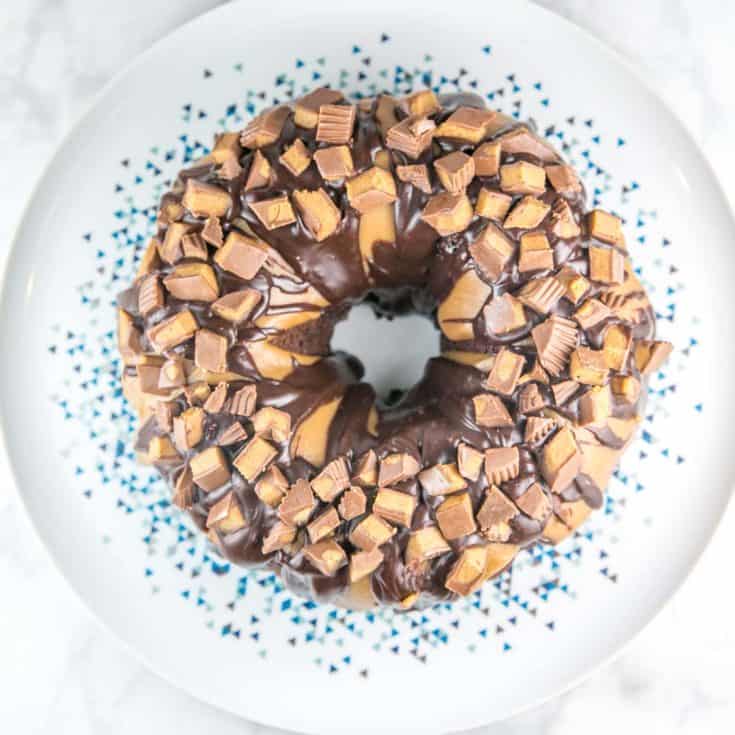 Chocolate Peanut Butter Cup Bundt Cake
Total Time:
1 hour
15 minutes
Light and fluffy chocolate cake covered in peanut butter and chocolate ganache, topped with chopped Reese's peanut butter cups.
Ingredients
FOR THE CAKE:
1 cup (2 sticks) unsalted butter
1/3 cup natural unsweetened cocoa powder
1 teaspoons salt
1 cup buttermilk
2 cups all-purpose flour
1 1/2 cups sugar
1 1/2 teaspoons baking soda
2 eggs, room temperature
1/2 cup plain Greek yogurt
1 tablespoon vanilla extract
FOR THE PEANUT BUTTER GANACHE:
1/2 cup heavy cream
1/2 cup peanut butter
8 ounces peanut butter chips
FOR THE CHOCOLATE GANACHE:
6 ounces semisweet chocolate, chopped
1/2 cup heavy cream
1/2 teaspoon sea salt
FOR TOPPING:
6 peanut butter cups, chopped
Instructions
Preheat the oven to 350 °F. Grease and flour a 12-cup metal bundt pan.
Make the cake batter. Melt the butter in a small saucepan over medium heat. Whisk in the cocoa powder and salt. Once the butter is fully melted, remove from the heat and pour in the buttermilk, whisking until all ingredients are combined.
In a large bowl, whisk together the flour, sugar, and baking soda, Add the melted butter and cocoa powder mixture, pouring slowly and whisking continuously until combined. The resulting batter will be thick. Add in the eggs, one at a time, whisking until completely blended. Add in the Greek yogurt and vanilla extract, stirring until smooth.
Bake the cake. Pour the batter into the prepared pan and bake until a tester inserted into the center of the cake comes out with a moist crumb; about 45 minutes. Allow the cake to cool in the pan for 15 minutes before inverting onto a cake rack and cooling completely.
Make the peanut butter ganache. To make the peanut butter ganache, add a few inches of water to the saucepan and bring it to a simmer. Place a heat-proof bowl on top of the simmering water. Add the heavy cream, peanut butter, and peanut butter chips to the bowl and stir until melted. Pour the peanut butter ganache over the bundt cake, encouraging the ganache to run down the sides of the cake, and allow to solidify before adding the chocolate ganache.
Make the chocolate ganache. To make the chocolate ganache, return the heat-proof bowl to simmering water. Combine the chocolate, heavy cream, and salt, stirring over the heat until melted and thoroughly combined, then add in the pinch of salt. Pour the chocolate ganache into a ziplock bag and snip off the corner. Use this corner to drizzle streams of chocolate over the entire cake.
Top with chopped peanut butter cups while the chocolate ganache is still soft. Allow the chocolate ganache to set before slicing.
Notes
Use smooth, regular peanut butter (not chunky or natural peanut butter) for the peanut butter ganache.
The recipe is written for normal sized peanut butter cups (6), but miniature or large peanut butter cups can be used; just use as many as it takes to cover the top of the cake!
The cake can be kept in an airtight container at room temperature for up to 5 days or frozen wrapped in aluminum foil and stored in a freezer bag for up to 3 months.

A Bunsen Burner Bakery Original Protocol
Recommended Products
As an Amazon Associate and member of other affiliate programs, I earn from qualifying purchases.
Nutrition Information:
Yield:

16
Serving Size:

1 slice
Amount Per Serving:
Calories:

507
Total Fat:

31.8g
Carbohydrates:

49g
Protein:

9.8g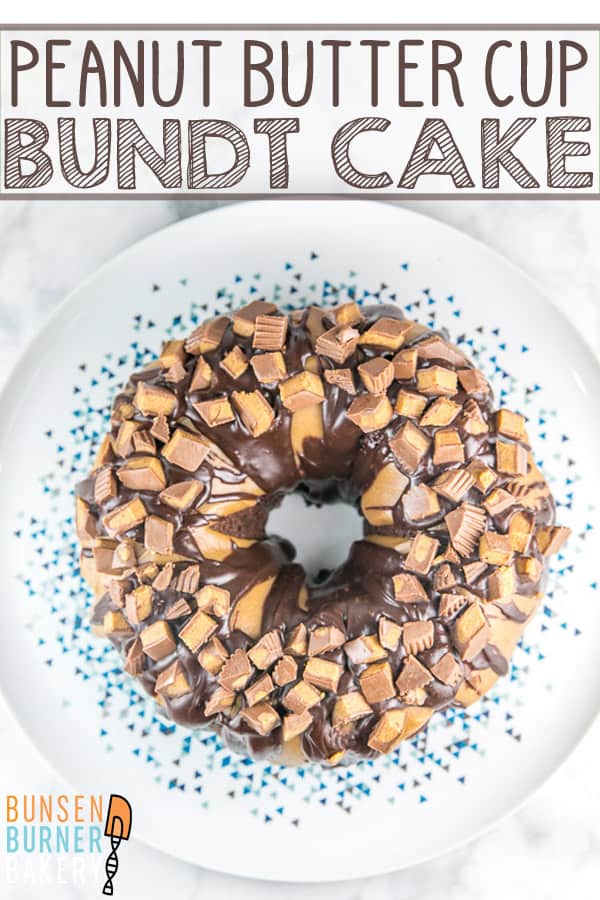 This Chocolate Peanut Butter Cup Bundt Cake recipe was originally published on 05/05/2016. It was republished on 10/29/2019 with new recipe tips and photographs.