June 26, 2017
Patriotic Red White & Blue Bundt Cake
Celebrate America with the ultimate patriotic cake: this three-toned Red, White, and Blue Bundt Cake is as delicious as it is beautiful. So long, flag cake — there's a new 4th of July dessert in town!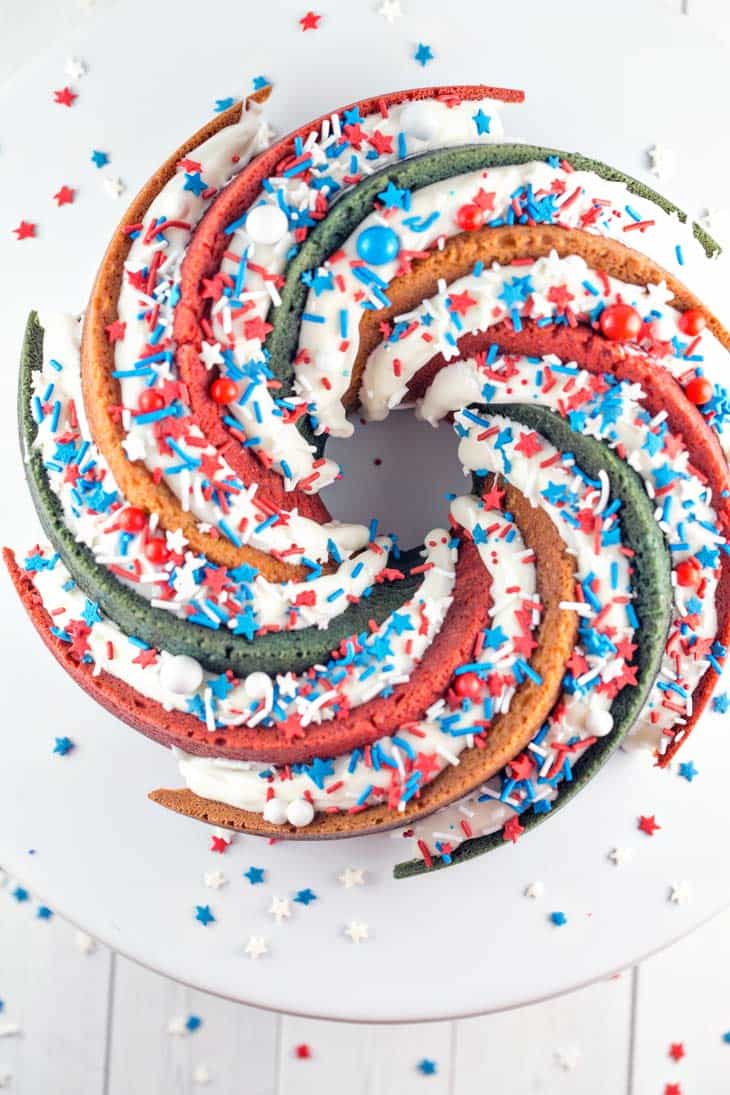 Nothing quite says summer in the United States like red, white, and blue desserts. Memorial Day, July 4th, and Labor Day are all the perfect excuse to break out some patriotic colors!
With the 4th of July right around the corner, I wanted to come up with a truly beautiful cake, and I'm pretty sure I've done just that! This patriotic Red, White, and Blue bundt cake will be the talk of your 4th of July party (or swap out the colors and make it for any other occasion, because this cake is way too good to only make once a year).
My only concern going into this was if the colors would really be visible. The top of bundt cakes get pretty dark as they bake, so would the color change be noticeable?
In a word – YES! No, the colors aren't as bright and vibrant on the outside as they are inside, but you can absolutely tell the difference. Fourth of July Bundt Cake SUCCESS!
Easy Vanilla Bundt Cake
The base of this red, white, and blue bundt cake is one of my favorite simple vanilla bundt cake batters. The recipe is easy to follow and results in a cake that is not only visually stunning, but delicious, too! It's rich, buttery, and not at all dry.
The ingredients are all simple pantry staples that you probably already have at home. If you're looking to make substitutions for allergies, here are a few easy swaps:
Gluten-Free: Replace the all-purpose flour with a 1:1 gluten-free baking mix blend, like King Arthur's Gluten-Free Measure for Measure Flour
Dairy Free: Use your favorite non-dairy milk, like almond or soy milk, and swap out the butter for margarine or a vegan butter stick.
Egg Free: Substitute the eggs with hydrated chia seeds, using 1 tablespoon of chia seeds plus 2.5 tablespoons of water for each egg.
Coloring Cake Batter
After you've made the cake batter, you're ready for the fun part: coloring the batter! Divide the batter evenly into three bowls (I just eyeballed this, but if you'd like to be more precise, weigh the batter.)
When it comes to adding color to cake batter for this or any other cake, I always use Americolor Gel Food Coloring for the brightest colors without watering down the batter. Unlike water-based food color, gel food coloring doesn't add extra liquid to the batter and provides the most vibrant, bright colors.
At this point, you can just alternate dollops of colored cake batter in the pan, or if you have a fancy bundt pan, keep reading for tips on how to get perfect color changes!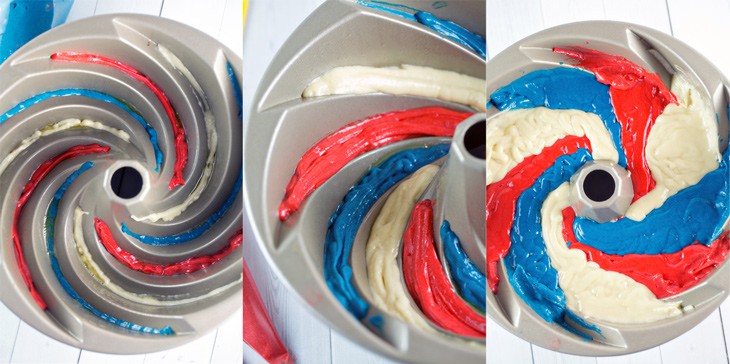 Spiral Bundt Pan Tips
I love baking this red, white, and blue cake in a spiral bundt pan. The spiral design itself is beautiful and with 9 spirals, a three-colored cake fits perfectly! Other designs that would work well include this elegant bundt pan, brilliance bundt pan, or kugelhopf bundt pan.
Scoop each of your batter colors into a separate piping bag (or large zip-top plastic bag). Snip off just the very end of the bag and start by filling each line with your color of choice. Go back and add a little more, one color at a time. Keep filling up the pan, sticking with the spiral pattern, until you use up all the batter.
Don't worry if it's not perfect – a little of each color will bleed into the next spiral. It's fine; you won't see it anyway once you add the white glaze.
Whether you use a fancy bundt cake pan or not, just make sure it's a light-colored metal pan and not dark metal or silicone. Why is this relevant? It's time for my favorite subject… kitchen chemistry!
Kitchen Chemistry

Light-colored pans have a higher reflectivity, meaning they reflect more heat than they absorb. By reflecting heat away from the sides of the pan, light-colored pans help to ensure evening baking and prevent the outer edges from excessive browning.
Since this cake is all about the red, white, and blue colors, we want to make sure they are still visible on the outside of the cake – no overly browned exterior, please!
Thick Vanilla Glaze
This recipe uses a thick (really thick!) powdered sugar glaze. I wanted a glaze thick enough to pipe into the spiral swirls. If you prefer a thinner glaze, you can of course do that, but I really liked leaving the top of the spirals unglazed (to see the color) and filling in the inside (to cover any spots where one color bled into another)!
To make a thick glaze, keep stirring in a little more powdered sugar until the texture is not yet chalky, but thick enough that you can pipe it on or spread it with a knife.
Not into a powdered sugar glaze? Here are some other options that would work well!
White Chocolate Chip Glaze: Combine 1 cup chopped white chocolate + 1/4 cup heavy cream. Heat in a microwave at 50% power, stirring frequently, until the chocolate is fully melted and the glaze is smooth.
Homemade Whipped Cream: Combine 1 1/2 cups heavy cream + 1/4 cup confectioners sugar + 1/2 teaspoon vanilla extract and whip using a mixer until medium-soft peaks form.
Cream Cheese Frosting: Combine 4 ounces cream cheese + 2 cups confectioners' sugar + 3 tablespoons milk and beat together until smooth.
Whatever glaze you choose, I highly recommend covering the cake with a generous layer of your favorite festive red, white, and blue sprinkles!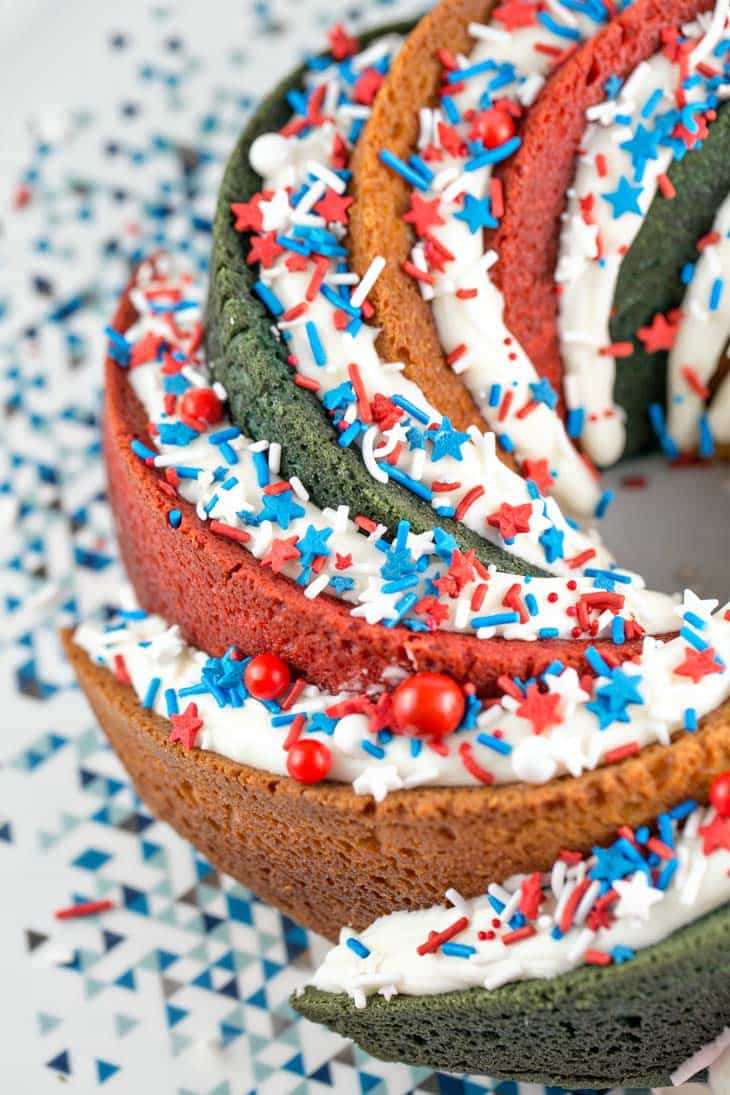 Recommended Tools to Make a Patriotic Bundt Cake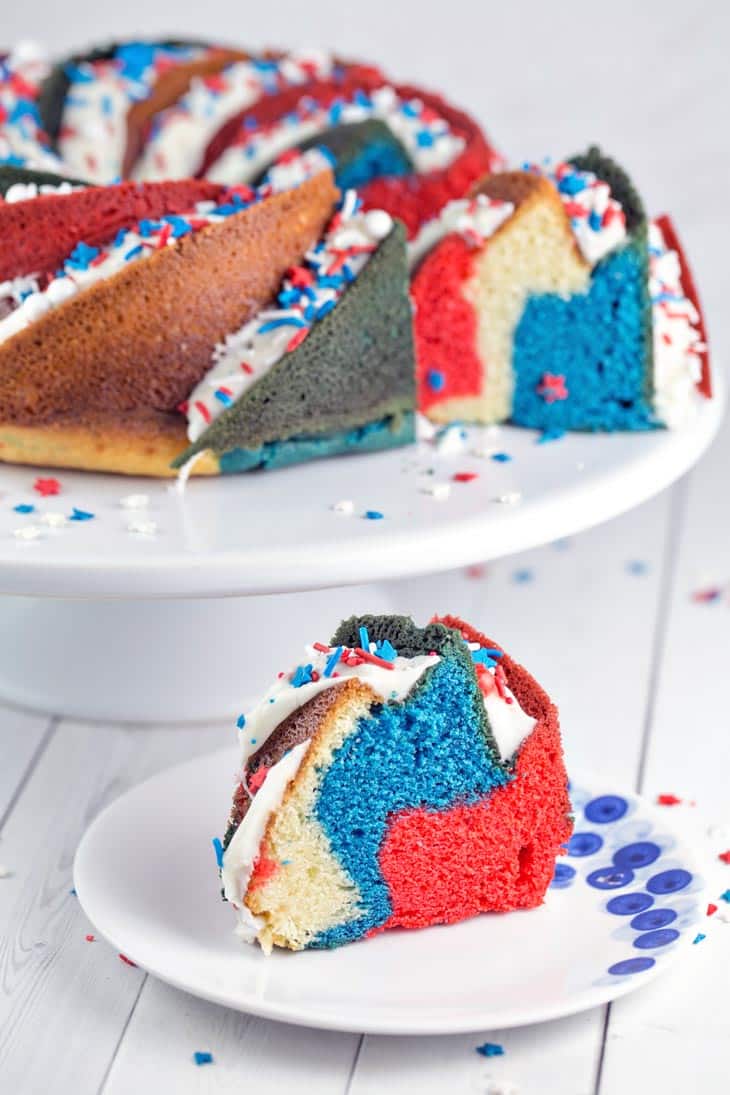 Tips and Tricks for the Best Red, White, and Blue Bundt Cake
Use gel food coloring for vibrant hues without altering the consistency of the cake batter.
Carefully pipe the different colors around the spiral for the best color differentiation.
Allow the cake to cool slightly in the pan before turning it out. Let the cake cool for 10 minutes after removing it from the oven, then turn it upside-down onto a cooling rack. If the cake doesn't release easily, let it sit upside-down for an additional 10 minutes, as the steam will rise to the top and help release the cake. After 10 minutes, the cake should slide right out.
Looking to perfect your bundt cake baking skills?  Definitely give this post on ESSENTIAL BUNDT CAKE TIPS a quick read — it covers everything from how to make sure your bundt cake doesn't stick to how to prevent the bottom of the cake from doming! 
Swap up the colors for any festive celebration! Any holiday or school event is more fun with a color-coordinated spiral bundt cake!
More Patriotic Summer Desserts
2017 Bundt Cake of the Month Series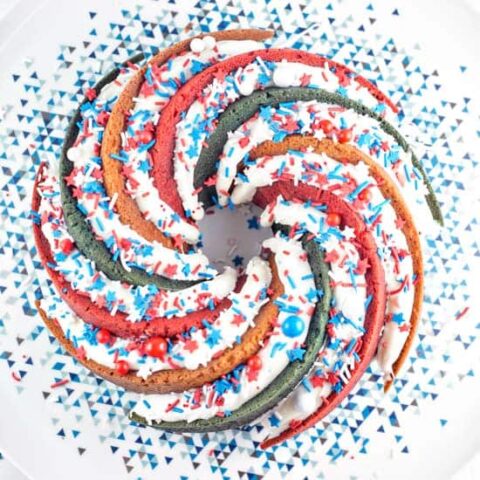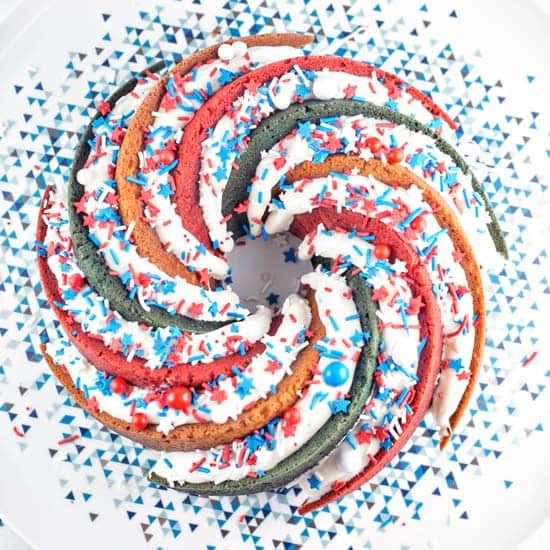 Patriotic Red White & Blue Bundt Cake
Total Time:
3 hours
20 minutes
Celebrate America with the ultimate patriotic cake: this three-toned Red White and Blue Bundt Cake is as delicious as it is beautiful.
Ingredients
For the Cake:
3/4 cup (170 grams) unsalted butter, room temperature
1 1/2 cups (297 grams) granulated sugar
3 large eggs, room temperature
1 1/4 cup (284 grams) whole milk, room temperature
1 tablespoon vanilla extract
3 cups (360 grams) all-purpose flour
1 1/2 tablespoons baking powder
3/4 teaspoon salt
several drops of blue and red food coloring
For the Glaze:
3 cups (340 grams) confectioners' sugar
1/2 cup (113 grams) heavy cream
red, white, and blue sprinkles
Instructions
Preheat the oven to 350 °F. Grease and flour a 10-cup light-colored metal bundt pan.
Using an electric mixer, beat the butter on medium speed until light and fluffy, 2 to 3 minutes. Add in the sugar and eggs, continuing to beat until combined. Lower the speed to the slowest setting; slowly pour in the milk and vanilla. Add in the flour, baking powder, and salt, continuing to beat until combined and no traces of dry ingredients remain.
Divide the batter evenly into three bowls. Set aside one bowl; add several drops of red or blue food coloring to the remaining two bowls. Transfer the batter into pastry bags or a zip-top disposable bag.
Snip off the end of the bag and pipe a very thin layer of batter into the crack of the spiral, alternating between red, white, and blue. Continue to add more batter in the appropriate color, working around the spiral until all batter is transferred into the pan. Gently tap the bundt pan on the counter a few times to even the surface of the cake.
Bake for 45-50 minutes, or until a tester inserted into the center of the cake comes out clean. Cool the cake in the pan for 10 minutes, then turn out onto a wire rack and cool it completely.
To make the glaze, whisk together the powdered sugar and a few tablespoons of the heavy cream, adding additional heavy cream until the mixture is just smooth. The consistency should be more like frosting than a glaze. Transfer the glaze to a pastry bag and pipe icing down the swirls. Decorate liberally with sprinkles.
Notes
Use gel food coloring for the most vibrant colors.
If you don't have a spiral bundt pan, spoon alternating colors of batter into a regular bundt pan for a colorful swirled effect.
Leftover cake can be stored in an air-tight container for up to 5 days or wrapped and frozen for up to 3 months.
Recommended Products
As an Amazon Associate and member of other affiliate programs, I earn from qualifying purchases.