October 18, 2016
Peanut Butter Cup Cookie Cake
A giant peanut butter chocolate chip cookie cake, covered in peanut butter cups and whipped peanut butter ganache.  This peanut butter cup cookie cake is for you, chocolate and peanut butter lovers!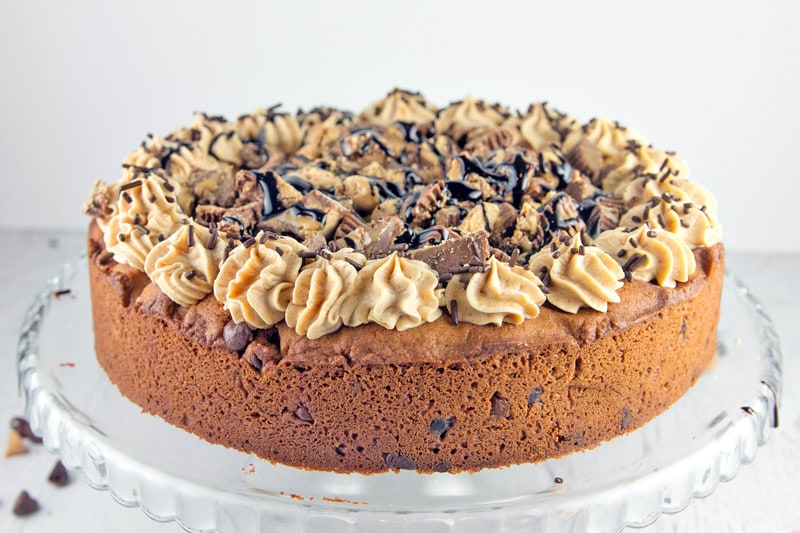 (This post contains affiliate links.  If you make a purchase through one, I receive a small commission.  For more information, please refer to my privacy policy.)
Let's talk about the hierarchy of cakes here for a minute.  Ice Cream Cake > Cookie Cake > Cake, amiright?
Nothing against regular cake here — I would never, ever turn down a slice of my vanilla cake with blueberry cardamom curd — but there are better desserts out there than cake.  Like, you know, ice cream.  And giant cookies.
I've had this discussion with other people, who all seem to agree with my Cake Hierarchy.  So it's about time for me to get around and share my favorite cookie cake recipe with all of you.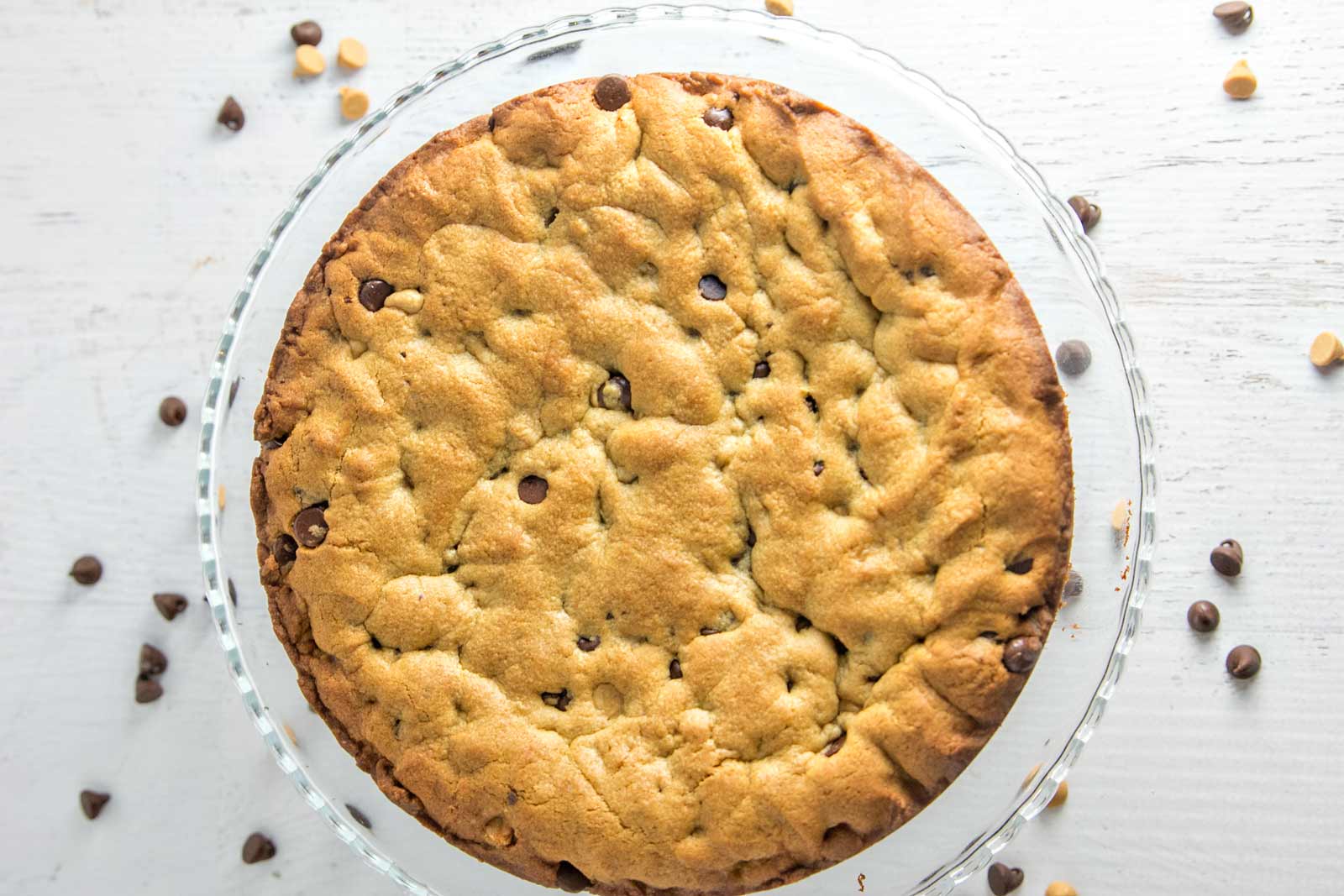 What is a Cookie Cake?
For clarification purposes, I want to emphasize that this is a cookie cake.  It's not a giant skillet cookie.
Giant cookies are thick, but like a cookie thick.  A little crunchy on the outside, soft and chewy in the middle.  It's basically just a really, really, really big cookie.
A cookie cake, meanwhile, is… well… if a cookie was a cake.  It's thicker (like a slice of sheet cake), a little chewier, a little more cakey.  You could pick up a slice and eat it with your hands, but it's more of an eat-with-a-fork dessert.  Like I said, cookie cake.
There are endless possibilities for cookie cake flavors.  I went with a peanut butter cup cookie cake.
My husband is a huge peanut butter cup fan and it's obvious you guys are, too!  My Chocolate Peanut Butter Cup Bundt Cake is constantly one of the most popular posts on my blog.  Well, chocolate and peanut butter lovers, here's another one for you!

How to Make a Peanut Butter Cup Cookie Cake
You can bake this in a standard 9″ round cake pan, but I like to use a springform pan for ease of removal.  (This one is my favorite since it really doesn't leak.  If you don't own a springform pan, I highly recommend it – perfect for cookie cakes, cheesecakes, tarts, etc!)
We'll start with a peanut butter chocolate chip cookie cake.  Easy peasy — it's basically cookie dough, with some additional leaveners, full of peanut butter, peanut butter chips, and chocolate chips.  And because we're baking it in one pan rather than as cookies, no need to chill the dough!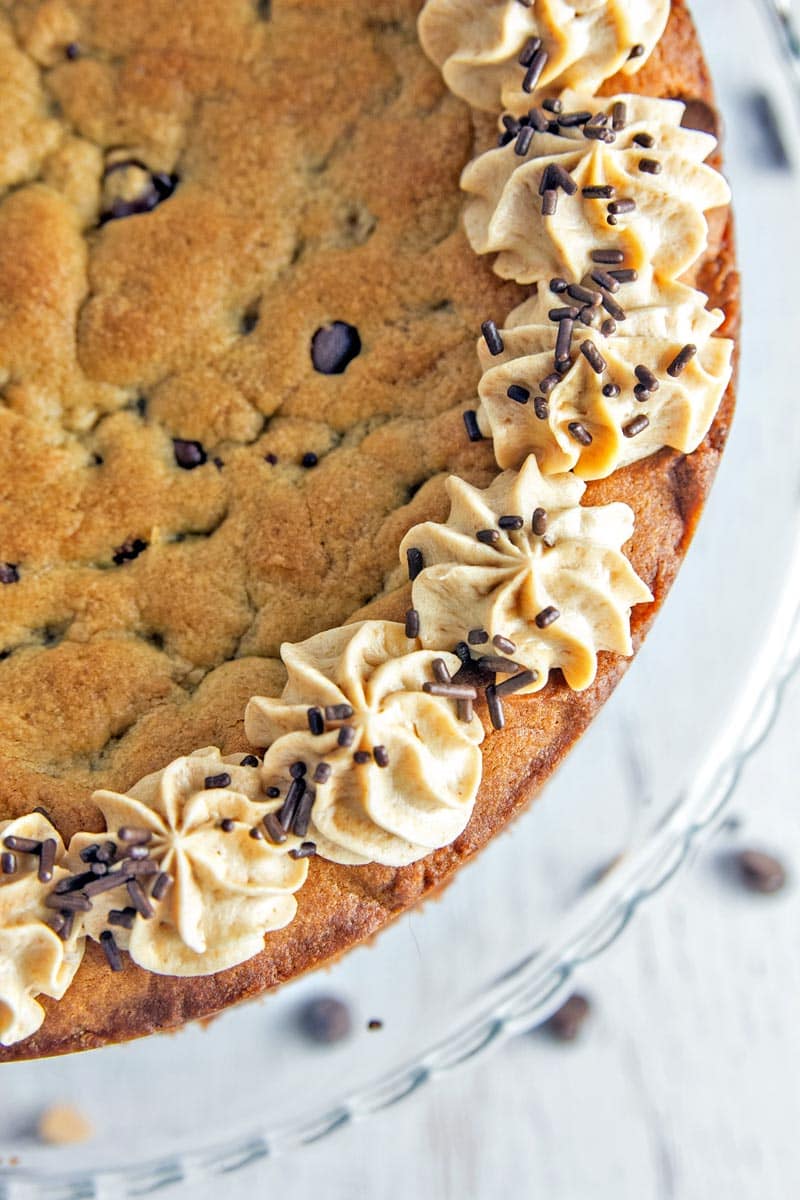 We could stop here, and you'd have a delicious cookie cake.  The outside edge is a little crispy, the inside is nice and soft.  Something to please everyone!
Buuuut… you know me.  I can't stop with a naked cookie cake!  How about some whipped peanut butter ganache and a few chocolate sprinkles around the edge?
Yes, that sounds perfect.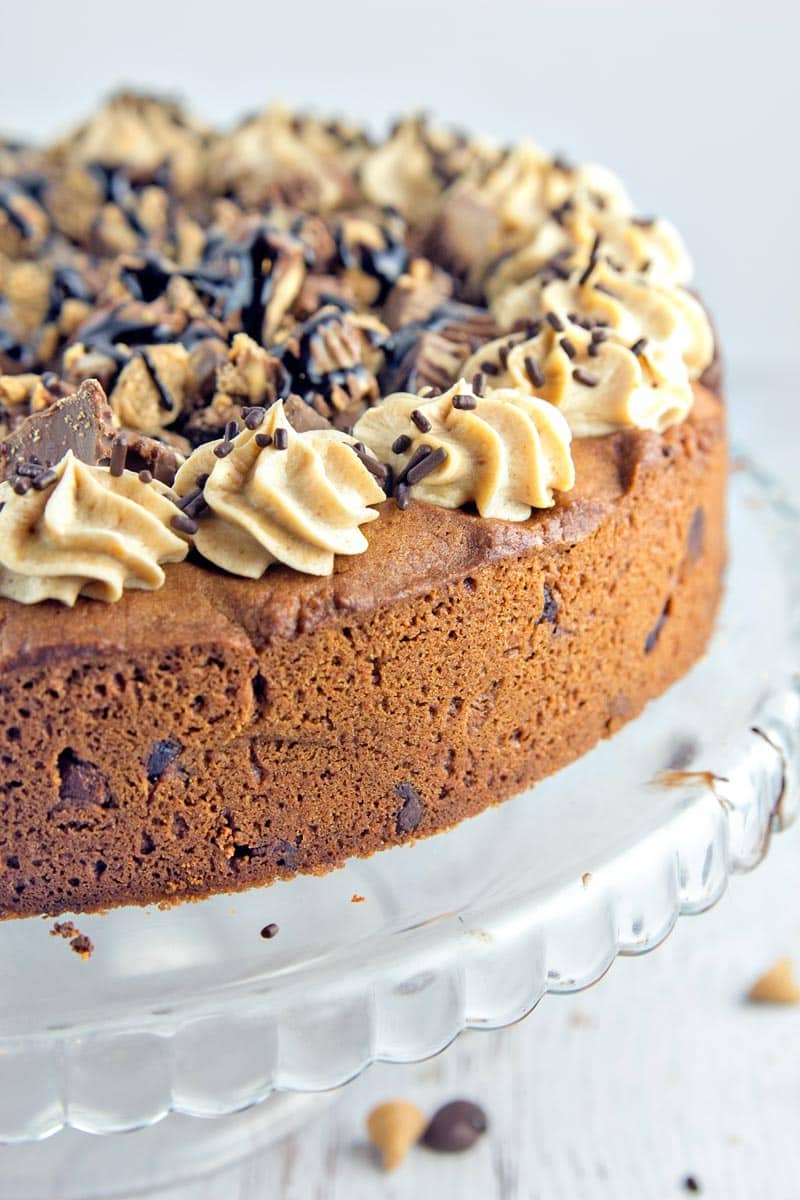 Except… there's still a lot of exposed cookie cake.  Cookie cakes are just begging for a big pile of toppings, right?
Okay, okay, you convinced me.  Let's make this an outrageous peanut butter cup cookie cake and dump a whole bunch of chopped peanut butter cups on top.
And then we should probably drizzle some chocolate sauce and peanut butte sauce on top for good measure, right?  Right!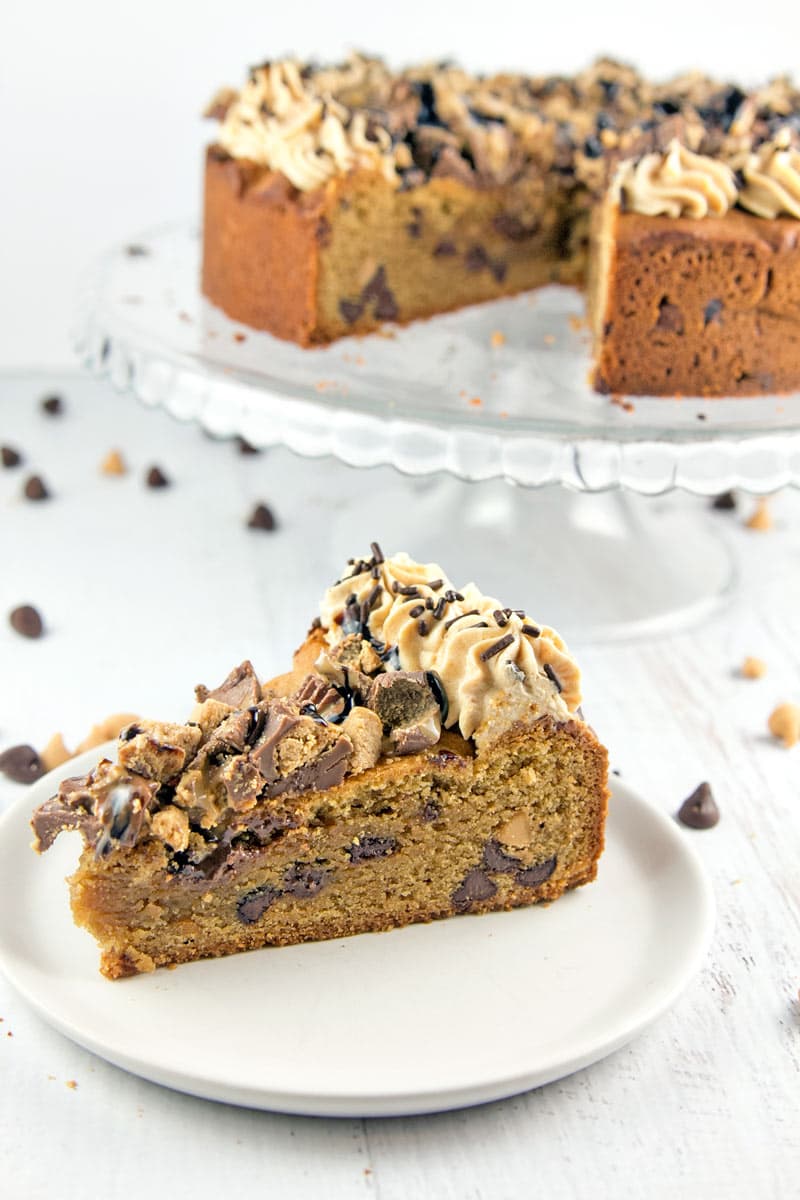 Suffice to say, this peanut butter cup cookie cake is a huge hit with my husband.  It's easier and faster than cookie and a cake, and even better than both (according to my very scientific cake hierarchy poll).
The only way to make it even better?  Serve it warm out of the oven with a big scoop of ice cream on top.  Remember, calories don't count when it comes to cookie cake!
More Chocolate and Peanut Butter Desserts:
Peanut Butter Cup Cookie Cake
A peanut butter cup cookie cake, covered in peanut butter cups and whipped peanut butter ganache
Ingredients:
For the cookie cake:
3/4 cup (1.5 sticks) butter, room temperature
1/2 cup smooth peanut butter
1 cup packed brown sugar
1 egg, room temperature
1 tablespoon vanilla extract
2 cups flour
1 1/2 teaspoons cream of tartar
1 1/2 teaspoons baking soda
3/4 teaspoon salt
1 cup chocolate chips
1/2 cup peanut butter chips
For the whipped peanut butter ganache:
1/4 cup heavy cream
1/4 cup smooth peanut butter
4 ounces peanut butter chips
Optional Toppings:
10 peanut butter cups, chopped
2 tablespoons chocolate sprinkles
2 tablespoons peanut butter sauce
2 tablespoons chocolate sauce
Directions:
Preheat oven to 350 °F.  Grease a 9-inch springform pan or cake pan.
Using a mixer, beat the butter and peanut butter together on medium speed until smooth and creamy.  Add in the brown sugar and continue to mix, until fully incorporated.  Add in the egg and vanilla, increasing the speed to medium-high.  Continue to mix an additional minute or two, until ingredients are combined and mixture looks light and fluffy.
Turn the mixer speed down to low and slowly add in the flour, cream of tartar, baking soda, and salt.  Stir until just combined — do not overmix.  Add in the chocolate chips and peanut butter chips, mixing just until distributed.  The resulting cookie dough will be very thick.
Press the cooke dough into the prepared pan, evening the top with a spatula or the back of a spoon.  Bake for 20-25 minutes, or until the cookie cake is golden and baked through.  Cool the cookie cake in the pan on a wire rack and remove once cool.
While the cake is cooling, make the whipped peanut butter ganache.  Combine the heavy cream and peanut butter into a small microwave-safe bowl.  Microwave for 1 minute and stir,  Microwave for an additional minute until steaming, then add the peanut butter chips to the bowl and set aside for 5 minutes.  After 5 minutes, stir well to combine, microwaving an additional 30 seconds if necessary.  Allow the mixture to cool to room temperature, then mix using the whisk attachment of a mixer.  Mix for several minutes, until ganache is light in color and fluffy.
To top the cake, pipe or spoon dollops of peanut butter frosting around the cake and top with sprinkles.  Fill in the center with chopped peanut butter cups and drizzle with peanut butter sauce and chocolate sauce.
A Bunsen Burner Bakery Original Protocol