June 20, 2016
Roasted Red Pepper Stuffed Flank Steak
Stuck in a grilling rut?  Shake things up with the bold, bright flavors of a Mediterranean-inspired stuffed flank steak, starring roasted red pepper pesto, feta, and spinach.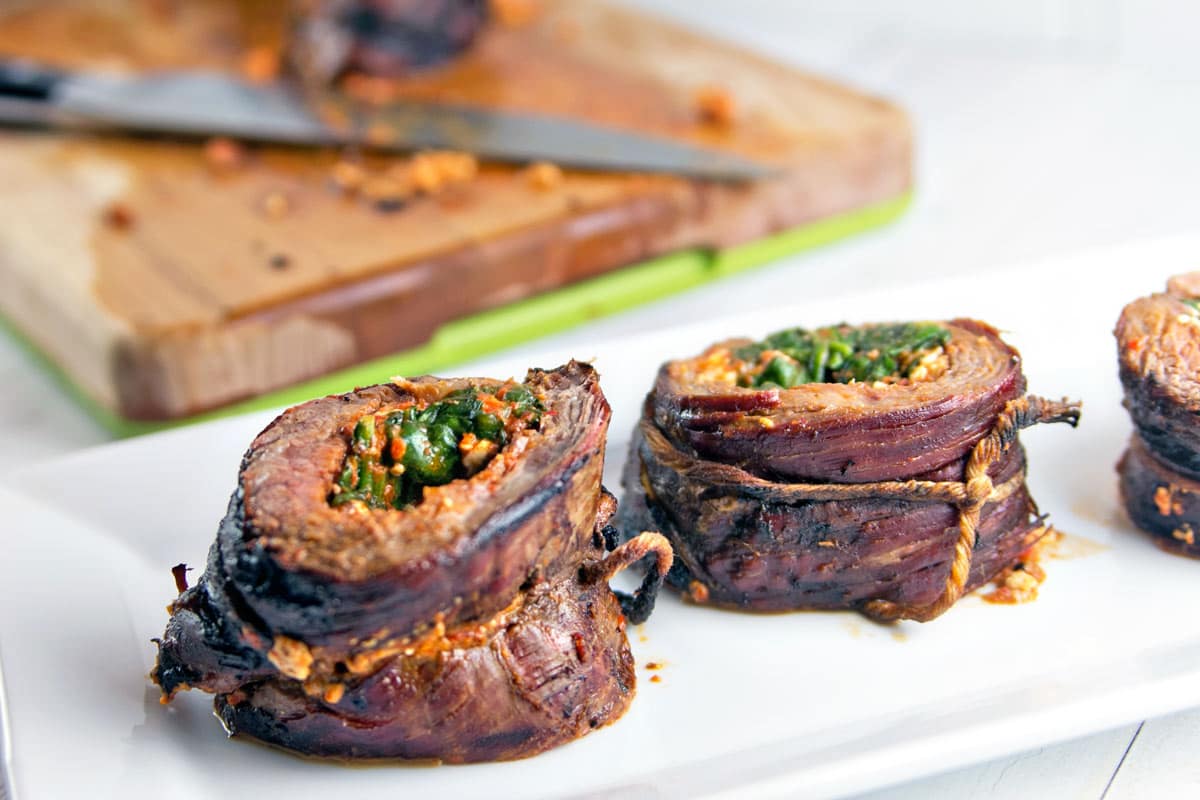 While this is a sponsored post, all opinions are mine. Thank you for supporting the brands that support me and allow me to continue to grow my blog.
Summer is all about grilling.  It's fast – perfect for busy weeknights after a long day at work.  It's easy – minimal muss and fuss.  And perhaps most importantly, it means you don't have to turn on your oven when it's roasting hot outside.  If you're a regular here at Bunsen Burner Bakery, you're already familiar with my love of grilling.  Not everyone shares my love of grilling, however.  The most common complaint I get about grilling is how boring it must be to eat the same thing everyday.  Same thing?  What?  Never!  Grilling is so much more than just hot dogs, hamburgers, and a chicken breast, friends.  The flavor combinations are endless, and today I'm going to share my latest flavorful obsession: roasted red pepper stuffed flank steak, starring Mezzetta's roasted red bell peppers.
First things first, we're going to butterfly the flank steak.  Using a sharp knife, gently cut through the steak and peel back the top half.  Think about opening a magazine cover — you're cutting the steak in half, thick-wise.  The most important part here is butterflying with the grain so when you slice the stuffed steak into serving portions, you'll be slicing against the grain.  Slowly pull back the top, using the tip of your knife to continue slicing, until that last half inch of meat (the "spine" of the magazine) remains attached.  Use the palm of your hand to flatten the steak open and voila – butterflied steak!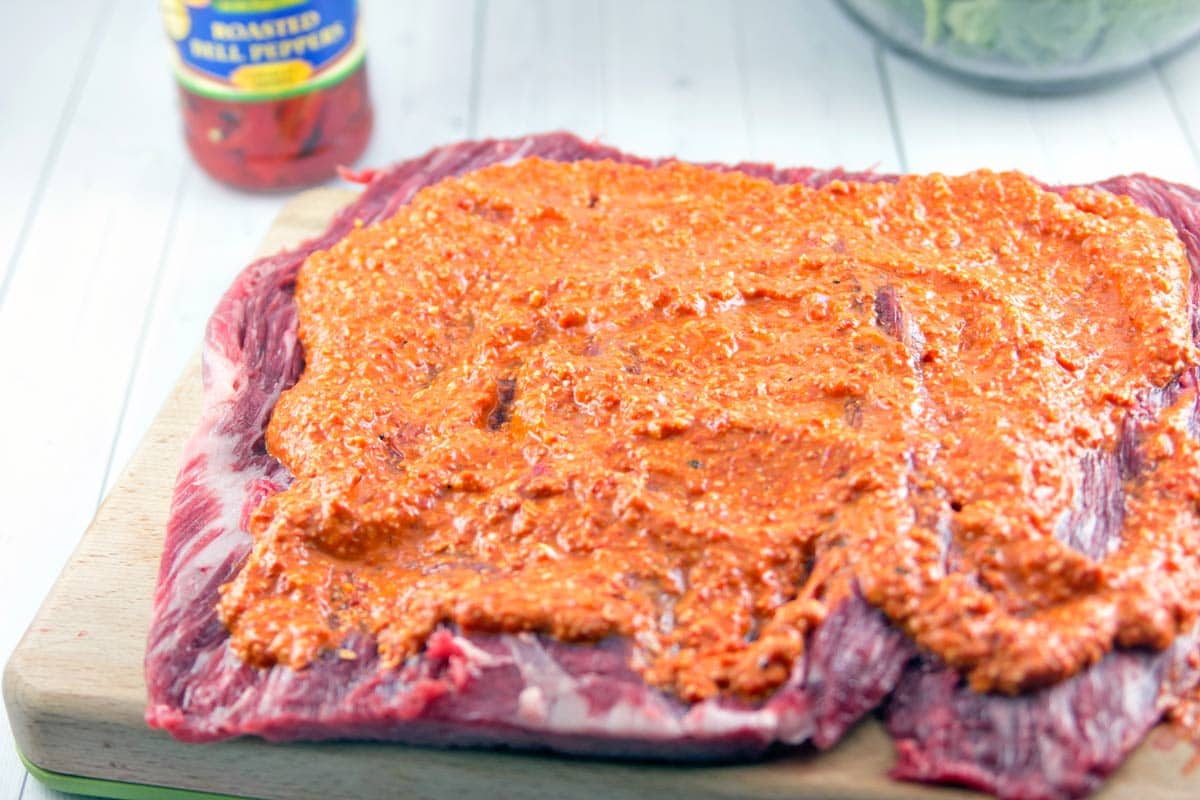 Once that's done, we're going to cover the entire steak a with roasted red pepper pesto.  Let me tell you – this stuff is amazing. Mezzetta roasted red peppers, olive oil, a shallot, a little parmesan, and a handful of toasted pine nuts.  Give it a whirl in your food processor, and try not to eat it all with a spoon because it's just that good.  Spread the pesto on your steak, top with crumbled feta and a big pile of fresh baby spinach, and roll it all up.  Grab a friend (a spare set of hands is a huge help here), tie off the steak from the outside in, and you're done!  Drop your roasted red pepper stuffed flank steak on the grill and celebrate with a beer while it grills to perfection.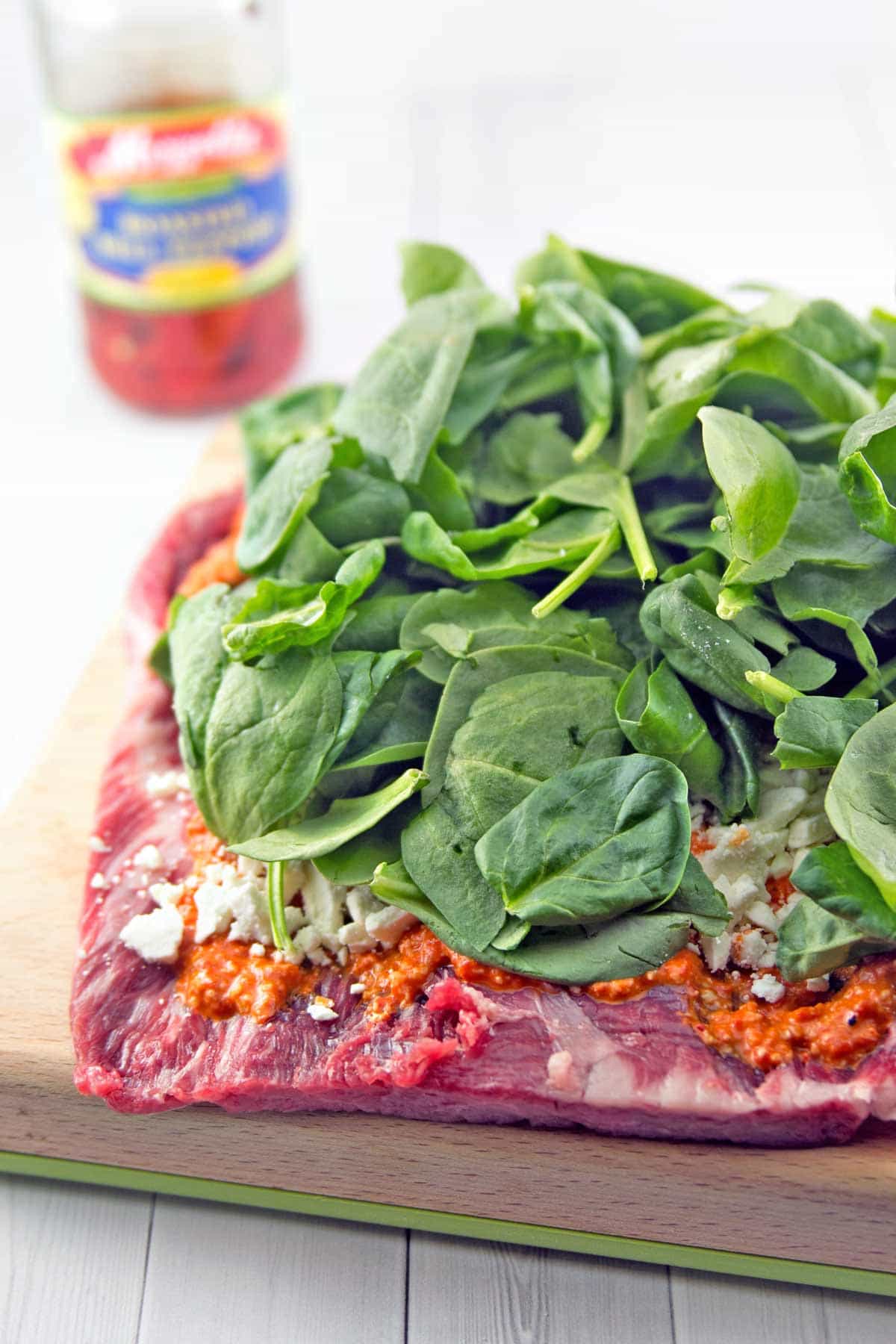 Let me share the most important secret for well-grilled meats: a reliable, instant-read meat thermometer.  You might be able to visually tell when a hamburger is done, but for something thick, like a pork tenderloin, or a rolled flank steak, you'll want an accurate reading of what's going on inside.  For the stuffed flank steak, we're aiming for an internal temperature of 140 °F for a medium-cooked steak.  Since the ends of a stuffed flank steak tend to be a little thinner, these pieces cook faster, so you can really please everyone with this, no matter how done (or not done) they like their steak.  (I overcooked mine a little so my 14-month old could enjoy this as well.  I'm sure it's fine, but we're not quite ready to take the potential e. coli risk with him yet.)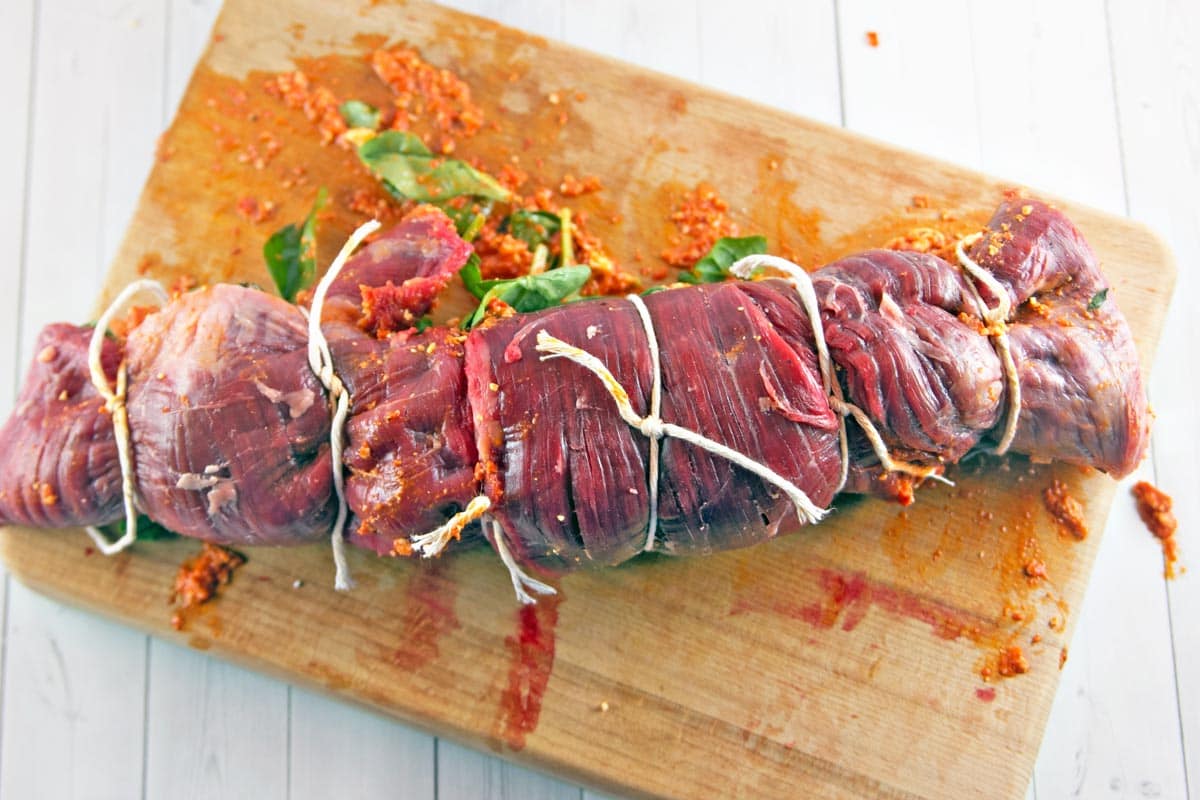 Once you pull the steak off the grill, let it rest for about 10 minutes before slicing between the twine.  Then it's time to dig in, and enjoy.  Go ahead, make this and try to tell me that grilling is boring and repetitive: I dare you.  Roasted red pepper stuffed flank steaks – the cure to your summer grilling boredom.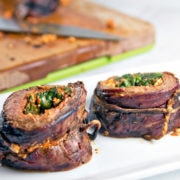 Roasted Red Pepper Stuffed Flank Steak
Stuck in a grilling rut?  Shake things up with the bold, bright flavors of a Mediterranean-inspired stuffed flank steak, starring roasted red pepper pesto, feta, and spinach. 
Ingredients:
1 whole flank steak, 2 to 2.5 pounds, trimmed with excess fat
kosher salt and freshly ground pepper
12 ounces Mezzetta roasted red bell peppers
1/4 cup olive oil
1 medium shallot
1/4 cup grated parmesan cheese
1/4 cup toasted pine nuts (or walnuts)
1 cup crumble feta cheese
2 cups fresh baby spinach
Directions:
Place steak on a cutting board with the grain running parallel to the edge of the counter.  Gently pound out thicker regions to form a rectangle.  Butterfly the steak, leaving the back edge attached by about half an inch of meat.  Carefully open the steak and flatten the seam gently to form a large rectangle.  Season the open side of the meat with salt and pepper.
In a food processor or blender, combine roasted red peppers, olive oil, the whole shallot, parmesan cheese, and toasted pine nuts.  Blend until combined into a thick paste.
Spread the roasted red pepper pesto across the open steak, leaving a 1-inch border along the top and bottom.  Sprinkle the crumbled feta over the pesto and top with a pile of baby spinach.
Carefully roll the steak into a long log, tightening as you go until it forms a cylinder.  Let it rest with the seam side down.
Tie the roll tightly with twine, spacing the ties evenly every 1.5 inches apart.  Tie from the outside in – the last piece of twine tied should be at the center of the steak.  Season the outside of the steak with salt and pepper, and spray with vegetable oil to prevent sticking to the grill.
Grill over medium-high heat, rotating 4 times during cooking to evenly brown the outside, until an instant-read thermometer register 140F for medium.  (With a gas grill on medium high, this usually takes about 20 minutes total, but confirm with a meat thermometer.) Remove from the grill and let rest for 10 minutes.  Slice between the pieces of twine and serve.
A Bunsen Burner Bakery Original Protocol