June 28, 2016
Peanut Butter Banana Cupcakes
Banana cupcakes filled with chocolate ganache and covered with fluffy peanut butter buttercream frosting. These are peanut butter banana cupcakes worthy of a celebration.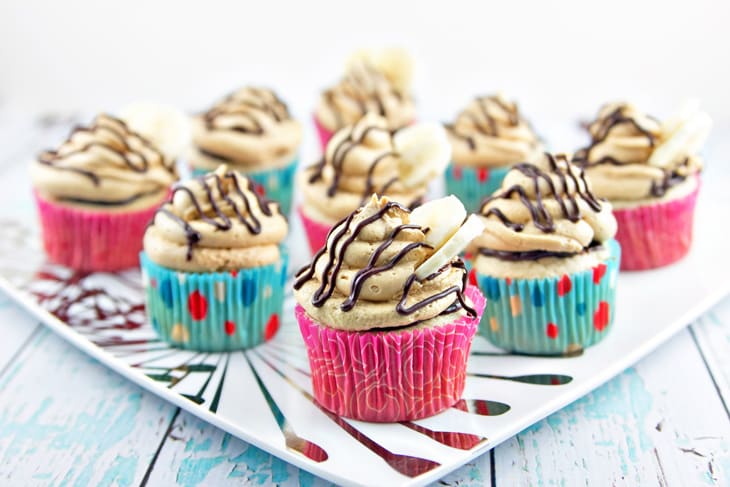 Five years ago today, I hit "publish" on my very first post on Bunsen Burner Bakery – a dark chocolate cheesecake.  What started as a fun little hobby to share recipes with my labmates in my grad school lab has continued to grow and evolved from a little hobby into practically a second career.
It's come along for the ride through multiple D.C. apartments and a move to Philadelphia for my postdoctoral training.  It bridged my late 20s and saw me move into my early 30s.
I've added a dog and a baby along the way, and despite both their best efforts to keep me up all night, I'm still here.  It's been a really fun 5 years and I can't wait to see what the next 5 years have in store!
It only seems fitting to celebrate a milestone birthday with a fun and festive dessert, right?  Like these peanut butter banana cupcakes!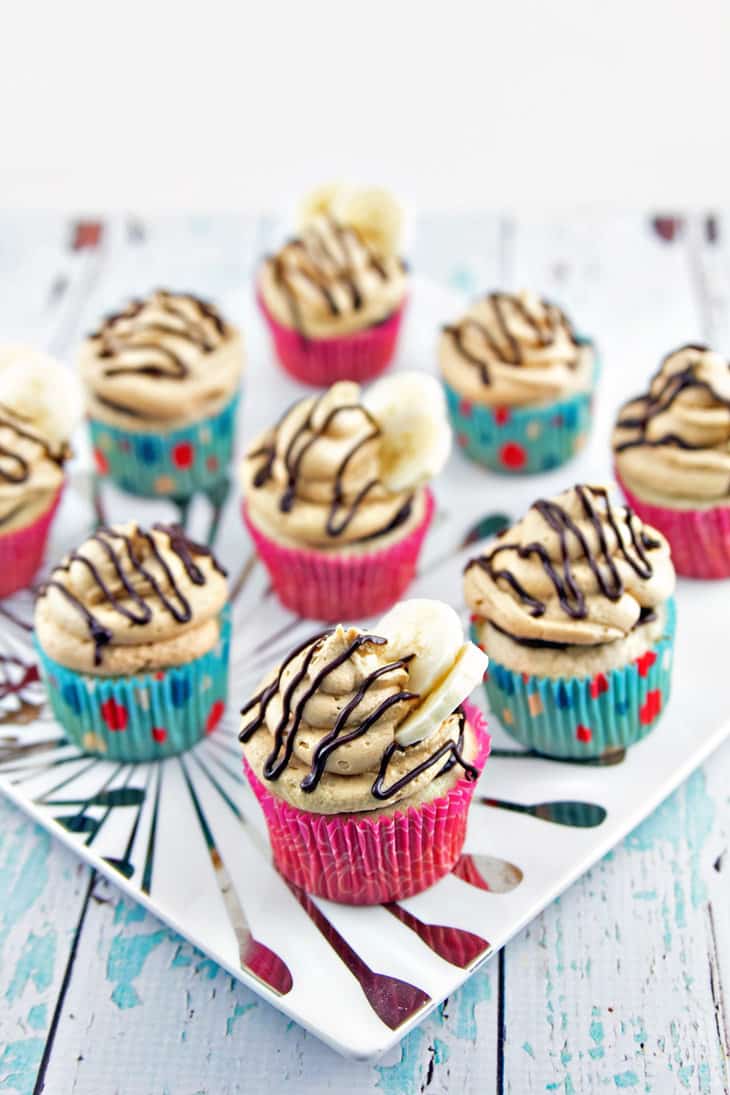 What Are Peanut Butter Banana Cupcakes?
Obviously, cupcakes with peanut butter and bananas!  But let's get a little more specific about what's really in here:
Dense banana cupcakes filled with just a touch of chocolate ganache, covered with a big pile of fluffy peanut butter buttercream frosting.
Cupcakes that are a little more substantial in texture and not super light and crumbly.  Just a little touch chocolate – not nearly enough that it's a predominant flavor.  No cream cheese frosting in a 10 mile radius because I just don't like it.
Aaaaah, perfect.  Peanut butter banana cupcakes with just a hint of chocolate – now we're talking!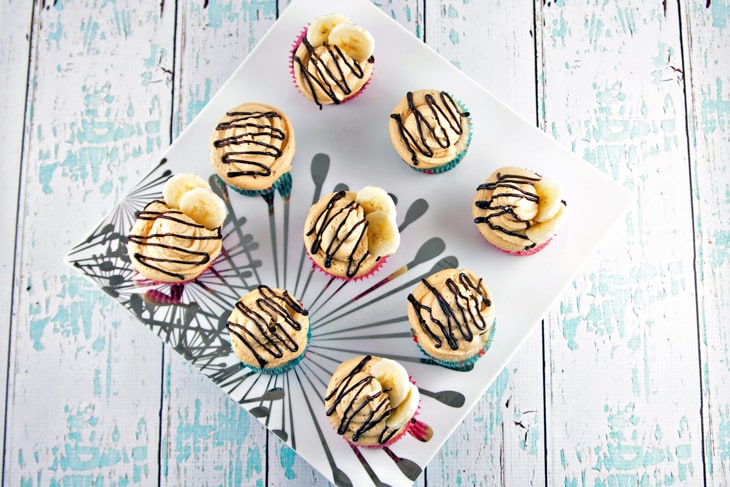 Baking with Bananas
Let's chat about baking with bananas for a quick second.  Bananas add a great flavor and additional moisture to batters, which is why we all love banana bread so much.  But did you know the ripeness of a banana can have a huge impact on the outcome of your dessert?  It's time for a little kitchen chemistry!
The ripeness of a banana changes the pH of your batter, so it's important to use under-ripe or over-ripe bananas, as the recipe suggests!  A slightly-green to normal banana has a pH around 4.6.  The pH of an overripe banana, however, has a pH of 6.5 or higher.  A really ripe banana doesn't provide enough acid to activate baking soda, so make sure to add baking powder (or another acidic ingredient) if you're using extra ripe bananas in your baking!
How to Make Peanut Butter Banana Cupcakes
The cupcakes themselves are super easy – cream your butter and sugar, add in some eggs and mashed banana.  (Perfect use for those overly ripe bananas sitting on your counter right now – or am I the only one who winds up with too many ripe bananas?)  Bake the cupcakes until a tester comes out clean and the top of the cupcake is nice and puffy.
Now comes the fun part.  We're going to squeeze a little chocolate ganache right on inside the cupcake.

How to Fill Cupcakes
Filled cupcakes have been popular for a while.  They're easy to make; just use a knife to cut a little cone out of the cupcake and fill with anything.  As the above paragraph might indicate, I'm not a huge fan of chocolate.  If you are, go to town!  Scoop out the cupcake innards and pour in as much chocolate ganache as your little heart desires.
Another great way to fill a cupcake is to push a piping tip into the top of the cupcake.  Twist the top as you push it down and pull out the inside.  (Eat this, of course – no cupcake scraps are wasted on my watch!)
Instead of actually removing some of the cupcake, I merely jammed a long decorating tip into the center of the cupcake and squeezed in some ganache until it spilled back out on top, then put a thin layer on top of the cupcake.  You can poke the cupcake in several places and "inject" the ganache throughout the cupcake, should you so desire.  Easy and delicious!
To top the cupcakes: a sky-high pile of light, fluffy peanut butter buttercream frosting.  You can pile it on with a spoon or swirl it on with a decorating tip, like I did here.  Finally, add a few slices of banana for decoration (or not, if you won't be eating them right away), drizzle a little extra chocolate ganache on top, and you're all set.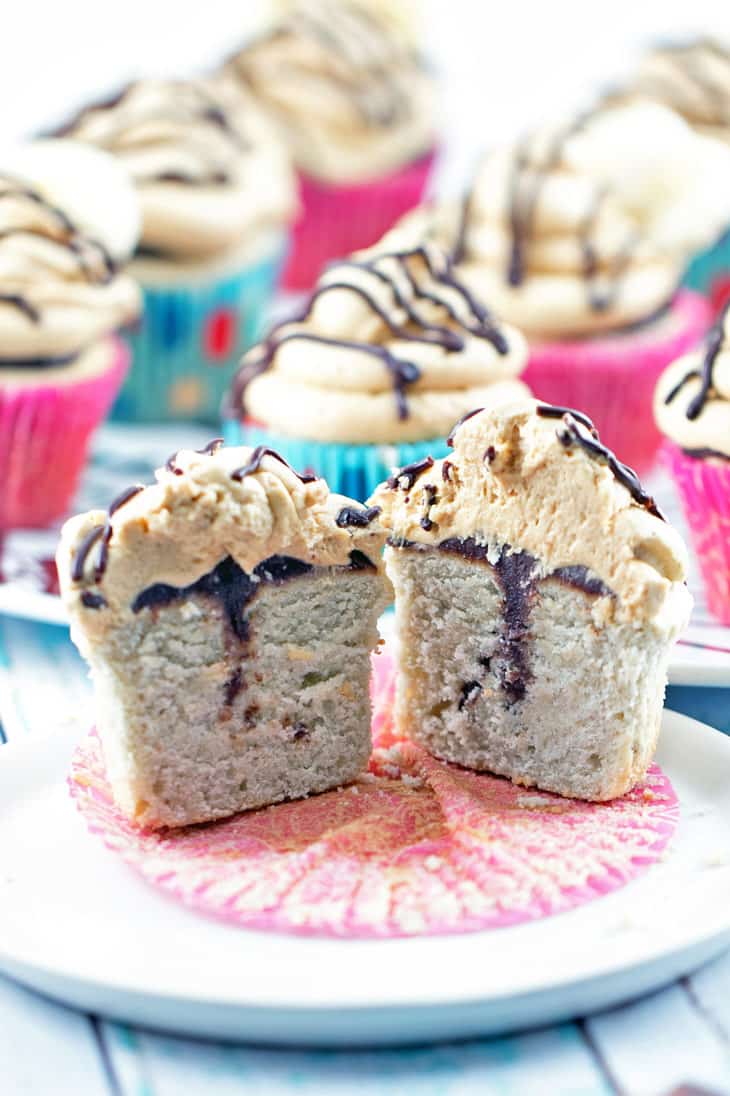 Dig in, friends – a peanut butter banana cupcakes worthy of a celebration!
More Banana Dessert Recipes: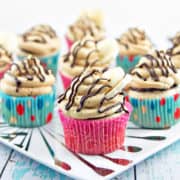 Peanut Butter Banana Cupcakes
Banana cupcakes filled with chocolate ganache and covered with fluffy peanut butter buttercream frosting.
Ingredients:
For the cake:
10 tablespoons butter, room temperature
1 1/2 cups granulated sugar
2 eggs, room temperature
1 tablespoon vanilla extract
3 overripe bananas, mashed
2 1/2 cups flour
1 teaspoon baking soda
1 1/2 teaspoons baking powder
1 teaspoon salt
1/2 cup buttermilk
For the chocolate ganache:
1/2 cup heavy cream
6 oz semisweet chocolate, chopped
For the peanut butter frosting:
1 cup confectioners sugar
1 cup creamy peanut butter
5 tablespoons butter, room temperature
1 teaspoon vanilla extract
1/2 teaspoon salt
1/3 cup heavy cream
Directions:
Preheat oven to 350 °F.  Line muffin pans with 24 cupcake liners.
Cream butter and sugar together in a stand mixer until light and fluffy.  Add the eggs, one at a time, beating until incorporated.  Add in the vanilla and mashed bananas and mix until combined.
Whisk together the flour, baking soda, baking powder an salt.
Add half the flour mixture to the wet ingredients and beat until just combined.  Add the buttermilk, followed by the rest of the flour mixture.  Mix just until ingredients come together.
Use an ice cream scoop to scoop batter into the cupcake liners and bake for 15-18 minutes, or until a tester comes out clean.  Allow cupcakes to cool for 5 minutes in the pan, then remove to a cooling rack.  Cool completely before frosting.
To make the chocolate ganache, heat the heavy cream in the microwave or a small, heavy saucepan until steaming.  Pour over the chopped chocolate and allow to sit for 5 minutes.  Stir until combined.  Allow this to sit an additional 5-10 minutes to cool and thicken; then transfer the ganache into a pastry bag or ziplock bag fitted with a long pastry tip.  Insert the tip halfway into the cupcake and squeeze, pulling back slowly, until the ganache overflows onto the surface of the cupcake.  Use a knife to spread to cover the top of the cupcake.
To make the peanut butter frosting, add the confectioners sugar, peanut butter, butter, vanilla, an salt to the bowl of a stand mixer.  Beat on medium-low speed using the paddle attachment until creamy.  Add the heavy cream and beat on high for 1-2 minutes, until the mixture is smooth.  Decorate the cupcakes with frosting as preferred.
To finish, add a few slices of banana to the cupcake and drizzle with remaining chocolate ganache.
A Bunsen Burner Bakery Original Protocol