April 28, 2015
One Bowl Tim Tam Brownies
Tim Tam Brownies: extra chocolatey brownies with an unexpected crunch, mixed by hand in one bowl.  Australia's Favorite Biscuit, now stateside for all your baking needs!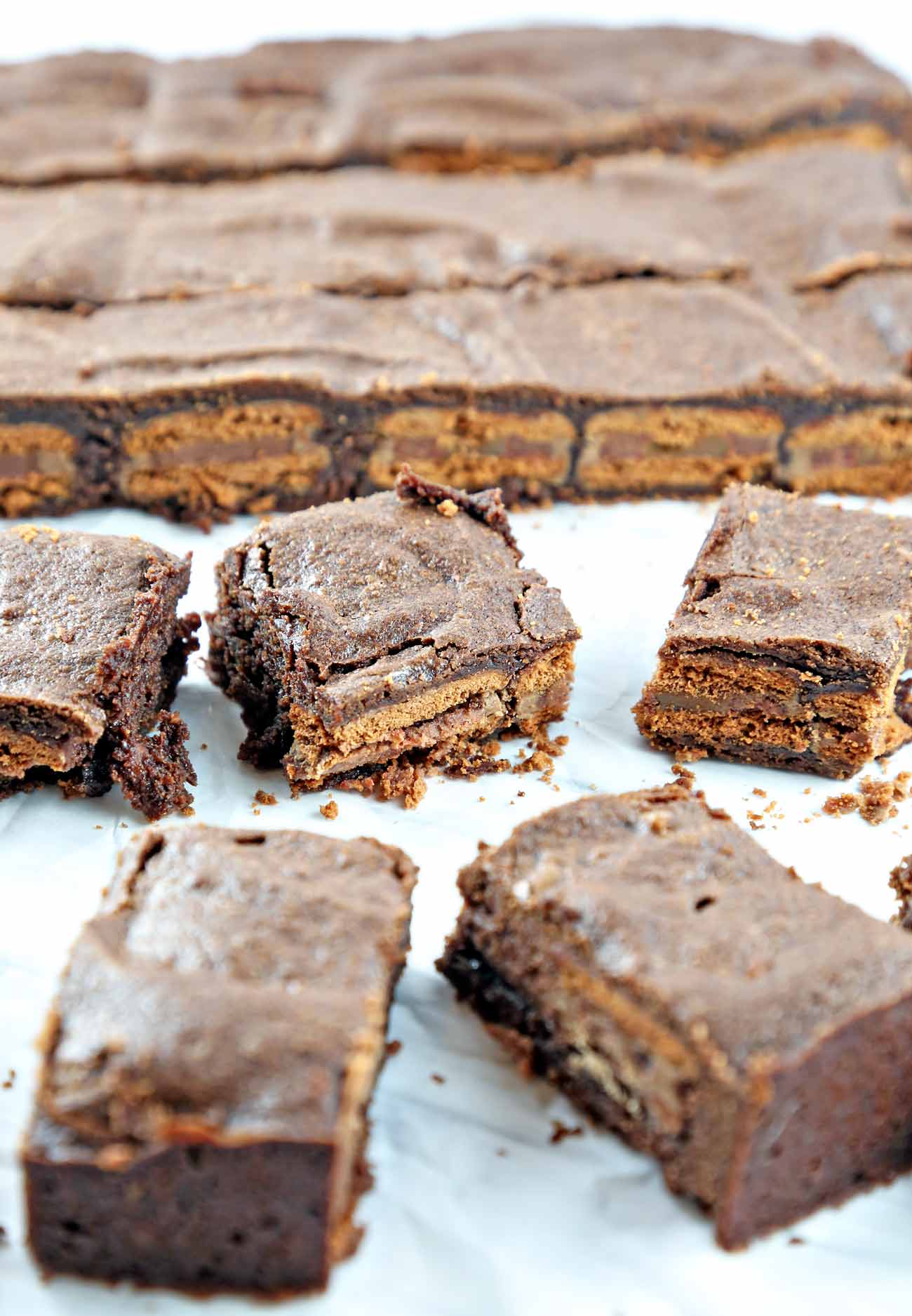 Once in a while, BzzAgent sends me free items or coupons for things, in exchange for my honest review.  I generally keep these off the blog – I'm not here to shill products, and this is a food blog so reviewing shampoo would be kind of pointless, right?  But this time around, I was sent cookies to review… more specifically, Tim Tams, deemed "Australia's most beloved biscuits."  I received one package for free, which we just ate plain.  In fact, my husband packed it in his "snack bag" when we went into the hospital for my induction.  For the rest of my life, I will associate Tim Tams with the birth of my little boy.  Is it weird to have an emotional connection like that to a cookie?
But you know me – I obviously needed to bake something with the Tim Tams.  To create a recipe, though, you have to taste a product first to decide how to use it.  And, as one might expect… "tasting" turned into eating the entire package over a few days.  I think the best way I can describe them is like an oreo-meets-kit kat.  It's a cookie, but it's also very candy-like.  It's crunchy but crumbles like a cookie, and then dipped in chocolate.
So.  While I did receive a box for free in exchange for my opinion, I went back out and purchased 5 more boxes with my own money so I could do a little baking.  I did receive several coupons for $0.75 off each package, but Target wouldn't let me use all the coupons I had at once, so most of the cookies were purchased at full price, out of my own pocket.  (Just clarifying this to state that all opinions really are my own, and obviously I liked these because if I didn't, I wouldn't have gone out and bought them with my own money.)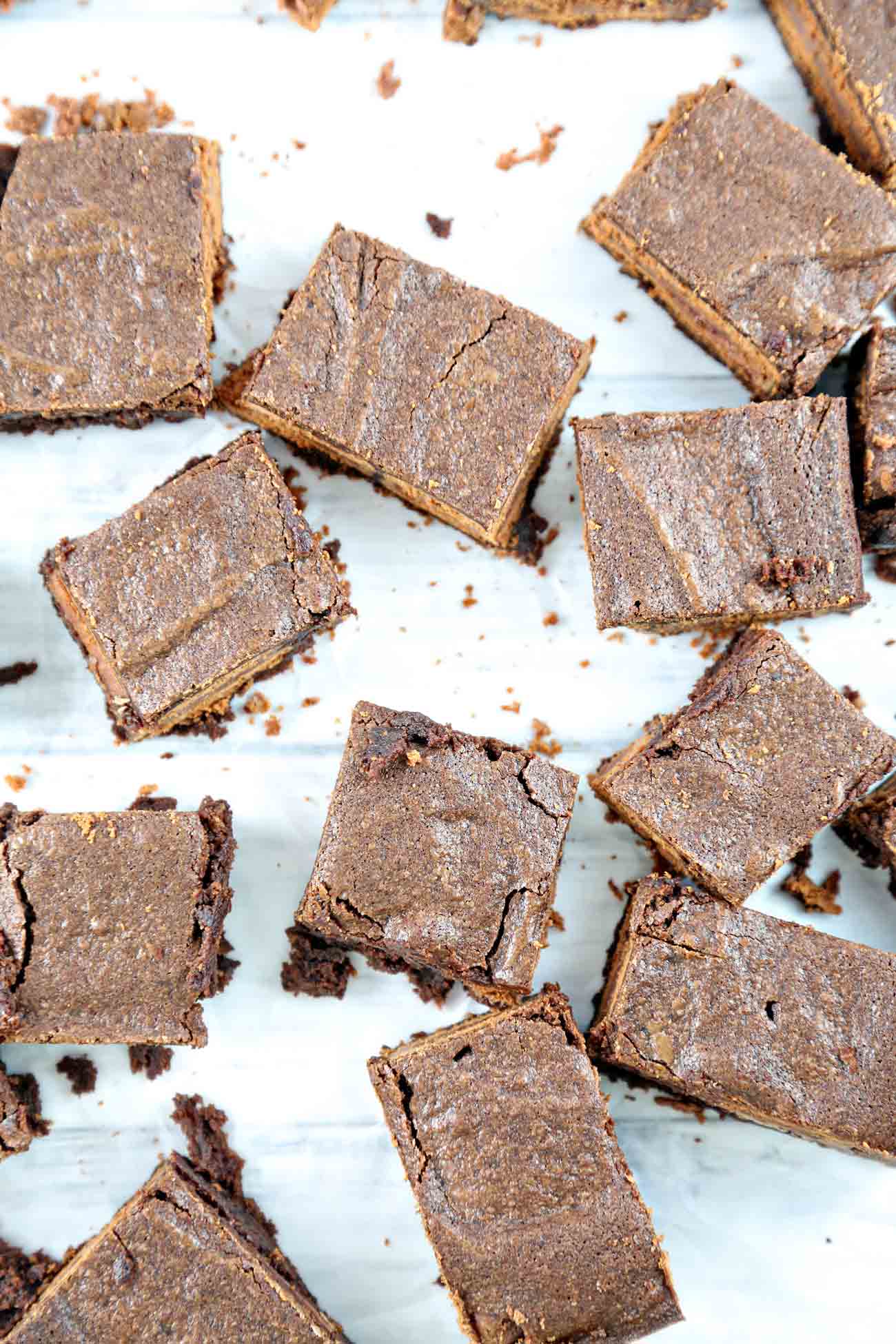 Since these reminded me a little bit of a crunchy version of an Oreo, I thought they would be a good substitute for oreos in a baking project.  I had a lot of ideas (tarts! cheesecakes! mousse! chocolate cream pies!) but, since I'm a mere two-weeks post-partum and have had nothing but complications, I went with easy-peasy, one bowl, mix by hand Tim Tam brownies.  My triumphant return to the kitchen was not so triumphant, but who doesn't like brownies?  And even more, who doesn't like brownies with cookies baked right into them?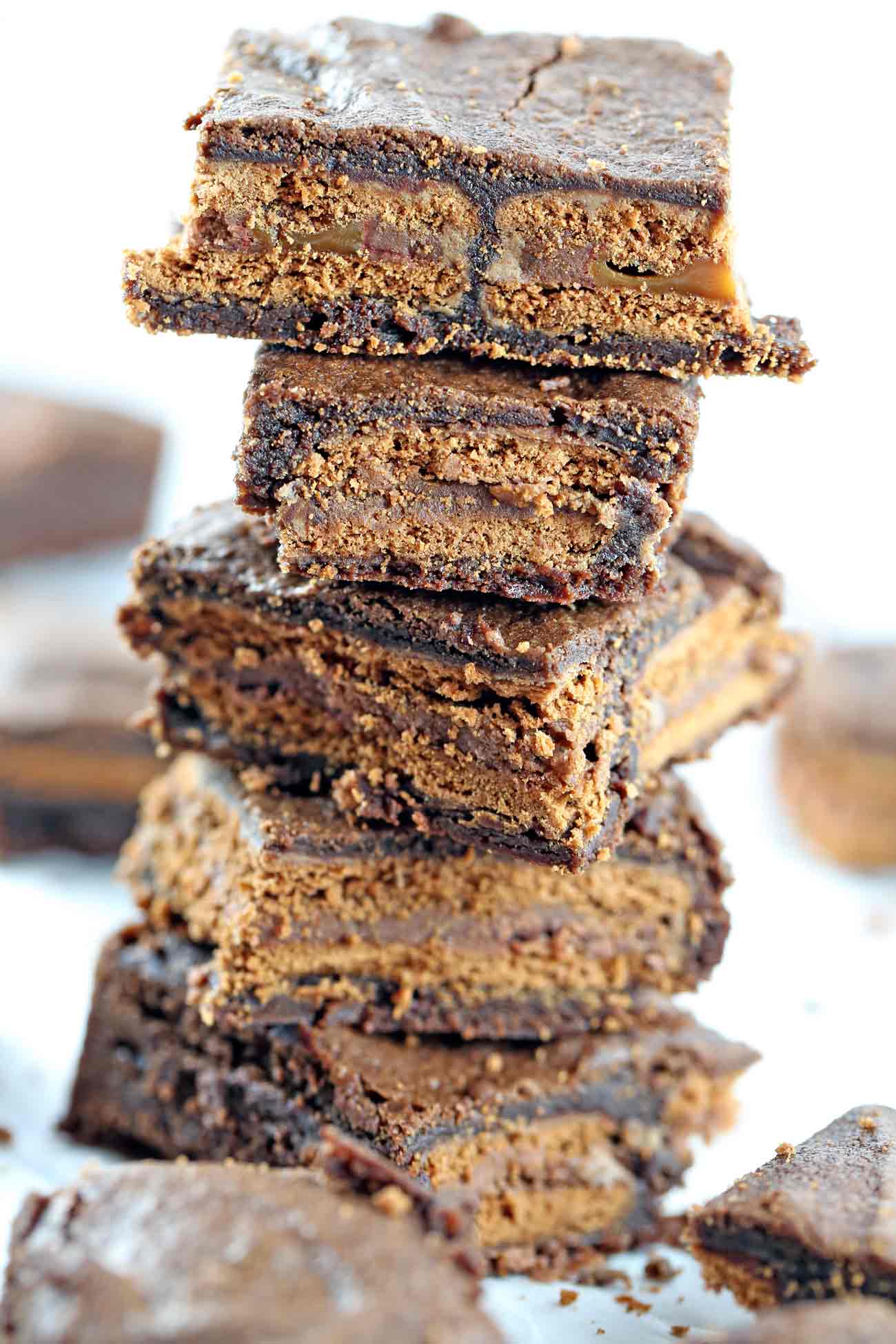 I really enjoyed the unexpected crunch the Tim Tams gave to the brownies.  It's like a cookie sandwich except instead of bread, we have brownies, and instead of lunch meat, a Tim Tam.  I don't add any baking soda or baking powder to the brownies, so they don't have much rise.  Instead, the brownie hugs the cookies in a thin layer.  Basically – the best sandwich ever.  I'll take a Tim Tam brownie sandwich for lunch today, please!
If you love really soft, thick, fudgy brownies with no extra fuss, I could see how these may not be your cup of tea (or bite of brownie, as the case may be).  But if you love a little extra texture and crunch, make some Tim Tam brownies ASAP!  While the brownies were definitely delicious, I hope I'll be feeling up to trying something els with the remaining boxes today or tomorrow.  I have a sneaking suspicion there may be even more delicious uses when it comes to Tim Tams!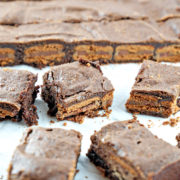 Tim Tam Brownies
Tim Tam Brownies: extra chocolatey with an unexpected crunch. Australia's Favorite Biscuit, now stateside for all your baking needs!
Ingredients:
4 ounces bittersweet chocolate, broken into pieces
1/2 cup butter
1 cup sugar
1/2 teaspoon salt
2 eggs
2 tablespoons vanilla extract
3/4 cup all-purpose flour
1/4 cup unsweetened cocoa powder
16 Tim Tam cookies (or oreos, or other favorite cookies/candies)
Directions:
Preheat oven to 350F.  Line a 9-inch square baking dish with aluminum foil, folding foil over the edges.  Spray foil with cooking spray.
Combine the chocolate and butter in a large microwave-safe bowl.  Microwave in one-minute increments at 50% power until fully melted and smooth.
Add the sugar and salt to the melted chocolate mixture and whisk together.  Add in the eggs, whisking after each addition, followed by the vanilla extract.  Add in the flour and cocoa powder and stir just until combined and no streaks of flour remain.
Pour half the batter into the prepared pan. Place the 16 Tim Tam cookies on top of this layer of batter.  Gently pour the remaining batter over top of the Tim Tams, using a knife to spread the batter to the edges of the pan – it is thick and will not spread on its own.
Bake for 25-30 minutes, or until a tester comes out with a few moist crumbs.  Allow brownies to cool completely before cutting and serving if you are aiming for perfect presentation… or cut them and enjoy while still warm (they will crumble a bit and start to fall apart) to enjoy the Tim Tams while they are still gooey and melty!
A Bunsen Burner Bakery Original Protocol