June 30, 2013
Traditional Spanish Sangria
If you're looking for a refreshing and fun drink to serve at your next gathering, look no further than Traditional Spanish Sangria! With fresh fruit, wine, and spirits, sangria is easy to make and perfect for any occasion.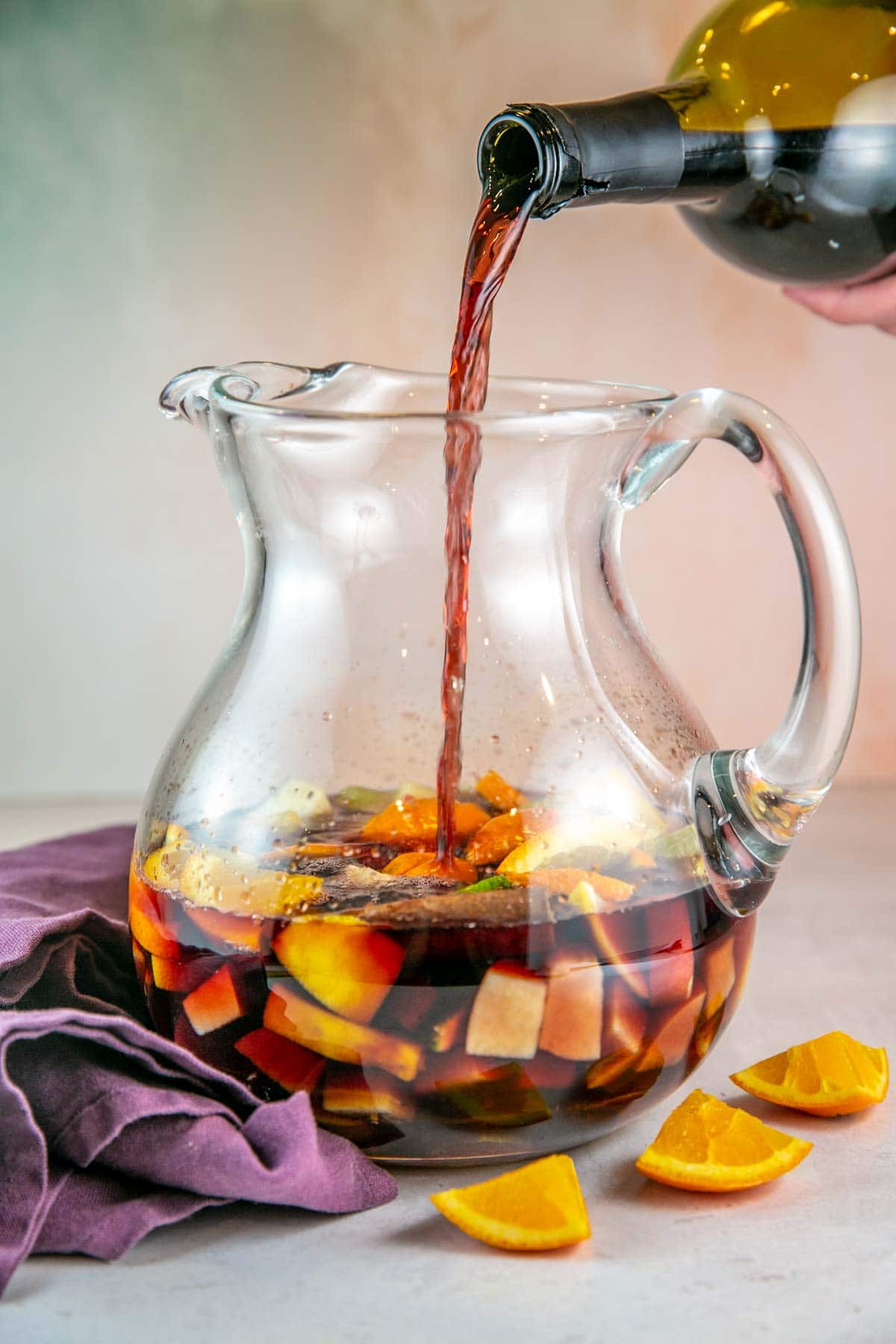 Sangria is probably my favorite drink to make for summer gatherings – it's so easy to throw together a pitcher with whatever you have on hand, and everyone seems to love it.
And while we can keep doing just that – throwing together whatever we have on hand – we can also improve on it to make a really, really good traditional Spanish sangria.
It's still just as easy – you just might need to plan a few minutes ahead. But I promise it's so worth it. This sangria is delicious and perfect to sip all summer long! So, let's get started and learn how to make this delicious and refreshing drink!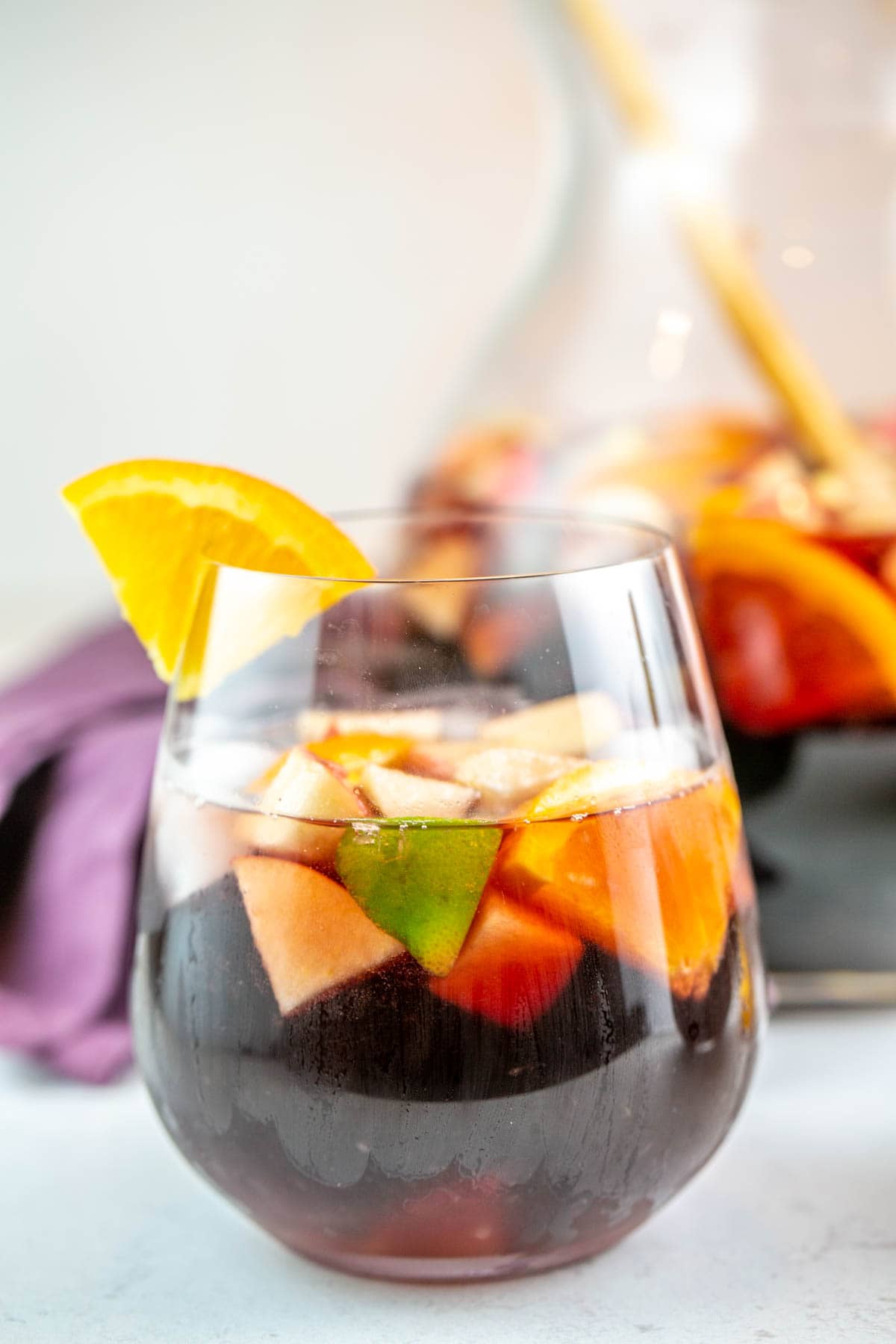 Traditional Sangria
Sangria is a Spanish punch made with red wine, chopped fruit, a little sweetener, and some brandy. The fruit and wine infuse together for several hours, adding a fruity flavor to the wine, which is usually served chilled.
There are many, many variations on sangria (and different regions of Spain have their own unique recipes). While white wine, rosé, or sparkling wine can be used, the most common Spanish sangria uses red wine, which is the recipe you'll see on this post. But if you prefer a different variety, know that there are still traditional Spanish recipes using other types of wine!
It often seems like anything goes when it comes to fruit – popular choices include oranges, lemons, limes, apples, peaches, or berries. Keep reading for some tips and tricks on the best fruit to add – and most importantly, when to add them!
In addition to wine and fruit, traditional sangria also includes a sweetener, like simple syrup, honey, or orange juice, and liquor, such as brandy, rum, or triple sec.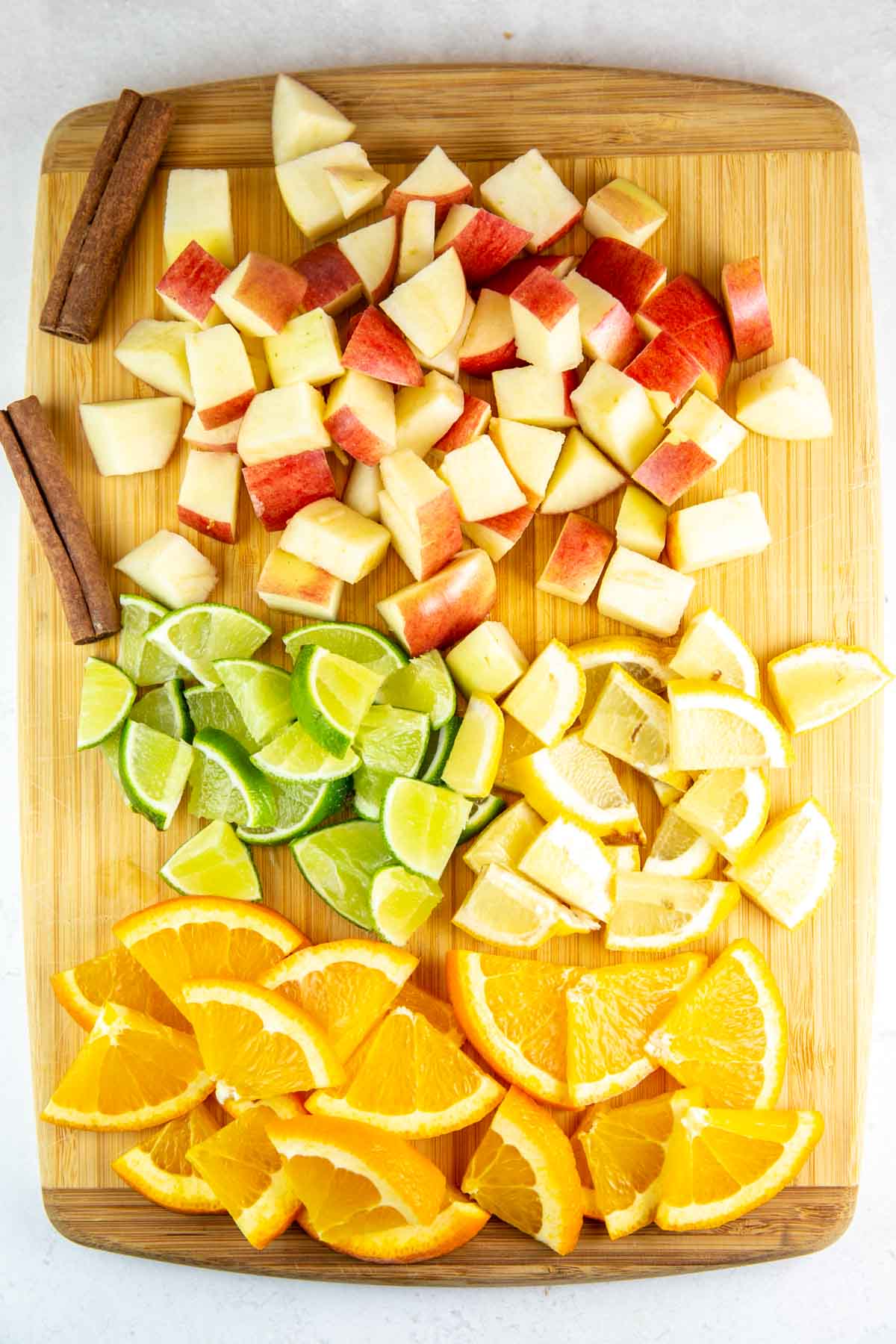 Best Wine for Sangria
For traditional red wine sangria, use a dry, medium-bodied red wine with a slightly fruity undertone. The most common grape varietals used for Spanish sangria are Tempranillo or Garnacha. These are both Spanish wine (and why not go for an authentic experience?!), but Zinfandel, Pinot Noir, or Beaujolais are also good options. These reds are all lighter-bodied and higher in acidity.
Mostly, we want to avoid heavily oaked or high-tannin wines. Why does this matter? It's time for my favorite subject… kitchen chemistry!
Kitchen Chemistry

Tannins are a naturally-occurring compound in grape skins. When chilled, tannins take on an astringent and metallic taste. These wines are best served at room temperature, or just slightly below.
Because sangria is served chilled, we don't want a wine that is high in tannins (like Cabernet Sauvignon, Shiraz, Syrah, or Petite Sirah), since it will start to taste bitter.
Ultimately, the best wine to use is one that you enjoy drinking – so experiment with different types to find the one that works best for you!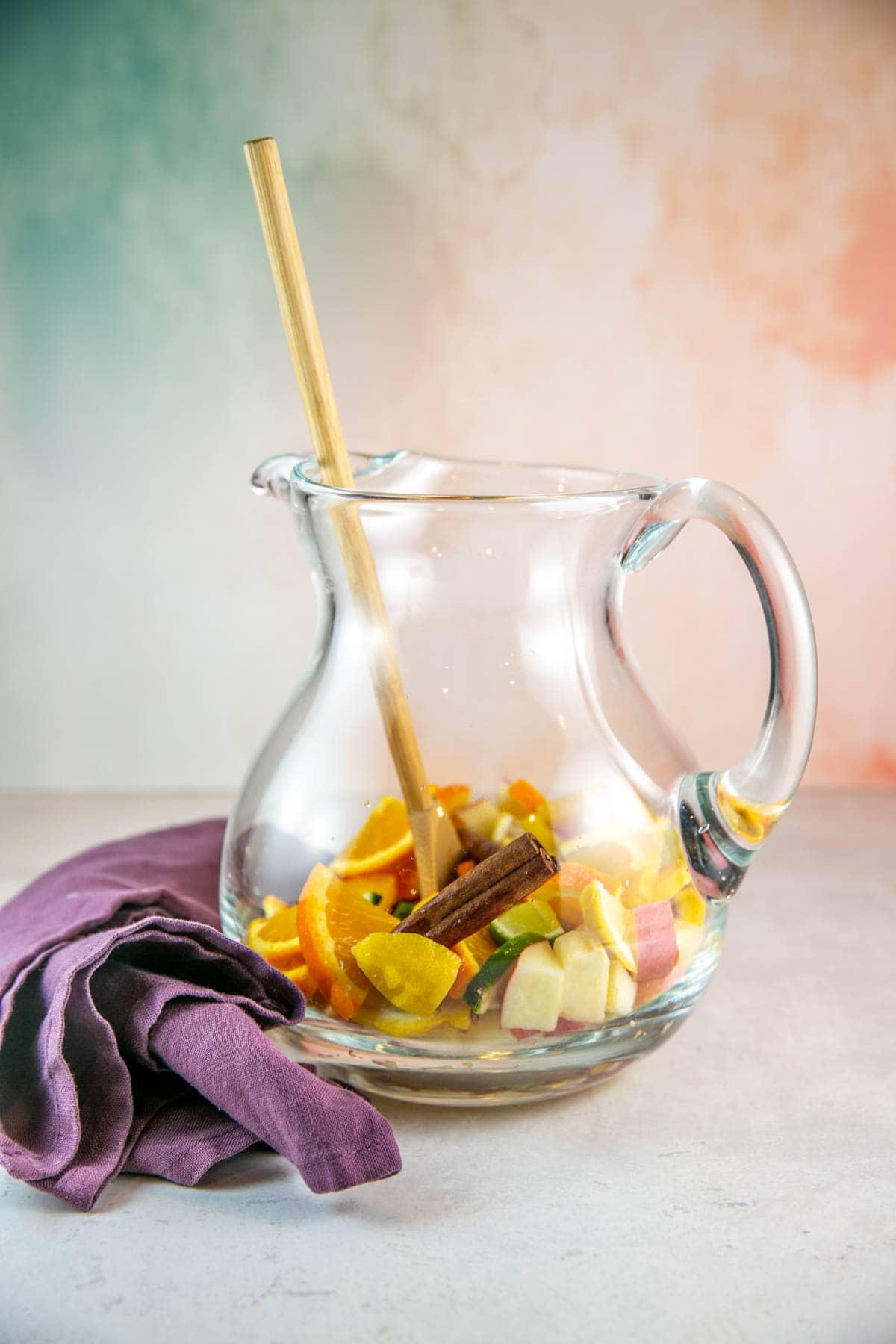 Best Fruit for Sangria
Traditionally, Spanish sangria uses a combination of oranges, lemons, limes, apples, and sometimes peaches. For the best flavor and texture, use fresh, ripe fruit.
Some other fruits that can be used in sangria include:
Berries: strawberries, raspberries, blackberries, and blueberries add sweetness, color, and a hint of tartness
Pineapple: adds a tropical flavor to the drink and pairs well with white or rosé sangria
Mango: diced ripe mango adds sweetness and a juicy texture
Melon: chopped honeydew, cantaloupe, or watermelon can add a refreshing and fruity taste
If you're using anything other than the standard orange, lemons, limes, apples, or peaches, however, there are a few things to keep in mind! Berries, melons, mango, and pineapple will take on a soggy texture if left to sit in a pitcher of sangria. Strawberries, raspberries, and other seeded fruit will turn bitter, as compounds in the seeds are soluble in alcohol. For these fruits, add them to the individual glass as you pour in sangria, rather than to the pitcher.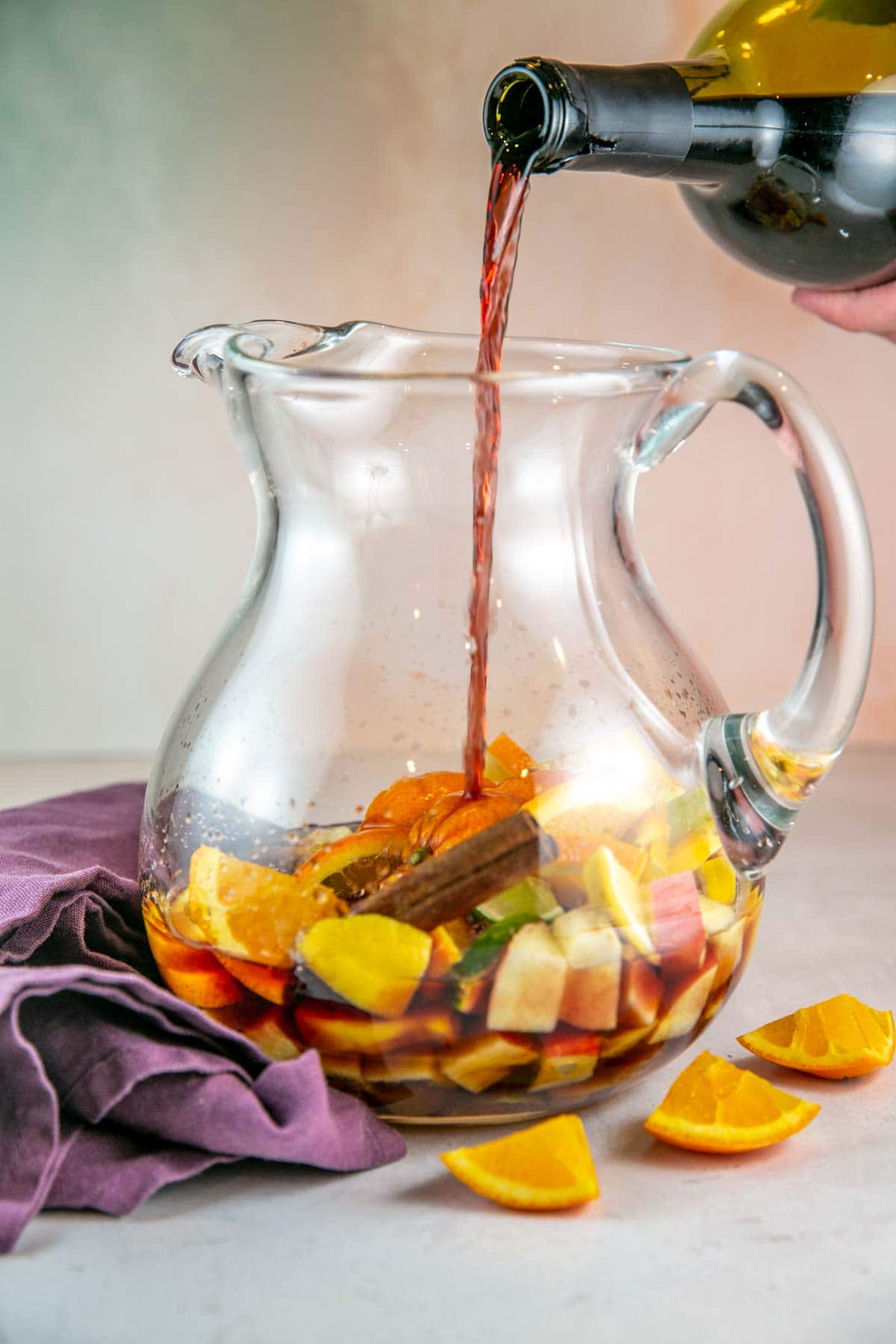 Other Add-Ins
In addition to the wine and the fruit, we also need some liquor. While brandy is the traditional spirit of choice, and my recipe includes it, I also like to add Grand Mariner or another orange-flavored liqueur.
I also love adding a cinnamon stick to the wine and fruit for a little extra flavor – fresh ginger is a delicious option, too!
We also need a sweetener. If you like your sangria just slightly bubbly, as I do, I like to use ginger ale. It adds both sweetness and fizz. If you prefer a flat sangria, use orange juice or simple syrup to sweeten things up.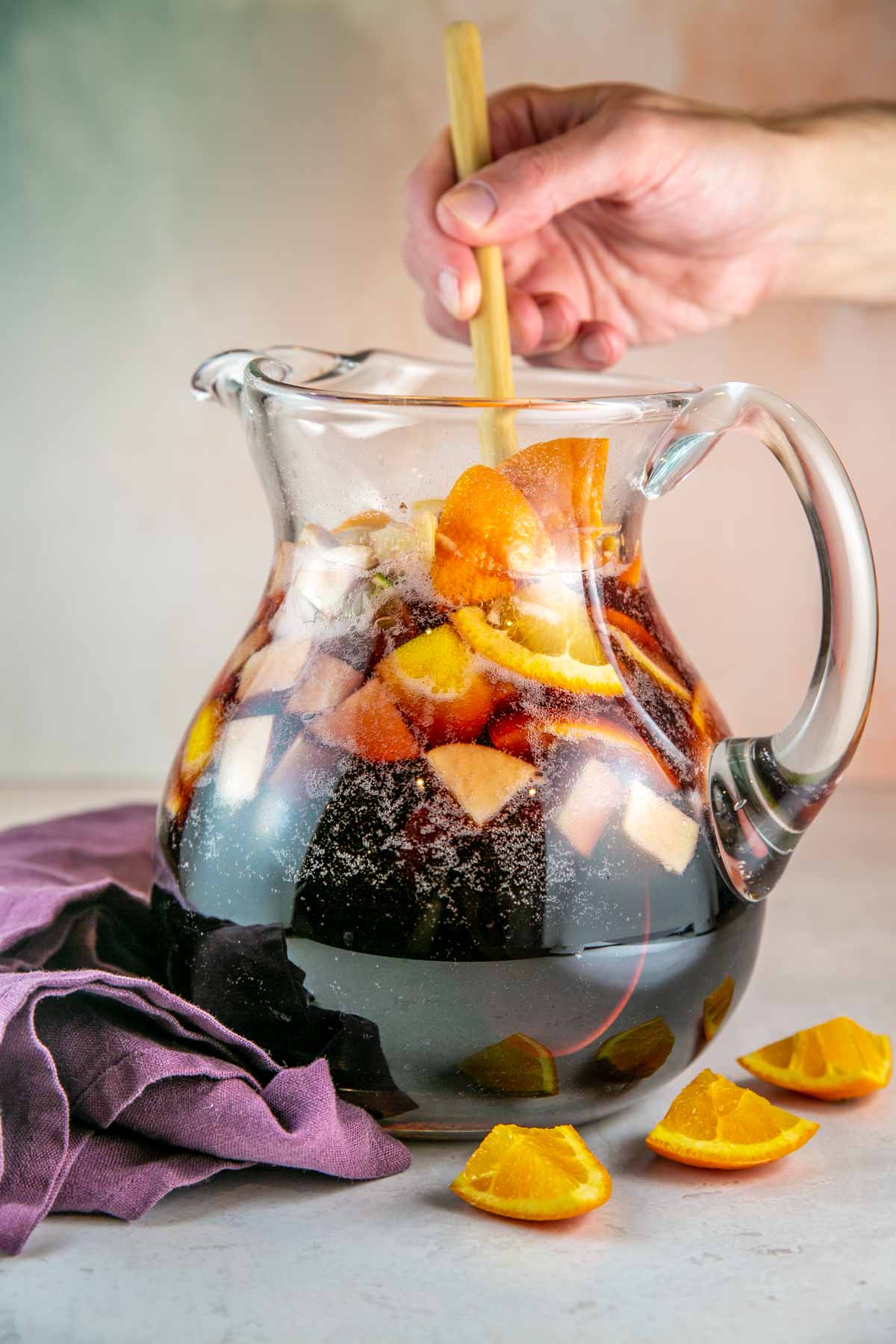 Tips and Tricks for the Best Spanish Sangria
Use a good quality light or medium-bodied red wine lower in tannins that you enjoy drinking on its own.
Fruits that have a high water content, like oranges, lemons, limes, and berries, release their juices into the wine and infuse it with the best flavor.
Cut fruit into 3/4-inch to 1-inch-sized pieces. If the fruit is too small, the pieces filter into your mouth while taking a sip, but if they're too big, it's challenging to purposely eat pieces at the end of the glass.
Refrigerate the sangria mixture for at least 2 hours to give the flavors time to meld. You can even make this a day in advance and let it sit in the refrigerator overnight!
Any fruits that get very soft (like pineapple or mango) or have seeds (like berries) should be added to the glass and not to the pitcher. Citrus, apples, and peaches can be added straight to the pitcher and infused for up to 24 hours.
Don't skip the liquor! The brandy or other spirits (such as rum or triple sec) help to balance out the sweetness of the fruit.
Experiment with flavors! There are so many variations of sangria, so play around and find your own. Try using white or rosé wine, different types of fruit, or adding spices like ginger or cinnamon.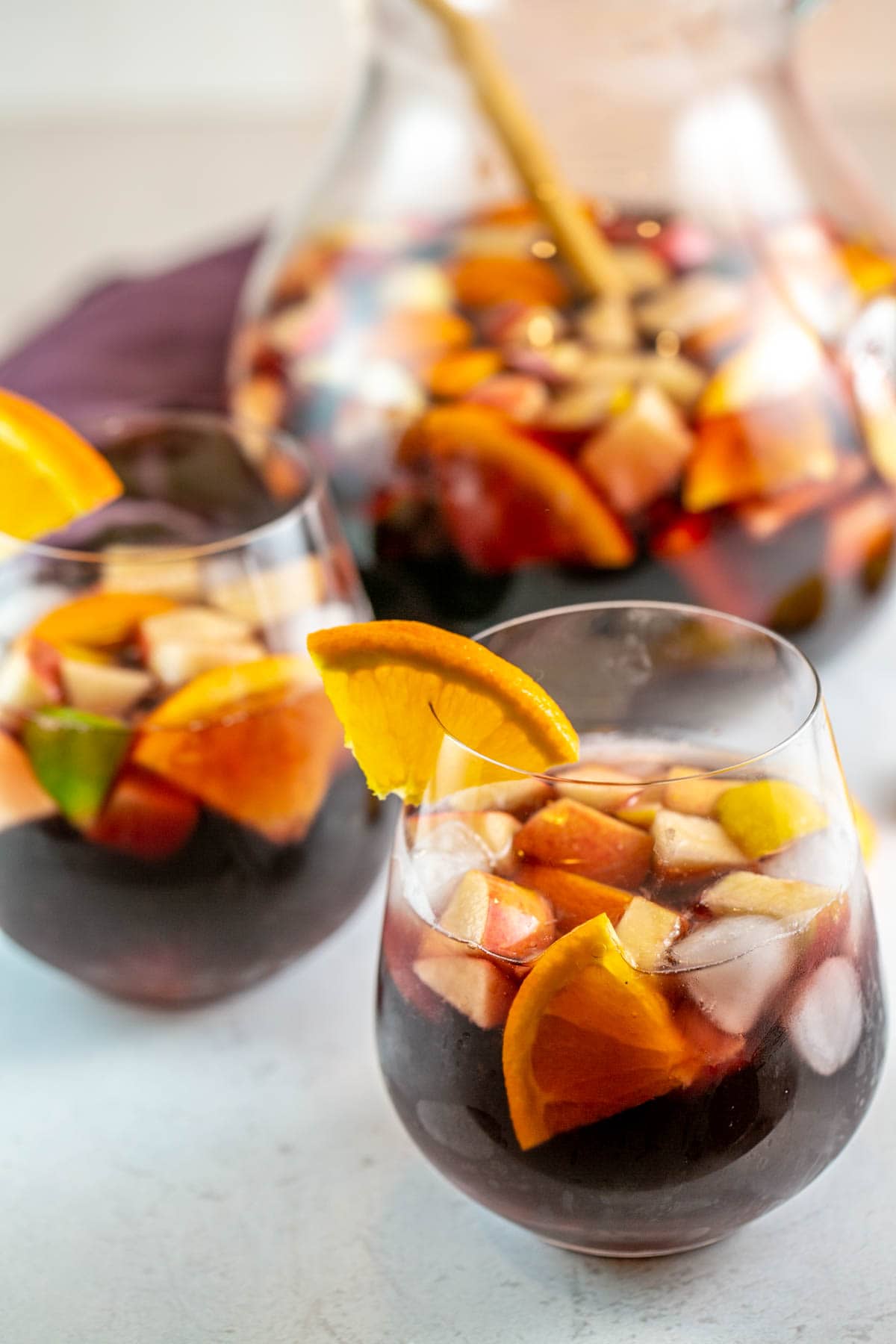 Frequently Asked Questions About Sangria
Can sangria be made ahead of time?
Yes! Sangria actually tastes better if it sits a little longer and the flavors have time to meld. You can make the sangria the night before and store in the refrigerator, but wait to add any berries, mangos, or pineapple and seltzer or ginger ale until right before serving.
Should sangria be chilled?
Sangria is best enjoyed chilled – keep it refrigerated ahead of time or add a few ice cubes to each glass as serving!
What kind of wine should I use in sangria?
Use a wine you like to drink! A light or medium-bodied red wine is best, like Tempranillo or Garnacha.
Should I add liquor to sangria?
Adding liquor is important to balance out the sweetness of the fruit. Brandy is traditional, but rum, triple sec, or Grand Marnier are delicious, too!
More Drinks and Beverages: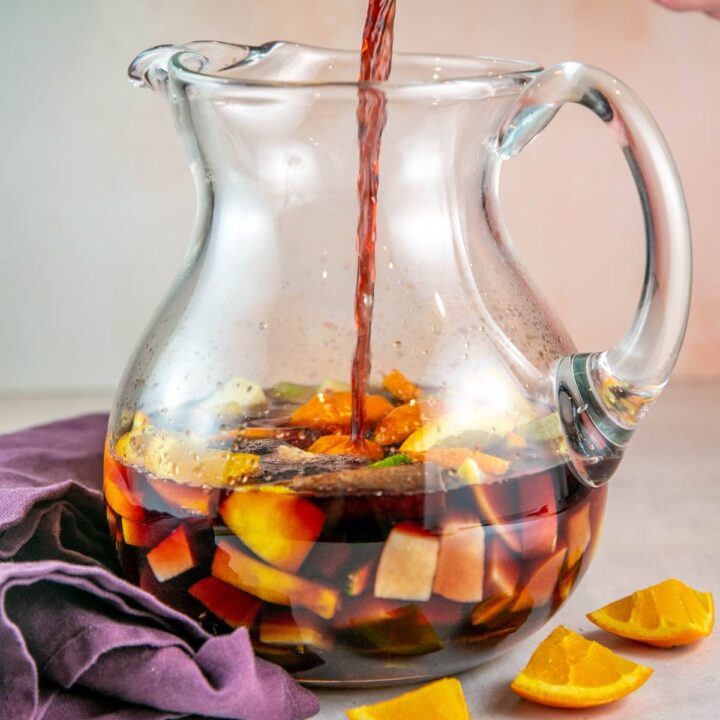 Traditional Spanish Sangria
If you're looking for a refreshing. and fun drink to serve at your next gathering, look no further than Traditional Spanish Sangria! With fresh fruit, wine, and spirits, sangria is easy to make and perfect for any occasion.
Ingredients
2 bottles dry, medium-bodied red wine (like Tempranillo, Garnacha, Zinfandel, Pinot Noir, or Beaujolais)
1/4 cup Grand Mariner
1/2 cup brandy
1 lemon, cut into wedges
1 lime, cut into wedges
1 orange, cut into wedges
3 apples, cut into wedges
2 cinnamon sticks
1 liter ginger ale
Instructions
Combine the wine, Grand Marnier, brand, lemon, lime, orange, apples, and cinnamon sticks in a large pitcher. Mix to combine and refrigerate for at least 2 hours, up to overnight.
Pour sangria into glasses to serve and top with ginger ale.
Notes
Cut the fruit into 3/4-inch to 1-inch pieces before adding to the wine.
If any additional fruits are added (like pineapple or berries), add these to the individual glasses before serving rather than adding to the pitcher and infusing.
Anything carbonated should be added to individual glasses or stirred into the pitcher just before serving.