October 30, 2017
Snickers Cheesecake Bars
Make your cheesecake handheld and portable, with these chocolate and peanut filled Snickers Cheesecake Bars! Chopped Snickers, a crunchy chocolate and peanut topping, and a drizzle of melted chocolate and caramel pair perfectly with creamy cheesecake and a chocolate cookie crust!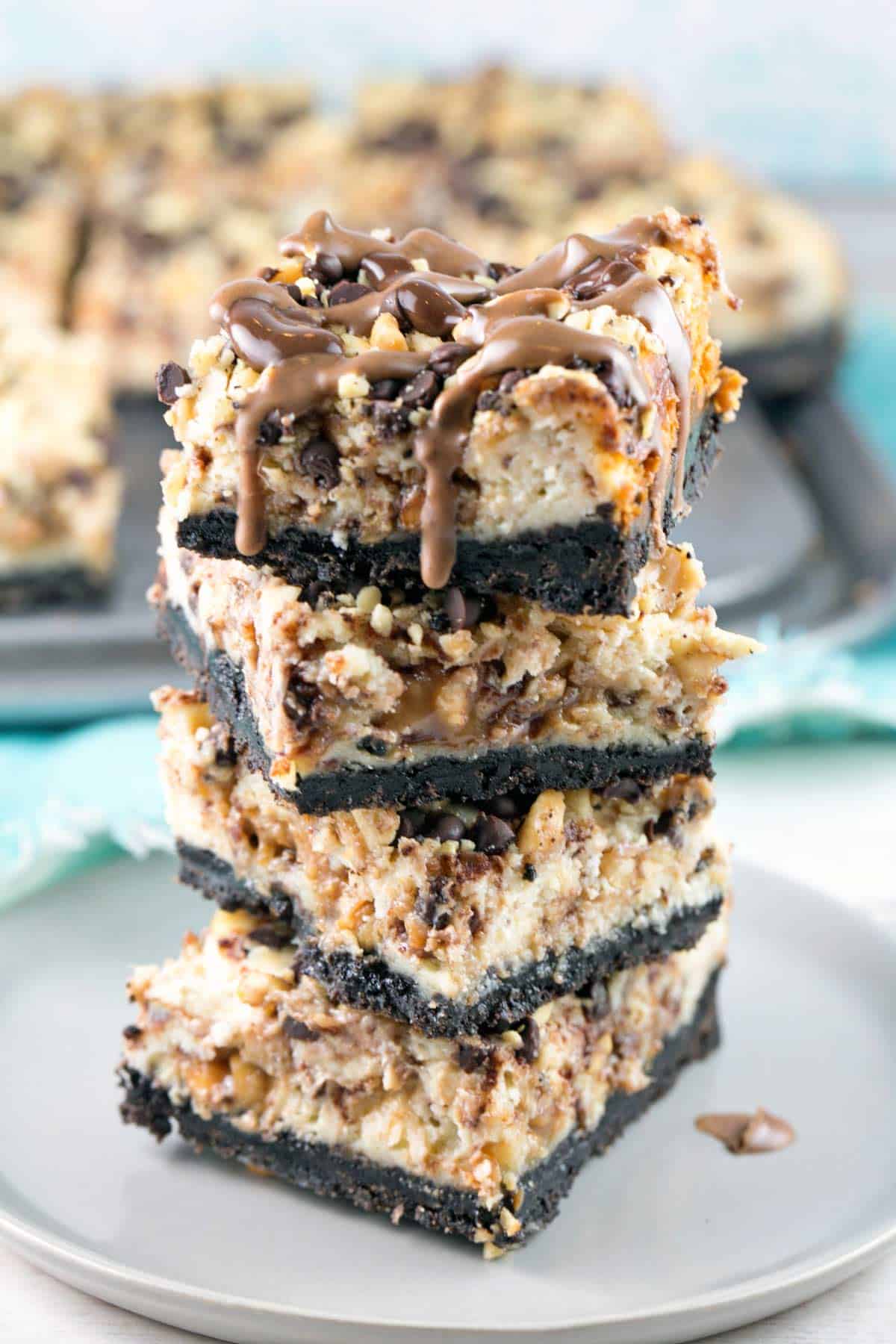 I've had a Snickers cheeseacke on my brain for a really long time. I'm not entirely sure why, since long-time readers know that I don't like cheesecake. (Hate! Loathe!)
But my husband loves cheesecake and requests one every year for his birthday. I always think about doing a Snickers cheesecake, except we never have Snickers on hand.
Except for, apparently, now. Said husband may have gone just a smidge overboard buying Halloween candy at BJ's a few weekends ago. Which means we had a giant bag of mini-sized Snickers.
So while this isn't intended to be a Halloween candy related post, the timing is actually just right, if you, too, happen to have an awful lot of Snickers at the moment!
(Or you know, if you want to stop at the grocery store the day after Halloween and stock up!)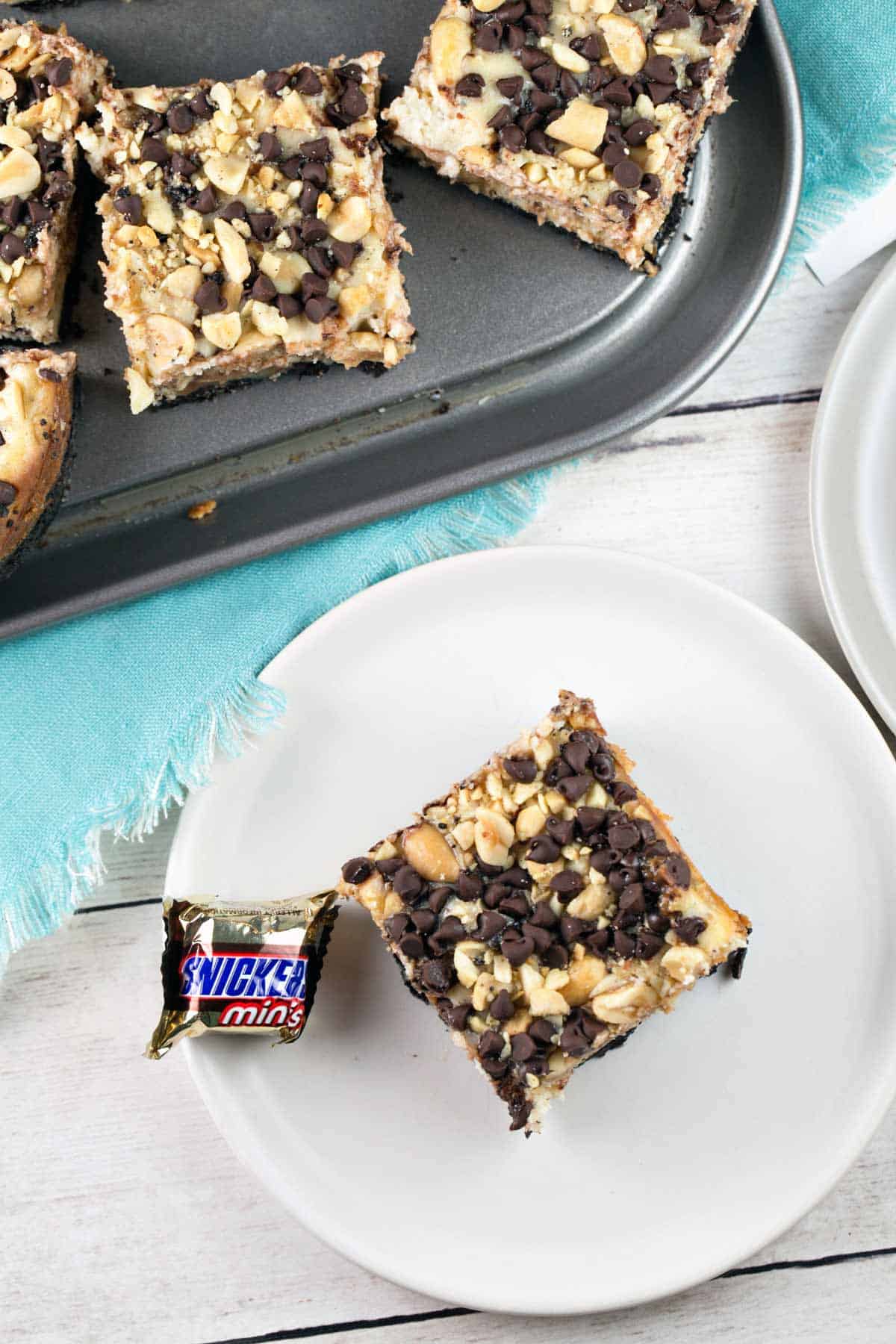 While I've been picturing a regular old cheesecake, I actually wound up making Snickers cheesecake bars.
I figured this was the perfect dessert to share with neighbors for our annual Trick or Treat celebration. We all sit out on our front steps together, order pizza, and hand out candy while enjoying each other's company. But a slice of cheesecake means forks and plates, and isn't super "sitting on the steps" friendly.
Snickers cheesecake bars, however — it's basically hand held cheesecake. No fork, no plate, no nothing. Just you and a glorious bar of cheesecake in your hands.
So grab those Snickers, friends, and let's make some Snickers cheesecake bars.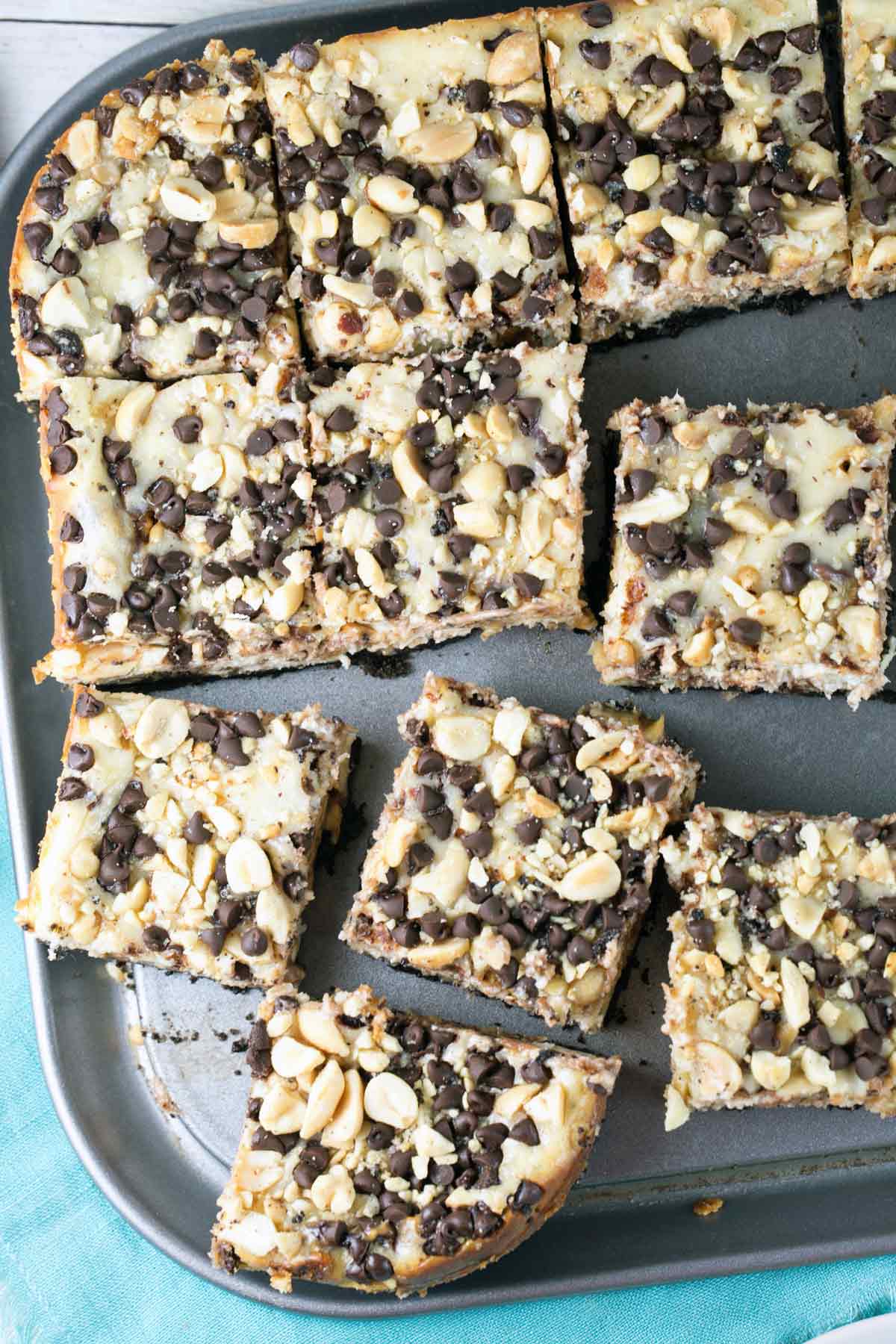 How to Make Snickers Cheesecake Bars
I like to make mine in my food processor, since I already use it to chop the cookies for the crust. And hello, why dirty another appliance when I can just reuse the same one?
But if you don't have a food processor, a mixer works just fine.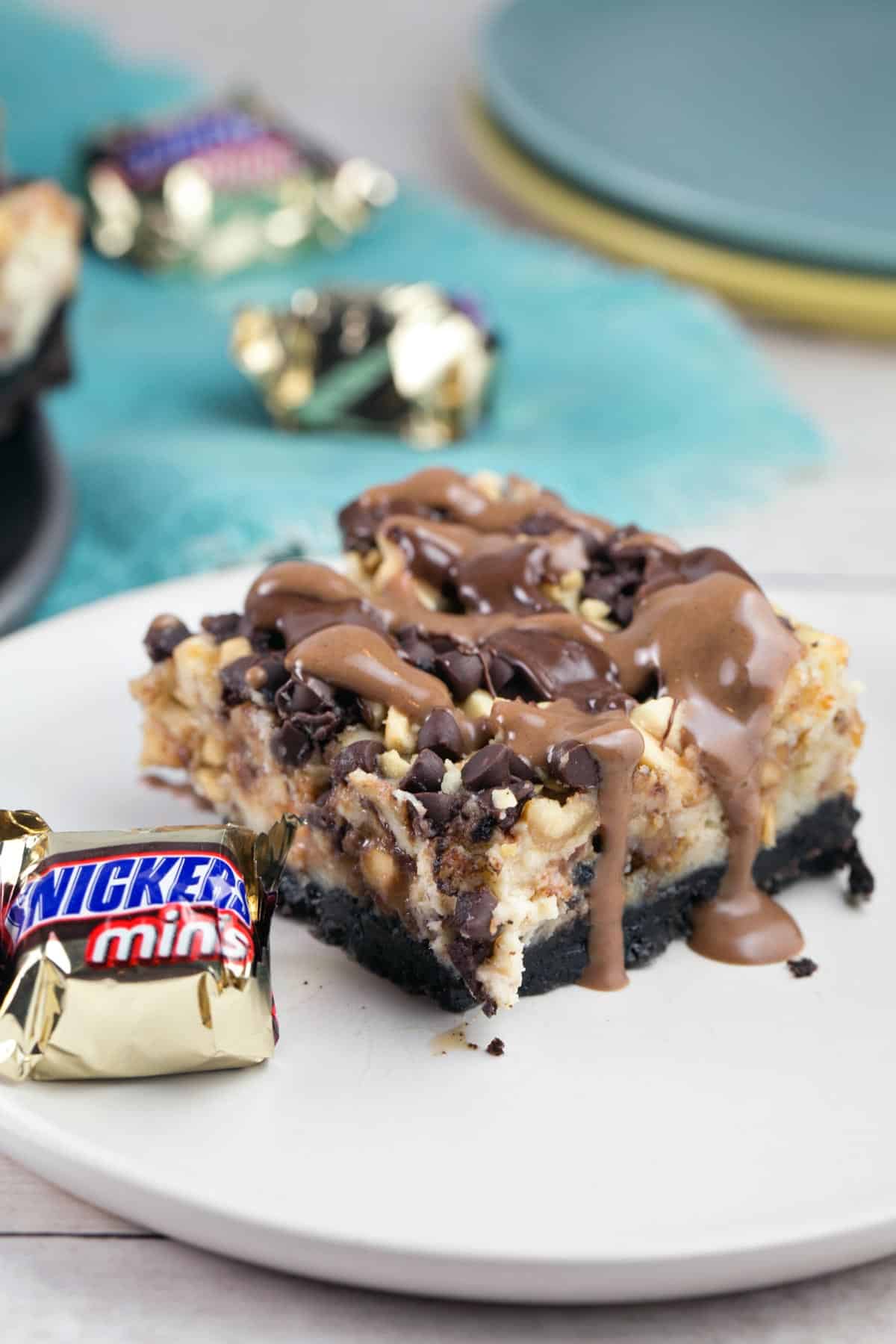 These seriously could not be any easier. Dump the ingredients in, give your food processor or mixer a whirl, and you're done. Fold in a bunch of chopped Snickers (any size works!). Top with some chopped peanuts and chocolate.
And then, if you feel like pushing it even further… a drizzle of melted chocolate and caramel.
Boom. Snickers cheesecake bars. Easy, handheld, perfect to share, and ridiculously delicious. If you like cheesecake, that is. (And I'm assuming you do, because why else are you reading a recipe for cheesecake bars?)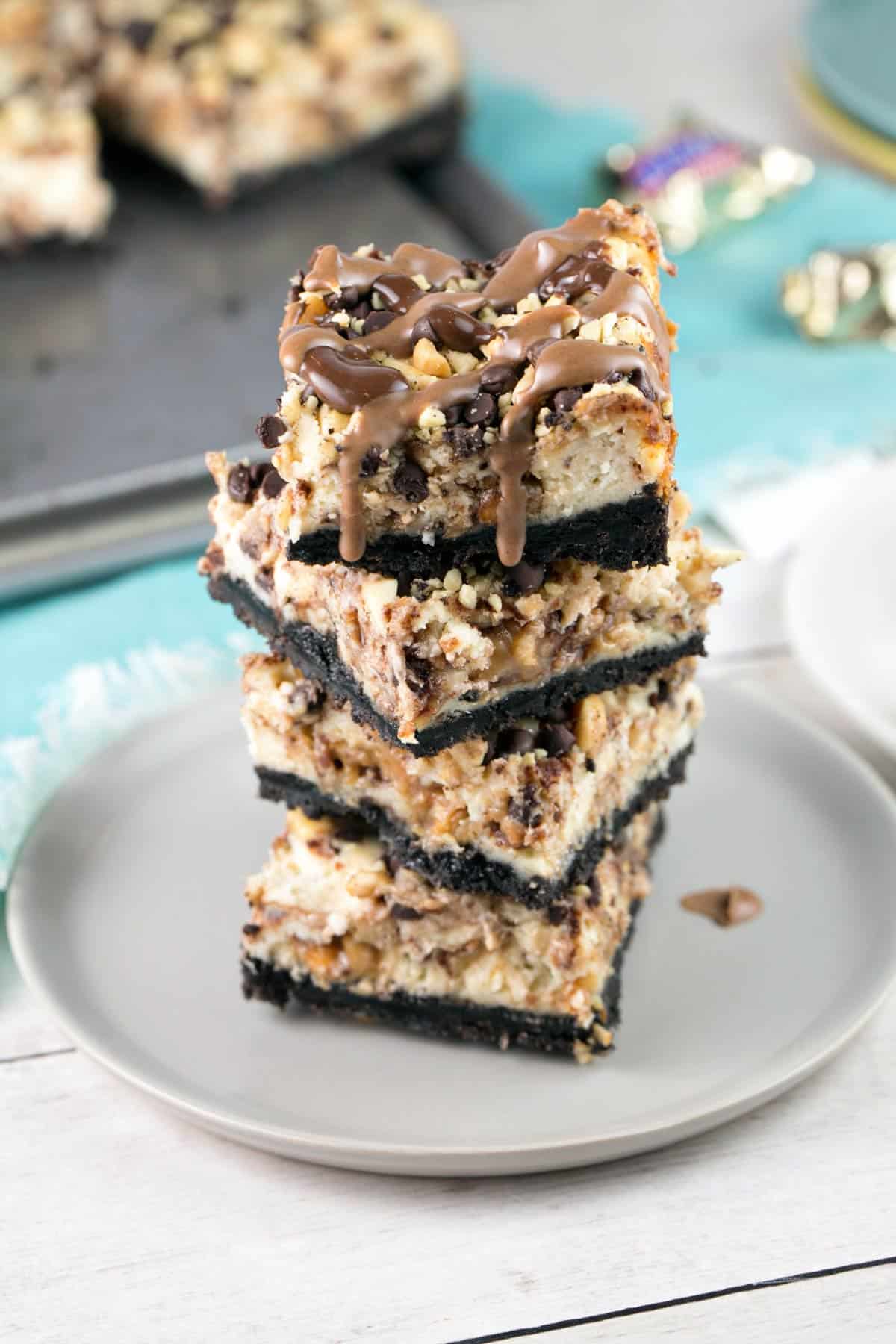 More Cheesecake Recipes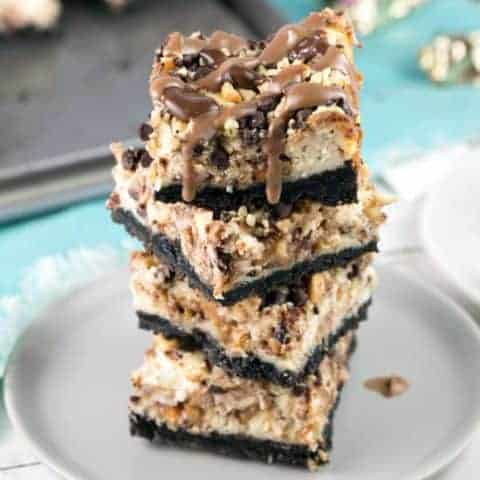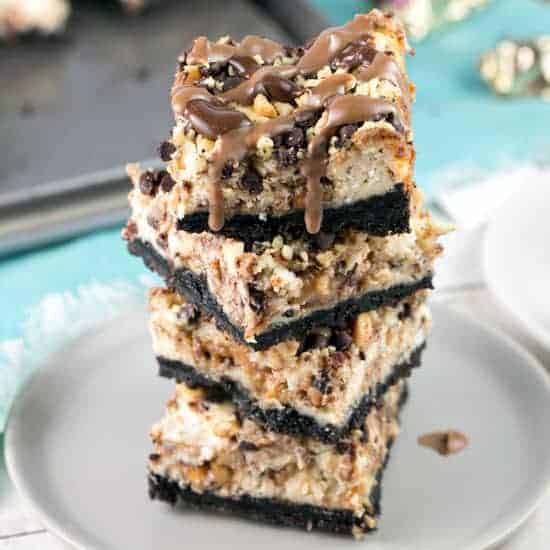 Snickers Cheesecake Bars
Chopped Snickers, a crunchy chocolate and peanut topping, and a drizzle of melted chocolate and caramel pair perfectly with creamy cheesecake and a chocolate cookie crust!
Ingredients
30 chocolate wafer cookies (oreos, etc)
6 tablespoons butter, melted
16 ounces cream cheese, softened
1/2 cup sugar
2 eggs, room temperature
1/4 cup sour cream
1 tablespoon vanilla extract
2 cups chopped snickers (about 30 mini bars, 18 fun sized bars, or 3 full sized bars)
1/2 cup miniature chocolate chips
1/2 cup chopped peanuts
optional toppings: melted chocolate, caramel sauce
Instructions
Preheat oven to 350 °F. Line a 9×9-inch baking pan with aluminum foil or parchment paper.
Crush cookies in a food processor (or bag with a mallet). Mix with melted butter and stir until well combined. Pour crumbs into the prepared pan and press down to form an even layer. Bake for 10 minutes, then remove from oven and allow to cool slightly.
Decrease oven temperature to 325 °F. Add cream cheese and sugar to the food processor and process until well combined (or beat using an electric mixer). Add in the eggs, sour cream, and vanilla extract, and process (or beat) using pulses, until all ingredients are just combined. Scrape down the sides of the food processor bowl frequently to ensure all cream cheese is well mixed. Fold in the chopped snickers.
Pour the cheesecake batter onto the cookie crust. Top with the miniature chocolate chips and chopped peanuts. Bake for 35-40 minutes, or until an instant-read thermometer inserted into the center of the filling registers 180 °F. (Edges will be set, but center will still be quite jiggly.)
Allow the cheesecake bars to sit at room temperature until cool, then transfer to the refrigerator. Refrigerate at least 3 hours, preferably overnight, before slicing into 16 bars and serving.
Notes
Snickers Cheesecake Bars will keep in an airtight container in the refrigerator for up to 5 days.
A Bunsen Burner Bakery Original Protocol
Recommended Products
As an Amazon Associate and member of other affiliate programs, I earn from qualifying purchases.