November 17, 2016
Small Batch S'mores Brownies
Want brownies but don't need to feed a crowd?  Try these decadent small batch s'mores brownies from the Baking for Two cookbook!
Today I'm sharing a post that's a little unusual for me: it's a recipe straight from a cookbook.  Most of my recipes are adapted or inspired by other sources, or created entirely on my own.
But today, I'm stepping out of my own comfort zone and trying something a little different: small batch baking, thanks to Tracy Yabiku's new cookbook, "Baking for Two."  This isn't a sponsored post or an affiliate link – I just think this is a really fantastic idea and wanted to share.
Tracy blogs over at Baking Mischief where she focus on small batch baking and cooking.  She put her best ideas together into this new cookbook, and guys, let me tell you – it is awesome.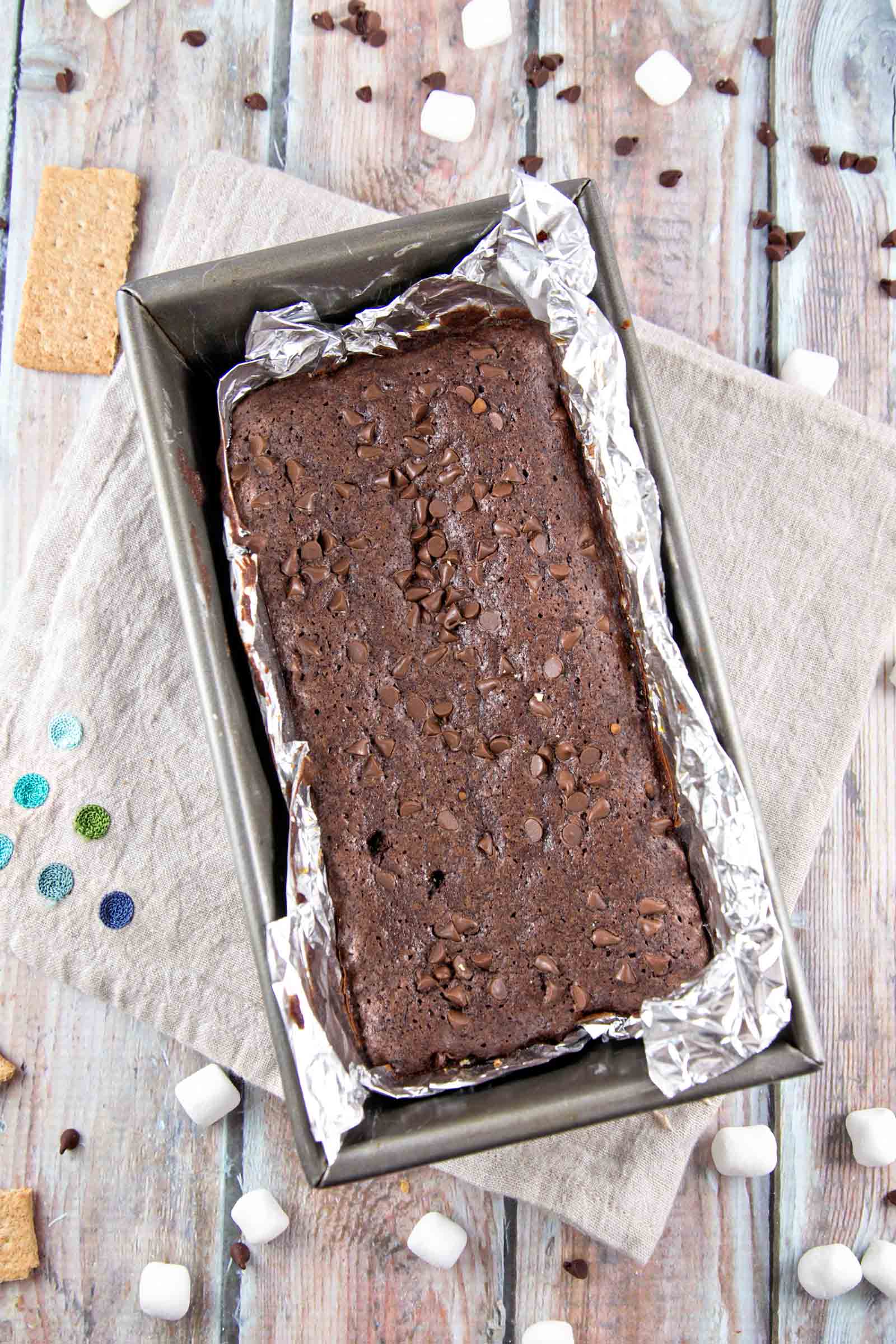 When I bake, I bake for a crowd.  Everything I make is shared with friends, neighbors, and coworkers.
But most people aren't baking the way I am.  You're baking to feed your family, which might just be yourself, or two people, or maybe two adults and two small children.
You don't want need an entire 9×13 pan of brownies, because you know you'd eat it all at once.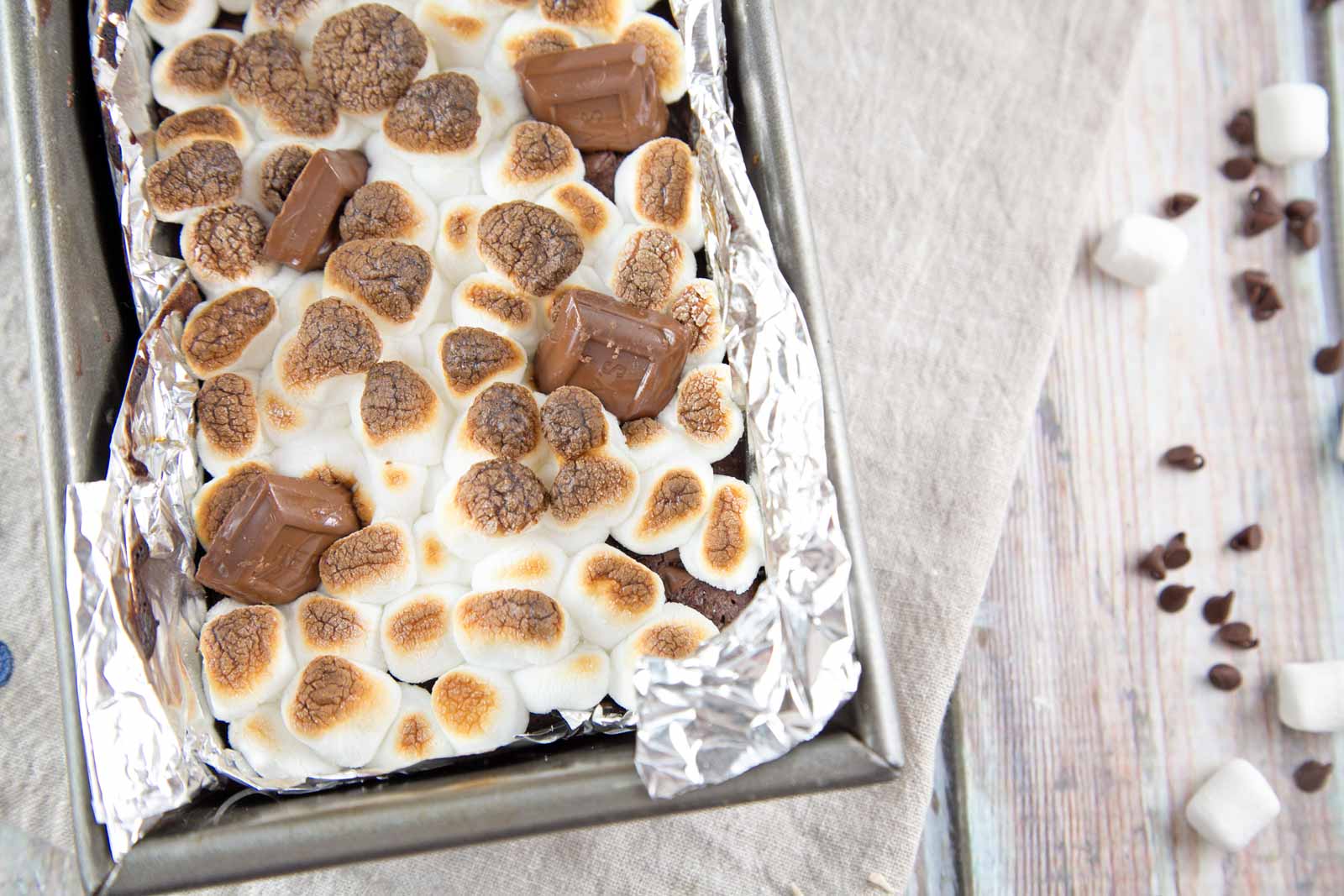 So you want to scale down.  But how do you halve a recipe that calls for 3 eggs?  Or know how much pie crust to use to bake a 6″ quiche?  Friends, Tracy has your back.
Her recipes are all simple, easy to follow, and most importantly: no egg dividing necessary.  Most of the recipes actually make four of something, which is perfect: two for now, two to freeze for later.  Or two for your kids… if you want to share.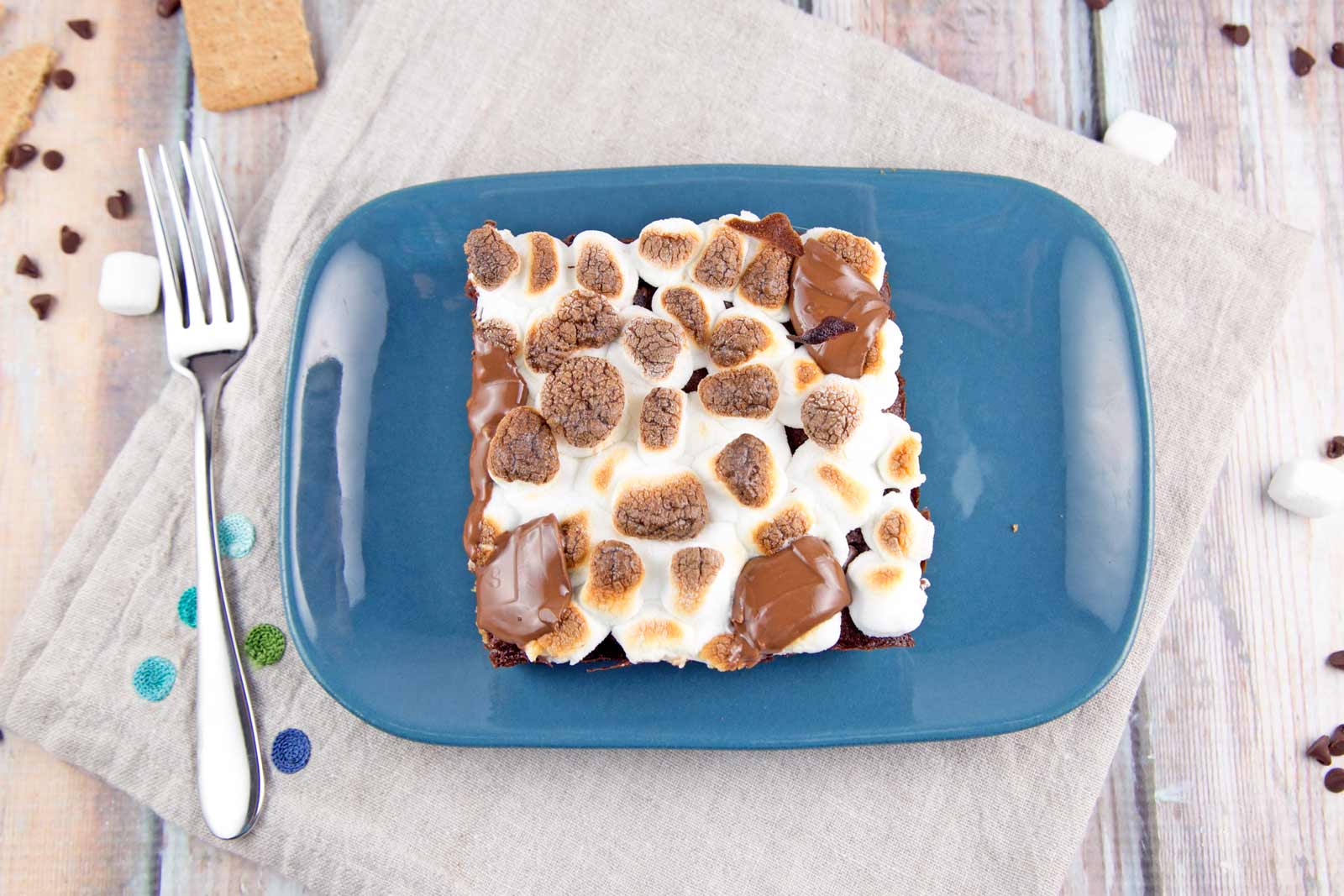 I decided to bake the small batch s'mores brownies from the cookbook, because hello, brownies.  The truly ingenious part of the recipe is that the brownies are baked in a 9×5″ loaf pan, which is great, because we all have loaf pans, right?
This also means that you have a 9×5″ brownie at the end which is… really big.  I mean, I am all for anyone who says that's a brownie for two, but in reality, we split our small batch s'mores brownie amongst 4 adults and 2 tots, and everyone was perfectly satisfied.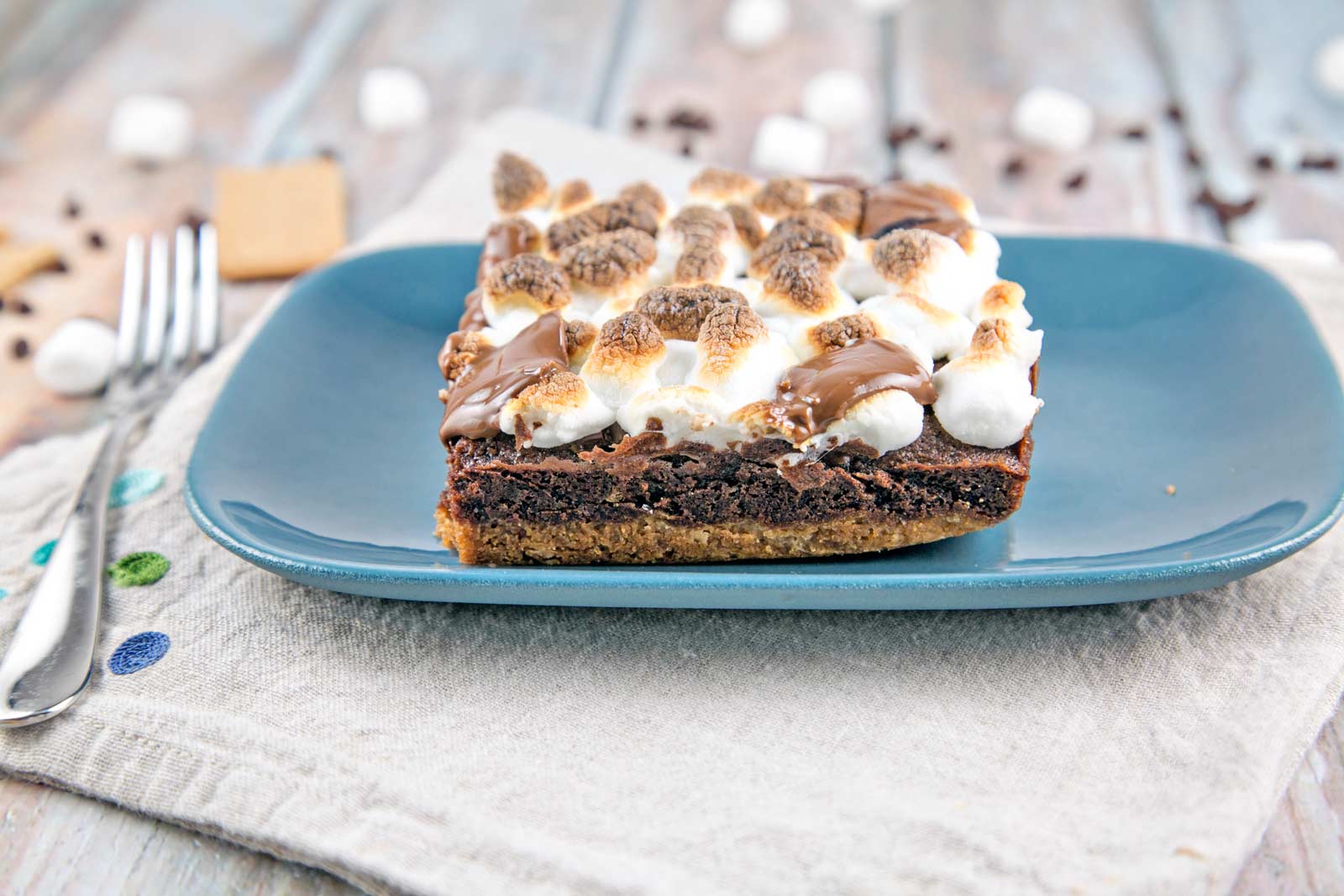 Speaking of kids, I really feel like this cookbook is genius for children.  I don't think it was the original intention, but I know as Ryan grows older, there will be plenty of times he'll ask if we can make brownies or cupcakes or cookies.
Of course, the answer will be yes – but how do I also teach portion control and moderation if we wind up with a dozen cupcakes for a household of 3?  Problem solved: you bake four cupcakes at a time.
Tracy's small batch s'mores brownies are really, really good.  Crispy graham cracker crust.  Delicious, fudgy brownie.  A layer of chopped chocolate.  All topped with broiled mini-marshmallows.
I did make one teeny, tiny change to the recipe, though.  I pushed a few squares of a Hershey's bar, leftover from Halloween, into the marshmallows.  If adding more chocolate to these brownies is wrong, well then I don't want to be right.
Lest you think the book is only about sweets, there are savory recipes as well — quiches, gratins, biscuits, and souffles.  Savory bacon scones.  Pizza rolls.  Strawberry Buttercream Layer Cake.  Death by Chocolate Sheet Cake.  Apple Maple Blondies.  Chicken Cobbler.  Pumpkin cheesecake. Caprese tarts.  Of course, these small batch s'mores brownies.  The list goes on and on.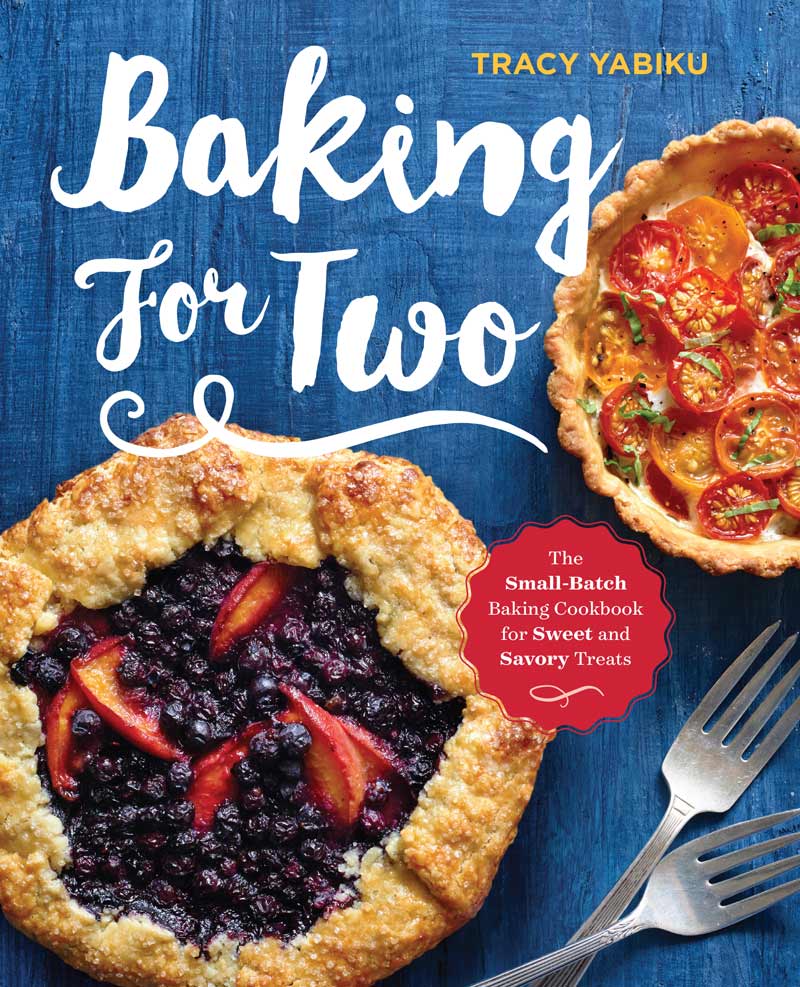 Tracy's cookbook, Baking for Two, is available now on pre-order and will start shipping on November 22nd.  I really can't think of a better gift for the baker (or want-to-be baker) in your life for the holidays.  I'm hard pressed to think of someone who doesn't have a use for downsized baking, especially when all the recipes are so creative and fantastic.  Guys, you need this.  You're welcome.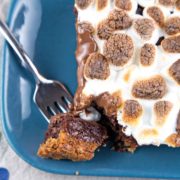 Small Batch S'mores Brownies
Want brownies but don't need to feed a crowd?  Try these decadent small batch s'mores brownies.
Ingredients:
1/4 cup graham cracker crumbs (2.5 graham crackers)
1/2 cup all purpose flour, divided
7 tablespoons unsalted butter, melted and slightly cooled, divided
2 tablespoons packed brown sugar
1/2 cup granulated sugar
1 large egg
1/2 teaspoon vanilla extract
3 tablespoons unsweetened natural cocoa powder, sifted
1/8 teaspoon baking powder
1/8 teaspoon salt
1.5 ounces chocolate, chopped
1 cup miniature marshmallows
Directions:
Preheat the oven to 350 °F.  Line a loaf pan with aluminum foil and spray with cooking spray.
In a small bowl, stir together the graham cracker crumbs, 1/4 cup of the flour, 3 tablespoons butter, and brown sugar until thick.
Press the crumb mixture into the prepared pan, spreading it and pressing down firmly to cover the bottom.  Bake for 5 minutes until the crust is just slightly darkened and looks set.
In a medium bowl, whisk together the remaining 4 tablespoons of melted butter and granulated sugar until well combined.  Add the egg and vanilla and whisk well.
Add the remaining 1/4 cup of flour, cocoa powder, baking powder, and salt.  Stir together just until combined.
Top the graham cracker crust with the brownie batter, gently spreading it to cover the crust completely.  Sprinkle the chopped chocolate over the top.
Bake for 22 to 24 minutes until a toothpick inserted into the center comes out mostly clean.
Top with the mini marshmallows and turn the broiler to high.  Broil for 1 to 2 minutes, just until the marshmallows are toasted and slightly puffed up.
Cool the brownies in the pan for at least 15 minutes before removing from the pan and slicing.