June 4, 2012
Homemade Cannoli Recipe
Traditional homemade cannoli with deep fried shells and a smooth ricotta filling. It's like having an Italian bakery right in your own kitchen!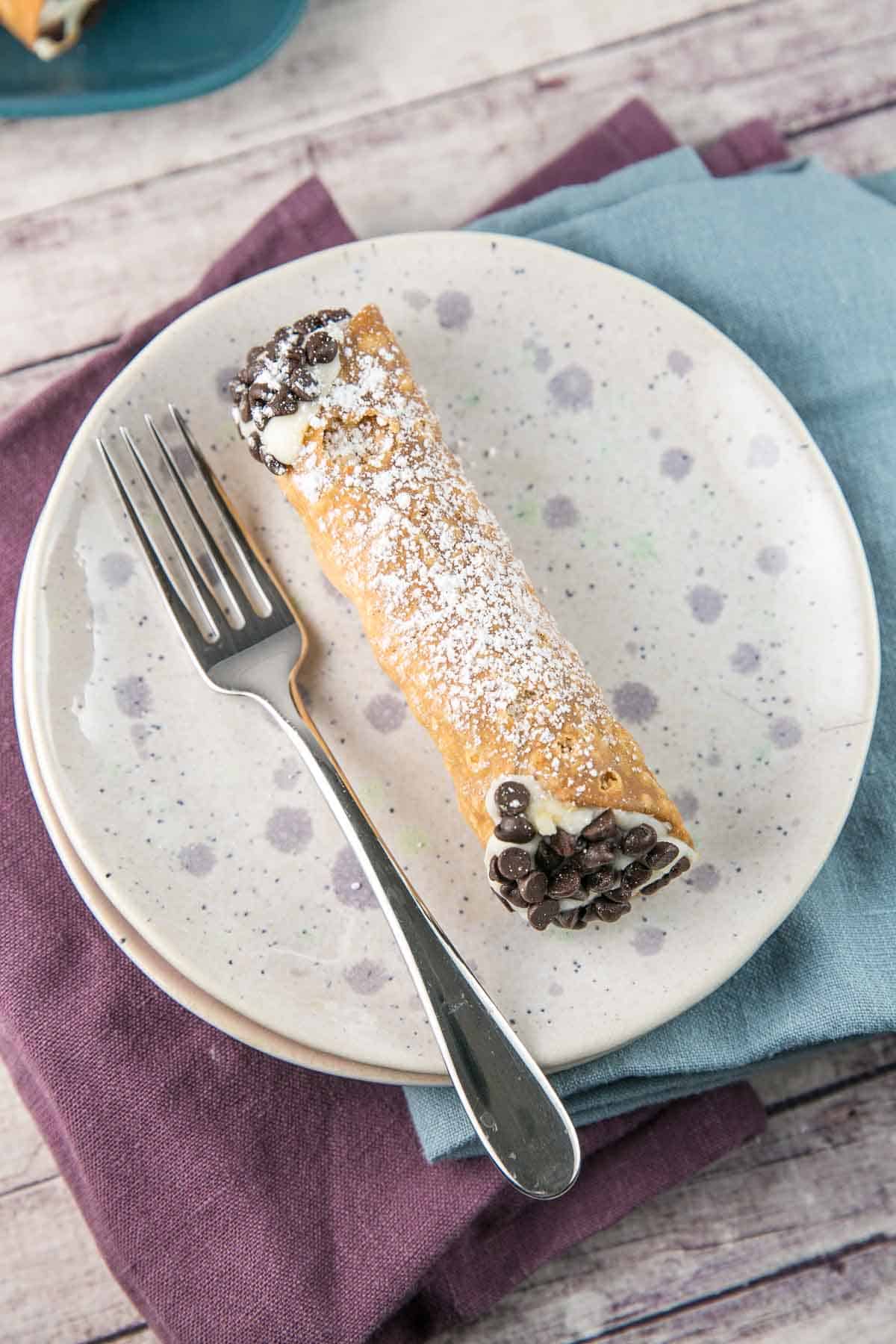 Do you like deep frying in your own kitchen? I do not.
I kind of hate it — the splatter of oil, the smell that lingers for days. As a rule, I limit myself to one day of deep frying per year when I prep all the latkes for our annual Chrismukkah party.
So what on earth am I doing deep frying my own cannoli shells?
Well, friends — I can't resist a good baking challenge.
Back before Bunsen Burner Bakery existed, I had another blog. I mostly used it to discuss the trials and tribulations of grad school, but once a month I shared my latest "Daring Bakers" challenge.
Each month, a member selected a recipe and everyone completed it, often including their own twist. Back in 2009, one of the challenges was.. you guessed it.. homemade cannoli shells.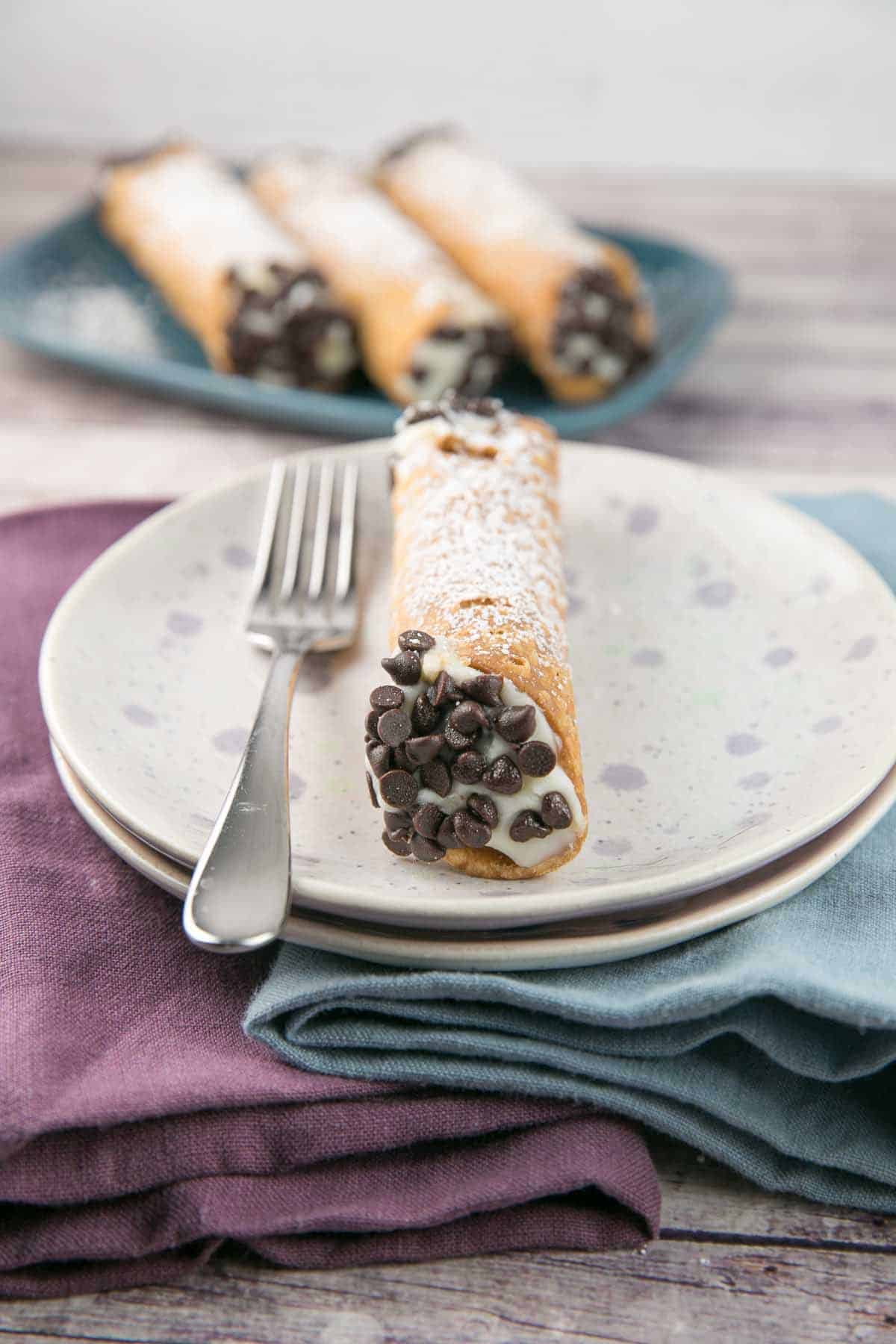 I love cannoli. Love cannoli.
Every time we're at an Italian restaurant or pastry shop, my father and I can't resist splitting one.
When my husband and I went to Boston to visit a friend, I tried every cannoli I could find in the North End.
So when cannoli came up as a monthly challenge, my love of cannoli won out over my hatred of frying.
And so off I set, on a cannoli frying journey.
Fortunately, I was able to borrow cannoli molds from a neighbor, since I was pretty sure regular cannoli making was not going to be part of my life. (I was correct – I haven't made these again in the three years since the challenge.)
These cannoli? A+++. Perfectly crisp, with those beautiful little air bubbles. Silky smooth rich filling. Absolutely delicious.
Will I be making my own cannoli again? Well…. probably not.
Sometimes, just knowing I can do something is enough to satisfy me. I can make my own cannoli shells, but I don't feel the need to try it again.
And fortunately for me, I am moving to Philadelphia next month. I'm pretty sure I'll be a stone's throw away from a dozen cute little Italian bakeries who are more than happy to do the frying for me.
Homemade Cannoli Recipe
Traditional homemade cannoli with deep fried shells and a smooth ricotta filling.
Ingredients:
For the shells:
2 cups all-purpose flour
2 tablespoons sugar
1 teaspoon unsweetened baking cocoa powder
1/2 teaspoon ground cinnamon
1/2 teaspoon salt
3 tablespoons olive oil
1 teaspoon white wine vinegar
1/2 cup white wine
1 egg white
2 quarts vegetable oil, for frying
For the filling:
2 pounds ricotta cheese, drained
1 2/3 cups confectioners sugar, plus more for dusting
2 teaspoons vanilla extract
1/2 cup miniature chocolate chips
Directions:
Start by preparing the ricotta filling.  Line a strainer with cheesecloth.  Place the ricotta in the strainer over a bowl and cover with plastic wrap and a towel, pressing down to touch the surface of the ricotta.  Weigh down the towel with a heavy can and allow the ricotta to drain overnight in the refrigerator.
To make the dough for the shells, combine the flour, sugar, cocoa, cinnamon, and salt in the bowl of an electric mixer.  Beat on low speed until well combined.  Gently mix in the oil and vinegar, and just enough wine to make a soft dough.  Turn the dough out onto a lightly floured surface and knead until smooth and well blended.  Shape the dough into a ball.  Cover with plastic wrap and refrigerate for 2 hours to overnight.
Lightly flour a large cutting or pastry board and roll the dough until very thin, no more than 1/8" thick.  Cut out 4 to 5 inch circles.  Roll the cut circle into an oval.
Oil the outside of the cannoli forms.  Roll the dough oval from the long side around each form and dab a little egg white on the dough where the edges overlap.  Press well to seal.  Set aside to allow the egg white to dry.
In a deep, heavy saucepan, poor 3" of oil.  Heat the oil to 375 °F.  Carefully lower a few cannoli tubes into the hot oil.  Do not crowd the pan.  Fry the shells until golden, about 2 minutes, turning them so they will brown evenly.  Lift a cannoli form with a slotted spoon out of the oil.  Using tongs, grasp the cannoli form at one end.  Very carefully, remove the cannoli form with the open sides straight up and down so that the oil flows back into the pan.  Place the form on paper towels to drain.  While still hot, grasp the form with a potholder and pull the cannoli off the form with a pair of tongs.  Let the shells cool completely on the paper towels.  Place shells on cooling rack until ready to fill.
While the cannoli shells cool, finish preparing the filling.  Using an electric mixer, beat the ricotta until smooth and creamy.  Add in the confectioners sugar and vanilla extract.  Chill for 30 minutes, or until firm.
Add the filling mixture to a pastry bag with a long tip and squeeze the filling into the cannoli shells.  Add miniature chocolate chips to the ends.  Dust with additional confectioners sugar.