July 16, 2020
Frosted Zucchini Brownies
What's the best way to use up your summer zucchini?  These easy Frosted Zucchini Brownies!  One bowl, mix-by-hand brownies, full of zucchini, and topped with the BEST homemade fudgy frosting.  The most delicious way to eat your veggies!
Yes – these are brownies. (July's recipe for the 2020 Brownie of the Month series!) Yes, they are full of zucchini. Just trust me here – you've probably had chocolate zucchini bread or chocolate zucchini muffins, right? Delicious and chocolatey. So just trust me when it comes to this zucchini brownie recipe.
I'm in a few different online cooking groups, and there have already been dozens of requests for what to do with all the zucchini everyone has. These brownies, friends. These frosted zucchini brownies are exactly what you should make.
And if you're worried about them tasting too much like zucchini? Fret not.
My five-year-old hates zucchini.  But these brownies?  He asked for seconds.  (Until I told him there were zucchini in them, which was met with a chorus of "ewww" and "yuck" – followed by "but can I still have another?")
Ingredients and Substitutions
What do we need for these brownies? Here we go!
Grated Zucchini: We'll need about 2 cups of grated zucchini for these – or roughly one 8 to 10-inch sized zucchini. No need to squeeze out any extra moisture; we'll use it as it.
Butter: Unsalted butter, melted and slightly cooled.
Eggs: Three large eggs, at room temperature so the butter doesn't get too cold and solidify.
Vanilla Extract: A little vanilla extract adds delicious flavor!
Sugar: Granulated white sugar, but brown sugar can be substituted if desired.
Cocoa Powder: Because these brownies do not contain baking powder or baking soda, either natural unsweetened or Dutch processed cocoa powder can be used, but I prefer the smoother, more chocolatey taste of Dutch processed cocoa powder!
Salt: Use either table salt or Morton's kosher salt – if you are using Diamond Crystal salt, adjust the volume as necessary.
Flour: These brownies use all-purpose flour, but you can also use a 1:1 gluten free baking mix to make these brownies gluten-free. Either weigh the flour or fluff it with a fork, spoon into a measuring cup, and level to make sure you're not accidentally adding too much flour.
Chocolate Chips: Because all brownies need some chocolate chips!
Milk: The frosting will be thicker and richer if you use whole milk, but low-fat milk can also be used.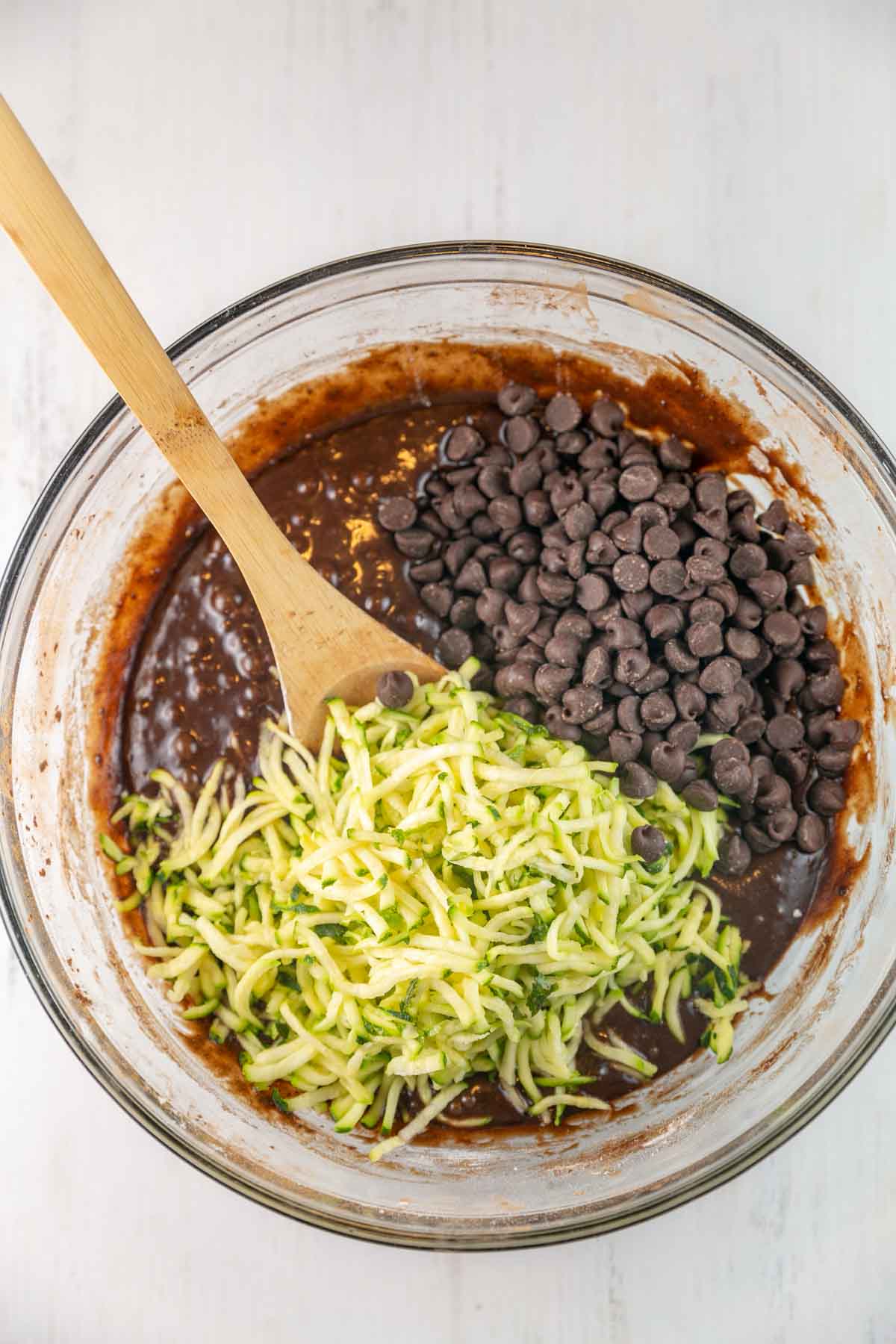 Add Zucchini for Extra Moisture
Real talk: why do we bake with zucchini anyway?
A big part of it is, well, just to use it up. My friends with gardens report that zucchinis just keep growing… and growing… and growing.
For those of you, like me, who go to the store to obtain zucchini, it's a different answer. It's fun for the novelty aspect (like making your zucchini-hating kid squirm over realizing he just ate zucchini and liked it), but also: it's a great way to add more moisture to baked goods.
More moisture = fudgier brownies. Normally to increase moisture, we have to add additional oil, eggs, or sugar. In this case, we can just add… zucchini! (So I guess that makes these healthy-ish, too? Win!) Why is this? It's time for my favorite subject… kitchen chemistry!
Kitchen Chemistry

Zucchini has a very high water content – over 90%. When baking, pick zucchinis that are medium-sized and firm or slightly soft to the touch, but avoid the extremely large, overgrown zucchini. These have too many seeds, a bitter taste, and a stringy texture.
Using a slightly soft, older zucchini is fine, but avoid the really big, overgrown ones. We don't want to add anything bitter into our frosted zucchini brownies!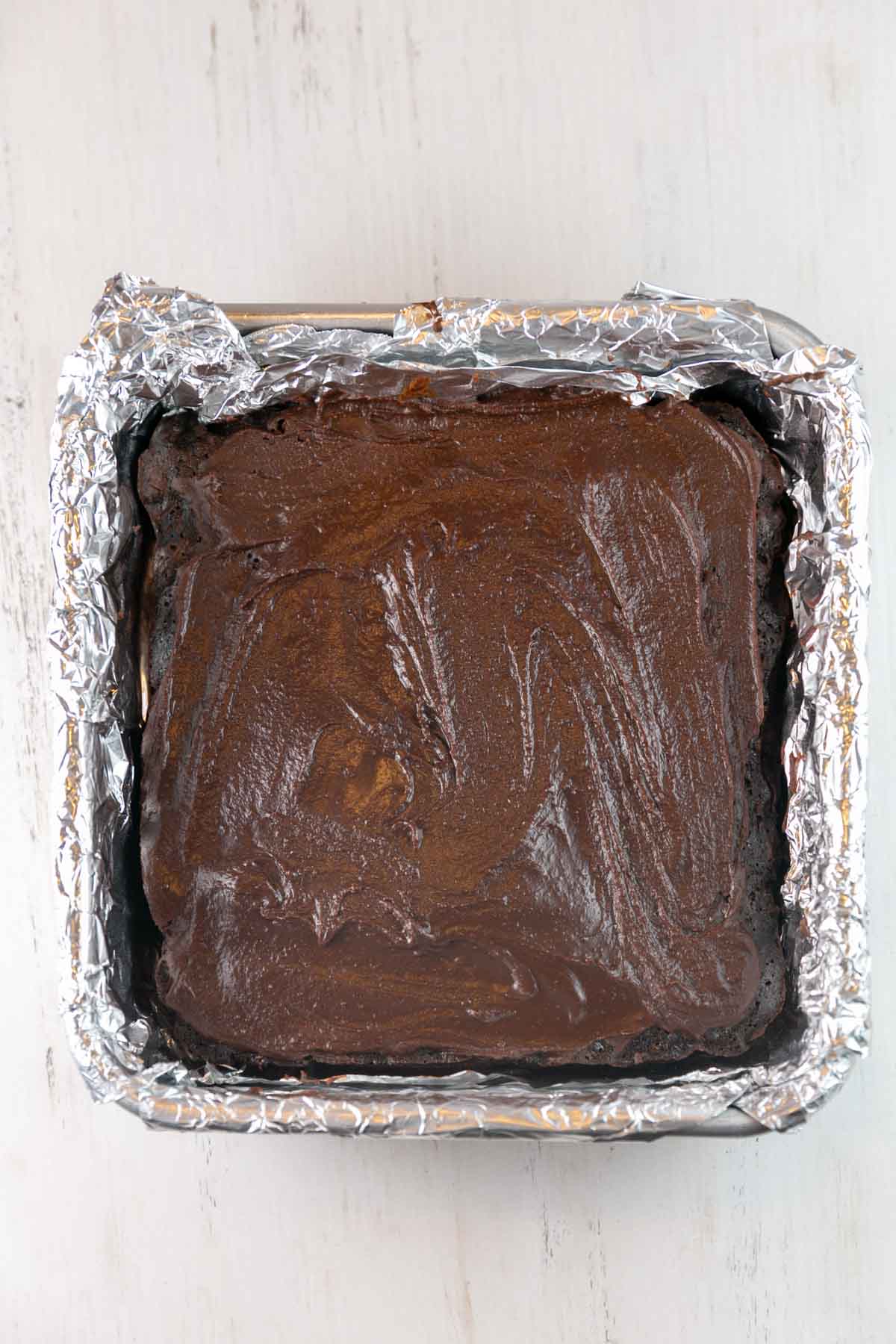 Healthier Baking Swaps
These are, first and foremost, rich, decadent, delicious brownies. That just happen to have lots of zucchini in them (yay, nutrients and fiber!).
Buuuut let's say you do want to make your zucchini brownies a little healthier. Here are some great ways to start!
Replace half of the all purpose flour with whole wheat flour.
Replace half of the butter with applesauce.
Use cacao nibs instead of chocolate chips.
Use cacao powder instead of cocoa powder.
Skip the frosting.  (But think twice about doing this, because the frosting is delicious.)
Recomended Tools to Make Zucchini Brownies
Square Baking Dish: Use a light-colored 9 in square baking dish to make these brownies.
Glass Mixing Bowls: My FAVORITE set of mixing bowls – microwave-safe, dishwasher-safe, and comes in all the sizes you'll ever need.
3 Quart Saucepan: A heavy-bottom 3 quart saucepan is perfect for making the cooked frosting.
Tips and Tricks for the Best Frosted Zucchini Brownies
Don't peel the zucchini — there's just no need. Plus, most of the fiber and nutrients are in the zucchini skin!
Use freshly grated zucchini. The longer the grated zucchini sits out at room temperature or in the refrigerator, the more moisture it will lose.
Don't overmix the brownies! This is the most important tip: over-mixing these brownies will result in a rubbery texture.
Wait until the brownies are fully cooled before cutting.
Brownies can be stored at room temperature, but taste even fudgier when stored in the refrigerator!
More Zucchini Recipes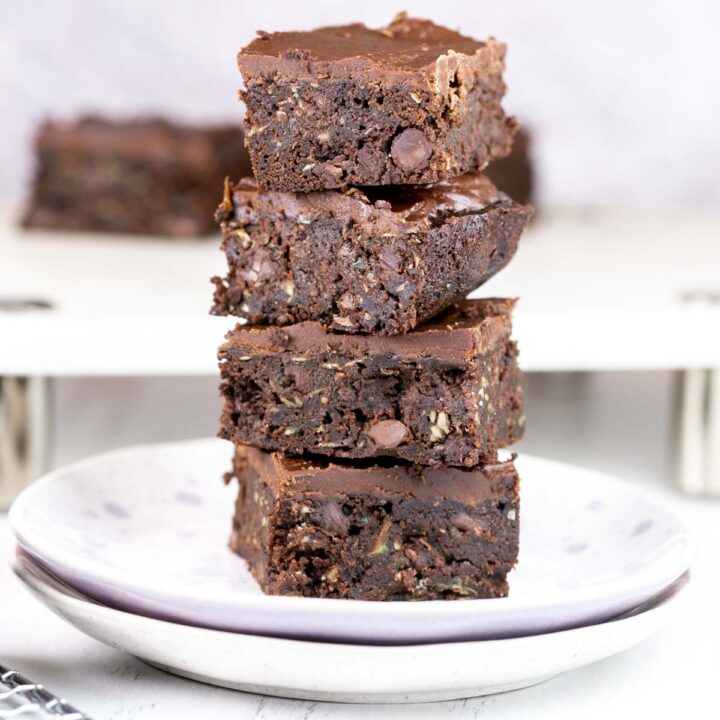 Frosted Zucchini Brownies
One bowl, mix by hand brownies, full of zucchini, and topped with the BEST homemade hot fudge frosting.  The most delicious way to eat your veggies!
Ingredients
For the Brownies:
6 tablespoons (85 grams) unsalted butter
1 1/2 cups (297 grams) granulated sugar
3 large eggs, room temperature
1 teaspoon vanilla extract
3/4 cup (63 grams) cocoa powder, preferably Dutch process
1/2 teaspoon salt
1 cup (120 grams) all purpose flour
2 cups (230 grams) grated zucchini (about one 8-10" fresh zucchini)
1 cup (170 grams) chocolate chips
For the Frosting:
1 cup (198 grams) granulated sugar
1/4 cup (21 grams) cocoa powder, preferably Dutch process
1/2 cup (113 grams) whole milk
4 tablespoons (56 grams) unsalted butter, cut into cubes
1/4 teaspoon salt
1 teaspoon vanilla extract
Instructions
Preheat the oven to 350 °F. Line a 9-inch square baking dish with aluminum foil, extending the foil over the edges to form handles. Grease the foil.
Make the zucchini brownie batter. Combine the butter and sugar in a large microwave-safe bowl. Microwave for 30 seconds, then stir with a wooden spoon. Repeat until the butter is melted and the mixture is pale yellow and resembles wet sand. Stir in the eggs, one at a time, followed by the cocoa powder, salt, and vanilla extract. Stir by hand with a wooden spoon until well combined and slightly shiny. Add in the flour, shredded zucchini, and chocolate chips, mixing just until no streaks of flour remain. Do not overmix!
Bake the brownies. Transfer the batter to the prepared pan and bake for 30-35 minutes, until a toothpick inserted into the center comes out almost clean. Leave the brownies at room temperature until cool.
Make the frosting. While the brownies cool, make the frosting. Mix together the sugar, cocoa powder, and milk in a large saucepan over medium-high heat. Allow the mixture to come to a hard boil, then boil for 3 minutes, stirring constantly. Remove from the heat and add in the butter and vanilla extract, mixing to combine. Let the mixture cool for 5 minutes, then beat with a wooden spoon until smooth and thick. Pour over the brownies and allow the frosting to finish cooling and harden before slicing.
Notes
Use freshly grated zucchini - complete with the peel.
Don't overmix the brownies; this will result in a rubbery texture.
Spread the frosting over the brownies before it fully cools; it will harden as it starts to cool.

Brownies can be stored at room temperature for up to 4 days, refrigerated for up to a week, or frozen for up to 3 weeks. Brownies taste fudgiest when stored in the refrigerator.
Recommended Products
As an Amazon Associate and member of other affiliate programs, I earn from qualifying purchases.