March 28, 2017
Coconut Panna Cotta with Blood Orange Curd
Smooth and creamy coconut panna cotta paired with citrusy blood orange curd — it's the perfect easy, impressive spring dessert.
In chemical kinetics, reactions have something called the rate-limiting step: it's the slowest step in the reaction and it determines the overall speed at which the reaction can occur. In a multi-step reaction, nothing can proceed faster than the rate-limiting step — makes sense, right?
For my little food blog, writing posts is the rate-limiting step. I have an overflowing queue of recipe ideas, things I've made and tested and tweaked, photographed recipes, and edited pictures. But sitting down and actually writing the post? That's my personal bottleneck. I have so many recipes and photos waiting in the wings that sometimes I forget about them.
Like this coconut panna cotta, which I made two months ago with the blood oranges left over from the blood orange olive oil cake. And then I promptly forgot about the recipe and photos, until we ate dinner at Nopi while on vacation in London.
Yes, Nopi was outstanding and yes, it's completely worth the hype. And yes, we did have the famous burrata with blood orange and coriander seeds, which immediately reminded me of the blood orange curd paired with this coconut panna cotta.
Thank you, Yotam Ottolenghi, for both a delicious dinner and reminding me that I needed to share this recipe ASAP. Blood orange season is starting to come to a close (sob!) and I can't think of a better send off.
Panna Cotta: Classic Italian Dessert
Panna cotta is a classic Italian dessert. The name means "cooked cream" and that's exactly what it is — cream, cooked with sugar and gelatin.
Because of the gelatin, it's a little bit wobbly, but the cream keeps the consistency soft and, well… creamy. It's often flavored with coffee, vanilla, or liquors, or has a sauce poured overtop (or in this case, fruit curd).
It can be served either in a glass (like here) or flipped upside-down and un-molded and served on a plate.
Easy, Impressive Dessert
If you've never made panna cotta before, it's easy. So easy, my not-yet-two year old practically made this on his own (he's an expert whisk-er).
Literally all you do is combine milk, gelatin, and sugar, and heat. That's it.
The most difficult part is getting the mixture to the appropriate temperature: too cold, and the gelatin won't melt all the way. But bring the mixture to a boil and the gelatin loses it's thickening power. Heat until steaming – no more, no less.
Since gelatin is the star of panna cotta, it seems like it's the perfect time for my favorite subject… kitchen chemistry!
Kitchen Chemistry

Gelatin is a protein with some really unique properties. When gelatin is heated in water, the protein molecules begin to unwind, a process called denaturing. As they continue to heat, most proteins then bind to other proteins, forming a solid mass. Gelatin, however, does not form new bonds to other gelatin molecules, meaning the solution will stay liquid when heated. As gelatin cools, however, the gelatin strands form a triple matrix structure, with gelatin hydrogen bonded to water. This gelatin-water structure forms the jiggly gel we associate with jell-o.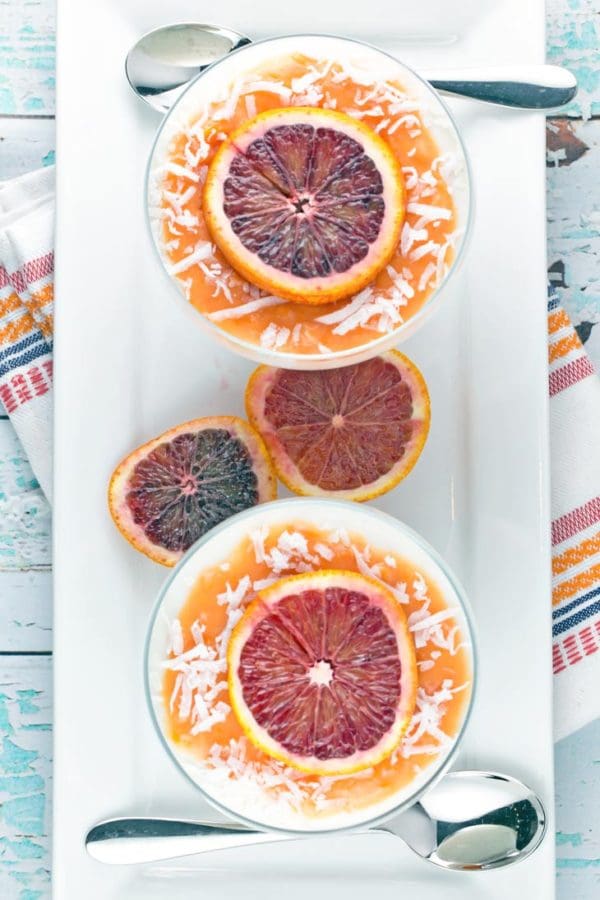 How to Make Blood Orange Curd
The coconut panna cotta is delicious on its own, but I love really boldly flavored desserts. To make this stand out even more, we're adding blood orange curd. That's right, curd made out of everyone's favorite blood oranges!
The curd is just as easy (maybe even easier?) to make as the coconut panna cotta. One saucepan and a little bit of whisking. The hardest part is juicing the oranges!
To make blood orange curd, combine the blood orange juice with egg, egg yolks, sugar, and butter. That's it! Once slightly cooled, spread on top of the chilling panna cotta, let it firm up in the refrigerator, and you're done.
(Don't like blood oranges? Blasphemy! But you can sub in any citrus for the curd — orange, clementine, tangerine, even lemon or lime. Don't like citrus? I bet this would be equally delicious with some blueberry cardamom curd, too!)
Making Panna Cotta in Advance
Panna cotta can be made and refrigerated a day or two in advance. If you plan on doing a molded panna cotta, I generally keep it in the molds, covered with plastic wrap, until I'm ready to serve it.
Even easier: it can be made well in advance and frozen! Make the panna cotta, cool to room temperature, and pop into the freezer, well wrapped with plastic wrap (and still in the mold). Remove from the freezer, pop out of the mold, and allow the panna cotta to thaw for 2-3 hours before serving.
The smooth, rich, creamy coconut panna cotta, the sweet, citrusy tang from the blood orange curd – it's the perfect spring dessert. Coconut, citrus, perfection. This is a (make ahead!) dinner party worthy dessert, with totally minimal fuss.
Make it for Easter, make it for Passover, make it because you're in the mood for dessert. Just make it.
More Easy Fruit Dessert Recipes: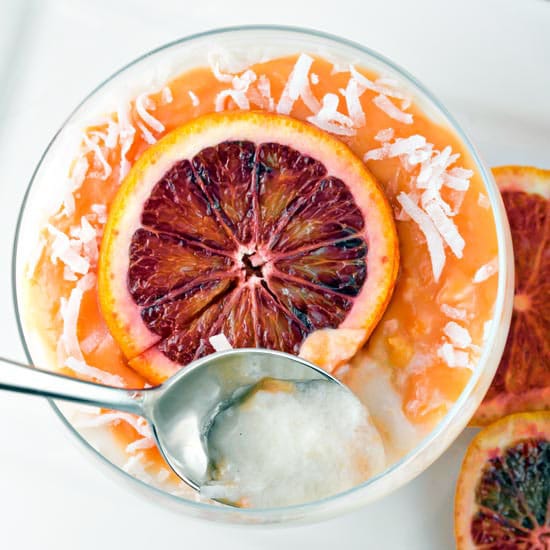 Coconut Panna Cotta with Blood Orange Curd
Total Time:
4 hours
10 minutes
Smooth and creamy coconut panna cotta paired with citrusy blood orange curd — it's the perfect easy spring dessert.
Ingredients
For the panna cotta:
1 13.5-ounce can unsweetened coconut milk
12 ounces (1.5 cups) whole milk
1 packet (2 1/2 tablespoons) gelatin
1/3 cup sugar
1/2 tablespoon vanilla extract
For the blood orange curd:
2 large blood oranges
1 whole egg
1 egg yolk
1/3 cup sugar
3 tablespoons butter
For serving:
blood orange slices
sweetened shredded coconut
Instructions
To make the panna cotta, combine the unsweetened coconut milk and whole milk in a small heavy-bottom saucepan. Sprinkle the packet of gelatin over the liquid and allow the gelatin to "bloom" for 5-10 minutes. Once gelatin starts to soften, whisk in the sugar.
Heat the milk and gelatin mixture over medium heat until steaming (do not boil!). Once steaming, turn down the heat to low and continue to cook, whisking occasionally, for 5 minutes, until gelatin and sugar is fully dissolved. Stir in the vanilla.
Pour the panna cotta mixture into four well-greased molds (if serving unmolded) or glasses. Refrigerate 2-3 hours or overnight, until firm.
Once the panna cotta starts to firm, make the blood orange curd. Zest one of the blood oranges, then juice both. Combine the blood orange zest with the juice (~1/3 cup) in a small saucepan. Heat over medium. While the juice starts to warm, whisk in the egg and egg yolk, followed by the sugar. Continue to cook, stirring continuously, until thick enough to coat the back of a spoon.
Remove the curd from the heat and add in the butter, one tablespoon at a time, stirring until fully melted. Spoon the curd over the solidified panna cotta, cover the surface with plastic wrap, and refrigerate an additional hour until curd is chilled.
To serve, top with blood orange slices and a sprinkle of shredded coconut.
Recommended Products
As an Amazon Associate and member of other affiliate programs, I earn from qualifying purchases.
Nutrition Information:
Yield:

4
Amount Per Serving:
Calories:

512
Total Fat:

34g
Carbohydrates:

42.6g
Protein:

12.8g