July 27, 2012
Blackberry Peach Galette
Fresh summer fruits shine in this easy Blackberry Peach Galette, with a thick, flaky homemade crust. Rustic and beautiful, galettes are a delicious way to highlight the fresh flavor of summer produce.
Is there anything more summery than a rustic galette filled with fresh summer fruits?
I think not.
Last week, my lab made a trip out to Homestead Farms in Poolesville, Maryland for a pick-your-own fruit adventure. I came home with pounds and pounds of perfectly ripe, freshly picked blackberries and peaches – what a treat!
So, of course, I offered to bake for the lab. This Blackberry Peach galette came as my final Lab Baked Good offering. After many, many years of sharing my treats, the time has come for me to pack up and move (and share my treats with my new post-doc lab!).
Dare I say that I went out with a bang? Everyone loved this galette – even though it may not be the most spectacularly beautiful dessert (cakes usually take that prize!), it was truly delicious.
Obviously, you can use almost any fruit in a galette, but I loved these fresh peaches and blackberries together so much, I would use this combination over and over and over again.
What is a Galette?
Galettes sometimes seem to be the less-popular step-sibling to pies, but it's time to change that perception. I think galettes are even better than pies! Galettes are a classic part of French cuisine, coming from the Norman French word 'gale' which means flat cake.
They consist of a baked pastry base (like a pie crust or puff pastry), topped with sweet or savory things (like fruit or ham and cheese), with the edges folded into a rough circle. Unlike a pie, a galette does not require any sort of pie plate or baking tin to hold the crust. Rather, they are baked 'free-form', shaped onto a flat sheet pan.
Also unlike a pie, a fruit galette is filled with ripe slices of fruit or whole fresh berries. There's no pre-cooking for a classic pie filling, so there's none of the gel-like cooked down juices that accumulate with a classic pie.
Easy Homemade Galette Crust
To make this simple, flaky crust for our blackberry peach galette, you only need four ingredients: flour, butter, salt, and ice-cold water. That's it!
Cut the butter into the flour using a pastry blender. You can do this in a food processor if you desire, but over-mixing the butter and flour will result in a tough, chewy crust. It's not worth the risk for me, so I always prefer to cut the butter in by hand! If you don't have a pastry blender/pastry cutter, you can use two knives to cut the butter into small pieces while mixing it in with the flour.
Once the butter is cut into small pea-sized bits in the flour mixture, slowly add the ice water, mixing with a fork, until the dough comes together in a shaggy clump. Pat the dough together into a ball, wrap in plastic wrap, and refrigerate for 1 hour.
Once your galette is done chilling, use a floured rolling pin to roll the dough into a 14-inch circle.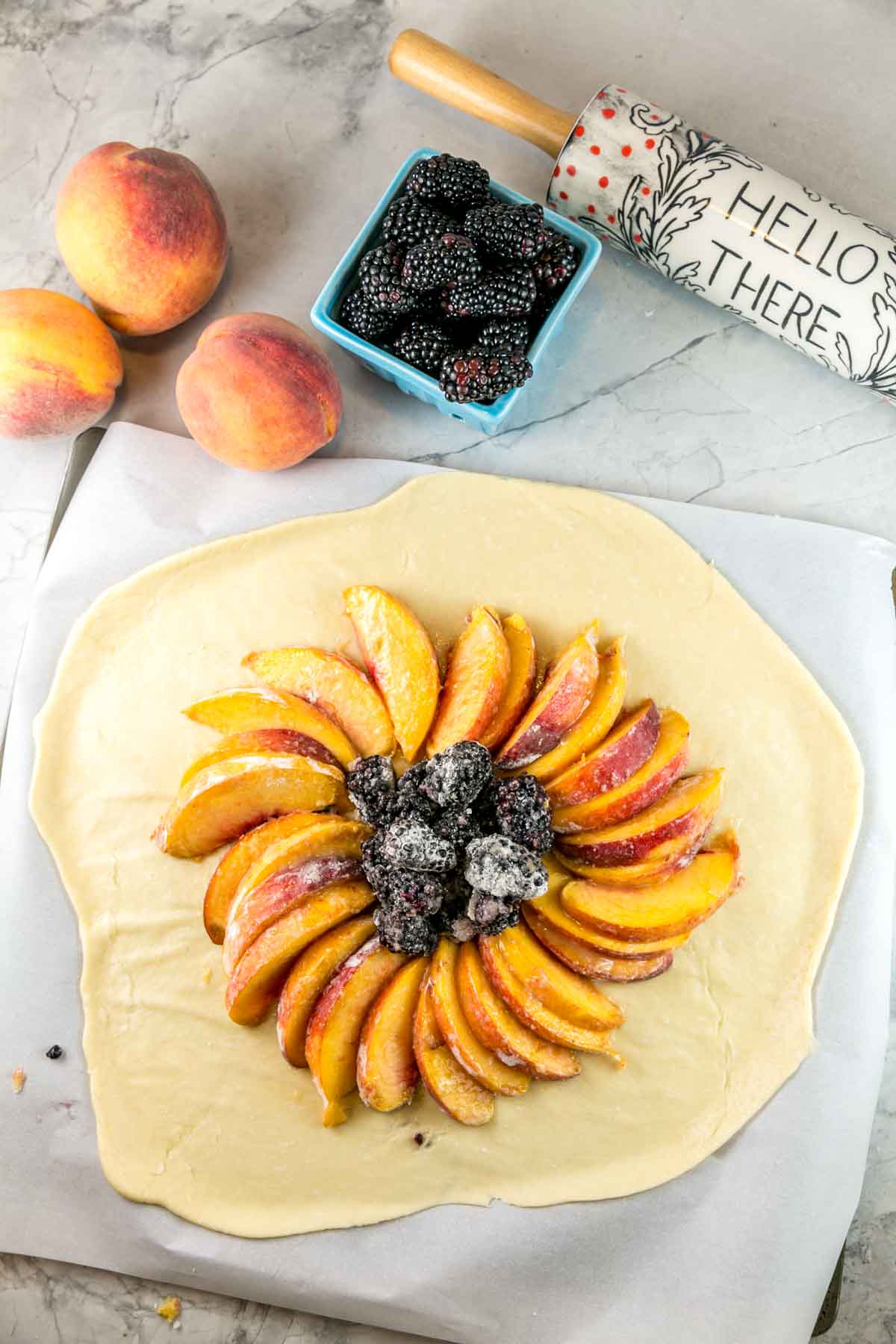 Fresh Fruit Filling
The obvious star of our blackberry peach galette? The blackberries and peaches! Fresh summer fruit is SO good that we barely need to add anything else to it!
Slice the peaches into 1/2-inch thick wedges. (I don't even bother to peel mine, but if you are opposed to peach skin, feel free to do so.) Add the sliced peaches to a bowl with the whole fresh blackberries and sprinkle the sugar and flour over top. Stir gently to combine.
Place the fruit in the center of the galette, leaving a roughly 2 to 3-inch border. You can truly just dump the fruit in the middle and spread it, or artfully arrange the peaches in a semi-circle. Dot with little pieces of butter, then fold the edges of the crust up to form a rugged circle of pastry.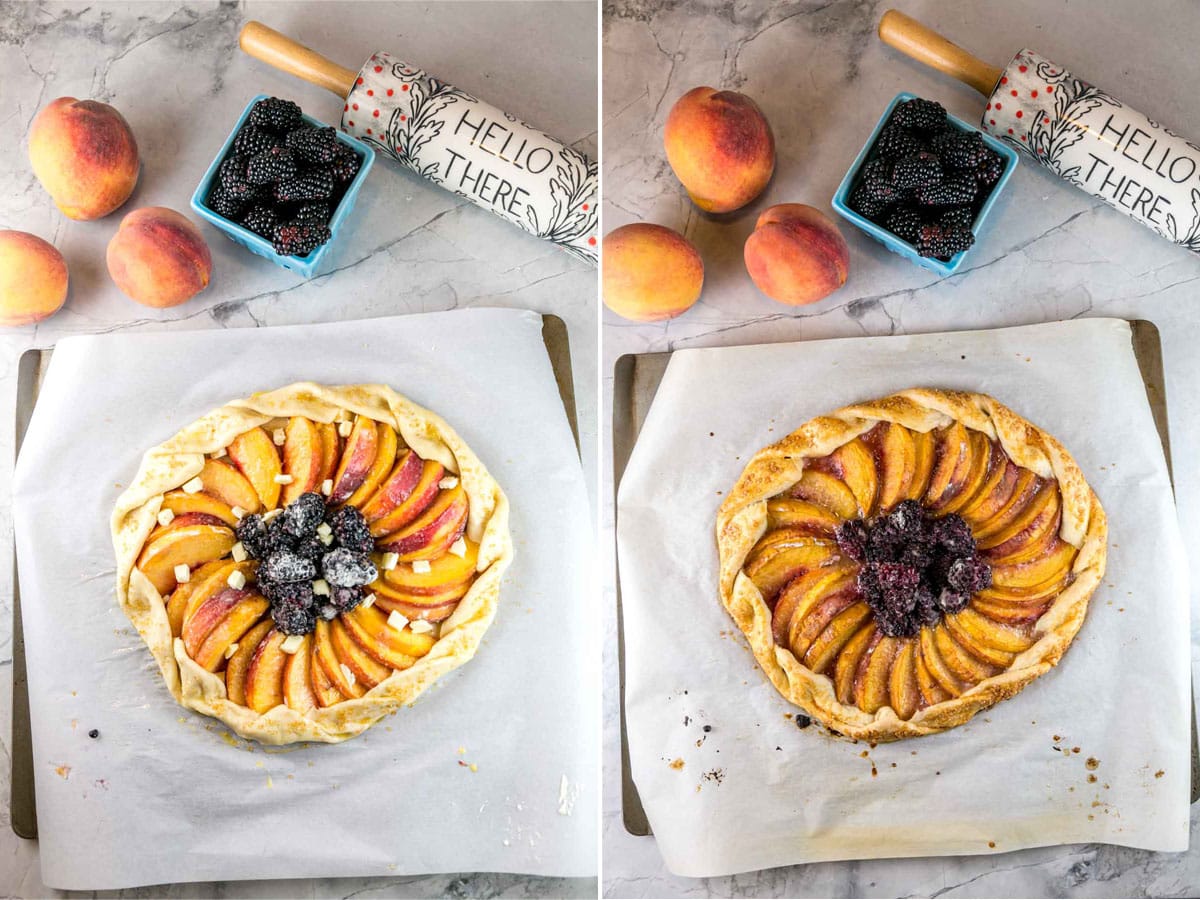 Bake High, Then Lower
Want to know the secret to keeping this blackberry peach galette crust crispy and flakey and not at all soggy? Start baking the galette at a higher temperature, then reduce to a lower temperature. How does this help? It's time for my favorite subject… kitchen chemistry!
Kitchen Chemistry

Baking at a high temperature quickly melts the butter and releases water, turning it into steam. The steam rises upwards, creating thin, crispy, flaky layers.
This quick baking at a high temperature helps to crisp up the crust quickly, allowing it to support the weight and juice from the fruit filling. Then we'll turn the temperature down so it doesn't burn and allow the fruit to cook thoroughout until soft and jammy.
Tips and Tricks for the Best Blackberry Peach Galette
Don't want to make a homemade crust? Use a refrigerated pie crust or thawed frozen puff pastry instead! Keep the dough circle smaller, though; don't roll past 10-12 inches to keep the dough thick enough that no holes tear in the dough.
Other fruits can be substituted for the blackberries and peaches: think nectarines, plums, blueberries, or pitted cherries.
Galettes are made to be rustic – don't worry if the dough cracks or pleats when folding over the edges of the crust!
The galette can be kept at room temperature for 2 days, refrigerated for 5 days, or frozen for up to 3 months.
While absolutely delicious on its own, a dusting of powdered sugar or scoop of ice cream on top makes for an extra special treat!
More Peach Recipes: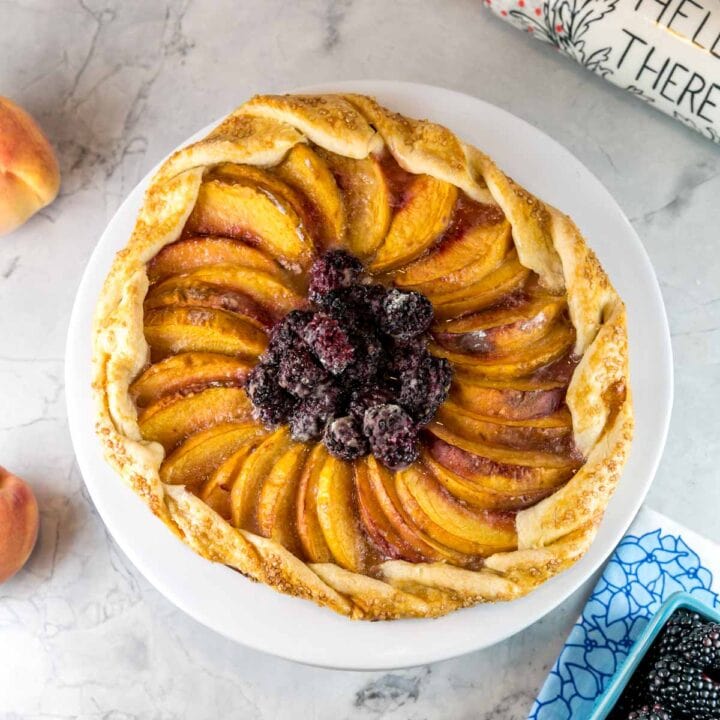 Blackberry Peach Galette
Fresh summer fruits shine in this easy rustic Blackberry Peach Galette, made with a thick, flaky homemade crust.
Ingredients
For the Crust:
2 cups (240 grams) all-flour
11 tablespoons (155 grams) unsalted butter
1/4 teaspoon salt
4 tablespoons (56 grams) ice-cold water
For the Filling:
3 large, ripe peaches, pitted and sliced
1 cup (145 grams) blackberries
1/4 cup (50 grams) granulated sugar
3 tablespoons (22.5 grams) all-purpose flour
1 1/2 tablespoons (21 grams) unsalted butter, cold and cut into small pieces
1 tablespoon (14 grams) unsalted butter, melted
1 tablespoon (12 grams) coarse, pearl, or turbinado sugar
Instructions
Make the crust. Add flour and salt to a medium bowl. Cut cold butter into small chunks and throw on top of flour. Cut the butter into the flour using a pastry blender under mixture resembles small crumbs the size of peas. Add ice water one tablespoon at a time while stirring the dough mixture with a fork. Bring dough together and put into a ball. Wrap in plastic wrap and refrigerate for at least 1 hour.
Prepare the fruit. Combine the sliced peaches and blackberries in a bowl. Sprinkle the flour and sugar over the fruit and stir to combine.
Roll out the dough. Remove the galette dough from the refrigerator and roll out the pastry dough on a floured surface to a 12-14-inch diameter circle. Place the dough on a parchment paper-lined baking sheet.
Assemble the galette. Place the fruit in the middle of the dough, leaving a 2 to 3-inch border around the edges. Cut the butter into 1/4-inch cubes and dot the butter around the fruit in the galette. Lift up the edges of the dough and pleat, folding the edges over the edges of the fruit. To seal the galette dough, dip fingers in water and moisten between the pleats. Brush the dough with melted butter and sprinkle with the sugar. Refrigerate the assembled galette on the sleet pan for 15 minutes while preheating the oven to 425 °F.
Bake the galette. Bake at 425 °F for 15 minutes, then reduce oven temperature to 350 °F and bake until the crust is golden brown and the fruit is bubbling, an additional 35 to 45 minutes. Remove from the oven and cool for 15 minutes on a wire rack before serving.
Notes
Refrigerated pie crust or puff pastry can be used instead of homemade pastry dough.
Substitute other ripe, fresh fruit for the blackberries and peaches - like nectarines, apples, plums, or blueberries.
Store the galette at room temperature for up to 2 days, refrigerated for up to 5 days, or frozen for up to 3 months, but is best consumed fresh out of the oven while the crust is still crispy.
Recommended Products
As an Amazon Associate and member of other affiliate programs, I earn from qualifying purchases.